Pricing
Similarweb's business solutions power your teams to make strategic and tactical decisions that drive ROI and revenues
Contact us for pricing and get your custom quote.
Digital Marketing Intelligence
Boost your marketing performance using the most accurate keyword and website data.
Digital Research Intelligence
Minimize investment risks, counter any threats and seize the most profitable market opportunities.
Crush your quota by finding ideal ecommerce & advertiser prospects, with the insights you need to close them.
Make smarter investment decisions using the most insightful digital alternative data.
Grow your sales on the biggest marketplaces, by uncovering what and how people buy.
Analyze your competitors' web traffic and engagement
Keyword and traffic sources
Web traffic and engagement metrics
Seasonal trends on traffic and engagement
Uncover winning marketing strategies
Visibility into competitor acquisition channels
Keyword research tools
Ad research tools
Grow your market share with industry research data
Industry level benchmarks
Integrate Similarweb data into your reporting
Identify new potential partners
This Forrester Consulting study finds over 640% ROI over three years from using Similarweb digital intelligence
+642%
Return on investment*
$14.7M
Customer returns NPV*
10-15%
Drop in cost per click
+400%
Increased effectiveness of ad spend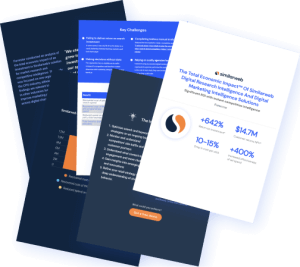 The Impact of Similarweb
Digital Marketers are raving about Similarweb
Here's what our customers are saying on G2
The perfect tool for digital marketing strategy
Competitor analysis made easy
Great all in one marketing insights and benchmarking tools
Excellent traffic insights
One of the best software for digital marketing
Best tool available on the market for website analytics
FAQ
No. You don't even need to provide credit card details when you register. You'll only be prompted for a credit card if you decide to buy a Similarweb subscription.

You can cancel your subscription at any time on the subscription information page within the Similarweb platform.
Once you cancel your subscription, you will still retain access to the platform until the end of your subscription period. It will then automatically complete the cancellation when your subscription period ends.

Similarweb's premium solutions offer a full picture into digital insights for most businesses. We realize that there are also smaller companies that need access to our tools, so we created a lightweight intro package geared at >10 people companies that are just getting started, called Competitive Intelligence.

Contact our sales team to build a custom package or purchase our Starter: Competitive Intelligence package.

Similarweb is an incredibly versatile tool covering a wide range of uses, so we've made our pricing super modular. Contact our sales reps , and they'll put together the perfect package to meet your team's needs.

After the 7-day trial, you'll have limited access to our platform. If you need access to more features or a longer term plan, please reach out and our team will be happy to help.

If you have questions about your unique needs, feel free to get in-touch for a demo or free trial! Similarweb is designed to be a one-stop shop for all your digital marketing and research needs, and offers a comprehensive set of tools to meet a wide variety of needs and use cases. Let's talk about yours.

The free data we share on Similarweb.com is a very high-level taste of what we offer. It showcases a limited number of features, and does not allow for further drill down into any specific time frame, country, device etc. Our paid packages give you access to our powerful platform that quickly surfaces actionable insights that will grow your traffic and keep you ahead of competitors.

Great question! You can learn more about our data here.