 Insurance
Digital Market Intelligence for the Insurance Industry
Empower your teams with competitive market intelligence to increase your digital presence
Benefits
Adapt your Digital Strategy
Build your strategy for each line of business based on competitors' traffic, online industry trends and market demand.
Maintain your Brand Presence
Access essential brand KPIs and benchmark your company against others in the industry to discover areas for improvement.
Reach New Customers
Target relevant and high quality leads by using keywords that have generated traffic to competitors in your campaigns.
Customize your Content
Develop your policy offers to match audience interests and browsing habits in local or niche markets.
Forge Effective Partnerships
Gain more traffic by partnering with top performing referrers and affiliates in the industry.
Win in a Cross-Device World
See what channels work for your competitors based on traffic and engagement rates across desktop, mobile web & apps.
Capabilities
Mobile & Web Traffic
Traffic Overview includes data for desktop & mobile web, showing competitors' visits and engagement rates in the last 28 days and going back up to 36 months.
Industry Analysis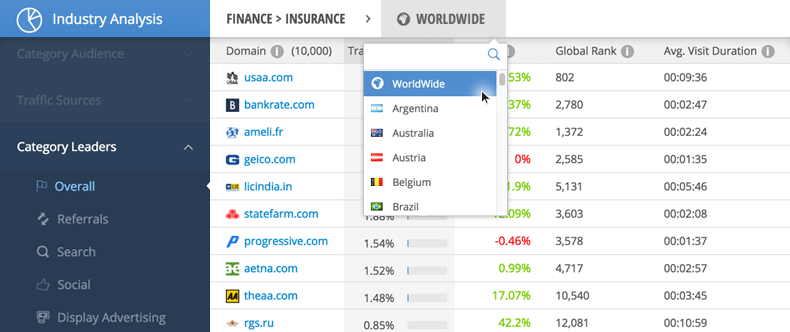 Industry Analysis shows Insurance key leaders and traffic generators, including their online market share. Use this feature to identify growth, advertising & partnership opportunities.
Traffic Sources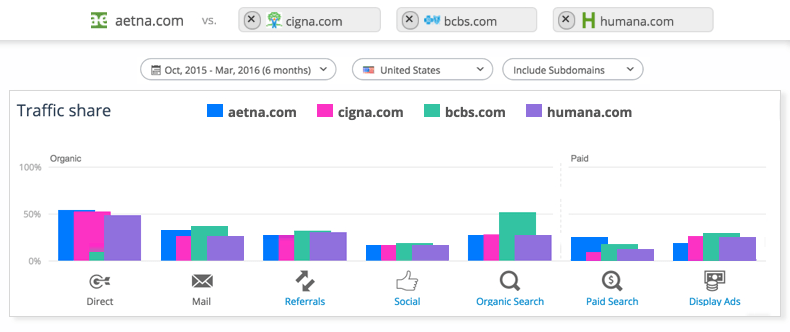 Traffic Sources gives you the traffic breakdown for any competitor site or app, including search, display ads and referrers. Use this to optimize your SEO and advertising efforts.
Popular pages
Popular Pages gives you access to any website's most visited pages. Use this feature to learn about popular insurance lines, improve user journeys and conversion funnel.
Audience Interests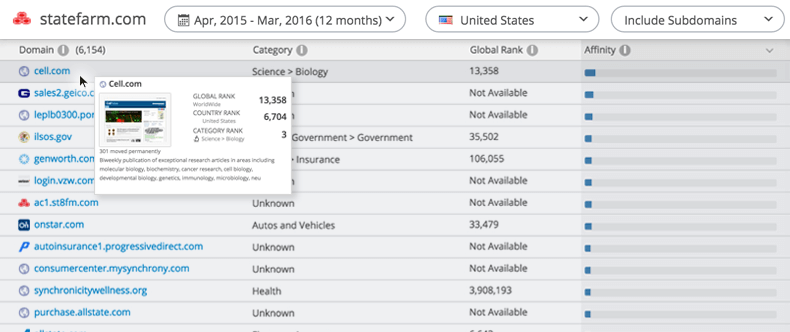 Audience Interests reveals the sites visited before and after visiting your or your competitors' sites. Use this information to identify lost traffic & discover potential new partners.
Geographic Distribution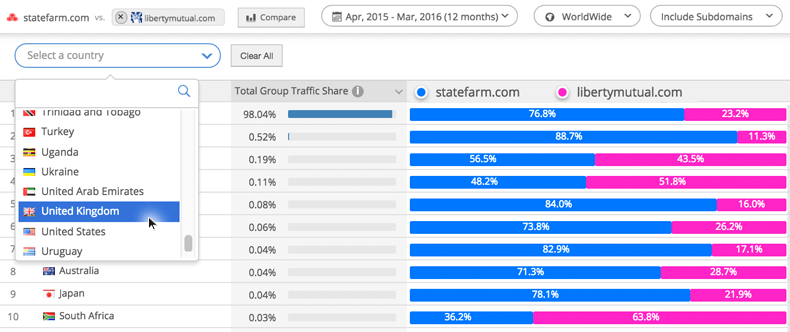 Geographic Distribution shows the traffic share in each country. Use this section together with the Compare tool to benchmark yourself against the competitors in local markets.