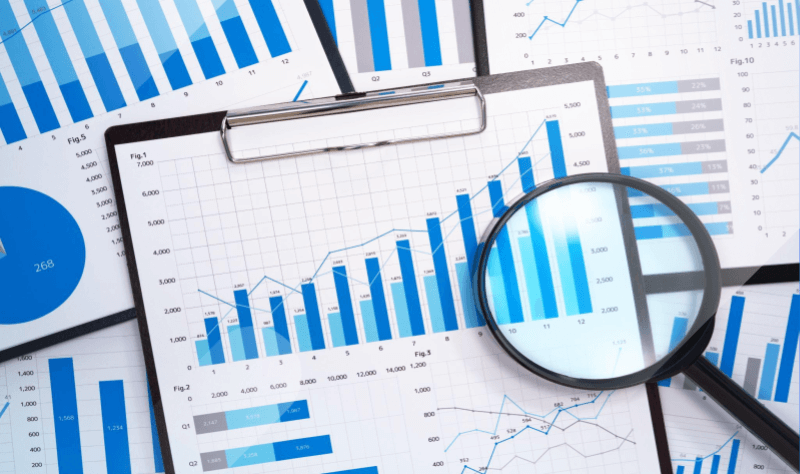 Sales Intelligence
25 ABM Statistics You Should Probably (/Definitely) Know
July 7, 2022
| Updated August 2, 2022
Account-based marketing (ABM) is a strategic growth strategy that focuses on key accounts, using tailored experiences and approaches for each target to gain leads and opportunities.
It's a trend that's growing in popularity, too. Gone are the days of it being a marketing ploy you've just heard of in passing – these days it's a mainstream approach with a number of different tactics to aid business growth because… well, it works. 
Facts. 
Don't believe us? Here are 25 account-based marketing statistics to prove exactly why you should be incorporating it into your marketing efforts.
The rise of ABM
1. Data from Similarweb (oh, hi) shows the search volume for "ABM" has over 100K monthly searches on average, which increased by 25% in the last 12 months (July 2021 to June 2022). This indicates there's mass search interest in how ABM works, how businesses use it, and the different tools and platforms out there.
2. 67% of brands use account-based marketing.
3. 64% of ABM programs were started within the last five years, with 68% using an automated process since.
4. Global account-based marketing is expected to reach $1.6 billion by 2027.
5. The US ABM market alone is projected to reach $202.3 million by 2027.
What these ABM statistics mean for you: This is the time to put time, money and effort into account-based marketing. It's a marketing trend that's grown quickly, and it's only set to get bigger. 
ABM in action
6. Marketers questioned in a Forrester survey strongly agreed that personalized content (56%) and advanced data management (43%) are two of the main factors to achieving ABM success.
7. Companies with mature ABM strategies put 79% of opportunities and 73% of total revenue down to account-based marketing efforts. 
8. 30% of marketers working with an account-based approach reported engaging 2x more frequently with their C-level targets.
What these ABM statistics mean for you: Research, and ultimately, patience are essential for account-based marketing, but once you get there, you can reap the benefits – including saving yourself time in the long-run. Check out the next few ABM stats for reference…
Time-efficiency with ABM
9. ABM helps reduce up to 50% of sales time that can so easily be wasted on unproductive prospecting, which historically has caused sales to ignore 50% of marketing leads. 
10. ABM Leadership Alliance reported an average 171% increase in annual contract value (ACV) after implementing account-based marketing. 
11. B2B firms with tight alignment between their sales and marketing teams achieved 24% faster three-year revenue growth, and 27% faster three-year profit growth. 
12. A survey by CEB found that individual stakeholders were 40% more likely to buy from a supplier that sent content tailored to their specific needs, than from suppliers who didn't.
What these ABM statistics mean for you: While campaigns do take time and patience, you are able to use your time more effectively, targeting and gaining higher contract values in much less time – ultimately helping with the three Rs (which you're about to read about in the next section).
Other benefits of account-based marketing
13. 80% of marketers say ABM improves customer lifetime value (CLV). 
14. 90% of companies say that the top aim of their ABM efforts is new business generation. 
15. 76% of B2B marketers have agreed that ABM delivers a higher ROI than other marketing activities.
16. Companies that have adopted ABM reported an 84% improvement in reputation and an 80% improvement in customer relationships (due to implementing things like client service management, automated list generations, and customer notifications).
17. Forrester and RollWorks data found that 58% of B2B marketers experienced larger deal sizes with ABM, thanks to the perks of personalization.
18. 60% of companies report at least a 10% increase in revenue in the first year of their ABM program.
19. 84% of marketers said that ABM provided significant benefits in retaining and expanding the existing relationships of clients. 
What these ABM statistics mean for you: In strategic marketing, there's this thing called 'the three Rs' – which are: revenue, relationships, and reputation. 
In fact, there's a mathematical equation behind them: reputation + relationships = revenue. It's one your math teacher probably didn't talk about, but one that definitely matters for your business growth and success. By working on your reputation as a brand and the relationships you make along the way is what will bring in – but also keep – your revenue strong. 
A sales and marketing dream-team
20. 82% of B2B marketers said ABM greatly improves alignment between sales and marketing.
21. Companies using ABM are reported as 67% better at closing deals when they sync their sales and marketing teams. 
22. Thanks to closer work between marketing and sales, 66% of companies have reported the main benefit of ABM is an increase in pipeline opportunities.
What these ABM statistics mean for you: Who'd have thunk it? Combining your sales and marketing forces provides for bigger – and faster – wins. And implementing ABM is one way to strengthen this dynamic duo, and get them aligned. 
Other benefits include more valuable leads, more accurate B2B buyer personas, some pretty swish marketing content and materials to boost interest – and that's just a few. 
The challenges of account-based marketing
23. 42% of companies that missed their account-based objectives and targets don't have dedicated leadership.
24. 43% said unreliable data makes it difficult to know who to target within their accounts. 
25. 40% of B2B marketers still find it challenging to develop the right content for their target audience. 
What these ABM statistics mean for you: Sure, introducing ABM to your marketing strategy is not always easy – but like most things, it's a learning process. Dedicated and experienced leaders can really help, but the real challenges can be solved through experimentation and understanding how to really get to know your target clients. 
Our Sales Intelligence solution is one way to help you target the right leads, providing you with invaluable insights into websites, their digital strategies, their competitors, and their technologies. In other words, Sales Intelligence has most definitely got the goods you need to choose the right prospects and convert.
Rounding up
So there we have it, 25 statistics about ABM to make you really think about that sales and marketing strategy of yours. If you want to know more about account-based marketing, our ultimate ABM guide is a good start.
But don't just stop there. If you fancy some further reading, check out these links: 
This post is subject to Similarweb legal notices and
disclaimers
.
Wondering what Similarweb can do for you?
Here are two ways you can get started with Similarweb today!