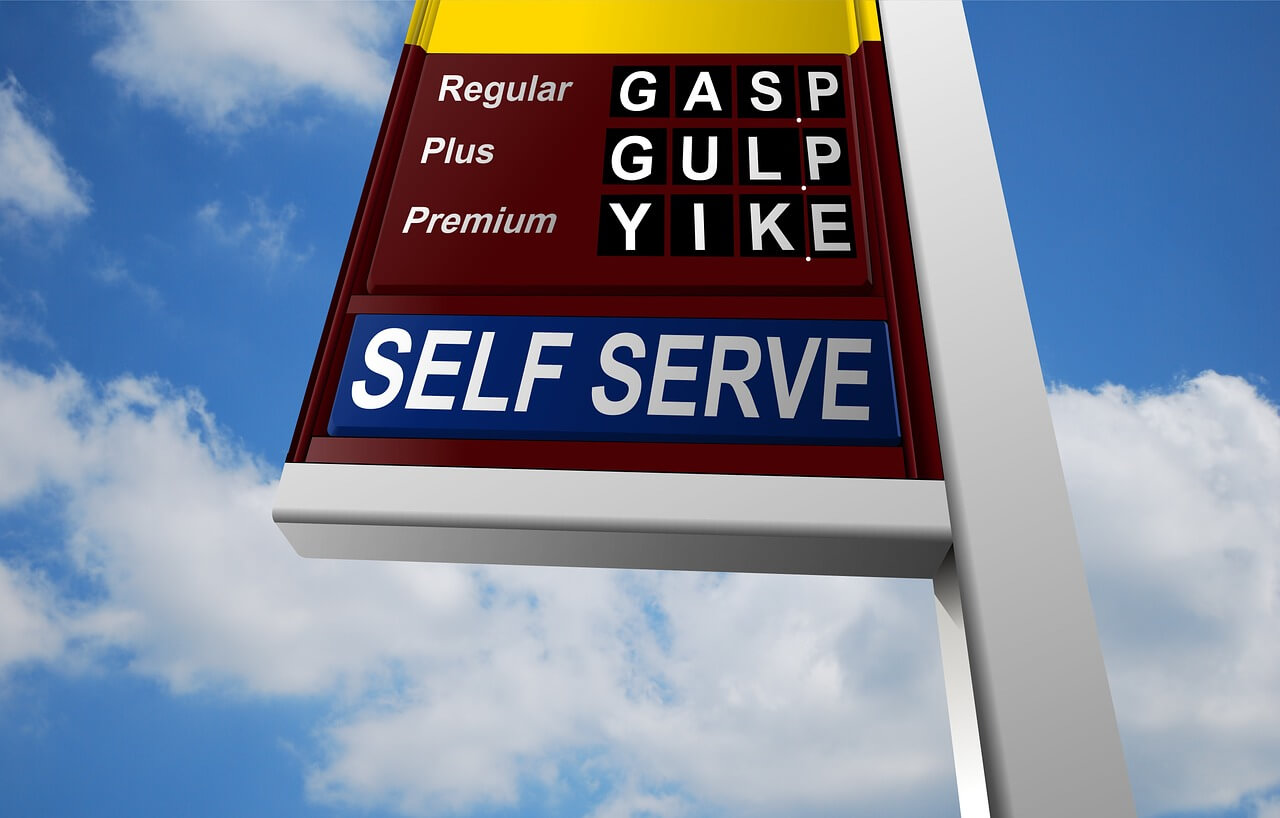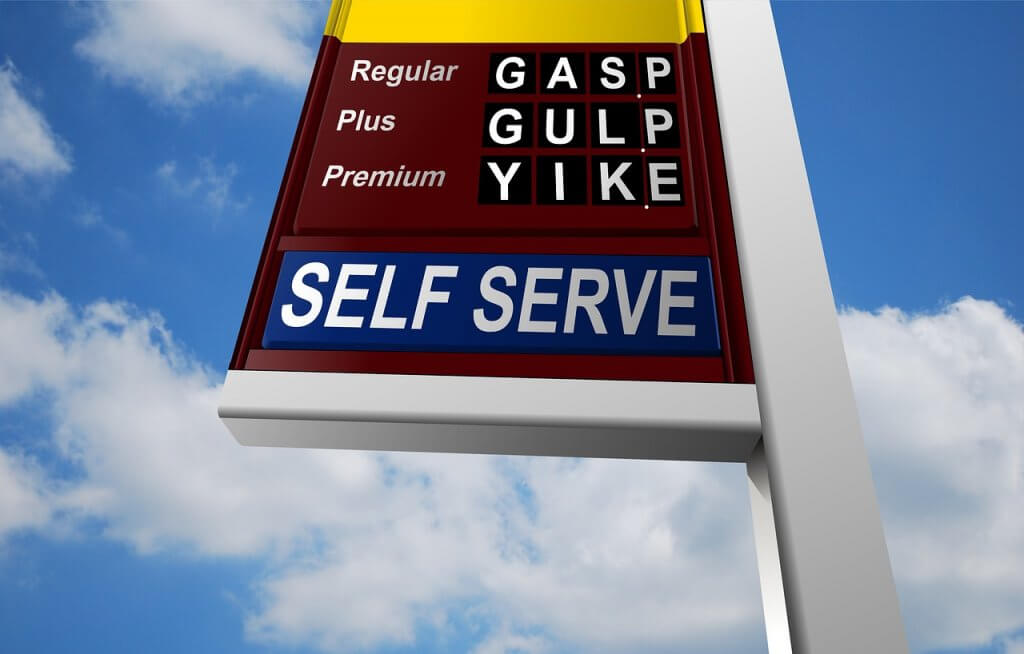 Insights
In Search of "Cheap Gas Near Me"
June 10, 2022
| Updated August 1, 2022
Drivers are searching for "cheap gas near me" at a time when a fill-up can easily cost $100 or more.
Key takeaways 
There were almost 713,000 searches on phrases like "cheapest gas near me" in May, up nearly 44% compared with June 2021, according to Similarweb estimates. That's down a bit from March, when there were nearly 1.8 million of those searches.
Many online metrics of gas price anxiety peaked in March, when for example visits to GasBuddy.com were up nearly 390%, year over year, at 28.9 million. That same month, there were 1.78 million downloads of the Gas Buddy app for Android and 3.7 million downloads for Upside, a popular app for cash back on gas and groceries.
Gas Buddy remains one of the best-known gas price lookup apps. Although its install penetration on Android is just 0.74% compared with 0.54% for Upside.
Searching for cheaper gas
Before leaving home or work with a car that's low on gas, consumers have been turning to a browser on their computer or phone to see where they will be less likely to be a victim of highway robbery.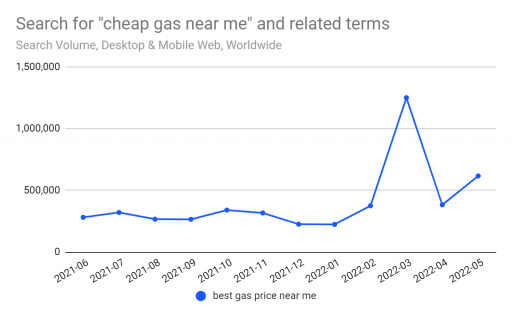 Visits to GasBuddy.com
Since Gas Buddy is one of the best-known brands for gas price lookups, both with its app and on the web, it has been one of the primary beneficiaries of that search traffic.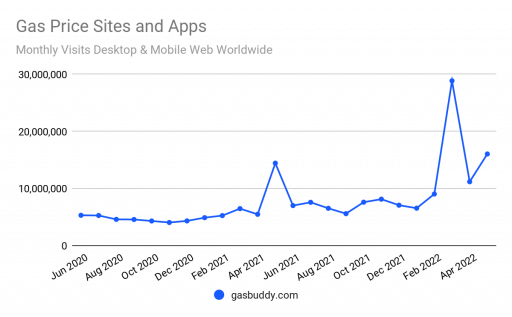 Gas price, discount, and rebate apps
If you're going to pay a lot for gas anyway, you might as well try to get some of that back through apps tied to incentive and rebate programs. Gas Buddy is one of the beneficiaries here as well, although the Upside gas and groceries cash back app is coming on strong and the Android version has had more downloads in recent months.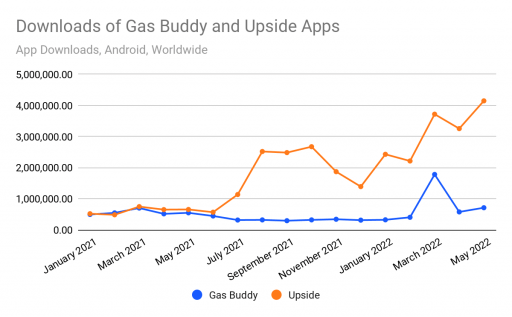 Part of the differential here is that more people already have the Gas Buddy app, although penetration for both is less than 1% within the market for Android apps.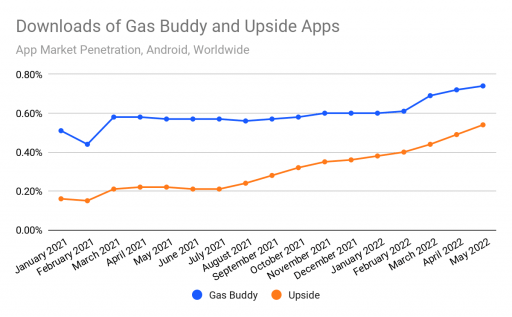 Running on fumes
Consumers wandering the streets in search of cheap (or slightly cheaper) fuel are all too likely to run out of gas before they find it. When prices are at their highest, consumers put a premium on access to web and app data that help them find the most reasonable prices or earn cash back when the price is outrageous.
The Similarweb Insights Newsroom is available to pull additional or updated data on request for the news media (journalists are invited to write to press@similarweb.com). When citing our data, please reference Similarweb as the source and link back to the most relevant blog post or similarweb.com/corp/blog/insights/.
Contact: For more information, please contact Richard Krueger at richard.krueger@similarweb.com.
Citation:  Please refer to Similarweb as a digital intelligence platform. If online, please link back to www.similarweb.com or the most relevant blog post.
Report By: David F. Carr, Senior Insights Manager
Disclaimer: All data, reports and other materials provided or made available by Similarweb are based on data obtained from third parties, including estimations and extrapolations based on such data. Similarweb shall not be responsible for the accuracy of the materials and shall have no liability for any decision by any third party based in whole or in part on the materials.
This post is subject to Similarweb legal notices and
disclaimers
.
Wondering what Similarweb can do for you?
Here are two ways you can get started with Similarweb today!