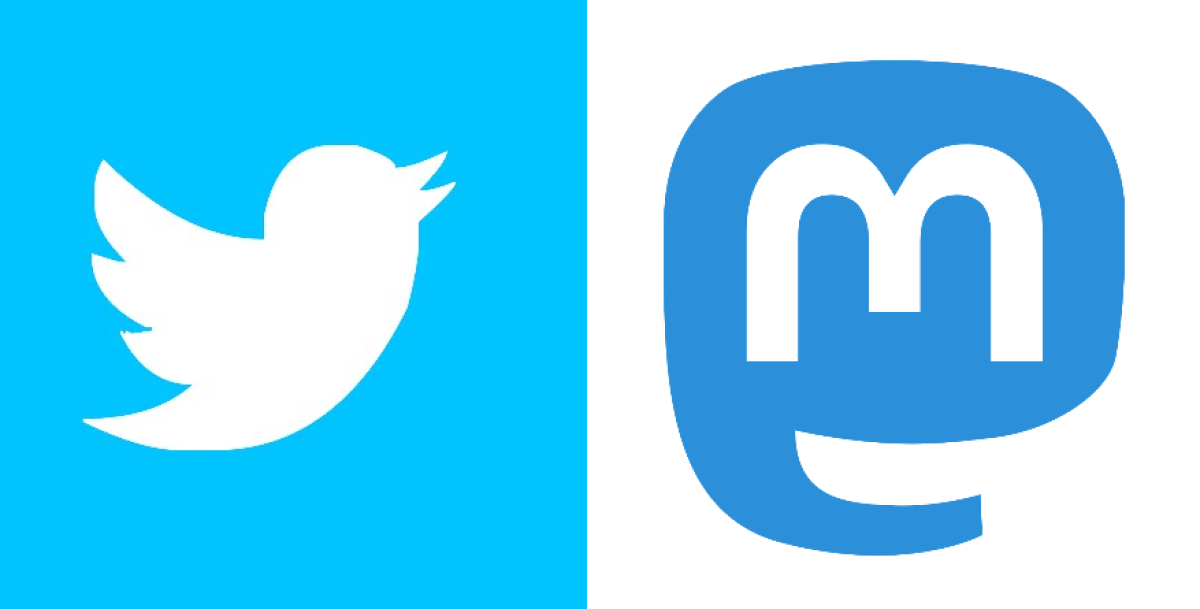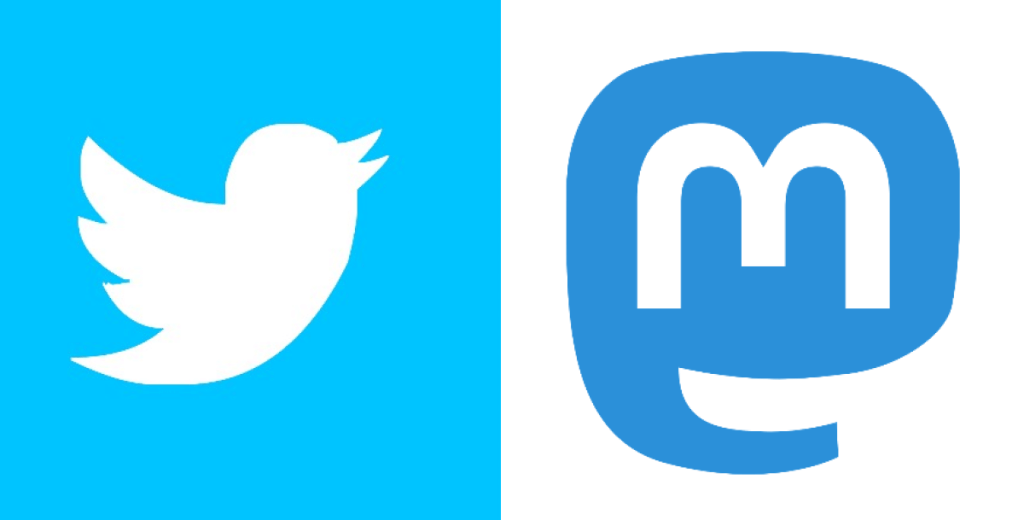 Insights
Nonprofit Mastodon Growing as a Twitter Alternative
November 10, 2022
| Updated November 16, 2022
Twitter alternative Mastodon has seen a surge in interest, likely from those leaving (or thinking about leaving) Twitter now that it is owned by Elon Musk. Mastodon is a relatively small, community-run, distributed, and open-source microblogging platform.
The graph below shows the sudden uptick in traffic to two of the primary Mastodon domains welcoming newcomers, which started about the time of Musk's takeover.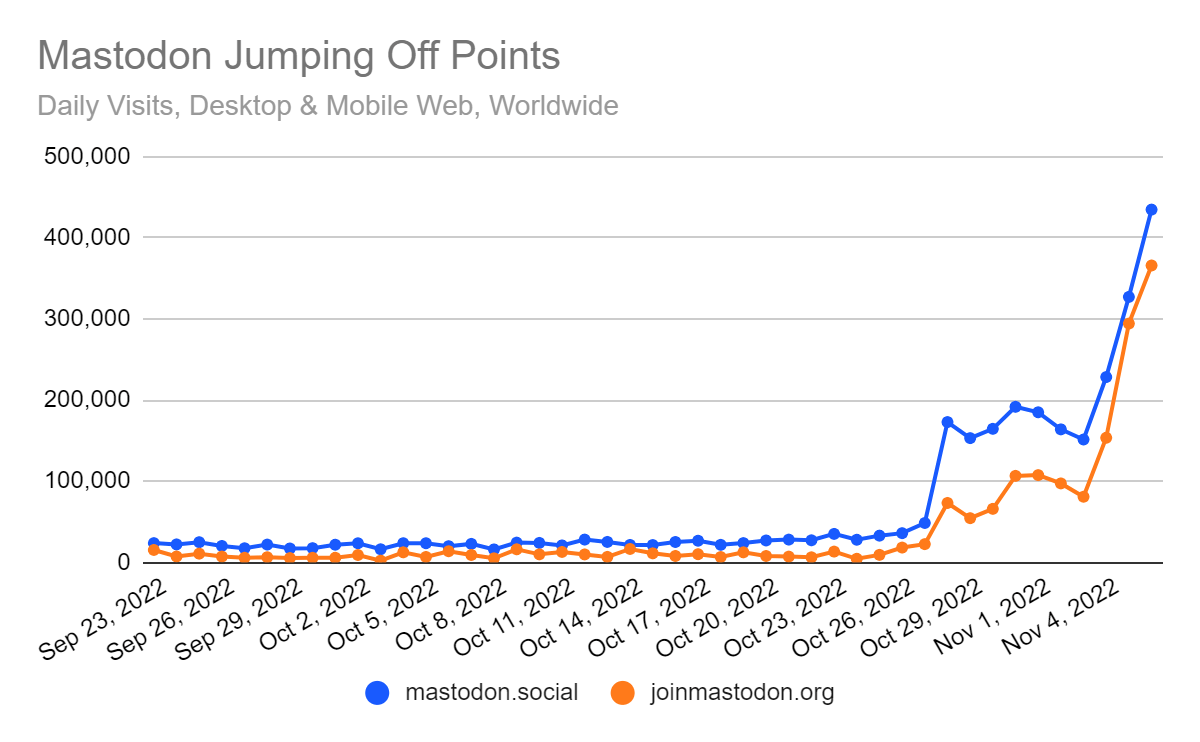 Searching for an alternative – or specifically for Mastodon
Similarweb Director of Product Management Roey Shafir said one of the metrics that jumped out to him was that branded search (people specifically searching on "Mastodon" as a keyword who land on the mastodon.social domain) has climbed rapidly over the past three months to 90%. That's evidence of strong word-of-mouth marketing. "Another side to this story can be found in the social overview – 75% of Mastodon social traffic comes from Twitter itself – meaning Twitter users are recommending Mastodon to their friends and followers," he noted.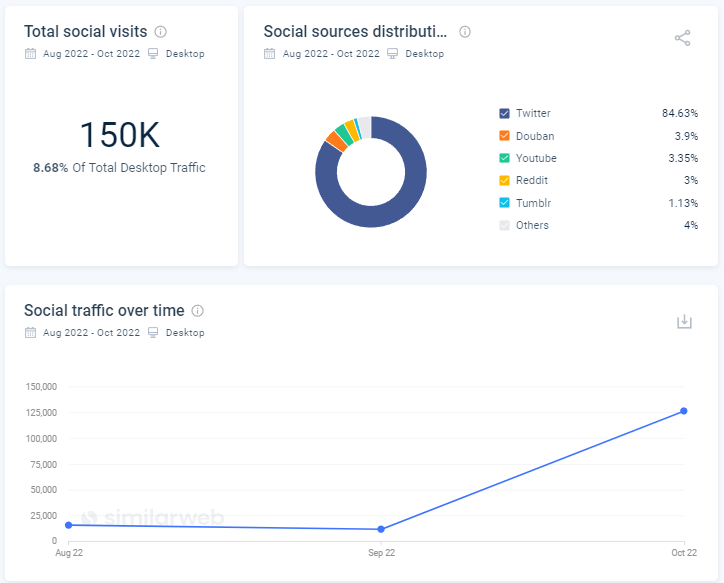 More than one domain: a whole herd of Mastodons
Because of Mastodon's distributed architecture, mastodon.social may be the first search result but represents only a fraction of the activity on the network, which includes thousands of domains for Mastodon servers run by universities, software companies, consulting firms, and open-source communities. That complexity could be a stumbling block to mass adoption, since there is no one place to join the service – visitors to mastodon.social, the original server run by the core team of the open source project, are directed to visit joinmastodon.org to choose a specific server they want to join (although it's possible to change your mind and move your account later). You can read a more detailed overview on Techcrunch.
Nevertheless, Mastodon recently surpassed 1 million daily active users, according to Eugen Rochko, founder and CEO of Mastodon gGmbH, the German nonprofit organization behind the project. That's less than half of one percent of Twitter's usage, but has still left his technical team scrambling to keep up.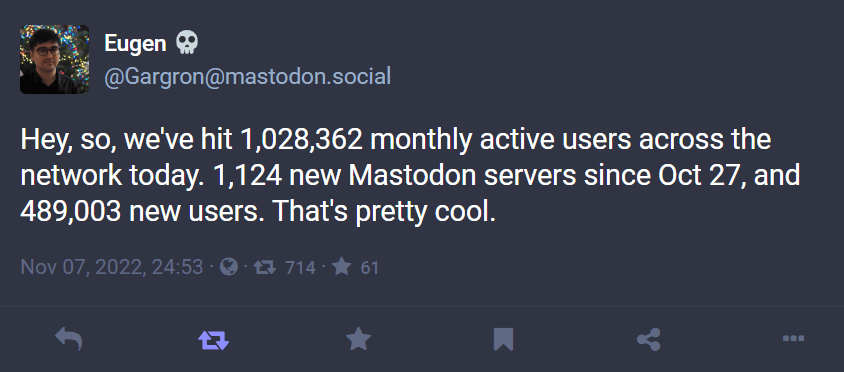 The organization is small enough that Rochko is also the lead developer and the only full-time employee, leading a team of open-source contributors. Although the overall community promotes some general guidelines discouraging hate speech and bullying, individual server administrators are free to set their own content moderation policies.
Rochko conceived of Mastodon as a public social space that would be beyond the control of any single entity, designing it in such a way that not even he has the power to ban or censor users across the network. Among other things, the open-source nature of the project means he can disapprove of – but cannot prevent – the use of the software by right-wing networks like Gab or Truth Social, both of which have taken advantage of the open-source code. He and his core team of contributors simply don't promote the servers of Mastodon administrators who disrespect their standards.
Mastodon and the Twitter quitters
Some of the new Mastodon users are those who have deactivated their Twitter accounts in anticipation Musk loosening rules on content moderation, which they expect to lead to an increase in hate speech and disinformation. However, many others remain active Twitter users but are cross-posting to Mastodon and experimenting with the relatively small but growing community they find there. For example, there are budding communities of tech and information security experts within the Mastodon network (although it may have its own security and privacy issues).
We continue to track confirmed Twitter account cancellations, which have slowed somewhat from the immediate surge following Musk's takeover.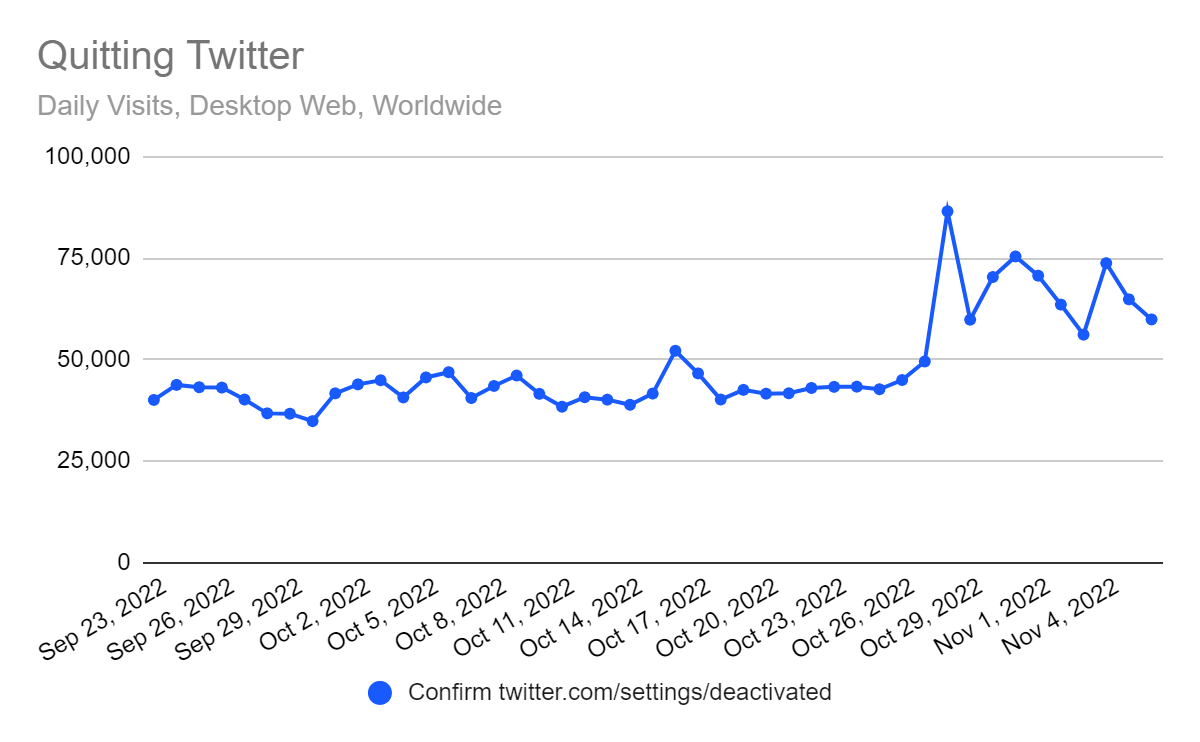 Search for a Twitter alternative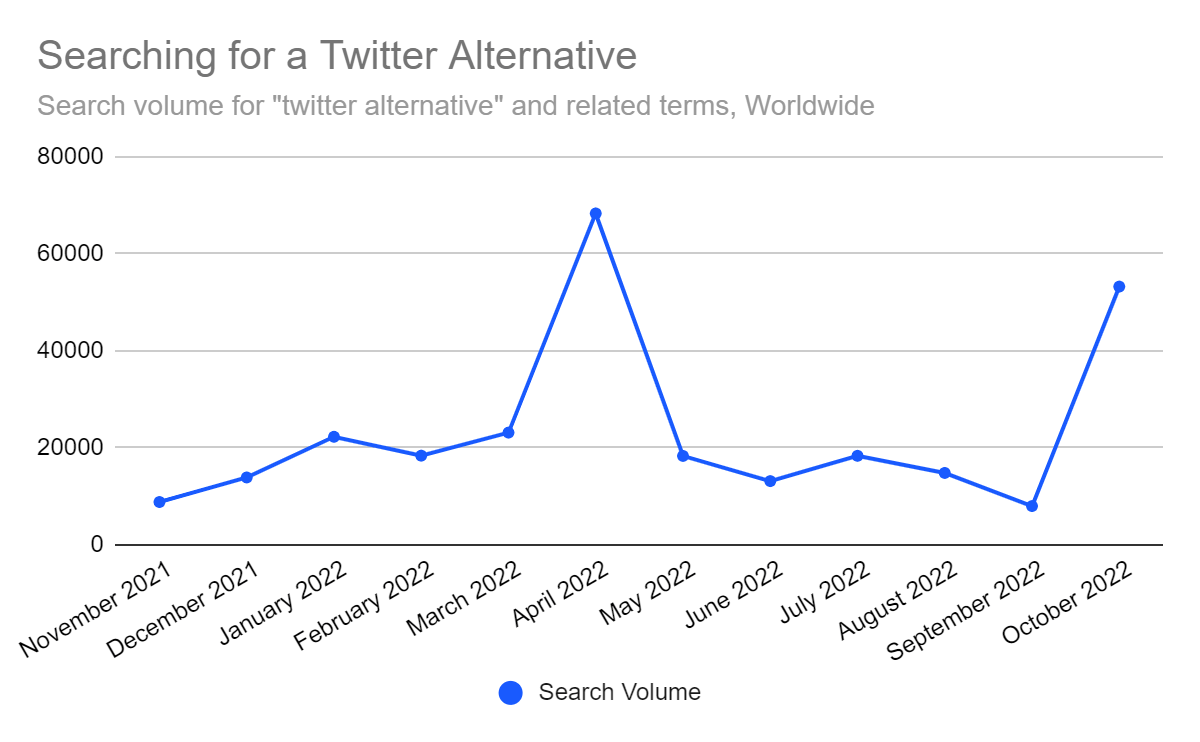 On the other hand, it remains true that more Twitter users are looking for an exit plan, as we can see from the latest surge in searches for "Twitter alternative." Search volume was up about 560% between September and October, when Musk took the reins. The last such surge was back in April, when Musk originally made his move to acquire the company.
As we reported in a previous article about Twitter quitters, right-wing platforms remain the most successful Twitter alternatives to have emerged so far, although Tribel is a small but growing microblogging platform more explicitly appealing to liberals. 
The Similarweb Insights & Communications team is available to pull additional or updated data on request for the news media (journalists are invited to write to press@similarweb.com). When citing our data, please reference Similarweb as the source and link back to the most relevant blog post or similarweb.com/corp/blog/insights/.
Contact: For more information, please write to press@similarweb.com.
Citation:  Please refer to Similarweb as a digital intelligence platform. If online, please link back to www.similarweb.com or the most relevant blog post.
Report By: David F. Carr, Senior Insights Manager
Disclaimer: All data, reports and other materials provided or made available by Similarweb are based on data obtained from third parties, including estimations and extrapolations based on such data. Similarweb shall not be responsible for the accuracy of the materials and shall have no liability for any decision by any third party based in whole or in part on the materials.
This post is subject to Similarweb legal notices and
disclaimers
.
Wondering what Similarweb can do for you?
Here are two ways you can get started with Similarweb today!