With a projected worth of $5.5 trillion worldwide in 2022, the eCommerce industry is booming. Sped on by the pandemic, online orders have soared and remain extremely popular, with 2.14 billion people still placing digital purchases globally.
Using unique data from Similarweb Digital Research Intelligence and Shopper Intelligence, we've gathered all the facts about eCommerce worldwide and in the U.S. that you need to know to succeed this year.
How many eCommerce sites are there?
Across the globe, online shopping has become an integral part of our everyday lives. We're spoilt for choice, but how many digital retail sites exist?
It's estimated that there are a whopping 12 – 24 million eCommerce sites worldwide.
Given that online stores are much easier to set up than physical ones, it's unsurprising that this number ranges so high. Since the industry's popularity is soaring, let's dive into the key eCommerce facts to reveal how successful it really is.
Top 10 eCommerce sites
eCommerce refers to the activity of buying and selling products and services online. See below for a snapshot of the status of eCommerce sites in the U.S. and across the globe.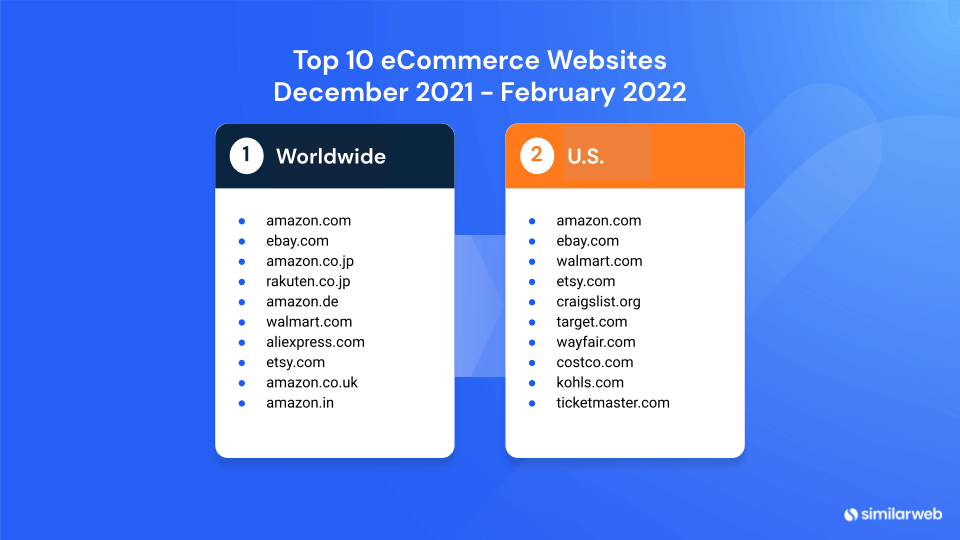 Key eCommerce statistics
Let's take a look at the eCommerce traffic statistics, based on the top 100 websites in the industry:
eCommerce and Shopping industry in 2021, globally, all traffic
Total visits – 119.9 billion
Monthly visits – 16.7 billion
Unique visitors – 480.1 million
Average visit duration – 6 minutes 47 seconds
Average pages per visit – 8.0
Average bounce rate – 35.5%
Device distribution – 48.2% desktop, 51.8% mobile web
Gender distribution – 56% male, 44% female
eCommerce and Shopping industry in 2021 U.S., all traffic
Total visits – 63.5 billion
Monthly visits – 5.3 billion
Unique visitors – 134.3 million
Average visit duration – 6 minutes 26 seconds
Average pages per visit – 7.5
Average bounce rate – 38.0%
Gender distribution – 48% male, 52% female
Device distribution – 51.9% desktop, 48.1% mobile web
How is 2022 looking so far? Here's the eCommerce numbers and stats for January – March 2022 in the U.S., all traffic:
Data based on the top 100 websites in the industry:
Total visits – 14.6 billion
Unique visitors – 131.9 million
Average visit duration – 6 minutes 18 seconds
Average pages per visit – 7.4
Average bounce rate – 37.9%
Gender distribution – 48% male, 52% female
Device distribution – 51.7% desktop, 48.3% mobile web
In comparison to January – March 2021 data, the eCommerce and shopping industry in the U.S. is performing roughly the same so far. However, total visits are down by 4.7% in 2022, compared to the same period last year when visits reached 15.3 billion.
eCommerce growth statistics
Worldwide eCommerce growth
The pandemic accelerated the shift away from physical stores to online shopping by approximately five years.
Digital sales experienced a 25.7% surge in 2020 and over 80% of consumers shopped online that year.
Retail eCommerce sales are expected to reach $5.5 trillion this year (2022), a 21.0% increase from $4.92 trillion in 2021.
By 2025, it is predicted that eCommerce sales will value at $7.39 trillion globally.
U.S. eCommerce growth
Department store and non-essential retailers saw a 25% decline in sales in the first quarter of 2020 and a 75% decline in the second quarter.
Revenue from eCommerce sales was estimated at $768 billion in 2021 and could exceed $1.3 trillion by 2025.
In 2021, 74.3% of the population purchased products online. It's estimated that by 2025, this figure will rise to 80.4%.
Amazon eCommerce stats
We're sure it's no surprise to anyone that amazon.com is taking the lead as the top eCommerce site in the U.S. and worldwide. Using Similarweb Shopper Intelligence Platform, let's leap into amazon.com's data and see how the website performed in 2021.
Amazon sold 13.5 billion units
This totaled $407.4 billion in revenue
The website gained 127.1 billion product views
Amazon's conversion rate was 9.7% in 2021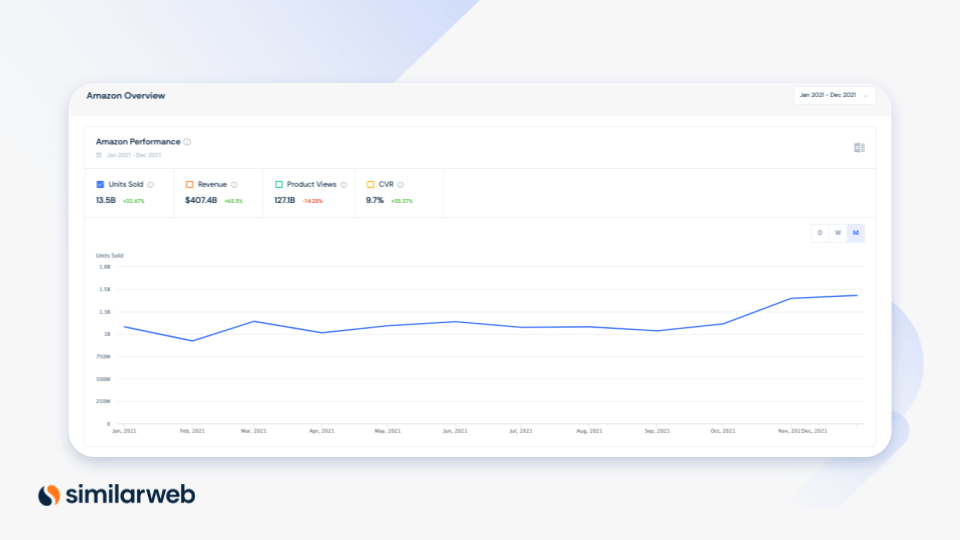 Units sold on amazon.com stood around the 1.1 billion mark per month for the majority of the year.
These figures rose to 1.4 billion in November and December, during the holiday sales season.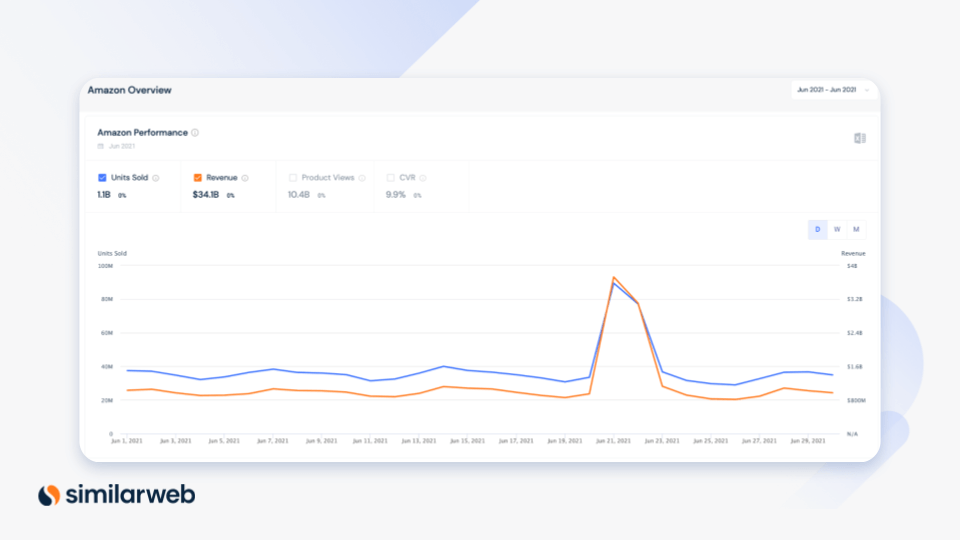 Amazon sales dramatically increased on Amazon Prime Day.
On June 21 Amazon units sold rose to 89.4 million and $3.7 billion in revenue.
These figures dipped slightly on the second day but still remained high with 77.1 million units sold and $3.1 billion in revenue.
To put this in perspective, on June 20, Amazon sold 33.4M units and generated $946.6 million in revenue.
Following the two-day annual event, sales dropped back down to 36.7 million and $1.1 billion in revenue.
How's Amazon's performance looking so far in 2022?
January – March:
Amazon has sold 3.3 billion units
This has totaled $105.4 billion in revenue
The website has had 29.7 billion product views
The conversion rate stands at 10%
Home & Kitchen is the highest performing category in terms of revenue ($16.7 billion)
Grocery & Gourmet food takes the lead in units sold, at 450.2 million units
Clothing, Shoes & Jewelry has 4.8 billion product views, making this category the most searched on the website.
In comparison to the first three months in 2021, Amazon has sold approximately the same amount of units but has brought in higher revenue. In 2021, revenue totaled $85.6 billion. The leading categories in terms of revenue, units sold, and product views remain the same as the year before.
Amazon category performance
Online shopping has presented us with a plethora of choices at the click of a button, and amazon.com has covered all the categories of items we could ever need to order in a one-stop-shop.
Let's take a look at amazon's winning categories for 2021, ranked by revenue:
Interestingly, despite placing 9th on the list, Grocery & Gourmet Food secures the top spot as the winning category in terms of units sold. Within the same year, 1.9 billion units were bought on the site. Home & Kitchen was bumped to second place, having sold 1.6 billion units.
Amazon shopper demographic statistics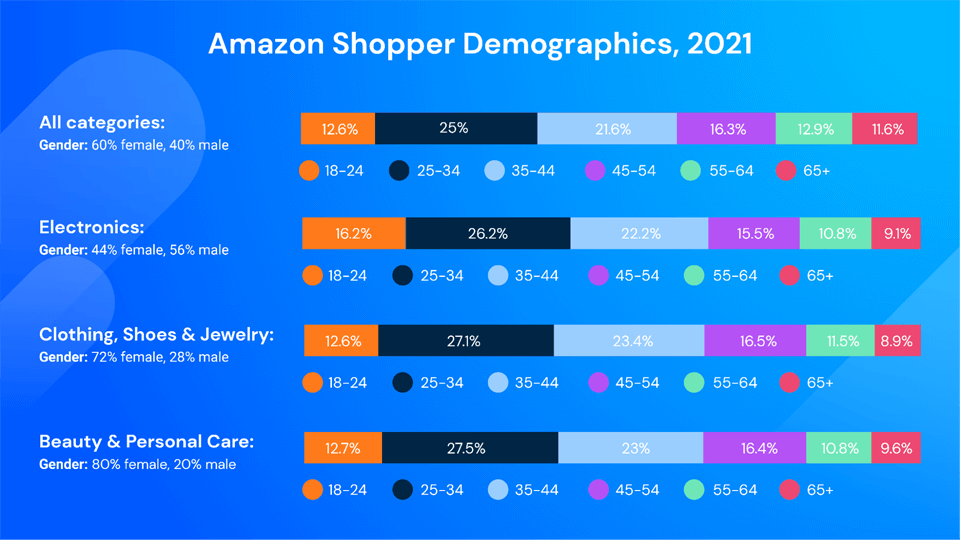 Amazon performance across countries, ranked by revenue and units sold: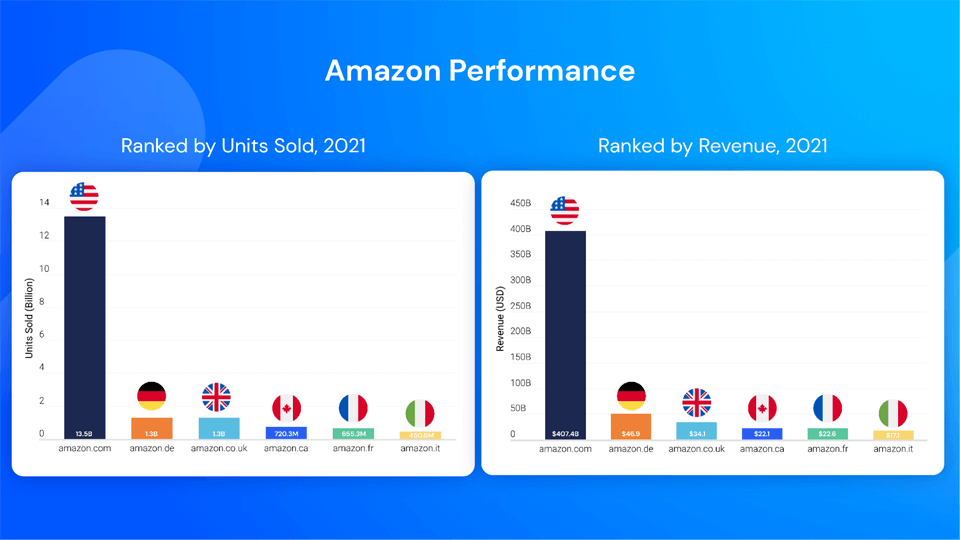 The U.S. and U.K. totaled a combined 2.13 billion units sold in Grocery & Gourmet Food, the most popular category in terms of units sold in these two countries.
Home & Kitchen was the most popular category in Germany, France, Canada, and Italy in terms of units sold, with a combined total of 451.2 million units.
The key incentives influencing online shopping behavior
There are many reasons why shoppers have turned to online orders instead of in-person purchases – convenience and ease being the main factors. But with so many options online, what's influencing shopping behavior in 2022?
Sustainability
With climate change as a top priority across the globe, consumers are increasingly demanding, and expecting, sustainable measures when shopping online. Based on the figures below, carbon neutrality is a vital factor to implement to boost sales.
73% of consumers consider climate impact when they place an order.
Stores that prioritize a climate-first approach have a 5.8x faster growth.
Cart conversion is increased by 20% for net-zero purchases.
Recommendations
In 2021, approximately 70% of online shoppers read between one and six customer reviews before deciding to make a purchase.
61% of online consumers in the U.S. made a purchase after reading recommendations on a blog.
User experience
A survey found that free delivery was the most influential reason why digital shoppers added a product to their basket and purchased it.
Discounts and easy return policies were also important factors that influenced shoppers to purchase online.
Augmented reality can also boost sales – 35% of respondents said they would shop online more if virtually trying on a product was an option.
A survey found that automated welcome emails sent by eCommerce companies had a conversion rate of 51.9%.
Shopping cart eCommerce statistics
Shopping cart abandonment refers to customers adding items to their shopping cart, but exiting the site before purchasing. This is a key metric for eCommerce retailers to watch out for – you can calculate it with this formula: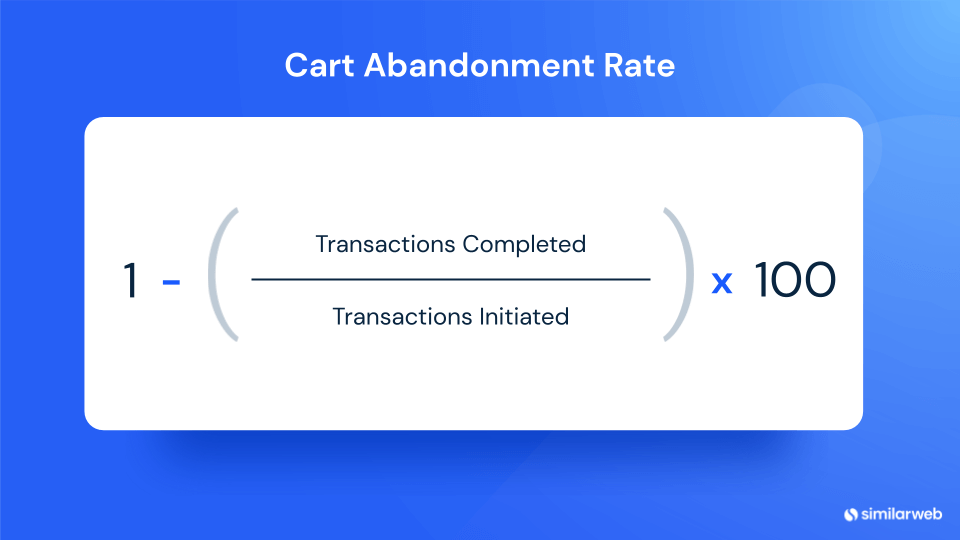 In March 2021, approximately 80% of online orders were abandoned worldwide.
Baymard Institute conducted a survey of 4,384 digital shoppers in the U.S. to determine the most common reasons for cart abandonment. Here's what it found:
48% stated that the extra costs were too high, including shipping costs and taxes
24% abandoned their cart because they were forced to create an account
22% were frustrated by slow delivery times
18% didn't trust the site with their credit card information
17% were deterred from ordering due to a complicated checkout process
Fortunately, there are methods to lower your cart abandonment rate and increase your conversion rates. When analyzing the effectiveness of cart abandonment emails globally, it was found that:
The average open rate of emails is 45% opened
The click-through rate of these emails stands at 21%
The average conversion rate was 10.7%
Social commerce statistics
Social commerce refers to eCommerce sales that are made directly through a social media platform.
Social commerce sales worldwide totaled approximately $475 billion in revenue in 2020.
Revenues are expected to reach around $3.37 trillion in 2028.
Social commerce rates rapidly increased in the U.S. due to the pandemic.
The number of social media buyers totaled approximately 80 million in 2020, a 30% surge from 2019.
This figure is expected to rise by almost 37% to 108 million social buyers by 2025.
Social commerce sales in the U.S. were estimated at almost $27 billion in 2020.
By 2025, sales through social media are expected to reach $79.6 billion.
Social media surge
Social media has become an incredibly powerful marketing tool, so it's no surprise that business executives are increasingly prioritizing it in their eCommerce efforts. Many brands have made it a priority to partner with influencers and foster a brand community online.
Many of us spend a huge amount of our time scrolling through social media apps. With that in mind, the industry has now become another space where we can shop digitally without ever having to leave our favorite apps.
Social media eCommerce statistics in the U.S.: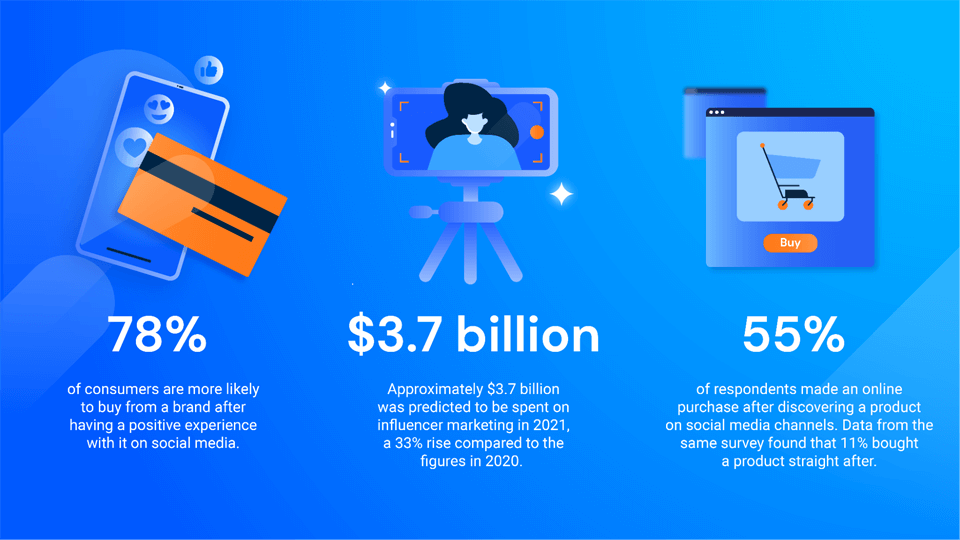 Mobile commerce
Mobile commerce, or mCommerce, refers to online shopping via a mobile device. Given the data presented above on social commerce and social media marketing, it's unsurprising mobile commerce rates are high.
In 2020, 167.8 million U.S. users made at least one purchase on their mobile devices.
By 2024, this figure is predicted to rise to 187.5 million.
Mobile sales in the U.S. reached $359.3 billion in 2021, a 15.2% increase from 2020.
By 2025, mobile sales are expected to reach $728.3 billion and account for 44% of total retail eCommerce sales in the U.S.
Shopping apps are popular with consumers, therefore boosting revenue for online retails.
The five top free shopping apps available on Android in the U.S. are Amazon Shopping, Walmart app, eBay Marketplace, Walgreens, and Wish app, as of March 2022.
Payment method statistics
Digital and mobile wallets were the most popular online payment method worldwide, accounting for 45% of eCommerce transactions. This is projected to increase to over 50% in 2024.
Credit cards ranked second, accounting for 23% of global eCommerce transactions. This is expected to decline in future years.
In the U.S. 94% of the top 500 eCommerce stores offer Visa and Mastercard payments.
89% offer American express.
PayPal is a popular payment method in the U.S., accounting for 22% of online purchases.
Buy now, pay later
Buy now, pay later (BNPL), a new era for payment processes in installments in digital retail, is no longer a trend, but now a popular consumer preference. The installment model allows customers to place an order whilst paying for their purchases over time. The eCommerce company is paid upfront by the payment partner, who is responsible for ensuring payment from the consumer is met.
Using the Similarweb keyword research tool, we found:
In 2021, there were 361,527 search visits worldwide for "buy now pay later", with 99% of these searches being organic.
The traffic winners were klarna.com, afterpay.com, quadpay.com, sezzle.com, and affirm.com.
In the U.S. search visits reached 233,630, with 99.4% organic searches.
The traffic winners were the same as worldwide, but afterpay.com bumped klarna.com to second place.
Benchmark your eCommerce performance
As eCommerce continues to grow, check out the eCommerce trends to watch in 2022. Start analyzing your online store's performance against these eCommerce benchmarks and tailor your website to your consumer's needs.
To learn more about using Similarweb to track your performance online, schedule a demo of Digital Research Intelligence and Shopper Intelligence today.
Read More:
87 Amazon Statistics and Facts Every Retailer Should Know
This post is subject to Similarweb legal notices and
disclaimers
.
Wondering what Similarweb can do for you?
Here are two ways you can get started with Similarweb today!