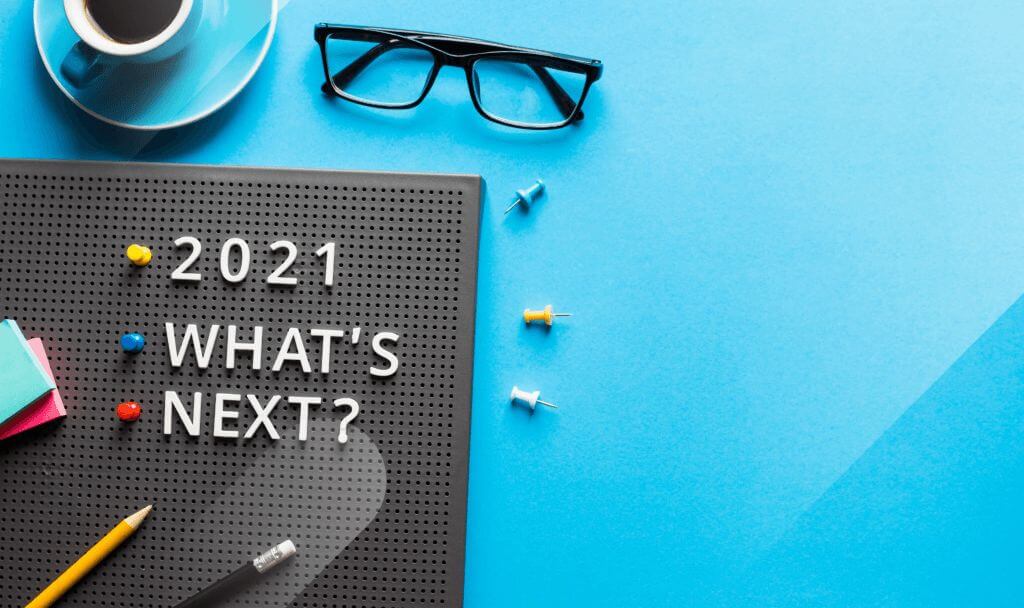 Marketing Intelligence
7 Content Marketing Trends for Greater Impact in 2021
May 4, 2021
| Updated August 4, 2022
In life, change is the one thing you can depend on.  At least that's what my Grandmother has always told me. Remember skinny jeans and side-parts? Ok, that's a joke for the millennials but you get the idea. 
Content marketing is no different. Here's what's surprising though: Looking at marketing intelligence data, we found that the COVID-19 pandemic dramatically accelerated existing trends, but hardly altered their direction. 
To help you keep your finger on the pulse and reach your target audience effectively, we compiled a list of the seven most powerful content marketing trends that still matter to achieve better results now:
1. Stop running away from content AI 
We've entered the era of Artificial Intelligence. Yes, I know we have cars that already drive themselves and AI seems passe at this point, but it's officially moved past a meme and entered our content domain. What does it mean for content marketers? So far, nothing earth-shattering. But make no mistake, AI-driven content is here to stay and it's time to explore this option. If you're not part of the conversation about OpenAI's GPT-3, you need to get into it now to understand how fast AI-created content is developing.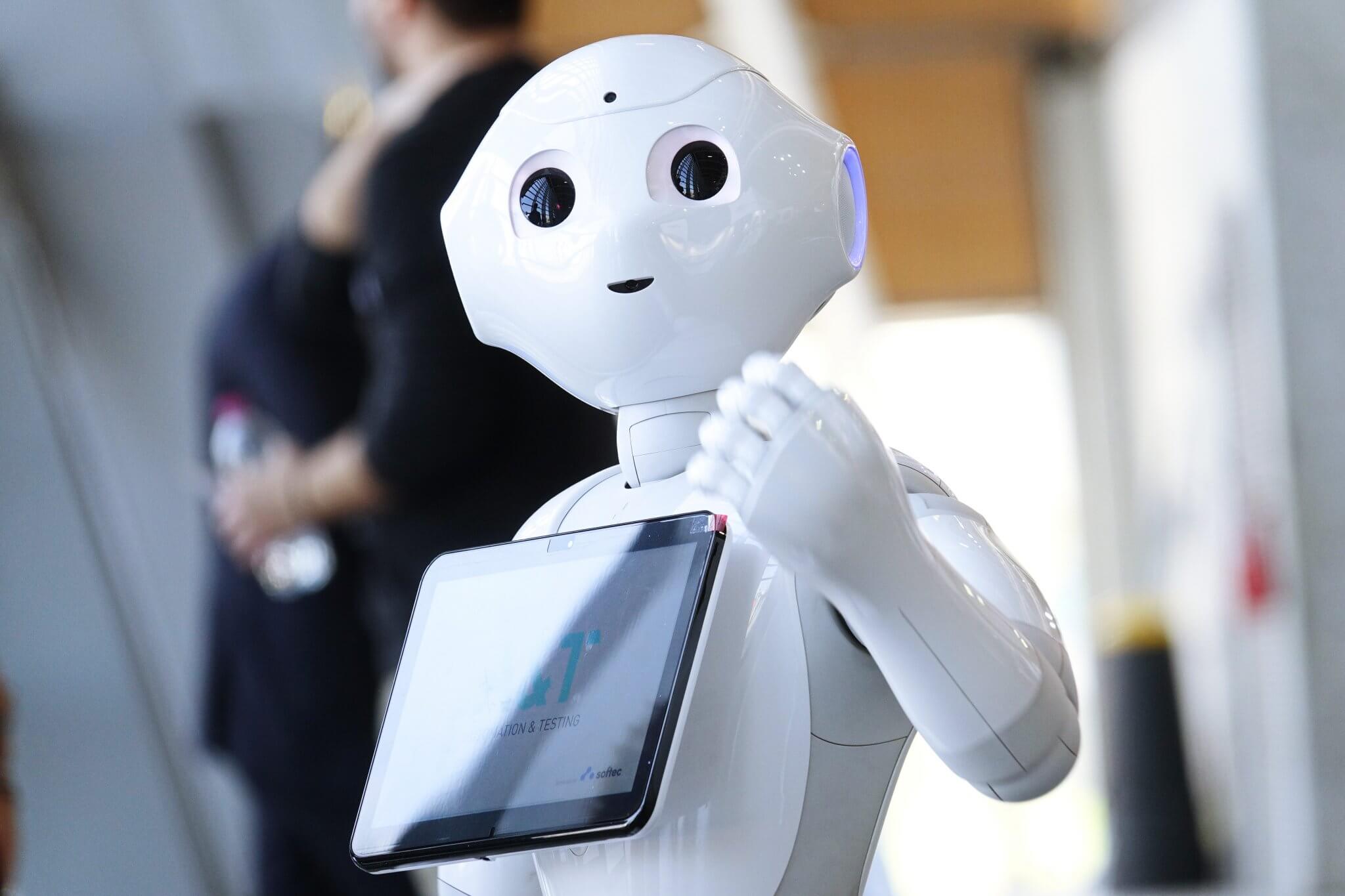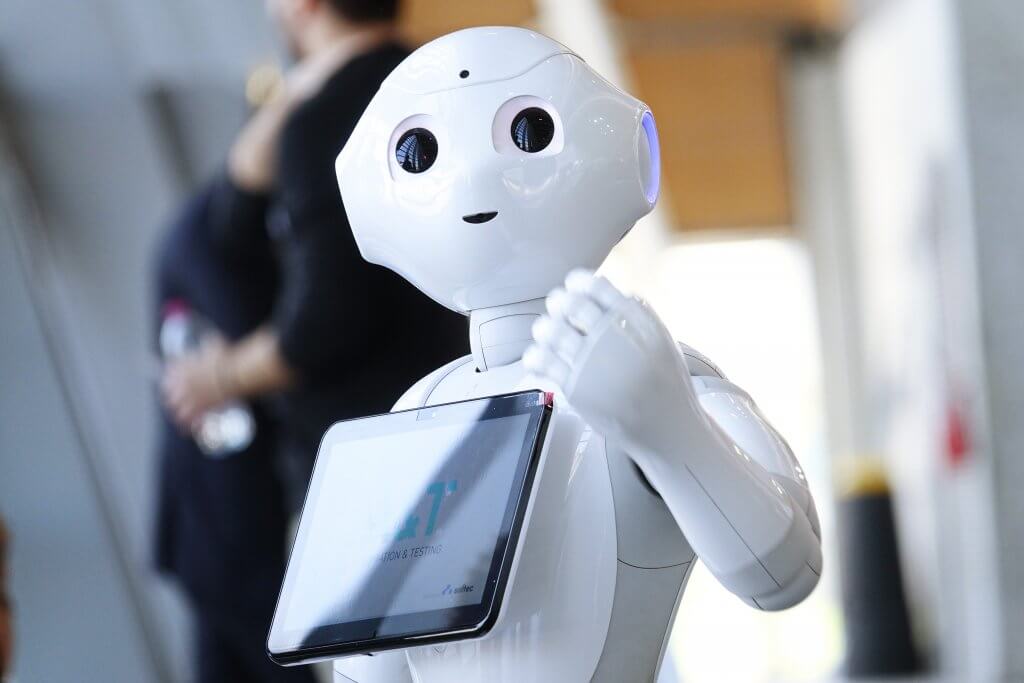 Its reach extends far beyond actual content creation. AI tools can also be used to support tasks like A/B testing, search engine (SEO) optimization, and analysis. Don't worry, I'm definitely not talking about robots stealing our coveted writer's jobs. The benefit is that you can work more efficiently and focus on high-level strategic changes that can improve your campaign results. 
Clearscope, for example, is an SEO optimization tool that helps with keyword research for digital content. Another useful AI-powered tool is SparkToro, which analyzes your audiences' preferences and online behavior. We've even explored MarketMuse which is creating AI first drafts right from inside the platform. 
2. Get your audience to act, create content experiences 
Creating a positive user experience requires more than writing content that answers a question. Let's be honest, people barely read these days. But a content experience could be anything from asking your audience to choose a newsletter category to subscribing to taking a quiz on social media platforms. Interactive content is more engaging and personalized and is more likely to leave an impression, which means a bigger business impact for you.
This trend is so powerful that it is gaining popularity across industries. From B2B SaaS companies to the healthcare industry and a million places in between. Wondering where to begin? You can integrate interactive content by adding polls or before-and-after graphics, so your audience feels personally addressed. Content that offers active involvement helps the brain keep your brand top of mind and is an important tactic to incorporate in your content marketing. So, get creative with your customer experience content.  
3. Live videos, podcasts, and webinars are officially a must
Video content popularity has been steadily rising. Today, practically anyone can create videos using simple online tools and distribute them across channels. We already know video marketing catches attention and keeps people engaged, so let's call it what it is – content. Plus, it generally performs better than written content so it needs to be in every content marketers toolbox by now. 
Still, soon audiences will suffer from video fatigue, and the industry needs to evolve. The truth is, over 202 that ship may have already sailed. Throughout COVID-19, people got used to seeing themselves on camera. Too used to it. So what once was deemed special is now bordering mundane.  One of the most popular emerging trends in digital marketing is live videos. Influencers and thought leaders film themselves giving lectures on best practices while jogging or walking their dog. This kind of content has moved from a nice to have, to a must-have.
Podcasts are another form of a live event that we haven't seen the last of yet. They've replaced talk shows and trade show interviews as easy content consumption vehicles, often on an audiences' second device. 
With in-person events dwindling to next to nothing, webinars, which were almost pronounced dead a while back, have seen a huge comeback too, and the trend isn't expected to die down in the next year or frankly any time soon.
4. Join and build communities, where real conversation happens 
Everybody wants to be heard. Everyone has something to say. Or at least everyone thinks they do, right? The core desire to voice your opinion is part of what keeps social media engaging and why we see so many online communities popping up everywhere – from Facebook to Reddit.
Publishing engaging content in communities is highly cost-effective. For marketers, it presents opportunities to show off their expertise and grow their reach. Joining an online community shows that you belong and can also support loyalty and engagement. Besides, the traditional content distribution of write – post on social – watch your likes grow, is dead in the water. Niche groups, especially those that are invite only, are where the true engagement is at. 
Another powerful way to gain traction from this phenomenon: build your own community. This lets you widen your circle of followers and expand your reach. And if you have a big enough influence or better yet, in-house experts, you can keep people engaging with your product or service and increase awareness about your brand in a natural way. 
Elementor, for example, builds a powerful community by offering different online platforms for their users to connect and problem-solve issues without needing help from the company. Their English Facebook community has over 107K members.  They connect customers with fellow developers, web designers, and businesses the need help building a website. It effectively keeps their audience engaged, connected with their brand, and solves problems without having to hire additional support.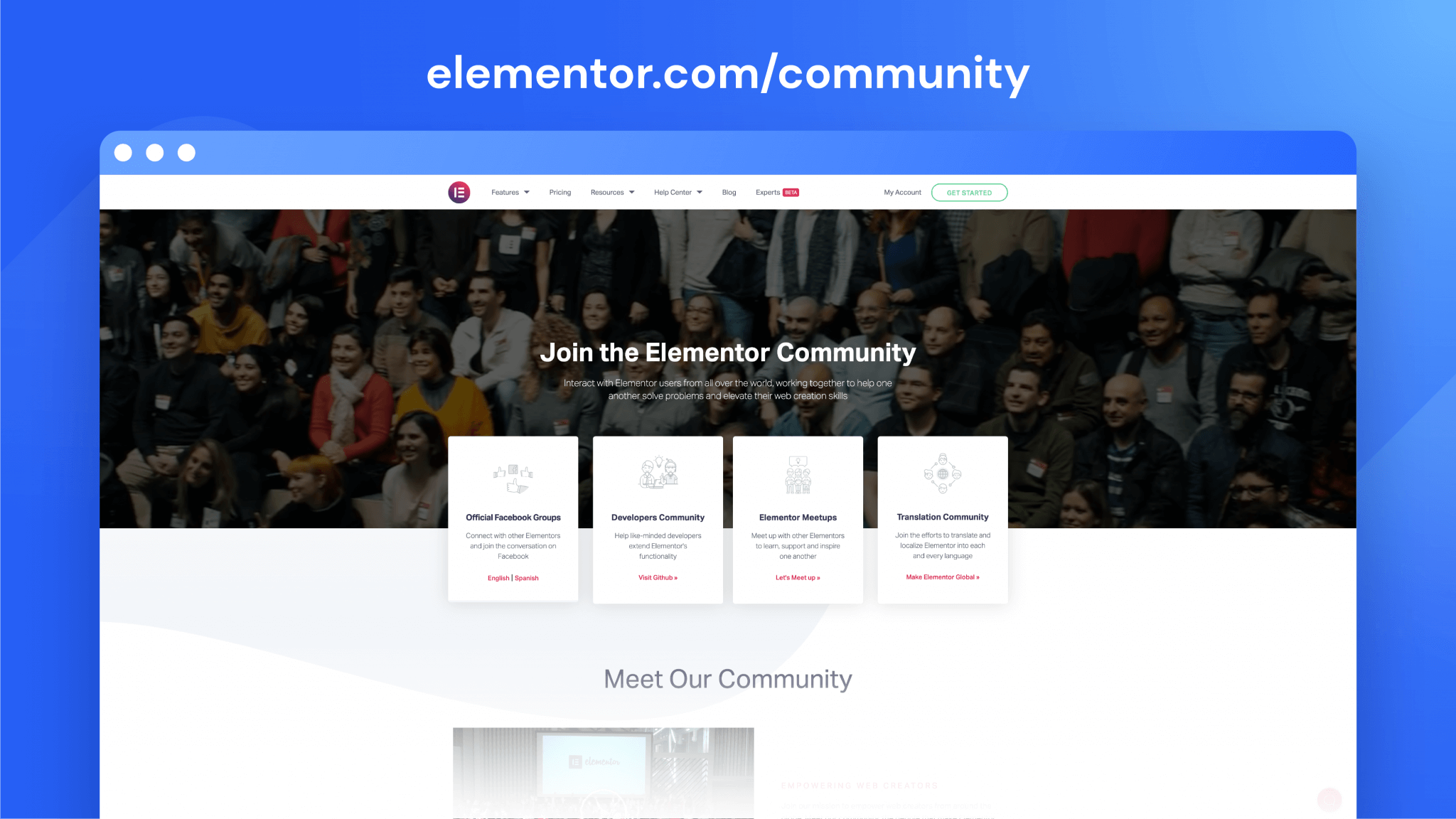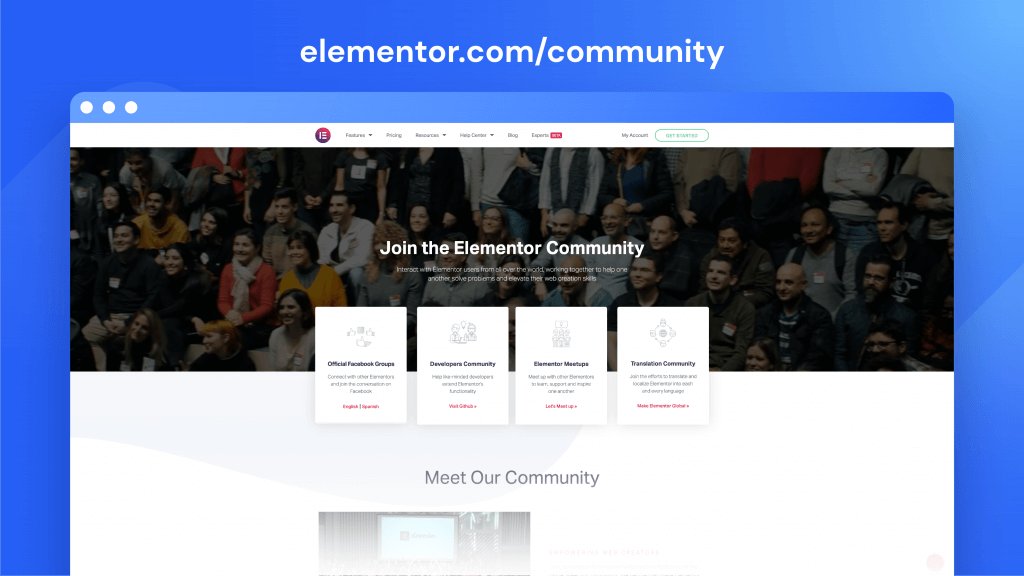 5. Give away content templates and loads of them
This is a no-brainer and yet still comes as a surprise to so many. Why? Because we still don't want to admit that the amount of content required for a successful content marketing strategy (read: a ton!) practically leaves you no other choice than to use content templates. How else are you going to produce assets as if you had an army of robots working for you?  
On the other hand, you might be concerned that templates couldn't be a feasible solution because of the demand for high quality content. You need to put out unique, relevant content every time. Not to worry, we can solve this problem.
In reality, the template trend has found a way to present a solution for both. You establish all the recurring elements in your content template and focus on filling it with valuable, new content and engaging natural language. Anything new that you conceptualize, you should be thinking ahead with questions like: How can I reuse concepts that work well? How can the delivery vehicle and design support new opportunities for engagement while still leaning on the same core content elements? These questions can be answered with well-curated templates.
6. New doesn't mean better, repurpose is progress
Here's another content marketing trend that is rooted in the need for efficiency and quantity. More marketers realize that having a winning asset work as a one-and-done is a waste of some perfectly good meat (or seitan for the vegans, IDK). . It isn't sustainable long-term to have every content asset a one-off, it's much more effective to turn a killer content piece into several different items that can allow for a long(er) running campaign.
We can start with the basics: The most common method is to repurpose an existing piece of content by changing the format. Simply adapt the information or the messaging to a content type best suited for another channel. A blog post becomes a video or an ebook. An infographic turns into an interactive questionnaire, and so on.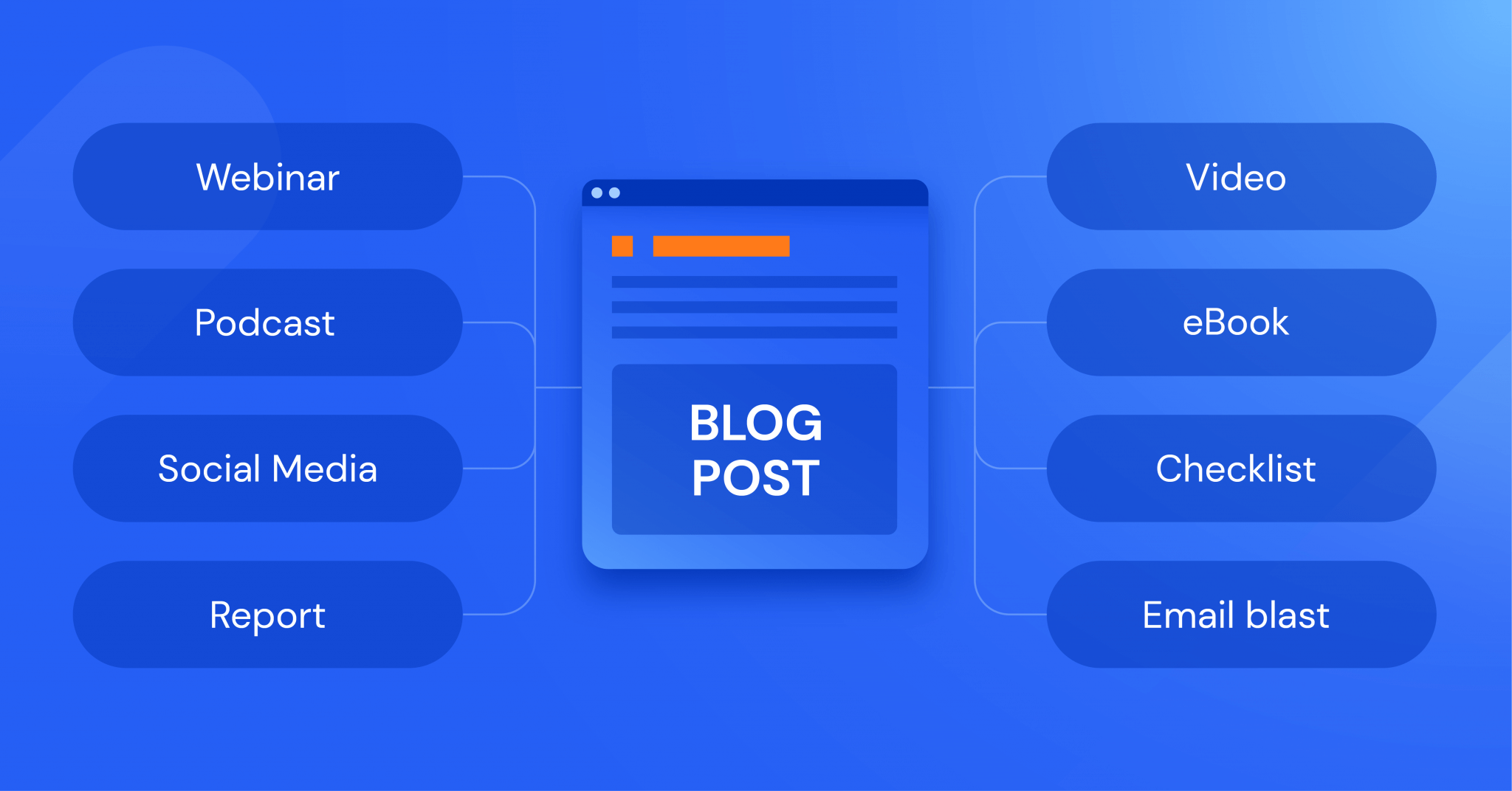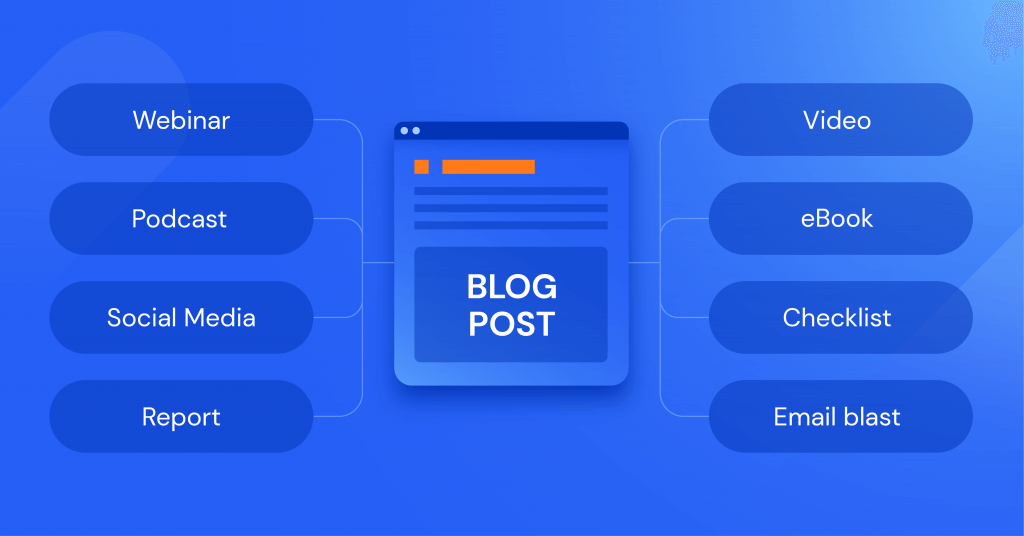 You can also atomize content, a method in which you create one large centerpiece that lives on a central location on your website or blog. You then extract small sections for social media, landing pages, email marketing, smaller blog posts, and anywhere else that's beneficial for your content marketing strategy. If you're not doing this yet, you can pause in your reading and map your next campaign accordingly. Thank us later. 
7. Keyword stuffing is dead and buried, focus on intent (and long-tail keywords)  
Google is shifting. The changes are aimed at gaining a better understanding of what searchers intend to find and the real value your content provides. Finally! You can be pretty sure it took a long time to perfect the algorithm to get here and that this direction is here to stay long term. 
Keywords aren't going to disappear, but their role is gradually shifting. Algorithms are becoming more skilled at understanding natural language and search intent. This means you need to focus on creating high value content that addresses topics thoroughly. When conducting keyword and long-tail keyword research the question should always be, What is the intent behind this search? To rank higher and reach more people, your content needs to leave the reader satisfied. Whether that is through in-depth, long-form content, or a concise post. Intent and value will be key for search engine optimization (SEO) throughout 2021. 
Long-tail keywords can support this effort. Users searching for long-term keywords are looking for more in-depth information, and are more likely to click and read your content. There tends to be less competition for these keywords as well. Researching commonly searched long-tail keywords can give you insight into your audience and what they are looking for. 
Using a platform like Similarweb, will give you added information, so you can create the right content at the right time. Whether it be understanding seasonal changes for keyword searches or keywords your competitors are ranking for. Thorough SEO research and strategy are the foundation for you to use resources wisely and maximize the return on your investment in content marketing.
Why these trends actually matter
So what are the demands for 2021? Higher quality content that actively engages the audience and more advanced tools. This sentence sums up the general content marketing direction that you need to be aware of but also may feel a bit intimidating. Listen, you don't mean you have to ride all the waves, but it's important to know where the wind is coming from so it doesn't blow you out of the game. 
Don't jump on every trending content tool, but stay informed about what's out there. Find the tools that help you reach your content goals faster and with less effort. It's important to choose carefully because the range of analytics and content tools is growing and not all are worth investing in. Even just the onboarding time makes my head spin. 
If you are an expert at creating videos, adding live videos is a natural transition. If you know how to write that high converting blog article, explore repurposing 10 different ways for every piece that works until you discover your winners. Find natural ways to maximize your content marketing strategy that suit your industry, brand personality, and the skills of your team.  
Remember, data is your friend when it comes to content marketing. Everything can be measured, compared, and analyzed and if you're trying something new it must be looked at through a microscope.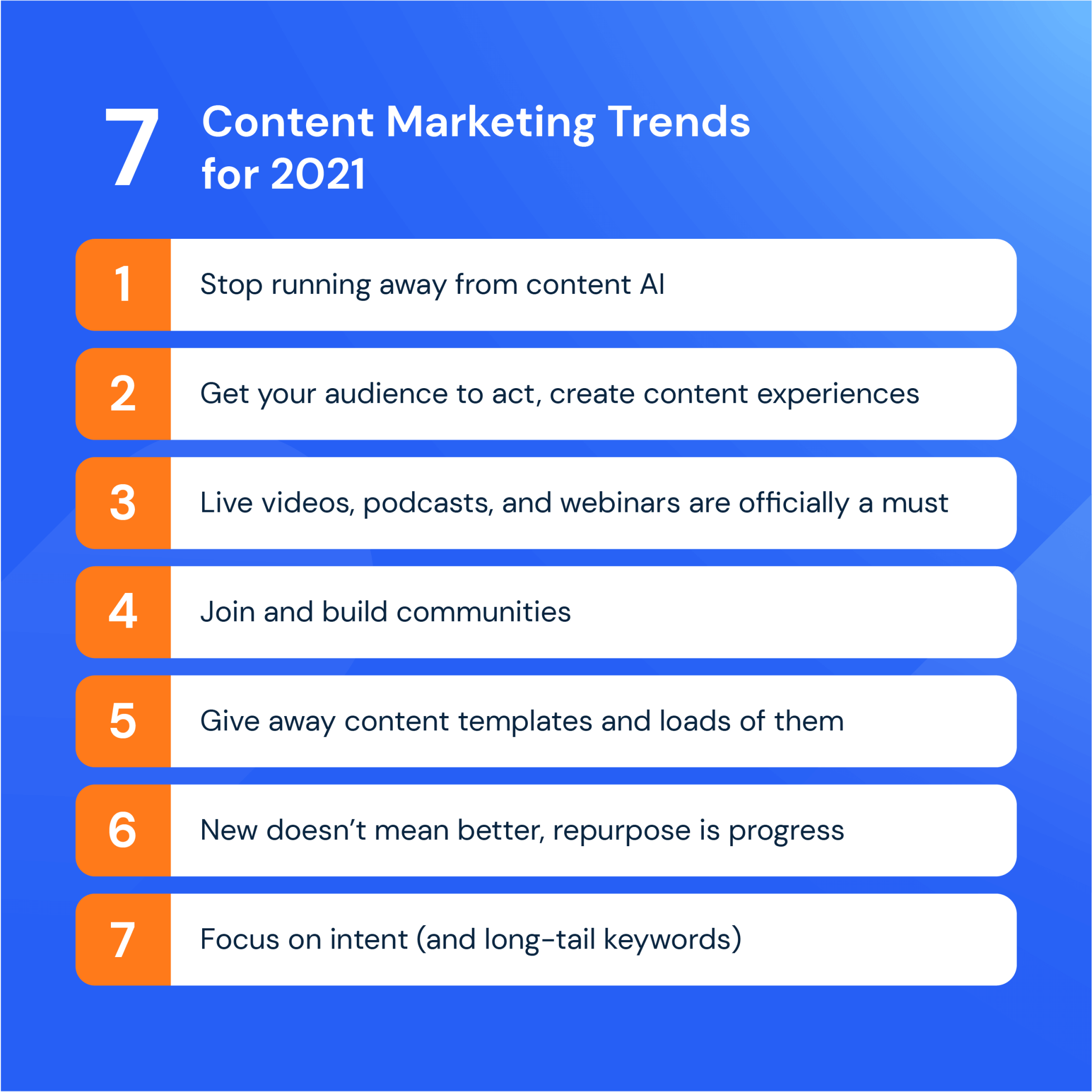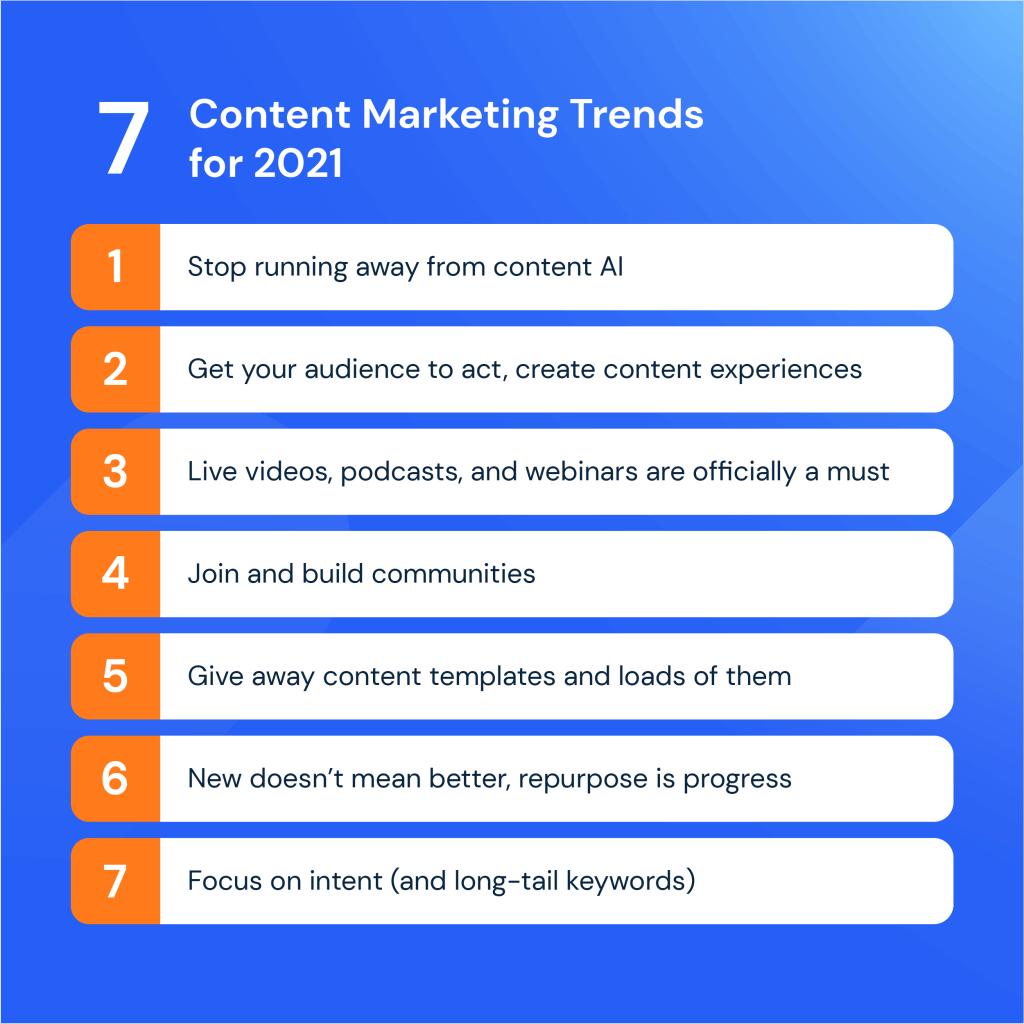 Be smart, use data to take the guessing out of trends 
We're sure you'd like to know how relevant these trends are for your industry ahead of your competitors. Similarweb offers the data that lets you discover what's hot and what's not in your industry for 2021, and where it's all heading. When you use reliable and relevant data, you can adapt your strategy quickly and drive results. Don't go with your gut on strategy, save that for the creative part.
This post is subject to Similarweb legal notices and disclaimers.
This post is subject to Similarweb legal notices and
disclaimers
.
Wondering what Similarweb can do for you?
Here are two ways you can get started with Similarweb today!