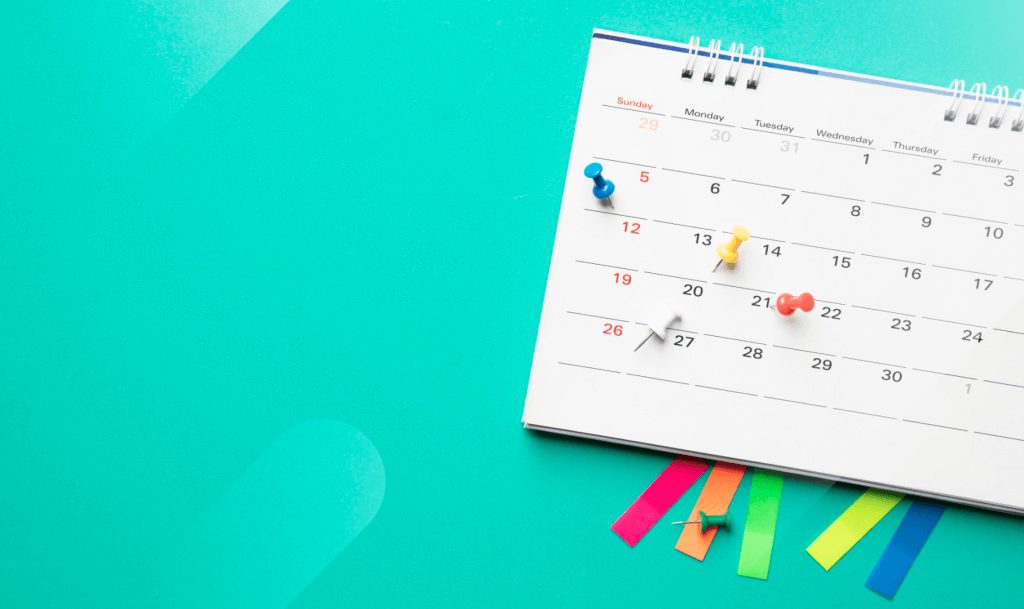 Marketing Intelligence
How to Build a Content Calendar and Keep Your Strategy on Track
May 5, 2021
| Updated June 23, 2022
Imagine a house with no shelves. No closets. No way to organize your things. Sounds pretty scary, right? In this type of house, it's hard to find what you need or get anything done quickly. It's my type-A, Virgo nightmare. 
Trying to create a content strategy without a content calendar is basically like that. Without a structure or way to organize your strategy, it's difficult (if not impossible) to meet deadlines, coordinate and prioritize tasks, and analyze your progress with marketing intelligence.
The content calendar enables you and your whole team to reach your content goals.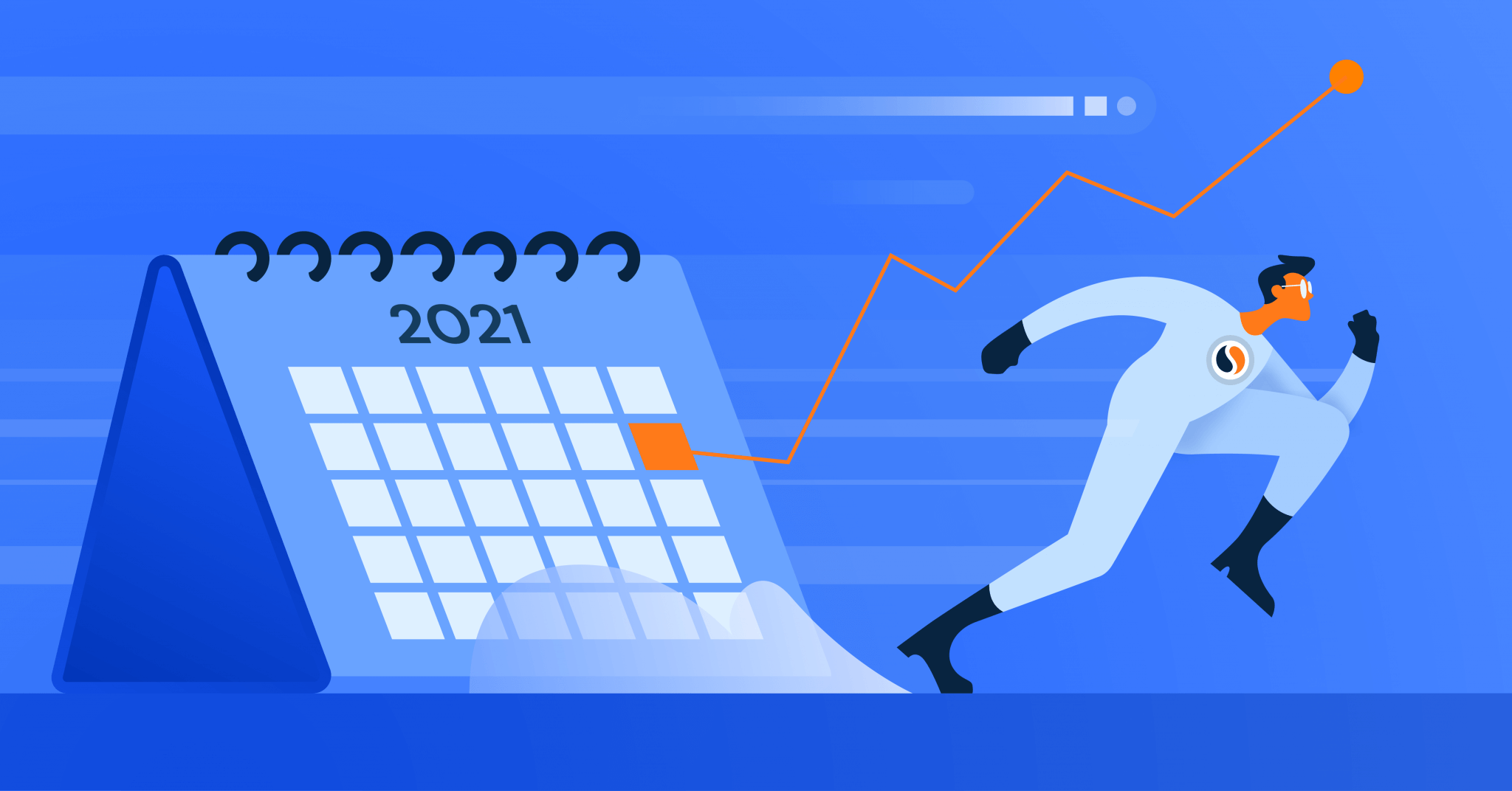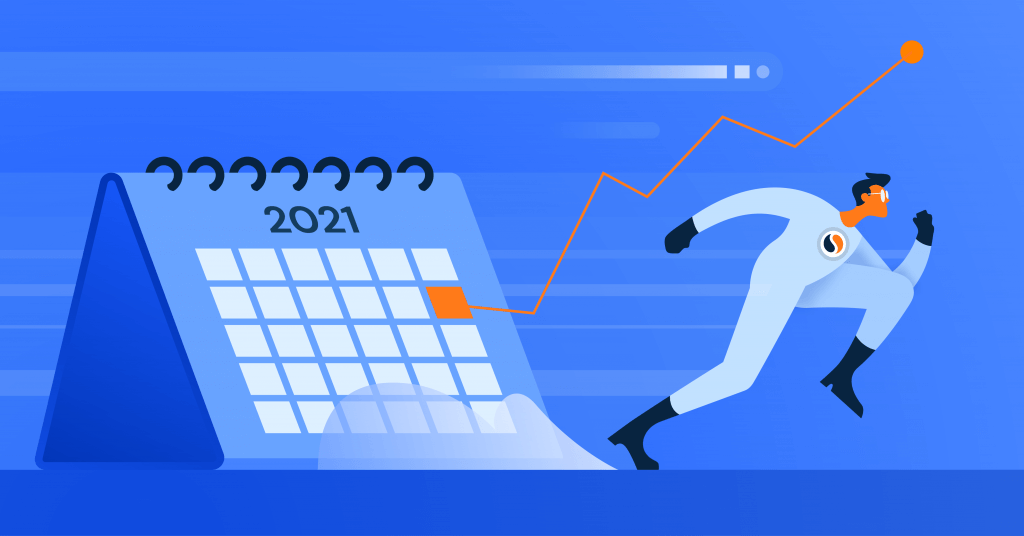 What is a content calendar?
A content calendar is a shared document that sets the timeline for your content creation and publishing. It's a helpful tool that organizes your efforts to plan and distribute content over time and coordinate tasks across teams.
It should be accessible to anyone involved with the content strategy and frequently updated to reflect the current status.
What makes a content calendar so helpful?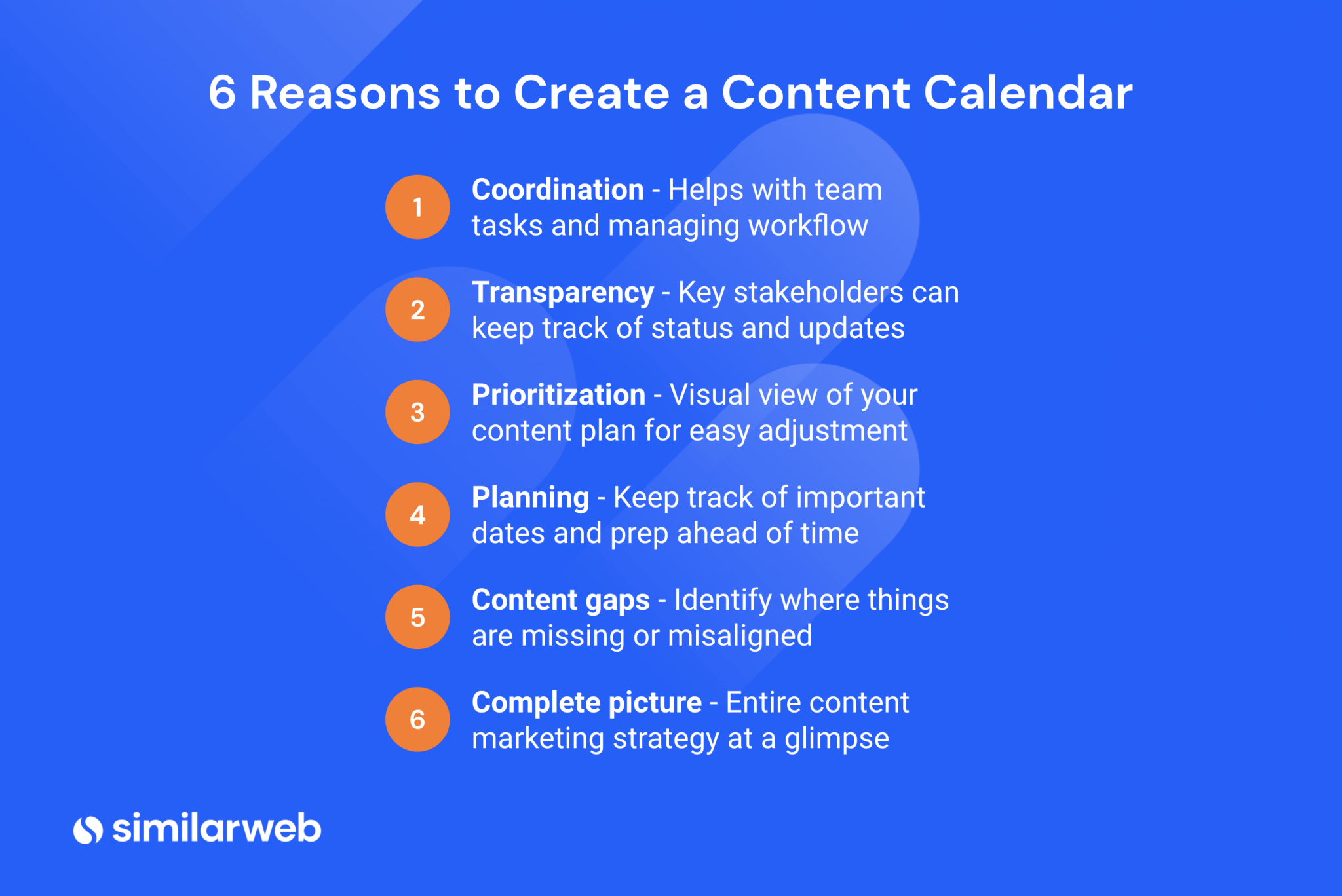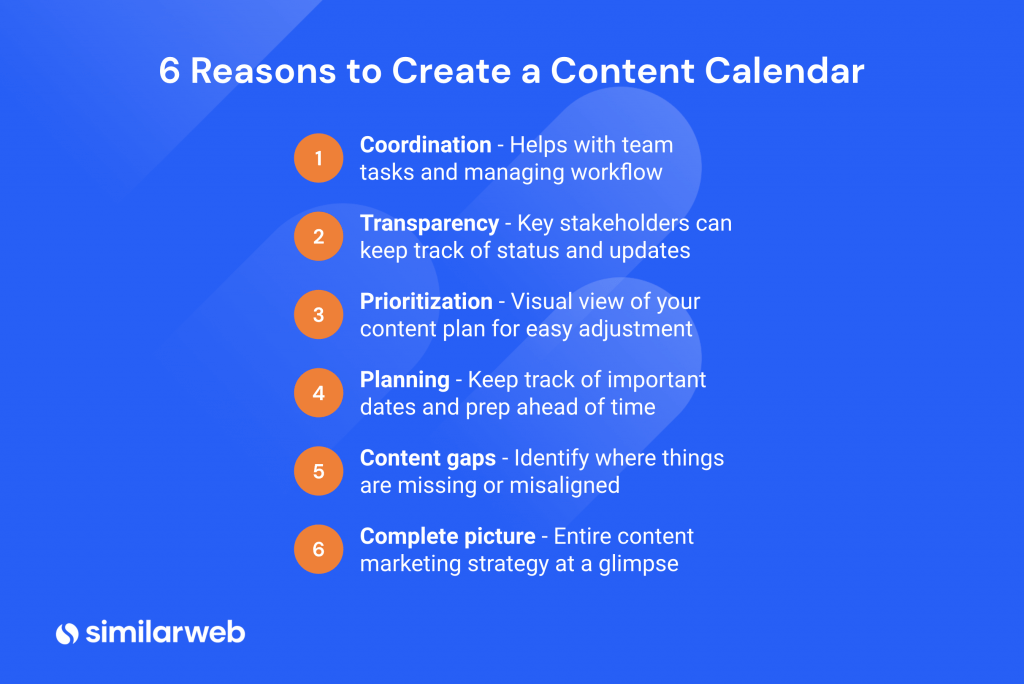 A content calendar enables your team to stay organized and provide your audience with a consistent flow of content. It's no coincidence that this sounds strikingly familiar to the definition of content marketing. The calendar is the tool that facilitates your content marketing strategy.
Here are six ways it helps:  
Coordination:

A

content calendar

lets you coordinate

marketing team

tasks and manage the entire

workflow

. 

Transparency:

All your

team members

stay updated on progress made per content asset. 

Prioritization:

Once you have a plan, you can change it. Your

content calendar

shows you the priorities, so as new tasks arise, you can reprioritize and adjust your existing plan easily.

Planning:

You can monitor

important dates

and prepare all necessary resources ahead of time.

Content gaps:

With a

content calendar

, you can identify content gaps or missing assets immediately. 

Complete picture:

It provides a birds-eye view of your entire

content marketing strategy,

including past, present, and

future content

. 
How to create a content calendar
To get the most out of your content calendar, you should have a publishing schedule for the next three months at least. Ideally, you'd set it up yearly, but ya know, we plan, and God laughs, right? You might be thinking: Who has time to think up the future when we're so busy creating content now? In the long-term, the content calendar will save you time and loads of it. 
Here's how to create your own calendar in just three steps: 
1. Start with a content audit
To get started, review and map out your existing content. Look at everything on your website and blog, including gated assets and outdated content. You'll achieve two goals: one, identify gaps in your published content, and two, identify pieces for repurposing. A report could be turned into a video, a webinar into a blog post, etc. These require less time and effort, plus they can help you through the first few weeks until you get into a routine of creating significant ahead of time.
Meanwhile, start collecting ideas for new content. Here is where you can do some basic SEO keyword research. Using a tool like Similarweb, you can check what keywords your competitors are ranking for and look for opportunities to outrank them.
Once you find some keyword and creative ideas, keep these on a separate worksheet that functions as a content idea bank. This will help you quickly come up with topics and concepts when needed and fill your calendar. 
2. Decide on frequency, workflow, and terminology
There are a few decisions you need to reach to streamline expectations and workflow. Determine how often you want to publish different types of content and set due dates. For example, you might decide to publish a blog post once a week and case studies twice a quarter. Whatever the volume, mark definite dates on the calendar. Are there any significant events coming up in your company, like a podcast series? How about in the world, like a big holiday or special occasion? Note the dates because you'll want to plan related content ahead of time to support the campaign.
Using a calendar tool like Trello, CoSchedule, or even Google Calendar can help keep everyone aligned. Try out a few options and figure out what works best for you. It doesn't need to be complex, but it needs to be housed somewhere. This will help you assign different stakeholders tasks and deadlines to make sure you publish on time.  
You also need to include status updates in the content calendar so everyone can see the progress. For this, you'll need a common language across your team so everyone is on the same page. "Complete," for example, might mean published to one person and ready to be published for another person, so be sure you are clear about what each status means. In my early years, I definitely made that mistake more than once. 
3. Add relevant content to your calendar 
Your calendar isn't just for the here and now, you'll want to ensure it's set up and filled in with loads of essential details that will allow you to track and repurpose your current items in the future. 
Start scheduling content pieces that require more of your time and energy followed by less energy-consuming tasks. Make note of any hard deadlines to keep your priorities in check.  Then, add the heavy one-hit-wonder pieces that require more time, cooperation across teams, and resources. Identify dates for long-form content, such as white papers, eBooks, and video production as well as any big design lifts.  
By now, you'll be able to identify gaps. Fill up the calendar with your regularly scheduled content, such as your weekly blog posts, and then strategically fill in the holes.
You'll likely want to manage your social media marketing in a separate calendar linked to your main editorial calendar. Social media content has a pace of its own, and the distribution needs vary significantly by channel and goal. It requires different resources and, therefore, a different creation workflow and separate social media content calendar.
Why use a content calendar template?
You need a comprehensive content calendar to keep your content assets and timeline in order for all your stakeholders, and to keep your sanity in check. 
Download our free content calendar template and start filling the essential fields. You'll get an easy start, and in time you'll see which information is helpful to add to your specific internal workflows. 
You may not need all the fields at the beginning, especially if you have a small team, so edit as you see fit and grow it over time. 
What goes into a content calendar?
Let's remember what the purpose is: Stay on track with the content schedule and publish consistently. The calendar needs to include the essential information to make that possible:
Type of content

Publishing date

Topic

Status 

Stakeholders 
Depending on the amount of content, its complexity, and your team's size, you can add whatever is useful to improve your workflow. 
Let's look at some key considerations for setting up your content calendar:
What?


Define the type of content you plan to publish, such as articles,

case studies

, videos,

social media posts

,

infographics

, etc. If you produce a large amount of content, consider dividing it into editorial content and promotional content. 

When?


Outline the creation process and mark critical dates for different

content creation

stages such as first draft, image creation, video shooting,

SEO

review, final approval, etc. The calendar needs to include status updates that everyone understands.

Who?


Appoint an owner who is in charge of a content asset and will see its creation from start to finish. This would usually be the content manager or

content marketer

but could also be a specific stakeholder for out-of-the-ordinary content or someone with a significant role in the process. The owner will act as a project manager and assign responsibilities throughout the creation process to the relevant people. 

Where?


Decide where your content lives and how it will be distributed. It is likely to go through several revisions. You need to host your content where people can easily find and access relevant files. Ideally, you'd link the files to your

content calendar

.  Then, decide how you want people to find it. Will you share it on social, send emails or run

LinkedIn

campaigns? Think strategically. 
Conclusion
To sum it up, a simple file can turn your entire content planning and management into a smoothly flowing stream. A content calendar is a working tool, and if you update and optimize it frequently, everyone will benefit from it.
Check out our marketing calendar events guide for 2022.
Content calendar FAQs
What is a content calendar?
A content calendar sets the timeline for content creation to help you organize and distribute content over time. 
What should be included in a content calendar?
A content calendar should include the essential information needed to stay on track with your content schedule. This includes the type of content, publishing date, topic, status, and stakeholders.
What is the purpose of a content calendar?
The purpose of a content calendar is to help your team stay organized and to provide a consistent flow of content. A content calendar helps with coordination, transparency, prioritization, planning, filling content gaps, and providing a complete picture of your strategy.
This post is subject to Similarweb legal notices and
disclaimers
.
Wondering what Similarweb can do for you?
Here are two ways you can get started with Similarweb today!