 Marketing Intelligence
Native Advertising: The Secret to Reaching Your Audience Naturally
March 22, 2021
| Updated June 22, 2022
Imagine this: You're scrolling through Buzzfeed and a post grabs your attention. You click and find it interesting. But then something happens. You're approached with a potential sale and start to wonder, is this a post or an ad? You've just experienced native advertising.
Native advertising is a powerful tool that has proven incredibly successful by ad analytics as a digital marketing solution. Including this technique to your digital marketing strategy will drive more leads, improve user experience, increase brand awareness and launch your digital presence into a new realm.  Your customers will feel like they stumbled upon your product naturally.
What is native advertising?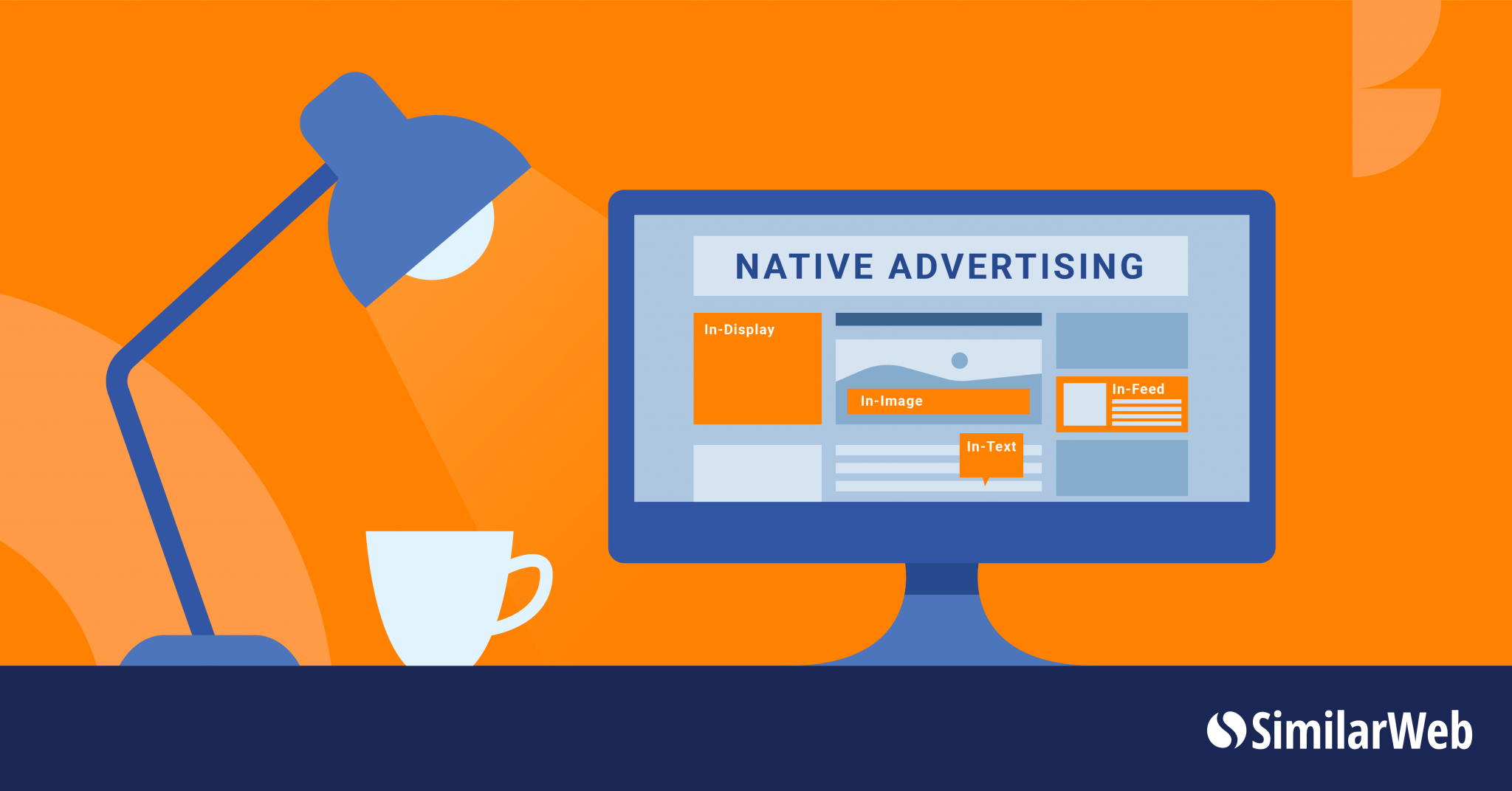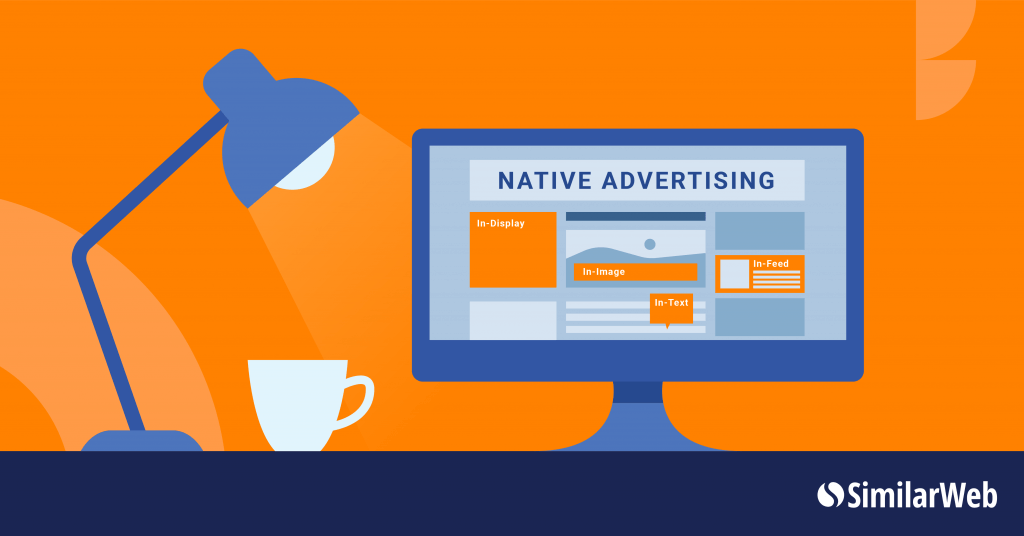 Native advertising is using paid ads like display ads that blend in with the look and feel of an existing site, social media platform, or search engine.
The thing about native advertising is that it's a bit like playing a trick on your potential customers. Native ads are meant to blend in and be as non-intrusive as possible (and therefore, sometimes even unnoticeable as ads).
This isn't to say that there aren't any markers of native ads actually being ads. There are and if you look closely enough, you'll understand that you're clicking on an advertisement (examples to come). This is important in order to maintain a publication's or network's integrity.
What does native advertising look like?
Native advertising looks totally natural. After all, that's the point. It's a more subtle way to advertise to your target base than traditional advertising methods.
In feed ads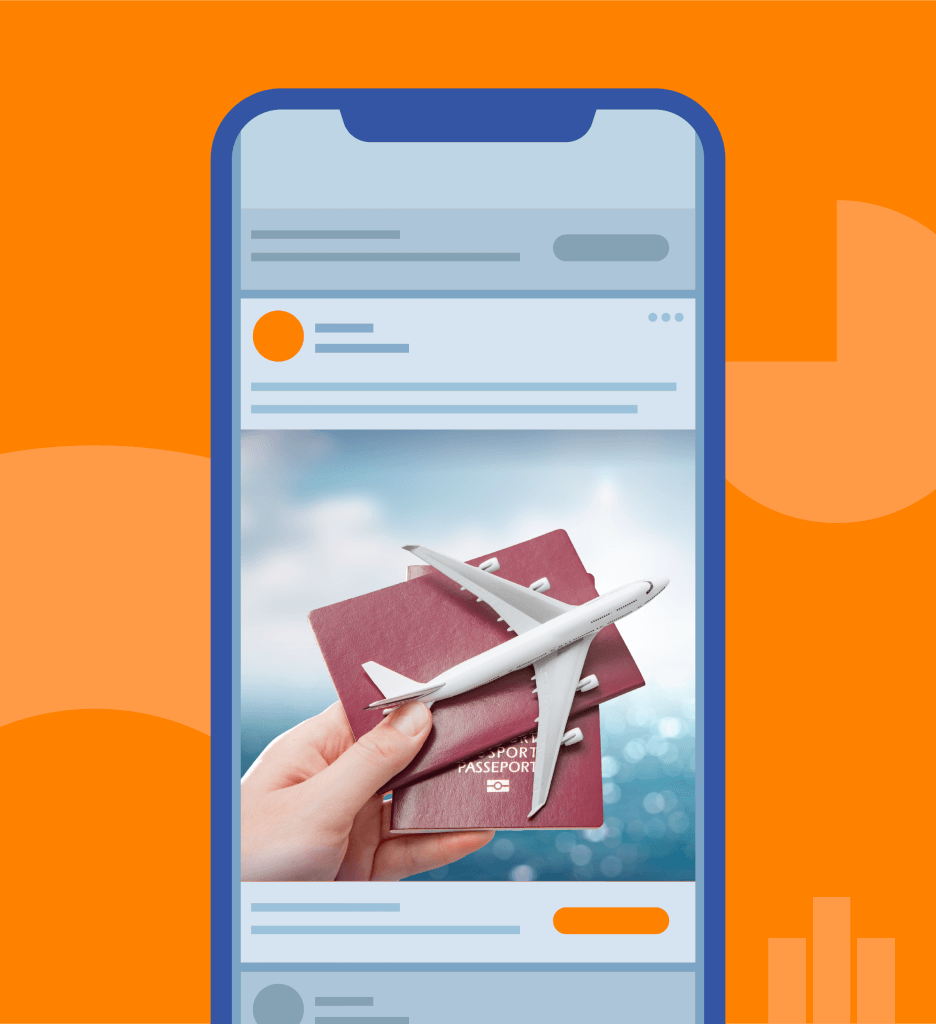 You've definitely seen these ads before. Whether you're scrolling through your Facebook, Instagram, or LinkedIn pages, in feed ads blend in with their surroundings, making you think they are "regular" content. The name of the game here is to create ads that fit the requirements for a specific platform in order for them to blend in well and have the desired effect. 
Native ads may also appear in publications or news sites and can show up in feed as well. You might click on one and think that it's a regular news article, but in fact, it's an ad.
Paid search native ads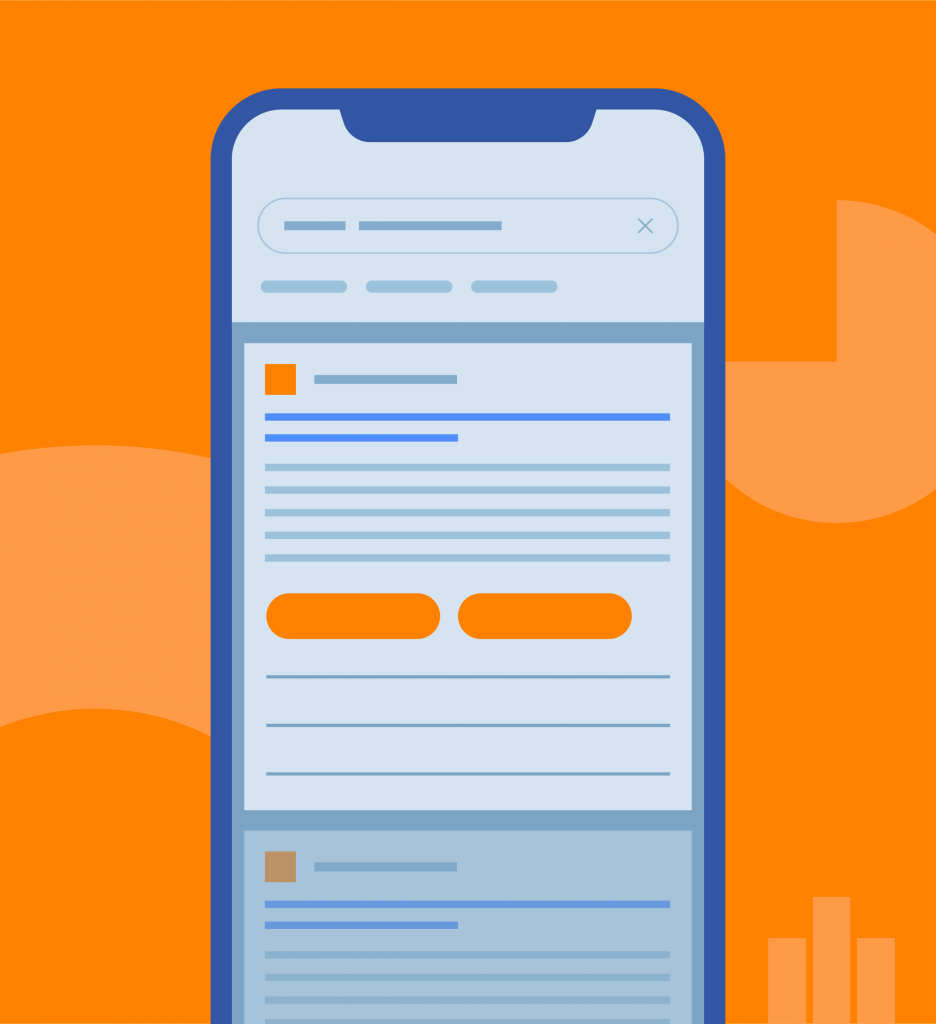 Have you ever done a search on Google and the first results that came up were sponsored posts? This is another way to use native advertising effectively. 
Marketers pay search engines such as Google or Bing and their paid search native ads appear as search results, but are actually ads (Google lets searchers know this in the fine print). This is a successful technique because these ads will jump to the top of the search engine results pages (SERPs), and searchers will click on them quickly and with ease when they answer their search intent. 
Native ads also appear on the sidebar in search results depending on the search engine and type of ad. These may seem like more "obvious" ads and therefore must be created to appear as natural and adhere closely to the style guidelines of the platform as possible.
Recommendations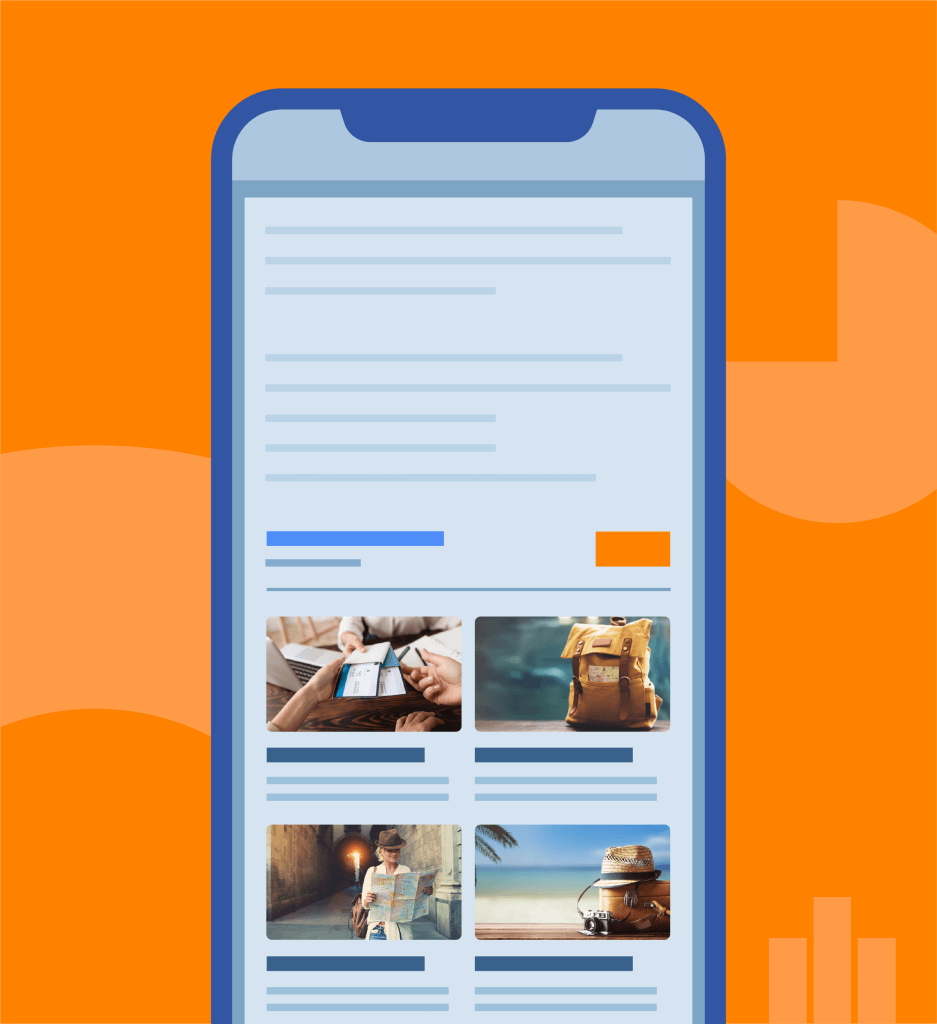 Recommendations are a part of native advertising that appears on content discovery platforms such as Outbrain and Taboola. When you're done reading an article, for example, you may see a list of recommended readings based on your interests, your searches, and the article you just finished reading. 
These native ads typically appear as pictures with an attractive title underneath an article or potentially on the side, depending on the platform. 
Native advertising vs. regular content 
How can people tell the difference between regular content and these types of ads?  
Good question. 
As we've discussed, the point of native advertising platforms is to disguise ads amongst regular content, making it more enticing for searchers and potential leads. 
However, this point can get a bit sticky. After all, publications and social networks need to remain reputable and reliable, and this means making it clear that certain content is an ad. 
Think back to the days when people would read magazines and editorial content regularly (we know, it seems like a lifetime ago). The idea of advertorials was and still is a popular method to "disguise" advertising as content. However, there would always be some sort of mark or sign on the ad to let readers know: "hey, this is really an advertisement! Beware." The same goes for digital native advertisements. 
This is a critical point. Why? Because at the end of the day, readers may get angry if they feel they were tricked into reading or clicking on an advertisement. However, if you provide content they connect to or find value from, they likely won't hold it against you.
So, how can you tell if something is a native ad?
There will be some sort of sign or symbol leading you to understand that what you're clicking on is indeed native advertising. The words "suggested," "recommended," "promoted," or "sponsorship" are all signs that what you're seeing is branded content. In addition, you may see a small icon on top that will confirm that this is branded content if you click on it. 
Native advertising examples
1. Fidelity and Forbes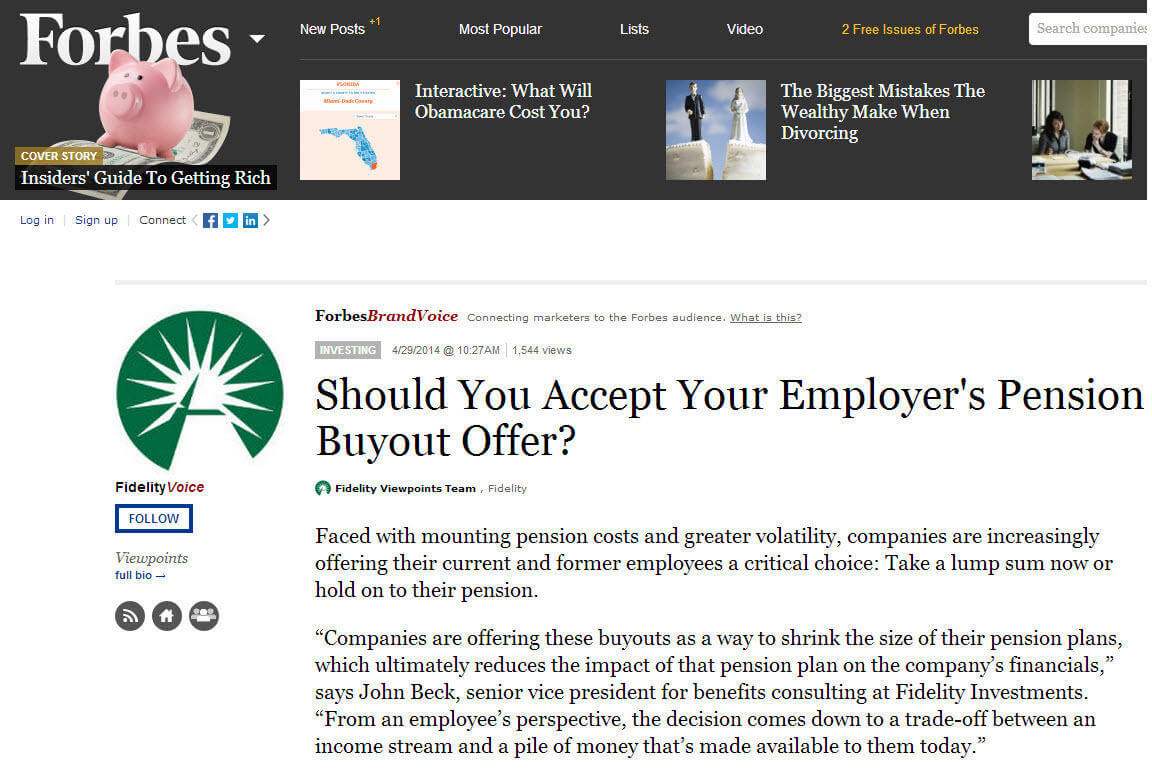 "Should You Accept Your Employer's Pension Buyout Offer?"
This native advertising example by Fidelity Voice in Forbes is a shining example.
We'll admit it, this piece isn't particularly "sneaky" when it comes to being an ad. It's clear from the get-go that Fidelity is behind the piece and that the reader is being targeted by a specific company.
But, it works because Fidelity offers value in the article. Someone who is looking for sound financial advice may receive more from this advertisement than a typical Forbes finance section piece. That value, at the end of the day, is what will drive customers to purchase and to trust brands. Therefore, this is a great example of native advertising and its benefits. 
2. Airbnb and The New York Times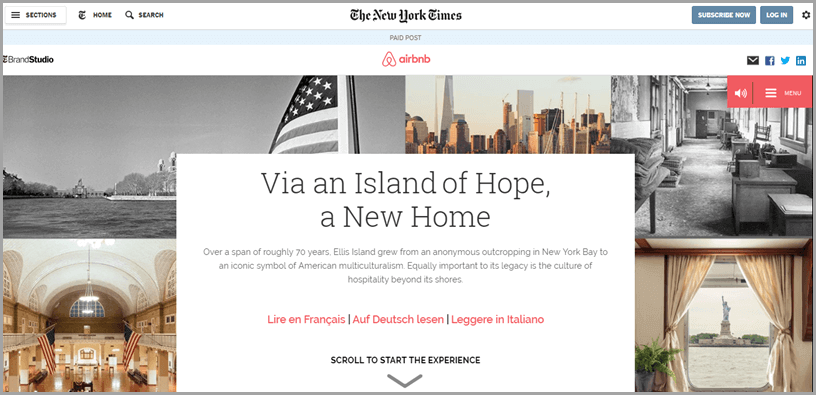 Airbnb ran a native advertising campaign in The New York Times around the subject of Ellis Island. What's so remarkable about this piece? Like many other successful ads, it doesn't revolve specifically around the product that Airbnb is trying to sell (there's no, "Hey, come check out this gorgeous apartment near Ellis Island" in this ad). 
The ad places an emphasis on the story of Ellis Island, its legacy, the people behind it, maps, photos, and more. The underlying tone of the piece revolves around hospitality, a clear theme for Airbnb, and what ties the piece into Airbnb's message. 
3. Fabletics

Fabletics has hit the nail on the head with its successful and super simple native advertising techniques. 
Retail fashion sellers are in many cases the big winner of the native advertising trend and as a result, spend big. 
There's an important point to note here: Retail advertising that shows up in sponsored formats like these ads, don't have to directly relate to the content in the article above it. But, they should directly answer a need of the target audience of the article. So, if there was an article about a vacation to Hawaii or a new gym that opened in an area, leggings may be the perfect ad to feature underneath. 
Fabletics keeps its native ads simple, clean, and compact. With an attractive headline, the ad with the single pair of leggings is their most successful one, even more so than one featuring Kate Hudson herself wearing the leggings. 
4. Netflix and The Wall Street Journal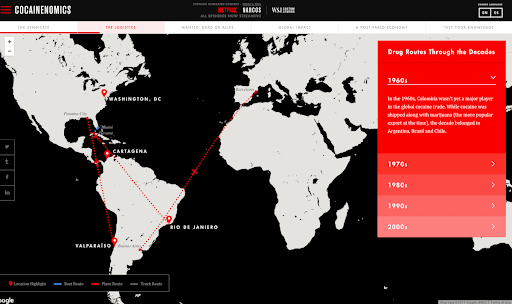 In order to promote its show Narcos, Netflix set out on a phenomenal campaign with The Wall Street Journal, discussing the international drug trade in Columbia and more. 
This content is fascinating, appealing, and attractive to users who are interested in the subject matter. It doesn't feel like an ad in the least and when finished using it, customers are more than likely to be interested in checking out the Netflix show. 
Best practices
What are the best practices and what should be avoided at all times? 
Native advertising do's
Research your target market and audience.

 

Choose the right platform

to reach your audience with

native ad campaigns.

 

Create valuable and unique content

true to

your brand

to draw in loyal customers.

Boost and promote your strongest performing ads.

Track your native ad metrics,

see what works, and

optimize

over time.
Native advertising
don'ts
Produce fluffy content

without real value.  

Promote in the wrong places.

If your ad doesn't match the interests of those who see it, you'll be wasting money – and time.

Create content disconnected from your digital marketing plan. Even if it's great, if it doesn't funnel into your product, you'll see no ROI.

Why native ads are effective [+ Stats to prove it] 
Native advertising is an exceptionally effective marketing tactic and companies that use it are given a serious advantage. 
Let's take a look at some statistics: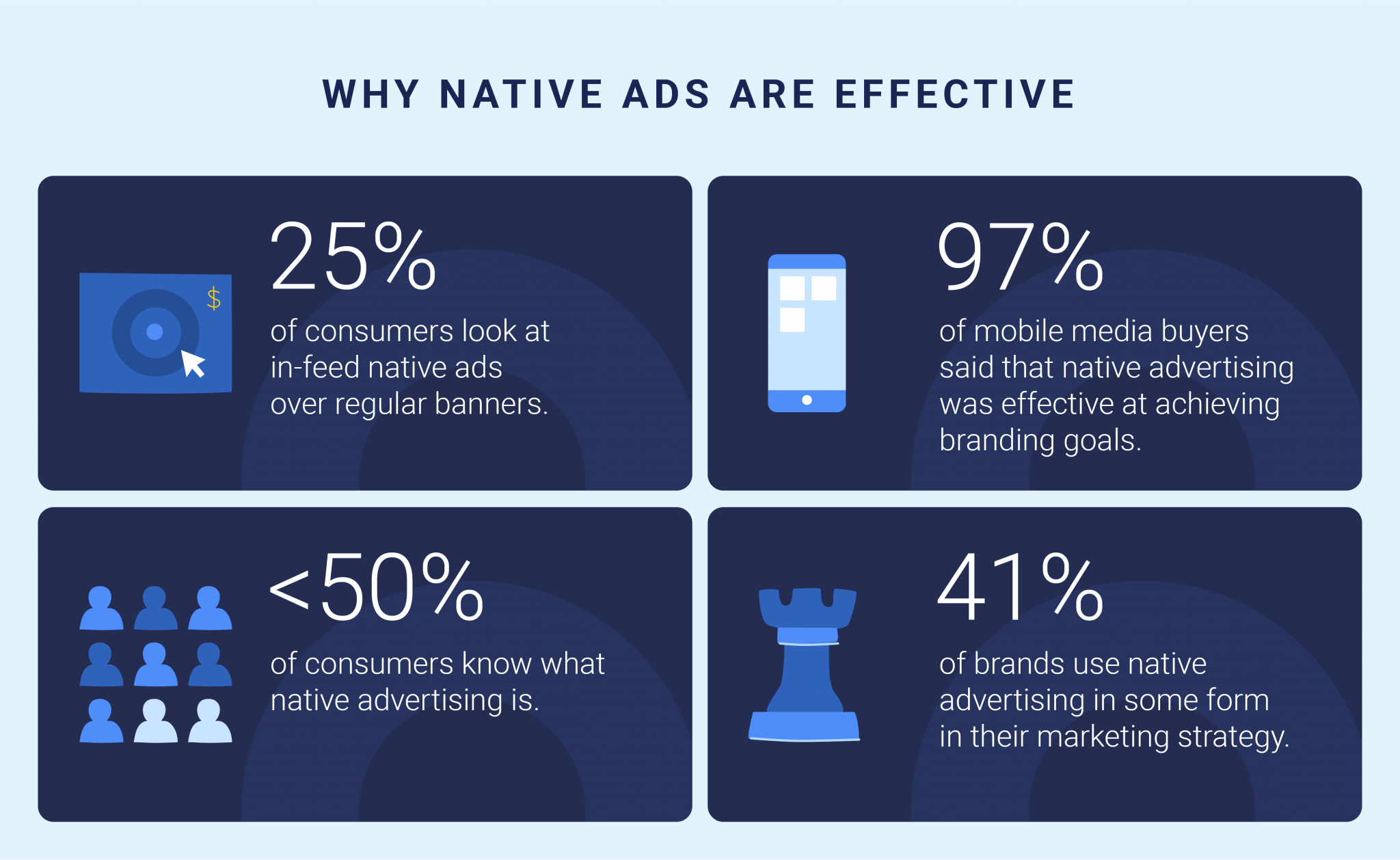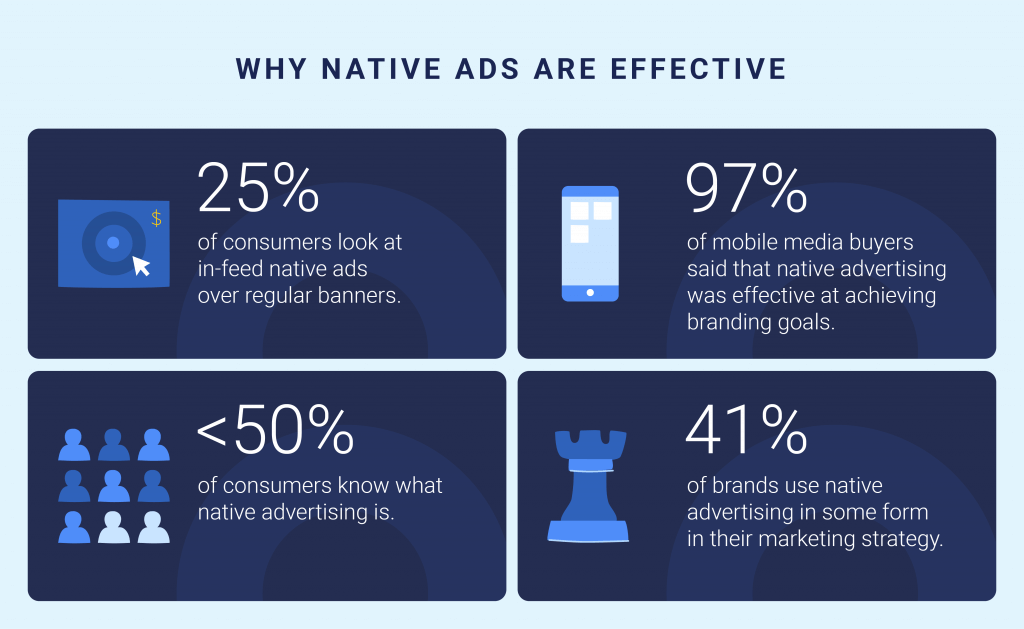 25% of consumers look at in-feed native ads over regular banners. 
97% of mobile media buyers said that native advertising was effective at achieving branding goals.
Less than 50% of consumers know what native advertising is.
41% of brands use native advertising in some form in their marketing strategy. 
The bottom line
Native advertising is effective, popular, and one of the smartest ways to promote your brand and content today. 
Are native ads an effective content marketing tool and strategy for your brand.
In the vast majority of cases, native advertising is a successful marketing strategy that has the power to drive more results from marketing efforts.
With the wide range of native marketing platforms available today, there's no reason not to get in the game.
Free Download: Digital Marketing Glossary
This blog was written in collaboration with Allie Kashkash.
This post is subject to Similarweb legal notices and disclaimers
Native advertising FAQs
What is native advertising?
Native advertising is the process of using ads that blend in with the existing web page content.
What is the point of native advertising?
The point of native advertising is to disguise ads within regular content. 
What is a native advertising example?
An example of native advertising is recommendations. For example, these ads commonly pop up as a list of recommended readings after you finish reading an article.
This post is subject to Similarweb legal notices and
disclaimers
.
Wondering what Similarweb can do for you?
Here are two ways you can get started with Similarweb today!