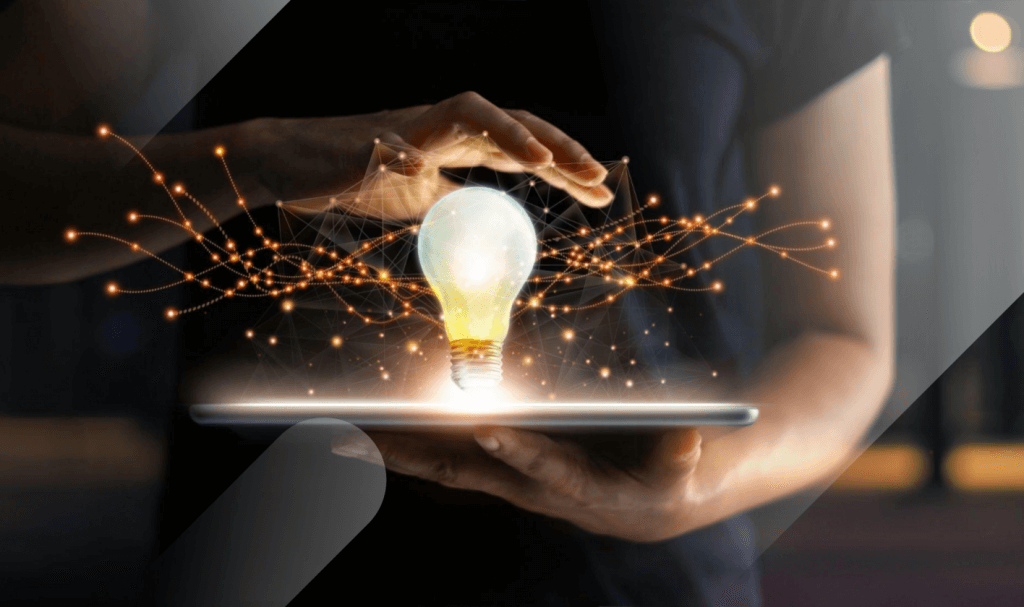 Research Intelligence
Digital Transformation Strategy: How to Drive Change (and Stay Ahead)
by Molly Winik
, Senior Digital Research & eCommerce Specialist
7
Min.
August 4, 2021
| Updated October 11, 2022
Digital advancements aren't new, but the rapid digital transformation we're seeing is.
As a result, customer expectations are changing fast and new business models and products are emerging all the time. To keep up you need to be agile. 
What sets successful companies apart from the ones that crack under the pressure? They have a digital transformation strategy and one that's based on digital intelligence. 
Keep reading to get the strategies and tools you need to leverage emerging technology for success in the digital age.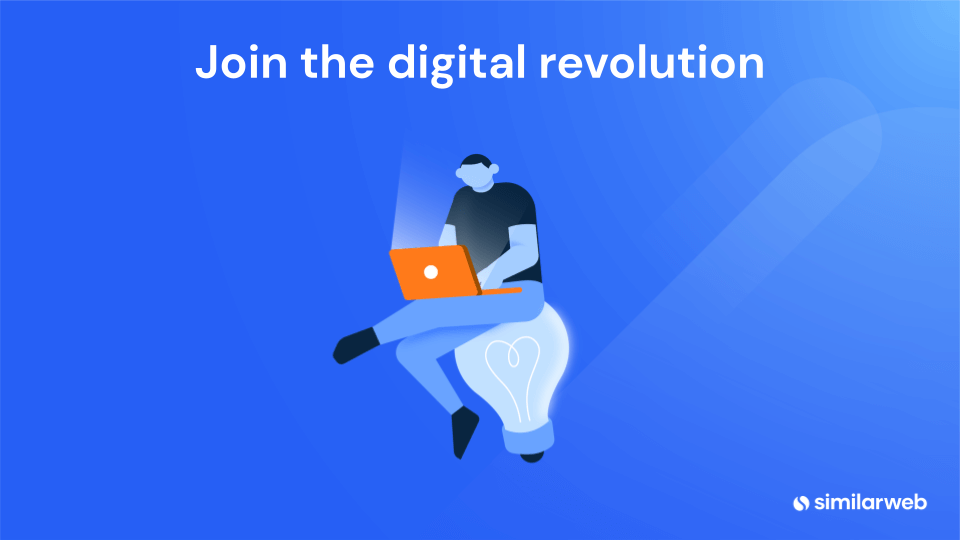 What is a digital transformation strategy? 
Let's back up a few steps and examine what we're actually dealing with. Digital transformation is the process of restructuring your organization's business strategy and processes with technology. It also includes the impact this transformation has on work processes, internal hierarchies, and operational efficiency. 
We're talking about huge, industry-shaping changes, not the smaller technological advancements like switching to wireless charging. We mean large-scale digital disruption. Think artificial intelligence, internet-of-things (IoT), or machine learning. The quicker you are able to adapt, the more digitally mature your company will become. 
You can actively plan and determine your path to digital maturity with a digital transformation strategy.  Adapting to ongoing changes keeps you ahead of the competition and can make you a trailblazer in your industry.
Leading the change  
Why is it important that you create a successful digital transformation strategy? Companies are moving forward with digitalization, and it provides them with an advantage in the competitive marketplace. 
Digital technologies allow you to provide a better customer experience, stay connected, and use your resources efficiently.  
Users get used to immediate service and expect convenience. Tools that provide better services, react quicker, are more accurate, or process more data set the standards. 
To be an industry leader, you need to anticipate and capitalize on market trends and customer needs before your competition. 
Prime example: Amazon's expansion in the cloud-computing space with AWS. The eCommerce giant's expansion into the space has proven to be extremely profitable.  
Much like eCommerce trailblazer Amazon has shown, you have to keep up and lead in your space or you face losing relevance with customers. 
Digital transformation also leads to higher efficiency in your internal workflows and business processes. The whole idea behind digitalization is to become leaner, so you can save on costs and generate higher profits.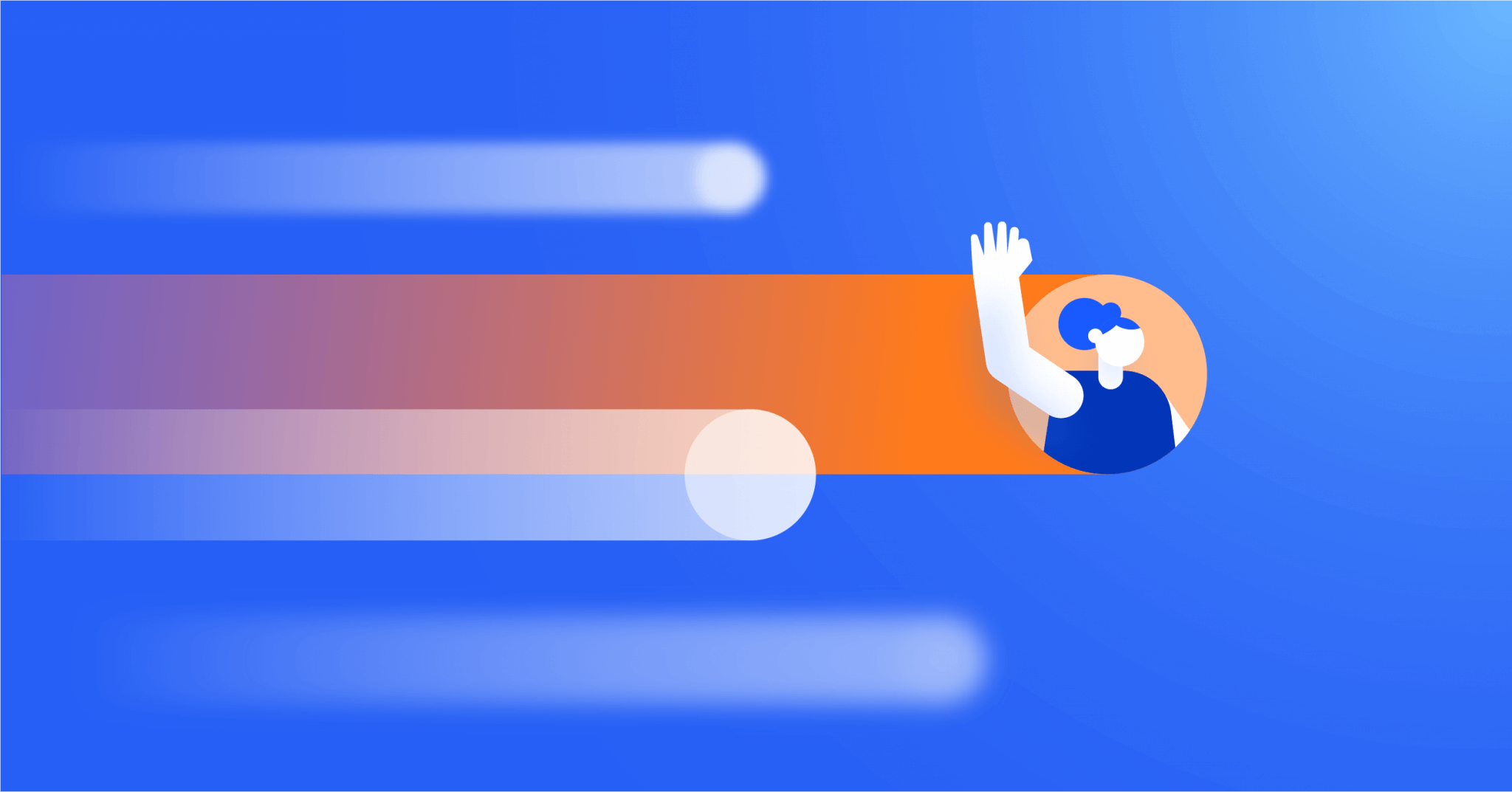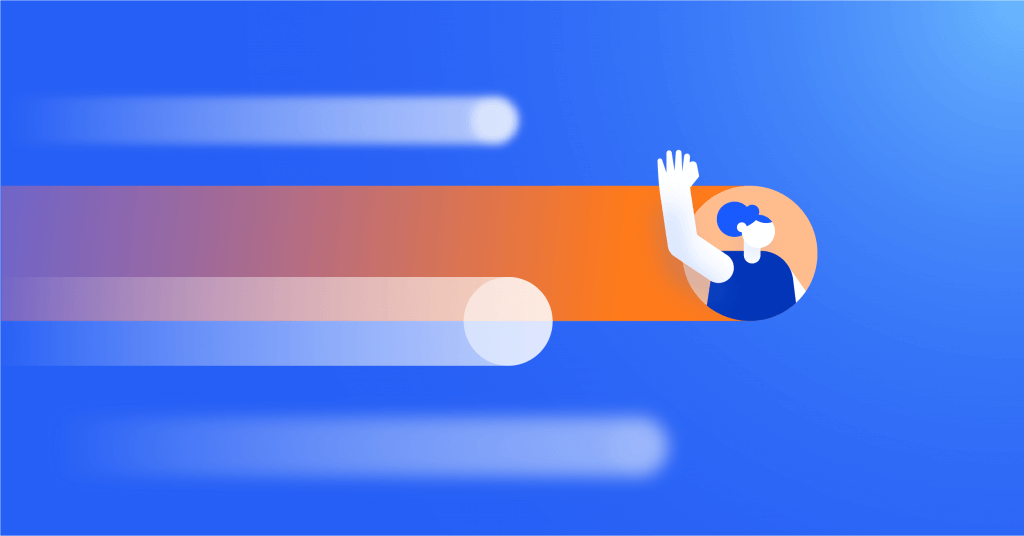 A digital transformation-driven strategy
Effective digital transformation starts with making digital maturity a business goal. When you have reached the highest level according to a commonly accepted digital maturity index or model, you'll be agile enough to embrace change. 
Even better, you'll develop a method to identify where the market is going, detect trends and anticipate what's the next big thing in the market. 
Without a strategy, digitization advances unevenly throughout your organization and in different directions, causing imbalance and confusion. This slows down the entire process, and you run the risk of becoming less agile and profitable instead of the other way round. A strategy needs to encompass the whole organization and provide supportive frameworks.
You can track your company's progress using a digital maturity model like the below created by Google and Boston Consulting Group (BCG). Where do you currently fall?
Digital maturity model refresher
A well-thought-out digital transformation strategy leads organizations through the four main stages of digital maturity. That doesn't mean transformation is finished when they reach the highest level. Digital maturity means that an organization is able to embrace ongoing digital change naturally. Need a refresher on the steps to digital maturity?
Step 1: Assess the current level of your digital prowess. Understand the industry's level and the pace at which digital transformation is progressing. 
Step 2: Create a vision for your company. Define what digital maturity means in your niche, what you need to do to accomplish it, and enable your organization to keep changing and developing further. 
Step 3: Examine which tools are available and evaluate their contribution to reaching your business vision. Assess the implications for your staff and impact on your business culture. 
Education and training are a vital part of a digital transformation strategy. Remember, digital leaders are only as good as those who they work with. Set a sturdy framework to support employees and business continuity throughout the transition period.
Repeat: Monitor for continuous improvement and new opportunities. There is no standstill; digital technologies and capabilities will keep evolving. 
Only when all details of your digital transformation initiative, including cost calculation, timeline, risk assessment, etc., are laid out and internalized by everyone, can you start implementing step by step.
Anticipating obstacles on the digital transformation journey 
A typical digital business transformation means going through a period of significant change that will disrupt the organizations' routine. Transitions are never easy. Employees need to adapt to new technologies and get used to data-based workflows and decision-making processes. 
To minimize the damage and keep the business running smoothly while the company undergoes revolutionary changes, preparation is key. 
For example, you may decide to get rid of the software your dev team built years ago for accounts payable. It's time to replace it with a more advanced system that integrates with the rest of your financial and operational software. While the department is transitioning, payments still need to be made.
The digital transformation process ensures that the organization makes the switch smoothly without jeopardizing business operations. You need a clear step-by-step plan of how to implement each step and secure your business. 
Digital transformation strategy approaches
When we talk about digital transformation, we're not talking about the end of all brick-and-mortar businesses. But it means finding the best and most effective ways to incorporate digital technologies into your business, even if it's a new process to you.
Whether you are making your first big technological switch or building upon older processes with new product launches, as long as you are innovating and open to change you are on the right track. 
Let's take a look at three different approaches to building a successful digital transformation strategy. Depending on your business model or the end result you hope to achieve, one may be more relevant than the others.
1. Conduct a digital SWOT analysis
To create a digital transformation strategy based on the competitive landscape, conduct a SWOT analysis to find out what your internal strengths and weaknesses are when it comes to digital technologies. 
You can answer questions like:
Which of your teams are more proficient and open to digital tech and which less?

Which business units need to advance quicker? 

Are your competitors using technology in a way that you're not? 
By benchmarking your digital maturity to others in your market, you'll identify where your competition is beating you and what the industry standards are. Pinpoint opportunities and threats arising from a higher level of digital maturity of competing companies. This allows you to focus on your own internal areas that need optimization.
Ready to start your own SWOT analysis?
2. Appoint a cross-organizational research team
Are your business units working separately with different digital tools transferring data manually between them? 
Or is there a blending of data around consumer insight?
Integration and cross-functioning are essential for digital maturity. Data and technologies need to be accessible across the entire business. This presents a huge challenge in traditional organizational structures. 
In many companies, the various departments move forward with digitalization uncoordinated. They start using digital technologies that don't necessarily talk to each other and store data in separate silos. 
Take a look at this example: You own an eCommerce website. BI analyzes traffic, marketing produces content, sales delivers it to prospects, accounting calculates finances, but each department uses its own set of digital tools and databases. What's the problem here? 
Challenges associated with manual data transform makes it almost important to coordinate cross-departmental processes and present serious stumbling blocks for long-term decisions.  
To avoid this, create a dedicated research team that analyses the technological needs of the different business units by doing in-depth market research. The team should be made up of analysts from various departments, such as marketing, finance, and R&D, to map and prioritize.
3. Focus on the needs of your customers  
You can also build your digital transformation strategy around your customers' needs and user experience. Conduct a comprehensive target audience analysis to understand their priorities and identify trends. This includes digging into website metrics and benchmarks for engagement as a first step. 
The purpose: to identify features on your website or competitors' websites that drive a lot of traffic and generate many page views. You also want to find content that produces a high engagement rate.
Make connections from your with data about existing customers, analyzing website demographics and audience geography. This will help you to determine the profitability of specific digital tools.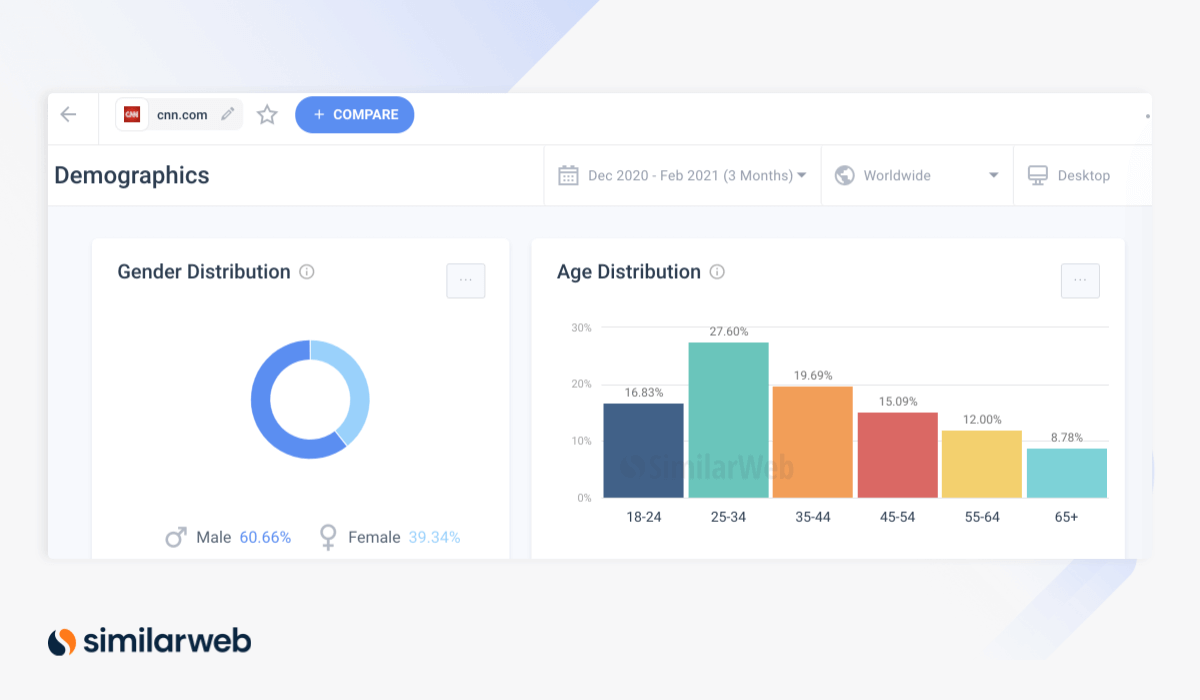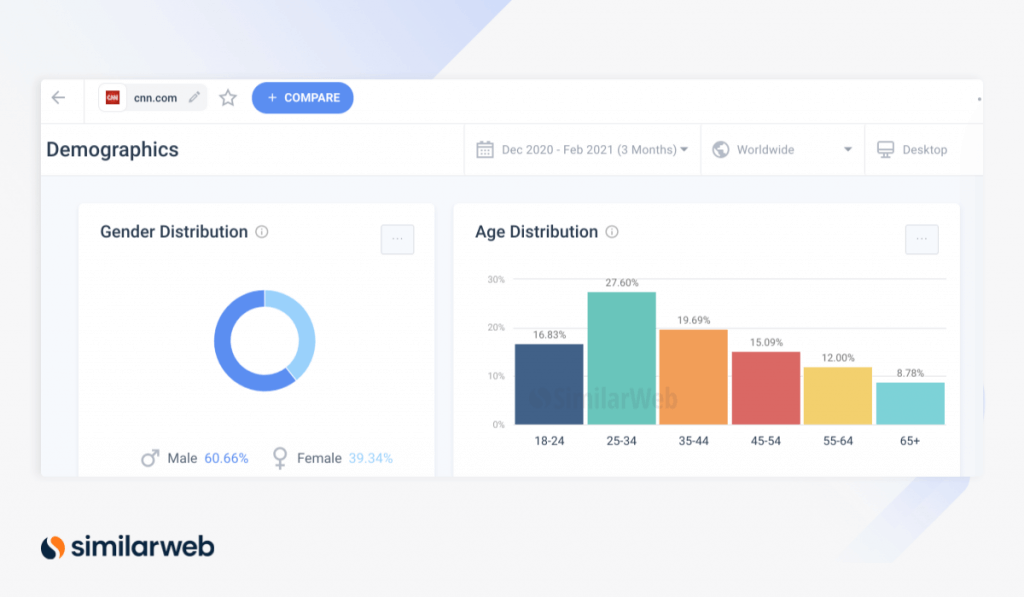 The more specific you can be with defining your audience, the better you'll be able to define your business value to potential customers. 
Track your transformation  
You should set KPIs and monitor your progress every step of the way to ensure business units are aligned on your digital transformation journey. 
With Similarweb's digital intelligence, you can monitor your website metrics quickly and easily in one place. You can also see at a glance how they compare with your direct competitors and industry-at-large. 
You'll have a clear view of where you stand in the market and can see market changes as they happen in real-time so that you can identify the steps you need to take to adapt.
Try Similarweb now for free and get the competitive intelligence you need to lead the digital revolution.

This blog post was written by Ruth M. Trucks.
FAQ
What are the 4 main areas of digital transformation?
The 4 main areas of digital transformation are process, business model, domain, and cultural/organizational.
What is an example of digital transformation?
One example of digital transformation is conducting a SWOT analysis to find an opportunity in artificial intelligence for your company.
This post is subject to Similarweb legal notices and
disclaimers
.
Wondering what Similarweb can do for you?
Here are two ways you can get started with Similarweb today!