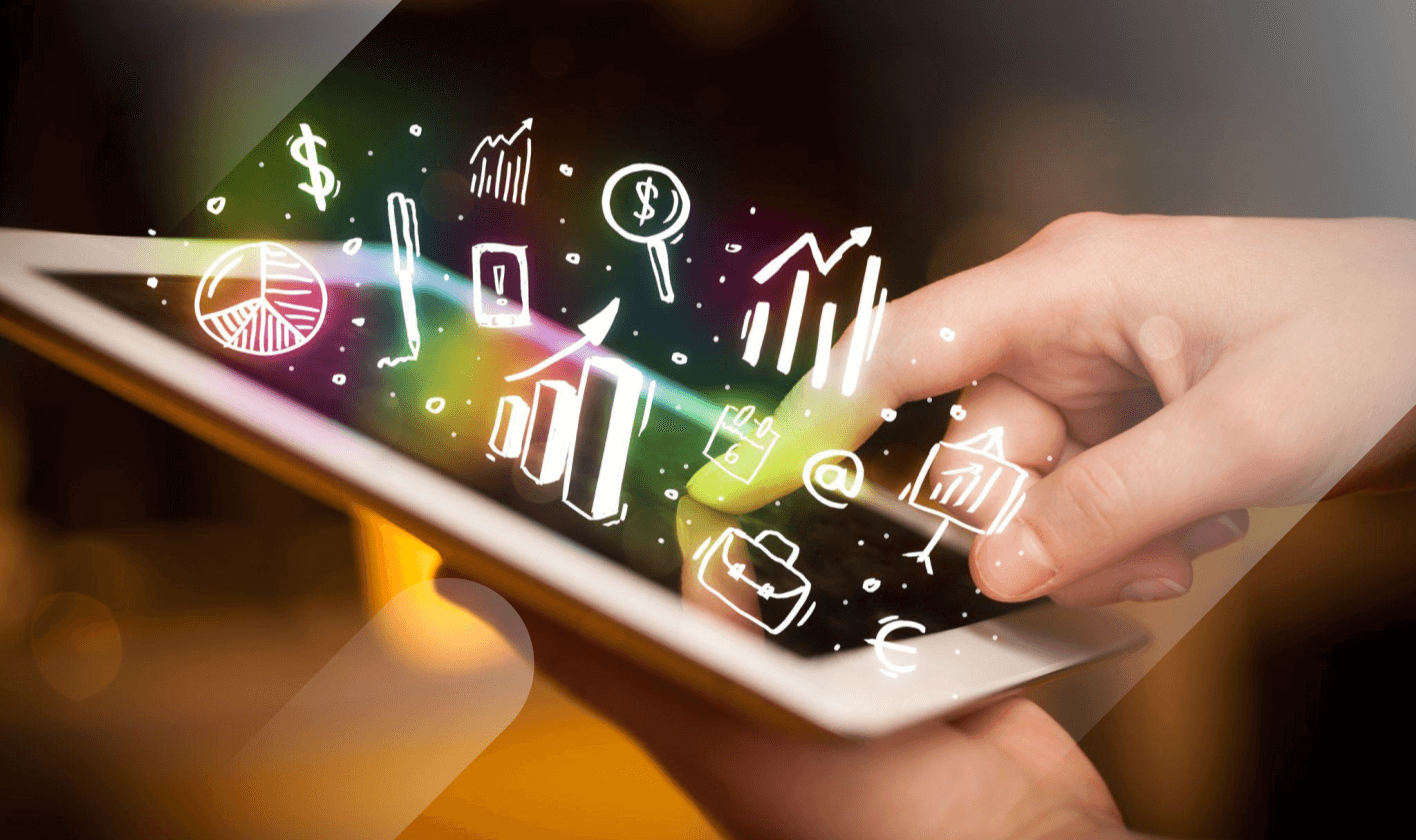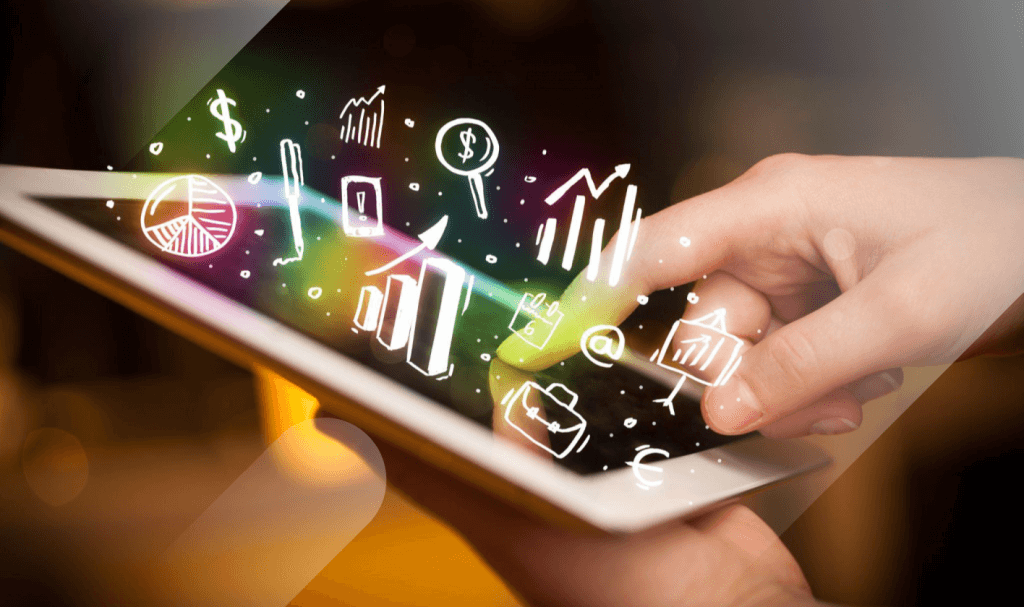 Research Intelligence
How to Use Digital Analytics to Grow Your Business
by Molly Winik
, Senior Digital Research & eCommerce Specialist
6
Min.
August 23, 2021
| Updated June 26, 2022
In 1982, what was considered to be the first mobile phone, Nokia's Mobira Senator, became available to consumers. Today, it's estimated that the average user has over 2,500 interactions a day and spends about 800 hours a year on their mobile phone.
We've witnessed the birth, growth, and development of the digital world, but how are we tracking usage? As our daily lives become further intertwined with technology, digital and web analytics are likely to become part of everybody's routine, even if you're not involved in business intelligence or digital marketing. 
For now, we'll focus on how you can use digital research intelligence to understand your audience and grow your business. We'll look at what digital analytics means today, why companies can't thrive without it, and how to make it work for you.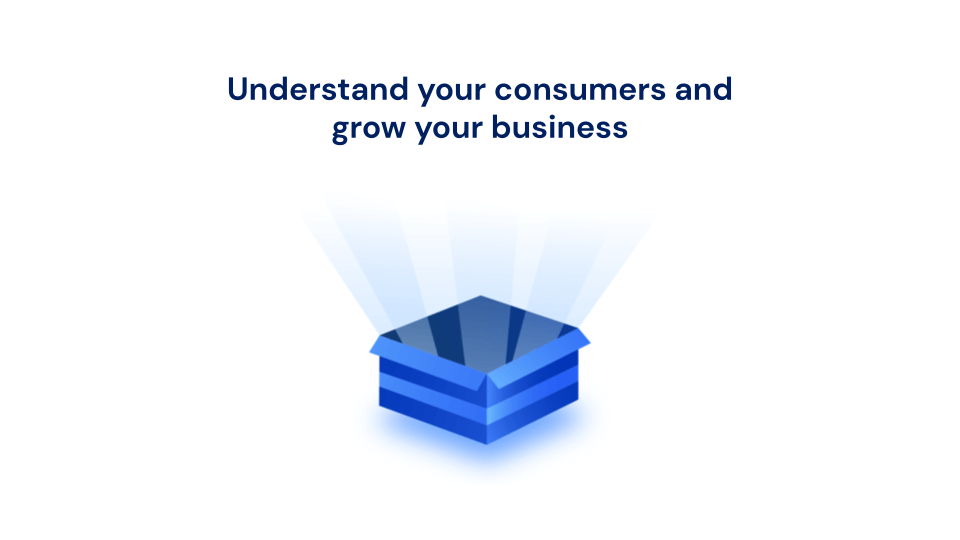 Digital analytics and business intelligence
What is digital analytics? The term encompasses all aspects of analyzing digital data with the purpose of getting answers. It includes collecting, measuring, mining, filtering, visualizing, and optimizing data. You may already be doing this using Google Analytics. 
You can use a digital analytics strategy to track website or mobile app performance, understand user behavior, map your market, evaluate the effectiveness of your marketing channels, and more. There are different types of digital data analytics and various marketing tools to help you achieve very diverse goals.  
The bottom line is the same for all: You collect and process data to solve issues, find areas to improve your business, and make better decisions with a data-driven analytics strategy.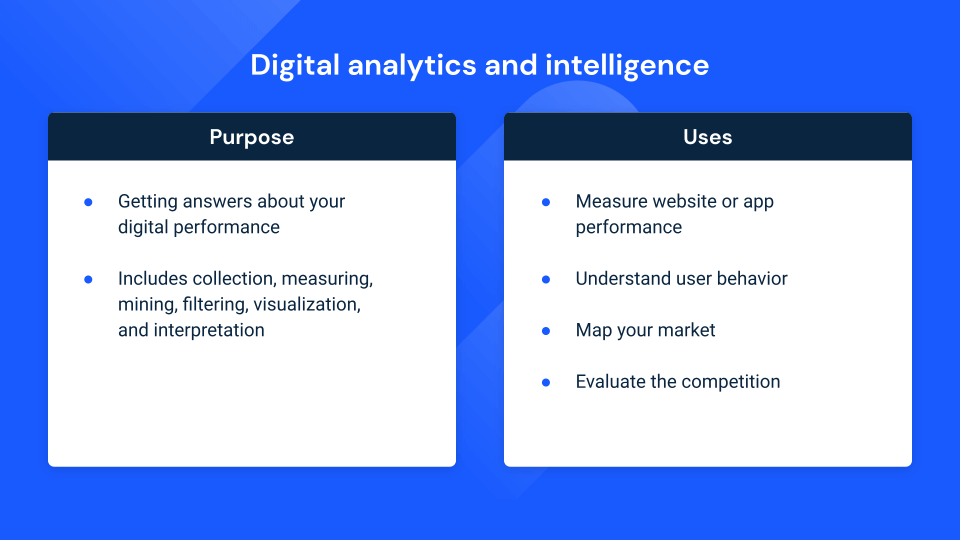 Make digital analytics a priority 
There are two reasons why any business – regardless of what you're offering — should invest in digital analytics and make it your number one priority: 
First, in the age of digital transformation, no business owner, researcher, or marketer can reach smart decisions based solely on their own experience, intuition, or knowledge. You need to build on numbers and facts. Change is happening fast, and you need to make real-time data-based decisions to keep pace. 
Second, you need to collect and process an enormous amount of data for your analysis to yield meaningful results. For the human brain, or even a team of analysts, it's simply overwhelming. Digital tools help you get the job done.
What you can do with digital analytics tools 
There are different types of digital analytics, and there are tools to help you perfect all of them. They all have one thing in common: they turn business intelligence and company research into actionable insights. 
A digital analytics tool can provide you with historical knowledge and an understanding of audience behavior. You can investigate how visitors found your website or app and how they interacted with it. This allows you to optimize customer experience based on data.
You can also use analytics tools to assess and monitor the performance of your site or app and the success of your marketing efforts. You can find out where your marketing is successful and which activities are not bringing the desired results. 
Another possibility is to analyze your position in the market and benchmark against your competition. Analyzing market intelligence data and applying what you discover to your strategy gives you a strong competitive edge and an advantage over other players in your niche. 
These are just a few basic examples of what digital business analytics is capable of.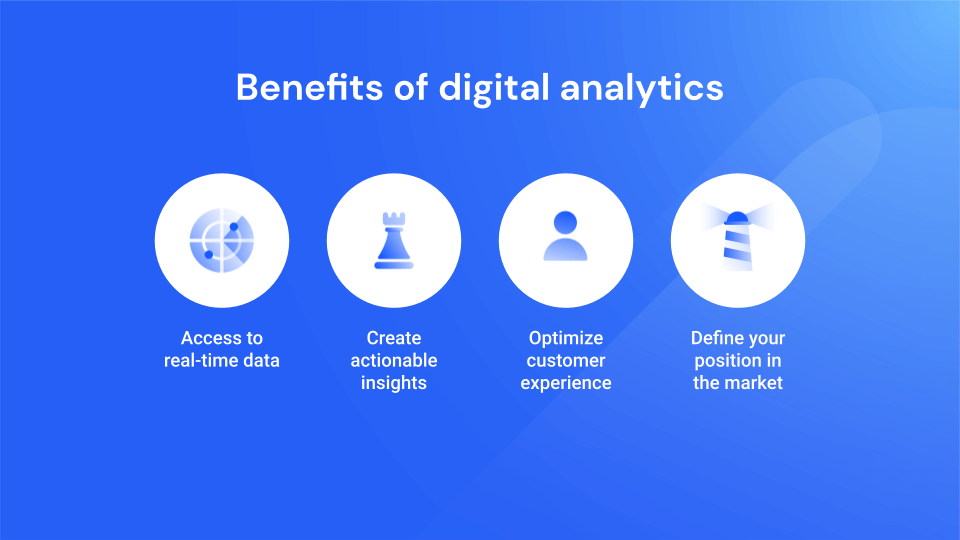 The website metrics that matter
The kind of data you choose to analyze derives from what you need to know. You can get highly specific in your digital analytics by drilling deep down into different metrics, you just need to know what to look for. 
Most likely, you'll want to make digital analytics a foundational part of your market research. From there you can calculate financial impacts such as return on investment (ROI) and customer lifetime value (CLV). 
Let's look at some of the metrics that every company should keep an eye on:
1. Conversion rate 
For most marketers, conversion rate (CVR) is the metric with the highest importance. It evaluates the performance of marketing activities with financial impact. You'll want to analyze the entire conversion funnel and touchpoints within, so you can replicate success and optimize your campaigns where needed. 
2. Engagement rate
You can learn a lot about user experience by monitoring the engagement rate. It reveals how popular your site is, how interesting visitors find your content, and how active they are. Next, you can drill down into page views, visit duration, website stickiness, and other key engagement metrics. 
3. Click-through-rate
The click-through rate (CTR) indicates the success of specific pages or campaigns. It is a critical metric to track in paid advertising. It's also instrumental in evaluating your website design UX and your content relevance.
4. Bounce rate
Another vital metric to keep your eye on is bounce rate. It uncovers how well your site meets visitors' expectations. A high bounce rate can also signify an error or bug somewhere. Reducing your bounce rate and keeping it within the industry average is a kind of health measure for your page.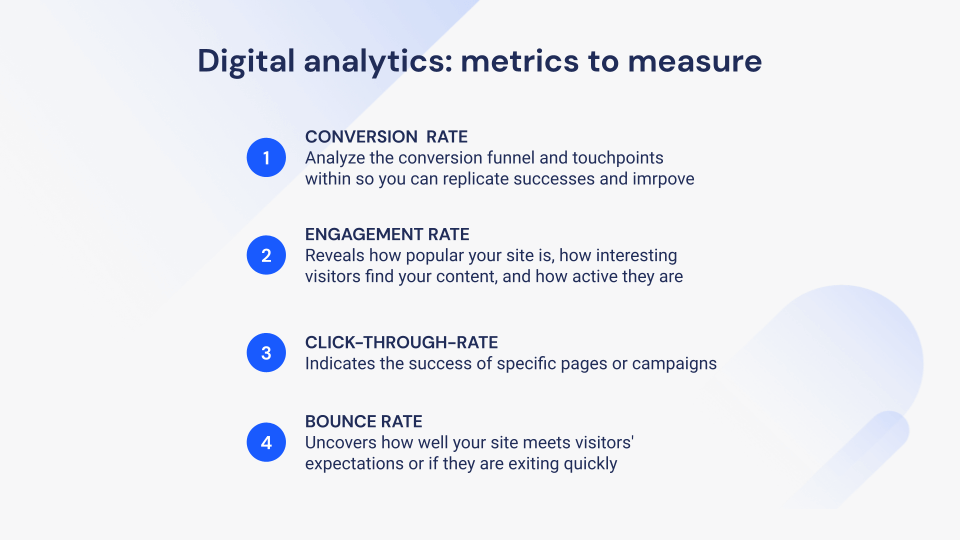 Benchmarking with digital analytics 
One area where digital data analytics are particularly beneficial is gauging your position in the market. Benchmarking against your competition is one of the easiest methods to assess your chances of success, identify adversaries, and develop new growth strategies.
Similarweb's digital analytics solutions and benchmarking tools are designed to do just that. We provide you with the metrics that enable you to track your competitors' performance and measure it against your own. You can also benchmark against the best-in-class or the industry average.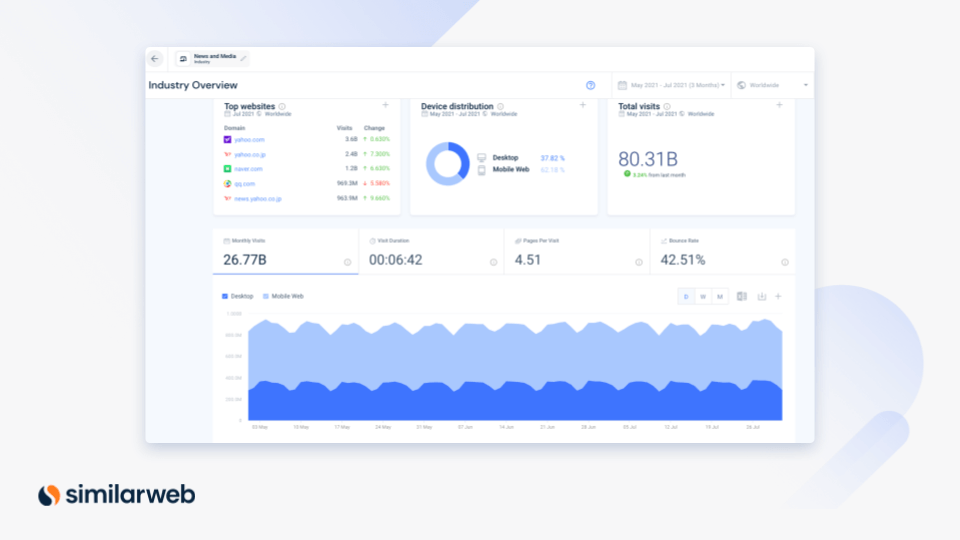 Let's take SEO strategies as an example. Keywords are equally crucial for PPC, and with Similarweb, you can identify what works best for your competitors.
Use the keyword analytics tool to review traffic share per keyword — filter by geography, search type, and more to get higher granularity. Identify trending keywords per channel and optimize your content accordingly.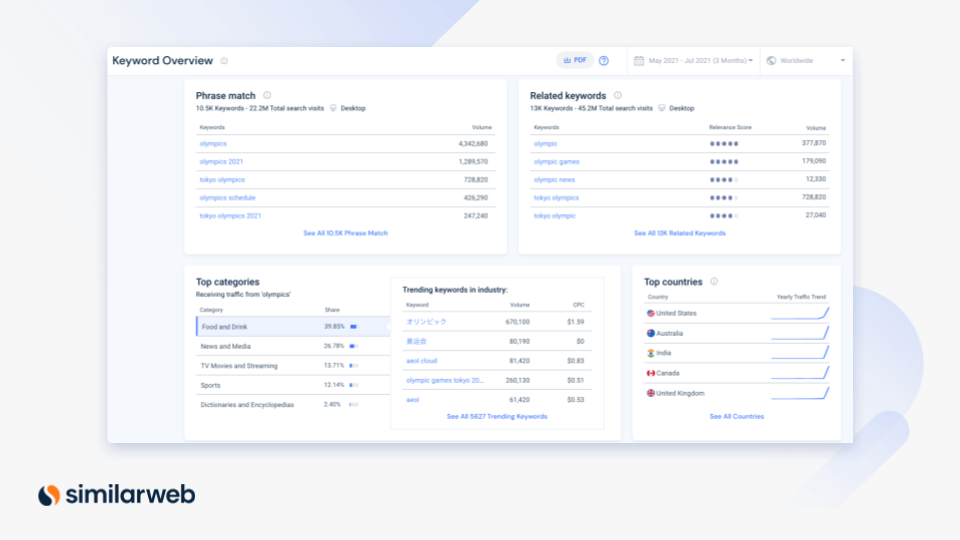 Investigate your competitors' marketing strategies by benchmarking traffic sources' volume and quality by looking at engagement metrics. Find affiliates and referring sites that drive significant traffic to your competitors' websites. You can also benchmark your paid search ads or social media performance.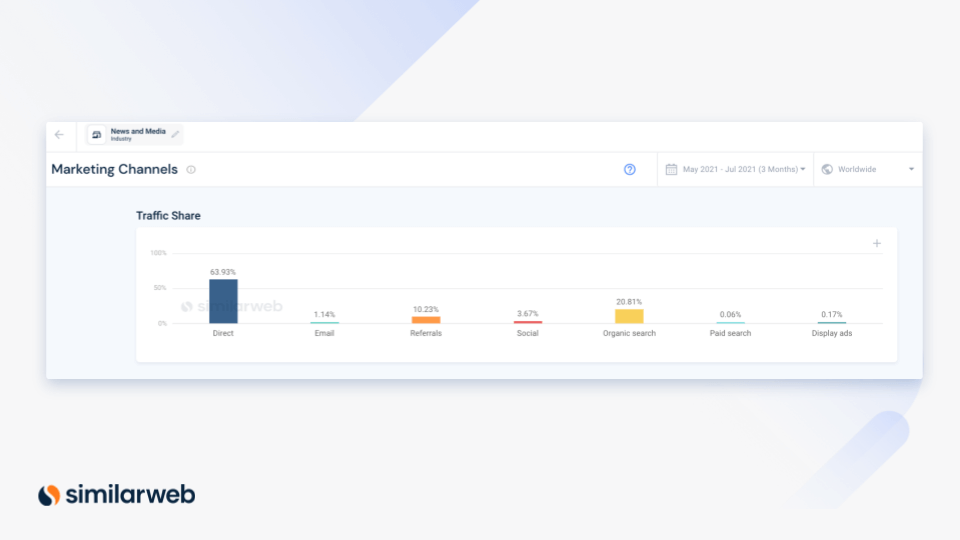 Make better business decisions 
In the age of digital transformation, analytics data plays a central role in the development of businesses. To stay on top of the game, you need to expand your reliable data sources and tools that analyze it. It's not enough to base your decisions on data from your own business. 
Try Similarweb for free and get a behind the scene's look at your competitors.

This blog post was written by Ruth M. Trucks.
Digital analytics FAQ
Why is digital analytics important to business growth?
The importance of digital analytics is that it allows for a data-driven approach to marketing, and as such, it can produce better results.
How are digital analytics used by business owners?
One way business owners can use digital analytics to boost sales is by understanding their audience behavior.
This post is subject to Similarweb legal notices and
disclaimers
.
Wondering what Similarweb can do for you?
Here are two ways you can get started with Similarweb today!