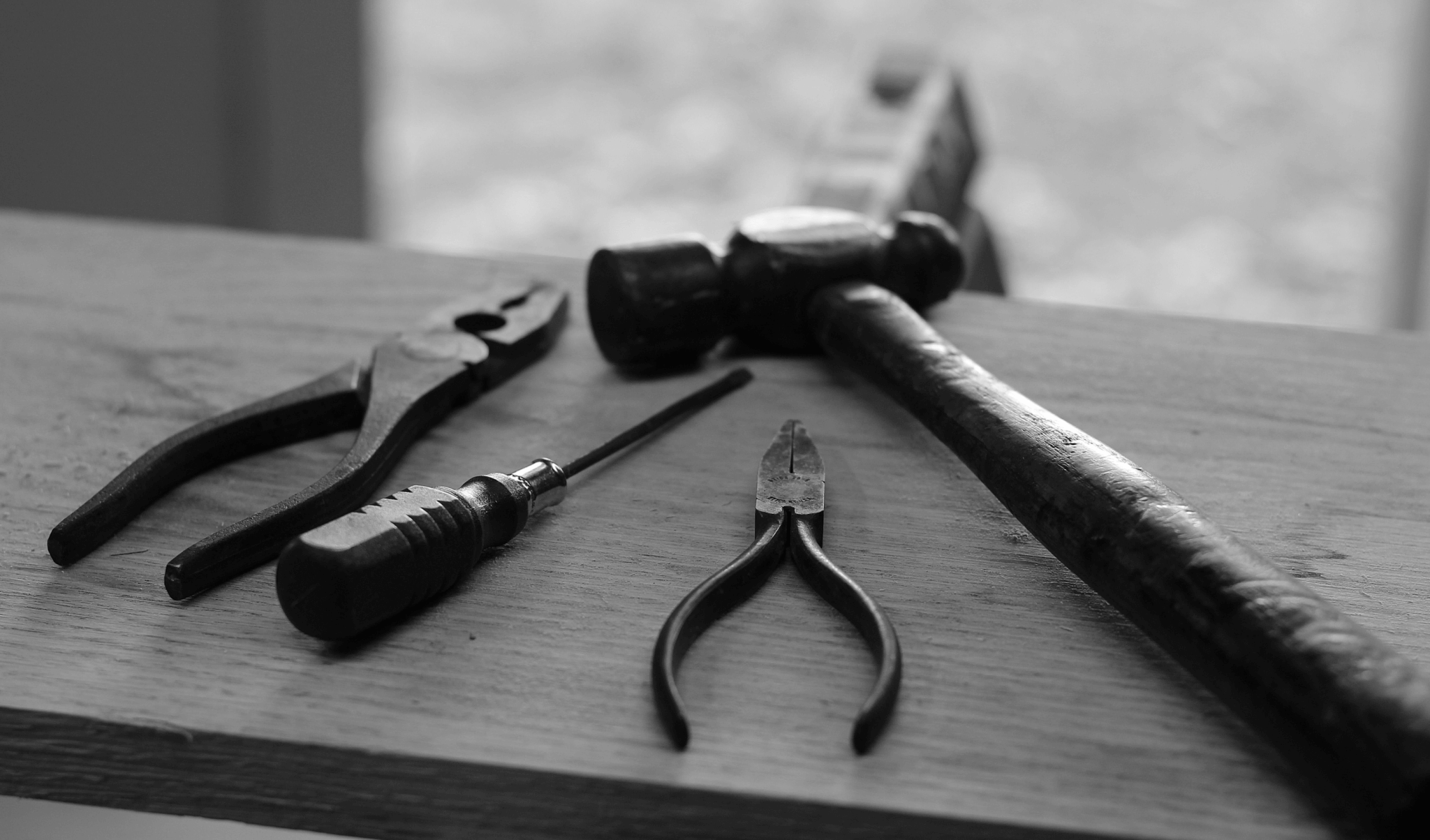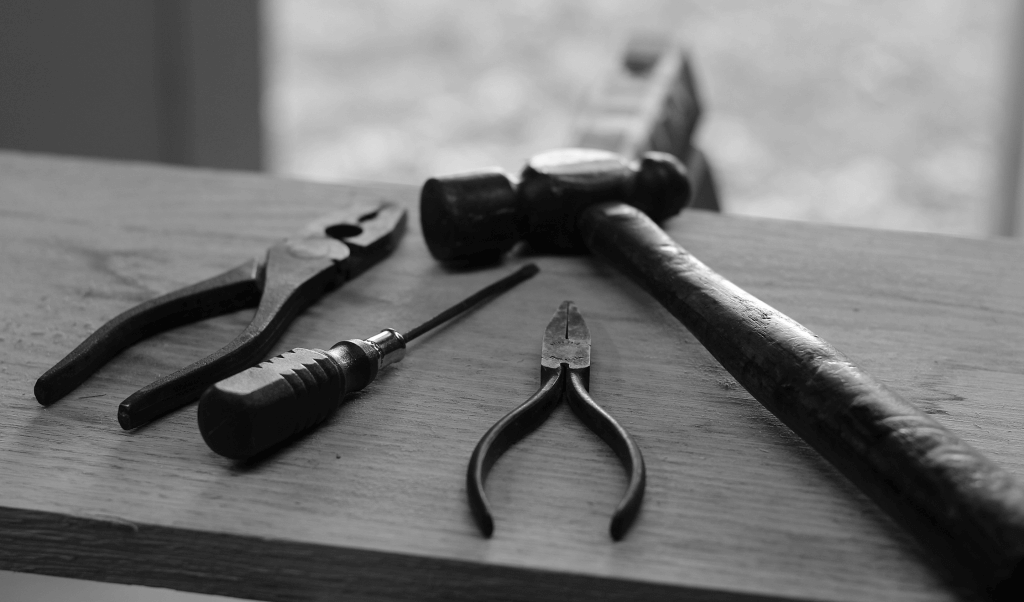 Sales Intelligence
Top 11 Sales Prospecting Tools in 2021 to Close Bigger Deals – Faster
by Josh Rod
, Senior Solution Marketing Manager, Similarweb
6
Min.
March 22, 2021
| Updated July 13, 2022
Do you know anyone who would opt for an encyclopedia over Google today?
Using the wrong sales prospecting tools is doing just that. It's time-consuming, inefficient, and frustrating. The right sales prospecting tools, on the other hand, can help your team add more leads to the sales pipeline and close bigger deals, quickly.
But with literally hundreds of available sales prospecting tools out there, which ones should you choose?
In this post, we're covering 11 prospecting tools that support sales teams through the five main phases of sales prospecting. 
But first — what are sales prospecting tools?
Before we answer that, let's recap the definition of sales prospecting.
Prospecting is the process of identifying potential customers or buyers who match your ideal customer profile (ICP). The goal of sales prospecting is to narrow in on the people who are most likely to become customers and add them to your sales funnel as new leads. From there, your objective is to nurture them until they are ready to close the deal and become paying customers.
So, the best sales prospecting tools are software and apps that make this work easier. They help you identify the right prospects, quickly gather relevant information about them, and open an engaging and meaningful dialogue to ultimately close more deals. 
Locate your ideal prospects with a single click.
What do you use sales prospecting tools for?
Today, prospecting tools have become instrumental to running a successful sales organization. If you want to add more leads to the sales pipeline and close bigger deals, they are crucial. sales development representatives (SDR) and business development representatives (BDR) use them to increase the speed, accuracy, and efficiency of prospecting so they can spend their time targeting the right leads and decision-makers.
Sales teams use prospecting tools to gain:
A clear and intimate understanding of their ideal customer 

Data, systems, and processes which will enable them to identify the prospects that fit this definition

A method for contacting and nurturing prospects

Automations

that help ensure speed and accuracy throughout the prospecting process
Sales prospecting tools to try in 2021
When assessing your options, we recommend looking for tools that will give you the most possible value. After all, it's way easier to get your team to use one software tool from one SaaS company that covers all of your needs, such as Similarweb's Sales Intelligence tool, than it is to train them in five different tools (more on that below).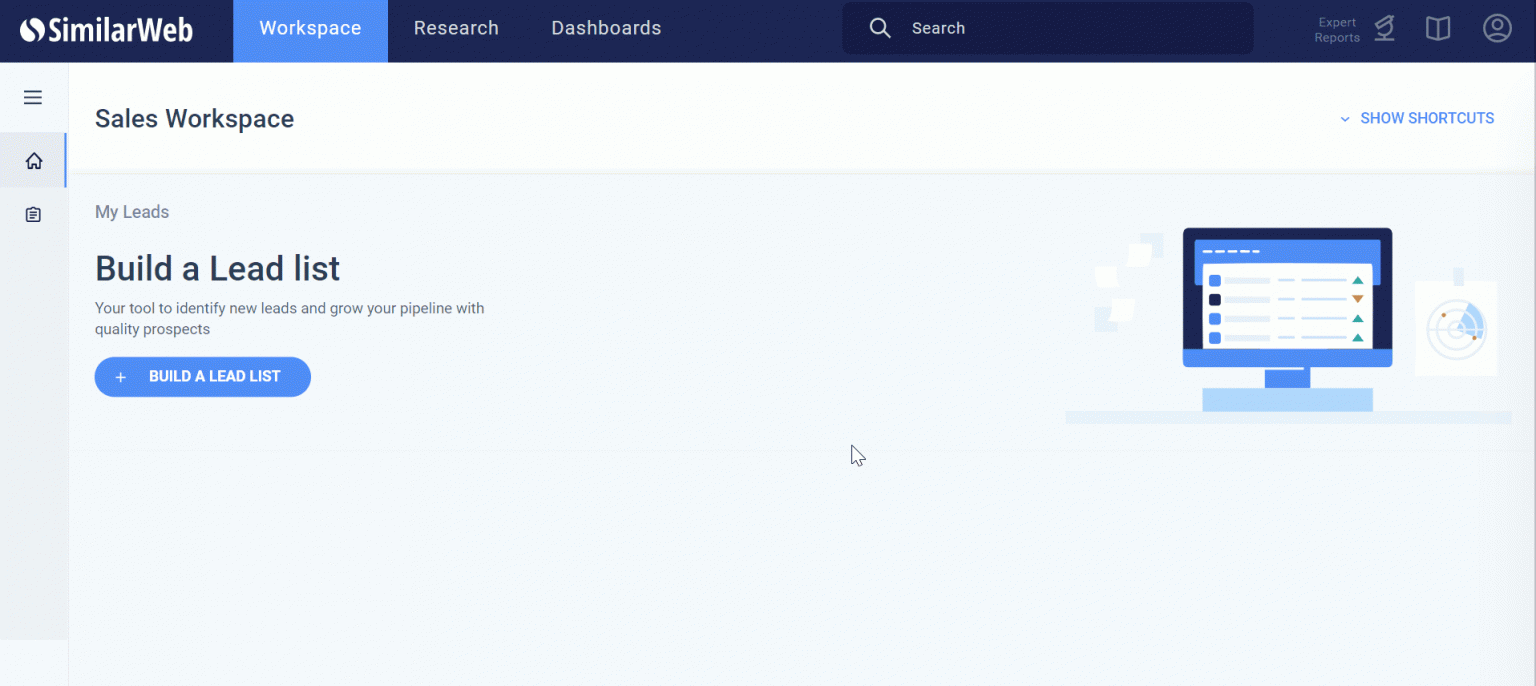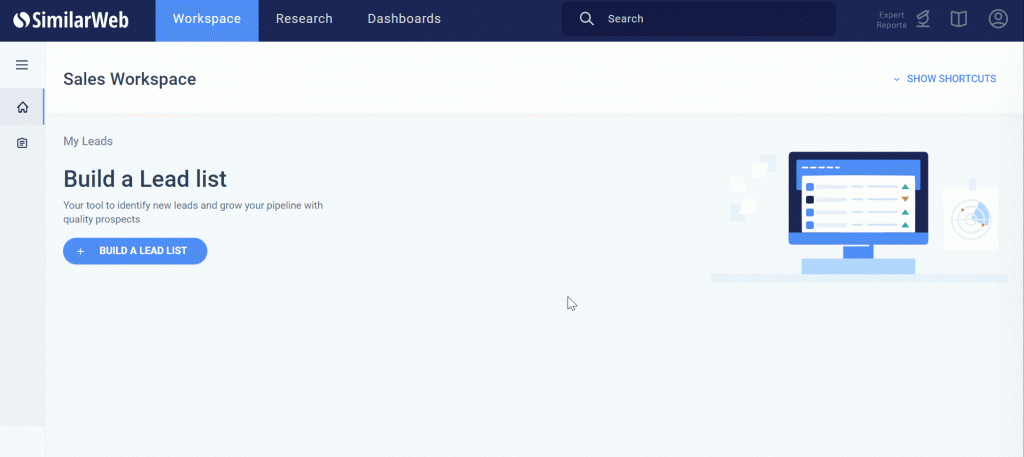 With that in mind, here are our 11 sales prospecting tools recommendations for each phase of the prospecting sales process.
Building out your prospect list
1. Mattermark
In the early phases of sales prospecting, when you need to build out your list of potential customers, Mattermark is a great option. It provides a directory of businesses and investors while allowing you to filter by more than 80 criteria, such as geography, industry, revenue, company size, business model, and employee growth. 
With the ability to create saved searches, including relevant company news and alerts, sales professionals can save time while gaining helpful information about leads. Mattermark integrates into Salesforce so you can combine the software's data into your CRM, and apply triggers and actions to any lead or opportunity. This helps you better prioritize and personalize your efforts and improves the overall sales process.  
2. LinkedIn Sales Navigator
LinkedIn has long been used by sales teams to gather information on prospects, and the LinkedIn Sales Navigator makes using the platform even easier. The Sales Navigator tool is dedicated to sales teams to help them find leads and accounts in their target market, get real-time insights for warm outreach and build trusted relationships with customers and prospects. Cold calling and cold email are made easy. Also, the tool provides more detailed information about each prospect, as well as the option to save leads within the platform which improves workflow.
Locating contact information
3. Lusha
Lusha is a database that enables sales teams to locate B2B contact and company details. It includes 100 million business profiles, 36 million C-level executive profiles, and 15 million company profiles, so sales teams can locate the contact information for virtually anyone they want. Lusha allows you to save contact lists within the platform and export them to your CRM for easy follow-up.
4. Prospect.io
Prospect.io is a sales prospecting tool that promises to find and verify anyone's email address in seconds (Gmail and beyond). The platform allows you to locate the email addresses for individual prospects or groups of prospects at once. Users can access its Email Finder feature within the app or while browsing the web using its Chrome Extension, which is integrated with business-oriented social networks. This makes it easy to find relevant names, emails, and job titles.
Prospect.io enables two-way integration with a number of platforms, including Salesforce, Hubspot, Zoho, Pipedrive, and Slack. You can also create simple drip campaigns and perform data analytics on the emails you send. 
Qualifying your prospects
5. Detective by Charlie 
This prospecting tool helps sales teams speed up the research phase of prospecting by monitoring the internet and aggregating all of the news and mentions about them. This helps sales teams determine if a prospect does indeed match their ICP. It also spoon-feeds you information that will help you personalize your cold outreach to qualified leads. Detective by Charlie integrates with Salesforce as well.
6. Owler
Owler helps sales teams qualify prospects by delivering company data and other relevant information about your prospects. The database provides a range of information on more than 14 million public and private businesses, including industry, sector, geography, revenue, employee count, and more. You can create a real-time feed about news and track the companies you care about by creating custom alerts. 
Hosting a great meeting
7. Calendly
When it's time to schedule a meeting with your prospect, Calendly can make the process smooth and easy for salespeople. After syncing with your Google Calendar, your prospect can choose a time that works for them within the window of time you provide. Sales teams love Calendly because it helps them eliminate long chains of emails when they are trying to schedule calls, meetings, and demos. 
8. Demodesk
Demodesk is known for automating key parts of the sales process. It's a web-based meeting platform that helps sales reps schedule and lead meetings in real-time. Demodesk integrates with Google Calendar and Office 365 and creates automated calendar invites and email reminders to help decrease no-show rates. It also helps reduce meeting prep time with dynamic team playbooks that are easy to automate to load the right slides, websites, or apps.
During meetings, Demodesk enables interactive screen sharing and video conferencing. All users can preload content, create meeting templates, and add notes. 
Keeping your prospects engaged
9. Crystal Knows
Keeping your prospects engaged requires saying the right things at the right time. Crystal Knows is an on-demand personality insights platform that tells sales reps about a prospect's personality and behavioral tendencies so you can tailor your communication style and pitch. It helps enrich your understanding of your accounts beyond generic prospect information and even builds customizable playbooks to prepare you to speak persuasively to different personality types in various situations. 
10. Bloobirds
This prospecting tool is designed to help you keep prospects engaged by providing real-time messaging assistance so you can craft personalized messages according to the B2B buyer persona, target market, and the prospect's unique situation. Bloobirds also provides reminders and prompts to guide reps through different tasks and help them follow your sales playbook. 
Similarweb's Sales Intelligence tool: the holistic approach to prospecting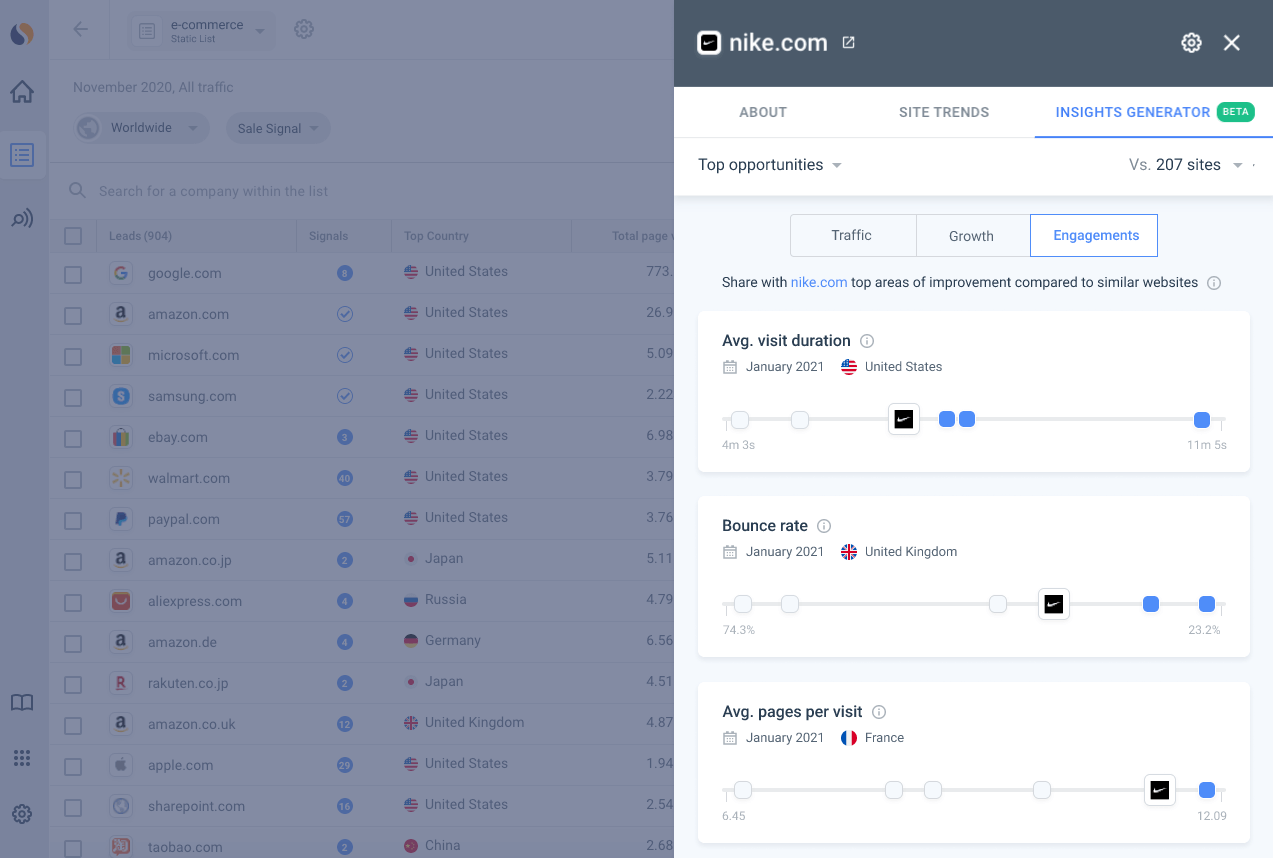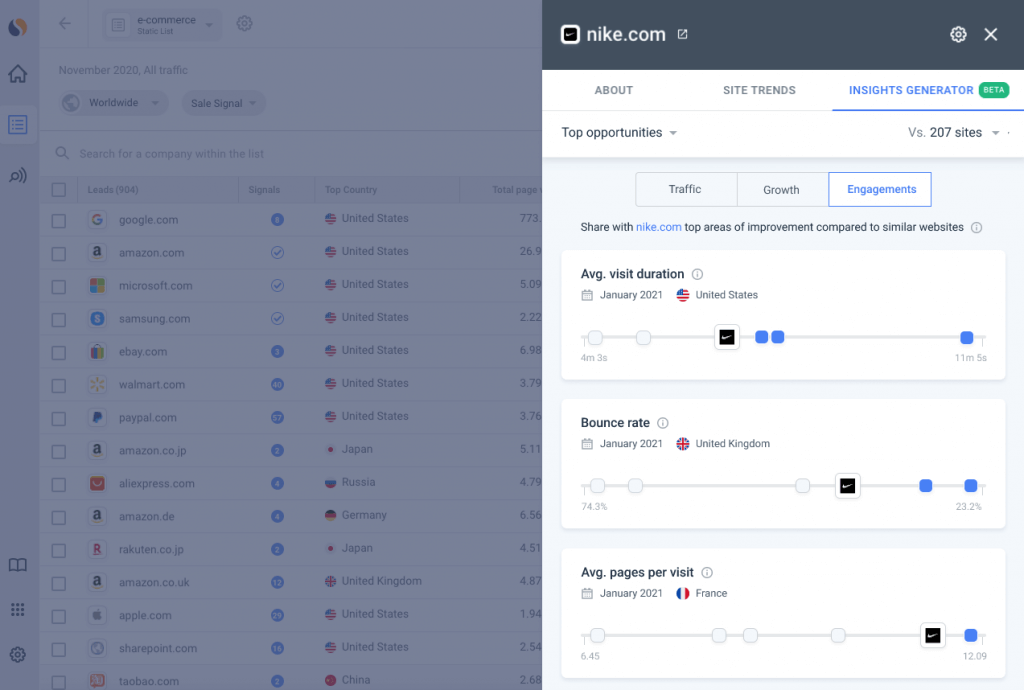 The recommendations above cover some great options. But for teams that are tired of onboarding with disparate software and apps, taking a more holistic approach with Similarweb's Sales Intelligence tool is the best all-encompassing platform.
Our Sales Intelligence tool empowers sales reps to maximize efficiency and achieve better outcomes within each phase of prospecting. Our database of more than 100 million companies enables your sales team to:
Generate more pipeline and identify new potential customers based on the criteria that matter most to you. For example, you can locate prospects by web traffic volumes, engagement

metrics

, revenue, site category, and site language. 

Gain unique insights into your prospect's digital performance, as well as their competition, to help you craft the perfect pitch and increase your response rate.

Adopt a consultative role throughout your communication with prospects by leveraging insights about web traffic, competitor performance, and other

metrics

that matter to them.

Save time by automatically

qualifying

your prospects

and enriching lead data with digital performance

metrics

directly in your

CRM

.
With all of these capabilities, your sales team will be positioned to work faster, focus their time on prospects that will actually convert, and close more deals. Similarweb is the end-all sales prospecting tool. Are you ready for your free demo?

This post is subject to Similarweb legal notices and disclaimers
FAQ
What are the most useful tools for prospecting?
Two very useful tools for prospecting are Similarweb Sales Intelligence and Mattermark.
What is a sales prospecting tool?
A sales prospecting tool is any software that helps you automate repetitive tasks,
This post is subject to Similarweb legal notices and
disclaimers
.
Wondering what Similarweb can do for you?
Here are two ways you can get started with Similarweb today!