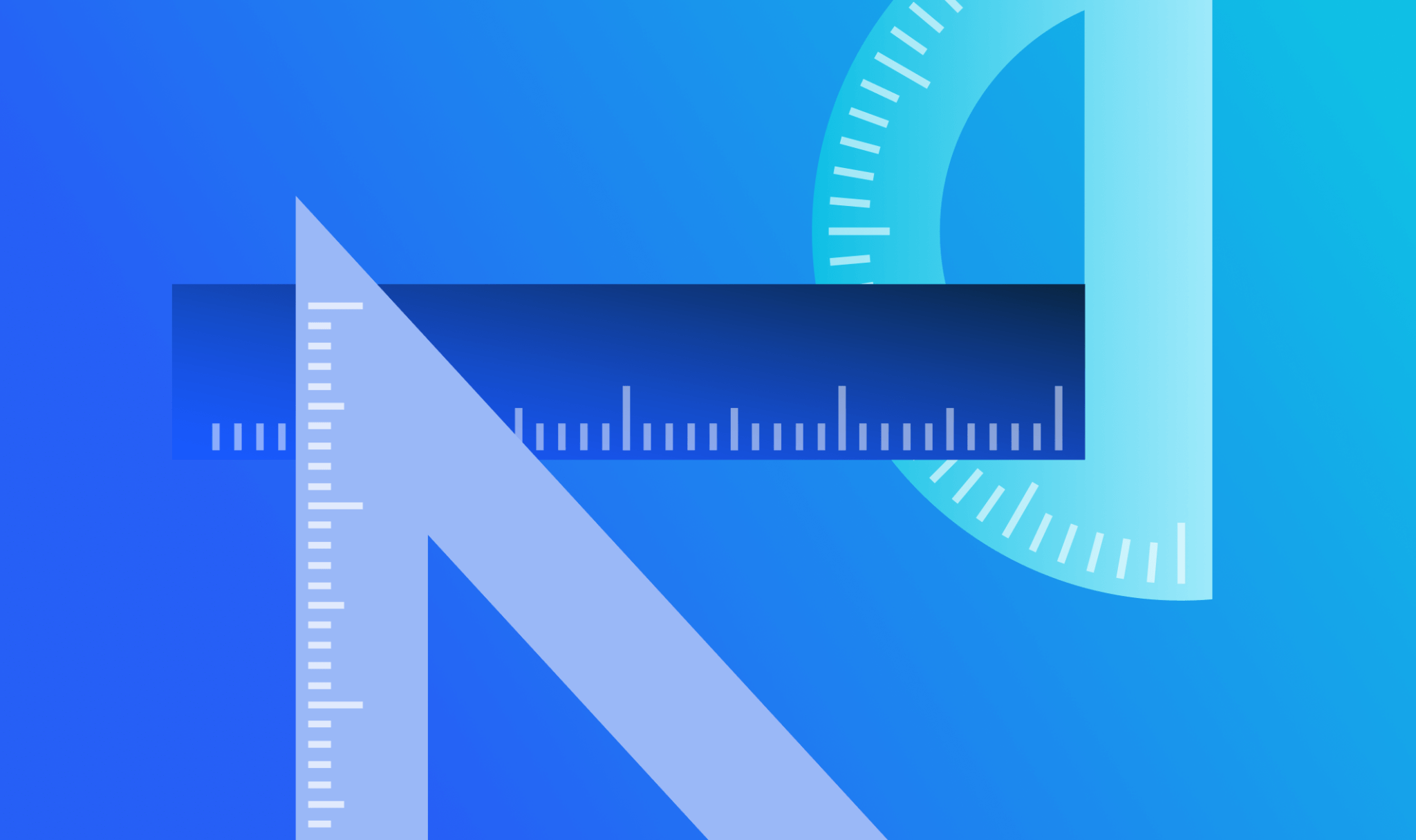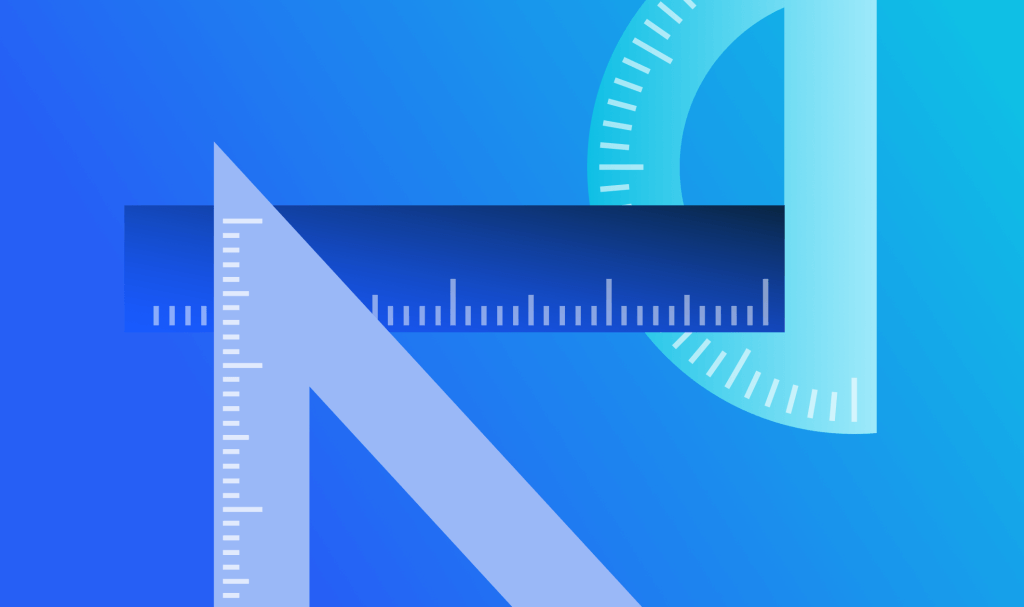 Research Intelligence
Unique Visitors: Understanding and Targeting Your Competitors' Audience
January 14, 2021
| Updated October 11, 2022
What is the unique visitors metric?
Unique visitors is a website metric that shows the total number of visitors to a site; counting only their first visit. If they return to the site at a later time, any additional visits are not counted in this number. 
As one of the most telling website KPIs, it's something every business should track and compare with competitors' website and engagement metrics.
Now you know what it means, let's talk about why it matters so much. 
What is unique visitors used for?
This standard engagement metric is essential for analyzing web traffic and planning your digital strategy. It's also referred to as UVPM, which is short for unique visitors per month. Google Analytics is considered one of the most common analytics tools; it provides a unique visitors metric for your site. With Similarweb's analytics platform, you can also examine your competitors' unique visitor stats, along with other useful insights that allow you to drill down and unpack their successes online. 
Unique visitors comes in handy in a range of situations, including:
To data and BI analysts tracking online activity in their industry or competitive landscape.

Doing Competitive analysis of a rival's website.

For publishers assessing the exposure for a competitor's piece of content.

Both strategy and investment teams measuring a brand's reach.

Benchmarking industry traffic

and engagement stats.

To see which companies achieve success with inbound marketing.

For advertisers who need to quantify the impact of another company's campaign.
Why is the unique visitors metric important for your business? 
To understand the exposure and reach of a website, marketers and researchers look at page views. Similarweb's equivalent, the number of visits received by a website is a key metric for analyzing that website's traffic. This information is critical, for example:
– If you are a publisher and want to show the number of impressions an ad will receive on your website.
– If you are part of the user journey team at an ecommerce website seeking to capitalize on each visit as an opportunity to convert a visitor into a buying customer.
To help you better understand a website's audience analysis, such as size and reach, you need to look at the unique visitors metric. In the simplest of terms, this number represents how many pairs of eyes viewed a particular website during a specified period. 
Dividing the number of visits by the number of unique visitors yields the number of visits per individual user (also provided by Similarweb), which you can use to analyze engagement rates on a website and understand how many times every single user visited that website.
Unique visitors, visitors, and visits – what's the difference?
It's easy to get confused with these web analytics metrics. Although they're similar, it's critical to understand the difference.
Visits: Counts the number of single visits to a website or page, regardless of their origin. The same visitor may have several visits to the same page. 
Similarweb calculates total visits within a defined period and region. Each time a visitor accesses one or more pages, it counts as a visit. Subsequent views of the same page are included until the user is inactive for at least 30 minutes.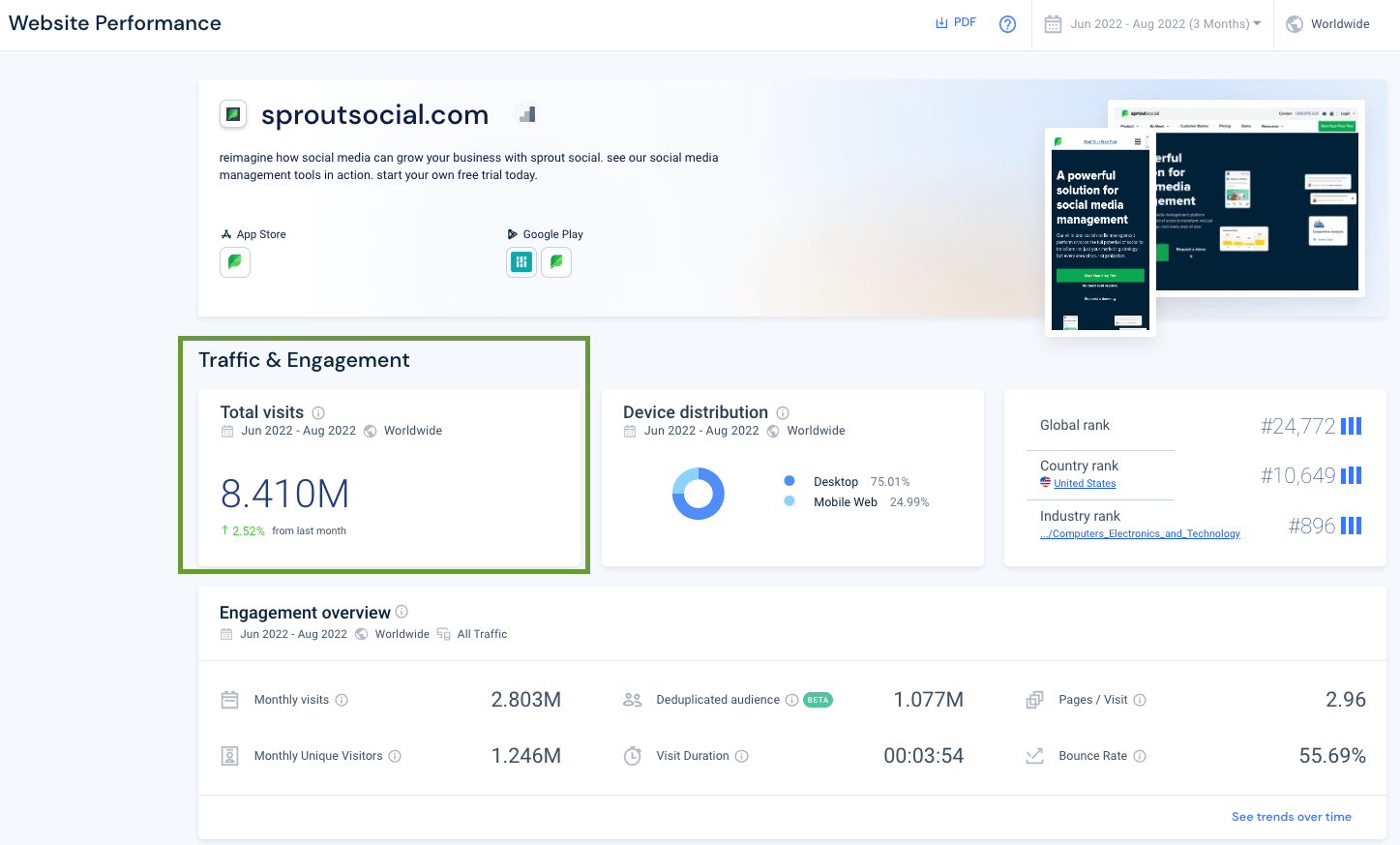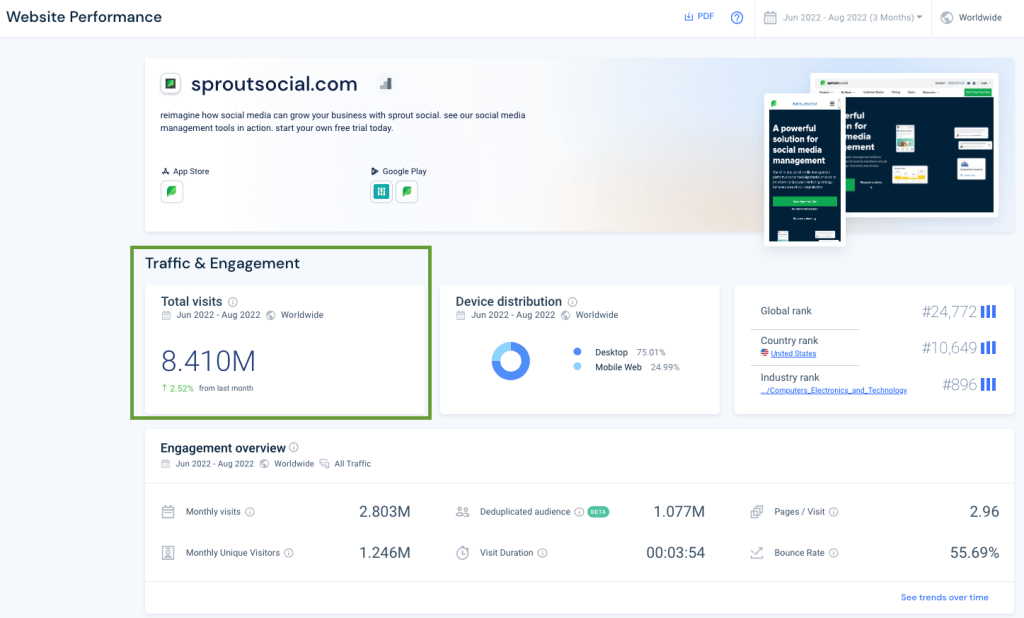 Visitors: In Google Analytics, visits from the same browser or terminal are defined as coming from the same visitor if they arrive on the same day. In other words. "Visitors" count the users that visit your site in a single day. The following day, the system starts counting again. Whoever was at your site before is not recognized as a returning visitor but simply counted as a visitor again.
Unique Visitors: The system recognizes the visit's origin – the visitor – over a specified period. Each visitor visiting your site or page within the specified period is counted only once. Let's take a closer look at the methodology Similarweb and Google Analytics uses to identify website unique visitors and collect the information…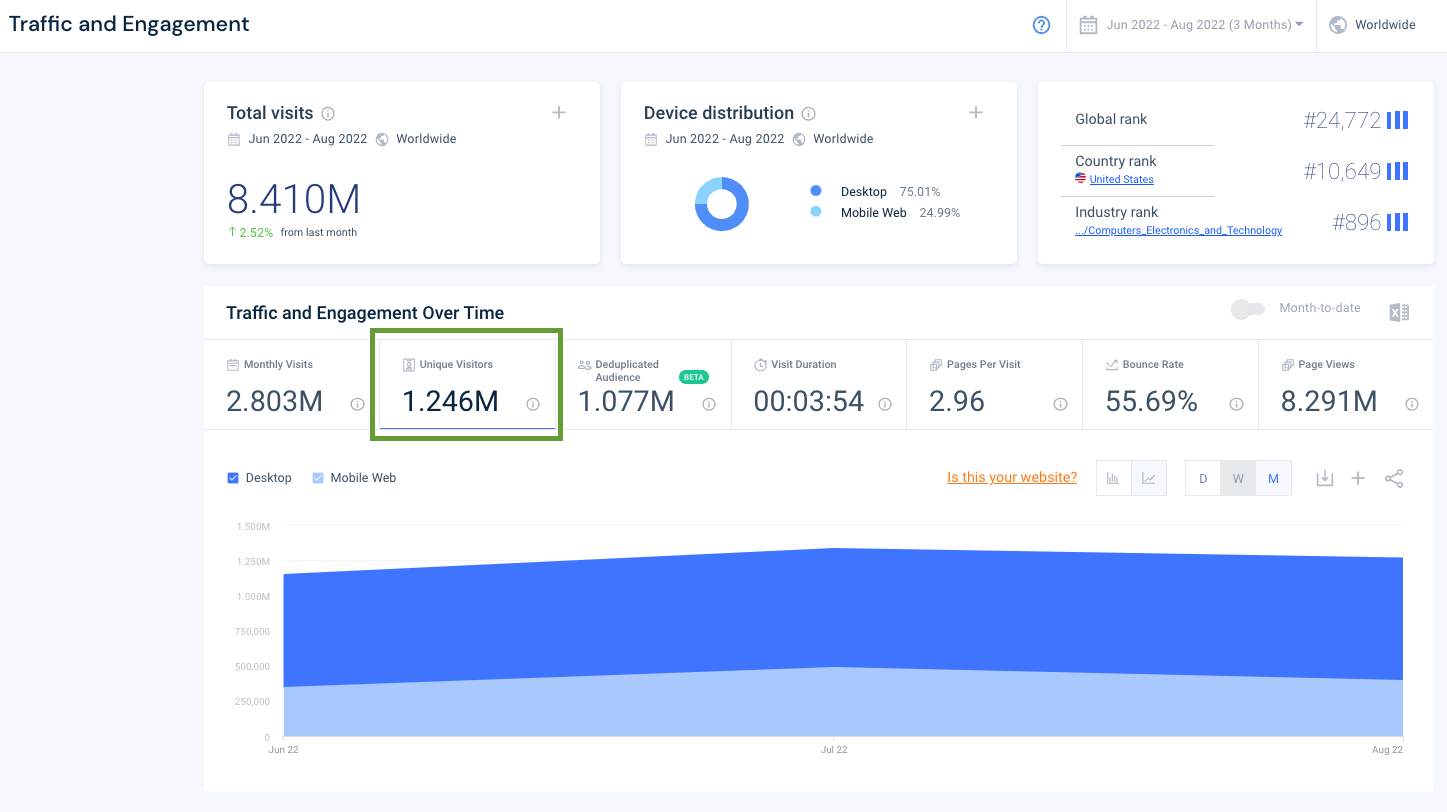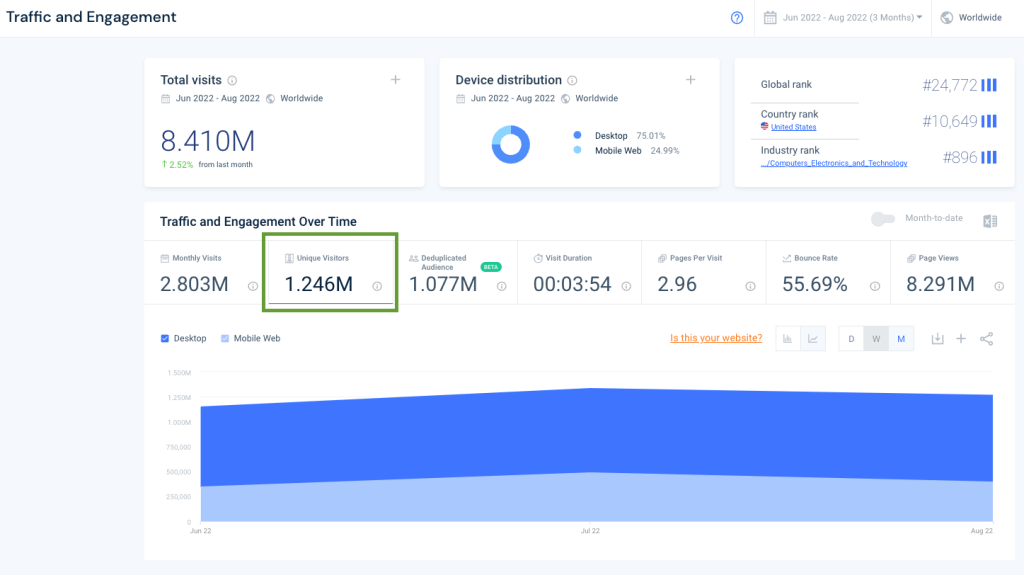 How are Unique Visitors calculated?
There is no standard in the market for measuring the number of unique visitors; hence there are slight discrepancies between tools.
Google Analytics and its cookies
Most of you are familiar with Google's definition: "Unique visitors is the number of unduplicated (counted only once) visitors to your website over the course of a specified time period." 
To be more precise, Google identifies the same IP address by placing a cookie. Google can't identify the actual person. If the same visitor enters from a different device or browser, each will count as a unique visitor. Another scenario that renders this method slightly inaccurate: users can erase cookies, or different family members can enter a site from the same device and browser.
Similarweb Unique Visitors Per Month (UVPM) identification method
Unlike other traffic analysis tools, Similarweb does not rely on cookies, which are often considered an unstable data collection mechanism, as explained above.
As a result, cookie-based technologies tend to overestimate the number of unique visits; they will often show higher numbers than the Similarweb software. 
Similarweb collects data from a variety of sources, including a large panel composed of users who share their anonymous clickstream data. Each device in the panel receives its own unique ID, which translates into a unique user.
Under Monthly Unique Visitors, you will see the number of users who visited the specified web location one or more times during the monthly period.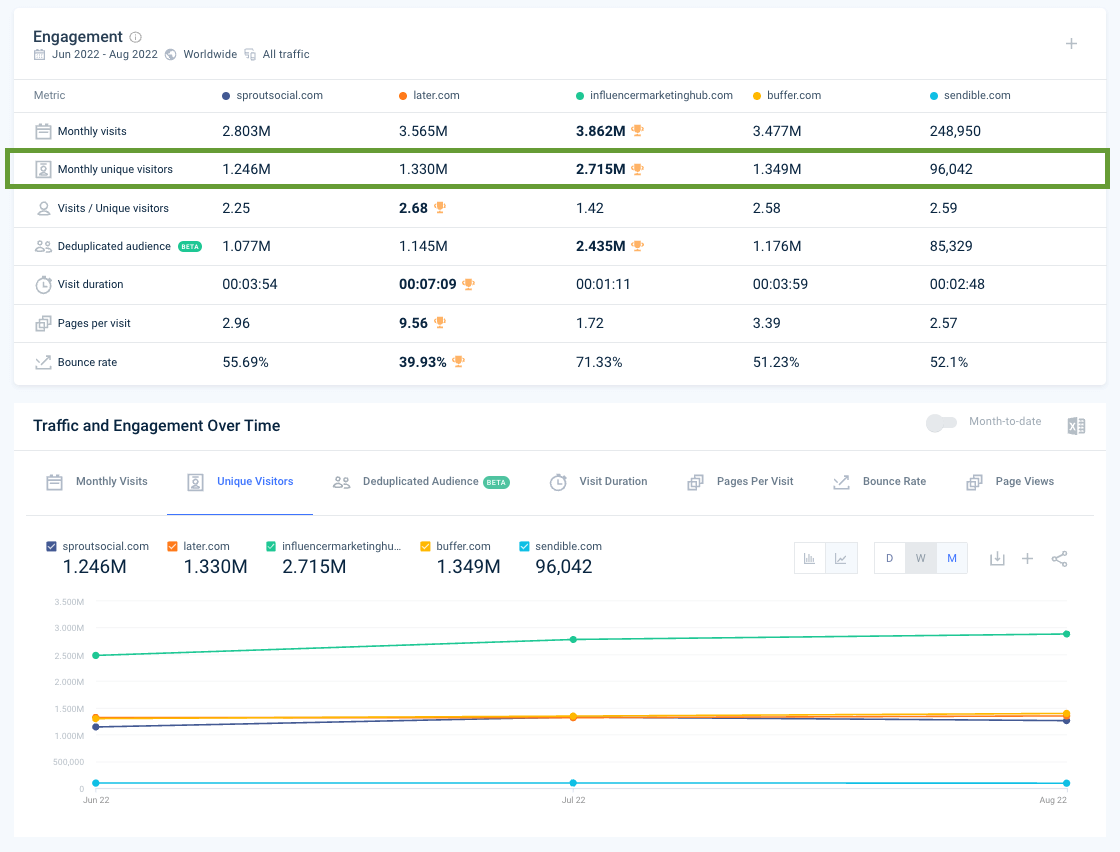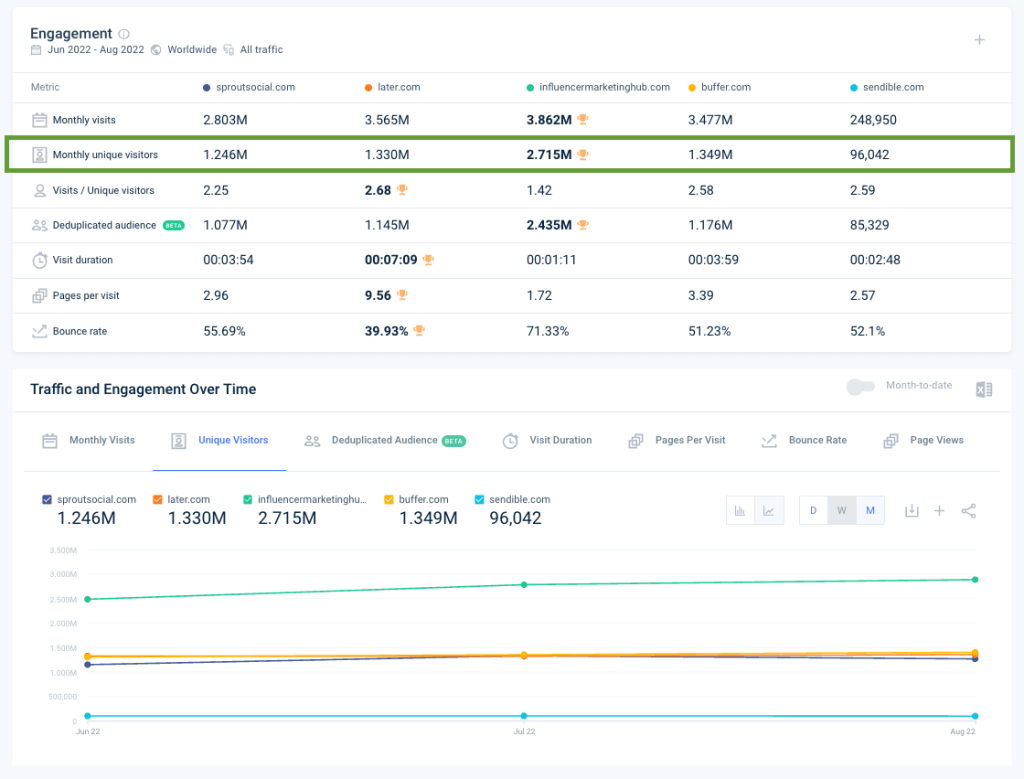 Similarweb Daily Unique Visitors – are they different?
Again, Similarweb's technology does not use cookies to identify Unique Users; therefore, the differentiation between a visitor and a unique visitor isn't really relevant. We refer to visitors as daily unique visitors.  
Unique visitors function as a basis for many of our traffic and engagement metrics. We calculate unique visitors for desktop and mobile web, which means the traffic for the calculator is the sum of both.
Monitoring daily unique visitors lets you gauge website stickiness and engagement, evaluate peak traffic days, and much more.
Closely related metric: Visits per Unique Visitor
The next metric to look at in your traffic analysis is Visits per Unique Visitor if you want to understand your unique visitors' behavior and engagement. With Similarweb, you can choose a time frame and region and monitor how many visits a user made and how many pages they viewed on average.
But that's a topic for another post. Read here how to leverage Page Views and benchmark against your competitors.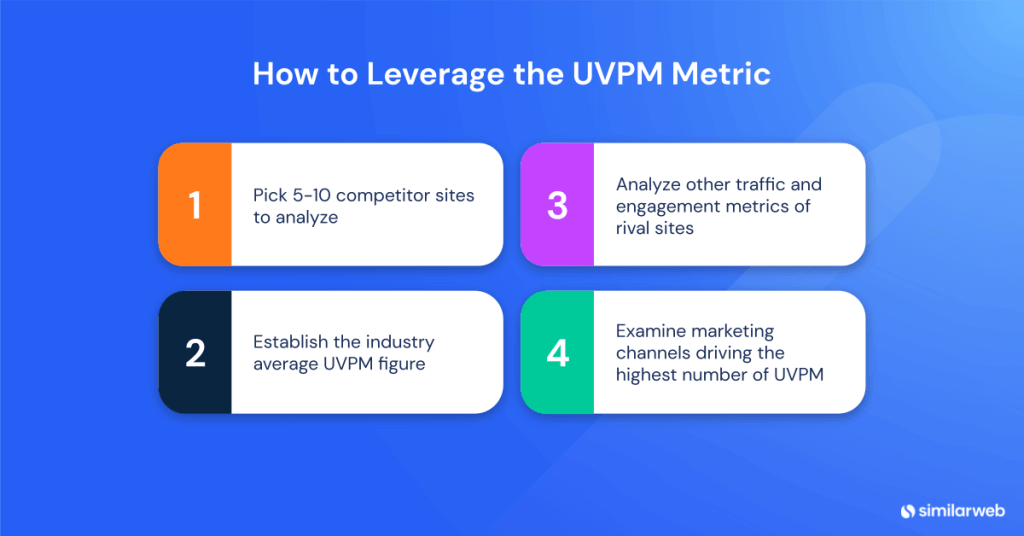 How to use competitor's unique visitors metric to amplify your digital strategy 
Here's one thing to remember about your target audience: It's also your competitors' target audience. So if you want to increase your unique visitors, you need to look at successful best-in-class companies along with players in your market showing significant growth.
Step 1 – Establish key competitors to analyze 
First, identify which competitors generate the most unique visitors. They could be industry leaders or rising stars. At this point, it's not about doing a full-blown competitive analysis, we're simply going to find those people showing the highest number of unique visitors.
Ready? Then, let's begin.
Action: List between 5-10 competitors to analyze as part of this task.
Tip: You can use Similarweb to identify market leaders and high-growth sites in your industry. 
Step 2 – Establish the industry average 
Understanding the industry average is a great starting point when setting any goals. In the next section, we list a few industry averages for the UVPM metric. But to gain an apples-for-apples representation and build a measurable strategy; establish your industry benchmarks.
Tip: In the same place on the Similarweb platform you can grab a snapshot of your industry benchmarks.
Here, you can view the standard industry benchmark for unique visitors, monthly visits, visit duration, pages per visit, and bounce rate. If you want, you can drill down and analyze specific competitors to get an idea of their individual wins and losses.
Step 3 – Do a quick competitive analysis of traffic and engagement stats
Unique visitors is one of the crucial engagement metrics to include in your analysis. But, it doesn't always show the full story. At this point, you also need context, as this is where the biggest opportunity to find insights exist. 
Action: Look at key metrics, like: 
Unique visitors

Page visits

Bounce rate

Pageviews

Time on page 
You can use these additional engagement metrics to get a more granular view and record the metrics to give you a point-in-time view that you can refer back to.
Here's a quick example of how this exercise can help you find opportunities to grow the number of unique visits to your site.
If your number of unique visitors is higher than that of your competitors, but your Bounce Rate is also higher, this raises the question of how well your site meets the visitors' expectations. 
Are the visitors you attract the right persona for your business? 

Are your meta descriptions aligned with the content on the page or do they mislead?

Is your site navigation simple and is it easy for people to find what they need?  

Are your

consumer journeys

considered and clearly mapped?
There are a lot of questions you can ask once you unpack these metrics. But before you can break things down, it's important you grab these other metrics to give you a complete picture of what's happening on a site. 
Step 4 – Examine marketing channels that drive the most unique visitors  
Next, review rival's marketing channels to see which drives the most traffic and unique visitors to their site. 
Helpful: Make sure you record your findings in an easy format. Our downloadable competitive analysis frameworks are handy for this purpose.
Let's say competitor A receives a significant amount of traffic from display ads; while your ad campaign performance is average. Rather than comparing all your competitor's ads, you can now focus on analyzing this particular company's campaigns because you know they work. 
Find out:
Which keywords they target

What they offer

The types of CTAs they use

How they design and word their ads
Similarly, you might discover a rival with a high number of social referrals, specifically from one platform. You can again, hone in and unpack their social strategy to emulate their success and get more unique visitors to your site.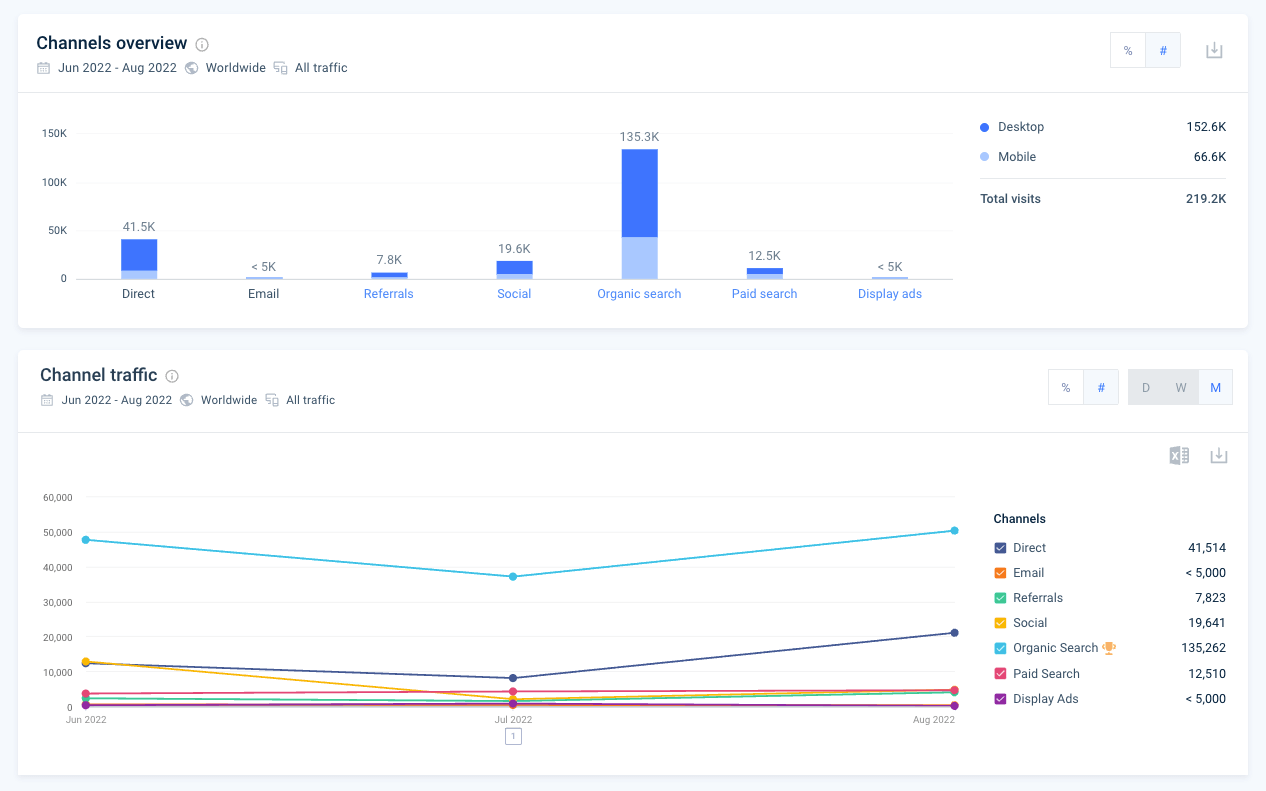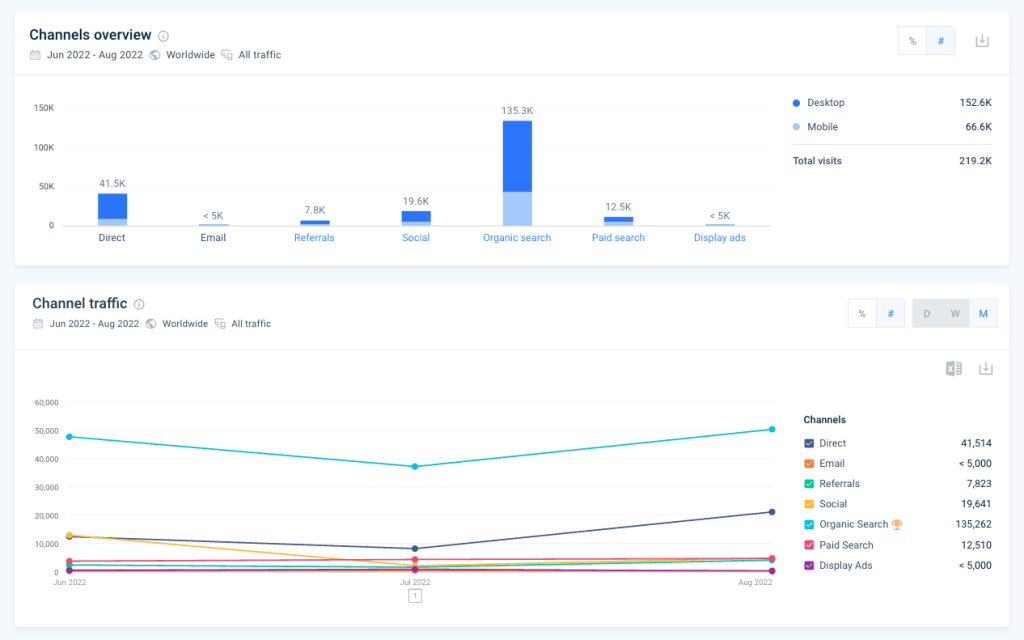 Using Similarweb, you can view the marketing channels any business uses to drive traffic to their site. Along with each channel's relative success. By clicking on any channel – let's take display ads as an example, you can drill down even further to see the types of creatives being used, top publishers, landing pages, and more.
You can use the information from this process can help fine-tune your digital strategy. And help you understand your market position in all aspects of website traffic to identify areas of improvement too.
What is a good number of unique visitors based on my industry?
Before we answer this question, let's remember that even companies in the same industry can be very different, to the point they often pursue different goals. A fashion website offering exclusive designer accessories does not need to generate the same amount of unique visitors as a popular consumer brand of affordable clothing.    
Measuring unique visitors to your site is essential as an indicator of how successful you are driving traffic to your site. But it would be a mistake to stop there. What's even more important is the quality of your traffic.  
So, what are considered high-quality visitors for you? Those who will buy your products, use your service, engage with your website, and return for more. This is your target audience – and to attract them, you need to know who they are and what they are looking for. Successful competitors with the same target audience already know. That's why they are a perfect place for you to start.
Similarweb's dataset provides information that identifies your website's demographics and your users' online behavioral patterns. 
You are not operating in a bubble, and the audience is not yours alone. Once you understand that, you also understand that viewing the stats for your own site, as Google Analytics lets you do, does not provide you with the full picture.
To get you started, here are the industry benchmarks we promised:
Average monthly Unique Visitors per key industries
Below are the monthly unique visitors benchmarks for five key industries. It's important to check the changes on a monthly basis to ensure you're always reviewing the most up-to-date figures.
Average monthly unique visitors for ecommerce and shopping websites, Aug 2022


Based on the top 100 sites globally, the average number of unique visitors in the ecommerce industry is 122.5 million.
Average monthly unique visitors for finance websites, Aug 2022


Based on the top 100 sites globally, the average number of unique visitors in the finance industry is 311.2 million.
Average monthly unique visitors for news and media websites, Aug 2022


Based on the top 100 sites globally, the average number of unique visitors in the news and media industry is 410.7 million.
Average monthly unique visitors for CPG websites, Aug 2022


Based on the top 100 sites globally, the average number of unique visitors in the CPG industry is 1.166 million.
Average monthly unique visitors for TV and Streaming websites, Aug 2022


Based on the top 100 sites globally, the average number of unique visitors in the TV & streaming industry is 656.3 million.
Go a Step Further with Similarweb
Similarweb Digital Research Intelligence can help with every stage of your analysis. And, if you're interested, you can dig a little deeper, and discover audience demographics of the unique visitor metrics – either for your own site or that of your rivals. 
In each stage of the 4-step process, you can use Similarweb to quickly view and record key website and engagement metrics. If you want to quickly track your performance or check in on how your rivals are performing at any point in time – Similarweb Digital Research Intelligence should be your tool of choice.
To get under the hood and explore the demographics of any site's visitors, you can use the audience analysis tool to view things like: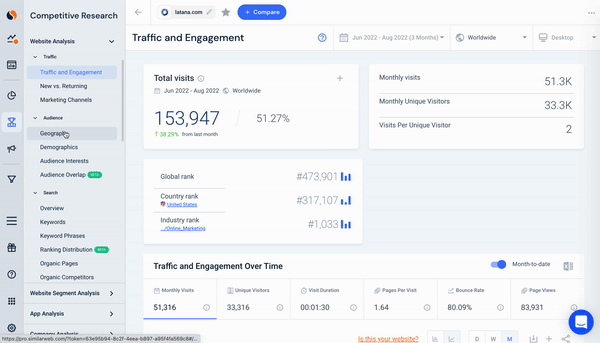 Here, you see a complete set of demographics for a site. This includes traffic share by country, bounce rates, visit duration, page views, growth, and traffic share. Next, you get to see gender and age stats, visitor browsing behaviors, and interests. 
Audience Overlap
If you want to benchmark unique visitors with key players in a market, the audience overlap feature is the quickest and easiest way to visualize how you stack up.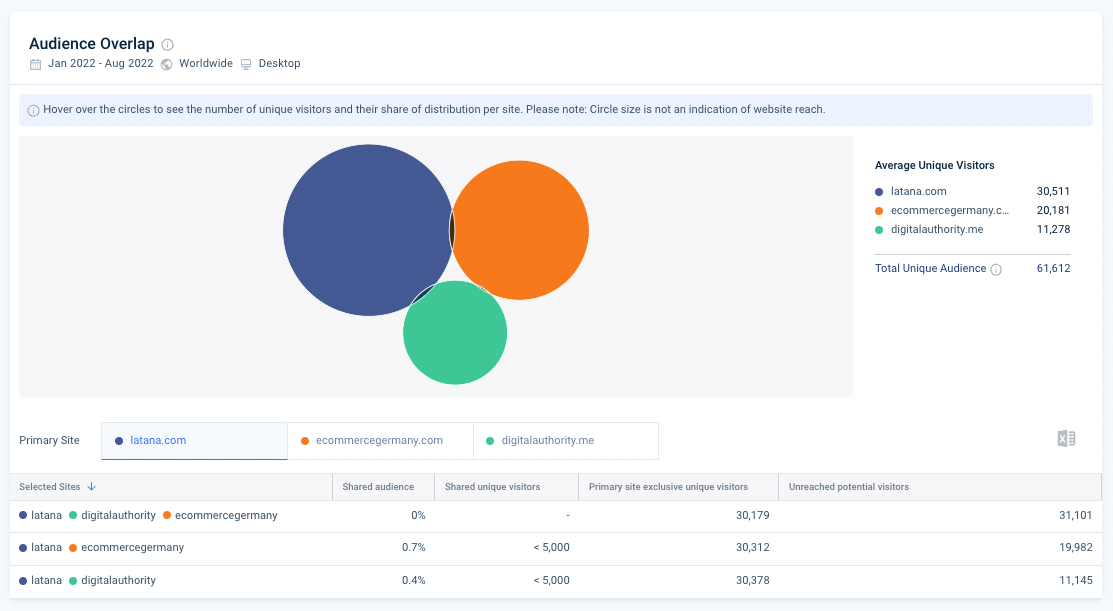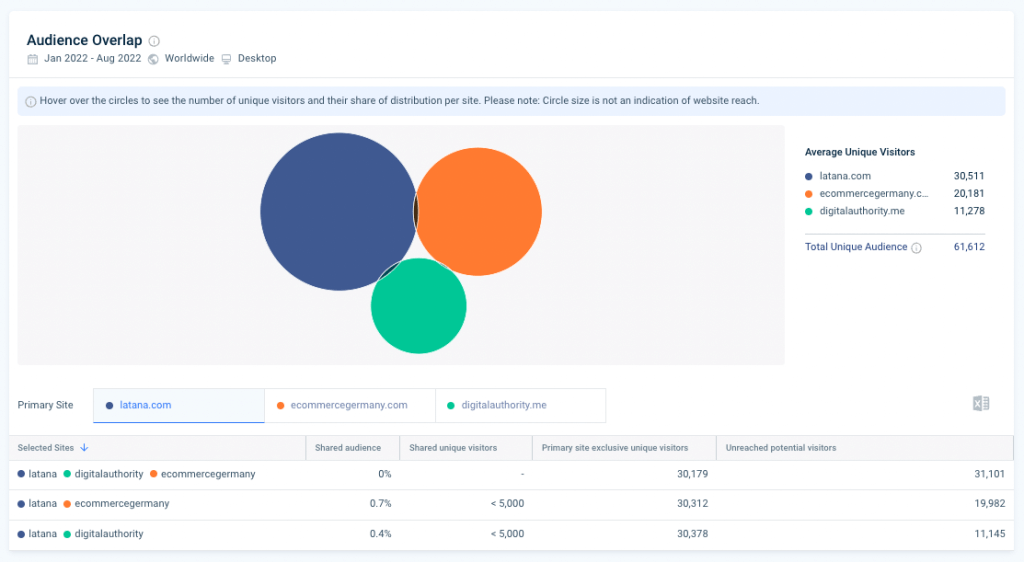 Here, you can compare up to five sites at a time, and see the respective UVPM for each company. At a glance, you can view audience overlap, which is the cross-visitation of a shared audience, and unreached potential visitors too.
When combined with your initial unique visitors analysis, traffic & engagement – these demographics give you x-ray vision into any site, its marketing strategies, and its target audience.
I know it's a lot of data – but you know what they say? 
Wrapping up: Unique Visitors 
For any business, the unique visitors metric is a powerful KPI. It measures how successful (or not) a company is at driving new traffic to its website. 
However, just looking at UVPM alone is not enough to prove success or improve performance. It's one piece of a larger puzzle that can only be understood when complete. 
Follow the steps we've outlined, and start leveraging the unique visitor metric to analyze competitors and outline a plan to increase your net-new traffic – today.
FAQs
What are unique visitors?
A unique visitor is a person who has visited a website at least once and is counted only once in the reporting time period.
What does UVPM stand for?
UVPM is short for unique visitors per month. It's a common website and engagement benchmark that tells you how many unique visitors came to a site. It excludes repeat visitors and only counts their first visit.
How do you analyze unique visitors?
To analyze unique visitors, divide the number of visits by the number of unique visitors to yield the number of visits per individual user.
What is a high-quality visitor?
A high-quality visitor is one that will buy your products, use your service, engage with your website, and return for more.
This post is subject to Similarweb legal notices and
disclaimers
.
Wondering what Similarweb can do for you?
Here are two ways you can get started with Similarweb today!