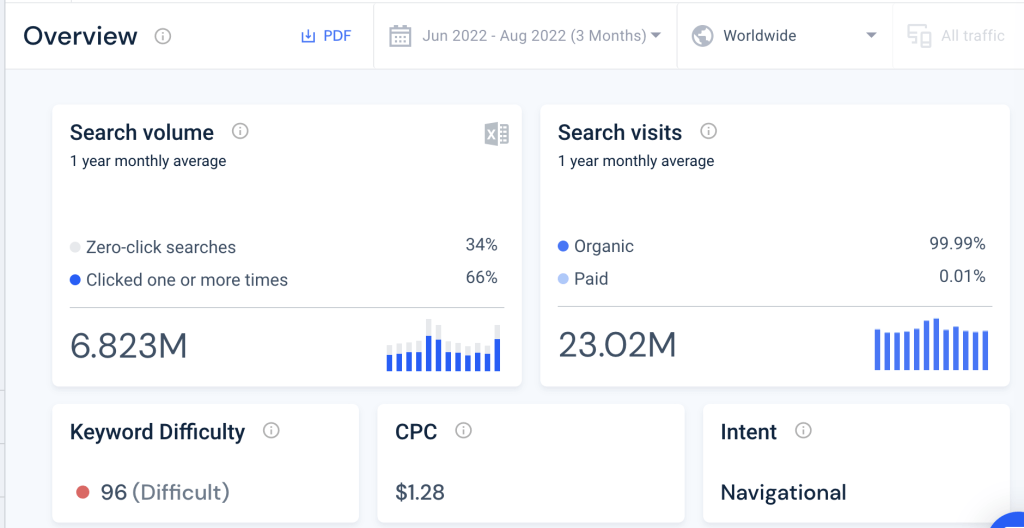 Marketing Intelligence
Zero-Click Searches – How to Measure The Impact on SEO
January 17, 2021
| Updated October 19, 2022
The SERP (Search Engine Results Page) more and more often marks the journey's end for searchers. An increasing number of keywords lead to fewer clicks to websites – or none at all. 
In 2020 the percentage of zero-click searches reached nearly 65%, according to SparkToro, which used Similarweb data to research the subject.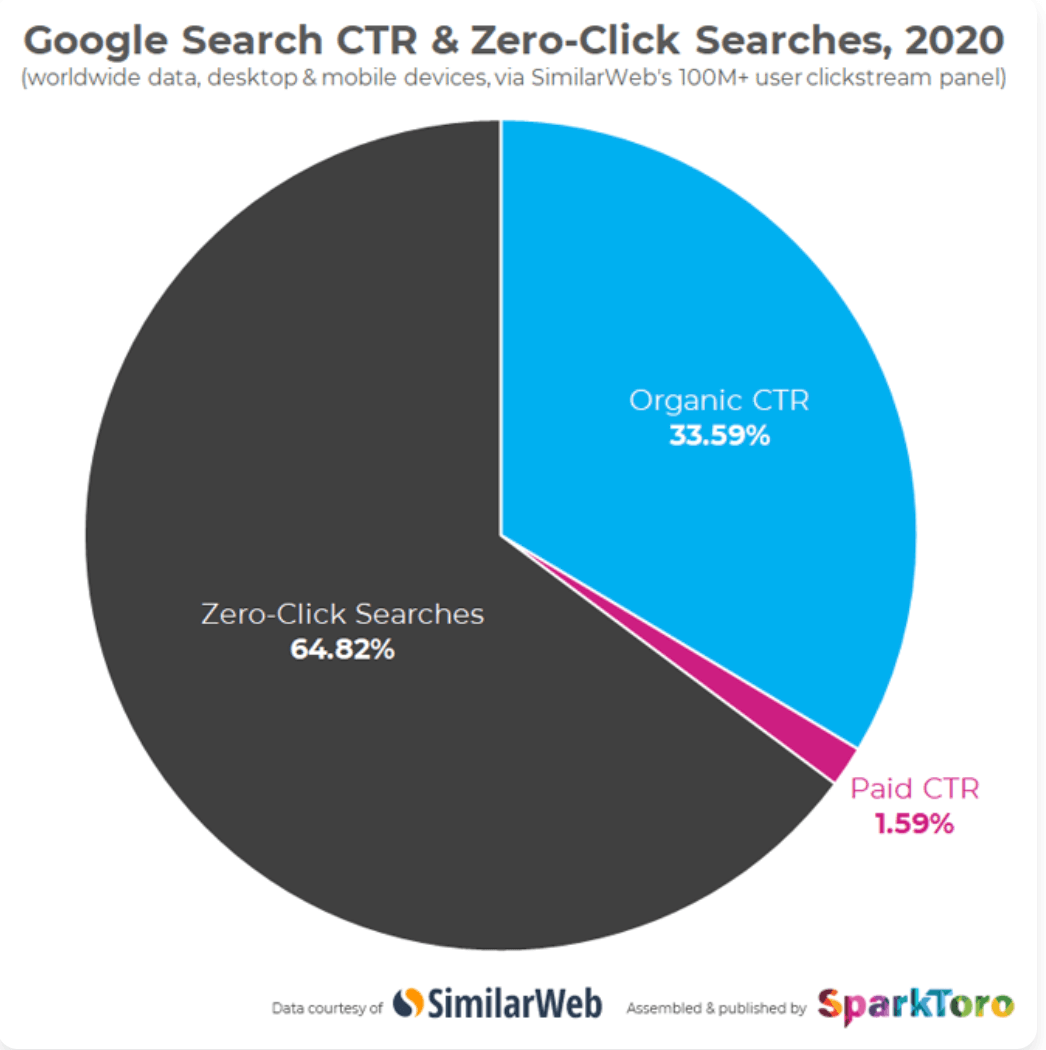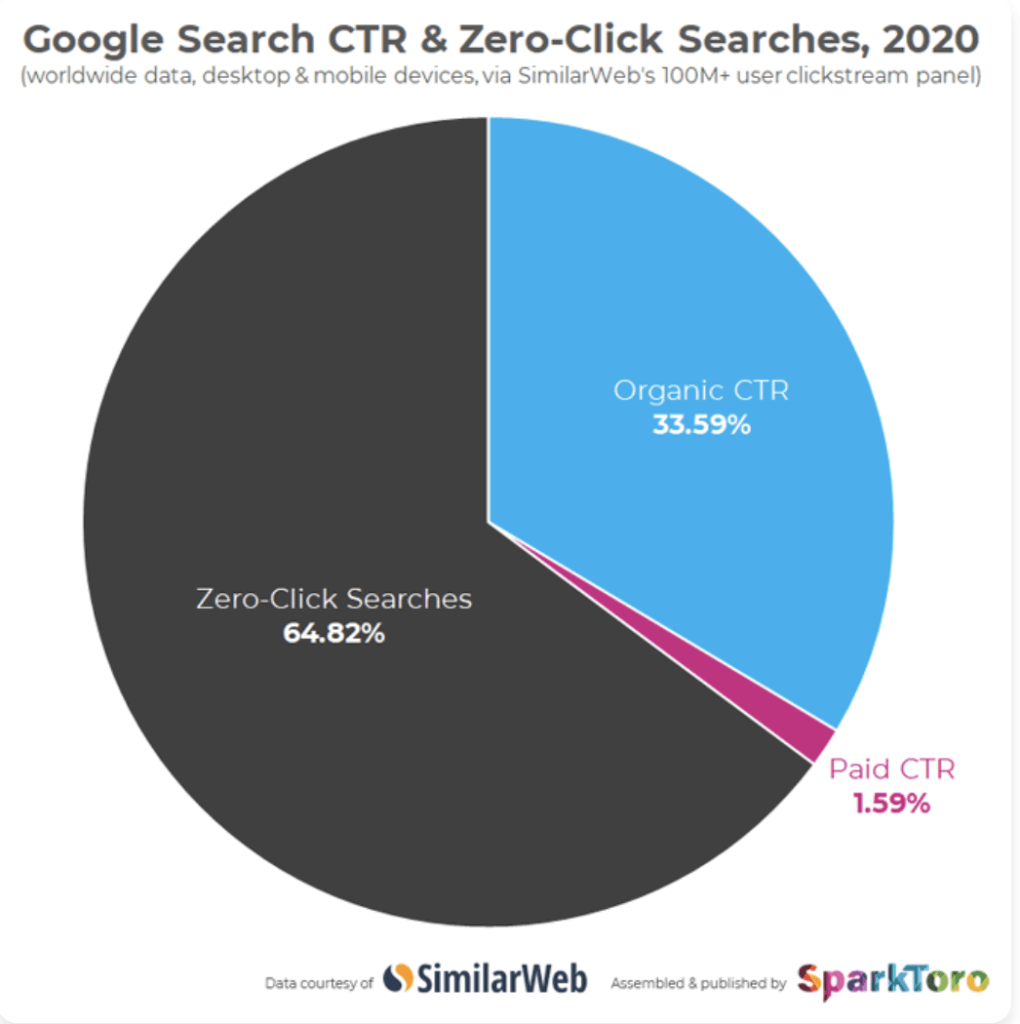 The data covers worldwide mobile and desktop traffic.
SEOs are already making zero-click keyword research a routine. But does this mean you should avoid those keywords in your SEO strategy? 
Not necessarily. As often in SEO, it depends.
In this article, we'll discuss what zero-click searches mean and why they are happening. At the same time, you'll understand how to benefit from the metric in your zero-click search optimization strategy using Similarweb keyword research tools. 
What are zero-click searches?
A zero-click search is a search query for which the search engine results page (SERP) displays the answer so that the user doesn't click through to any other page. It's best explained with an example: Type a question for which there is a definitive answer, such as 'What's the capital of Sweden?"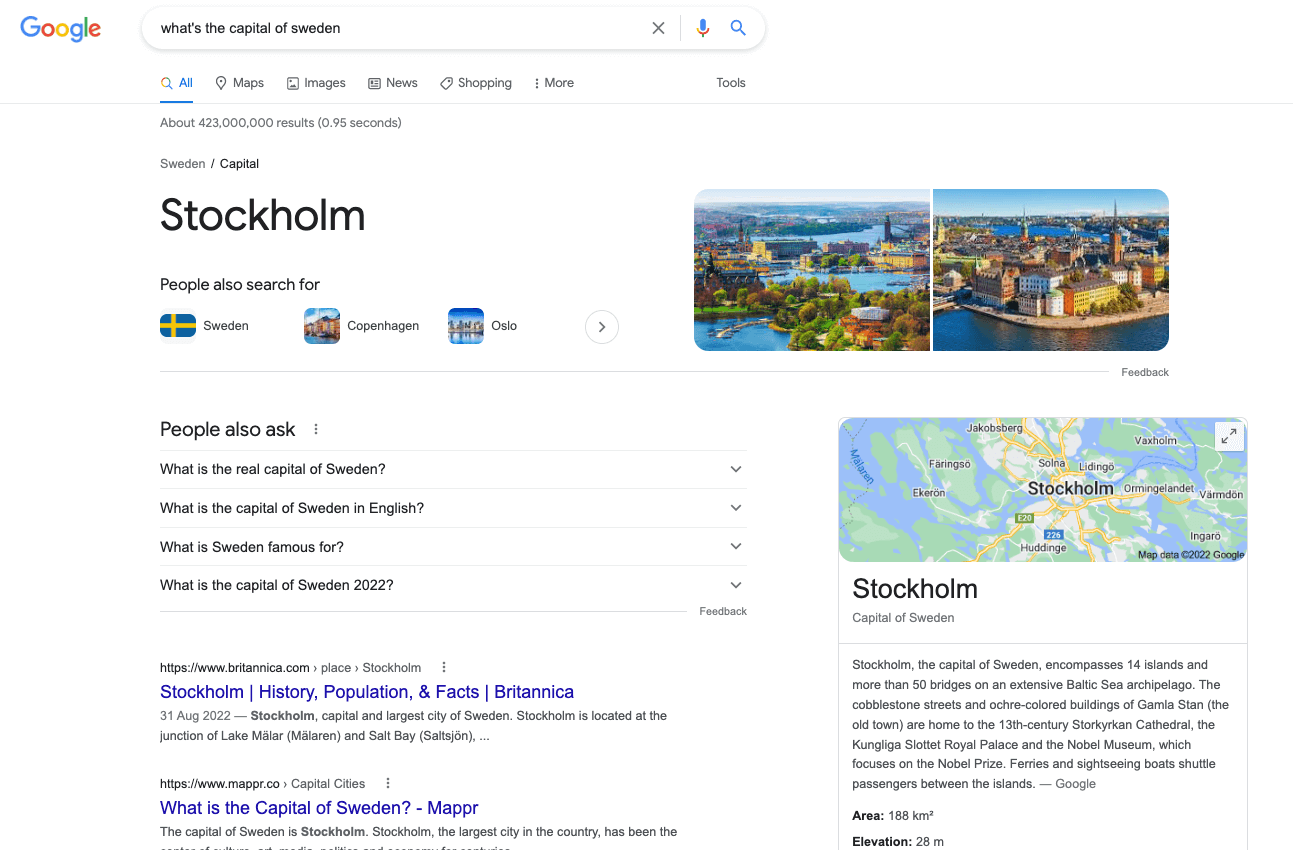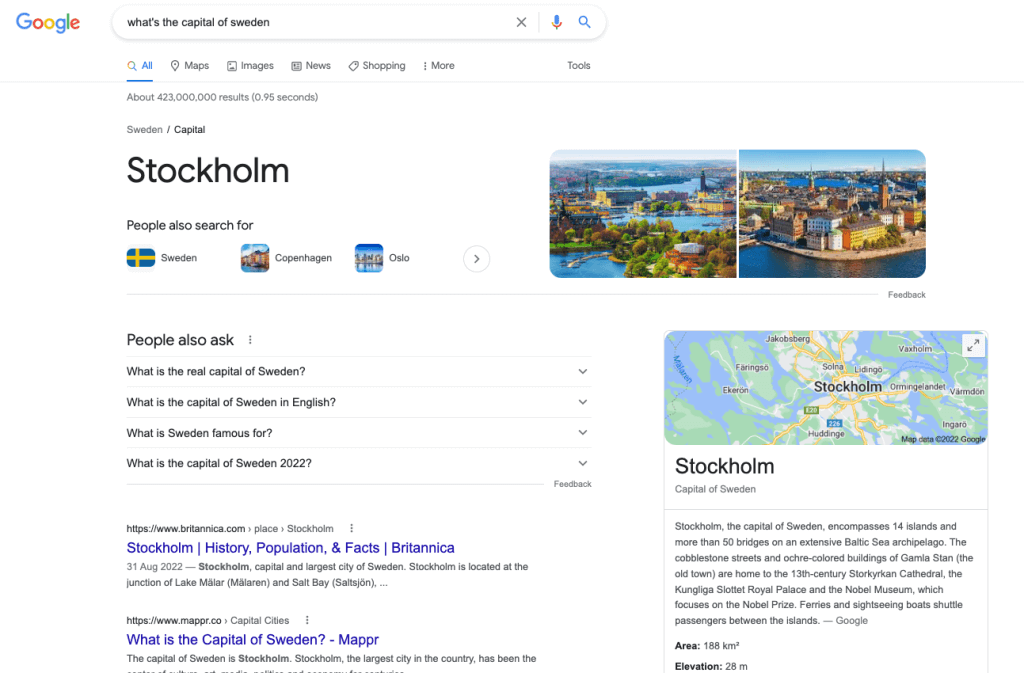 There's no need to click through to Wikipedia or any other informative site to get the answer. Google pulls the info from a credible source and displays it at the top of the SERP. 
That means pages optimized for 'the capital of Sweden" probably aren't getting a lot of clicks. Such a keyword would likely show a very high percentage of Google zero-click searches.
Why do search queries end up with zero clicks?
It used to be that people simply didn't get the answers they were looking for. But honestly, I don't remember the last time this happened to me, do you? 
The main reason for increasing zero-click searches is that Google continuously strives to improve user experience by providing more convenience and quicker answers. The intention is to make the searcher's life easy by reducing the number of clicks needed to get to what they seek. That's why developers designed algorithms that not only identify precise search intent but also dig up the content that is best fitted to satisfy it and display the content on the results page. 
By now, the search engine has become so sophisticated it cunningly answers long-tail queries about recent events. Need proof? Check out how Google deals with this question: 'Was the NASA DART crash intentional?' The space probe recently collided with a planet moon.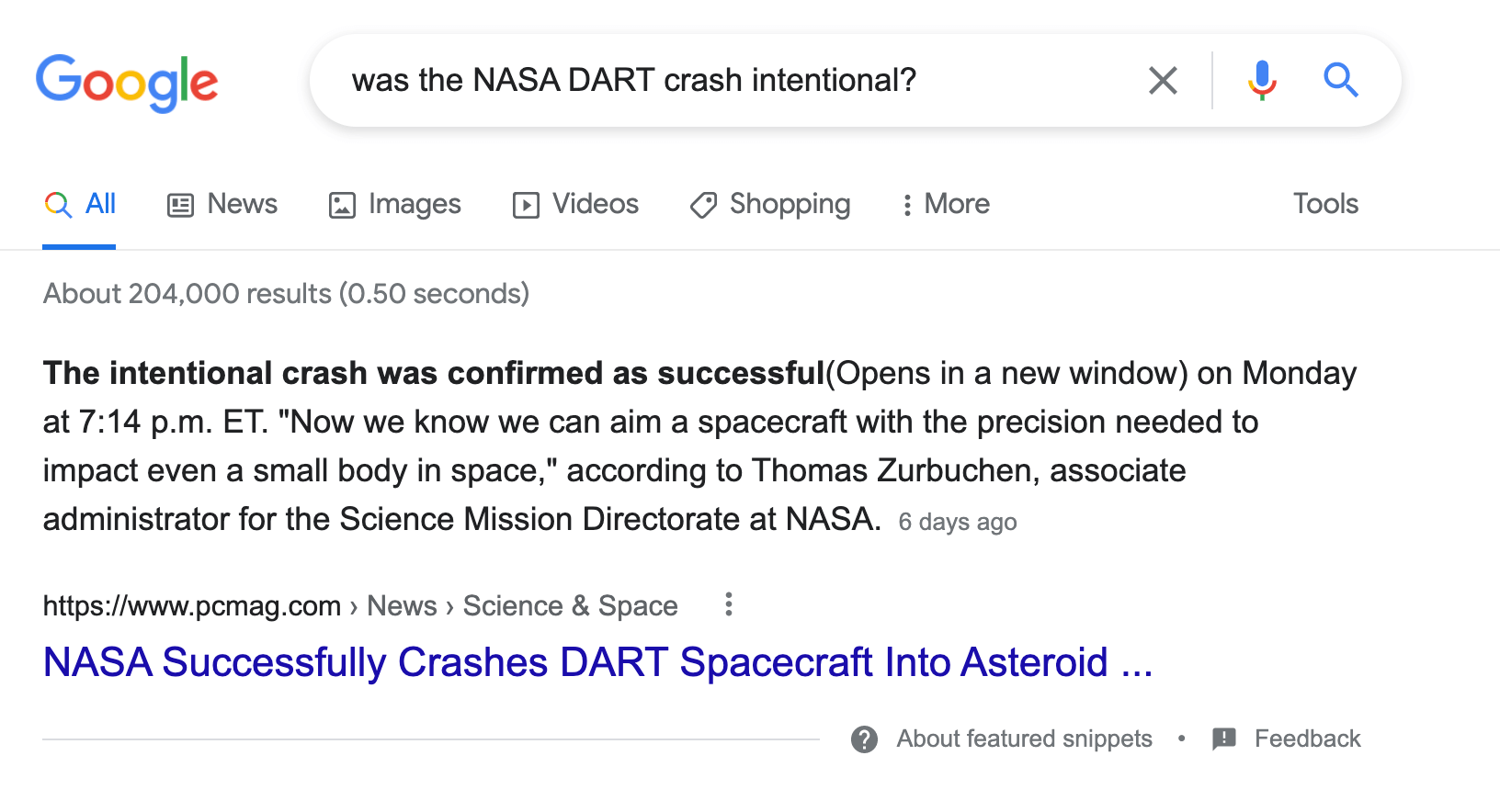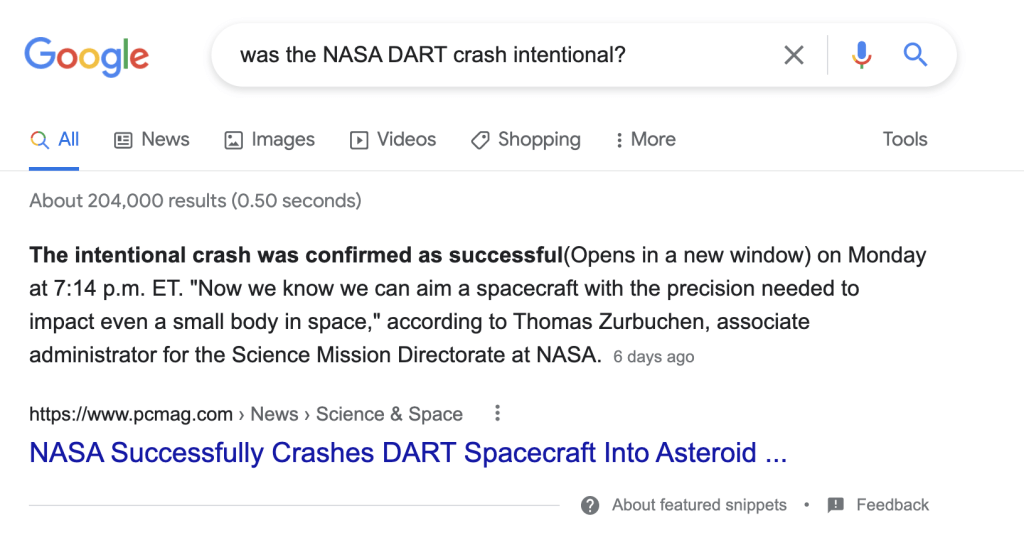 Google locates an adequate response. 
Zero-click's growing prominence complicates measuring SEO efforts, with a widening gap between the number of searches performed (volume) and the number of clicks on the search results. Why is this happening?
More SERP features impact zero-click search volume
The range of queries for which Google generates automated responses, that don't require visitors to look further, is growing. The search giant keeps adding features that display content in different ways eliminating the need to click through to the page where it originated. Each new information format reduces the volume of search visits resulting from a query.  
Results may be displayed in a knowledge panel, a direct answer, or a featured snippet. Google even tries to anticipate the searchers' next questions with the 'People also ask' or 'Related Questions' box. And these are only some of the existing SERP features that can prevent searchers from clicking through to your site.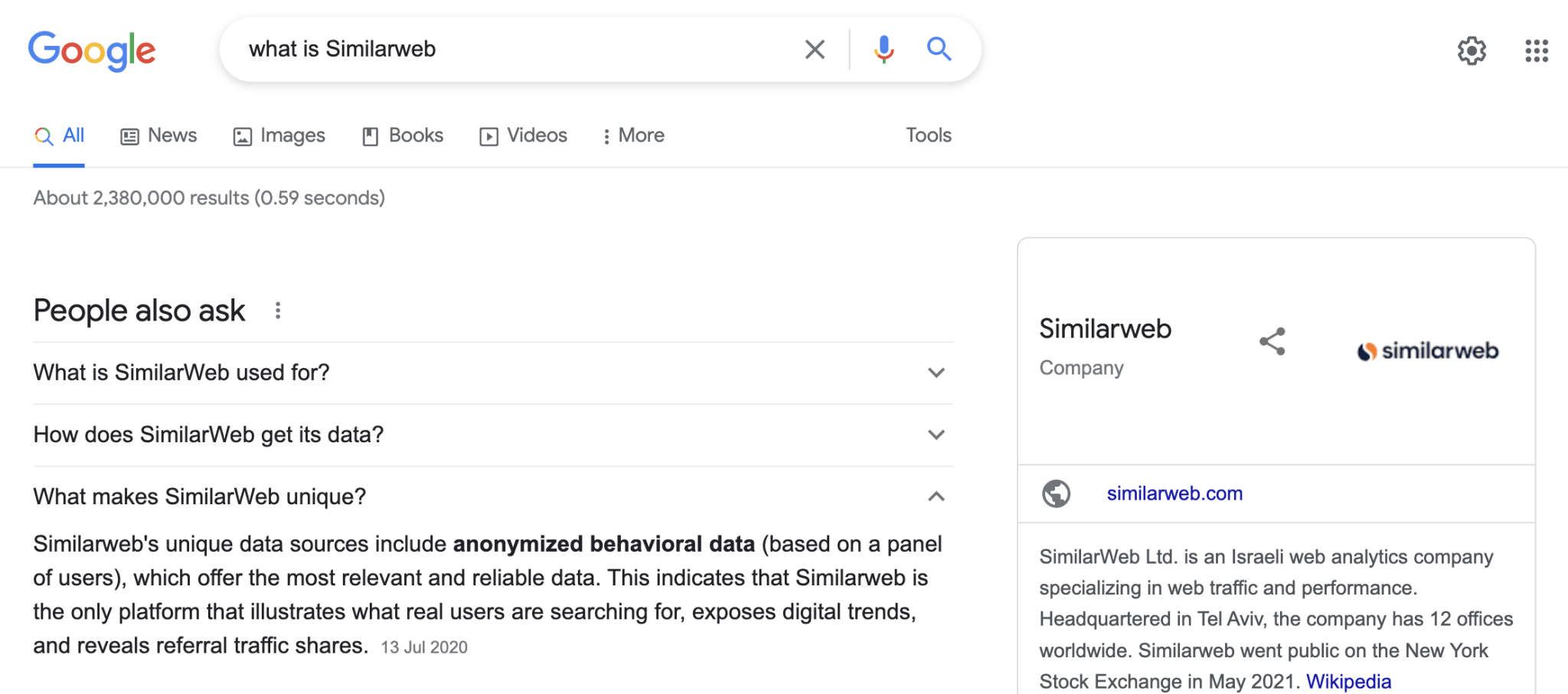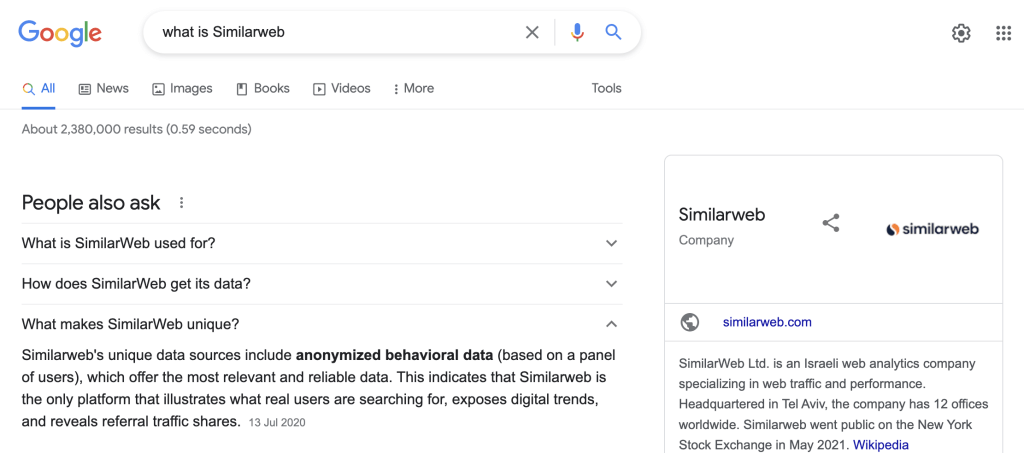 On the other hand, getting into one of these features is a token of credibility and can boost your brand authority. That's why understanding how to optimize for zero-click searches must be part of your SEO strategy.
Zero-click benefits: discover true keyword potential
Zero-click searches impact the potential for organic traffic because keywords that previously drove traffic may become less effective when answers are provided on the SERP. For publishers relying on traffic volumes to generate ad revenue, whole content clusters may prove less successful at generating search traffic even when the volume of searches for a keyword stays the same or even grows.
Assessing the true potential of keywords generating clicks through to your site is vital for optimizing your keyword strategy. To do that, you need to discern zero-click trends. 
Up until recently, Similarweb's zero-click metric showed a yearly average percentage of zero clicks per keyword. This helps optimize your SEO, PPC, and search strategy for keywords that drive site visits and engagement. The metric is part of the keyword generator and other keyword research features.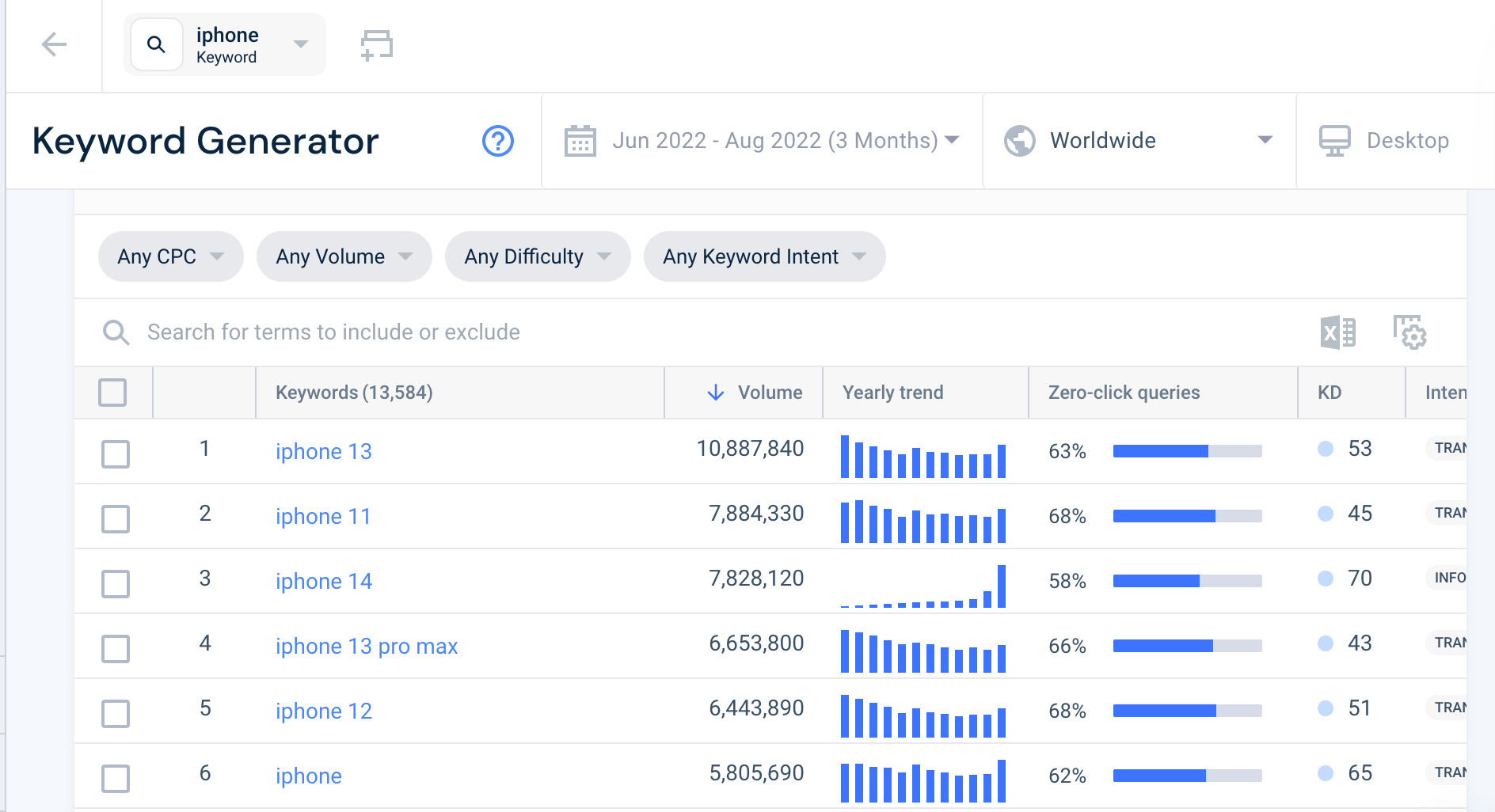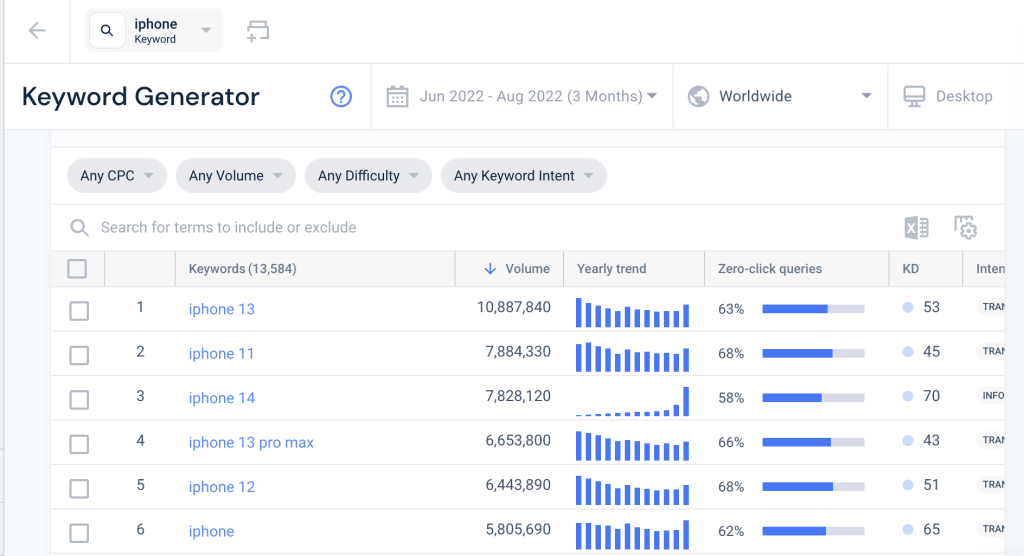 The keyword generator results that Similarweb displays for the keyword 'iPhone' include the average monthly percentage of zero-click queries.
With the improved zero-click search on Similarweb, you can see how zero-clicks changed over time and obtain monthly data. These insights let you improve traffic projections and enhance your keyword strategy.
Similarweb's new unique feature gives you the numbers and trends
In the keyword analysis feature, you'll find the monthly percentage of zero-click searches relative to the total monthly search volume. Why is it important? First off, you immediately identify a declining or increasing trend.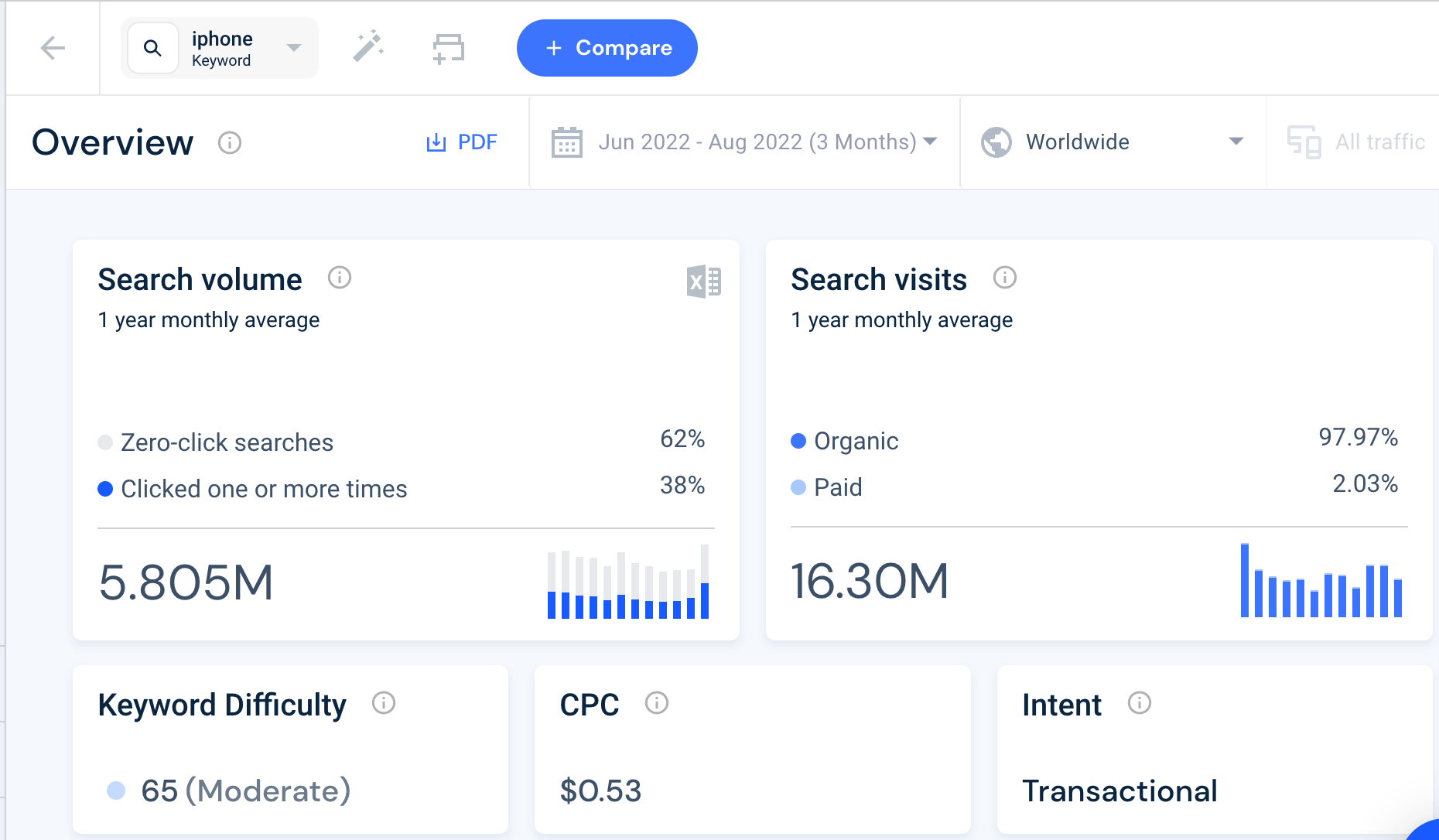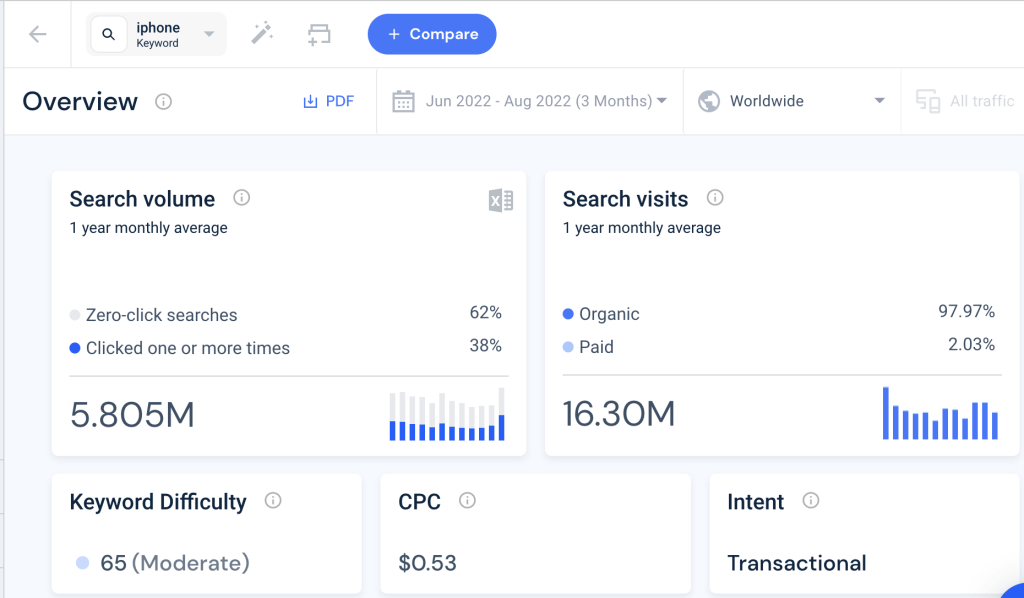 The tool displays total traffic volume, click activity, and zero-click percentage. The stats for a specific month are shown when you hover over the graph.
Take this scenario as an example: the search volume for a keyword has been steady over the past year. However, a featured snippet appeared three months ago and grabs the searchers' attention, preventing them from moving on to any results. 
You could adapt your content to aim for a featured snippet or to appear in the related questions box to gain more visibility. Another possibility is to add related long-tail keywords to your content so that it can rank for more keywords. You also want to make sure your content provides unique, in-depth information that can't be condensed into a snippet.
Here's another scenario: Imagine you're offering vacation packages to the Maldives. Last year it was a top tourist destination; this year, the buzz is down. Fewer people are googling the keyword, but those who do, are genuinely interested. In SEO terms: search volume has been declining, and the zero-click rate is trending down. 
It might be a good time to boost your holiday offers in that location. In other words, the traffic potential of this keyword is promising, and it's a chance to capitalize on it.
Understand keyword potential with additional keyword data 
Identifying zero-click search trends for keywords can be extremely helpful in assessing the potential more accurately. After you detect the change in the zero-click search rate, you can scroll to the SERP features and snapshot of Similarweb keyword analysis and see what may have caused the shift. 
See which site is featured in which snippet. Also, look at different periods or filter according to your region.


The keyword' iPhone' generates a ton of different features on the SERP. With Similarweb, you get them listed and ready for your analysis.
You'll also get insights into the sites that received traffic. For non-organic traffic, you might want to move further and check top search ads and top product ads.
Popular keywords in 2022 and their zero-click rates 
You might be curious how this looks. Here are a few examples of keywords that were particularly significant in 2022
Keywords: 'iPhone', 'iPhone 14', 'iPhone 14 Pro'
We've already started looking at the new 'iphone', so let's continue. Search volume has gone up for 'iPhone' in the past two months. When hovering over the trend graph, you see the stats for a single month. We want to see how click activity developed.
In September, the zero-click rate was 52% compared to the 62% monthly average over the past year. In July, zero-click searches were up 64% of the total searches. We can now go back and check the other months. In fact, up until August '22, the rate never went below 60%.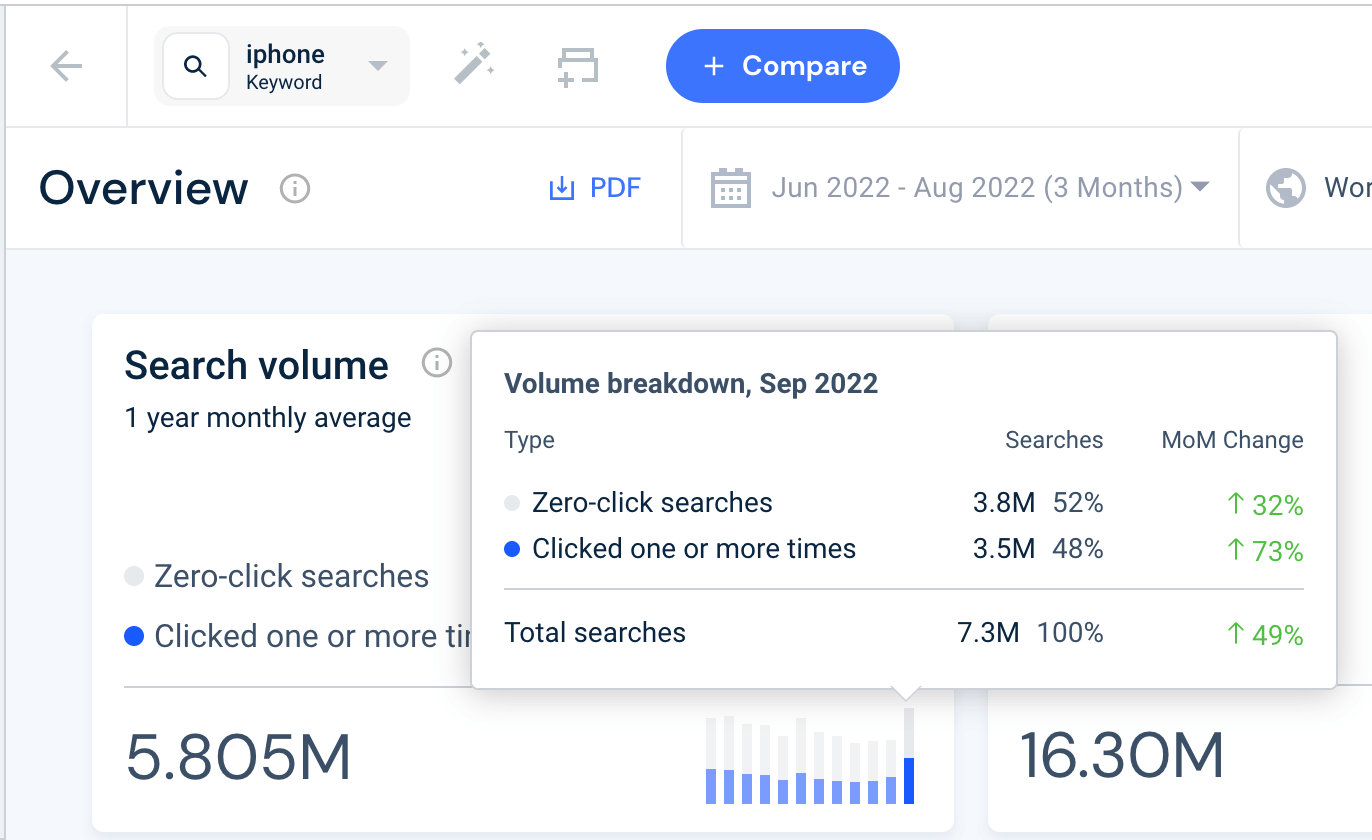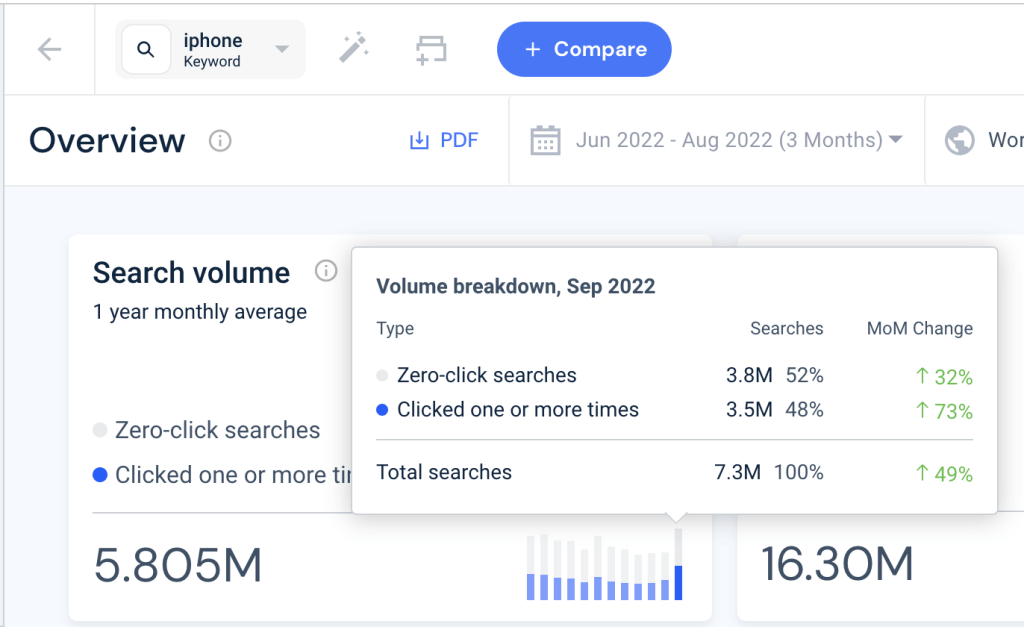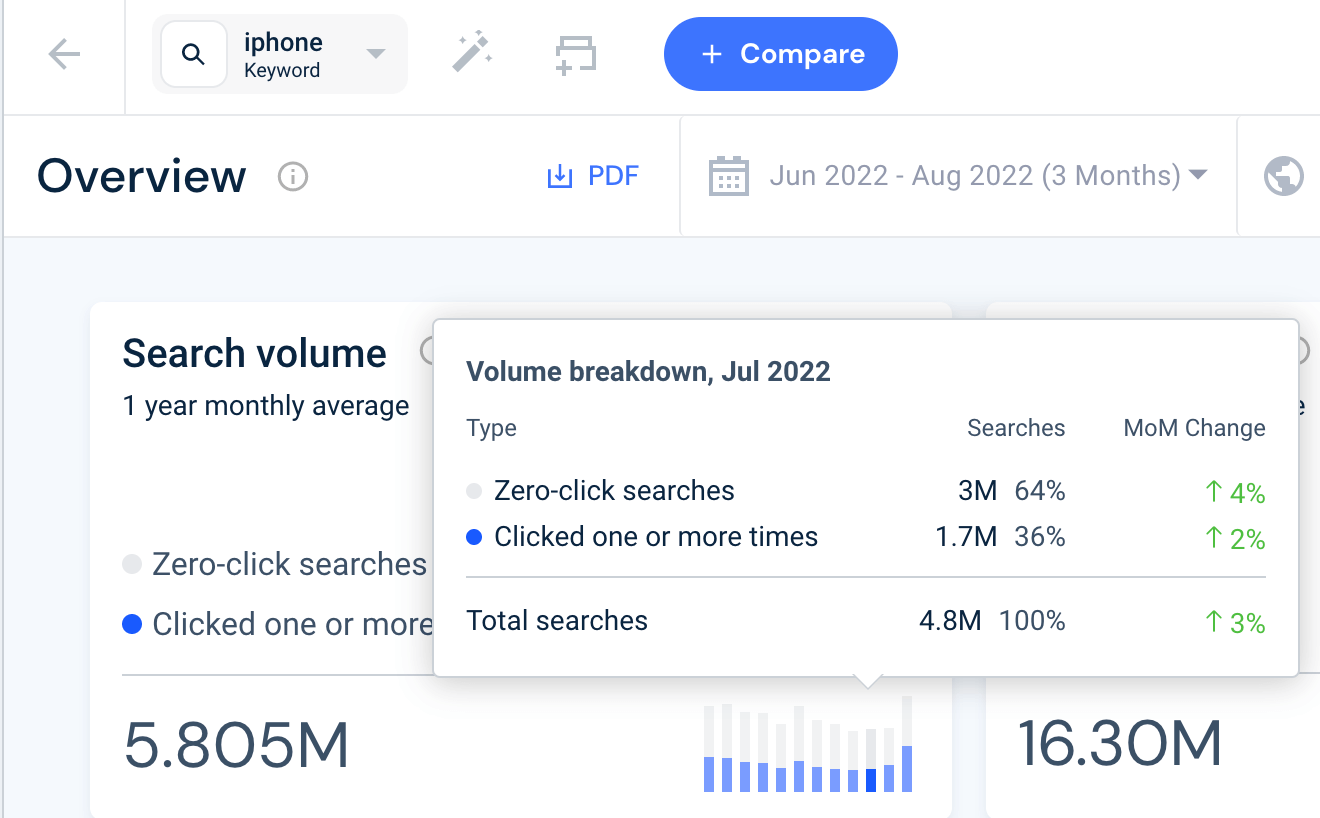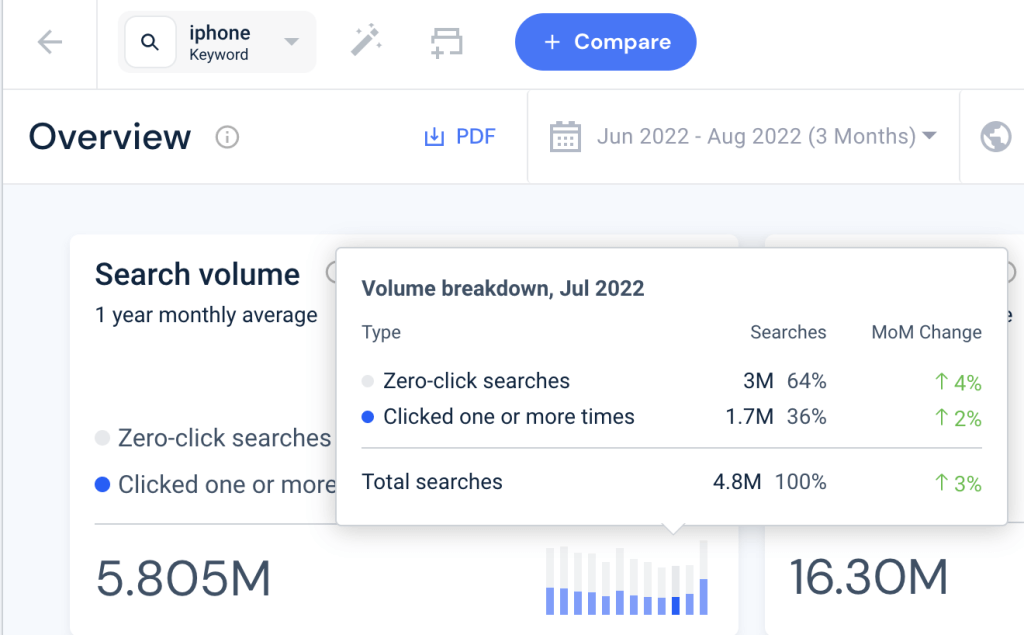 Zero click results for 'iphone' are trending down in recent months, meaning more people click through to one or more of the URLs shown on the SERP.
The zero-click rate is going down, which means more people are clicking through to results appearing for the search query. This reflects a genuine interest in learning about and buying an iphone as the launch of a new version approaches. 
Similar results appear for keywords such as 'new iPhone' and 'iPhone 14'. The keyword 'iPhone 14 Pro' generated only 50% zero clicks in September, while for most of the year, the rate was around 70%. Search volume jumped by 782% MoM from August to September. 
Comparing the stats of similar keywords allows you to select the ones you should focus on to drive traffic and the keywords that are more suited for awareness campaigns.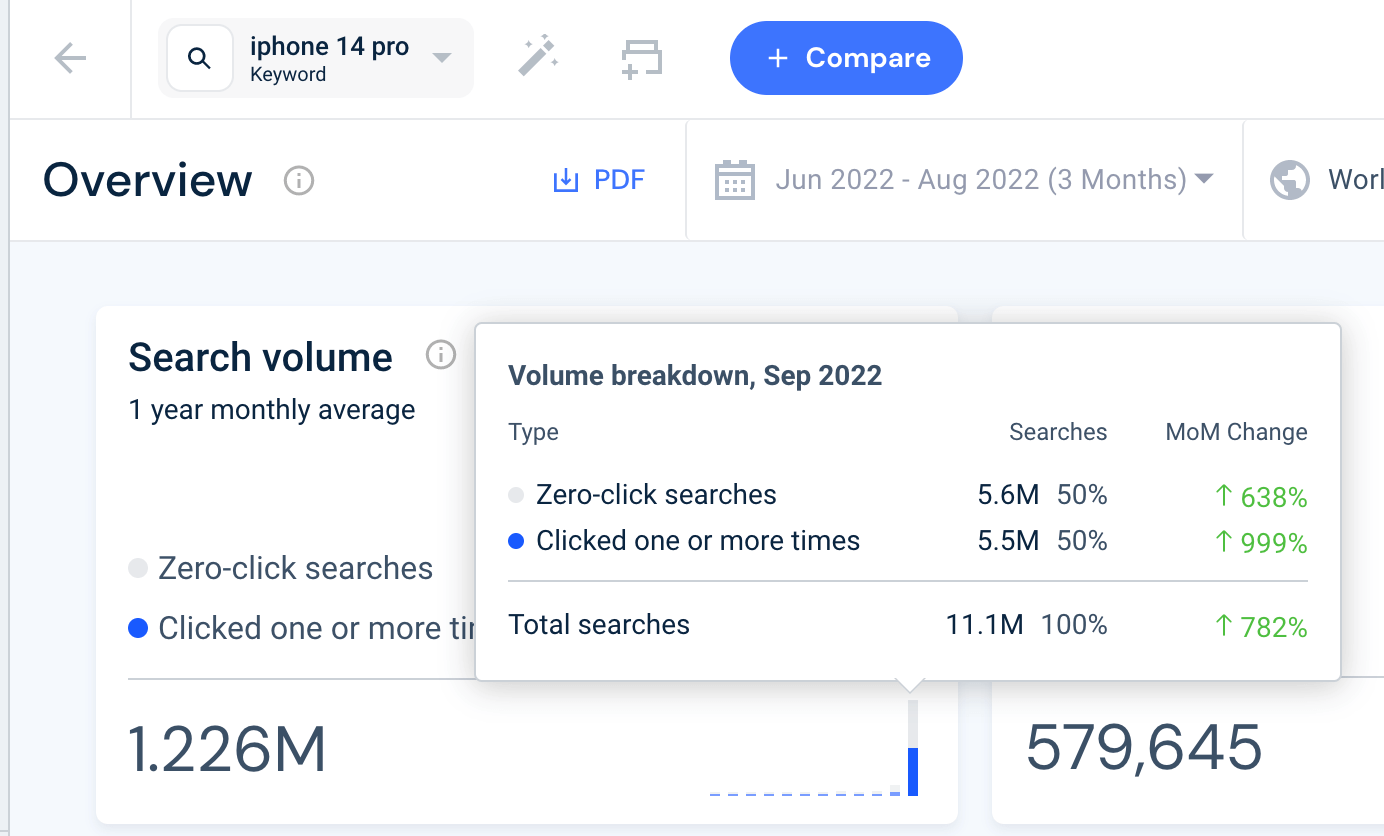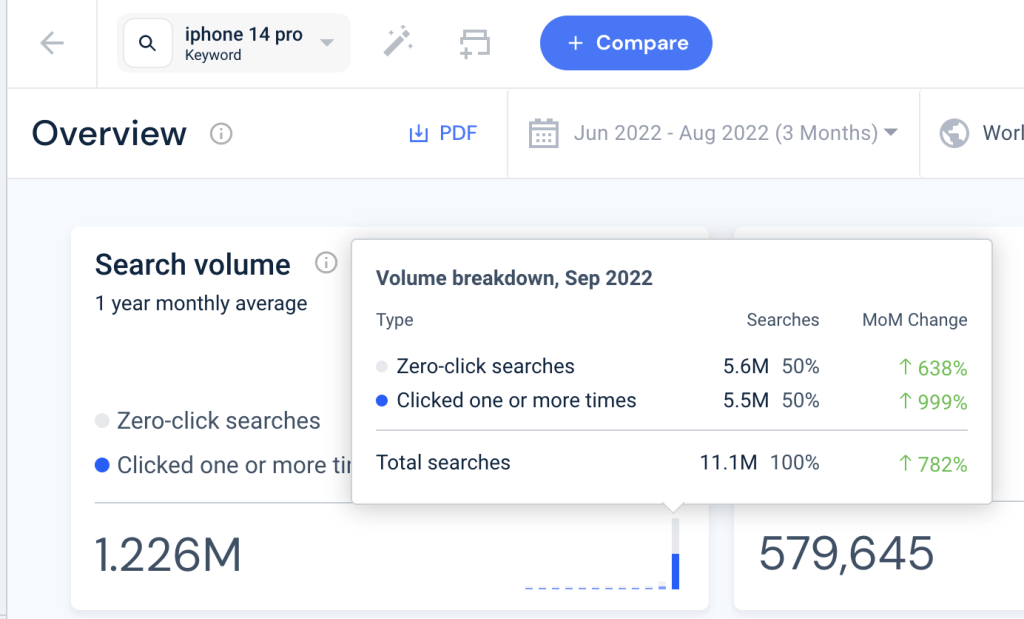 The search intent for 'iPhone 14' is still mainly informational. After the launch of the new device, we should witness a shift towards transactional and possibly see the zero-click searches decline.
Keyword: Ukraine news
'Ukraine news' shows interesting fluctuations throughout the year. In February, search volume shot up by more than 1000% and then gradually declined to about four times the volume prior to the Russian invasion. 
Until that point, the percentage of searches with zero click results had declined from 90% in November 2021 to 51% in January 2022. In the following month, only 35% of searchers were satisfied with the result on the SERP.  
The highest search volume was in March, with 24.1M searches accompanied by the lowest zero-click search rate of 34%.


To better analyze and compare zero-click stats, you can download the data to excel and create workable reports. 
Keyword: Wordle
'Wordle', the web-based word game that was acquired by The New York Times early in 2022 and immediately gained immense popularity, shows an exceptionally low average zero-click rate of only 13%. Sure, most people who look for the game also want to play it, so 87% click through.
Search volume has dramatically declined from a whopping 93.8M in February to 28.4M in  September. Zero-click searches made up 17% in February and only 11%-12% in March through September.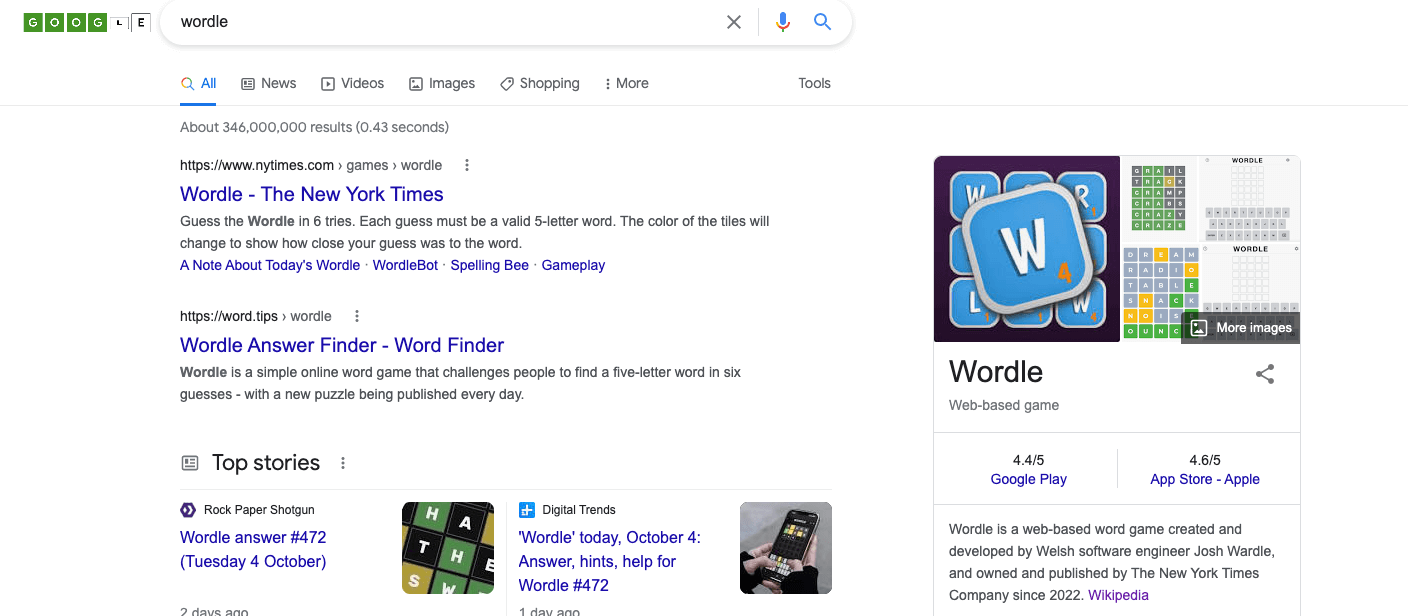 Note the special change of logo design for this one.
Get zero-click data and trends for your keywords
I bet you'd like to see the traffic and zero-click stats for some of your top keywords. Analyzing zero clicks over time may help you understand changes that occurred in traffic volume or click rate. 
You can try Similarweb for free and see the unique tool in action. We'll also be happy to demonstrate how to make the most of the feature for your business.
FAQs
What are zero-click searches?
Zero-click searches are queries that end at the SERP without the searcher clicking through to any of the results. This generally happens because the answer is displayed directly on Google's results page. 
Why are zero-click searches increasing?
Zero-click searches are increasing because Google is adding more and more features to its SERPs that display content that answers the query. The purpose is to enhance user experience and provide maximum convenience to searchers.
How do I optimize zero-click searches?
Use zero-click metrics and analyze potential.

Write long-form content with in-depth information. 

Optimize for featured snippets or other SERP features if it brings value. 
What is the difference between search volume and search visits?
Search volume refers to the number of times a keyword has been searched for, whereas search visits refer to the number of completed search visits, where the user clicks on a search result and leaves the search engine page. 
This post is subject to Similarweb legal notices and
disclaimers
.
Wondering what Similarweb can do for you?
Here are two ways you can get started with Similarweb today!