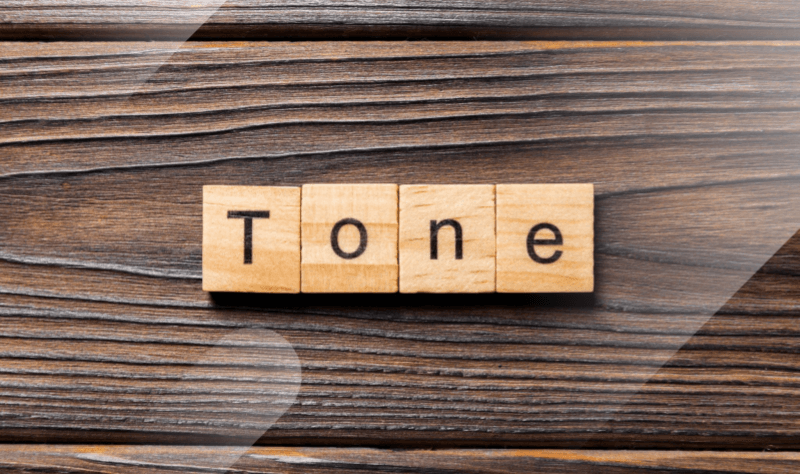 Research Intelligence
How to Define Your Brand's Tone of Voice and Reach Your Audience
June 8, 2022
| Updated June 28, 2022
How do you make people remember your brand, trust you, and stick with you?
It's all about your brand voice.
With the right words, you can make a lasting impact, like in any relationship. (Audience behavior is really just human behavior, after all.)
At Similarweb, we've developed our brand voice and know first-hand the challenges that pop up along the way. But not to fear, I'll give you tips to make sure it goes smoothly, no matter where you are in the process already.
To start, I'll define the key terms and will break down examples of brand tone of voice. At the end of the post, you can find actionable steps to build out your own brand voice, so don't forget to jump around based on what you're looking for.
First and foremost, what is a brand's tone of voice?
A brand's tone of voice is the way you communicate to your audience as defined by the words you use, how you use them, and your brand personality. Ultimately, it's how your brand voice 'sounds' and feels to your target audience. Do you feel like a helpful friend or an intimidating expert? The feeling you leave behind matters – a lot.
To create a consistent tone of voice, companies often create a style guide that outlines voice guidelines and brand guidelines. This is especially crucial for fast-growing companies with many writers.
Why does tone of voice matter?
Want to build trust? A strong brand personality? Or even improve user experience? The importance of tone cannot be overstated.
Let's say you are a security company and your brand tone of voice varies widely across your content marketing content. Some areas reflect an extremely casual tone, others a stiff and technical tone that's frankly hard to understand. It will be even more difficult for your audience to recognize your brand since they certainly won't have a well-defined idea of what your brand personality is to start with.
Creating a cohesive and distinct brand identity allows people to connect to your brand on an emotional level. Once you achieve this, your reach can expand exponentially.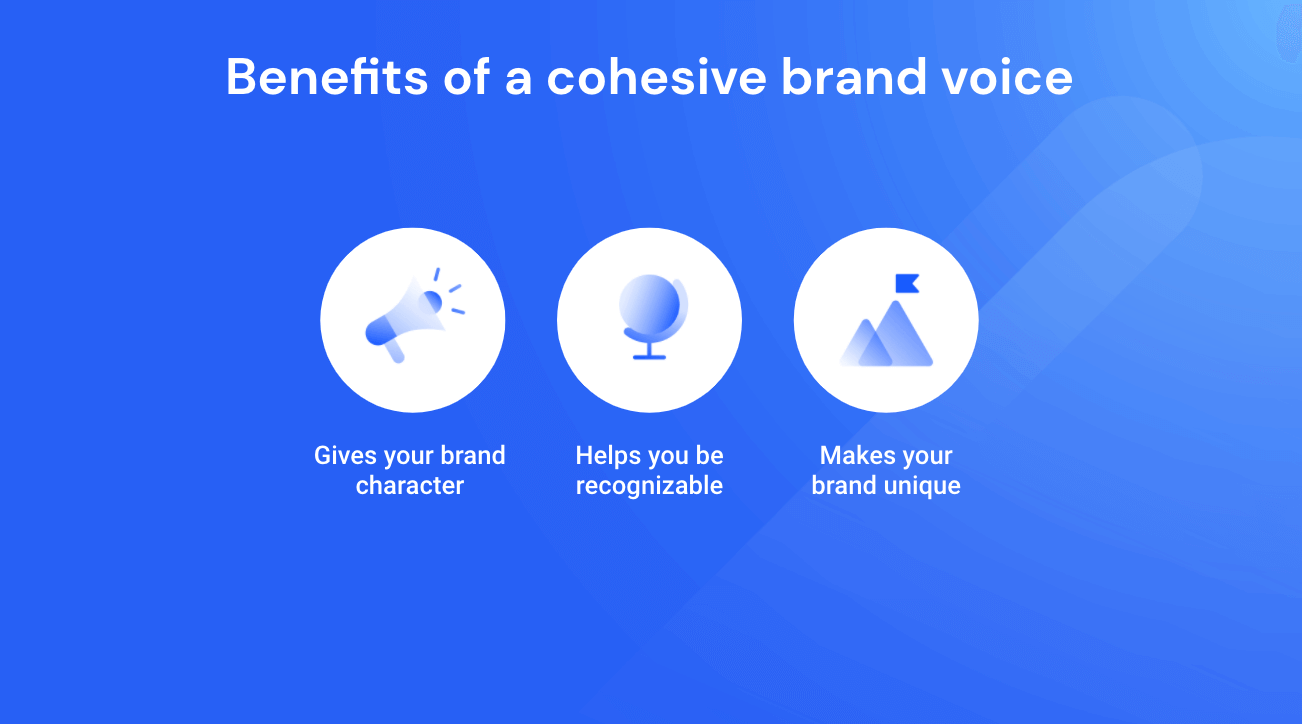 Brand tone vs. brand voice
Time to pay attention folks. People often overlook this important difference between tone and voice and the distinction is a mighty one. A brand voice is a brand's personality and values.
Just like a person, a brand's personality doesn't actually change. Whether you're at a family barbeque or at work, your personality remains the same. The same goes for a brand. For example, if your brand is serious, authoritative, and straightforward, these characteristics pretty much remain the same, no matter the context – email and landing page alike.
A brand's tone of voice, however, can change depending on the context. The tone a brand uses when writing on social media will be different than in a report. Just like you might use an emoji in a text to friends, but not on your resume, a brand may opt to use one on social media but probably won't fill their whitepapers with emojis.


Examples of tone of voice we love
Once you've built a unique brand tone of voice and brand personality you'll get people talking and can grow your influence.
Wendy's has perfected this on Twitter. The hamburger joint is well-known not only for its fast fare, but for its distinctive, witty, and sometimes snarky tone of voice often used to spar with other social media users and major competitors alike.
In addition to its now-classic comebacks, Wendy's demonstrates a penchant for pop culture, often serving up terrific treats, -er tweets, alongside some of the most happening social events of the season. It's no coincidence then, that the same year Wendy's decided to be bolder on social media, its sales skyrocketed with nearly 50% growth in profit, alongside a flurry of new Twitter followers – 3.8 million, to be exact.
So what's the recipe for tone of voice success?
There's no one secret sauce, but even if people hate fast food or simply prefer McDonald's, Wendy's set out to create a social media marketing strategy that resonates with consumers both inside and outside of its target audience. Grab a frosty and enjoy some of our favorite examples of Wendy's specific tone of voice below:
When the tweets are as broken as the ice cream machine. https://t.co/esdndK1iFm

— Wendy's (@Wendys) November 24, 2017
ROAST US PLEASE VVENDY

— VELVEETA (@CheesyVelveeta) February 11, 2021
But what if your brand isn't all about fun and fast food? The Hustle, an online daily news source for entrepreneurs, crafted a direct, to-the-point, and casual tone that highlights its own name and matches its forward-thinking persona perfectly. A quick look at the website's main demographics shows that ages 25-34 are by far the most popular age group. So, it's clear that The Hustle is writing in a way that reaches its target audience. To develop a powerful brand tone of voice, that's exactly what you need to do as well.
Readers of The Hustle can expect content that is blunt and business-like, but still quirky and enjoyable. It's their daily tech news, not a three-page industry report.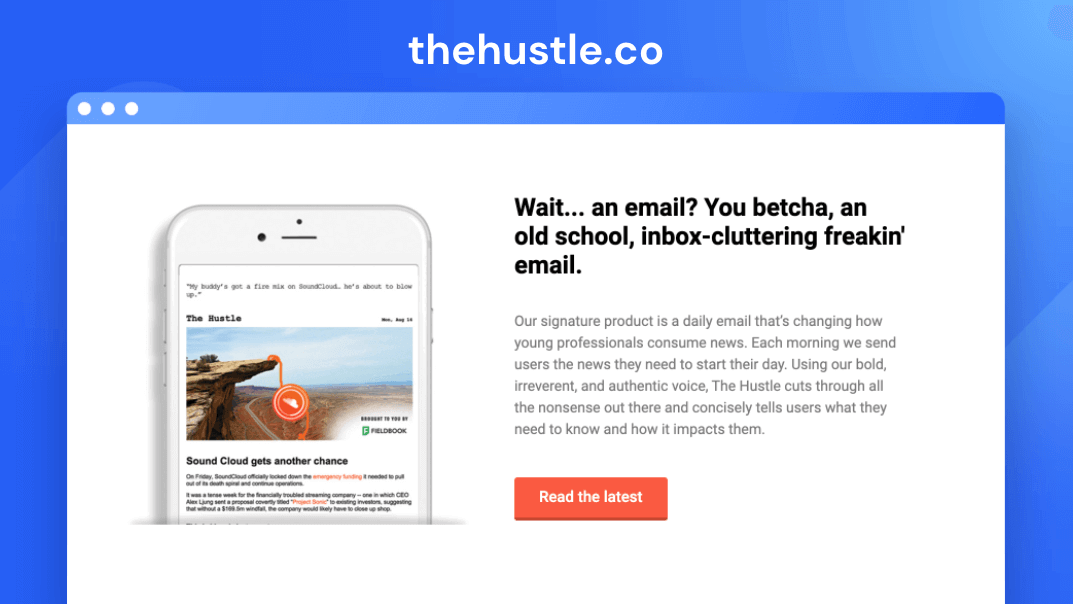 Okay, no more monkeying around. Well maybe just one last time, with Mailchimp, our final example… Part of Mailchimp's early success can be attributed to its effort to create a recognizable (and delightfully yellow) and highly engaging brand voice that makes everything relatable and aims to create a more emotional connection with its audience. By mixing fun with functionality, Mailchimp connected with an audience that typically shied away from new technology because they didn't feel comfortable or knowledgeable enough to use it – all with a monkey for a mascot.
In its style guide, Mailchimp appeals to its audience, promising that its copy is "plainspoken" and "genuine." It shows compassion for the pain points of readers, while at the same time positioning the company as an expert in the industry:
Quote block: We understand the world our customers are living in: one muddled by hyperbolic language, upsells, and over-promises. We strip all that away and value clarity above all. Because businesses come to Mailchimp to get to work, we avoid distractions like fluffy metaphors and cheap plays to emotion.
Whether you're seeking a tone of voice that's impish, yet informative, or straightforward, yet spirited, count on companies that have successfully built a recognizable brand voice to inform your content marketing strategy moving forward.
How to create a strategic tone of voice
Developing your brand's tone of voice begins with your brand's personality. Ask yourself questions like:
Who are my brand's top business and digital competitors?
What makes my brand stand out from the competition?
Who is my brand's target audience? What other websites do they visit?
How does my brand want to be known?
How does my brand want to make people feel?
If my brand was a person how would they look, sound, and act?
Depending on how well developed your brand identity and brand voice is already, this step could be a pretty light lift or one that requires a lot of time and brainstorming with key stakeholders.
The essence of these questions, though, can be divided into three main areas of focus: audience analysis, competitor analysis, and of course, most importantly, self-reflection.
Audience analysis – get them listening
If you're not exactly sure who you're speaking with, then you'll never pick the right tone. Start with traditional audience analysis to find out who they are. Dig into audience geography, investigate demographics, and track engagement metrics.
Understanding the basic demographics of your audience, like their age distribution, geography, and gender breakdown as you can see below:

When you are going deeper and defining the tone of voice in different contexts, you can turn to situational audience analysis. Keep in mind that the situation in which people visit your website or app determines their mindset and expectations, so you should start by defining expectations or norms for each possible scenario.
For example, reaching your page directly means the user is already familiar with your offering, while someone coming to you after clicking on a paid ad may have no idea why you're better than other competitors in the market.
Once you understand and anticipate your audience's mindset, you can then complement it with the right tone of voice, i.e., are you introducing yourself or talking to an old friend? What types of language do you use when you are introducing yourself vs. talking to someone well versed in your brand already?
Setting the right tone with your audience helps build and strengthen relationships. When the tone is in sync with the audience's expectations and your message, you create a mutually beneficial experience.
See how Similarweb can support your audience analysis
Competitor analysis – stand out
With Similarweb, you can track your competitors and collect relevant data on the strategies that work best for your audience. Some of the ways you can use competitive analysis tools to stand out include:
Identify emerging market leaders and track competitors who may be losing market share in specific regions
Pinpoint performing websites or sub-pages to identify the content users find the most engaging
Improve your market position by forecasting industry trends
Determine your target customer base based on the demographic makeup of your competition

Self-reflection – know thyself
If you aren't true to your brand's DNA, it's going to be clear real fast. Now you know who you're talking to. You know who you're competing against. But do you know who you are?
This step is key because, at the end of the day, your brand has to be true to itself at the core. Defining who your brand is as if it were a real person is a powerful approach. From there you can make specific guidelines like:
Things we say, things we don't say
Terms we use, terms we don't use
If my brand was a person, they would be…
So who are you? And, equally important, who are you speaking to?
Start with your digital research to lay a strong groundwork for crafting a powerful brand identity and tone of voice that leaves an impact.
Build a brand people listen to
Once you've done your research, developing your brand's tone of voice will be straightforward. Try our platform for free and see how our audience analysis and competitor research tools can help you create the right tone of voice for your audience.
This post is subject to Similarweb legal notices and
disclaimers
.
Wondering what Similarweb can do for you?
Here are two ways you can get started with Similarweb today!