After 25 years on the market, Amazon announced that it will retire its website ranking tool, Alexa.com by May 2022. While many people are looking for answers about why, others are searching for new solutions at a time when more business is shifting online faster than ever before. 
There's no need to panic though. You won't have to go one day without the vital ranking data and digital insights that keep you in the game. Allow us to introduce you to the next generation of rankings with Similarweb. Keep reading to find how to safeguard your digital edge during this period of change and get a comparison of Similarweb vs. Alexa. 
What happened to Alexa Ranking?
Amazon is shutting down Alexa Ranking. Many people are asking why. We turned to our digital insights for an in-depth analysis of exactly what happened prior to this announcement.
COVID-19 transformed the business landscape. The shift online accelerated and so did demand for digital data. As more businesses and services expand their online offerings, they're increasingly searching for the right platform to provide holistic analytics on industry trends and online behavior. 
So, it's not surprising that alexa.com started 2020 off strong, receiving an average of 5 million monthly users Traffic was steady for the remainder of the year, and even saw a significant spike during the 2020 holiday season. 
2021 was a different story though. Visits to alexa.com steadily dropped, with total visits falling by 28% in the last six months alone.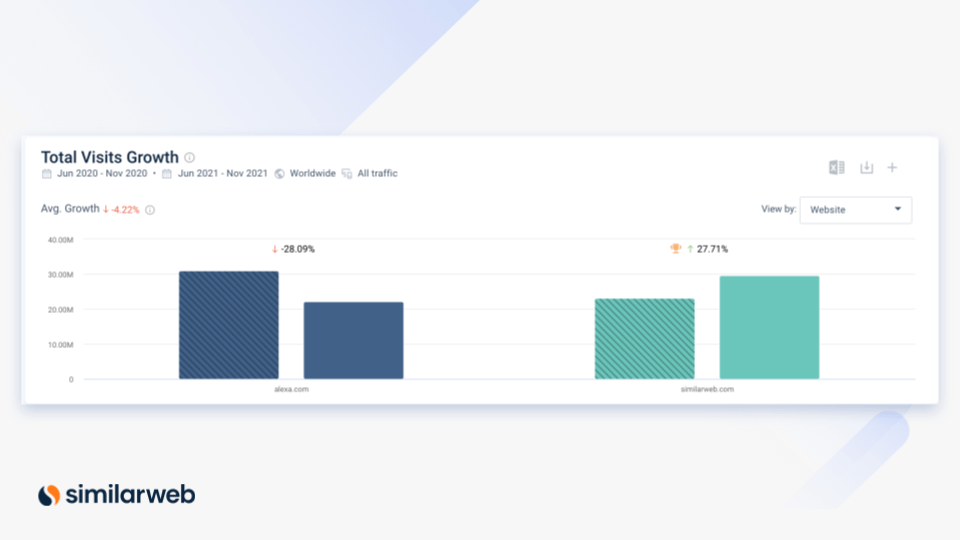 During a period when web tools like alexa.com would expect to see significant growth in traffic, the website saw the opposite trend. From January to November 2021, the average unique visitors to alexa.com dropped by 28%. In this same time frame, similarweb.com saw a 40% increase in average unique visitors.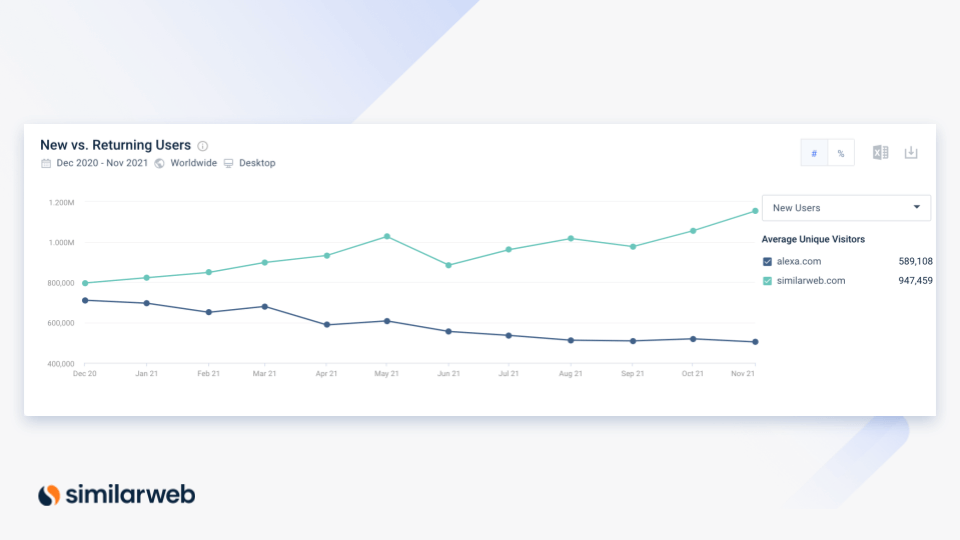 Alexa.com failed to attract new visitors and compete with the growth their competitors are achieving.  
Alexa vs. Similarweb
Alexa.com is widely known for its website rankings, which reveal how websites compare to competitors. Businesses can still have full visibility into how they are ranking online. Similarweb actually offers full access to this feature based on real user data.
Alexa customers can see only how they rank compared to their competitors, but not where their strategy failed or what tactics the competition is using to win. There are so many more valuable insights to explore beyond rank.  
"For over 10 years, Similarweb has been at the forefront of the digital intelligence era – providing rank data along with unparalleled, actionable insights on the performance of over 1 billion websites."
Similarweb digital intelligence uses aggregated data to provide an unrestricted, 360-degree view of the web. With rank data along with granular data points and a host of other features, Similarweb gives you unmatched insight into the performance of your website, industry, and competitive set.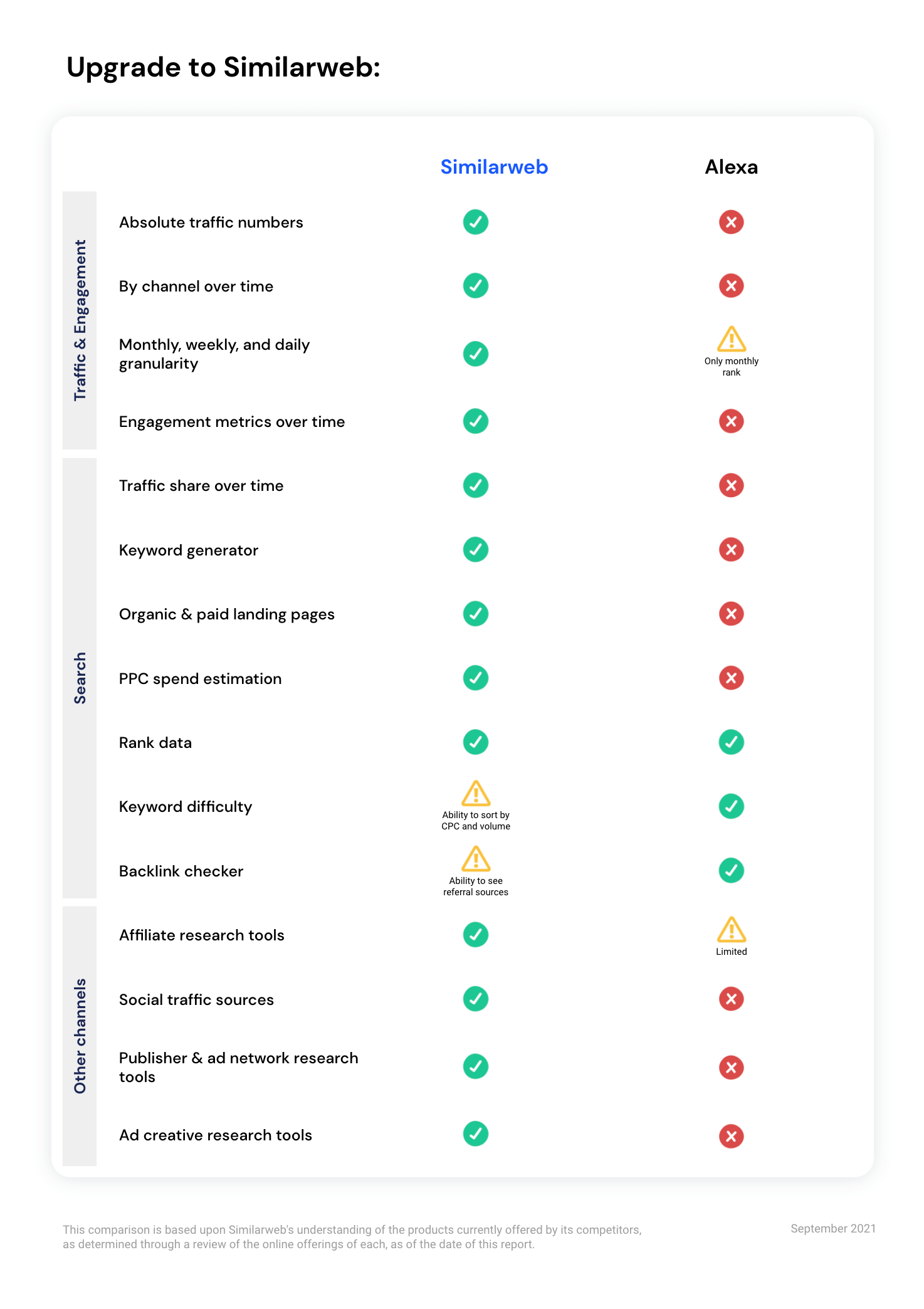 By analyzing website rankings alongside other crucial information like traffic and engagement metrics over time, marketing channel performance, and paid and organic search, you can establish which parts of your strategy are paying off and where you can boost your efforts for better results. 
Get free website ranking 
See which sites are winning your market according to traffic share with our free competitive ranking tool. Look into month-over-month traffic changes to identify up-and-coming players in the industry. 
Spot top-performing marketing channels
Analyze which marketing channels are driving the most traffic and conversions within your industry and your competitive set. Focus on top-performing channels and make high-value investments that ensure returns. 
Analyze audience behavior 
Target your audience precisely with demographics on user age, gender, and geolocation. Dig into cross-browsing data to see what percentage of your audience overlaps with the competition.
Track keyword performance 
Discover keyword opportunities that are performing well for your industry and paying off for the competition. Uncover paid and organic search competitors and deep dive into specific keyword ranking. 
Why Similarweb is the next generation Alexa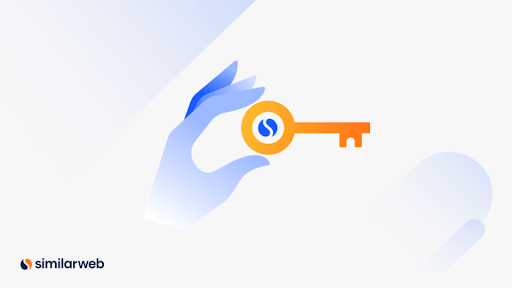 With Alexa shutting its digital doors, you have the chance to get the most accurate and freshest data on the market. Similarweb helps you dive into marketing channel data, get accurate traffic and engagement stats, spot trends, and understand your audience. 
With a free trial offer – you have nothing to lose and everything to gain in this ever-changing digital landscape. Win the market with Similarweb backing you every step of the way. 
Don't go a day without ranking data
It's more important than ever to track and measure your performance across the web. Set yourself up for success by investing in the right tools. Comprehensive data from Similarweb will illuminate your full competitive landscape, paving the way for better-informed business decisions around every part of your strategy.
Similarweb API is simple and integrates directly into your data visualization tools, and internal databases in seconds. Browse through our library of pre-built dashboards or let us design a custom API solution for your business.  Just like that, you'll have millions of data points available for repeatable analysis. 
FAQ
How does Similarweb collect data?
Similarweb uses a proprietary mix of digital signals from first-party analytics, anonymous traffic data, public data, and data from global partnerships to measure and map the digital world. The data is then cleansed, anonymized, aggregated, and finally, put through a predictive data model to create a 360-degree view into nearly every website's digital footprint, making it possible to analyze and compare digital performance from any industry or company.
What do you use Similarweb for?
Similarweb provides accurate and objective analytics that measure the performance of any website or industry across the web. It is used to perform competitive analysis, analyze traffic and engagement patterns, do keyword research, and spot top-performing marketing channels.  
How can I check my website visitors?
You can check the breakdown of how many visitors your site received for the past three months on Similarweb.com for free. To get the full power of Similarweb digital intelligence you can start a free trial.
This post is subject to Similarweb legal notices and
disclaimers
.
Wondering what Similarweb can do for you?
Here are two ways you can get started with Similarweb today!