 Marketing Intelligence
What Is Affiliate Marketing? The Complete Guide
July 30, 2021
| Updated October 2, 2022
When you're not sure whether to buy a Nespresso, Breville, or a DeLonghi espresso machine, you likely turn to Google. And what does Google give you? An entire list of articles named "x best espresso machines".
You've just discovered one of the most popular affiliate marketing strategies. Comparison and review sites take the hard work of examining and evaluating consumer goods away from us and, at the same time, promote them on behalf of the seller. 
It's a great way to generate income without selling anything. And for the espresso machine seller, it's a fantastic way to advertise. But that's just one of the many ways to leverage affiliate marketing. 
In this article, we'll walk you through our step-by-step guide to what affiliate marketing is and how it works.
What is affiliate marketing?
Digital affiliate marketing is a form of advertising where a product owner or vendor lets external websites (affiliates) promote their product and compensates them for traffic or sales they generate. It's a bit like Batman and Robin, vendors team up with publishers for mutual gain, making it a win-win for everyone involved. 
How do the parties benefit? 
Vendors

keep their marketing costs low through performance-based payouts.

Affiliates

, or publishers, earn from promoting products, without any product-related costs.

Consumers get a better chance of finding what they want.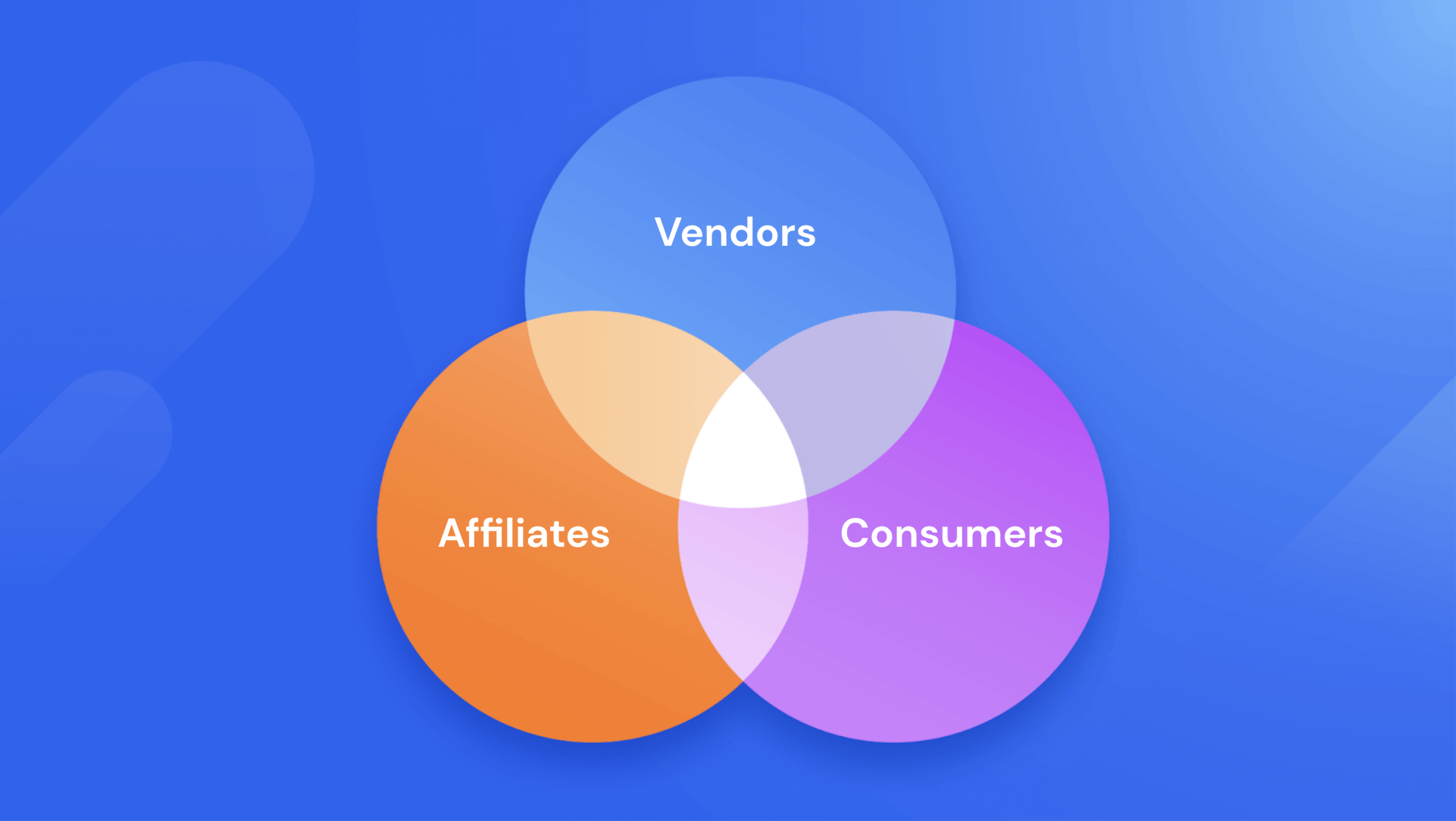 Dividing the workload allows both the vendor and the affiliate to focus on their strengths and what brings in the money. The product owner concentrates on developing the best product or service offering, while the affiliate zeroes in on publishing and promoting it. 
Affiliates can be any type of website using any variety of tools to distribute content. They could be a news media channel, a blogger, an email, or a PPC marketer. For consumer products, review and comparison sites are trendy affiliate activities. Social media and influencer marketing offer additional opportunities for affiliate marketers.
The point is to reach an audience that's relevant to the vendor. That's another reason businesses open an affiliate program: to leverage the publishers' audience and expand their reach. 
Affiliate marketers' success often depends on the audience reach. So, if you were wondering how to start affiliate marketing, this is your first action item. You need to prove to the product seller that you can indeed provide lots of valuable traffic. 
Vendors use affiliate research tools to find new and high-quality traffic sources, identify the best affiliate partners, and optimize their results. In this article, we are taking a deep dive into how affiliate marketing works, how to do affiliate marketing as an advertiser and publisher, and how to analyze and strategize for high ROI and revenue.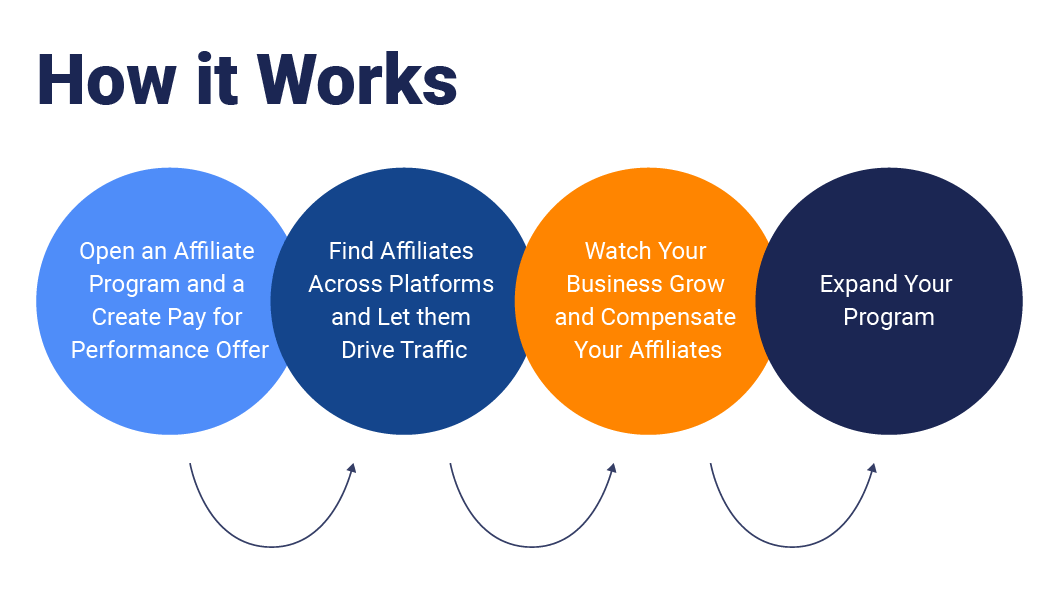 How affiliate marketing works
Affiliate marketing involves three main stakeholders: the seller or vendor, the affiliate or publisher, and the consumer. Sometimes there's also a fourth player, the network, involved. Each has a unique and critical role:
Who's involved in affiliate marketing?
The seller or vendor
The seller or vendor might also be referred to as the brand, the merchant, or the retailer. If that's you, you're the one with the product idea or an existing product or service for sale. You might run a one-person business, a store, a manufacturer, or even a large international enterprise. There is no limit to the company size or the variety of physical and digital products a vendor can market through affiliates.
The affiliate
The affiliate is often also called the publisher because their job is, well, to publish. As an affiliate, you'll use your own resources and advertising space to promote the seller's goods and collect a commission, based on a predetermined goal. That rate might be attached to sales, conversions, leads generated, or a simple click-through rate (CTR).
Affiliates can be individuals or larger corporations, or even brands that partner with another brand to gain exposure. For example, a gardening company might also act as an affiliate partner for a company that manufactures gardening tools, advertising them alongside its gardening services.
The consumer
The third stakeholder is the ultimate source of revenue: the consumer who buys the product or service. They might not even be aware of their part in the affiliate relationship, especially when they've found the product through promotions that appear organic rather than sponsored.
The network
In some online affiliate marketing strategies, a network sits as an intermediary between the vendor and affiliate. Often the network will handle shipping and billing, as well as provide a database, software, tracking, and full reporting of all affiliate marketing activities.
3 types of affiliate marketing strategies
1. Unattached affiliate marketing
In unattached affiliate marketing, the affiliate publishes advertisements that promote the seller's merchandise. There's no direct connection between the affiliate site's content and the advertised product; the publisher simply places advertising material on their site. The vendor provides the ad creatives, such as PPC ads, banners, and other display ads, but there is no deeper partnership between the two.
Unattached affiliate marketing is the most common type, and it generates affiliate income and drives traffic for the seller. For example, when you go to an online dictionary, you may find an advertisement for a local furniture shop next to an online dating site ad. In this case, the dictionary functions as an affiliate for both the shop and dating sites since they are both using the dictionary to promote their online business.
2. Involved affiliate marketing
On the opposite end of the spectrum, there is involved affiliate marketing. The affiliate takes an active role in promoting a product or service they understand or have tried it themselves. They introduce, explain, review, or even recommend it within their own content.
This requires a connection between the affiliate and vendor, and often product or service trials. Typically affiliates focus on a specific niche and they use blogging or social media to create unique content. These affiliate marketers leverage their  authority and inside knowledge to grow numbers of subscribers or followers. 
If this sounds like influencer marketing to you, you have a point. This powerful affiliate model gave rise to the first influencers when affiliates built authority and a connection with followers, often engaging with their audience. As you might imagine, ecommerce technology and digital products frequently work within this model.
3. Related affiliate marketing
Finally, we have something in the middle. In this type of affiliate marketing, the affiliate will promote the company's products that are related to their site, but without directly mentioning them in their own content. For example, a hotel may advertise local holiday attractions on its website since there's a clear overlap with its own service, without directly promoting the attractions in any of its content.
How to create your own affiliate program
You don't have to be Amazon or a large brand to run an affiliate program. Today, more than 80% of all brands have affiliate programs, and. affiliate marketing is responsible for 16% of global ecommerce sales.
1. Assess your potential affiliate types
Digital affiliate marketing has been around since William J. Tobin's first patent application in the mid-1990s, and it continues to offer a wealth of possibilities for pumping up your lead generation.
First, define who your target demographic is. With audience analysis, you can identify your most likely prospects and discover what type of content this audience prefers. Then, you can craft your affiliate marketing campaigns with that precise audience in mind, making sure you speak their language and appear on their most popular channels.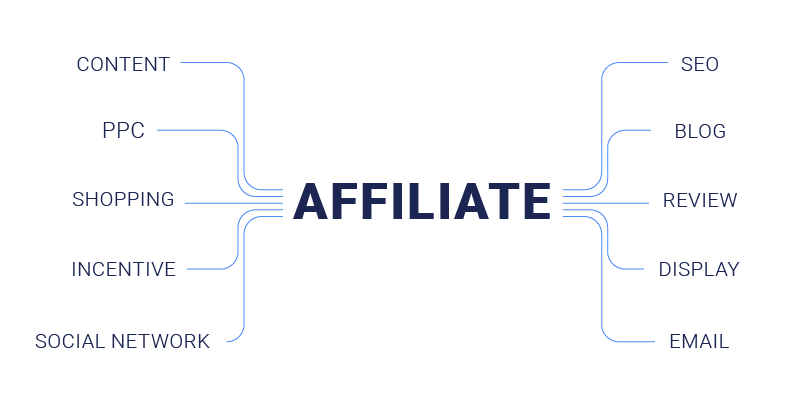 Next, think about the different impacts each type of affiliate has, whether that's an increase in traffic, conversion rate, sales, or a boost to your brand credibility. Let's see what popular affiliate site types can accomplish. 
Coupon sites

easily promote special deals by letting your partners give exclusive affiliate offers and discounts

News & media sites reach a huge general audience
Content sites increase your credibility on content marketing sites that can improve your

search engine

ranking

Review sites show what sets you apart from the competition with detailed

product reviews

that can support your

eCommerce

strategy

Loyalty sites boost your customer retention (especially popular in

eCommerce

programs)

Value-driven blogging

can add a personal touch and increase your credibility whether it's on the

affiliate website

or as a guest post on your own blog

Shopping comparison demonstrate your price advantage to prospective customers
Email marketing

engage harder-to-reach audiences with a segmented

email list

Search affiliates increase your traffic through the affiliate's paid search 
2. Research and create your plan
Once you've got an idea of where you want to sit in the affiliate landscape, you can start to research where to find the highest-quality traffic from your target audience, and build a program structure with goals to match.
Eye the competition with competitive research
Learning from your competition is always a good start. Once you understand what works for them, you can build your own plan. Find out what's common in your industry and how your competition works with affiliates:
What type of online affiliate marketing do they use to promote their product or service?

How successful are their methods?

Which affiliates provide them with the best ROI?
If your competition works with large affiliates, such as coupon or media sites, find out which, and check how successful these partnerships are. Similarweb's tool can help you find your competitors' affiliates and compare affiliates' performance. Discover how much traffic they generate, which keywords work best for them, which of your competitors they work with, and what's your potential traffic share growth.
To learn more about creating an affiliate strategy watch our on-demand webinar, Exploring Changes in the Affiliate Landscape.
Pick a payment model
The revenue-sharing relationship between sellers and affiliates varies from program to program, but there are three main commission models, either on a flat rate or percentage basis:
Pay-per-sale

Pay based on CTR

Pay-per-lead
Think of your payment model like a motivational tool, encouraging your affiliate partners to operate in a way that's best for you. Do you primarily want them to help you generate traffic, leads, or sales? At which stage in the sales cycle can affiliates offer you the most value? Answer those questions, and the choice of payment model becomes easy (well, relatively).
It's also important to keep a close eye on the details of the terms. For example, if you pay per sale, you need to determine which click counts. If, for example, a buyer clicked on several different affiliate links before making a purchase, who is entitled to the commission? Some programs choose to attribute the sale to the first click, some to the last, and others spread the commission over the buyer journey.
Pro Tip: Consider some protective measures. Let's say you pay per click, and your affiliate generates tons of traffic. How do you ensure the traffic is valuable? Set criteria to ascertain affiliates are credible and know what they are doing.
Consider your referral cookie lifetime
Successful affiliate marketing strategies take advantage of affiliate links and web cookies, small pieces of data stored on a user's computer when they click on the link. The cookie duration (or, lifetime) is typically set by default to 30 days but can stretch up to 90 days (or more) depending on the industry. That gives your affiliate a window within which to make their commission on any conversions, so, naturally, most affiliate partners are drawn to programs with a longer cookie lifetime.
Decide your commission type
Site-wide commission – The affiliate gets paid for any purchase on your site made by the referred customer

One-time commission – The affiliate gets paid once when the customer completes a specified action, such as a purchase within a specific product range

Recurring commission – The affiliate gets paid for as long as the customer remains signed up, used primarily on subscription programs
Look for affiliates with killer content  
All digital marketing efforts are interconnected, so you want affiliates with high-quality content and winning search engine optimization (SEO) that ranks highly on Google search. When they win, you win, so it's worth investing in affiliates who outrank others. Take advantage of their content expertise, and you'll see quicker results and greater visibility for your brand without having to take on a big risk.
Find your ideal affiliate partners
Before reaching out to new affiliate partners, you need to find a platform that allows you to easily pass on their affiliate commission, such as getpd.com. Alternatively consider one of the wide range of other payment methods, such as PayPal.com.
3. Recruit the affiliates you want
Now that you've established what you expect of your affiliate partnerships, it's time to find your ideal affiliates. The best place to start is your existing network of customers, contacts, and business partners. After all, who's better suited to promote your affiliate products than happy customers?
Approach them via:
Email


By creating a dedicated email campaign to promote your

affiliate program

, you can reach out to the influential affiliates uncovered by your competitor analysis. Consider adding a banner to your email signature, or even better send personalized emails and make an offer.

Social


You've already built up your following on

social media

, so it's a great way to promote your

affiliate program

too. Connect with potential affiliates but also expand your network to find the contacts you need.

Your website


If you're serious about growing your partner network to support

online marketing

, it deserves a dedicated

webpage

on your website, optimized for

SEO

. Provide all the relevant information potential affiliates will be looking for, and draw out the key benefits your program offers, such as commission rate, cookie lifetime, and any existing success stories. Make your sign-up form easy to find and simple to complete, removing friction barriers that might otherwise get in the way.

Advertising


Treat your

affiliate program

the same as any product, and use advertising to expand your reach. When you first launch the program, you need to promote it with the same intensity as a new service or product. So you might want to allocate a portion of your budget for PPC ads or

Facebook ads

to target your specific niche. Paid

social media

ads can be effective here, as well as finding industry or affiliate forums with partners who can refer you onwards to potential affiliates. Consider approaching big affiliate companies and publishers, or using recruiting tools provided by the more popular

affiliate networks

.
Pro Tip: To attract affiliates who are most suitable for your business, try to think about what they might be looking for, such as referral cookie lifetime, your payment system, and favorable commission rates or bonus options.
Get your free comprehensive checklist for setting up a successful affiliate program. Below we cover how you can become an affiliate marketer and work with affiliate partners:
How to become an affiliate marketer
1. Choose or identify your niche
Affiliate marketing for beginners is best with an unattached affiliate setup. You can place advertising on your blog, website, or profile. If you already have a large audience for your blog or YouTube channel, you may consider promoting unique content and entering an involved partnership.
Identify the audience your website and content attract, so you can match that demographic up with a suitable affiliate program. You might already have a clear sense of your niche or specialism, or you might be looking to branch out and access a new audience.
Either way, the more clearly you can define your demographic with audience analysis, the more valuable you are to affiliate programs, and the easier it is to select the perfect platform.
2. Pick a platform
Next, match your audience and niche to an industry, product type, or service area. Check the relevant brands and what kind of affiliate programs they offer. Examine the commission rates, the cookie lifetime, and any other benefits each platform might deliver, such as marketing materials and support.
Also, investigate who the affiliate partners are. You want to know who you compete against for the audience's attention. Similarweb can provide you with data on the referring sites and help you evaluate the level of audience engagement.
3. Drive traffic with great content, and use the right affiliate links
You don't have to limit yourself to one vendor, but don't start with too many either. Select the affiliate programs you want to sign up for and start creating content. If you place ads or promote the vendor's content, update your affiliate links for each offer and share those links within your content or on your social media. 
Keep producing the valuable content your audience is familiar with and you'll be ready to collect a commission every time someone uses your links to make a purchase.
Examples of popular
affiliate programs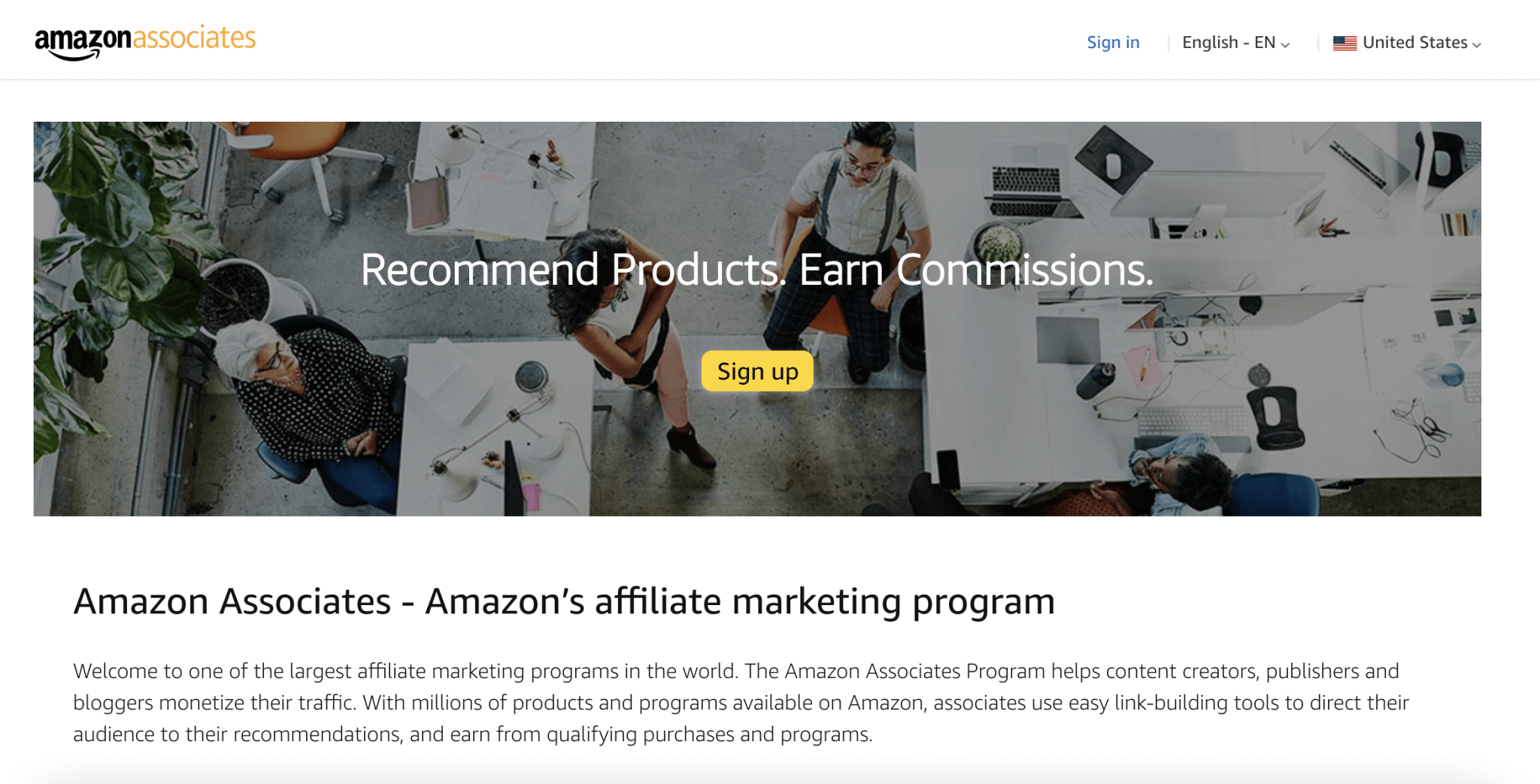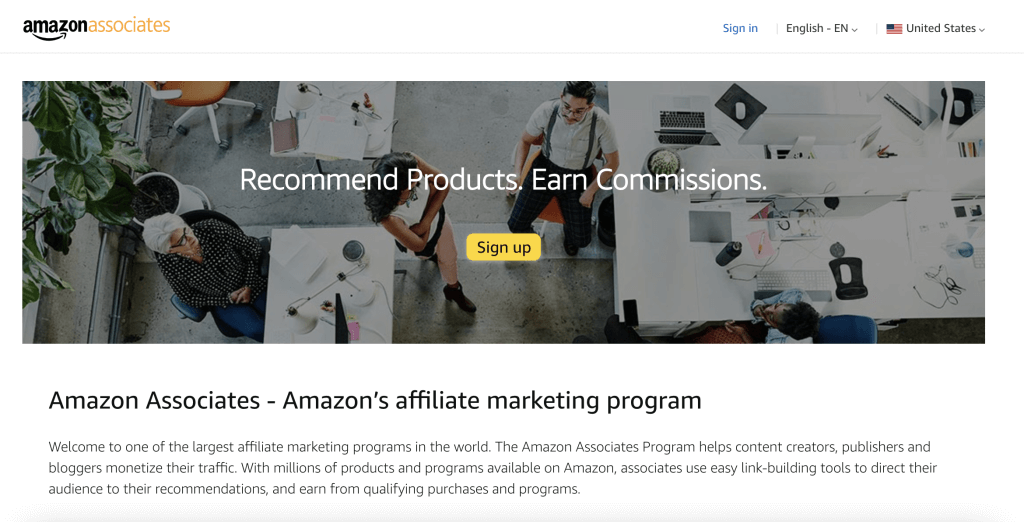 Amazon




With over 900,000 affiliates, Amazon Associates is one of the world's largest affiliate marketing programs. It is also one of the longest-existing affiliate programs and was the first that allowed any individual to sign up rather than just businesses. Affiliates can earn 10% of qualified purchases by their referrals. Bloggers, social influencers and other unique content creators need to apply and get approved.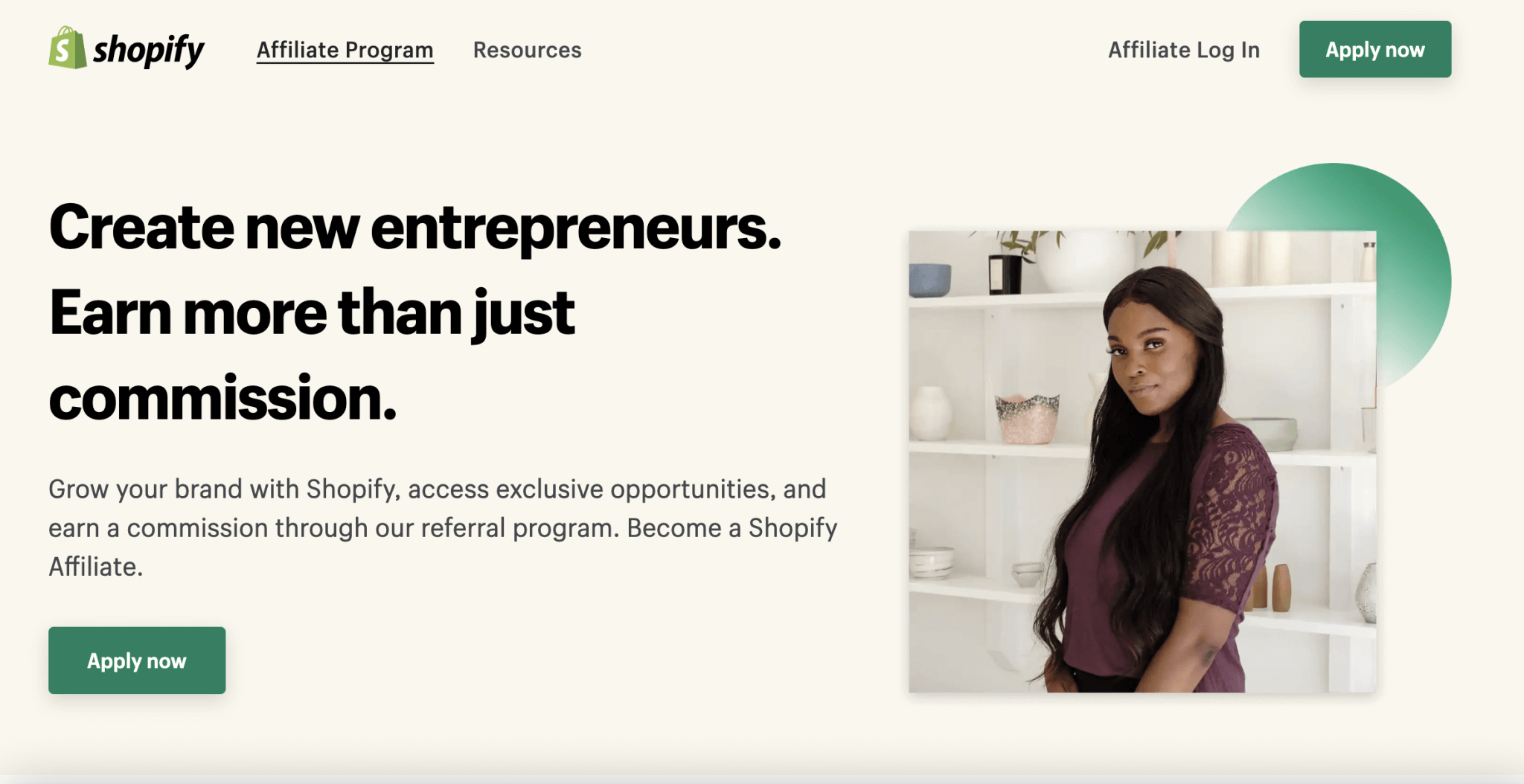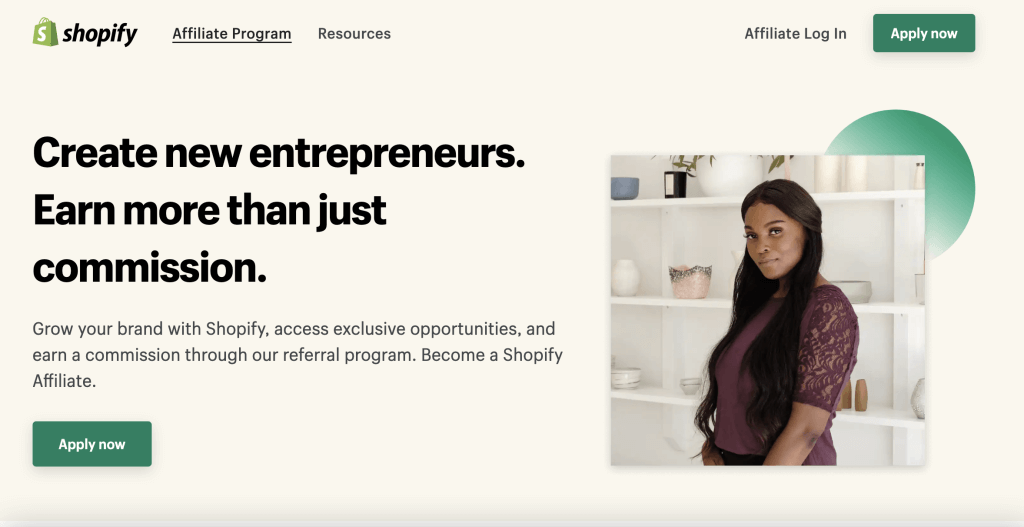 Shopify




Shopify offers an outstanding one-time commission of 200% on a purchase, which makes their program incredibly attractive.

Affiliates can be

influencers, educators, content creators, entrepreneurs, business consultants – you name it – and Shopify provides training and support too. However, to get accepted, you'll need to provide samples and proof of prior experience with Shopify and digital marketing, and not every partner gets accepted.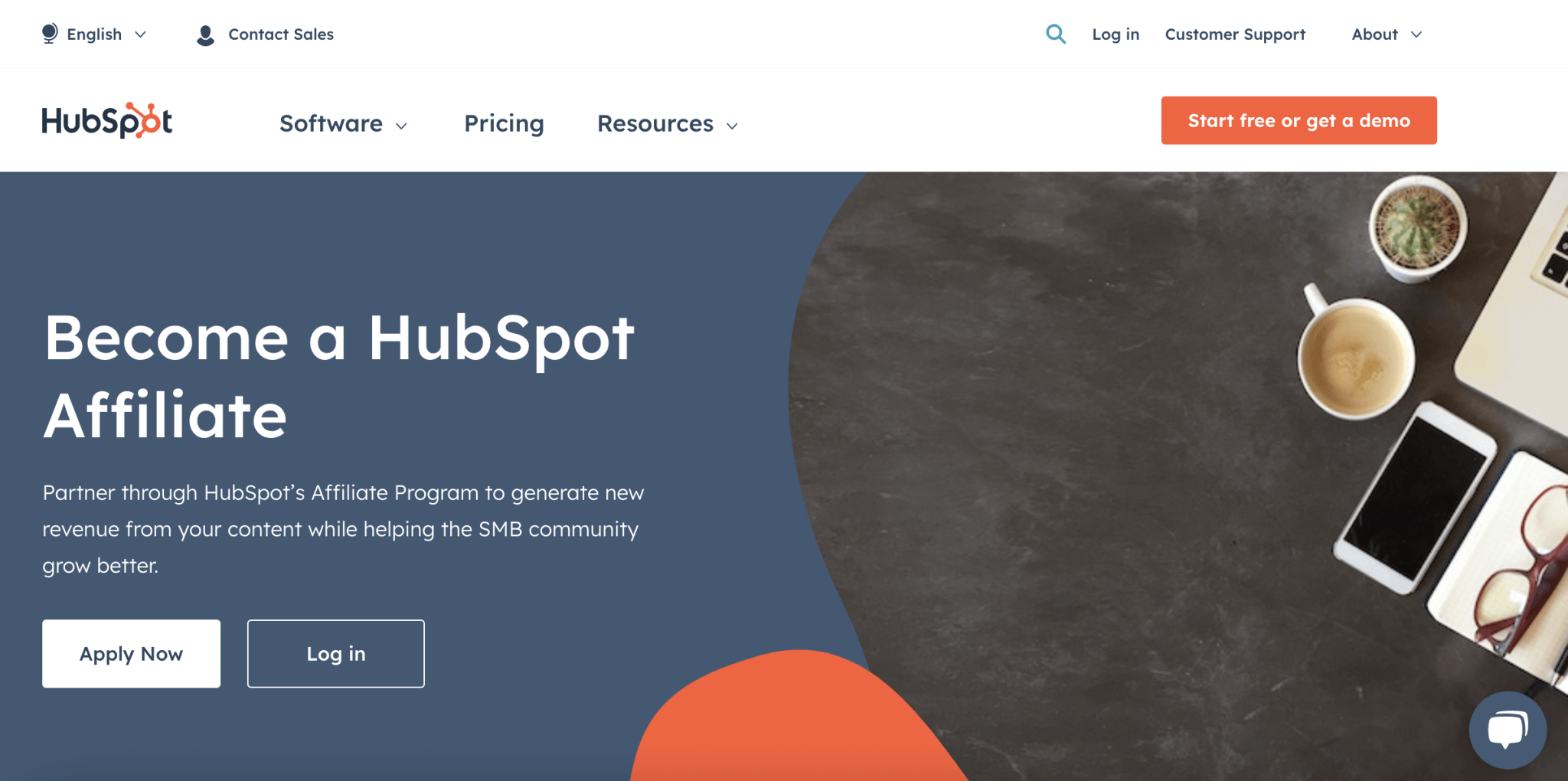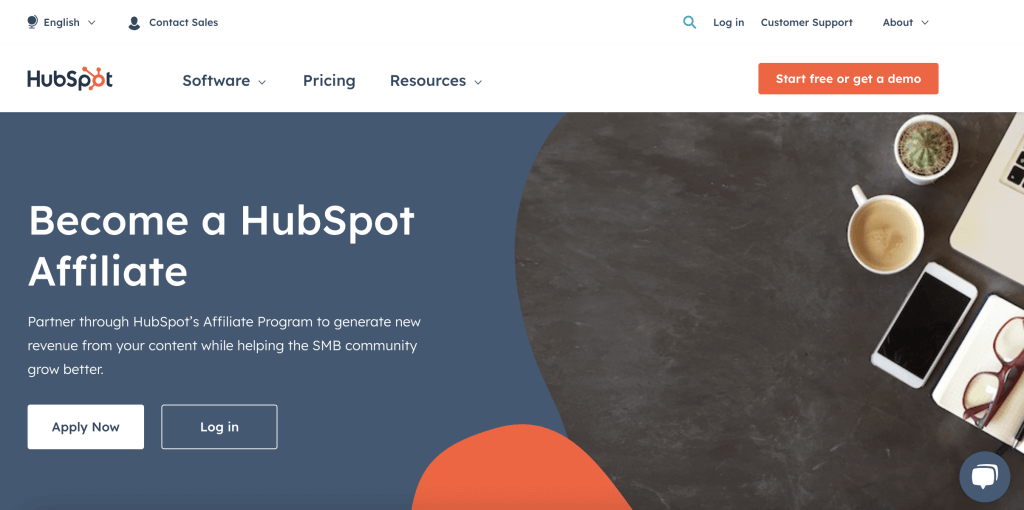 HubSpot




HubSpot has one of the best online affiliate programs for content sites. Their commission is a generous flat rate for their main products – starting at $250 for the basic and going up to $1000 for the enterprise suite. Affiliates get access to a content library and one-on-one support, and the program is especially suited to English speakers with a .com domain.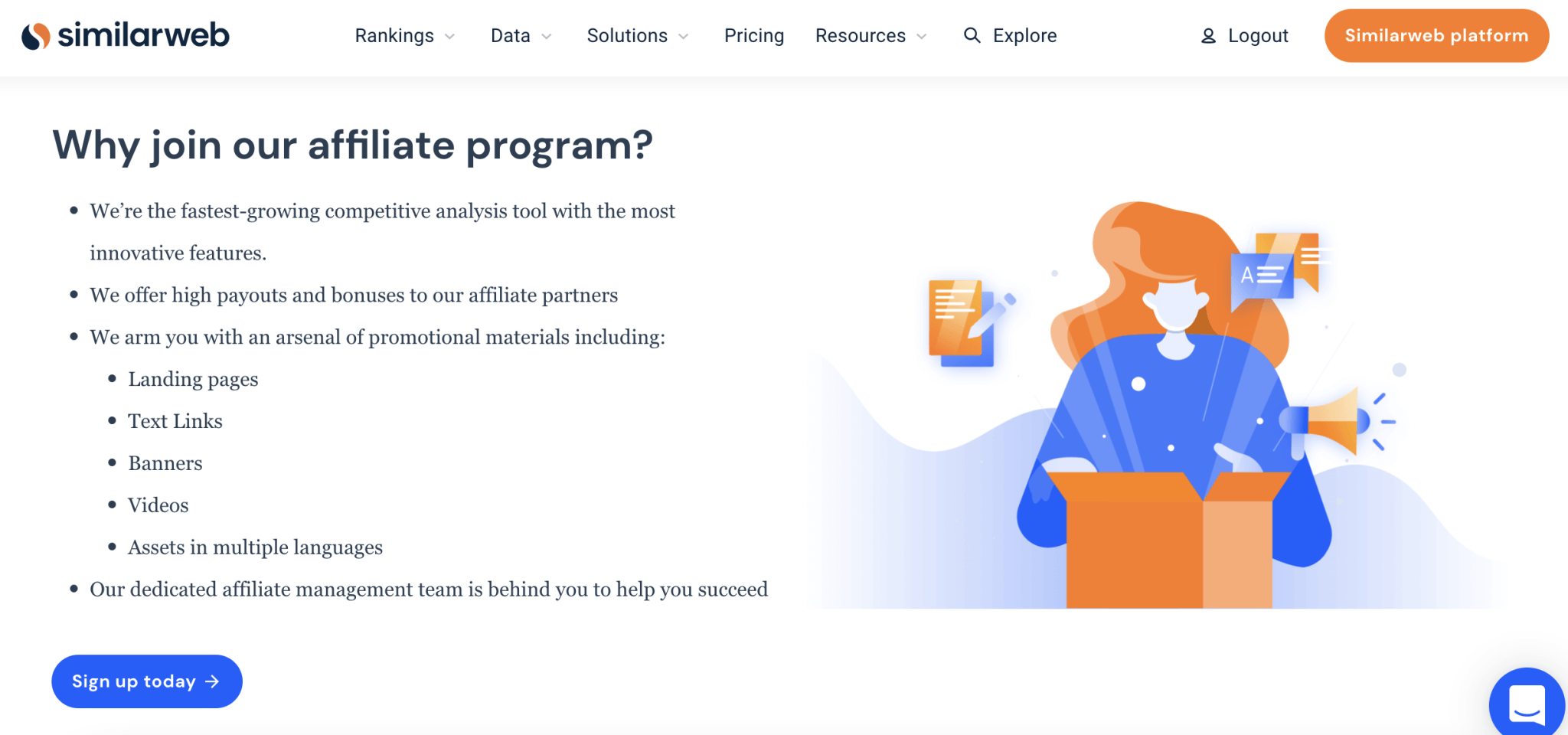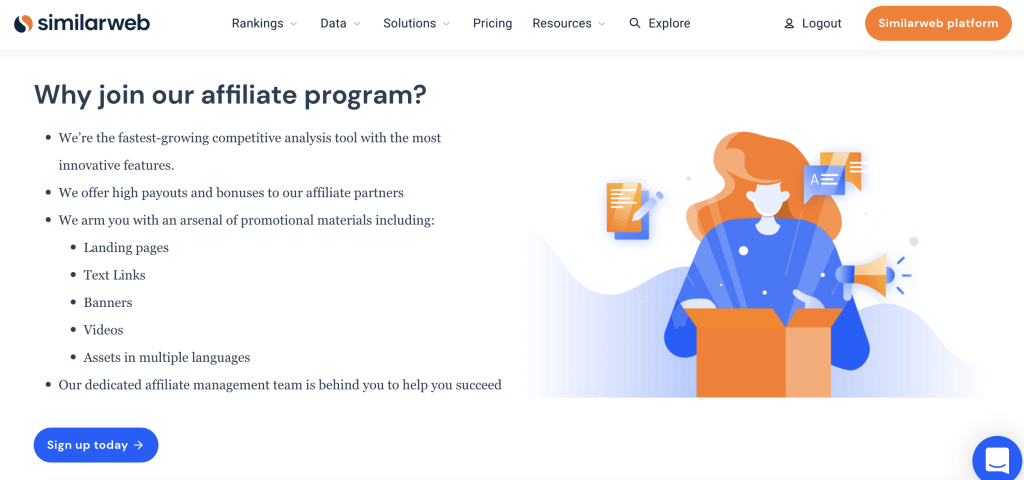 Similarweb




Similarweb's program is aimed at content websites, bloggers, influencers, consultants, and agencies. It comes with a support team and all the promotional tools you'll need and offers flat rates of $50 per trial registration and $10 per lead, plus bonuses based on your performance. 
Fiverr




Fiverr welcomes any partner who is able to promote themselves through their affiliate program. They provide creative materials and support, and the commission plan offers a variety of options. You can operate on a flat commission that varies by category, starting at $15 and going up to $50, or a split agreement with a $10 flat rate plus a 10% revenue share.
Beyond these examples, there's a whole world of popular online affiliate marketing programs to explore.
4 tips for becoming a successful affiliate marketer
Tip #1. Be personal and be yourself
Affiliate marketing is a crowded field, with thousands of affiliate partners working to promote many more products. The best affiliate marketers separate themselves from the noise with their personal touch. One way is to choose products you feel passionate about and can genuinely support You are most believable when you are yourself. 
Another secret is to be personable. Find creative and straightforward ways to connect with your audience. Share something personal, address them personally, encourage them to comment and make sure you answer. Be a mensch and people will connect with you and the brands you promote.
Pick a social channel or content form you enjoy and think about sending personalized emails to build a relationship with your audience.
Tip #2. Develop a strong reputation
Audiences flock to publishers who are trustworthy and reliable. By focusing your attention on a niche audience you can connect with, you'll establish your credibility and build a lasting relationship with them. The more niche your audience, and the greater your reputation as an expert in that area, the more likely you are to convert your traffic to affiliate sales.
Tip #3. Test several channels
There is nothing more valuable than data so test, test, and test again. By working across different channels and trying multiple marketing strategies, you'll quickly discover what your audience responds best to. Explore social media, email campaigns, and review sites, and don't be afraid to test cross-channel promotions too.
Tip #4. Keep up with what's trending
To be competitive in the crowded affiliate marketing space you must keep your finger on the pulse. Constantly refresh your knowledge, brush up on the latest affiliate marketing trends and marketing strategies, and as you learn more techniques, test them. This constant optimization will allow you to stay ahead of the competition.
How to evaluate affiliate performance
That's it; you're all set, right? Almost! You need to track your results against clearly defined key performance indicators (KPIs) to evaluate the success of your partner program.
Choose the Affiliate Marketing KPIs based on your business or marketing goals and start by benchmarking against your competition. Compare the amount of traffic competitors in your industry receive from referrals.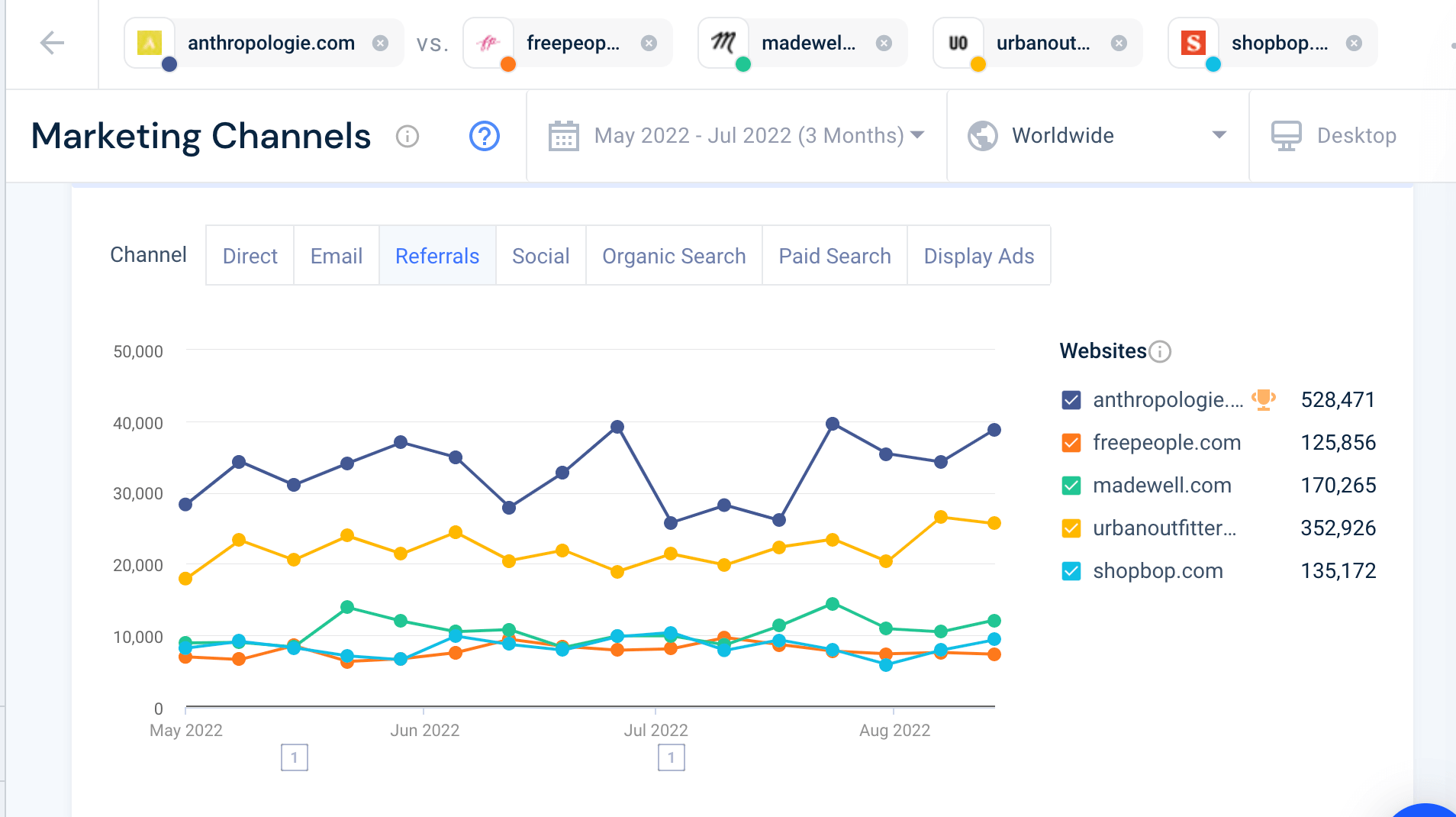 The graph lets you easily compare how much referral traffic your competitors receive. 
Identify gaps in affiliate performance. Most affiliates partner with a variety of vendors, and you can use Similarweb to compare how much traffic each receives. If you get less traffic from an affiliate than a competing website, check what they offer or negotiate with your affiliate partner to improve the mutual business.
Find additional high-potential affiliates by digging into your competitor's affiliate data.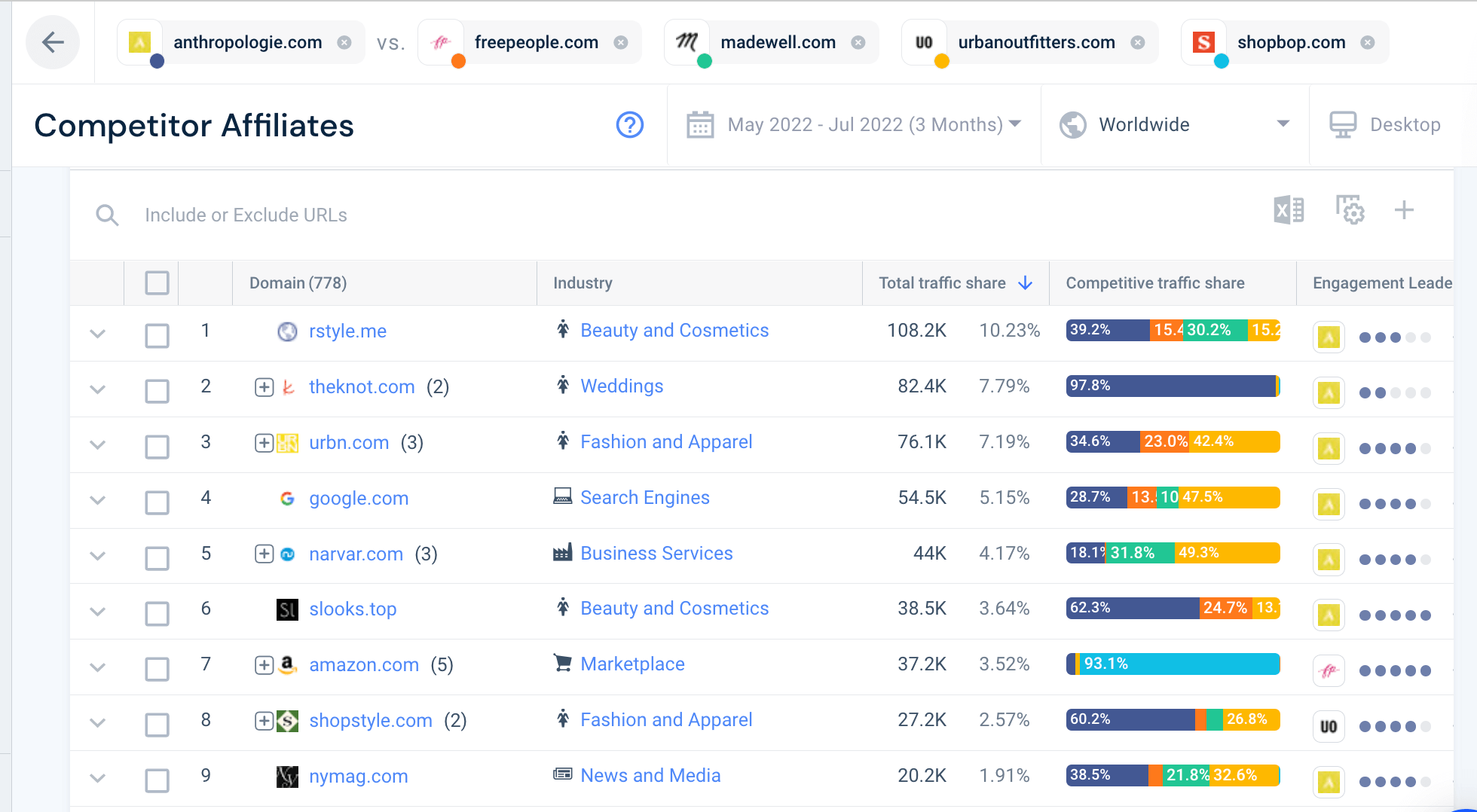 The color bars let you compare the amount of traffic sites get from the various affiliates. 
Another way to identify potential affiliate marketers is through keywords. View a list of affiliate sites that generate traffic for relevant keywords for your business. Check their sites and evaluate if they are a good fit for you. Click on quick analysis to get traffic and engagement data, marketing channels breakdown, a list of top keywords they get traffic for, and the top countries.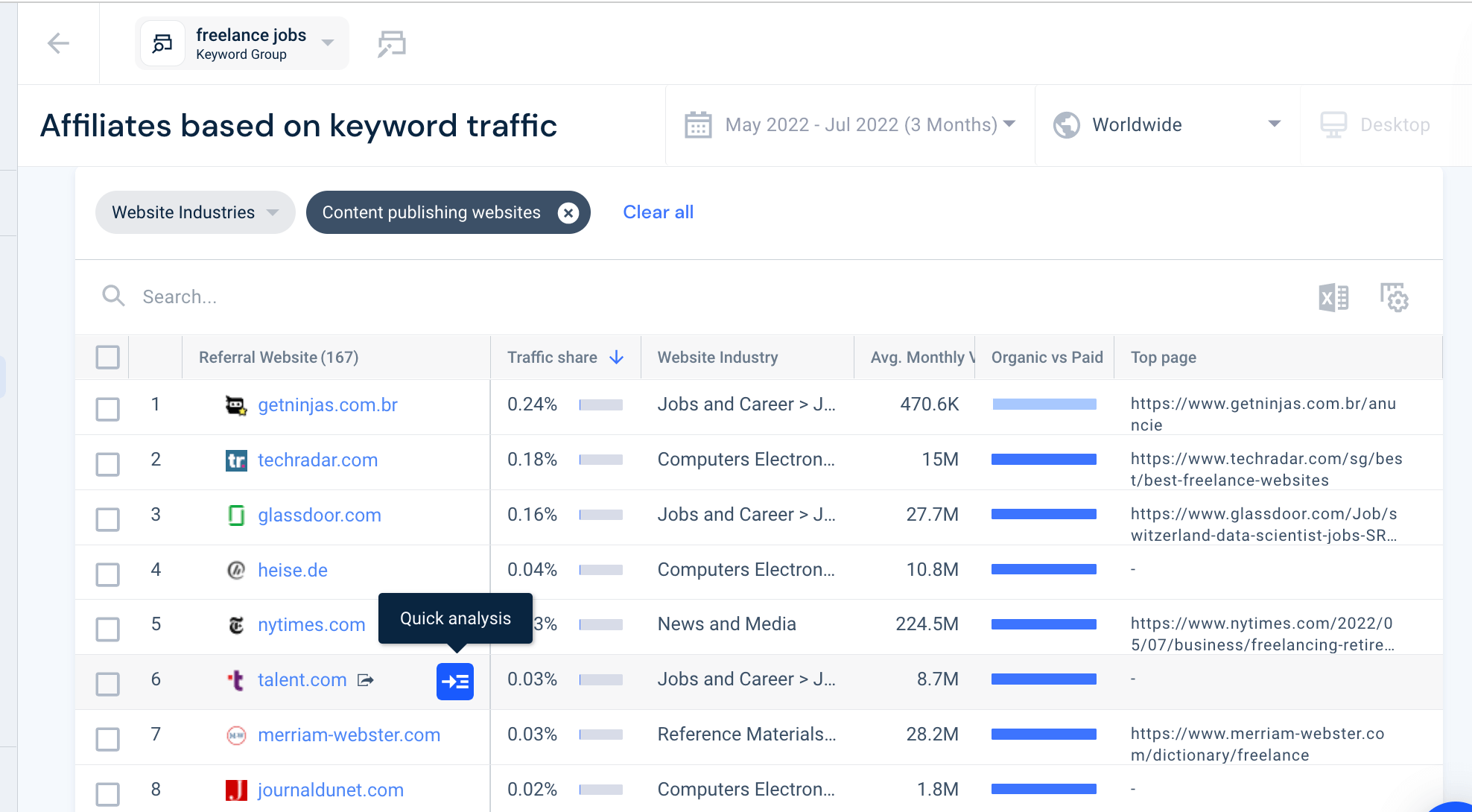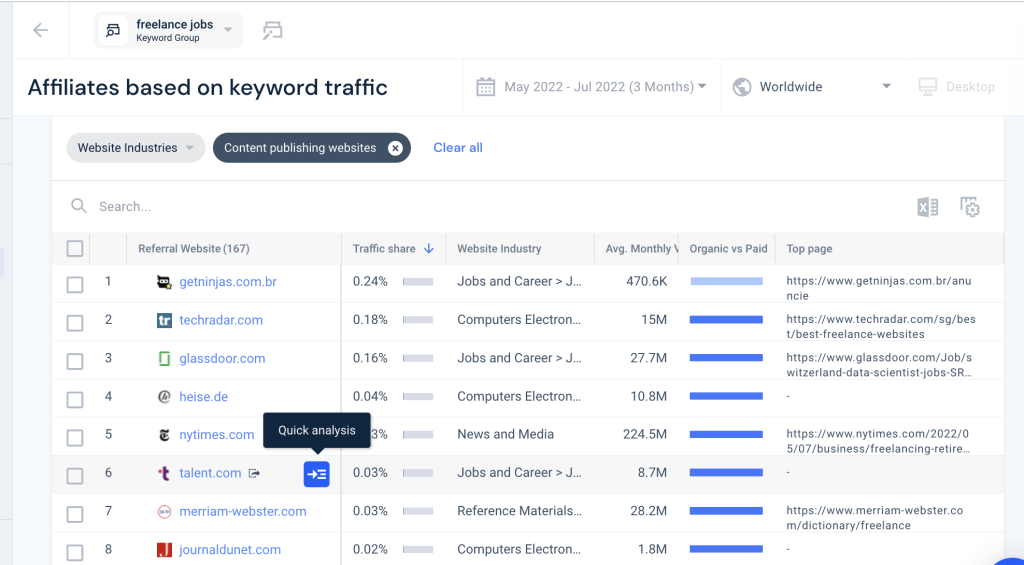 This view shows affiliates that receive traffic for a specific keyword. You can analyze each one's data and performance. 
These are just a few tricks on how Similarweb Digital Marketing Intelligence can help you find and qualify your affiliates. Read how to maximize affiliate marketing benefits here.
Final thoughts
Affiliate marketing generates between 5% to 25% of online sales for some of the biggest brands in the world, and it's no surprise that program managers and affiliate partners alike are looking for ways to increase their revenue further.
The key to standing out in this crowded market is to set up intelligently. Use data and research to map out the affiliate landscape before you settle on a strategy. 
With the right tools, you can make sure your affiliate marketing program or activities bring you closer to your marketing goals. Start on the right foot with the best-performing affiliates who generate the highest referral traffic and have the best engagement score and consistent conversion rates.
Further reading
FAQs
What is affiliate marketing and how does it work?
Affiliate marketing is a type of advertising in which a third party promotes a brand's product and gets rewarded for successfully generating leads or driving sales. 
What does an affiliate marketer do?
An affiliate marketer promotes products or services on behalf of the owner and receives a performance-based commission. The affiliate marketer can write blogs or reviews, do paid advertising, e-mail marketing, or any other digital marketing activity.
How do I become an affiliate marketer?
Vendors are looking for affiliate partners who can reach a large audience. So, if you have a website, a social media account, or a YouTube Channel that has followers, all you need to do is sign up for an affiliate program and add the link provided by the vendor to your site. 
This post is subject to Similarweb legal notices and
disclaimers
.
Wondering what Similarweb can do for you?
Here are two ways you can get started with Similarweb today!