When you're creating your company's content marketing strategy, you might know who your competitors are, but do you know who your content competitors are?
Allow us to explain. Your product's competitors may not necessarily be your content's competitors.
Let's take, for example, the Lakers, one of the top basketball teams in the NBA. Who are the Lakers' competitors? Definitely the Celtics and the Knicks. But are these teams competing on content? No. More likely, the Lakers' content competitors are popular TV shows that broadcast at the same time as its games or even other live events that compete for fans' participation.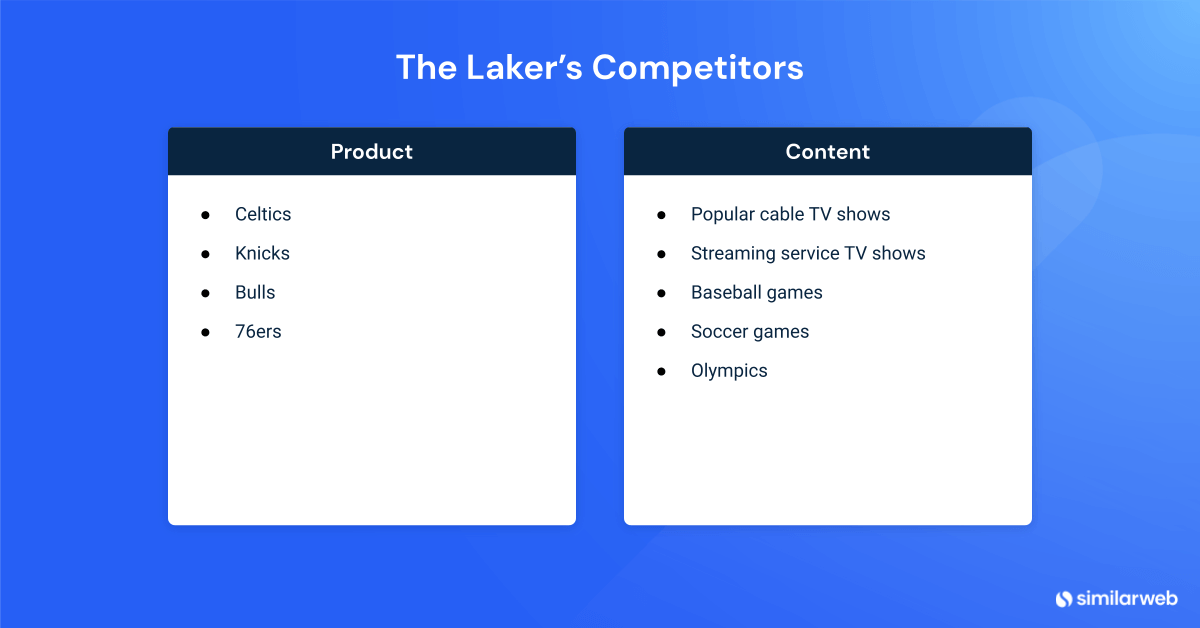 This also applies to content marketing. You may have similar products to another company, but your content could put you in a different league. Alternatively, your content may be competing with content written by a company with products different than yours. As you develop your content strategy, it's important to understand who your content competitors are and how to get a leg up on them.
What is a competitive content analysis?
A competitive content analysis is the process of understanding and assessing your competitors' content strategies.
What does that mean exactly? Reviewing their messaging, tone, and structure, as well as diving deeper into their blogs, social media, and any other type of content they write. You'll find out their top-performing content, weak areas, and opportunities for you to swoop in.
Who are content competitors?
Let's say your company sells nutritional supplements. Your direct competitors would be other companies selling nutritional supplements. Your indirect competitors may be other brands or aggregators selling other types of food additives. Your replacement competitors may be organic food sellers that promise the same health benefits as nutritional supplements.
Similarly, you might have direct competitors publishing the same type of content that you do, indirect competitors in your industry who publish different content, and replacement competitors with content that responds to the same needs yours does, but for a different purpose. Make sense so far?
Good, let's go back to our nutritional supplements company for a moment. Its content competitors may include influencers, celebrities, or blogs that don't sell supplements but provide content in the health industry.
Find out what companies provide content for your same target audience. These are your content competitors.
How to do a competitive content analysis
Just like a general competitive analysis helps you build a business plan and marketing strategy, a competitive content analysis is the basis for your content strategy. It's extremely important in building the foundation for your success that will help you:
Create competitive benchmarks -– You will understand what is standard in your industry, what your customers expect, and how they engage.
Find gaps and opportunities -– You will analyze competitors' content performance and see where you can provide what is missing in the industry.
Ensure unique and relevant content -– You'll know how your content differs from competitors and what to write to stay ahead of the curve.
Ready to get started? This is an in-depth and enlightening process that will surely give your company an advantage. All you need to do is follow these five steps: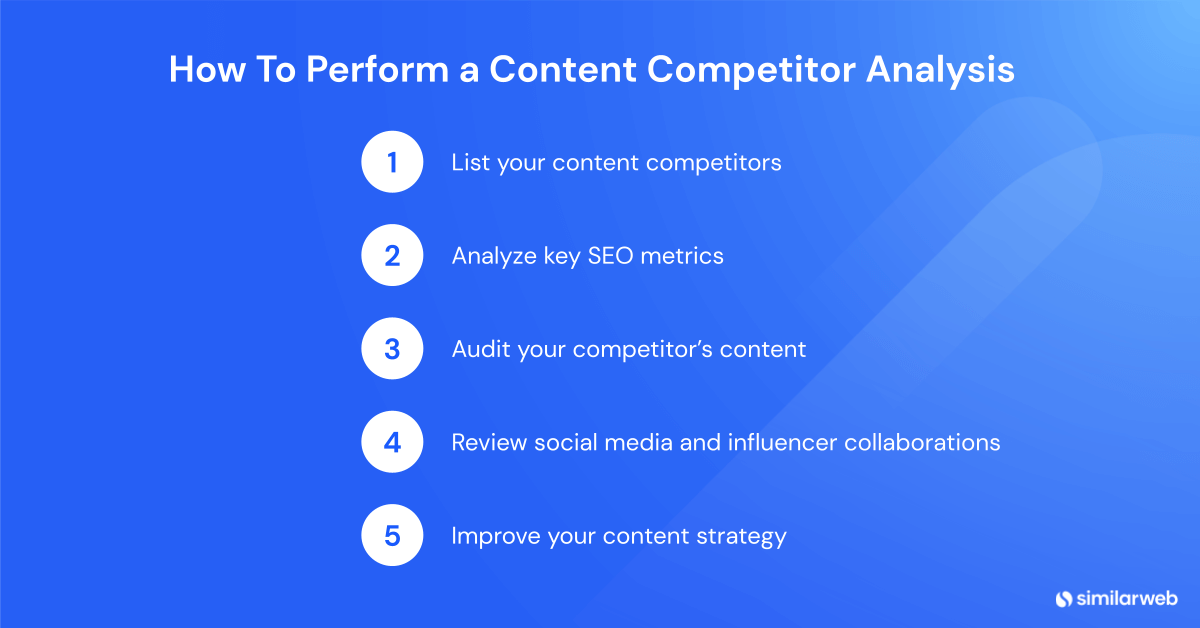 1. List your competitors
If you've already done a competitive analysis, this is a great place to start. Some of these competitors may also be your content competitors. Check out the content on your product competitors' websites to see if it competes with yours. You may also have to think creatively to find your other content competitors who are not competing to sell the same products.
2. Analyze key SEO metrics
Sure, reading your competitors' content might give you a good idea about what they're doing, but if you want to know what's working and get insights into what drives their strategy, SEO is where it's at. These are a few key SEO metrics that you should analyze:
Organic traffic
This tells you how many visitors are coming to your competitors' websites from organic searches. Not only does this give you a good benchmark of what you can expect in your industry, but it also tells you how good at SEO your competitors are.
You can analyze a website's organic traffic with Similarweb Organic Search Overview. You'll see the website's number of visitors, what percentage came from organic, paid traffic, and branded traffic, or traffic that came from visitors specifically searching for that company. You'll also see which keywords this website ranks for. You might want to save these to use in your own content strategy.
Domain authority
Domain authority can tell you how effective a company is in its marketing efforts. You've probably heard of the importance of E-A-T (Expertise, Authoritativeness, and Trustworthiness) when it comes to Google and search results.
Your domain authority relies on whether your website has EAT. If it does, your SERP ranking will improve and help drive more traffic from organic searches.
Google uses more than 200 factors to rank a domain score, including:
Site age
Page load speed
Content relevance
Frequency of updates
Site structure
Inbound links
Referring domains
It's impossible to know exactly how Google assigns domain authority, but a good estimate would be a site's ranking. Similarweb measures websites' global, country, and industry rank.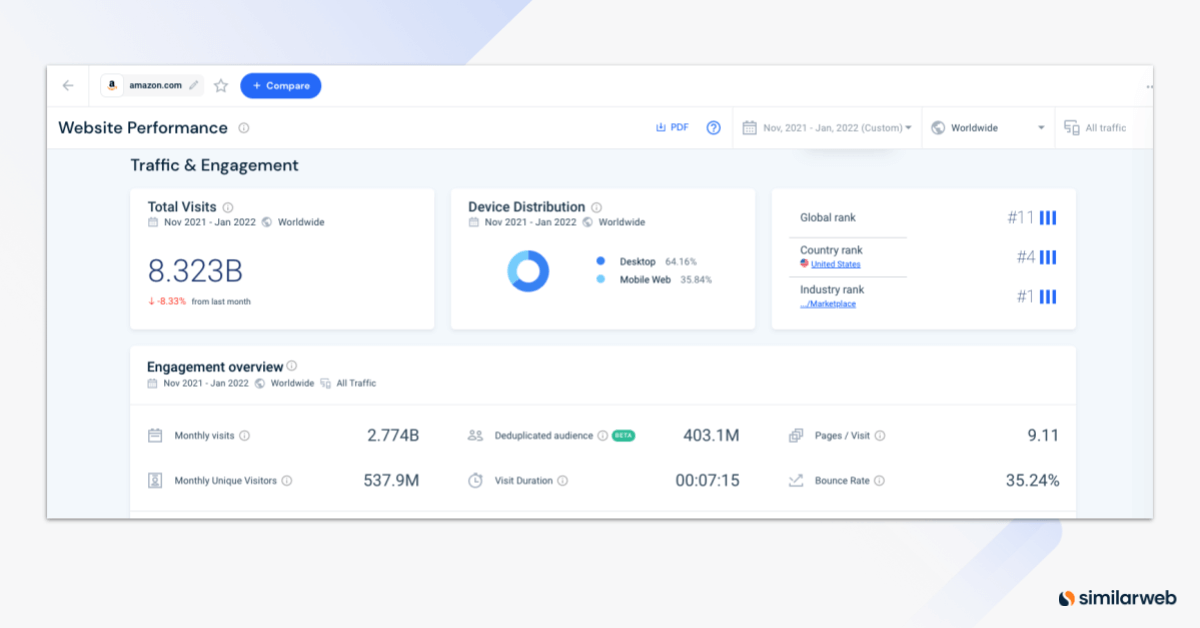 On-site engagement
Once you know how many users are visiting a website and how Google ranks the site, it's important to know how engaging the content is to website visitors.
Determine the quality of the visitors' experience by finding out:
Visit duration – How much time are visitors spending on the site?
Page views – How many pages are visitors looking at?
Bounce rate – What's the share of visitors leaving the site without any interaction?
Why? If a page has a high bounce rate, you might be able to assume that the content doesn't quickly engage the visitor or that it's not aligned with the page's title. If you see a long duration and a high number of page views, this is a good indication that people are very engaged with the content.
You can see these engagement metrics on the Similarweb website performance page as shown above.
You can also analyze engagement by looking at the company's marketing channels and website referrals. For example, if you look at the company's social media pages, you can see how many people comment, like, or share their posts. With the Similarweb Marketing Channels Overview, you can also determine how much website traffic comes from these different sources.
Target keywords
Now that we know how engaging a website's content is, it's important to analyze how people are accessing the content. Doing this is simpler than it sounds.
Start by analyzing which keywords the company is targeting and how they're performing for each keyword. With the Similarweb Keyword Tool, you can see all the keywords driving both paid and organic traffic to a company's website. This tells you which keywords the company thinks are important for its content.
You'll also learn how competitive keywords are and may find some opportunities for good keywords for you to target.
Backlinks
Backlinks are important for proving that your website has E-A-T. If other websites refer to your content, this tells Google that your content is useful and trustworthy.
We recommend using a free tool like Small SEO Tools' Backlink Checker or Google Search Console's link report to find a website's backlinks.
Similarweb is also useful to get a high-level overview of top referral sources for a competitor. You can review the top referring websites and industries to see which other websites drive the most traffic to your competitors. These might be good targets for you to partner with to get your own backlinks.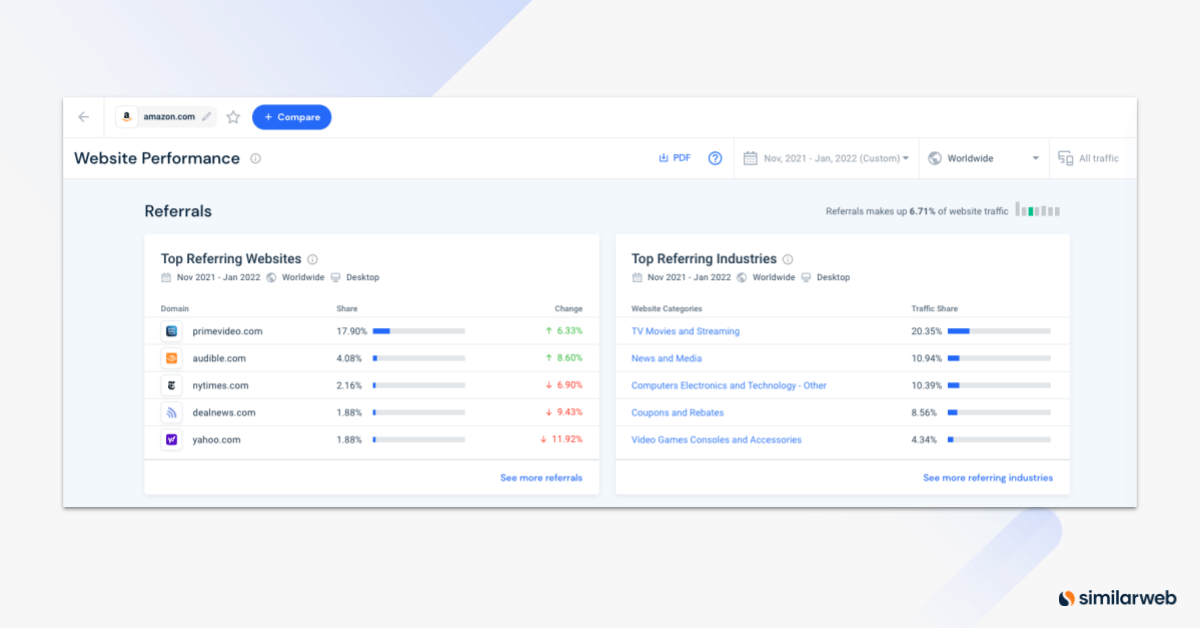 3. Audit competitor's content
Now that you know your competitors' SEO metrics and have an idea of what does and doesn't work, you can do a full audit of their content to get a better understanding of what they're doing. Ask yourself the following questions:
What are the main categories of their content?
What does the content cover?
Are there subtopics?
What language do they use to describe their topics?
How is the content organized?
This will give you a good idea of the themes and content in your industry.
What content formats do they use?
Do they publish a blog or a knowledge base?
Are they publishing whitepapers, hosting webinars, or podcasts?
Do they have video content?
Do different formats yield different engagement?
This will give you an idea of what types of content people in this industry expect and engage with.
How often do they publish?
Do they provide frequent content? Or does it seem out-of-date?
Does it seem scheduled or at random frequencies?
If they are investing in frequent content, this is a good sign that they've found content beneficial for their business.
What calls-to-action are they using?
Do they want readers to sign up for a newsletter? Join a community? Buy something?
This is good insight into their user acquisition strategy and the purpose of their content. If you see a pattern, this might indicate that this CTA works in your industry.
What channels do they use?
Are they publishing on social media? Their own website?
Are they guest-writing for other websites?
This is also a good indicator of their user acquisition strategy and what channels work in the industry.
What is the content's overall quality?
Is the content original and well-written?
Do they use quality images and design?
Is it easy to read?
Are there grammar mistakes?
This is a good indication of how much effort companies are investing in their content.
Who are they writing for?
Can you determine their buyer persona?
Do they use specific language for their audience?
If you already know your marketing personas, you can see if the language you use to talk to them aligns with how your competitors talk to them.
What does their content team look like?
Do they have an in-house content team? Or do they outsource their content creation?
If they have an in-house team, you can go even further and look up the team members on LinkedIn to see how much experience they have and what their content specialties are.
4. Review social media and influencer collaborations
We've touched on social media and how it brings referrals to your competitors' websites. It's also important to look at social media to see what competitors are publishing there and how users engage with them there. You should look at what social media channels they're using, what content they publish, at what frequency, and with what engagement.
Are users responding to their posts? Liking, commenting, or sharing? Are users praising them? Complaining? This is your direct window into what users are thinking. Don't overlook it!
Influencer collaborations can also provide insight into a competitors' content strategy. What type of influencers do your competitors work with? What are influencers publishing about them? Influencer collaboration can be a lucrative investment in some industries, so you might want to look into whether it can be useful for you.
5. Improve your content strategy
You've probably gathered a ton of insights and ideas while doing this competitive content analysis. Now it's time to turn those ideas into action. Maybe you found some good keyword opportunities and you want to create new content to target them. Maybe you decided that it would be a good idea to open a new channel to publish content. Or maybe you realized you need to overhaul the whole structure of your content.
Whatever you decide to do, it's important that you set benchmarks for yourself to track how your content strategy has improved after you make the changes.
You got this!
It's important to remember that strategy is an ever-evolving animal. Your competitors may be doing their own analysis and making their own changes, just like you are. To ensure you're always in the know, it's important to review your competitors' content analysis periodically to see what's changing. You might find that your competitors are trending into new types of content, or that certain keywords are really heating up.
Keep your finger on the pulse and you'll know how to continually improve your content strategy.
FAQ
Why should I do a competitive content analysis?
By analyzing what your content competitors are doing, you can get a great idea of what type of content to create and how users will respond to it.
How can I find out who are my content competitors?
Find out what companies provide content for your same target audience. These are your content competitors.
How often do I need to do a competitive content analysis?
It might be a good idea to do a full analysis annually, but conduct a smaller review each month or quarter. See what works for you, based on your capacity and content strategy.
How do I know if my content strategy is improving?
Before you make any changes to your strategy, analyze your own content. Review your SEO metrics and audit your content to set a benchmark for your starting point. After you've made some changes, revisit to see what's improved and by how much.
This post is subject to Similarweb legal notices and
disclaimers
.
Wondering what Similarweb can do for you?
Here are two ways you can get started with Similarweb today!