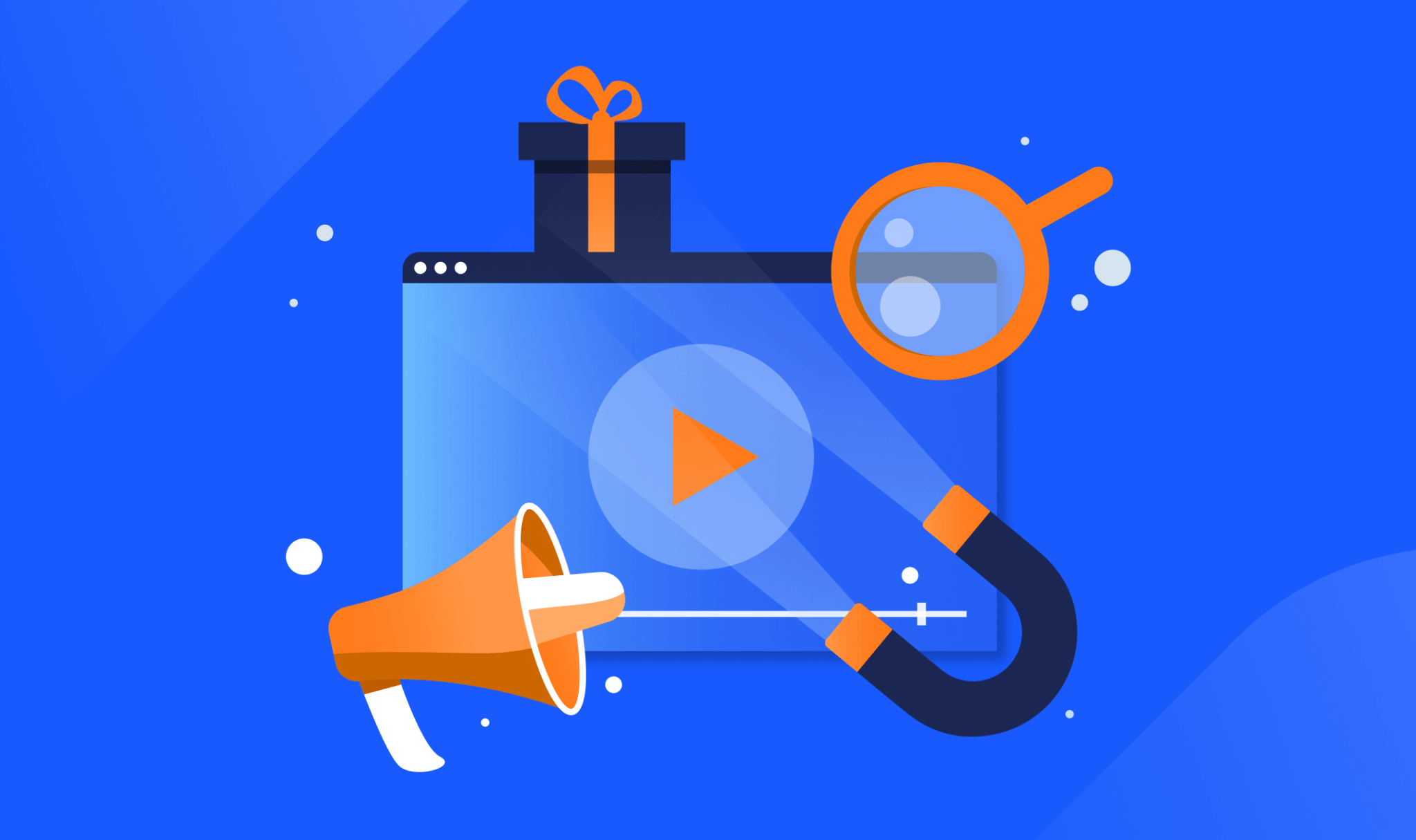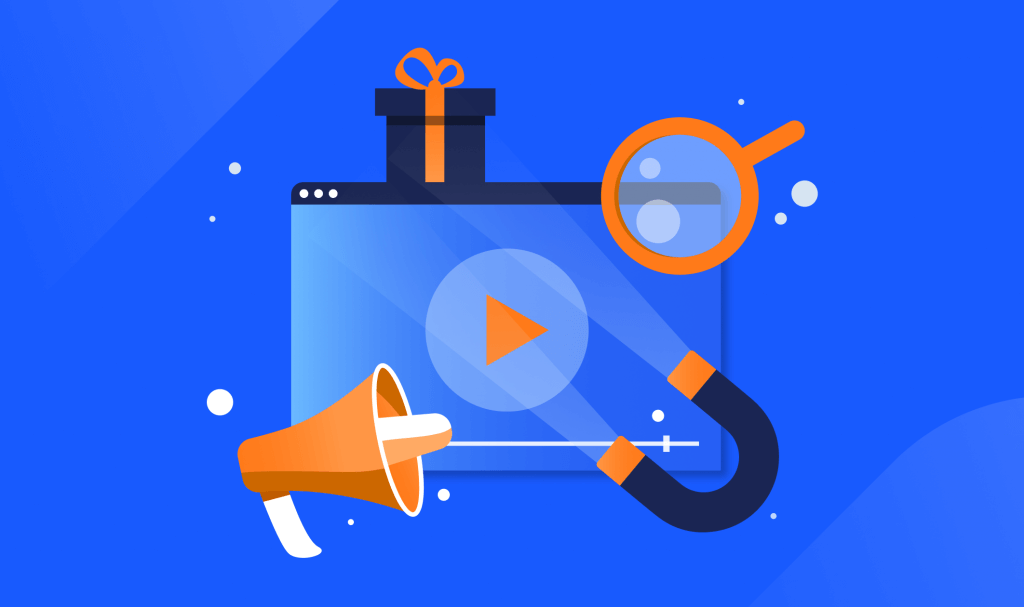 Marketing Intelligence
Set Up Your Video Marketing Strategy in 8 Steps
May 24, 2022
| Updated September 12, 2022
If you don't have a video marketing strategy yet, you better buckle down. The time when posting a video was enough to make you stand out is over. Everybody and their grandma post videos today.
There's so much video content going around that viewers don't know where to look first. Unless you have a video marketing strategy, your video content will get swept away in the video content tsunami. It'll drain your budget, steal your time and exhaust your resources.
Sure, making videos is a lot of fun. Strategizing, on the other hand, sounds heavy. But you won't have either video or fun if you don't get started, and the sooner, the better. To make it simple, we've gathered the most crucial actions for your online video marketing strategy in this blog post. You can get started right away because we've thrown in a simple, downloadable checklist.
What the numbers tell you about the importance of video marketing
Let's look at some statistics that help you wrap your head around the video marketing phenomenon: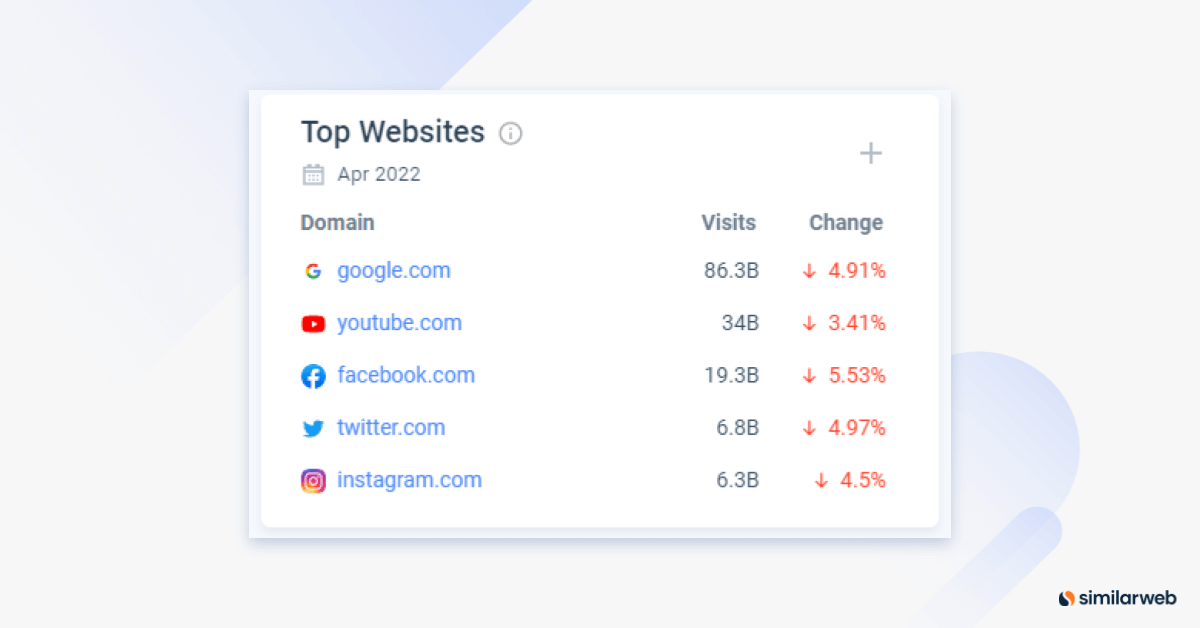 Hootsuite found that 92% of internet users watch some form of online video content each week.
According to YouTube, the site has over 2 billion monthly logged-in visitors.
Statista research reveals that 62% of users access YouTube daily, and the average visit duration is 30 minutes.
Is your head spinning? We haven't even mentioned advertising yet…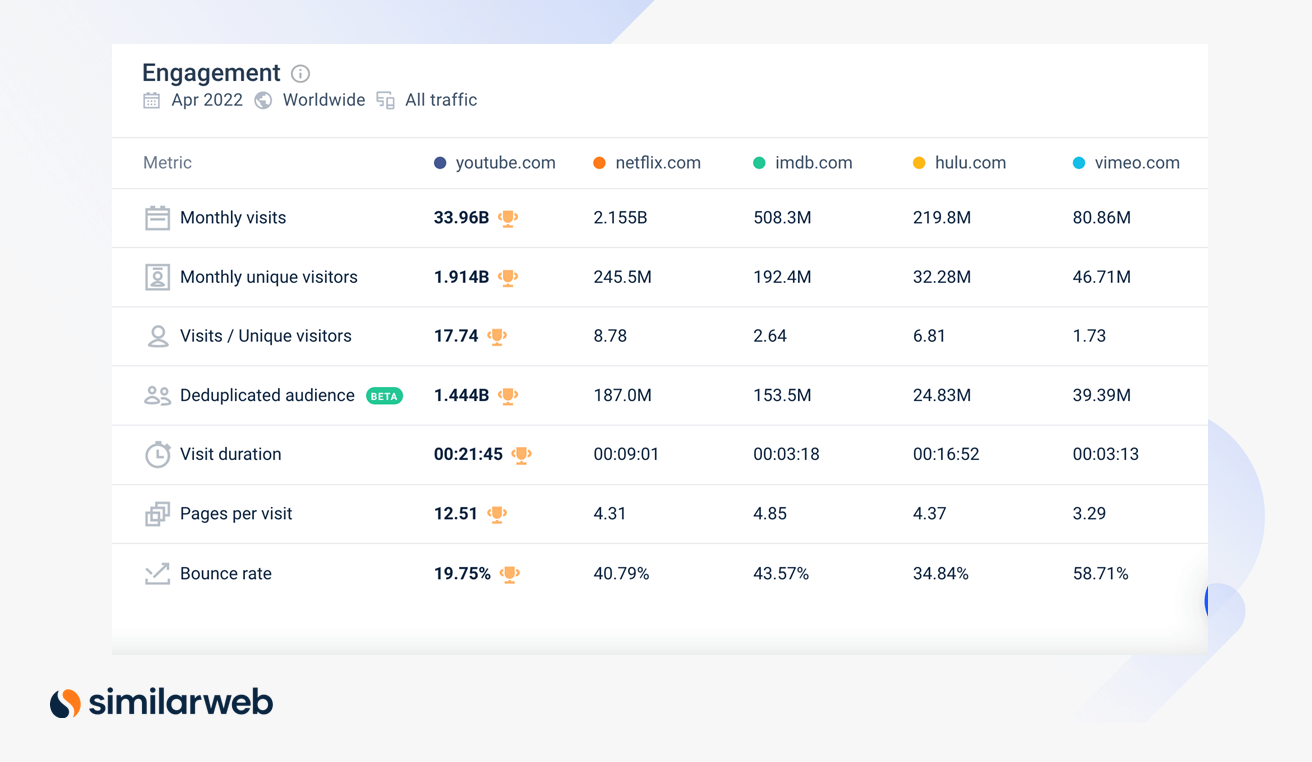 What is video marketing and why does it work?
Video marketing means using video to promote your brand or product. There are a gazillion ways of leveraging video for your business. You can do video advertising in the form of short ad clips, banners, sponsored videos, live videos, etc.
Video can be part of your content marketing framework and form the center of your social media engagement. The possibilities are endless, from product videos to educational videos, explainer videos, personal videos, video reviews, and many more types of videos.
Moving images grab attention more quickly than static content such as text or images. Video engages multiple senses making it that much easier for you to get through to people. It also gives you more tools to evoke emotion and get your message across.
But how do you know what will work for your business? Should you post fun stuff on TikTok, how-to guides on Vimeo, promotional clips on Instagram, or video ads on YouTube? Or maybe all of it?
A step-by-step plan helps you get started, find the answers, and stay on track till you reach your video marketing goals. Follow these eight steps and download the cheat sheet for easy reference.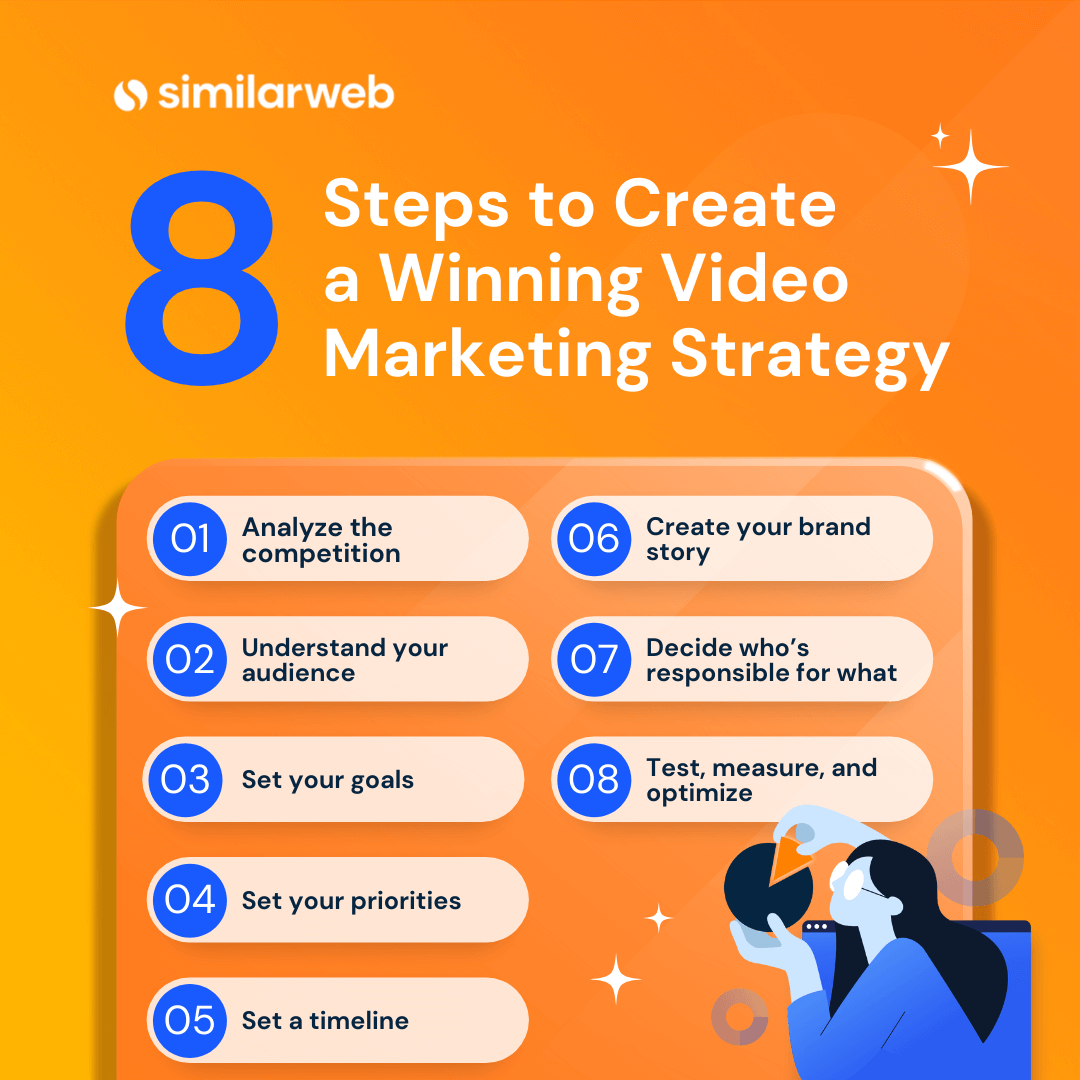 How to create a winning video marketing strategy
Any marketing strategy should start with the target audience and competitive market analysis. The same is true for your video marketing strategy.
Here's the good news; video is generally part of content marketing, so you probably don't have to start at square one. If you already have a content marketing strategy, video marketing is an enhancement. You can weave the video marketing tactics into your content marketing efforts.
Begin by researching how the audience consumes video content and how the competition incorporates video into their digital marketing strategy.
Step 1 – analyze the competition
See what your competitors do and what works for them. This tells you where you need to be and how you can stand out. Ask these questions:
What type of videos do they use?
In which stage are they effective (which goal do they pursue? Awareness, authority, attention, product guidance, credibility, engagement?)
Which channel do they use?
What's the standard of quality and what's the style of their videos?
How frequently do they post video content?
How do they incorporate video with other content?
Follow our guidance to carry out a complete YouTube competitive analysis.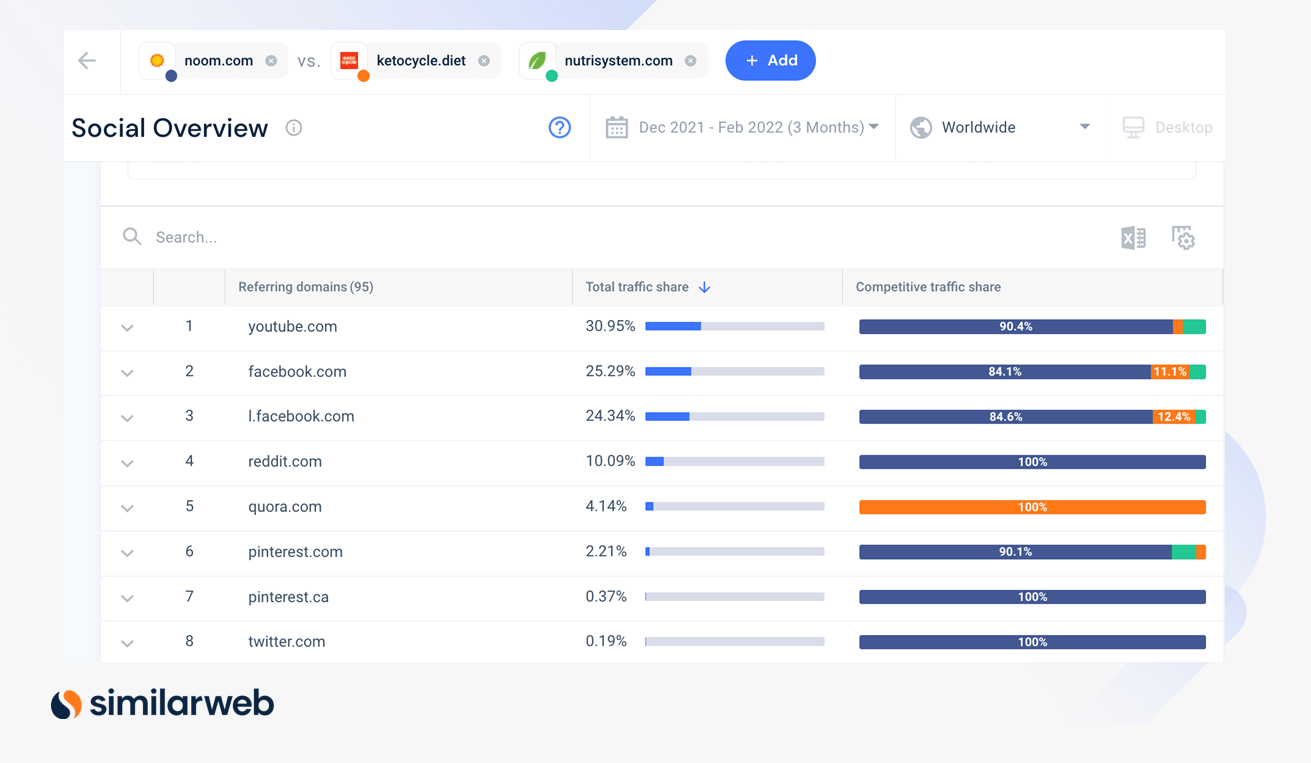 Step 2 – understand your audience
In your competitive analysis, you'll also investigate audience demographics and behavior. Compare your competitors' audiences with your target audience. Then dig into the engagement metrics. Find out how effective an acquisition channel YouTube is for competitors with a similar audience. Check the types and level of engagement and audience loyalty.
According to Statista, close to 54% of YouTube users are male, compared to 46% female (no data on additional genders currently available). The most active age group on Youtube is between 15 and 35 years.
Similarweb stats on streaming sites in general reveal similar numbers. 58% male and 42% female.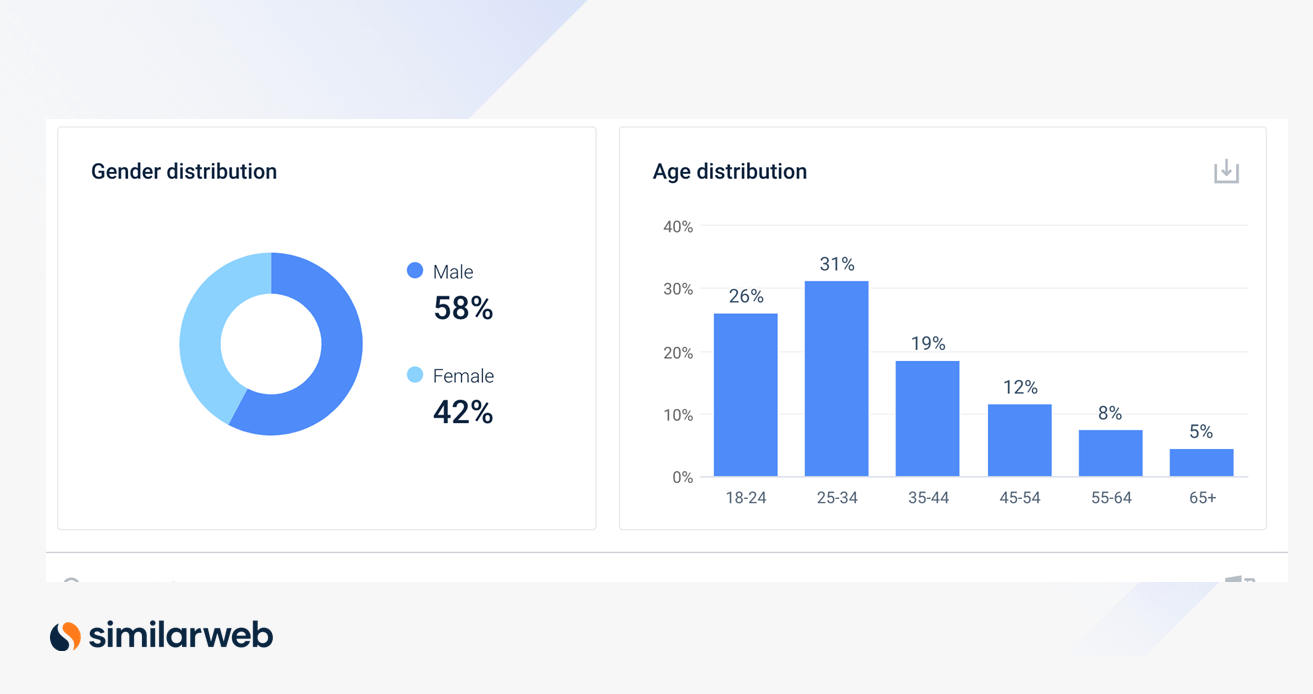 This characterizes the audience most susceptible to video. The percentages may, of course, vary per industry and type of product or type of video content. So, examine your audience so you know who you need to reach and how you can drive engagement.
Step 3 – set your goals
Now that you are aware of the market landscape and your audience, you can set goals for what you want your videos to achieve. Remember, the first rule for setting marketing goals is to go hand in hand with your business goals. Video marketing can help you achieve existing goals faster, shoot higher and expand your reach. Video marketing allows you to set your goals more ambitiously.
Actually, let's rephrase that: Video marketing charges you with being more ambitious. If you do video marketing just so you won't fall behind, you're already behind. Video marketing tactics are evolving, and new technologies are popping up daily. Video quality is increasing, and creating them is getting simpler.
To keep up with the Jones', think big and imagine the next big thing in video marketing. The standards and benchmarks are rising, and you need to consider that.
Step 4 – set your priorities
On the other hand, be realistic. You need a budget, sufficient staff, and the technical infrastructure to reach your ambitious goals. Based on your competitor analysis and the audience research, you can decide where video content will have the strongest impact and is most needed.
If your main objective is to raise awareness and get attention, focus on a specific type of video for a particular audience in a distinct buyer journey stage. For example, you may post short, fun clips on social media to attract the target audience and lead them to other types of content.
Step 5 – set a timeline
After prioritizing your goals, determine how much time you'll need to achieve each one. Set them on a timeline to gradually build your video presence. You may start by using video to enhance and distribute other content. You may want to start with only one or two channels and only one type of video.
Another approach is to create a video funnel aligned with the marketing funnel. This means creating a series of videos that relate to each other and take the customer through the stages. Each video should have a recurring theme to show they are related.
Step 6 – create your brand story
Every brand has a message; strong brands have a story. A story includes a hero, a conflict that needs solving, and a preferably unexpected solution. The video content must be aligned with the brand story and is an excellent medium to tell it.
At the very least, your videos should be recognizable as your brand. Videos need to reflect the brand's character and voice. They function as an enhancement to both and mustn't conflict with each other or other content.
Use storytelling techniques and set a framework and essential guidelines of what can or can't be done. If you already have a style guide, adapt existing brand colors to your video guidelines. You may also want to consider brand rules for video distribution.
Step 7 – decide who's responsible for what
Videos can and should involve various departments and functions in the company. True, you don't need much if you decide to focus on social media, and everyone can use their mobile phones to shoot, edit, and upload. But the chances are that won't be enough in the long run.
As your video marketing activities expand, you'll need writers to write scripts, designers to create storyboards and animations, people to shoot a real-life video, and others who are willing (and able) to present and edit.
Determine how to fill these functions and if training is needed. Someone also needs to own each project and make sure they get posted and distributed on the different channels.
Download and pin this video marketing checklist to your noticeboard to help you stay organized.
Step 8 – test, measure, and optimize
The moment you publish your video, it should receive the same treatment as other content. There are elements that you want to test and evaluate. For example, you need to decide where your video content "lives" so you can then distribute it through your various channels.
A secret tip: make sure it lives in a place that allows for easy sharing and embedding. This way, you can test the performance of various channels and don't limit yourself.
Measure performance, keep benchmarking, and analyze for optimization. Optimizing video content isn't all that simple. You can't just change a few words in the script or insert a scene etc. That's why it's essential to test and learn from what works well so that you can repeat it.
Types of marketing videos
Where to start with this? The list of video types is long and getting longer as you read this post. For the purpose of this post , we'll keep it simple and divide into three categories.
Commercial videos
Use video directly to sell; push the prospect to reach a buying decision.
Commercial videos are primarily video ads and promotional videos. This includes paid video ads and other forms of video advertising.
In Q4 of 2021, YouTube generated $8.6 in ad revenue. This was a 25% YoY increase from 2020.
Informational videos
Educate and inform, build authority and awareness to draw your target audience in.
Informational videos are how-to videos, Q&A videos, explainer videos, and so on. These are a very common component of content marketing, and they are suitable for blogs, websites, and some social media.
Hootsuite claims after researching: One-third of internet users have watched a tutorial or how-to video this week.
Entertaining videos
Offer something fun to expand your reach, raise curiosity and foster loyalty.
Entertaining videos are a relatively new thing and seem to conquer the entire video marketing landscape – or at least social media. You know what we're talking about: short reels with cute cat images, funny situations, impressions, jokes, you see them. Often these clips carry a distinct message, other times they simply make you smile. Entertainment videos also include footage of an internal event, a sneak peek at the company gym, or the new office space.
Here are some more numbers from the Hootsuite report to help you grab the extent: YouTube Shorts receive 15 billion daily views. And by the way, 99% of YouTube users also are on other social media platforms.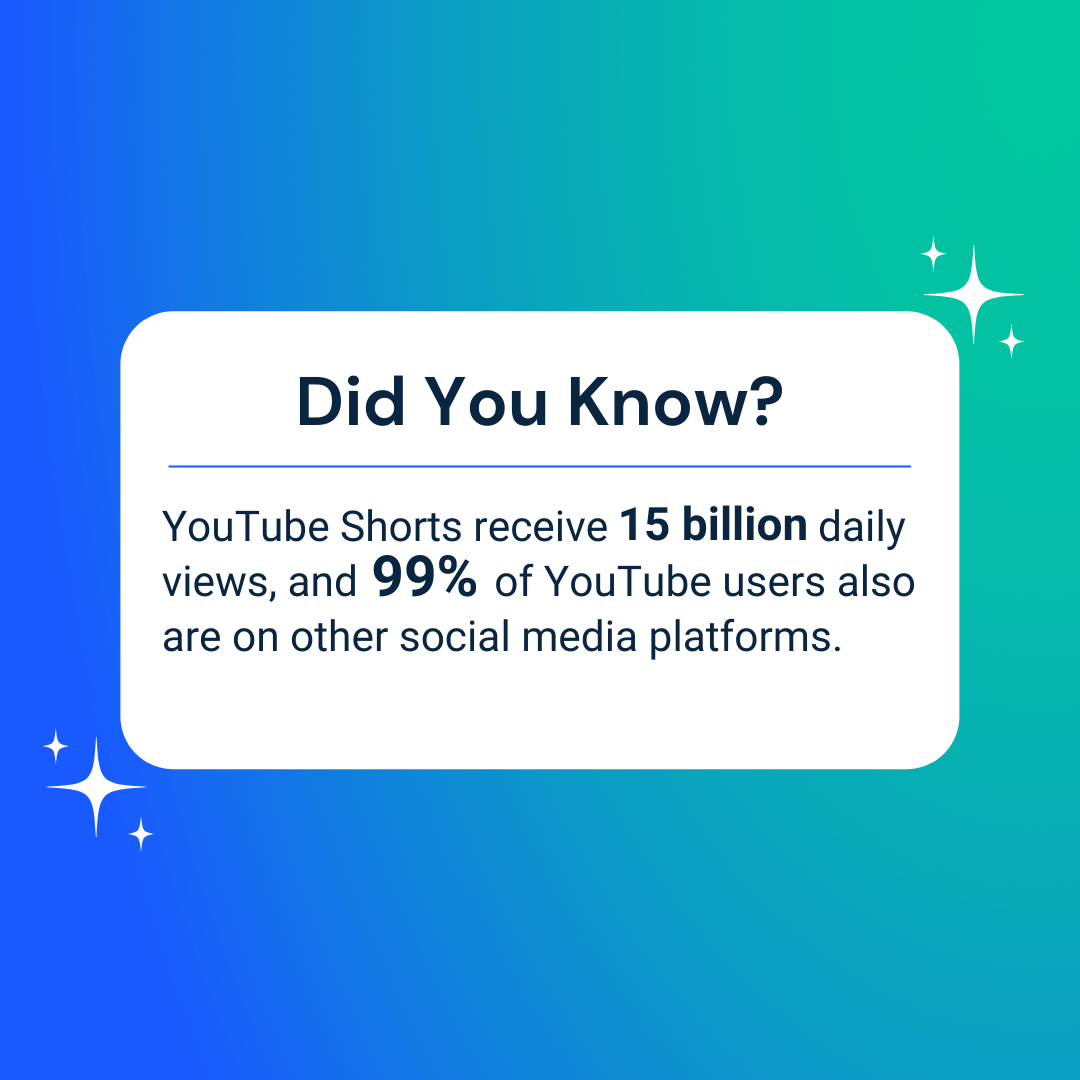 You see how these accompany the different stages in the buyer journey? Depending on the goal you have set for your videos, you'll select the character. In each category, you have a variety of video types, and often they overlap:
Online video marketing example
There are plenty of excellent examples of video marketing out there. But for this one, we've decided to toot our own horn a little bit. Well, also because we know how we strategize it and that the eight steps worked for us.
We'll show you an example of our latest video campaign and how we market it.
We analyzed competition and audience using our Digital Marketing Research Intelligence – steps 1 and 2 – and realized it's time to show our audience a good time. As the target audience we identified prospects who've already been exposed to Similarweb. Competition is tough, and at this point, the challenge is to prove our uniqueness.
;
Similarweb Winning Moments Campaign
From there, we derived the primary goal, which was to demonstrate Similarweb's capability to provide competitive digital intelligence based on reliable and accurate data turned into actionable insights. In other words, strengthen awareness of our unique value proposition. This would increase branded search and increase traffic.
In step 4, we decided that this campaign would have priority over other campaigns and should be supported through multiple marketing channels. Our focus was on You Tube, organic social, paid social and media buys. We created a timeline for the launch and distribution of the videos. Besides the official channels, we also encouraged everyone at Similarweb to share the videos on their personal profiles. Notice that we're already in step 5. And now comes the fun and creative part.
Winning over the competition is our story
The story is built around winning over the competition, so we created an analogy to sports. Our heroes are athletes in various digital competitions. Marketers appear as basketball or tennis players; the sales staff turn into boxers and golfers, and analysts get to flip somersaults as gymnasts.
We won't get into who did what, but you already know that we got nearly the entire company onboard sharing the fun videos. Before the big launch, though, we tested some of the videos on a selected audience segment. Currently, we are measuring performance. So far it looks like we'll meet our goals. View rate of the videos is 46% with an 53% increase in branded search clicks. The number of new users increased by a whooping 165%.
Lights, camera, action – your show!
Eight steps that smoothly transition from one to the next. If we can do it, so can you. Grab the cheat sheet, sign up free for Similarweb to get accurate data, and walk through the steps.
FAQ
What are the types of video marketing?
You can use video marketing in the form of ads and promotional videos to sell directly. Another option is to incorporate informational video content into your content marketing strategy. Another popular type of video marketing focuses primarily on social media.
Why is a video marketing strategy important?
Video marketing is becoming increasingly popular, and the amount of video content on the web is tremendous. You need a clear plan and roadmap to avoid getting lost among the competition and overlooked by your audience.
How can I market my videos?
Video is content, and you can use content marketing strategies as well as SEO and paid advertising. Many businesses use social media as their top video marketing channel.
Is online video marketing effective?
Yes, if done right, video marketing can be highly effective.
This post is subject to Similarweb legal notices and
disclaimers
.
Wondering what Similarweb can do for you?
Here are two ways you can get started with Similarweb today!