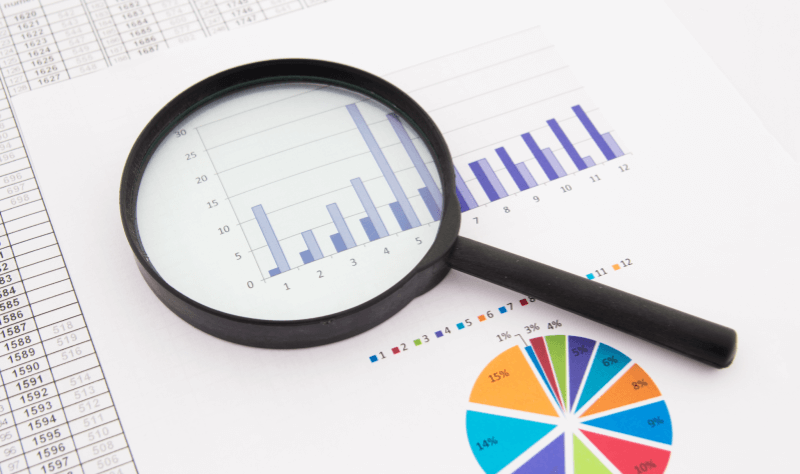 Marketing Intelligence
Competitor Monitoring: How to Track Your Competitors Online
April 7, 2022
| Updated September 18, 2022
Competitive monitoring is the cornerstone of any good business strategy, yet many enterprises mistakenly brush it aside. You wouldn't run a marathon blindfolded, so why would you run a marketing campaign in the dark?
Understanding what you're up against is essential to success in any industry. Keeping an eye on industry giants as well as buzzy newcomers will allow your business to stay in-the-know. It can greatly affect all aspects of your business strategies, from which products you offer to how you market them.
If you aren't performing competitive monitoring on the regular, there's a big chance your business will be left in the dust. But if you learn how to do competitor monitoring properly using the right competition tracking tools, you can stay one step ahead of the competition every time.
What is competitive monitoring?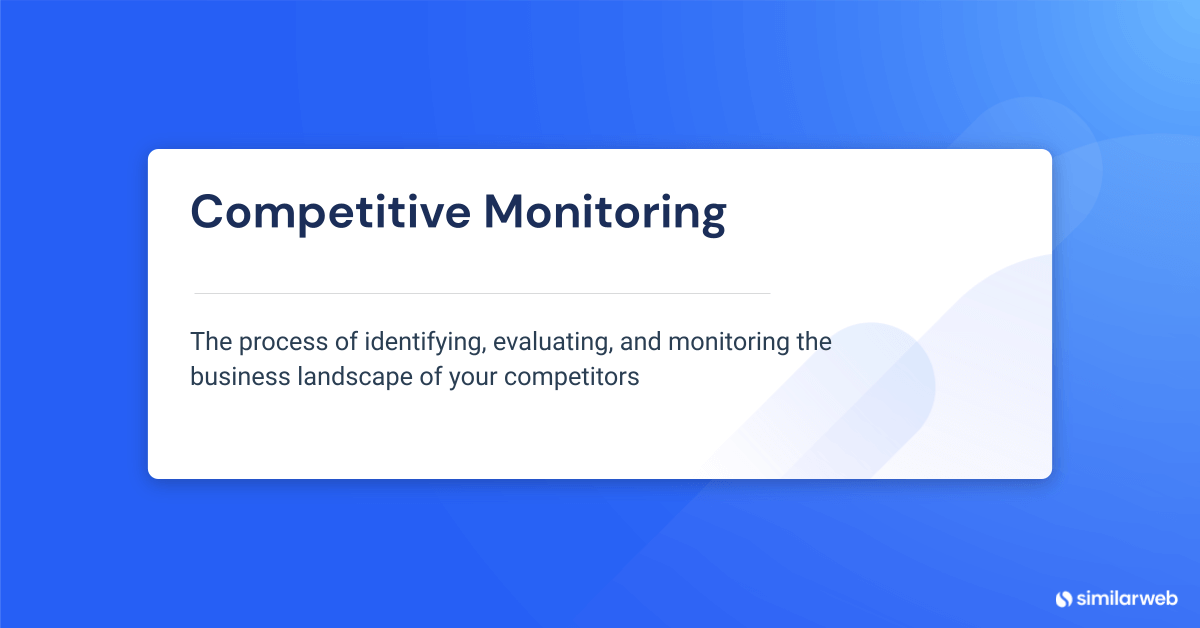 Competitive monitoring is the process of identifying, evaluating, and monitoring the business landscape of your competitors. This marketing and strategy management process examines factors such as: the competition's sales prospecting, offerings, pricing, marketing tactics, and product launches and developments.
There are many benefits to analyzing and reviewing the competition, including:
Allows your business to make better data-driven choices, instead of relying on hunches
Learn from their successes to improve your own strategies
Reveal their weaknesses and use any shortcomings to your advantage
Receive intel that may hint at future objectives
Increase sales and ROI due to continuous adaptations to market changes
Understand market gaps and how you can fill them
You can think of competitive monitoring as a window into your industry as a whole, allowing you to see where the market is moving and what's going on around you. Having this birds-eye-view is critical to any business trying to grow and become a leader in their niche.
Which competitors should you be monitoring?
There's two categories of competitors that you should regularly be tracking: direct competitors and indirect competitors. Here's how to identify both.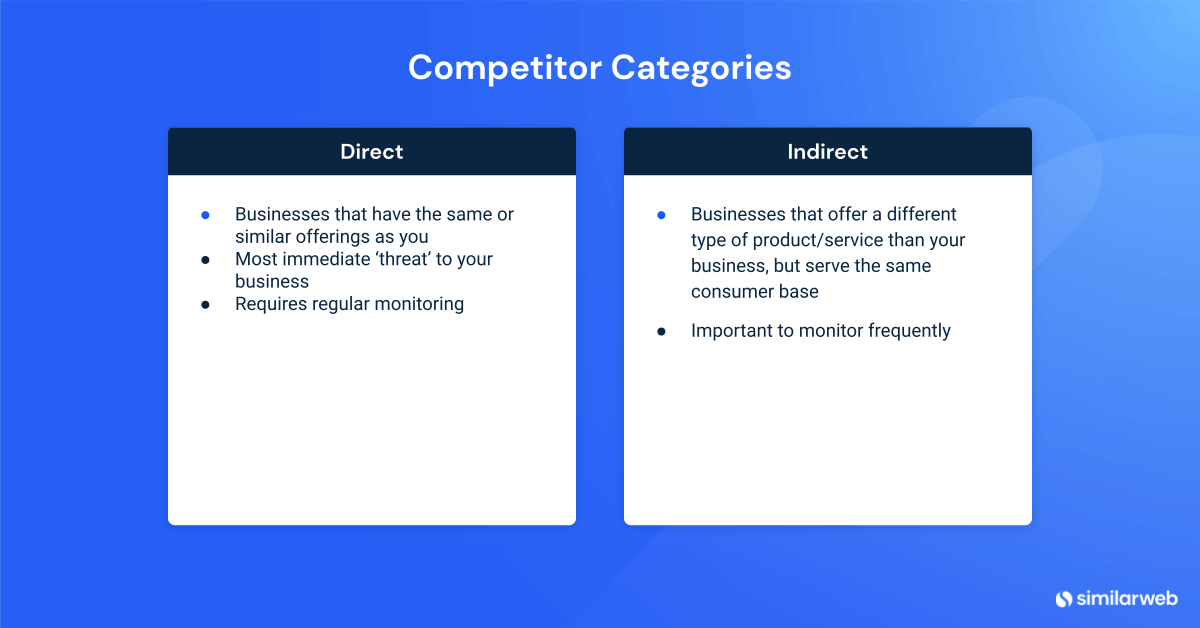 Direct competitors
Direct competitors are businesses that have the same or similar offerings as your own business. This type of competition is the most crucial to regularly monitor, considering it's the most immediate threat to your business.
If there's one thing consumers have, it's options – and lots of them. That in mind, you can pretty much expect that potential customers will compare your offering to the offering of many, many others. And if you can identify where your competitors fall short, you can win a lot more business when potential users see that what you've got better satisfies their needs.
Let's say you're the home of fresh, never frozen beef itself – Wendy's – for example. If you're Wendy's, then your direct competitors would be McDonald's, Burger King, Arby's, Chick-fil-A, and the like. You can be sure that Wendy's has got entire teams on deck that are constantly monitoring and tracking these direct competitors in order to see how it can stay ahead of its competition – Frosty, anyone?.
Indirect competitors
Indirect competitors are businesses that offer a different type of product or service than your business, but still serve the same consumer base. They're not as threatening to your business as direct competitors, but they're still important to keep an eye on.
The information you glean from tracking indirect competitors offers new perspectives and ideas that your business may have missed before. It widens your scope of focus and broadens your view of the industry you're in. As a result, it can spark new strategies to grow and adapt.
For example, let's say you run an at-home workout subscription. Your indirect competitors would be in-person gyms like Planet Fitness and Gold's Gym. You both solve the same customer problem, but in different ways.
Who in your organization should be tracking competitors?
In short, pretty much every part of your organization can benefit from monitoring competition. A rank tracker tool can help with customized dashboards for each business unit.
Leadership: Company leadership should constantly keep an eye on what their competitors are doing, and have a deep understanding of their business models, marketing tactics, etc. This not only fosters better-informed business decisions, but is also crucial for explaining to investors why they should invest in you, and not the other guys.
Product teams: Through competitive monitoring, product teams can uncover newly developed offerings and feature announcements, as well as products your competition has decided to discontinue. This is valuable information for developing strategies on how to differentiate your offerings from the rest.
Business development teams: Any good business developer understands the importance of competitor tracking. It's essential for understanding the current state of the industry, new and unexplored market opportunities, as well as strategic partnership opportunities.
Marketing teams: Competitive monitoring helps marketers understand how competitors are positioning themselves, which audiences they're targeting, what channels they're using, etc. All this is gold for coming up with winning, data-driven marketing strategies.
Sales teams: When trying to make a sale, it's essential to be able to explain to prospects exactly how your offerings compare to the competition – and, ideally, how your business outperforms them.
How can you monitor your competitors with Similarweb?
In order to properly monitor your competitors, you're going to need some competitor tracking tools. This will save you many precious hours of manual research and cut out any doubt on whether your data is accurate or not.
Similarweb Digital Marketing Intelligence offers a suite of competitive intelligence analysis tools that make competitor monitoring a breeze.
The Competitive Tracker tool, in particular, is especially useful for competitive tracking – hence the name. Simply choose your website and up to 10 competitors, and you can instantly see a birds-eye-view of changes, trends, and other insights over a period of time.
With just a click, you can get as granular and detailed as you like. You'll quickly discover new competitor trends and changes within seconds. Without this tool, it may take your team hours to get the same kind of information (if you manage to find it at all).
Discover insights such as:
Your rank amongst your competitors for that channel
Traffic changes by channel
Trending or new keywords and topics
Paid keyword bids
Trending or new referral sources
What are the most critical competitor data points to track?
It's important that you track a variety of metrics to get a holistic view of your competitor's websites. Your goal is to understand their full performance across channels. Here are a few different metrics we suggest tracking.
Website traffic
Understanding your competitors' traffic sources can uncover a lot of interesting insights. With Similarweb, you can check competitors' website traffic and reveal exactly how much traffic your competitors are getting over time from:
Direct
Mail
Referrals
Search
Social
Display Ads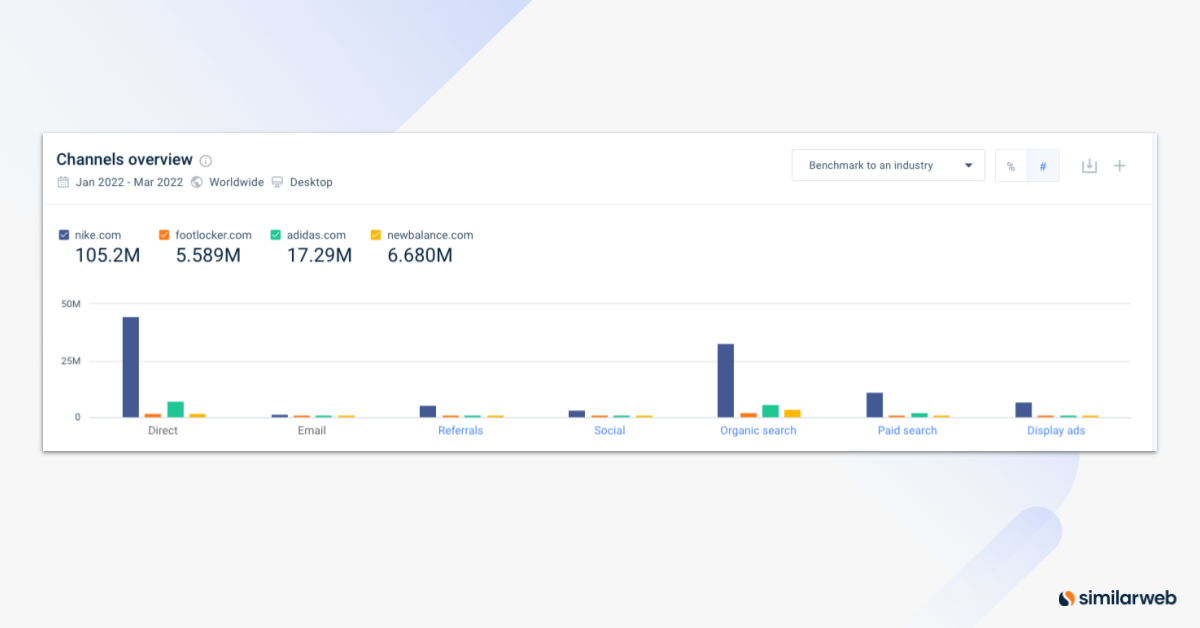 Seeing which inbound traffic sources are strongest (and weakest) is highly valuable for marketing and sales strategies in terms of traffic quantity and quality. You'll be able to see which tactics are working well for your rivals, and which aren't. This will help you and your team revise your marketing tactics to both take inspiration from the competition, as well as fill in the gaps that others in your niche have neglected.
Targeted keywords
Examine what keywords your rivals are ranking for. Are there any that you missed and need to optimize for on your website? Is one brand killing it with seasonal keyword trends?
Keyword data is a treasure trove of information that will help your business improve its SEO strategies — from keyword gaps to seasonal keywords. Competitive SEO analysis, including competitive keyword research and competitive content gap analysis, should be performed regularly to discover new keyword opportunities and blog topic ideas.
Rank tracking
Keep a close eye on the rankings of your pages vs. your competitor pages. You want to detect changes or trends early so you can adapt before competitors do. Use Similarweb rank tracker Rank Ranger to stay on top of all relevant ranking data per keyword and URL. 
You can track and analyze what's happening on the SERP over time, whose ranking is stable, and who's disrupting the search landscape. Set up a rank tracking routine with the dashboards.
Display ads
In order to improve your ad campaign strategies, take a look into what is (and isn't) working for your competitors.
Similarweb Display Overview reveals insights on the top publishers, top ad networks, and key insights on traffic and engagement. You can also easily identify the publishers and ad networks your competitors are working with to acquire more traffic, as well as exactly which ads are performing best for your rivals. This can give your creatives juicy ideas on how to best optimize your own ad campaigns.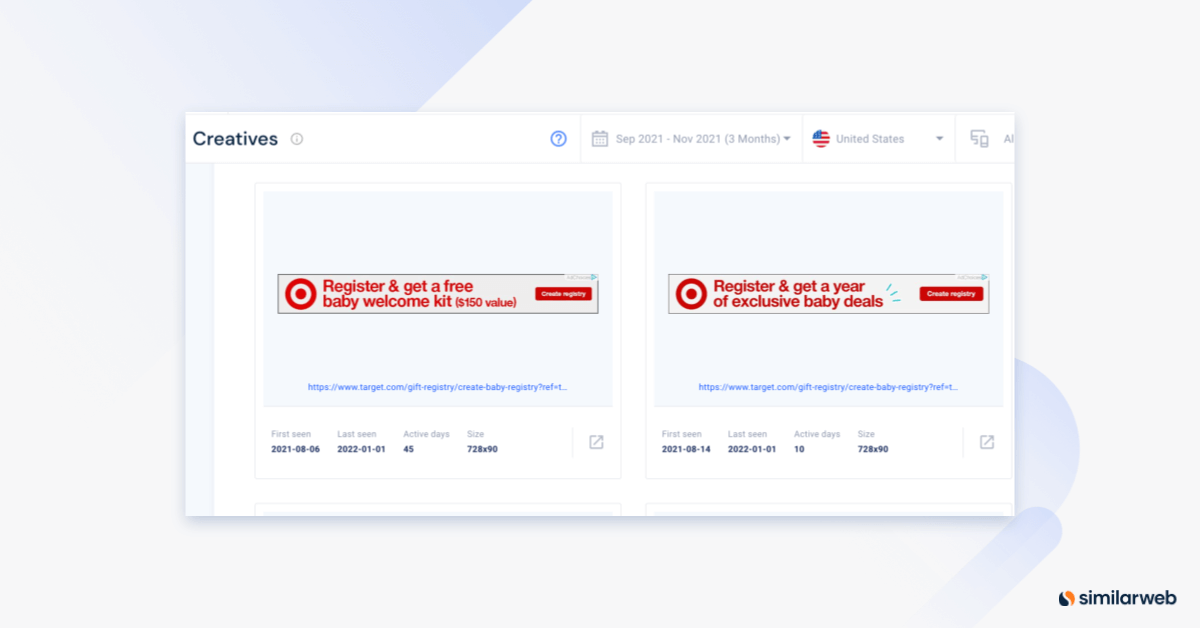 Paid search
Paid search campaigns need fresh data to stay ahead of the competition.
Similarweb Paid Search Overview gives PPC managers a unique view of when and how other brands are driving paid traffic, as well as reveals what paid channels they use. Analyze your PPC competitors and get a holistic view of their PPC strategy through metrics such as:
Total paid search traffic as a percentage of all search traffic
Top paid keywords driving traffic to websites – with a view on traffic share, CPC, and volume
Paid search traffic over time – filtered by day, week, or month
Paid search engagement metrics
Top search ads
Top product ads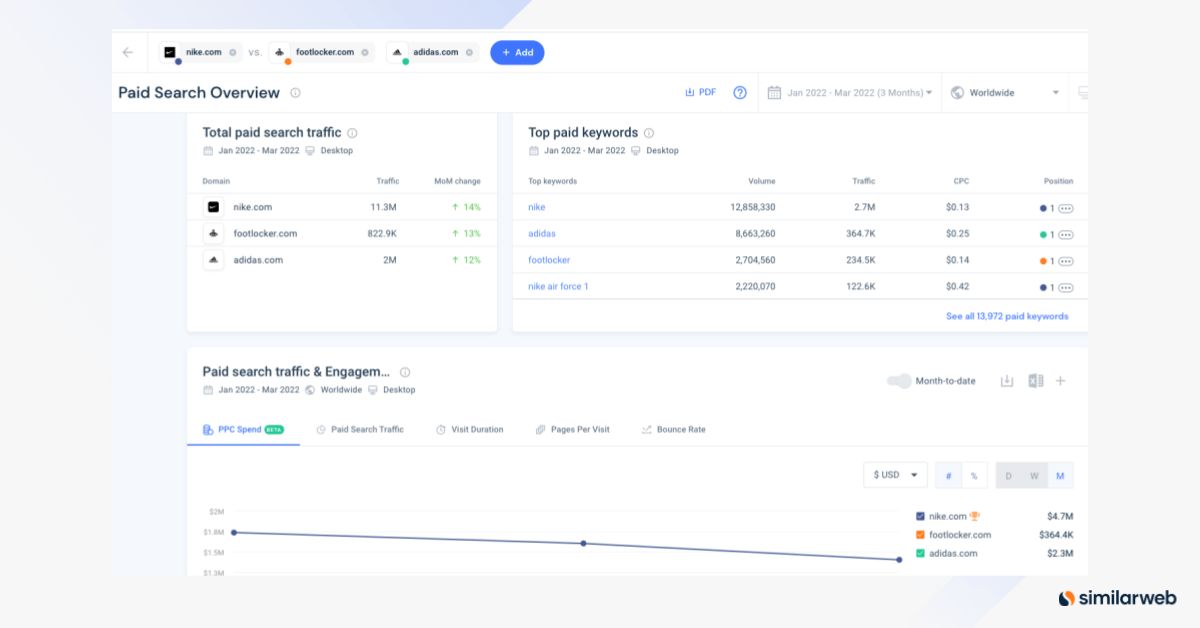 Social activity
Examine the percentage of traffic sent from your competitors' various social pages, amount of social visits, and changes in their social traffic over time.
For example, perhaps you discover your competitors are all severely lacking on Instagram, so you decide to capitalize on their shortcomings and build up a booming presence there. Going boldly where no one else has gone before, while perhaps a bit risky, can also reap big rewards.
Referrals
Referrals include traffic from:
Affiliates
Content partners
Direct media buying
News coverage
Monitoring referral traffic, incoming and outgoing, can reveal new potential affiliate marketing opportunities and affiliate networks.
For example, perhaps you discover that your biggest competitor brings in tons of customers through one specific referral – if you manage to win a partnership for your own organization, it could hugely improve your bottom line.
Email marketing
A smart competitive strategy could be sitting right in your inbox. Try signing up for your biggest competitors' newsletters and email campaigns. See what email marketing tactics they use, what offerings they do and don't promote, what kinds of sales they have, etc. It's one of the most effortless ways to monitor your competitors, as it all conveniently comes straight to your inbox each day.
Recent acquisitions and investment in new technology
Stay up-to-date on when competitors add a new technology to their stack or make an acquisition. This indicates new capabilities and directions your competitors are heading in. Such information is useful for refining and adjusting your own strategies.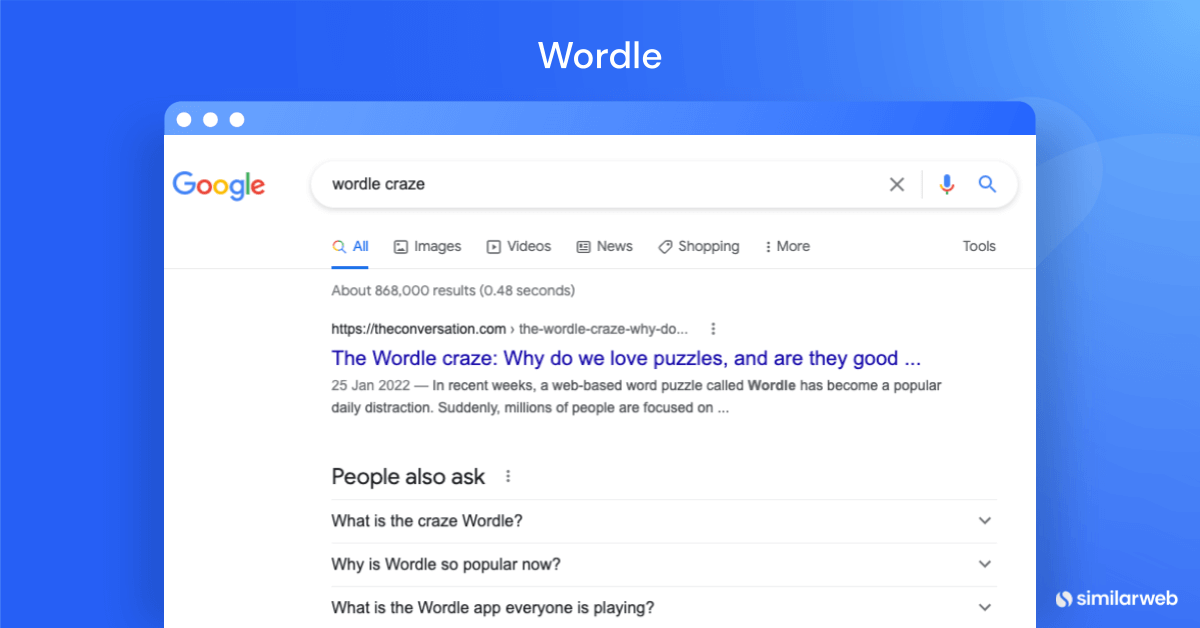 Board members and investors
Do some research into who sits on the board of your top competitors, as well as who invests in them. Understanding what their backgrounds are as well as what past strategies they've used for success can provide some potential insights into what your competitor's future plans may look like.
News mentions
Go to Google Alerts and sign up to be alerted each time your competitors' names are mentioned in the news. This way, you'll always be caught up on all their latest updates – from new product announcements and market positioning to new rounds of funding and social media splashes..
Time to get trackin'!
Competitor monitoring is a practice you and your business team should be performing on a regular basis. Some of the tactics can be set up automatically, like signing up for competitor emails and Google Alerts. Others should be scheduled for every month or at least every quarter. As they say, knowledge is power – and with the treasure trove of knowledge you can dig up from competitive monitoring, you just might become the most powerful contender in your industry.
See what insights you can gain and how you stack up against the competition with Similarweb Competitive Intelligence Analysis tools.
This post is subject to Similarweb legal notices and
disclaimers
.
Wondering what Similarweb can do for you?
Here are two ways you can get started with Similarweb today!