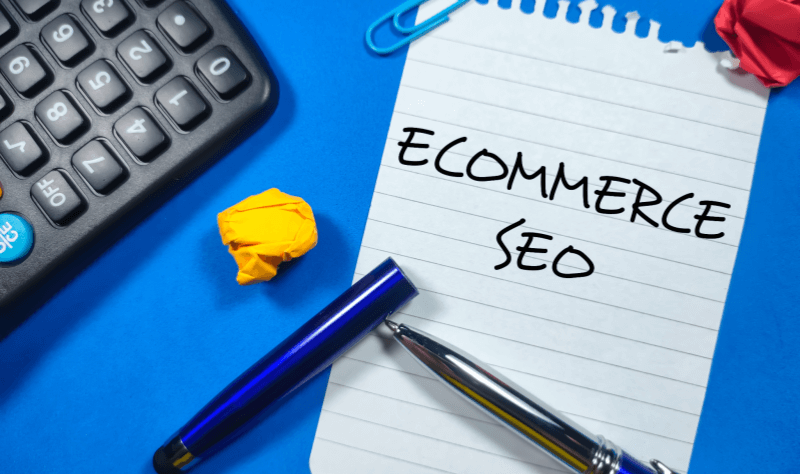 Marketing Intelligence
eCommerce SEO 101: Best Practices for Online Stores
March 29, 2022
| Updated September 12, 2022
What sets your eCommerce store apart from countless others? Of course, your customer service and valuable products are important distinguishers, but how does a shopper that hasn't yet tried your service find you online in the first place? Referrals? Sure. But without that, you must rely on online visibility, aka SEO.
You might already be well-versed in general SEO practices — backlinks, keywords, headings, etc. are a part of your SEO strategy. But eCommerce SEO has more specific principles and best practices to optimize your online store's visibility.
In this guide, we'll explain how to do SEO for eCommerce websites and help you find ways to set your eCommerce SEO strategy apart from the rest.
What is eCommerce SEO?
Simply put, eCommerce SEO is the process of making your online store more visible on Google's search engine results.
When a potential buyer searches your product online, eCommerce SEO ensures your online store ranks as a top result, enhancing your chance of more site visits and sales.
Of course, you can pay for Google ads to ensure your store shows up in your audience's top results — but that comes with a high cost. It's crucial to optimize your eCommerce SEO even if you have great ad campaigns running, or else you're simply losing out on bringing tons of quality users to your site.
As opposed to regular SEO, which usually focuses on optimizing static web pages, such as your homepage, main offerings pages, and blog posts, eCommerce SEO mostly focuses on optimizing your product and category pages, including:
Headlines
Product descriptions
Internal link structure
Navigational structure
What's the importance of SEO to eCommerce websites?
The importance of eCommerce SEO starts with your audience. Their first step to finding a product often starts with a Google search — in fact, 37.5% of eCommerce web traffic comes directly from searches.

The audience making these searches may vary in their intent. User search intent in SEO describes various intentions behind a search: informational, navigational, commercial, and transactional.
A transactional intent means a user intends to buy something after searching for a term — this is an audience that you want to capture and lead to your website. Without eCommerce SEO, you miss out on opportunities to reach those users.
The bottom line is, eCommerce SEO leads potential buyers to your online store. And that's pretty important for any eCommerce business hoping to grow.
How do you develop an effective eCommerce SEO strategy?
Now that you know about all the buyers you could attract to your site with eCommerce SEO, let's develop a strategy.
Every aspect of business requires strategy, from cost savings to customer service. eCommerce SEO is no different. For instance, if you have certain products that are more important to your business on a strategic level, you should prioritize them in your eCommerce SEO efforts.
eCommerce search engine optimization isn't one linear path. It encompasses different aspects and strategies with various workflows and measures of success, which is why a solid strategy is so important. The different aspects include general umbrellas of regular SEO — such as link building, keyword research, optimization, and technical SEO — except with a focused approach tailored to eCommerce.
Your strategy should have clear goals and measures of success for each aspect, but we'll get more into those specifics later. Begin brainstorming your strategy with the following starting points:
Products: Which products do you want your audience to find first? If there's one in particular, focus your strategy on that specific product page.
Competition: Browse your competitor's offerings online. Look at online stores similar to yours and write down what they do well or not so well when it comes to SEO. Come out of your research with ways to improve your competitors' SEO and offerings with your eCommerce store.
Now it's time to get into the nitty-gritty of how to do eCommerce SEO the right way.
What are eCommerce SEO best practices?
Check out the following eCommerce SEO best practices and implement them into your strategy. Over time, you should see some healthy growth in the SERPs.
See what your competitors are doing
There's no need to reinvent the wheel. Chances are, you have at least a few competitors that have similar eCommerce shops to your own. If their products are ranking higher than yours, a great first step is to take a look into why that is.
Investigate their web pages and see what keywords they're targeting. Gain inspiration from their copy. Perhaps their design is much better than yours, and you can get some pointers on how to improve your UX.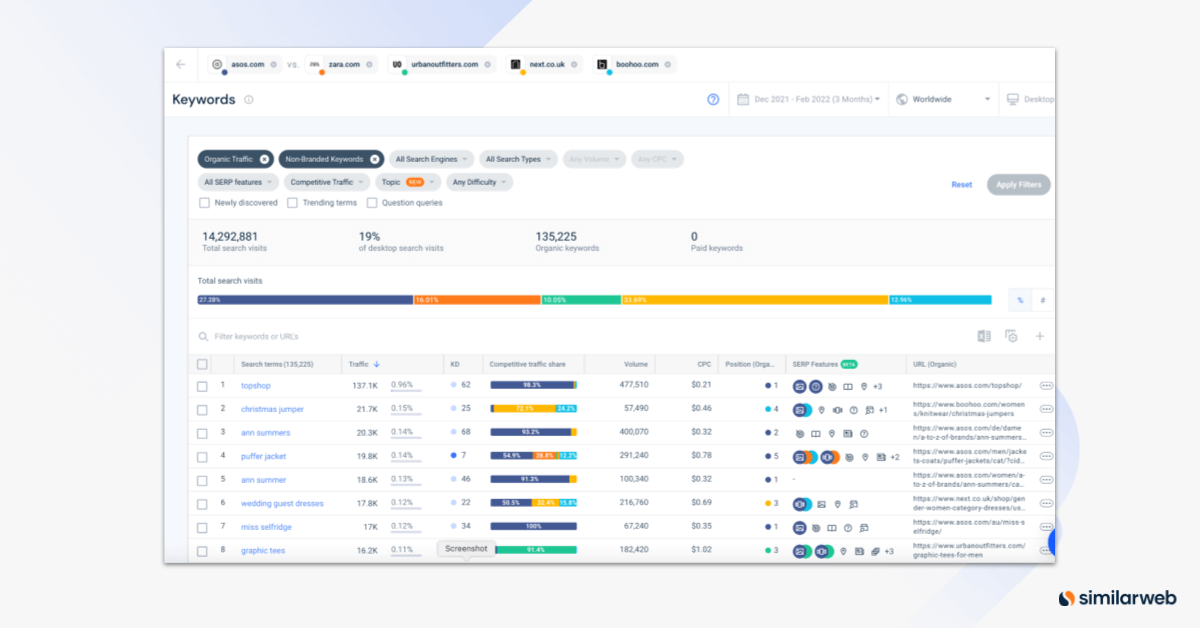 Make a list of all the things they're doing better than you, and come up with a strategy on how you can improve your site and hopefully outperform them.
Keyword research
In a blog article, it's easier to space out keywords to make them sound natural within a text. Keywords are still necessary for eCommerce SEO, but you need to be selective in their placement.
Product titles and copy are much shorter than entire web pages and blog articles, for example, so keywords should be present in a way that doesn't look awkward in the text.
You'll want to include your primary keyword in the following places on your product page:
URL slug
Product headline
Product description
Image alt attributes
Subheadlines
Next, you should identify latent semantic index (LSI) keywords throughout your product page as well. These are related secondary keywords that are important for ensuring Google knows what topic your page is about.
When conducting keyword research, you should find words with transactional intent behind them. Transactional intent plus high search volume are two keyword ingredients to make your site visible to the ideal user.
For example, let's say you have an eCommerce shop that sells lovely teas, and you'd like to optimize your matcha green tea product page. After doing some keyword research, you decide the primary keyword to target is "matcha green tea," and discover some long-tail keywords that many people are searching for when they want to buy matcha green tea online, such as the ones Similarweb recommends.
Now you know exactly what words to include in your web copy to help interested tea lovers locate your shop online.
Product page SEO optimization
Product pages are individual web pages for your offerings. They must be "perfect" in the way that anything that feels "off" will encourage a user to abandon a potential transaction. "Perfect" for product page SEO means a seamless user experience.
The product page should have all the necessary information to describe a product while also including:
Value to the customer
Unique descriptions
Creative and proficient writing (no fill-in-the-blank templates)
You can also use competitor research to your advantage here by analyzing the keywords each competitor uses on the pages for their best-selling products.
Pro Tip: Check out Top Organic Pages on Similarweb to see your competition's best-performing pages.
Your product pages should also have structured data — also known as schema markup — to encourage more click-throughs. These little descriptions include information like product manufacturer, dimensions, price, and brand – you know, all the important stuff. With structured data, Google can better recognize the page and display valuable information to users right on the SERPs.
Category page SEO
Product pages face immense competition in the online world because other companies will likely offer similar products to your online store. One way to combat that is through an eCommerce SEO-optimized category page. Think "Women's tops" or "Men's socks" on a clothing website.
Category pages organize your online store offerings into sections to provide better web navigation and give users more options that they may be interested in. Category pages also offer a great opportunity for Google search rankings.
Optimizing category pages may even help you increase sales for a specific category of products. Experts recommend optimizing category pages with internal linking, images, and short copy that includes keywords (without keyword stuffing).
Supporting content
One way to encourage people to buy your products is to position yourself as an authority in your industry. To do that, many companies create blog articles with content related to their niche. The best way to do this is in content clusters, which are groups of content that are all related to the same general keyword.
For example, a vitamin and supplement eCommerce store may create and publish SEO-driven content about:
How vitamin D benefits your health
Top 5 vitamins you should take if you're always tired
What is vitamin K?
Folic acid vs. folate: What's the difference?
Be sure to include relevant internal links to other related blog posts, product pages, and category pages within each new blog article. On top of providing further useful info for your audience (and keeping them engaged on your site), this will also help increase the linked pages' authority as well. Win-win-win.
With supporting eCommerce content marketing, you'll likely attract users with informational intent behind their Google searches, but that's okay. Even if they don't purchase a product right away, they will come to know you as an authority and trusted source in the industry.
Over time, by consistently publishing useful content on your site, you'll begin to rank for more targeted keywords, increase organic traffic, and gain backlinks and social media shares.
All of these factors combined will cause your product pages to rank better as your brand becomes an authority in its industry.
Other important tips to consider
There are so many factors that eCommerce businesses should consider when optimizing their website — some more obvious than others.
Here's a checklist of other things to look into as you continually improve your eCommerce SEO:
Site architecture: What does the structure of your eCommerce site look like? Is it complex and disjointed? Or is it simple and scalable? A good rule of thumb is to keep every page three or fewer clicks away from your homepage. Be sure to have a simple navigation menu with clear breadcrumbs to help users find their way around your site. This makes it easier for Google to find and index each page, and it's a better experience for your users.
Design and UX: How does your site look? Is it easy and enjoyable for users to explore? Or is it distracting and unpleasant? Pay special attention to how your site looks on mobile. More than half of all online shoppers buy from their mobile devices. Plus, Google uses mobile friendliness as a ranking signal.
Read More: How eCommerce UI Can Make or Break a Conversion
Site speed: How long does it take for your pages to load on both desktop and mobile? Page speed is a big ranking factor. If your site is slow, it will hugely hinder your chances of ranking high on Google. You can improve site speed by removing unnecessary plugins, reducing the size of images, and upgrading your web hosting.
Social media: Do you have social media accounts set up for your brand? Are you active on them? A presence on social media gives your brand credibility and authority. It also sends signals to Google that you're an established and legitimate business.
Keyword cannibalization: When's the last time you checked for keyword cannibalization? This is something that should be checked (and remedied) with regularity — otherwise, you may be pushing your own product pages down in the rankings without even realizing it.
Optimize eCommerce SEO with Similarweb
Looking for a way to do eCommerce SEO the right way, with no guesswork involved?
The Similarweb Digital Marketing Intelligence platform has several easy-to-use tools that will help you soar in the SERPs.
Our eCommerce tool kit includes (but isn't limited to):
Time to get more traffic
If you follow the strategies outlined above, your online store will begin to see more and more customers flowing in each day. Remember, SEO is a long-term game, so don't expect extravagant results overnight. But if you consistently improve your eCommerce SEO day by day, week by week, you will see the fruits of your labor blossom exponentially over time.
The fastest way to get ahead of the competition and uncover your own insights? powerful research tools. Contact us today to learn more about Digital Marketing Intelligence, our platform for helping online businesses optimize their strategies with ease.
FAQ
What's the importance of eCommerce SEO?
eCommerce websites need solid SEO to increase visibility in search engine results pages (SERPs). When a website ranks high in SERP, it gets more organic traffic, meaning the brand spends less on paid marketing efforts and makes more revenue.
How do eCommerce sites do SEO?
Optimize product and category pages for relevant keywords and create high-quality blog content related to those keyword clusters. Another popular method is increasing the backlinks from other sites to your website to increase your authority.
This post is subject to Similarweb legal notices and
disclaimers
.
Wondering what Similarweb can do for you?
Here are two ways you can get started with Similarweb today!