Trending keywords spice up evergreen content and inspire timely content. To keep content optimized over time, you need to know how to find trending keywords. 
Here's the thing with keyword trends – and trends in general – to capitalize on them, you have to catch them early. By the time they reach their peak, everybody else is already pushing for the zenith of organic traffic. Being the first to notice a trend can be a huge advantage, and sometimes they can come from totally unexpected places. 
For example, until very recently 'King Charle' was a high-class dog breed, and the keyword generated related results on the SERP. Today, it's a trending keyword and has nothing to do with canines.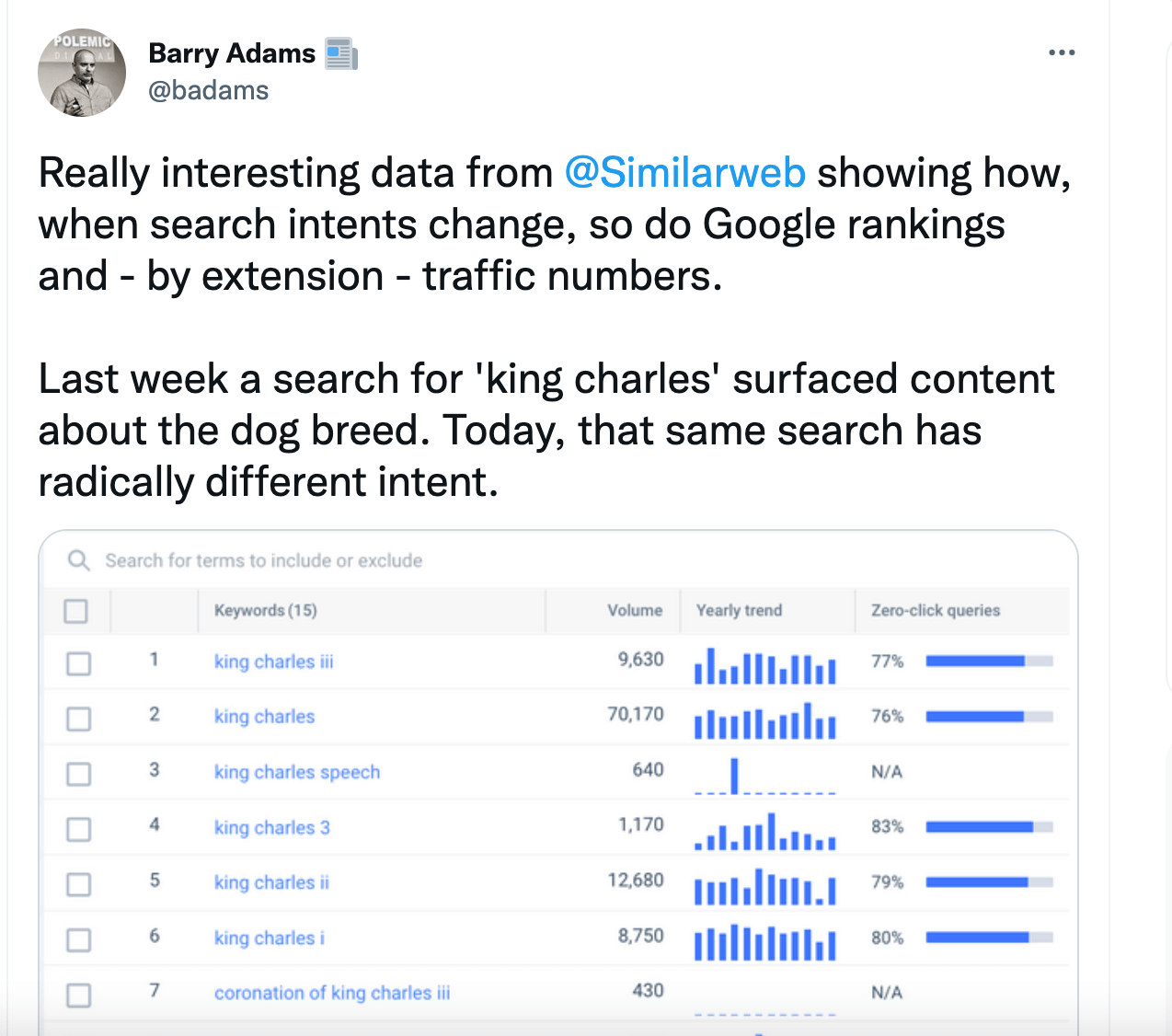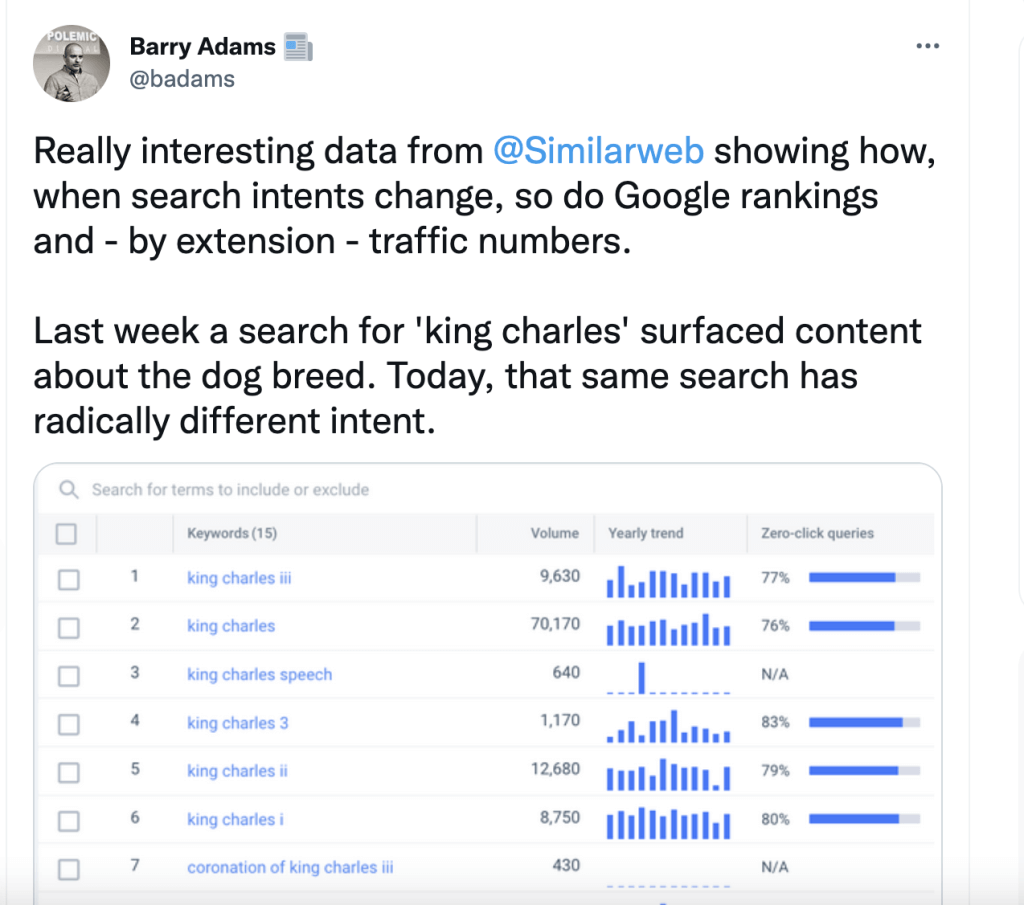 How to find trending SEO keywords
Your best bet to find what's trending is by using a keyword tool. A keyword generator and other keyword research tools help you pinpoint what's truly valuable for your brand.
But, not all keyword generator tools have picked up on the new reality just yet. It's critical, though, because you want to learn how people search, which other terms they use and if the overall buzz impacts your industry now. These insights are what guides your content optimization.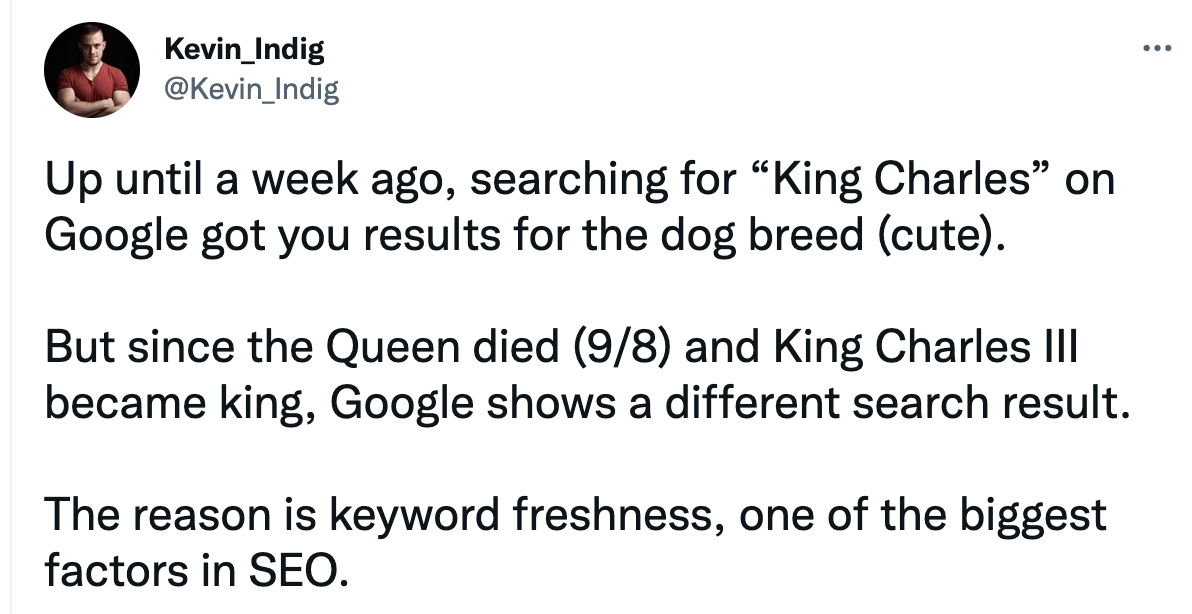 For less obvious trends, timely data is even more significant. It enables you to be the first to detect new trending keywords in your industry or your geographical region. If your keyword research tool isn't able to provide timely, precise data, you'll find keywords that are no longer trending. 
So, the number one thing to remember is that the value of a tool's output depends on the data quality. Make sure you use tools that provide up-to-date insights and fresh, precise data.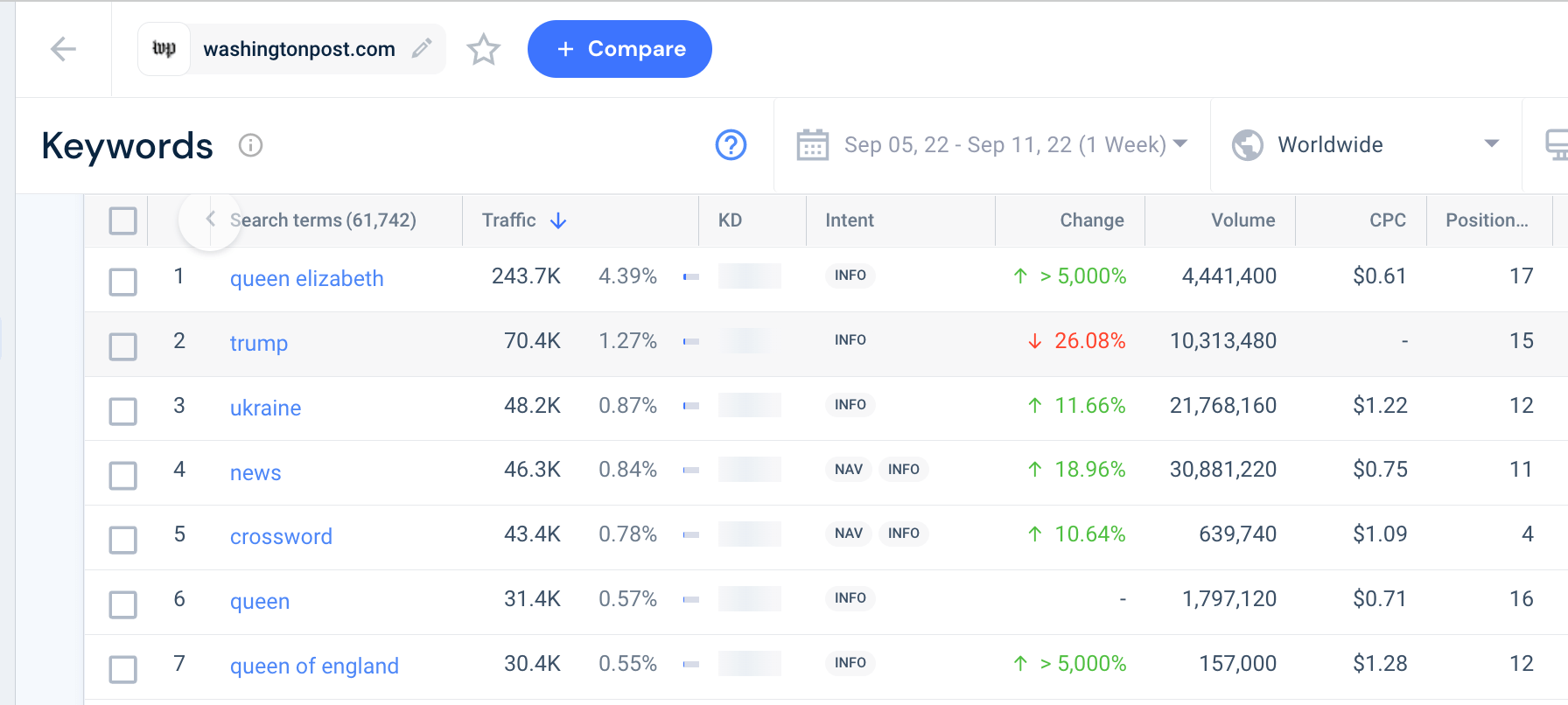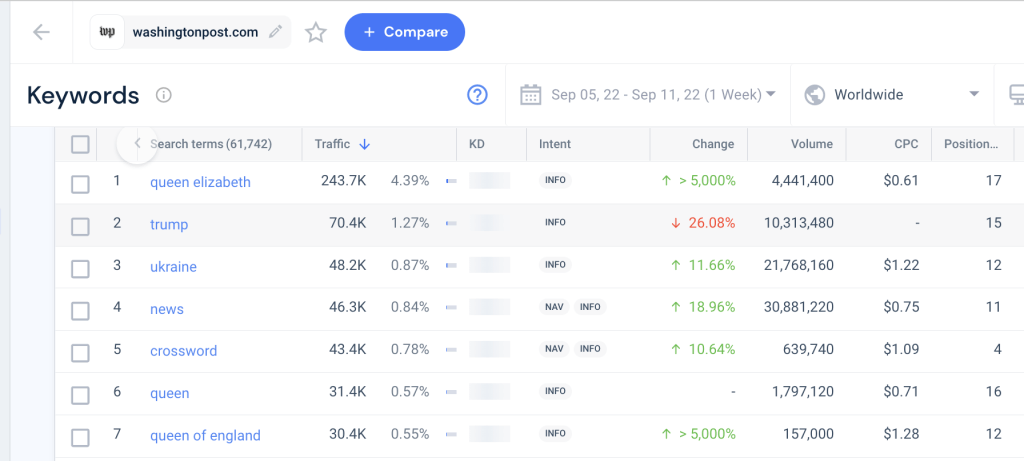 In the week the queen passed away, her name drove massive traffic volume to the Washington Post. The screenshot shows top traffic driving keywords.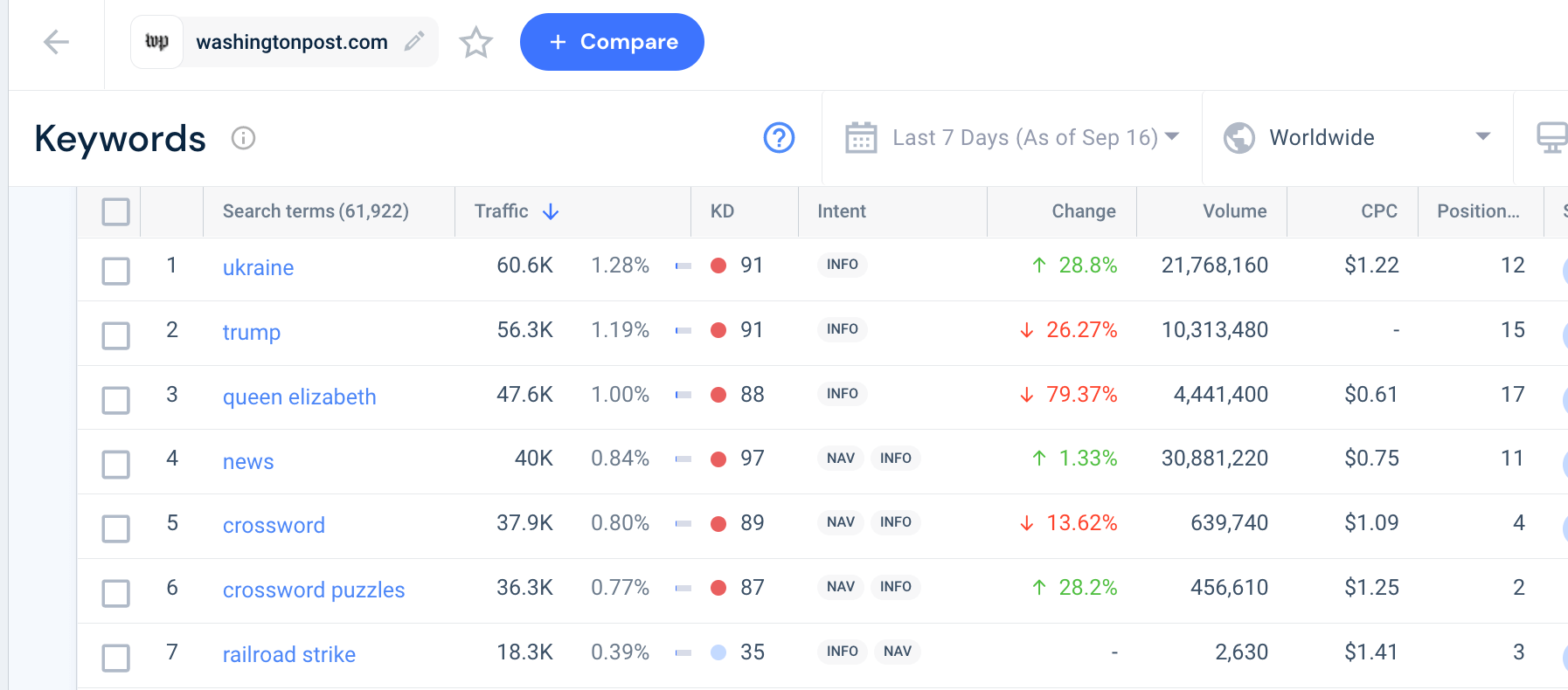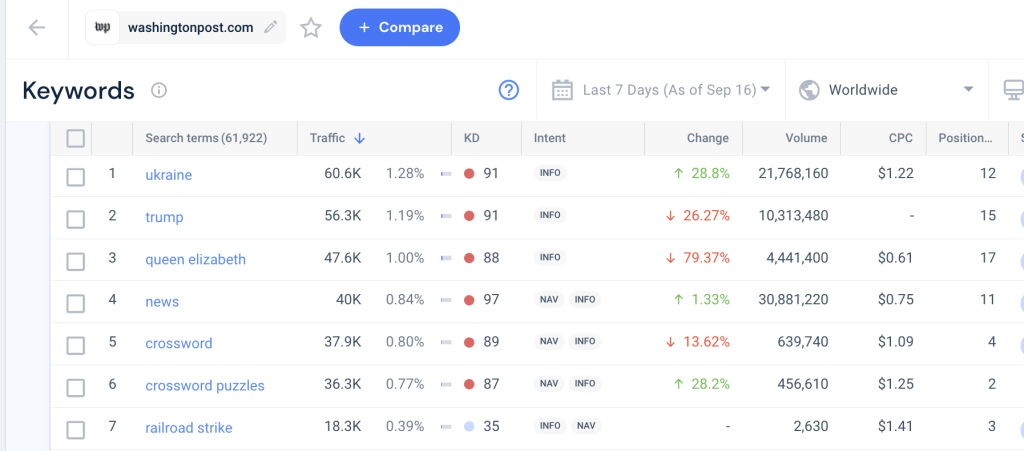 A few days later, keyword trends had already shifted  The screenshot shows top traffic driving keywords from Sept 9th to 15th
In the following paragraphs, we'll look at some tools that help find SEO trends. 
How to find trending keywords on Google
Here's the quickest way to find keyword trends on Google: use the autocomplete function on Google. 
Type a word you want to find keywords for and see what else Google displays. These are the trending searches related to that keyword.
In a slightly more professional approach, you'll use Google trends. The free tool is easy to use and will show you the keywords with the highest search volume. You can filter according to geographical region and category.
You still need some keyword research to identify search intent and ensure it fits your industry.
How to find ecommerce trending keywords 
Ecommerce is highly competitive, and you need a keyword research tool to stay in the game. Let's look at tricks to get direction for your research. Before you investigate how to find keyword trends, you'll want to know about shopping and product trends. 
The following tools are excellent to help you pick up on popular trends that provide the right keywords for your ecommerce site.
Trendhunter is a large-scale platform that shows current trends for just about everything. You choose the category, i.e. fashion or lifestyle, and can start browsing the latest trending products, concepts, or ideas.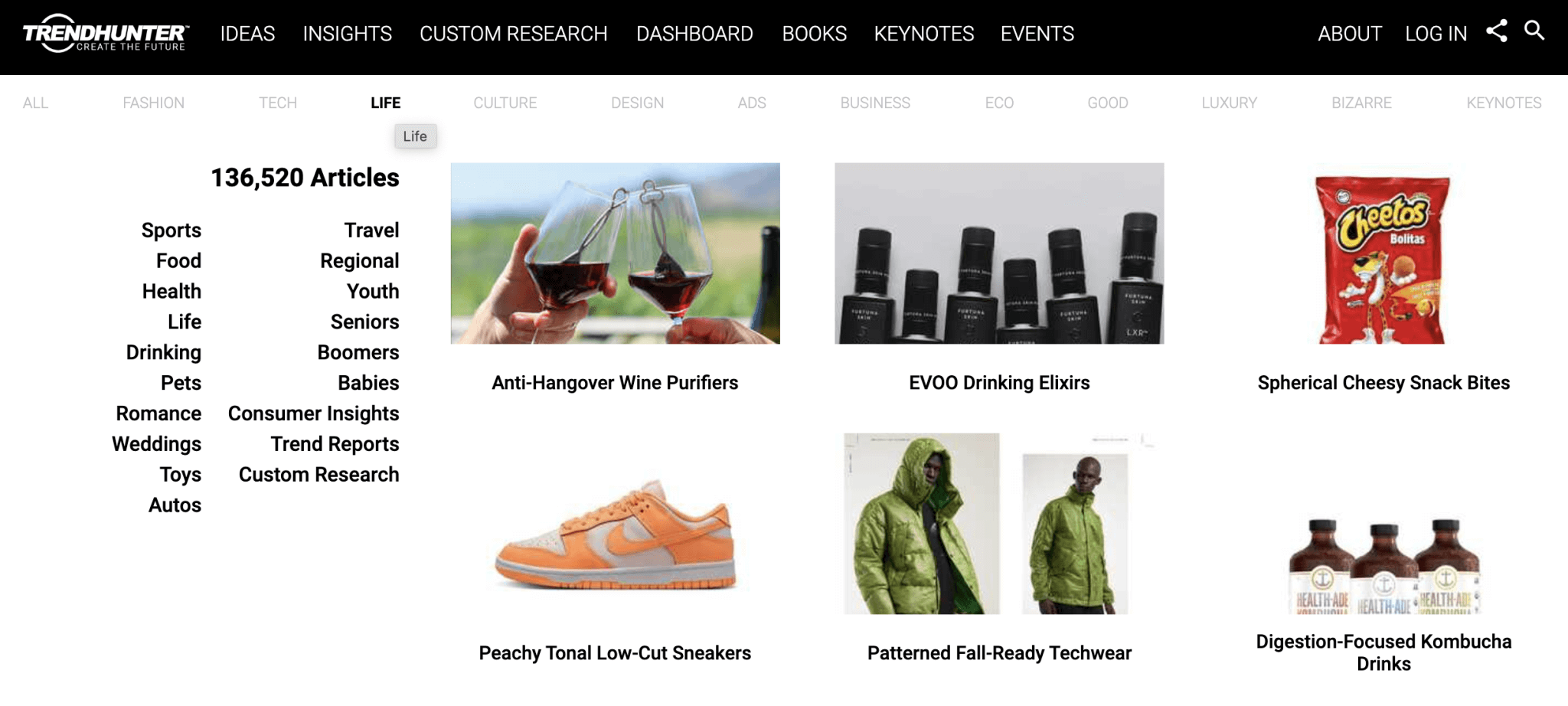 Trendly is a popular app for fashion trends. Here you can discover new looks and see which styles are currently popular. You'll also learn what people call them and get keyword inspiration. 
Treendly – no, it's not the same as the previous one, even though the difference is easy to miss. This tool is highly keyword-focused. It actually measures search volume for trending terms per category. Select ecommerce to see top trending keywords.
How to find trending keywords for your blog
For many people, blogs are a primary source of information about things they are interested in. A well-managed blog is also a strong organic traffic magnet. 
A blog could touch on almost any trending subject remotely related to what your site offers. The trick is to identify the ones with the highest relevance that will bring the right target audience to your blog.
So, this is about finding out what's trending online. Start by paying attention to what the media reports. Spy on other blogs – particularly competitors' blogs' – to see what they write about. 
These tools can help you find content trends a identify possible keywords to target:
Feedly is an app that organizes all daily news into categories and shows you what's relevant. Let's say you want to follow news on digital advertising; You'll select the category and the magazines, such as Adweek and others, that you want to track. You'll get a daily feed with what they publish and can quickly figure out what's trending.  
Medium is a publishing platform anyone can sign up to and post articles. Influencers and bloggers use it because the pieces with the highest engagement get featured. So you can see which topics get the highest attention and try to identify patterns in the keyword trends.
Reddit is another effective way to stay on top of trending topics. On this social platform, people share articles or content they find interesting, and you can select the categories or areas you want to read.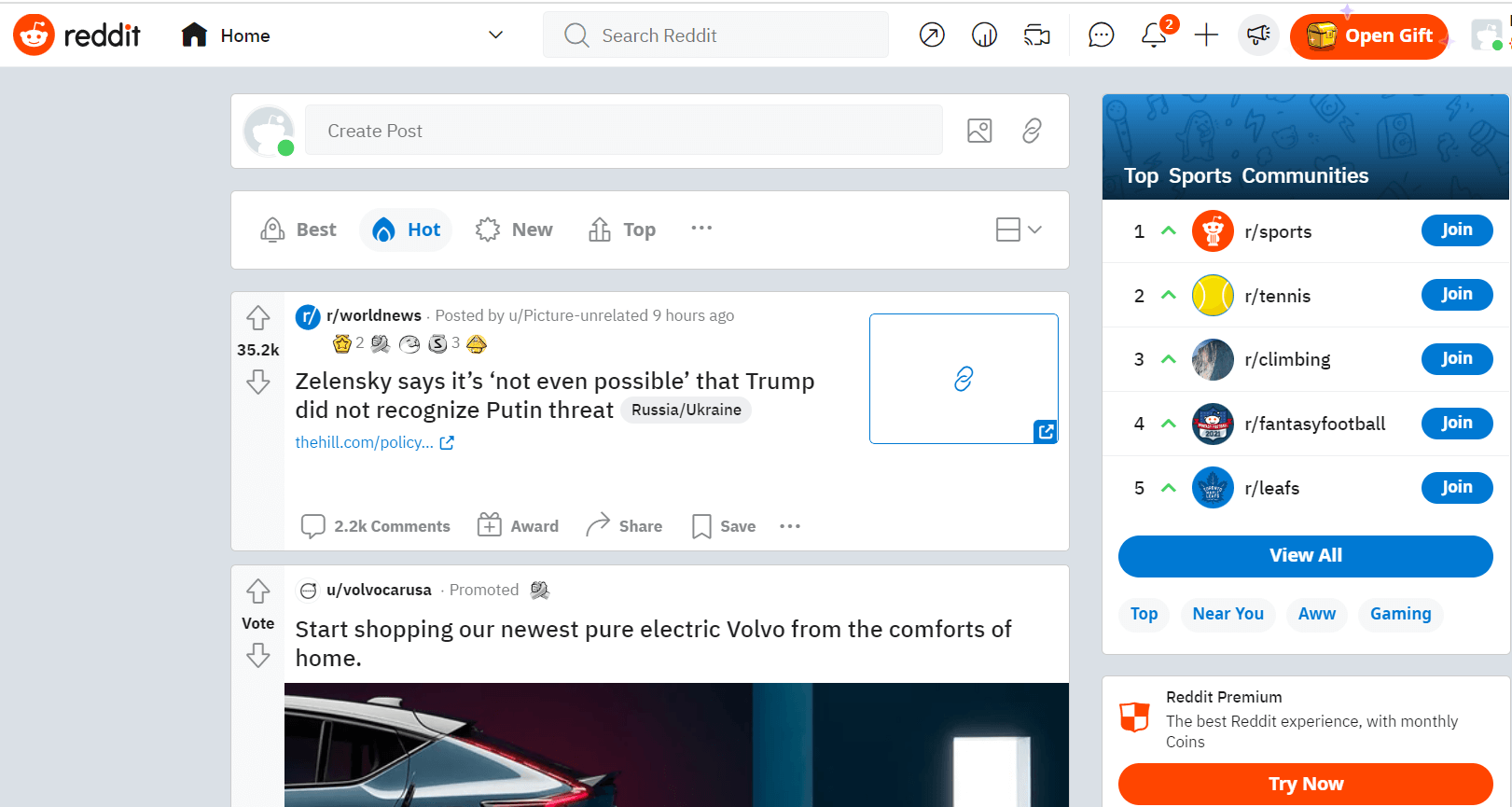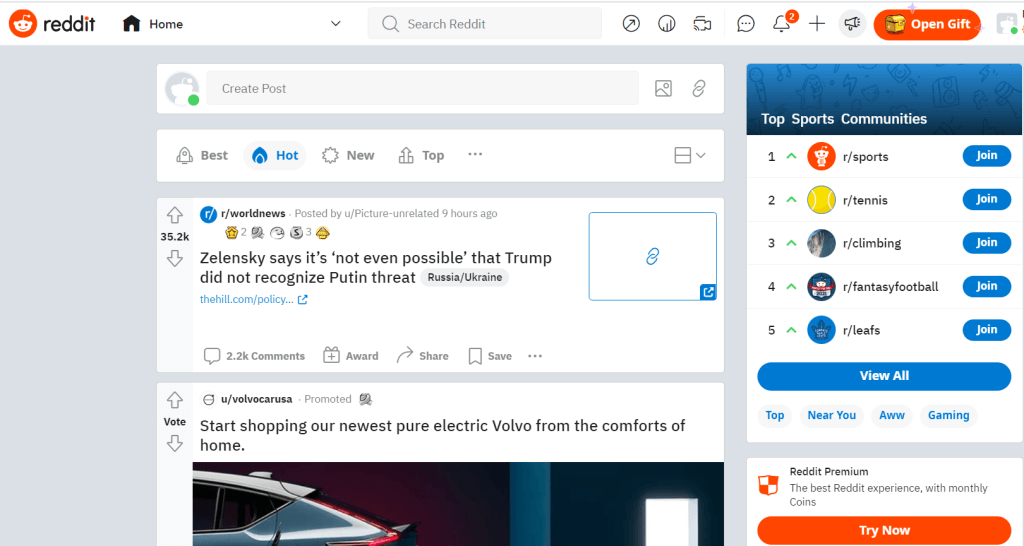 Quora is a popular platform for bloggers to draw attention to themselves. They can write quick answers to the questions visitors post and get exposure. It's also an effective way to catch on to issues people struggle with. Check queries related to your expertise and use the most asked questions as keywords for your blog. 
Pro-Tip: To get more insights on trending phrases or topics, check relevant social media groups and platforms. Also, tools that are useful in finding keywords for social can be useful for your blog.
How to find current trending keywords for social media
For social media, there are some unique ways of identifying trends. The best-known tactic are #hashtags. Find hashtags that people frequently post on social media in your industry and use them in your posts. 
Monitoring what people say about a certain topic, brand, or product – also called social listening – has become a must for social media marketers. And there are many tools to achieve that.
Keyhole and Social Mention will do this for you across social media platforms. You can stay in the know about trending hashtags and get notified about changes.
Buzzsumo is one of the best-known tools and offers high value. The tool is easy to manage and helps you identify viral content quickly. Buzzsumo is also helpful for video and other web content.
SproutSocial and Hootsuite are social media management platforms where you can track social activity and conversations to get insights for your keyword strategy.
How to find keyword trends for video
YouTube delivers trending videos practically on a silver platter. You get the currently hottest videos by simply clicking on 'Explore' on the home screen. Unfortunately, you won't find many keyword ideas here because the results are way to random.
Some social listening tools include video content. A more keyword-oriented method is to use a tag explorer. YouTube videos have tags with keywords, and there are tools that analyze how often they are used and how. 
TubeBuddy and VidIQ are the best-known tools to explore YouTube keyword tags and help you discover the ones that are gaining popularity. 
Pro-Tip: Similarweb offers a YouTube keyword generator. You can enter any keyword query into the tool and discover YouTube search volume trends for keywords. Focus your keyword research on the search engine you optimize for.
How to get trending keywords for Amazon
Amazon is a chapter of its own. SEO for Amazon varies from Google and YouTube SEO. Keywords on Amazon are a lot more product-focused, and searchers come with the intent to buy. This eliminates a large variety of keywords. 
But keywords are keywords, and you need to know how to find current trending keywords. 
The best way to find trending SEO keywords
The tools we mentioned so far produce data to quantify or measure a trend. Why do you need data, though? Isn't it enough to know there's a buzz about a keyword? Here are three excellent reasons:
Not everything that everybody talks about will also drive traffic. 

If it's a passing trend, it may be gone by the time you've created content, and you'll never be the first to pick up on a trend.

Even when there are no apparent fads, you still need to identify what's trending.
So, after you identify topic trends, feed the related keywords into a keyword tool and conduct in-depth keyword research. 
Hold on a second. Before you jump to the most trending keyword research tool, don't forget: 
You need fresh, reliable data with high granularity to get accurate insights on trends. 

You need the freshest data you can get to detect trends as they emerge and be the first to utilize them.
Remember the results we received for "King Charles"? If your keyword generator's data is based on calculations of the earlier month, it won't detect the sudden surge of keyword use. In other words, you never get the most trending keywords. By the time the tool shows them, they might not be popular anymore, or the competition is so high that it's hard to generate traffic for them. 
This is true for all keyword tools. Your research is only as good as the data it builds on. 
You might use a keyword gap tool to find competitors' keywords and leverage their potential. For those who want to be the first to catch on to trends, gaps that existed three months ago or may exist now are irrelevant. Trends and fads are only relevant if you catch them on the rise and as early as possible.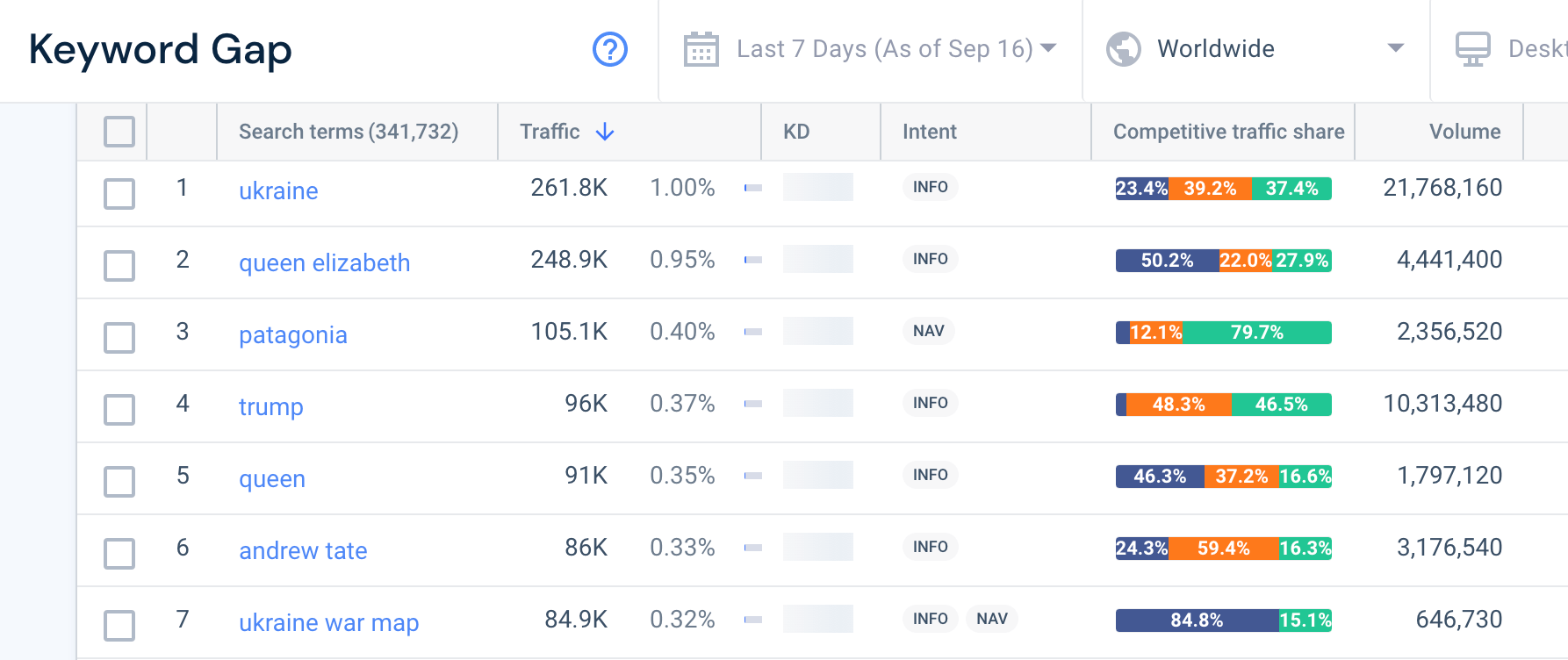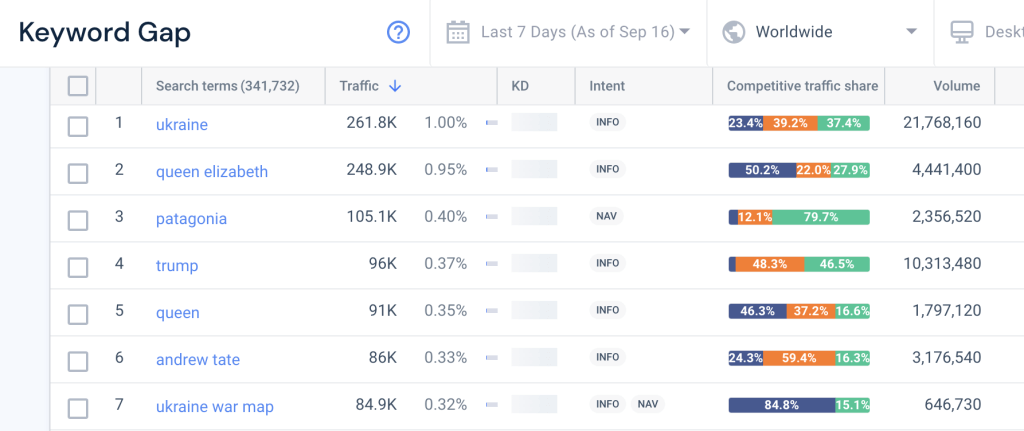 Similarweb keyword gap delivers data from the last seven days and guarantees highest data freshness.
How to find trending keywords for your industry
Another thing to remember is that most keyword research tools don't allow you to hone in on your specific industry. It's, therefore, difficult to analyze industry-specific keyword trends you detected with one of the above tools. Most tools show data from all sectors, and if a trend isn't impacting all industries, you may be missing out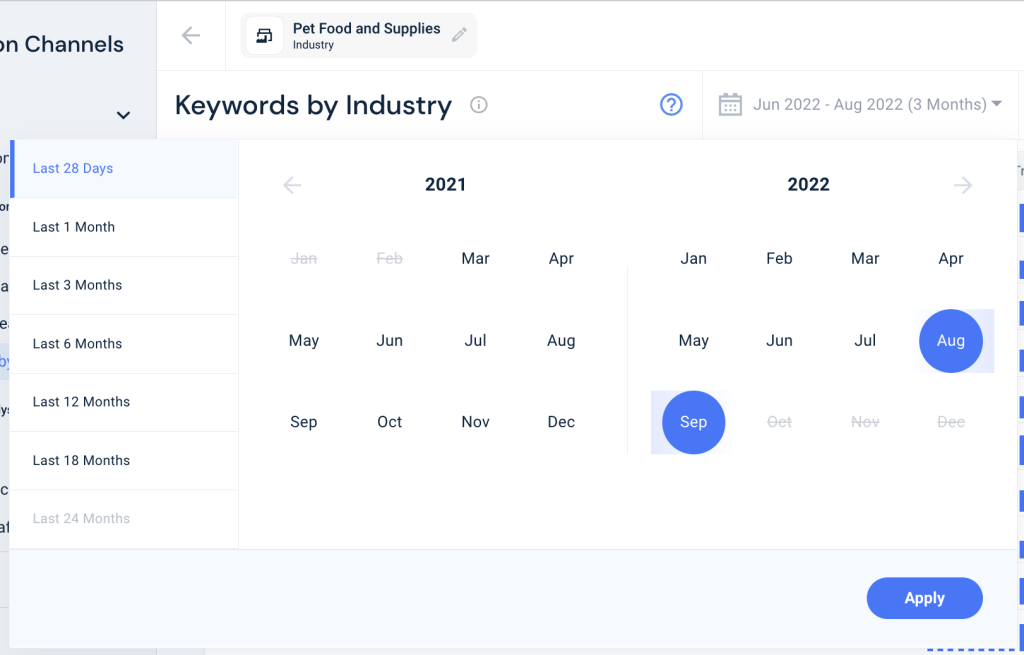 You can select the time frame to view. The tool will display data from a specific week, month, or period you choose.
There are several things you can only do with Similarweb. For example, 'keywords by industry' feature allows you to analyze trends in your industry. You'll find pre-defined industries and sub-industries, or you can create your own custom industry and see what's trending in your competitive niche.
How to find recurring keyword trends with keyword seasonality
That means data granularity is critical when dealing with trends. And when you think about it, trends are everywhere all the time. Trending keywords aren't limited to keywords surrounding fads and passing fashions. 
Finding trending keywords also means identifying the ones that are evergreen, but currently on the rise. The idea is to discover keywords with high potential to boost your ranking and attract more traffic.  
Some keywords have seasonalities and are more popular during specific periods. For example, keywords surrounding sports events.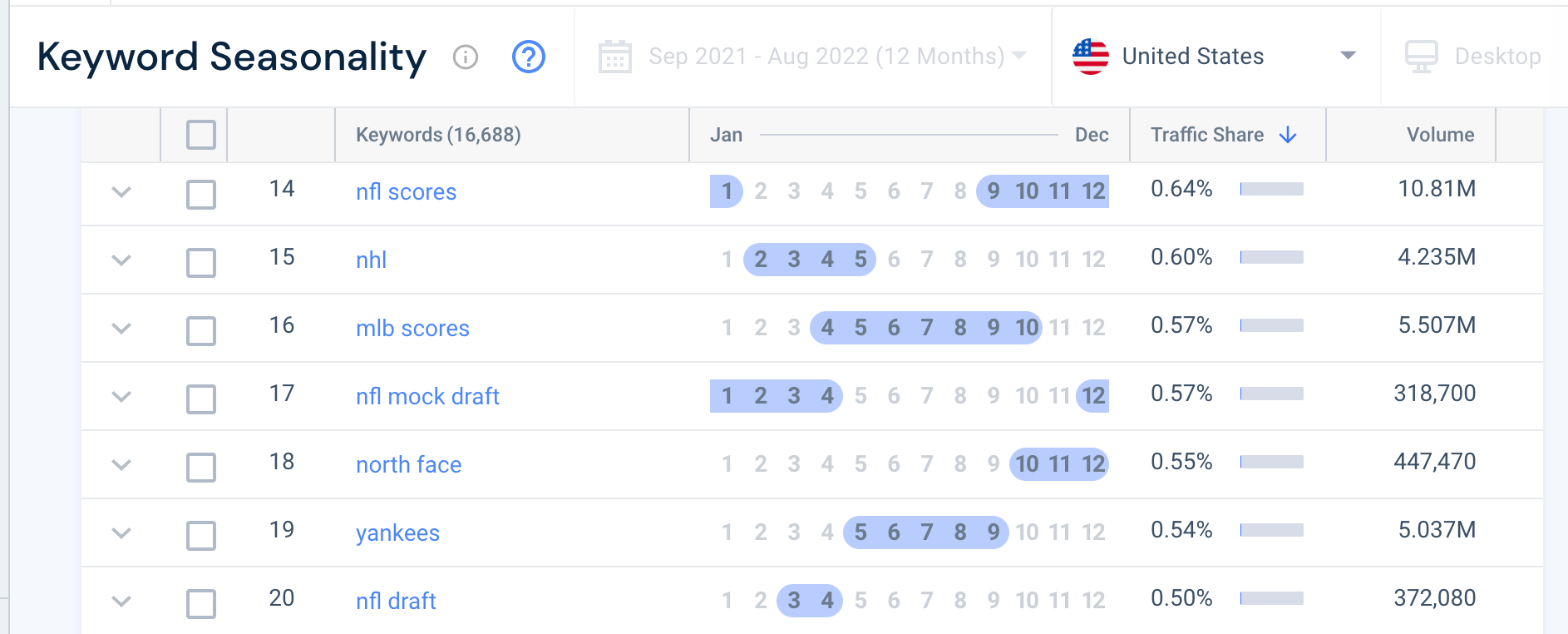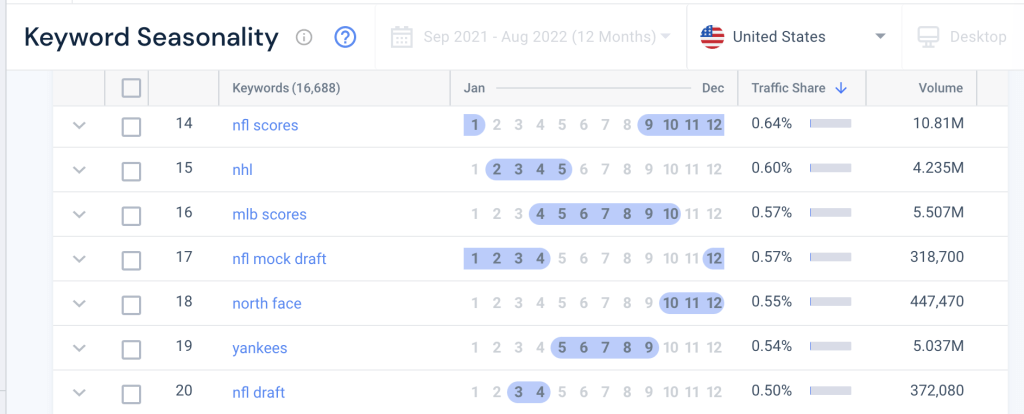 You don't need to know when popular sports events are happening. With Similarweb keyword seasonality, you quickly identify when search volume is high.   
Where does your data come from? 
Google is for data what Walmart is for groceries. You can find a little bit of everything there, and it's accessible to anyone. But when you need something a bit more specific, or if you are looking for top quality, well, there are better places. 
It's the same with data. For professional use, Google isn't a sufficient data supplier. That's why you go to a data analytics or keyword research tool. The thing is, most of them rely on Google for data, which means, in terms of accuracy and freshness, you're back at square one. 
Similarweb is unique and doesn't rely on Google alone to provide fresher, higher-quality data. The platform uses a unique mix of data signals from various sources. This includes growing contributory networks building on verified keywords people use, direct measurements, verified public data, and partnerships. 
Therefore, the tool can provide timely and comprehensive data not available in our core competitors' sets. It allows Similarweb to show trends earlier and more accurately. 
How to get more insights from Similarweb 
You understand that this impacts all features you use in your research. You'll always get the latest trends that other tools may not have picked up on yet.
The tool. also lets you investigate keywords per industry. Because the data comes from actual searches and identifies where the traffic leads, it also knows the industry. So, you eliminate similar keywords that drive traffic in other directions. 
This is just a taste of what you'll get. The tool. also provides keyword intent and many other relevant metrics. 
FAQs
Which keywords are trending?
Trending keywords are the words that people increasingly use in search engines. In other words, those that are currently gaining popularity. To see Google's top trending keywords at the moment, read What's the Most Searched Thing on Google? 
How do I find trending searches on Google?
The simple way with a somewhat vague outcome is to check Google Trends. If you want more detailed and focused results, you'll want to use a keyword research tool that provides the freshest, most accurate data with high granularity.
How do I use Google trends?
Type a keyword into the Google trends tool, and it will show a graph of the historical search volume. It also generates related keywords people are searching for. You can filter by region and select a specific category. 
How to find new keywords with a keyword research tool? 
An advanced keyword research tool includes a keyword generator, a keyword gap, a keyword seasonality, and additional keyword features. Together with new keyword ideas, you receive data to assess their value for your content and chances of ranking.  
This post is subject to Similarweb legal notices and
disclaimers
.
Wondering what Similarweb can do for you?
Here are two ways you can get started with Similarweb today!