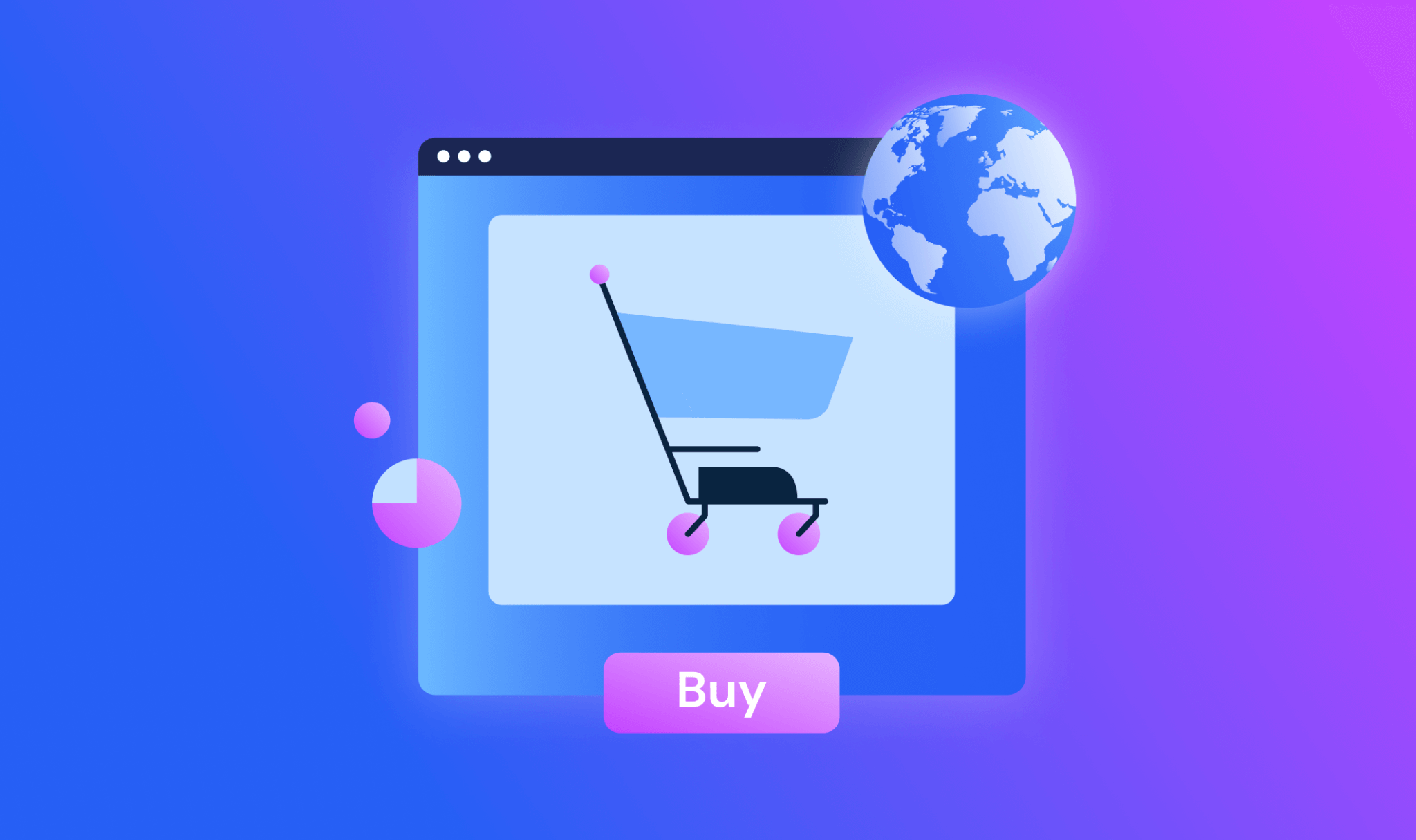 Sales Intelligence
The World's Top 50 Ecommerce Companies (And The Top 50 Fastest-Growing Companies)
October 12, 2022
| Updated October 13, 2022
Selling to ecommerce companies? You'll probably want to keep a close eye on the top performers in the space then. 
And that is exactly why we compile – and regularly update – these lists of the top ecommerce companies in the world; all so you can sharpen your digital sales strategy and win BIG. 
First up, we've got The World's Top 50 Ecommerce Companies, and just a few scrolls down, we present the Top 50 Fastest-Growing Ecommerce Companies to you too. 
Top 50 ecommerce companies in the world
Here's a little teaser into what you'll find in the full downloadable list of the top 50 ecommerce companies in the world:
Amazon US

Samsung

eBay US

Amazon Japan

Rakuten Japan

Amazon Germany

Amazon UK

Amazon India

Ebay UK 

T-Mobile

Home Depot

Target

AT&T

Amazon Italy

Amazon France
The criteria we used to create this top 50 list of the world's top ecommerce companies via Similarweb Sales Intelligence was: 
Geography:

Worldwide

Website Type:

Ecommerce

Website Technologies:

Only sites with Ecommerce technologies

Ranked by monthly visits in

August 2022
And how can you make the most of this list? You got it: 
Get familiar with the types of ecommerce companies bringing in the most traffic at the moment

Sharpen your ecommerce industry expertise – and educate and inspire the rest of your sales team

Spot emerging ecommerce retailers, and recognise the ones to watch

Speak with greater authority to your prospects and clients in the ecommerce field
Download the full list here:
Here's a deeper dive into the top 5 ecommerce companies in the world: 
1) Amazon US
If you've seen our other blogs on the top ecommerce companies in the US and top ecommerce companies in the UK, you probably won't be surprised that Amazon.com is the world leader too. With 2.546 billion website visits in August 2022 alone, Amazon is soaring ahead of Samsung in second place, with over 54% more visits. 
Here's an overview: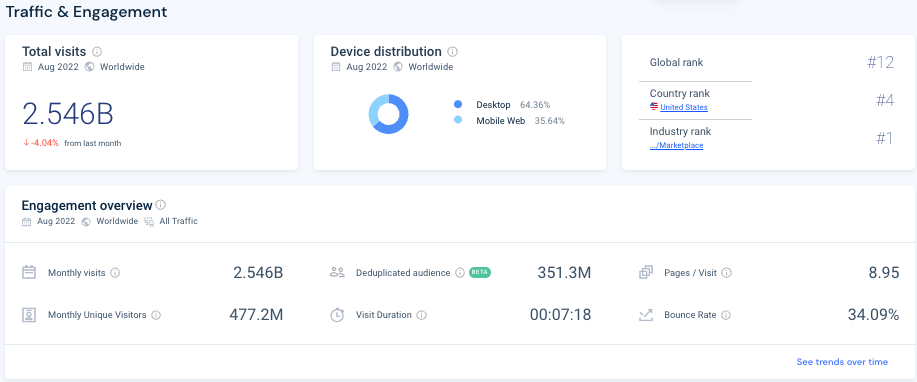 You can see, out of all websites in the world (not just ecommerce), it ranks 12th. That's pretty impressive, isn't it? Both the bounce rate and the device distribution show a good user experience – kind of necessary when you've got the whole 'industry leader' reputation to keep up.
We've said about the August worldwide visits coming in at over 2.5 billion, but to give you some perspective: there are around 7.8 billion people in the world. But what countries are Amazon's visits coming from? 
With Amazon.com being specifically an American site (as Amazon has equivalent websites for a wide range of countries), United States does come out on top, taking up 81.5% of the traffic. The rest of the website traffic comes from other countries, but in small doses. Let's take a look at the top 10:
With that, why don't we take a look at which marketing channels the traffic comes from: 
August was a good month for direct traffic, and if you get your hands on the data, you'll see it's not so different month on month. Just like Apple has an app for everything, Amazon seemingly has a merchant for (almost) everything – leading people to plonk  a m a z o n . c o m into their browser. 
But, we do also like the look of that organic search percentage. Similarweb can spill the tea on what people are searching for to see Amazon.com on their desktop screen in all its glory. Here's the top 10 organic search terms they were using in August:
amazon

amazon prime 

prime video

prime gaming

amazon prime video

amazon.com

aws

amazon smile 

amazon prime gaming

amazon music
Looks like Amazon's push to raise awareness for its other services and functions is working…
2) Samsung
We already gave the game away with the second ecommerce giant, but let's pretend we didn't. In second place, we have Samsung.
August 2022 was a good month for this very well-known South Korean company, with its 1.462 billion monthly views surpassing July's amount of visits by 9.43%. 
With a visit duration of over two and a half minutes, users know what they're coming for. But its bounce rate of 52.53% for August shows they have some targeting work to do – those iPhone and Mac users clearly are in need of some further persuasion. 
Let's look at some of the data from August 2021 to August 2022, where we can see that the average visit duration and bounce rate isn't much different. But, what else can we see?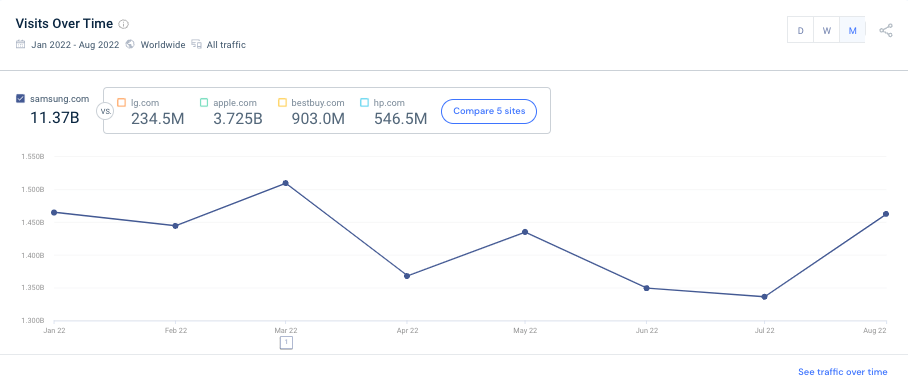 You can see quite a big dip in June and July, but a big uplift in August. And guess what? In August 2022, Samsung unveiled its brand new Galaxy products. And, thanks to our access to the keywords people are searching for, we can see a bunch of these products contributed significantly to August's organic traffic.
And no surprises, but we can see a lot of "Galaxy" hitting its paid traffic too.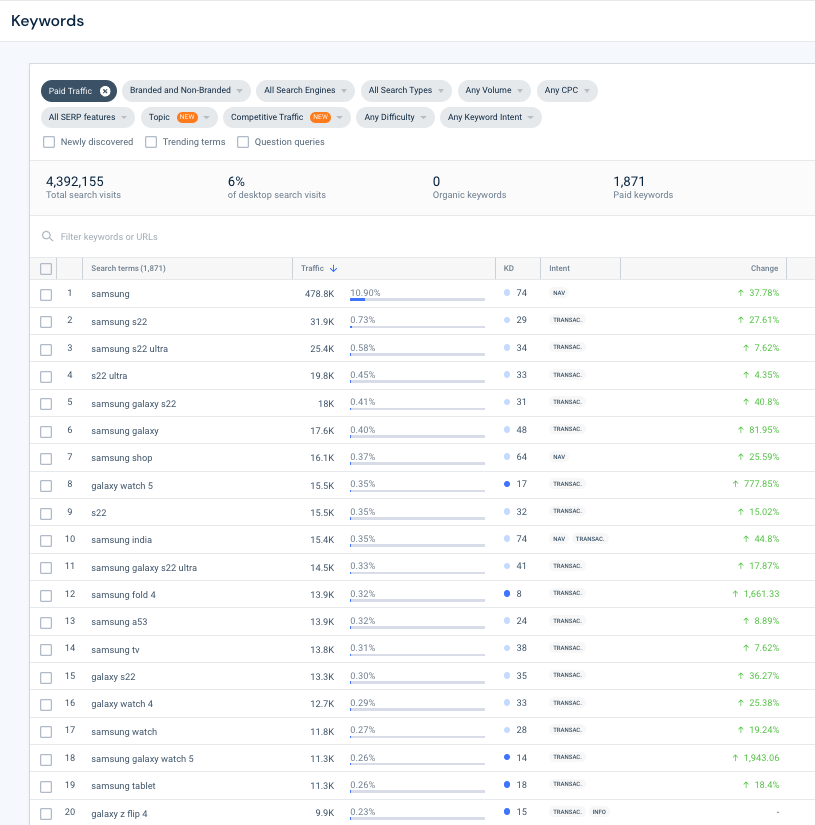 Note that the keyword difficulty for most is moderate (pale blue), and the ones that are newer products, like "galaxy watch 5", are in the easy category for keyword difficulty (blue). But for those 'moderate' keywords, who's competing? Here are the paid competitors Samsung is up against:
Fi.google.com

Verizon.com

T-mobile.com

Link.coupang.com

Prod.danawa.com

Shop.ee.co.uk

Shop.samsung.cl

Shop.tworld.co.kr

Lg.com
3) eBay US
Next in line for the top ecommerce companies of the world is eBay.com with 753.2 million views in August. And look at the Desktop – Mobile Web split. We've got ourselves a good, mobile-friendly website here. 

Anyway, enough fangirling on user experience (for now), let's check out the data from August 2021 to August 2022.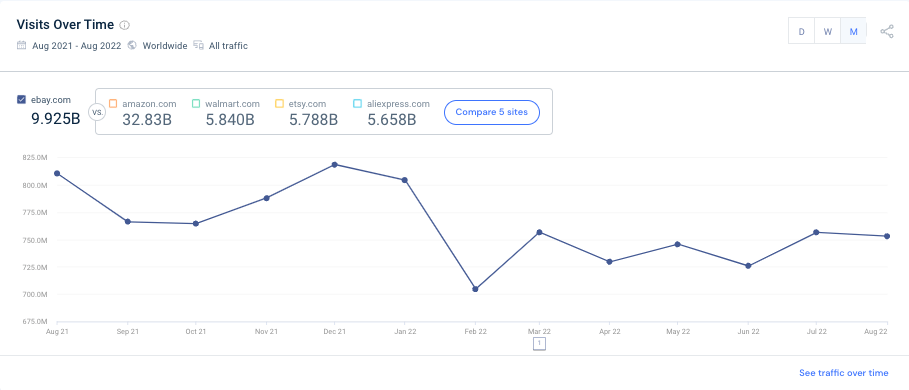 Ah, the old classic – the February dip. The reason that happens? It's the post-holiday and post-January sales drop off. Any ecommerce company will recognise this seasonal glitch.
We can tell you that most of eBay.com's traffic comes direct – 62.13% to be precise. The rest is mainly split between organic (23.32%), paid search (5.94%), and referrals (3.22%). Because we love hearing about companies and their SEO, we're gonna let you in on the organic search terms that's giving eBay.com the hits: 


We think it's safe to say that eBay has nailed their brand awareness – its users' spelling mistakes, maybe not so much. In terms of what the company is pushing with their paid ads, here are some of the paid keywords in comparison: 
Ebay

Ebay usa

Ps5

Xbox series x

Ebay mexico

E bay
Gamers, watch your backs – eBay are after you (with their very reasonably priced game consoles).  
It seems funny that "ebay" and similar branded search terms have such a high keyword difficulty, and it's because even the big hitters like Amazon will see eBay as a strong competitor, and users can find similar products (and good prices) on both their site, and eBay's. Another benefit to Similarweb Sales Intelligence is that you can delve into the competitors too, and here is a list of eBay.com's biggest competition – spoiler alert: Amazon takes top spot yet again:
Amazon.com

Picclick.com 

Walmart.com

Etsy.com

Aliexpress.com

Poshmark.com
4) Amazon (Japan)
You know we said Amazon kinda smash it, whatever country they're in? Well the fact we're seeing it twice in the top 5 says a lot doesn't it. This time we've got Amazon.co.jp.
In August, it saw 603.5 million visits, and not just from Japan either (but it mostly is). Whilst the percentages of other countries aren't high, the bounce rate for each of them is relatively low considering.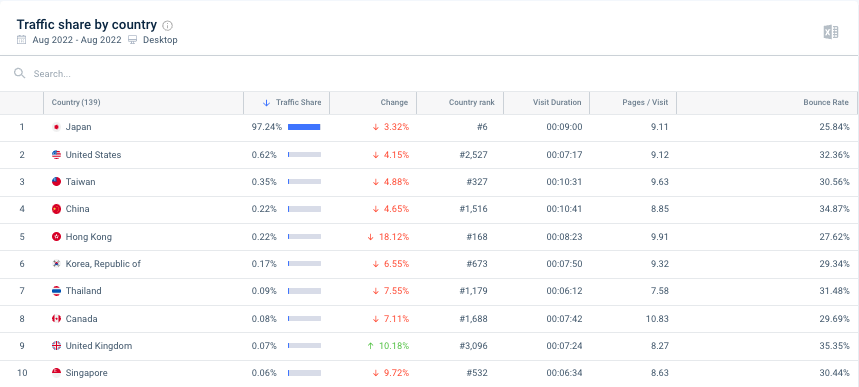 On top of that, the site has a visit duration of just under 7 minutes, with an average of 7.75 pages viewed per visit. Looks like the users like to make sure they're getting the best deal – but hey, who doesn't? 
Here's the August to August screenshot of website traffic, and what do we have here? The inevitable February drop is back at it again.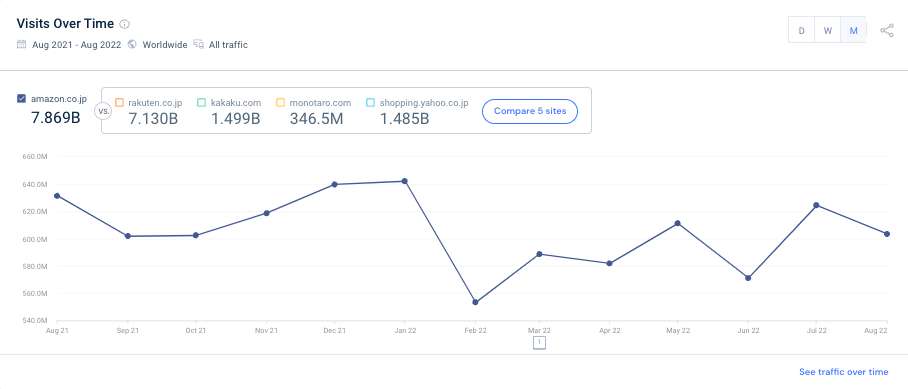 In terms of marketing efforts, did they do anything different over the past year? The short answer is: doesn't look like it. Everything seems relatively in line from August 2021 to August 2022.

Similarweb data lets you hone in on the specifics too, so we can see that from social marketing channels, the main contender is YouTube (54.05% of the social referrals come from here), with Twitter close behind with 40.94%. Are they YouTube influencers putting in their time? 
Taking a look at some of Amazon.co.jp's competitors, we can see a few big names in the mix. In the list of paid competitors, there's Rakuten (they're next up too, so clearly doing a good job), Monotaro, Yodobashi, and the Yahoo store. 
4) Rakuten (Japan)
Japan does it again – even as the tenth largest country in the world by population. This time with the Japanese electronic commerce and online retailing company, Rakuten. 
In August 2022 alone, this website saw 503.7 million visitors. And that wasn't even its highest month – just look at December 2021 where it hit 603.4 million visits.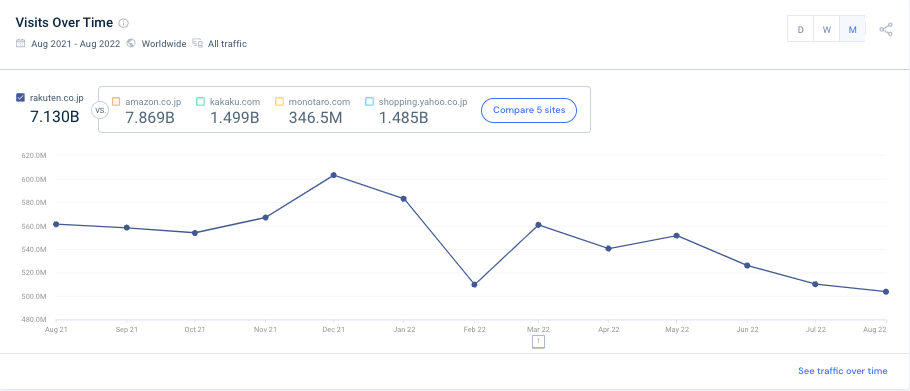 Similar to Amazon Japan, users love to browse, with an average of 7.52 pages being viewed by visit – but the visit duration is a little lower than Amazon's, at 00:06:25. Thanks to our data, we have insight into Rakuten Japan's users interests, which include game and video consoles, computers, electronics, tech, and also food and drink – can relate. 
But who are these users? Why don't we take a look at the demographic: 

You can see that it's pretty ranged, with quite a good split between men and women, but also across the age ranges too. But we'd say Rakuten's ideal customer fit looks to be in the 25-34 range. For now, at least. 
If you're interested in how Rakuten are targeting these audiences, we can help you there too. You can see that most of its traffic comes direct or through search engines, so they've done some good work already. It doesn't look like they've done much different over time either – check out the channel traffic graph for more detail.


Top 50 fastest-growing ecommerce companies in the world
Moving onto our next top 50 list – this time, the fastest-growing ecommerce companies in the world, based on the month-over-month increase in traffic. Let's have a look at the top 15:
Nutrislice

Teuta Matoshi

Pavlok

K12

LTT Store

Focus School Software

Swift

Crossfit

Umidigi

Shoplazza

Pear Deck

Wati

Stock-Off

Epicland

Floryday
Here's the criteria we used to create this list (so you can do it too, with Similarweb Sales Intelligence):
Geography:

Worldwide

Website Type:

Ecommerce

Website Technologies:

Only sites with ecommerce technologies

Monthly Visits:

Over 1 million

Ranked by monthly visits increase –

August 2022 versus July 2022
Download the full list of the fastest-growing ecommerce companies right now, here:
Here's a deeper dive into the top 5 fastest-growing ecommerce companies in the world: 
1) Nutrislice
It's not the first time we're seeing this one – Nutrislice topped the charts in our other post on the fastest-growing ecommerce companies in the US. And with an increase in visits of just under 554%, it's easy to see why they're topping the charts on a global scale too.
"What's with the big increase?", we hear you ask. The summer holidays are over and it's back to school season in the USA, baby.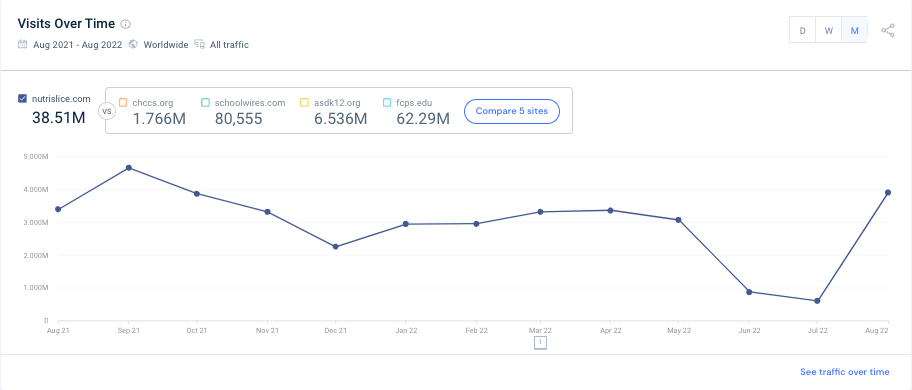 Nutrislice is a digital customer experience platform that helps with menus, signage and mobile ordering of food. Their main target audience? Schools and colleges. 
This website's not for the kids – but you'll see a few of those in the full fastest-growing list, that's for sure. Nutrislice is more for the admin and organization, so its users are predominantly teachers and staff. Here's the insight into Nutrislice's demographic:

The audience interests further show that its users are in the field of teaching too, with the average browsing habits including sites like goodreads.com and quizjet.com. 
In terms of marketing channels, Nutrislice doesn't do much – people are either going direct or finding them through good search rankings for their keywords (go, Nutrislice SEO!), and through referrals too. 

The referrals for August 2022 mainly come from science and education channels, including universities, schools and colleges – which isn't surprising. 
2) Teuta Matoshi
Next up on the world's fastest-growing ecommerce companies is… US made-to-order fashion brand, Teuta Matoshi.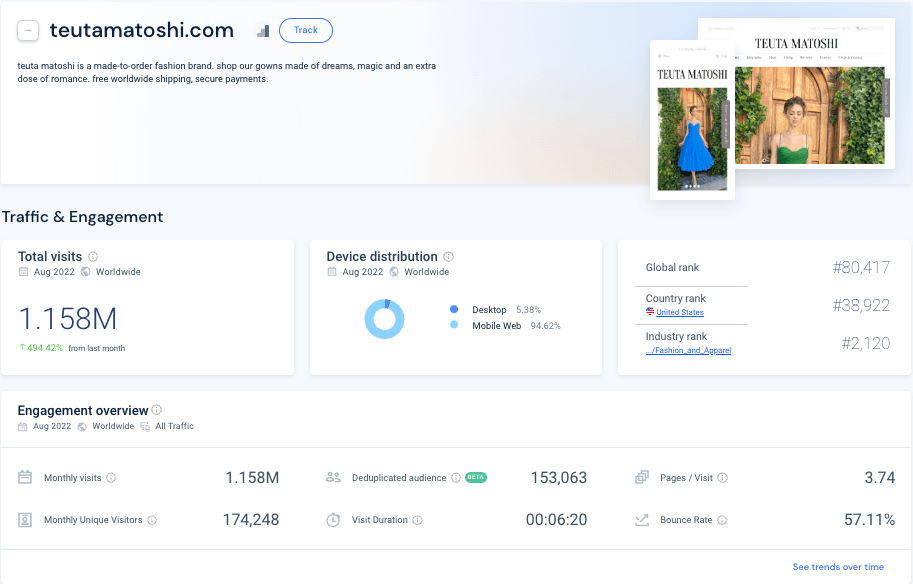 This couture designer brand is clearly appreciated all over the world, seeing a huge uplift in visits in August – 494.42% increase from July to be precise. Taking a look at the countries the users are coming from, the US comes out on top which makes sense, but the site has some fans in the UK and Germany, too. 
If you're interested in finding out what these international users are searching for (), let us tell you the top organic search terms for August:
teuta matoshi

teuta matoshi dress

matoshi

teuta matoshi!

tuo tumatoshi

corset dress 

ethereal bluebell gown

starry gown 
And if we want to know what the company is trying to grab people's attention with, the paid keywords give you much more specific search terms:
yellow 3d butterfly tulle dress

womens yellow black drawing dress tulle flowers

wedding dresses

embroidered butterfly dress

starry corset dress womens
And this was a platform that clearly worked for Teuta Matoshi and its target market. Look at that increase from July to August! We love to see it – and we hope the gains are here to stay.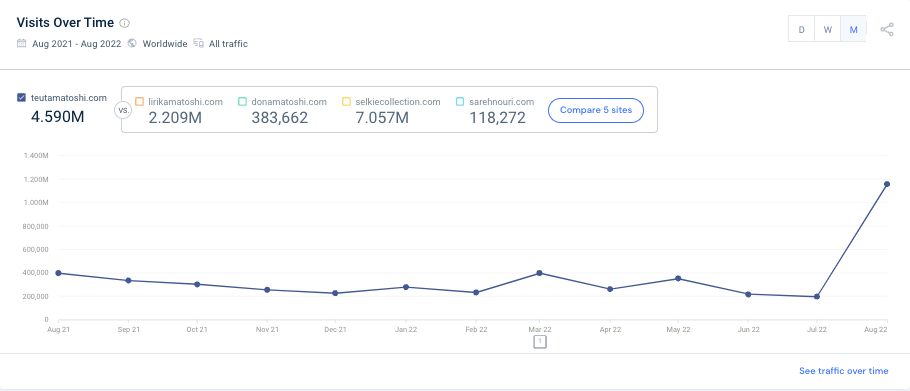 3) Pavlok
Then, we've got Pavlok – and we can't lie, we were super interested in this one for a number of reasons. 
After appearing on Shark Tank a few years ago (and things… not going quite as planned, let's just say), the founder Maneesh Sethi has continued to make quite the name for himself. One example? He hired a woman for 8 dollars an hour to slap him every time he opened Facebook. No, we're not joking.
Anyway, back to the product itself. Pavlok: a wearable device company to improve health and fitness, as well as productivity in general.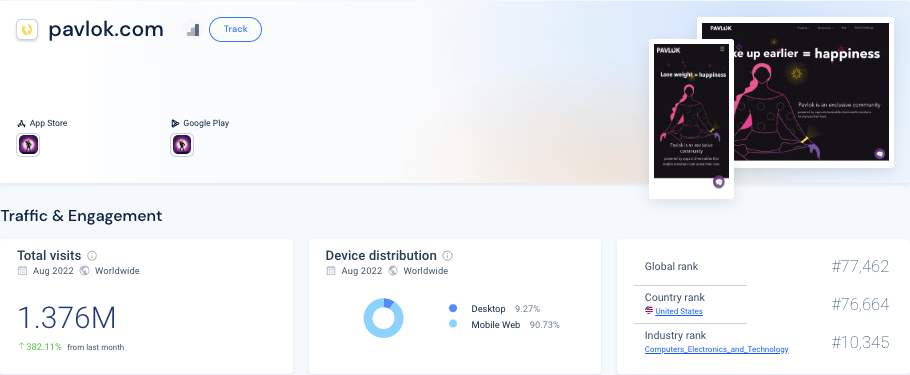 From July to August, Pavlok saw a 382.11% increase in website traffic, and of that traffic, 90.73% is from mobile devices. FYI: that's significantly above average, compared to desktop traffic.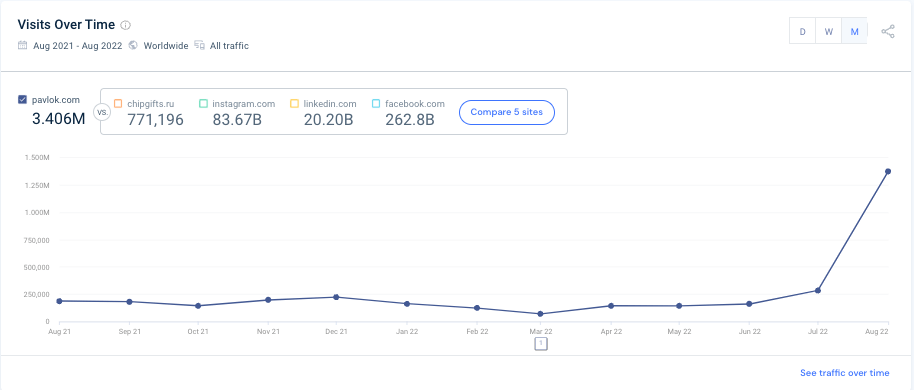 So, why the big uptick in August 2022? Is it because people are deciding to join the health train after June and July, or is it brand awareness? Well, it might be a bit of the former, but the growth in organic search and the top keywords suggest that people do know about the brand – and want to know more. Here's what people are typing into their search engines:
pavlok

pavlock

pavlok 3

bad habits list

pavlok shock clock

shock clock

pavlok watch

pavlok bracelet

pavlok shark tank
A few things might stand out to you in this list, as they did with me too. 
1) What on earth is a shock clock? Because even the searchers can't seem to believe it either.
2) Bad habits list? Tell me more.
3) Do people really get confused with bracelets and watches? 
I'll answer them one by one. 
1) The product's push for productivity comes down to one unique selling point: it shocks you when you do something you deem as 'bad'. This could include waking up late, eating after a certain time, or biting your nails. 
2) Speaking of bad habits, the CEO took it upon himself to write an entire list of – what he views as – bad habits. I'll put it out there, there are a lot of questionable ones, but given the fact the 2015 blog is ranking second for the search term, "bad habits list", it's got the attention he so desires. 
3) Apparently, yes.
So, who are these people that are getting pleasure out of pain? The demographics show a wide range of you are keen to kick the bad habits, but we're mainly looking at the buyer persona being male (64.94%) and in the 25-34 age bracket. 
4) K12
Another one we saw on the fastest-growing ecommerce companies in the USA list is K12. Hi again.  
A product that benefited from everyone going back to school, K12 saw a 207.02% increase in website traffic from July to August. Of the 17.29 million visits, they had just under 1.3 million deduplicated users, showing some serious loyalty to the brand. And so does the low bounce rate of 20.78%, and average visit duration of just under 17 minutes.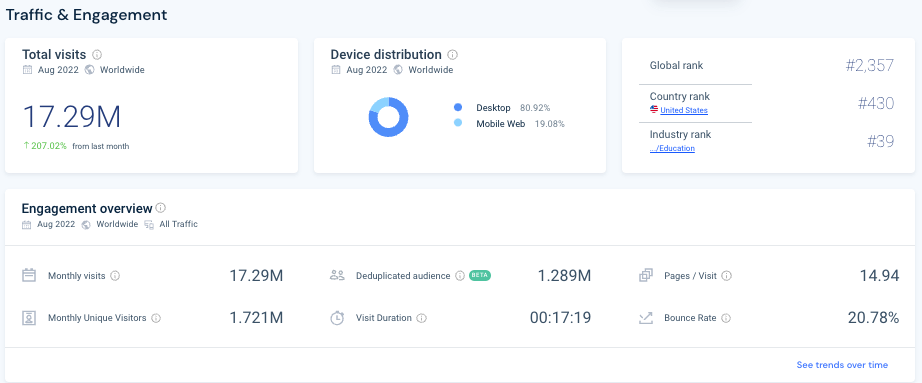 K12 is evidently giving the fans what they want, and that is educational resources to kick off 'Back to School' month, and beyond. With this trend, you'll understand why the visits to this ecommerce site drops off in June and July when the kids are on school holidays. You can even see a slight drop in December for the Christmas holidays as well.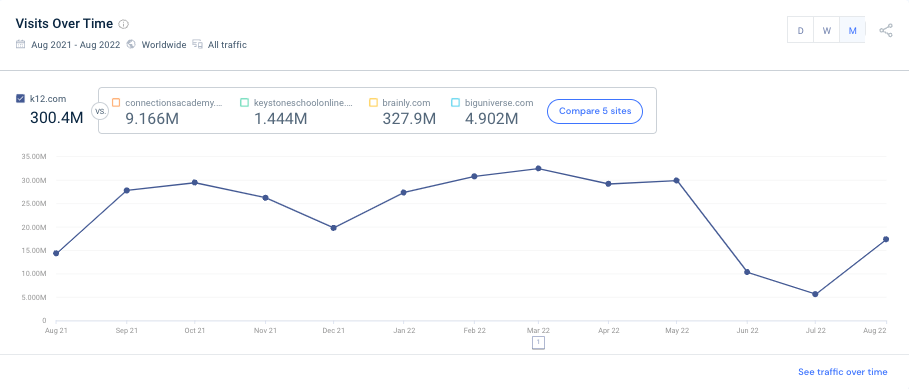 K12 knows the uplift is going to happen in August, but no chances are taken – and rightly so – as the site has put effort into search ads and paid keywords. Yep, just another thing we have full insight on thanks to Similarweb pro. Here's a snippet: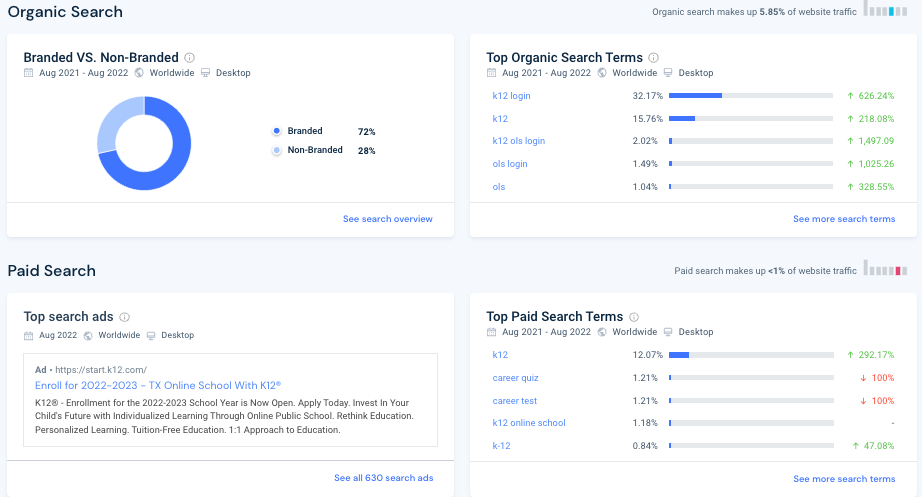 5) LTT Store
Linus Tech Tips Store, or LTT Store for short, is another one that sits in the category of computers, electronics and technology, selling computer hardware and other tech. 
In August, it saw a rise of 202.7% in website visits compared to July, but what happened in 2022 that made such a difference?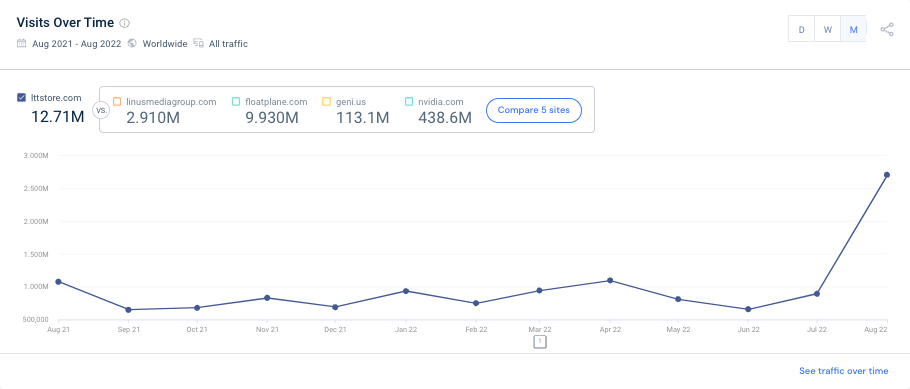 Well, as you can see from the marketing channel traffic above, direct saw a big rise – but social media, we are looking at you.
You'll be undoubtedly intrigued as to which social media channel helped with this massive push, and you'll be undoubtedly impressed when you find out that 96.80% of the social referrals came from YouTube.
Now, we did some research and one YouTube review stood out in particular: an LTT Store backpack review that got over 1.1 million views at the beginning of August.
Some review, hey? In fact, the impact of this backpack review can be seen as "ltt store backpack" made it into the top 5 organic search terms for August – a search term that went up by 634.54% in popularity.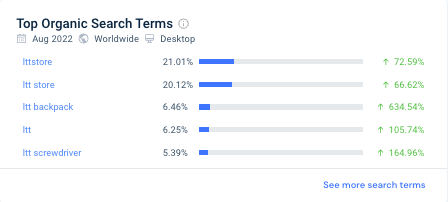 The review made it a worldwide sensation, as we can see the top countries for visits were from the US, Canada, the UK, Germany, Australia, India, Netherlands, Sweden, Poland, and France. The world = their oyster.
Go beyond the top 50
If you want to pull insights like these in seconds – and we think you might – book a demo to find out just how Similarweb Sales Intelligence can help you uncover your ideal prospects, their tech setups, and their pain points. 
Our aim as a business? To help you sell smarter and crush your sales quota.
FAQs
What is the best company for ecommerce?
Unsurprisingly, amazon.com leads the list of the top 50 ecommerce companies by traffic in 2022, since it's a well-established giant in the ecommerce sector.
Who are the major players in the ecommerce industry?
The top 5 ecommerce players in August 2022 include Amazon, Samsung, eBay, Amazon Japan, and Rakuten Japan.
What are the fastest-growing eCommerce companies in the world?
The top 5 fastest-growing ecommerce players in August 2022 include Nutrislice, Teuta Matoshi, Pavlok, K12, and LTT Store.
This post is subject to Similarweb legal notices and
disclaimers
.
Wondering what Similarweb can do for you?
Here are two ways you can get started with Similarweb today!