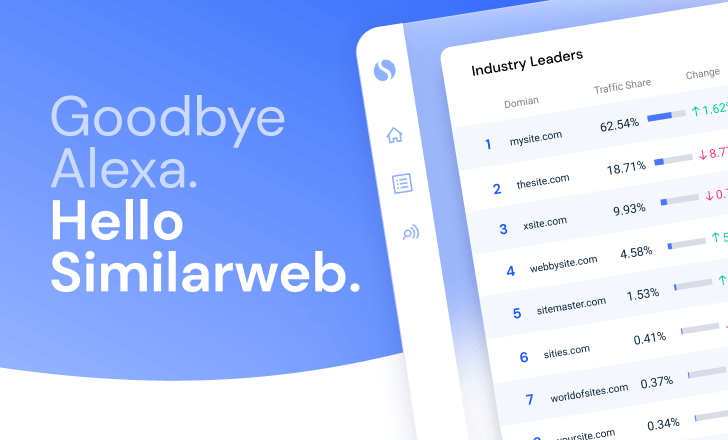 Updates
Amazon's Alexa Shutting Down, Similarweb Ramping Up
December 10, 2021
| Updated August 3, 2022
Similarweb has always prided itself on being the official measure of the digital world. And now we pride ourselves on being the only measure of the digital world, with Alexa Ranking set to cease operations in May 2022.
Born 25 years ago and owned by Amazon, Alexa.com is a leading global website ranking system and a competitor analysis tool with a loyal customer base. With only a few months left until it shuts down, Alexa users are now seeking alternative ways to keep up to date with digital ranking and competitor analysis.
Here at Similarweb, we've acted on this news and launched a new, free website ranking API tool to complement our suite of existing free tools. We also have a free trial of our full solution available for Alexa.com users to try. 
Free ranking tools and API launch
At Similarweb, we believe in the power of data. And our mission is to share that data with as many people and businesses as possible. 
Similarweb holds data for millions of websites, and we publish the official ranking of the digital world for everyone to see. We reveal who's hot, who's not, and everything in between. Thousands of businesses rely on this list to understand where they stand in the digital world – it's so popular that it even got its own Wikipedia page.
As well as this index, we offer fresh insights every single day for our users. We are excited for Alexa.com users to see the depth and insight in Similarweb data.
Without interruption, Alexa users can get rank data today for free from Similarweb in three different ways:
1. Similarweb.com
– No login necessary, just go to our "Ranking" section
– Key high-level ranking metrics across various channels and countries
2. Browser extension
– In-depth statistics for any website visited
3. Our new DigitalRankTM API
– Free global ranking metrics
– Register your interest
Our brand new API has our proprietary website ranking data available, which means users can track their own rank against their competitors easily, and for free! 
Free trial for enhanced digital intelligence tools
Alexa.com users can also sign up for a free trial for our enhanced digital intelligence tools. 
Free trial users will have unlimited access to Similarweb DigitalRank(TM), a market-leading ranking of website performance, in addition to Similarweb Digital Marketing and Research Intelligence premium solutions, which help users go beyond simple ranking, enabling them to uncover actionable insights that impact website traffic performance. With these solutions, users can: 
Make strategic decisions

based on the most comprehensive, real-time view of competitive activity across all digital marketing channels, not just website ranking scores.  

Spot new opportunities

from traffic and engagement trends as they are happening, and understand which audiences are engaging with your competitors' websites and their industries over time. 

Utilize real-time traffic share data

to adapt to market changes as they happen

Benchmark

engagement metrics

and website performance cross-industry to expose competitor's digital strategies 

Analyze any marketing channel's performance

over time to make data-backed decisions on where to allocate resources and ad spend for maximum ROI

Get critical audience demographic and behavioral information

, a metric missing from Alexa.com, to improve targeting and user retention 

Discover and prioritize keyword opportunities

based on search volume, optimize traffic share per keyword, and monitor the search traffic trends 
For those who like the trial, for the first time, Similarweb is launching a self-service offering that will address Alexa.com users' needs and use cases. This new offering will be available in all markets globally through a simple credit card transaction.
Unrivaled digital insight
Our unrivaled data is what sets us apart from the crowd. We gather over 10 billion digital signals per day and have over 200 data scientists to ensure we provide the most accurate and comprehensive view of the digital world. 
Industry heavyweight Rand Fishkin (Co-Founder and CEO of SparkToro) has said of our data: "Similarweb's data is, without a doubt, the most robust and accurate information available about what's happening online. 
"I've used their numbers in multiple research projects and market analyses, both public and internal, and wouldn't rely on anything else (because I've run the comparisons!). If you need superb, trustworthy data on where people go and what they do on the web, Similarweb has the scale and quality to deliver."
Looking forward
"Similarweb has always been a leader in terms of the data our users get and the quality and accuracy our insights provide," said Or Offer, CEO and Founder of Similarweb, "Although it's a bittersweet moment with the closing of Alexa.com, I'm excited for the opportunity it presents to expand our reach even further as we become the standard for digital rankings and global website intelligence." 
Similarweb's free trial is available now. We look forward to helping more people, and more businesses use digital intelligence to win their markets. If you'd like to read more about how Alexa and Similarweb stack up as platforms, read our Alexa vs. Similarweb in-depth guide. 
This post is subject to Similarweb legal notices and
disclaimers
.
Wondering what Similarweb can do for you?
Here are two ways you can get started with Similarweb today!