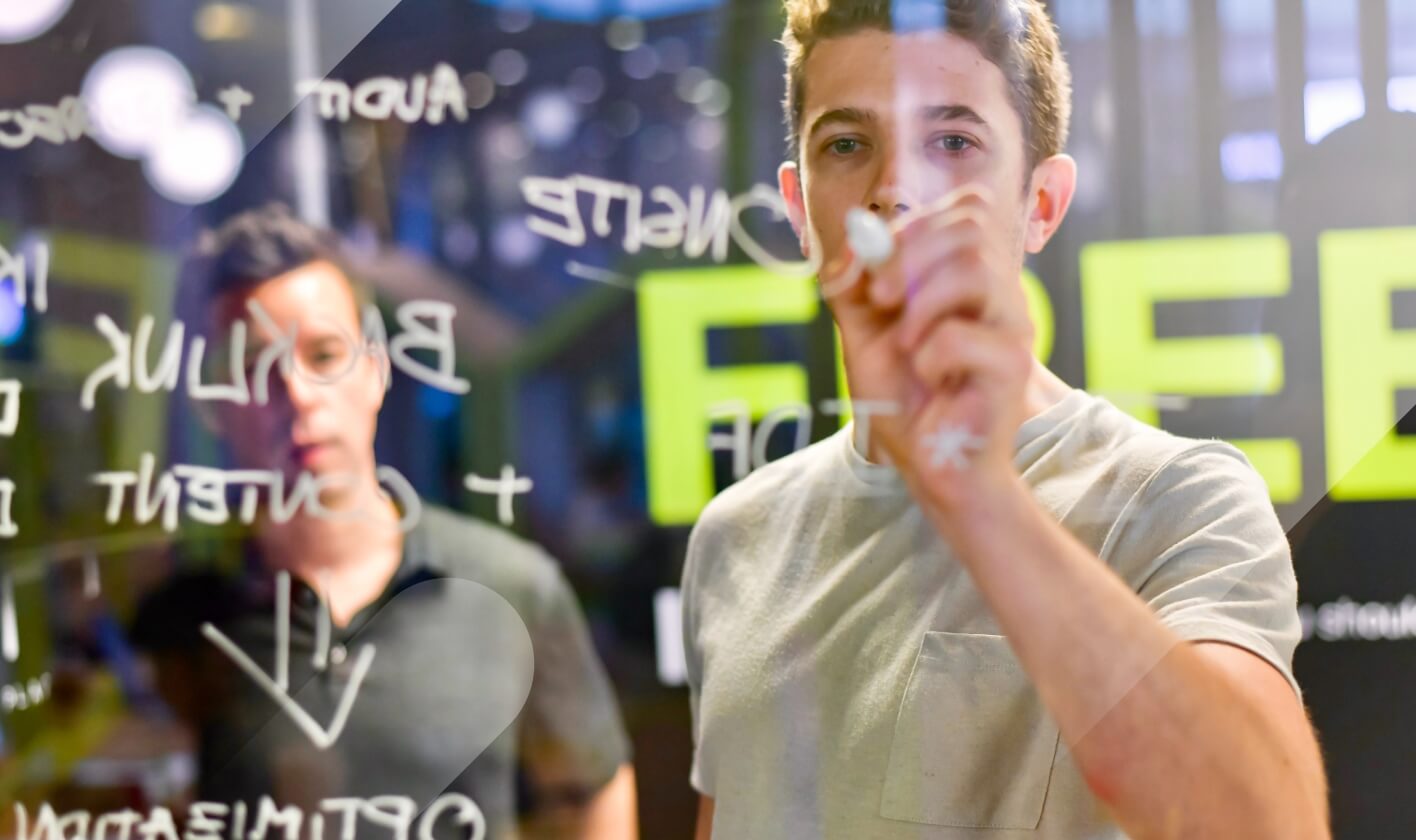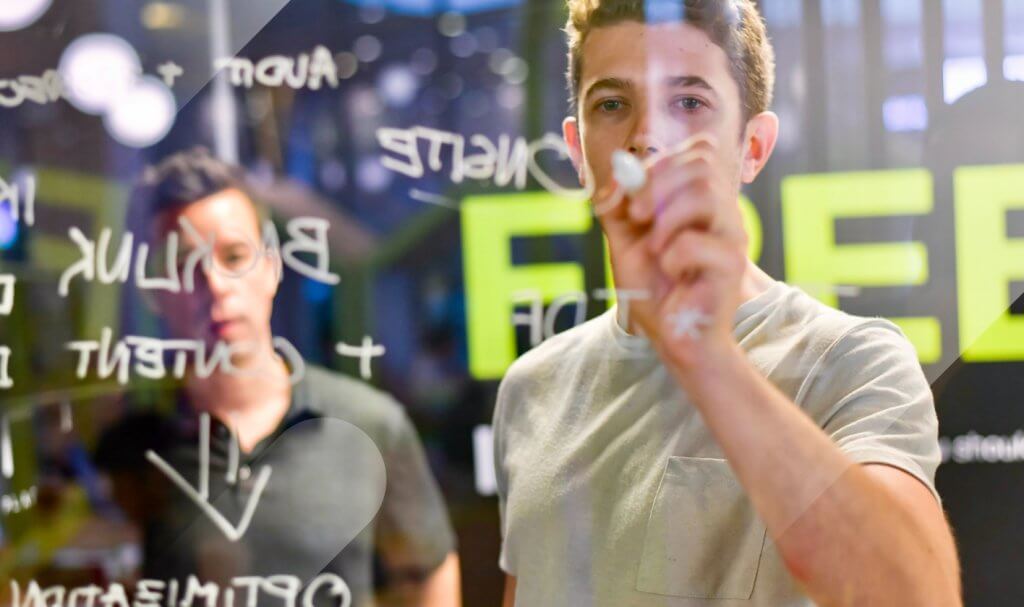 eCommerce Intelligence
The Basics of Conversion Funnel Optimization and How to Get Started
July 14, 2020
| Updated August 9, 2022
Conversion funnel optimization can make the difference between your website generating a healthy profit, or just hovering over its break-even point. Taking an approach of fewer, yet faster, steps towards conversion will increase your conversion rate.
The result, of course, is more ROI on your marketing campaigns.
You may not have a conversion funnel set up on your site yet. Nonetheless, your visitors take a very similar journey from being "potential customers" to "paying customers". 
Whether your visitors follow a predetermined path or prefer to find their own flow, it's critical that you understand their steps. This lets you determine the actions you can take to help them move through the funnel. 
What Is a Conversion Funnel?
A conversion funnel is a way to visualize the flow of visitors (or leads) towards conversion. The wide-open top demonstrates the traffic arriving at your site, of which a small percentage converts and comes out on the bottom of the funnel as customers.  
Traditional marketing funnels include the process of drawing prospects towards a site. The first touchpoint could be a display ad, a podcast, or an old-fashioned commercial where prospects first become aware of your product. 
A conversion funnel refers to the path a visitor follows on your site and is relevant in internet-based businesses such as eCommerce and retail.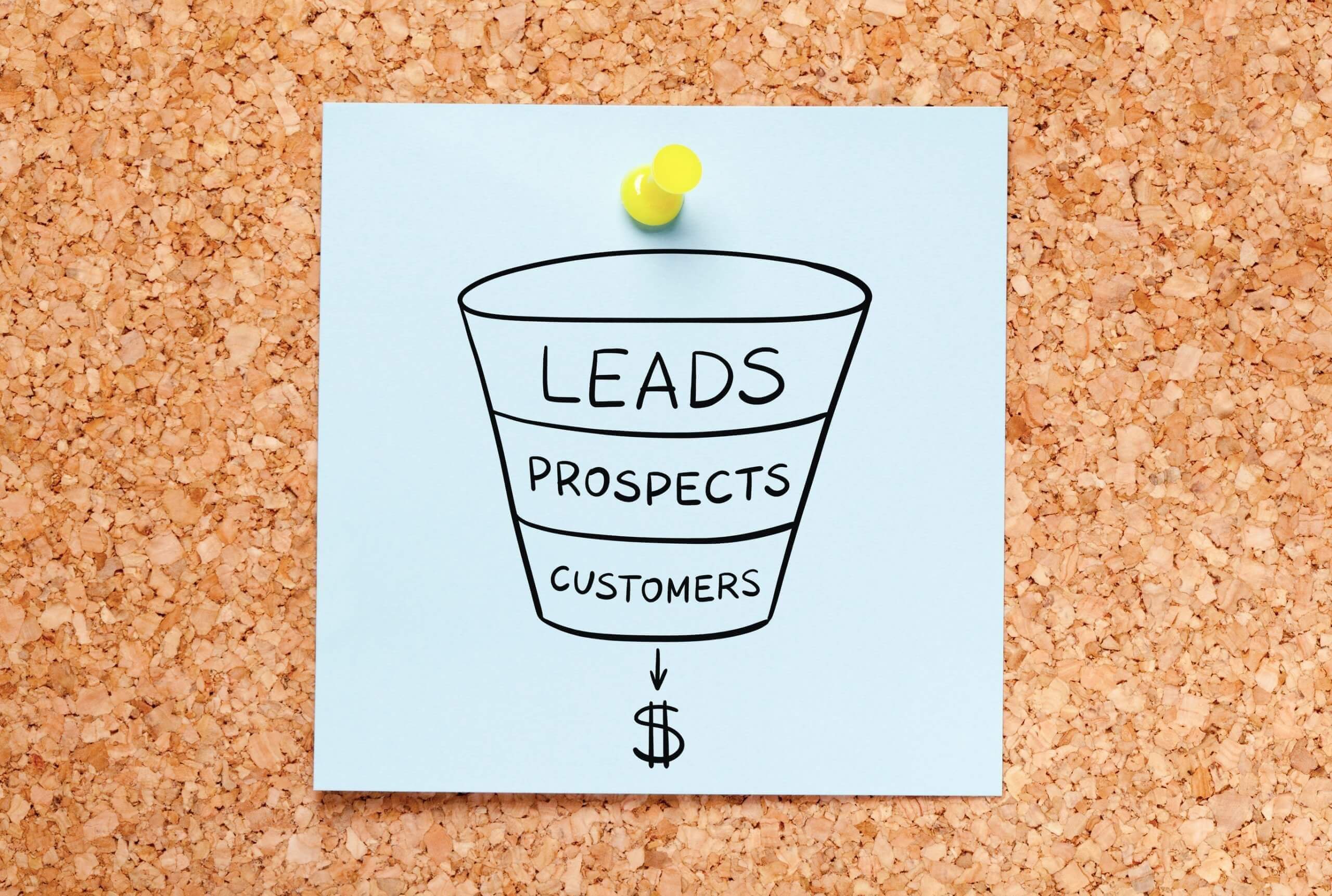 Why Is Conversion Funnel Analysis Crucial for Your Online Business?
To improve the conversion rate on your site, you need to understand at which point potential buyers drop out of the funnel. If you are running an eCommerce site, there are additional factors to consider, like eCommerce conversion rate.  
Let's stick with the simple eCommerce conversion funnel. If prospects don't find the product they're looking for, they'll run off to another site, hoping for easier navigation. In this case, you will see a high drop-off percentage in the first stage.
If the checkout page takes too long to load and customers who were ready to buy get impatient, you will see a high drop-off rate between steps three and four. 
A website conversion funnel analysis can help you locate where the funnel is blocked, i.e., where prospects drop off, or leaks in the funnel, i.e., when prospects wander away to unrelated pages. This is your first step to conversion funnel optimization.
What Are the Main Elements of a Conversion Funnel?
There are many conversion funnel models. Which model you apply depends on your industry and the nature of your business. Hubspot's buyer journey is probably the most simplified funnel with only three stages:
Awareness 

Consideration 

Decision
This breakdown applies mainly when setting up marketing campaigns per stage. Each piece of content caters to pushing the prospect to the next stage.
For a conversion funnel analysis, you might want to go into more detail to help identify each individual step.
Most traditional models divide the path into five steps. This is also the flow we use at Similarweb:
Awareness 
Consideration 
Evaluation 
Purchase 
Loyalty
Depending on the business type, the steps in the funnel represent different actions that the visitor carries out. You define which customer action on your site matches with which step. 
In eCommerce, retail, and CPG, the conversion funnel can be shortened and might look something like this:
Step 1 – Awareness = site visit 
Step 2 – Interest = Add product(s) to cart 
Step 3 – Decision = Enter payment details
Step 4 – Action = Compete purchase
This is often referred to as the AIDA model.
In the online travel industry, the funnel looks pretty much like this:
Step 1 – Search (on various lines-of-business: OTA, airliner, or metasearch) 
Step 2 – Compare and select the preferred flight or holiday package 
Step 3 – Enter payment details 
Step 4 – Complete purchase ("thank you" page) and upsell opportunities (rent a car, add a hotel package, select seat, etc.)
Setting Goals for Your Conversion Funnel Optimization Strategy
To build a working conversion funnel optimization strategy, take a step back. Imagine your ideal customer persona and keep them in mind. Set measurable goals for their journey and then systematically address each step by measuring and testing.
How to Choose the Right Metrics?
You want to start at the core by defining your conversion goals based on your website goals, which are derived from your business goals. These are usually revenue-oriented, so make sure your key metrics focus on revenue generation activities.
Define your funnel stages and set key engagement metrics. The metrics you chose depend entirely on your conversion goals and represent a critical step in a funnel stage.
Here are a few examples of metrics to track and measure:
Pages / Visit

Visitor-to-lead conversion rate and lead-to-customer conversion rate

Request a quote/trial/demo conversion rate

% sales accepted leads

Average cost per sale

Return on ad spending

Revenue per visitor

Average order value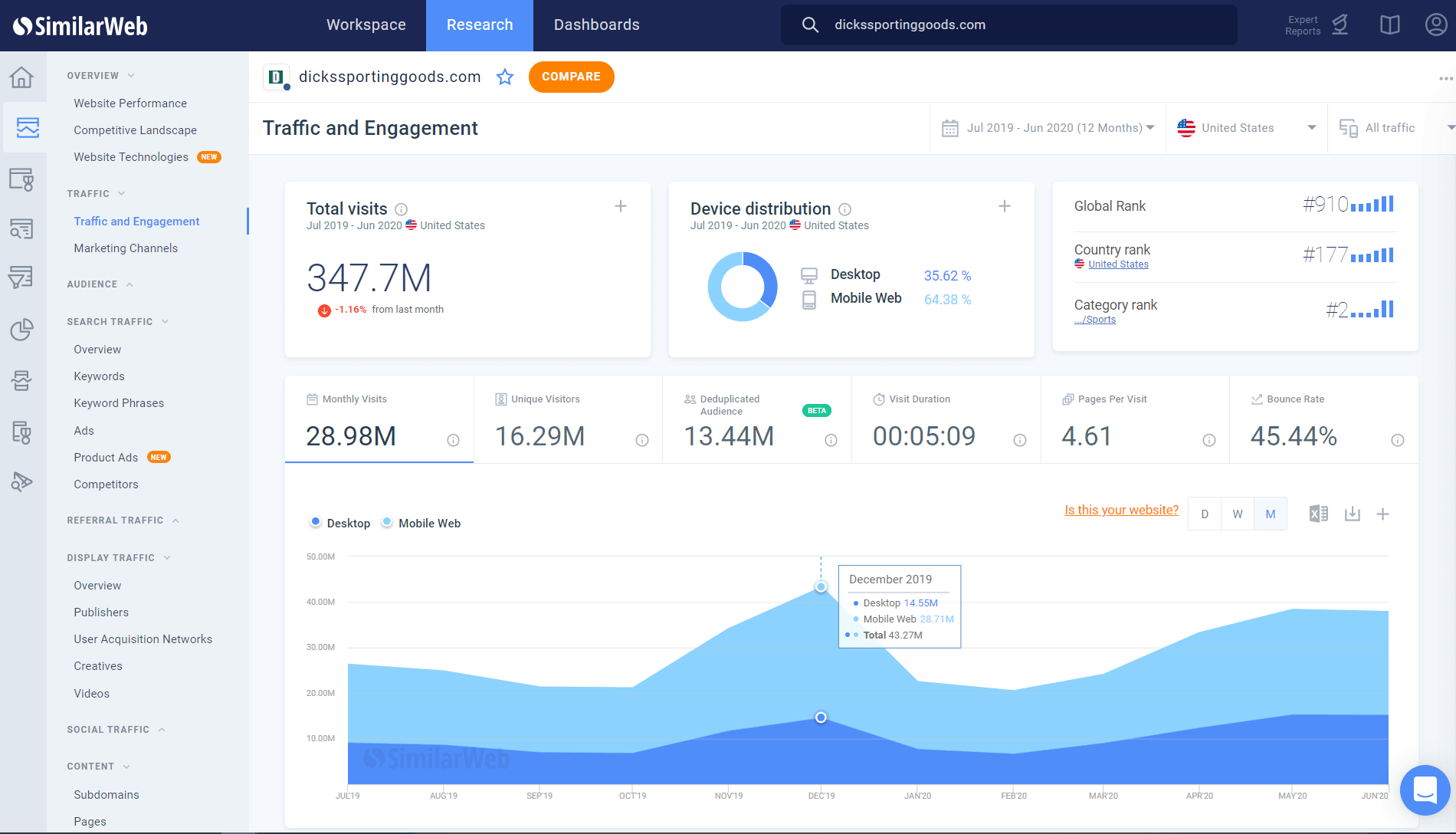 Monitor these metrics over a set period. Next, examine the funnel for blockage or leaks.
Use Analytics to Increase Conversions on Your Website
This is where the real work begins. Start by pinpointing pages with high traffic and a high exit rate to identify at which stage people drop off. 
Once you've determined the pages, audit and investigate how people navigate, inspect which sections may be confusing, check if the CTA is clearly visible, etc. Based on your findings, make improvements and run A/B tests.   
With the funnel visualization tool in Similarweb Pro, it's easy to get results. It is also useful to see where your high-quality visitors are coming from.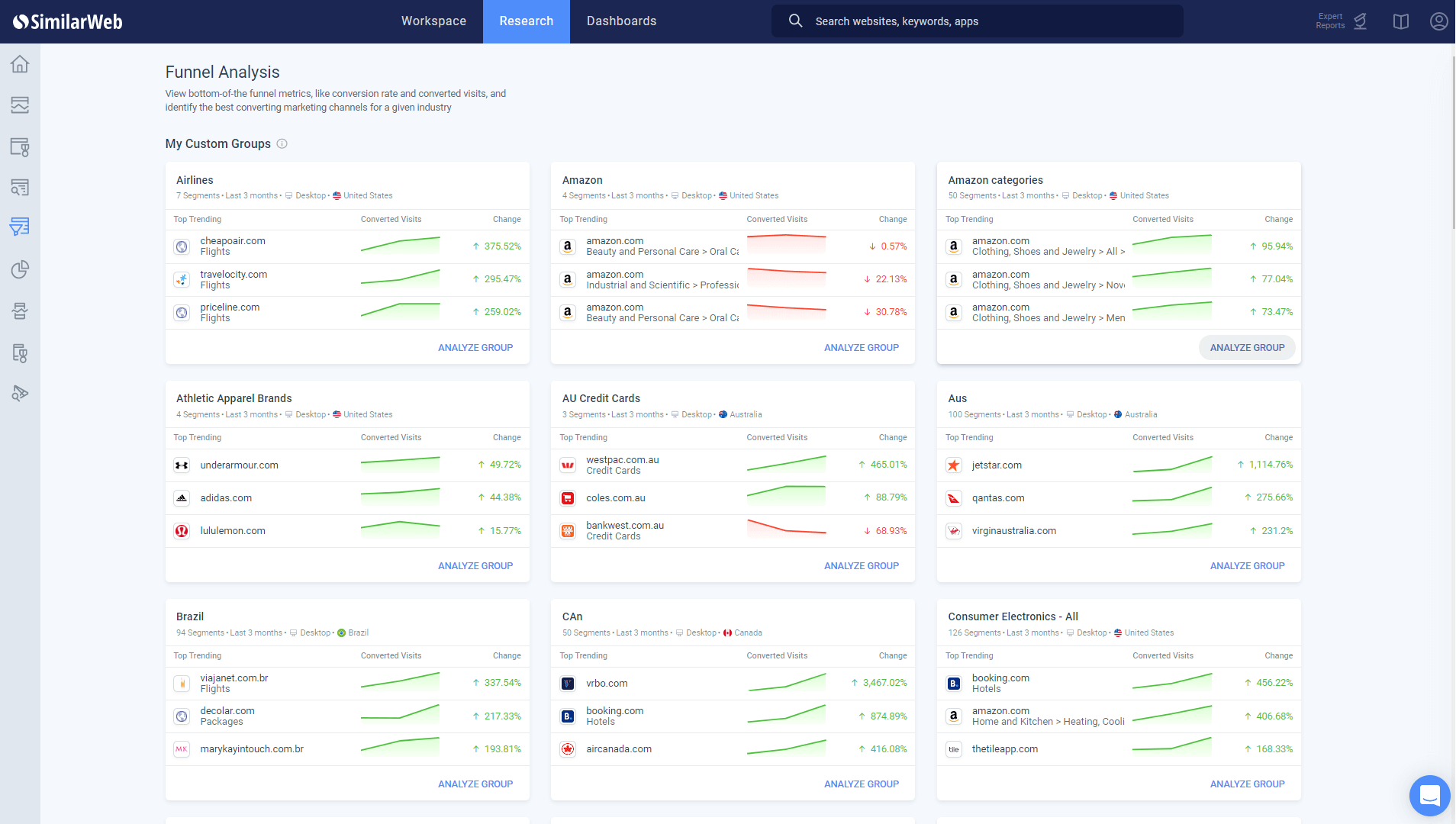 Adopt additional analytics tools to understand what's happening on your high-exit pages. Heatmaps, scroll maps, and confetti maps are great for visualizing how visitors navigate on your page, where they click, and how far they scroll down. Another way to observe individual visitors is to record their sessions (for example, one tool that provides web session recordings is Hotjar).
You may consider implementing a temporary on-page questionnaire to get direct feedback from your visitors. Keep in mind, though, that visitors may be reluctant to answer, especially if they were disappointed. Your questions need to be short, specific, and simple, and even then could still be based on emotion.
Why You Need Advanced Tools to Perform a Proper Conversion Funnel Optimization
To meet your goals and increase your conversion rate, you need precise, measurable data. An advanced funnel analysis tool will support your optimization strategy through reliable and relevant metrics. It lets you easily track, record, evaluate, and extract data. 
Here's What to Look for in an Advanced Funnel Analysis Tool:
Does it provide excellent tracking capabilities?

Can you view a range of websites across multiple categories?

Does it provide data on industry averages and benchmarks? 

Is data visualization easy to understand?

Can you export and share data internally?

Does it allow for integration with other 1st and 3rd party tools?
Critical components of your funnel optimization strategy depend on these capabilities and the quality of data the tool provides.

Competitive Benchmarking – Compare and Outperform Your Competitors
Everything may be working smoothly on your site, but, do you know how you compare it to the average website conversion rate in your industry? 
In highly competitive industries, such as travel and telecom, benchmarking is particularly important. Any small change can cause a notable difference in customer behavior.
Do competitive benchmarking to detect their site innovations so you can catch up quickly. See how long it takes them to pick up on new trends that you introduce.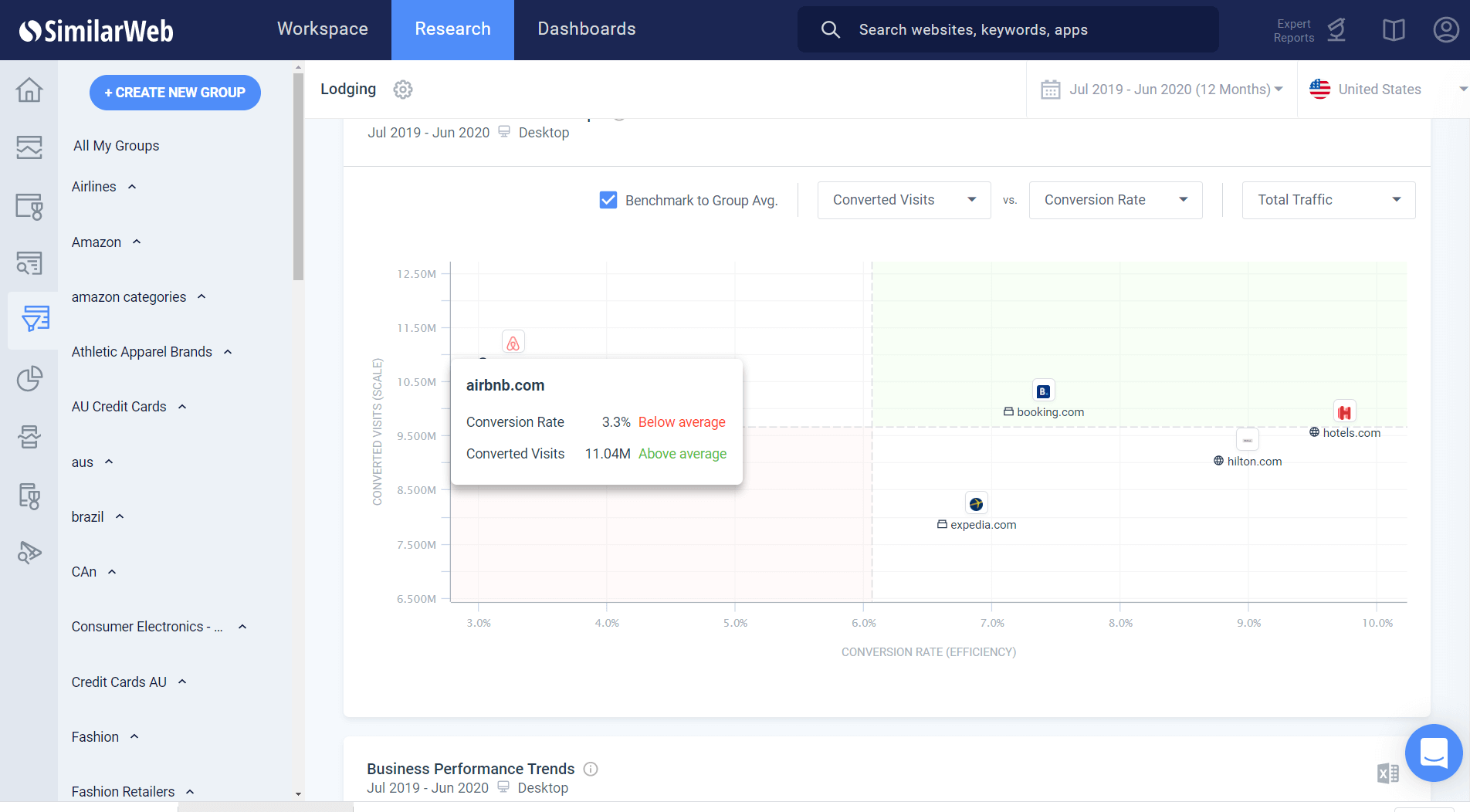 Filter by Category – Focus Your Optimization Activities 
Hone in on your most relevant competitors to get significant eCommerce benchmarks – based on your true competition. Large online enterprises spread their business over a wide range of categories. Make sure you compare only apples with apples, and not apples with an entire fruit basket.
Filtering your analytics results by business category should be part of your strategy, as it lets you focus your optimization activities where they are most vital. 
Stickiness – Increase Customer Loyalty and Brand Awareness
Satisfied customers will return and carry out additional actions on your site. Stickiness shows the average number of days a month in which a user made a purchase out of all the purchases made on the website for that month.
A high number signifies a high rate of return purchases. If your stickiness index is low, you need to check why customers don't come back and find ways to boost your retention marketing. 
This is a valuable indicator of customer satisfaction and brand loyalty. Specifically, for enterprises relying on subscribers, it should be included in the metrics for optimization.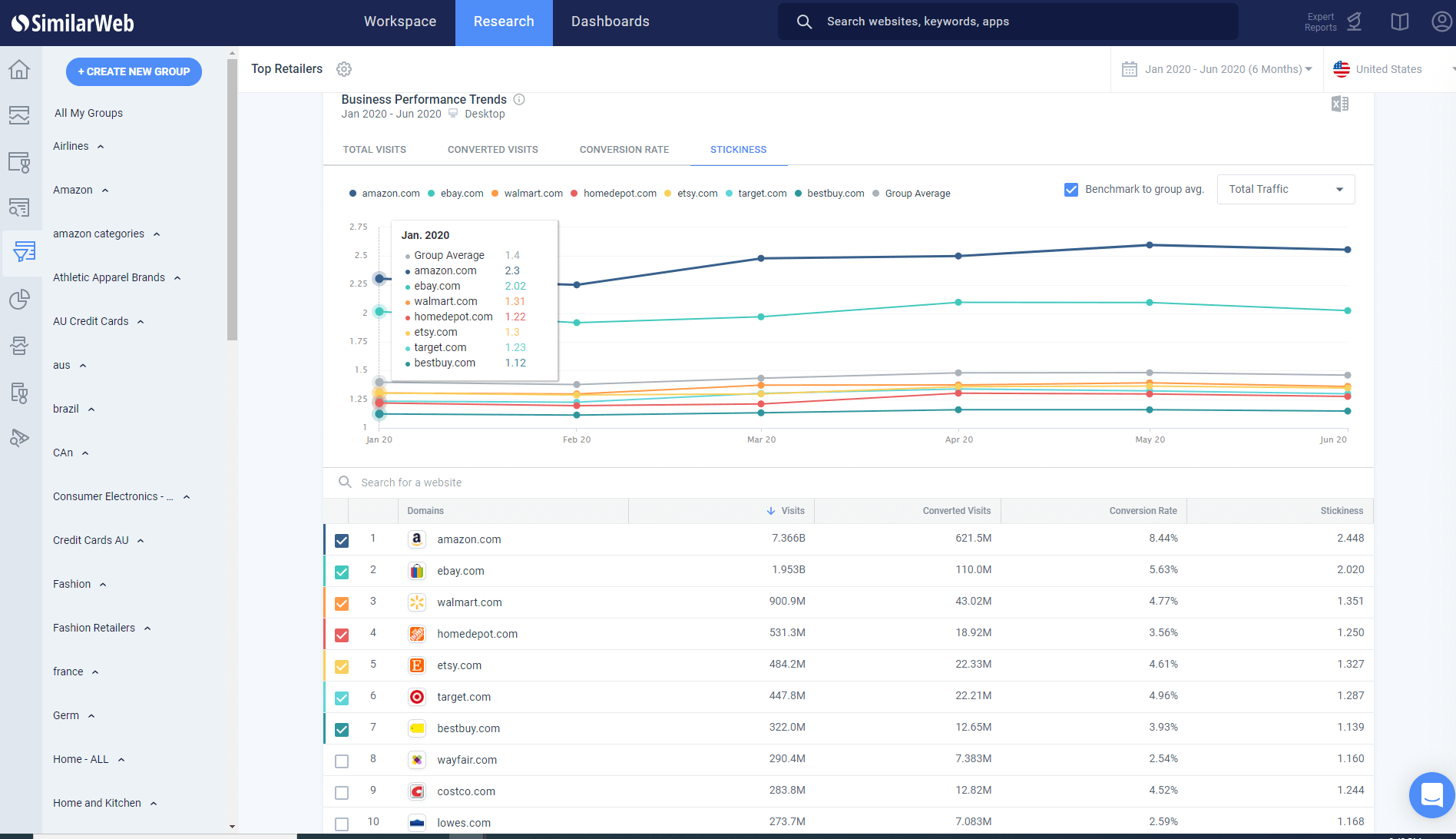 Website Conversion Funnel Analysis – Travel Example
In the travel industry, you will usually see a more linear funnel than in other industries. That's because, in non-COVID times, travelers do extensive comparison shopping, and the competition is fierce, especially between the major players: Expedia, Booking, Airbnb, and Hotels. After a quick look at an overview of top competitors in your category, you'll understand why an in-depth analysis is critical.
Let's take a closer look at a typical conversion funnel for an online booking site (e.g. booking.com), as we mentioned above. Notice how each metric represents a critical step in a funnel stage and how they create a gradual journey from search all the way to a complete holiday booking.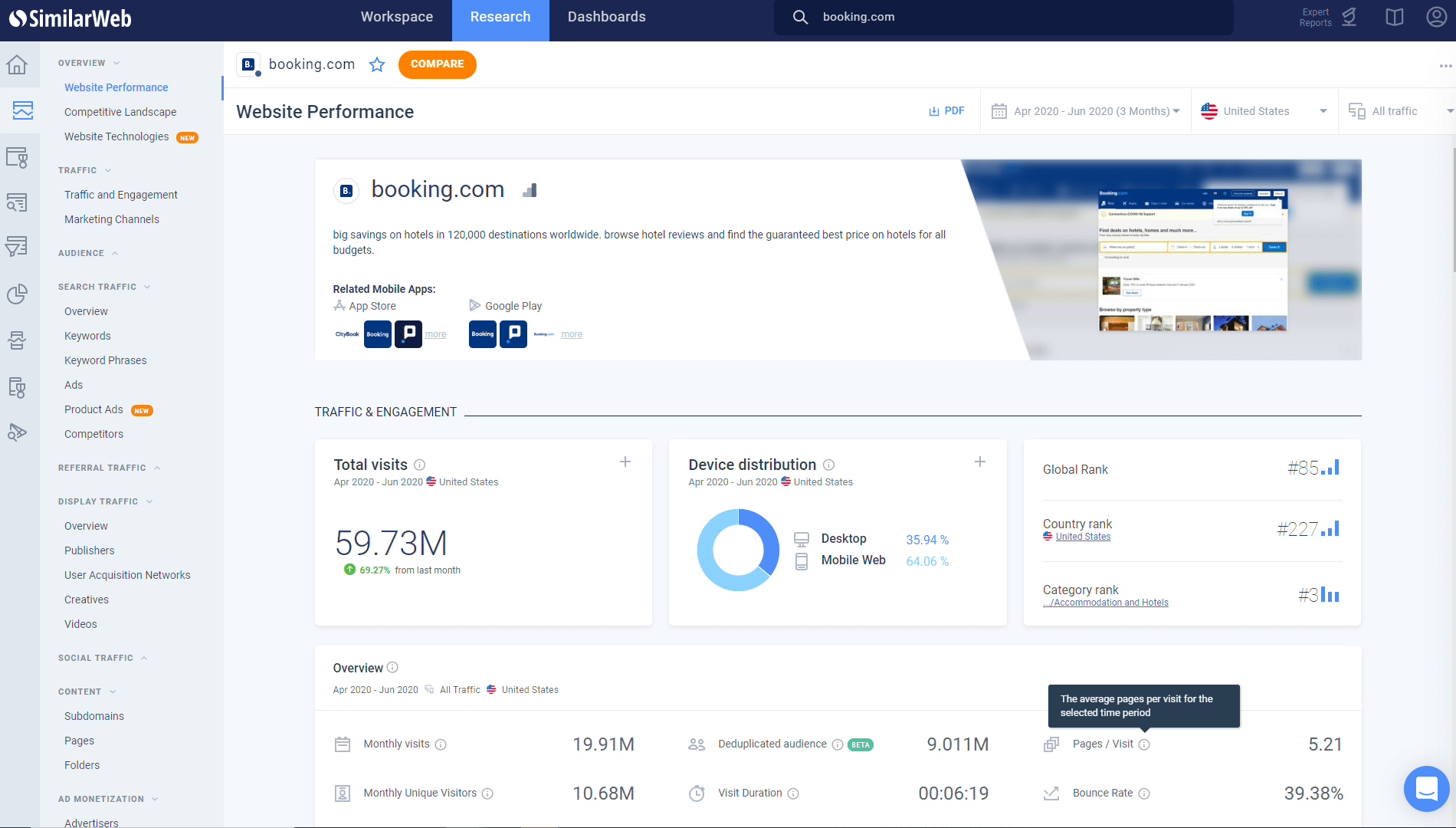 Step 1: Search (Top of the funnel)
There are three main metrics to look out for when it comes to online searches:
Branded searches 
Measure: How many daily/weekly/monthly brand impressions did you have? Filter by Region.
Website visitors  
Measure: How many daily/weekly/monthly did you get?
Referral traffic
Measure: How much traffic is coming from referrals, and from which websites?
Step 2: Compare and Select
Website visitors compare and select the preferred flight or holiday package by looking at factors such as price, date, and flight length.
Measure: Engagement metrics such as Avg. Visit Duration, Website stickiness, Pages / Visit, etc. 
Step 3: Enter Details (Decision stage)
Visitors are required to fill in their details. Not all of them complete the process.
Measure: % of users who start/complete the user registration screens.
Step 4: Complete Purchase and Upsell 
The final step includes two types of purchase opportunities:
Flights booked
Measure: Conversion rate, number of converted visits over time, per region/country.
Upsell opportunities 
Measure: Number and percent of upsell opportunities (i.e., car rental, additional features).
Set up goals for each metric. After collecting data for a set period, i.e., one month, you will see the percentage of users moving from one step of the funnel to the next and identify the steps that didn't reach your goal. Next, find out why, by digging into the analysis of specific pages using the tools described before.
Analyze by further breaking down your results according to the marketing channels, device, time, location, etc. Benchmark against your top competitors to identify overall trends and help you concentrate your optimization efforts where they are most needed.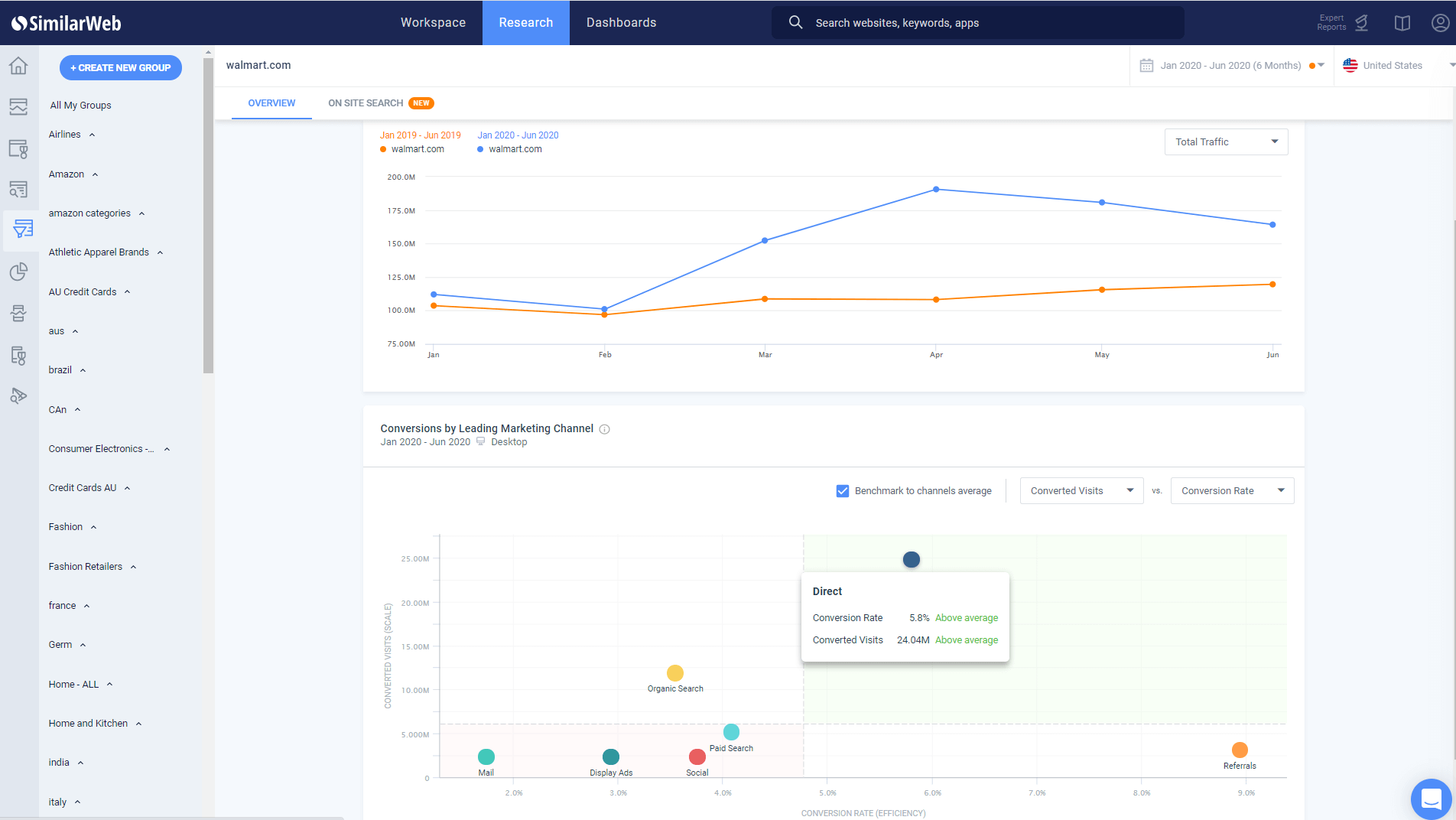 Final Thoughts
Now that you understand the importance of creating a solid conversion funnel in order to become a successful online business, it's time to get to work! Figure out the goals for your business, and start analyzing with online tools to enhance the process. Focus your efforts on your main competitors, and adjust your strategy accordingly. 
To learn how Similarweb can help you create, measure, and track an effective conversion funnel optimization plan, check out our Conversion Analysis page and set up a one-on-one consultation with our experts today.
This blog was written in collaboration with Ruth M. Trucks.
FAQ
How do you optimize conversion funnel?
One way is to find customer segments that convert at a higher rate than the average.
What does a conversion funnel do?
A conversion funnel visualizes the flow of visitors (or leads) towards conversion.
This post is subject to Similarweb legal notices and
disclaimers
.
Wondering what Similarweb can do for you?
Here are two ways you can get started with Similarweb today!