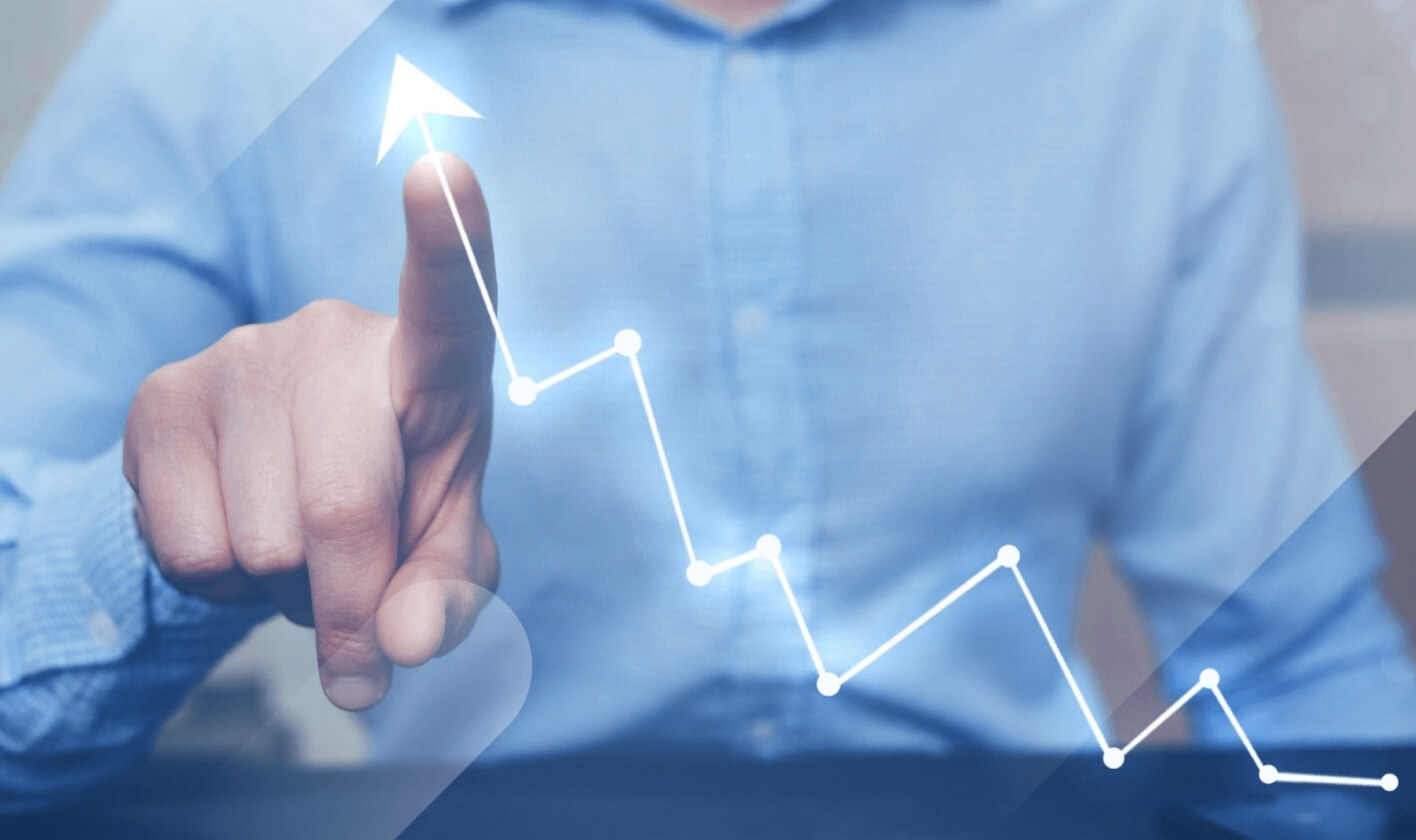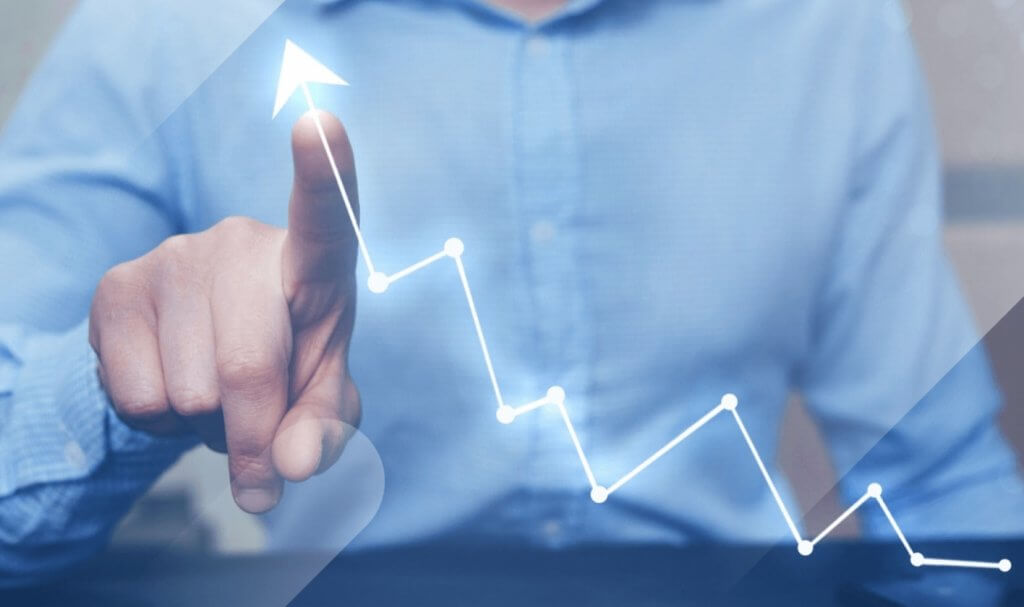 Marketing Intelligence
Digital Marketing: What It Is and How to Build a Winning Strategy
April 20, 2021
| Updated September 12, 2022
Ever wonder what coaches tell their players during an NBA game? After all, players are skilled on their own. But here's the thing, coaches have an overarching plan. They see the whole field, make adjustments, give insights and guidance.
A digital marketing strategy is your game plan for success in the digital arena. If you don't have one, you won't get out of the local league.  
Success in digital marketing can only grow from a well-planned strategy that includes various types of digital marketing. You also need to make sure to stay on track and adjust as necessary. In this guide, you'll learn how to do both.
What is a digital marketing strategy?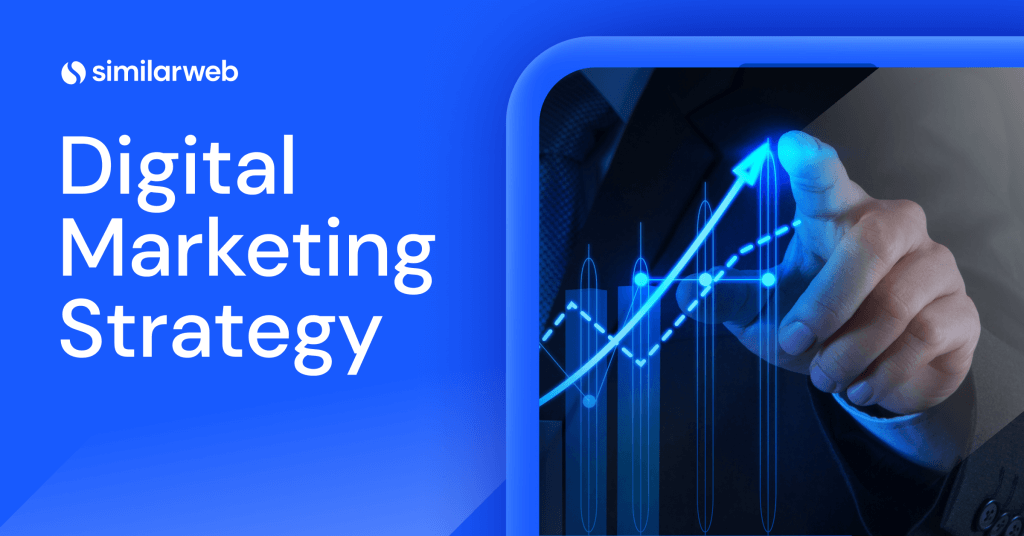 A digital marketing strategy is a long-term plan for the use of digital tools to achieve digitally measurable marketing goals. It covers all your marketing goals, from raising awareness, driving website traffic, and generating leads to increasing sales, improving ROI, and retaining customers.
Inbound vs. outbound digital marketing
First, let's look at some of the ideas behind digital marketing. There are two main approaches: inbound and outbound marketing. 
In inbound marketing, the idea is to pull potential customers into the site. Your task is to attract, inform, and engage your audience so they will come to you. This approach is dominant in digital marketing. Examples of this would include search engine optimization (SEO), paid marketing, social media marketing, and content marketing. 
The more traditional form of outbound marketing actively pushes the company message out, regardless of whether the audience was looking for it or not. Strategies that fall under outbound are public relations (PR), television ads, internet pop-ups, and sales calls, and emails. 
We can divide the media used for digital marketing into three types: owned, earned, and paid. 
Owned media

is the content on your owned domains, like your website. You have full control over this type of media, can easily measure performance, but it offers limited possibilities. 

Earned media

refers to the publicity that results from your advertising, e.g., someone mentioning you in an article or sharing your content on their site. You don't have control over this type of media, which means it's risky but has high potential. 

Paid media

, well, the name explains itself, is any media you pay for, such as pay-

per-click

(

PPC

) or native advertising. Here you have some control, a calculable risk, and

measurable

results.
What are the 8 types of digital marketing strategies?
Search engine optimization (SEO)
Content marketing
Pay-per-click (PPC)
Affiliate marketing
Native advertising
Social media marketing
Video advertising
Email Marketing
For your long-term game plan, you'll compose a mix of digital marketing types, determine priorities, and set goals for each one. Consider how the components of your digital strategy connect and impact each other.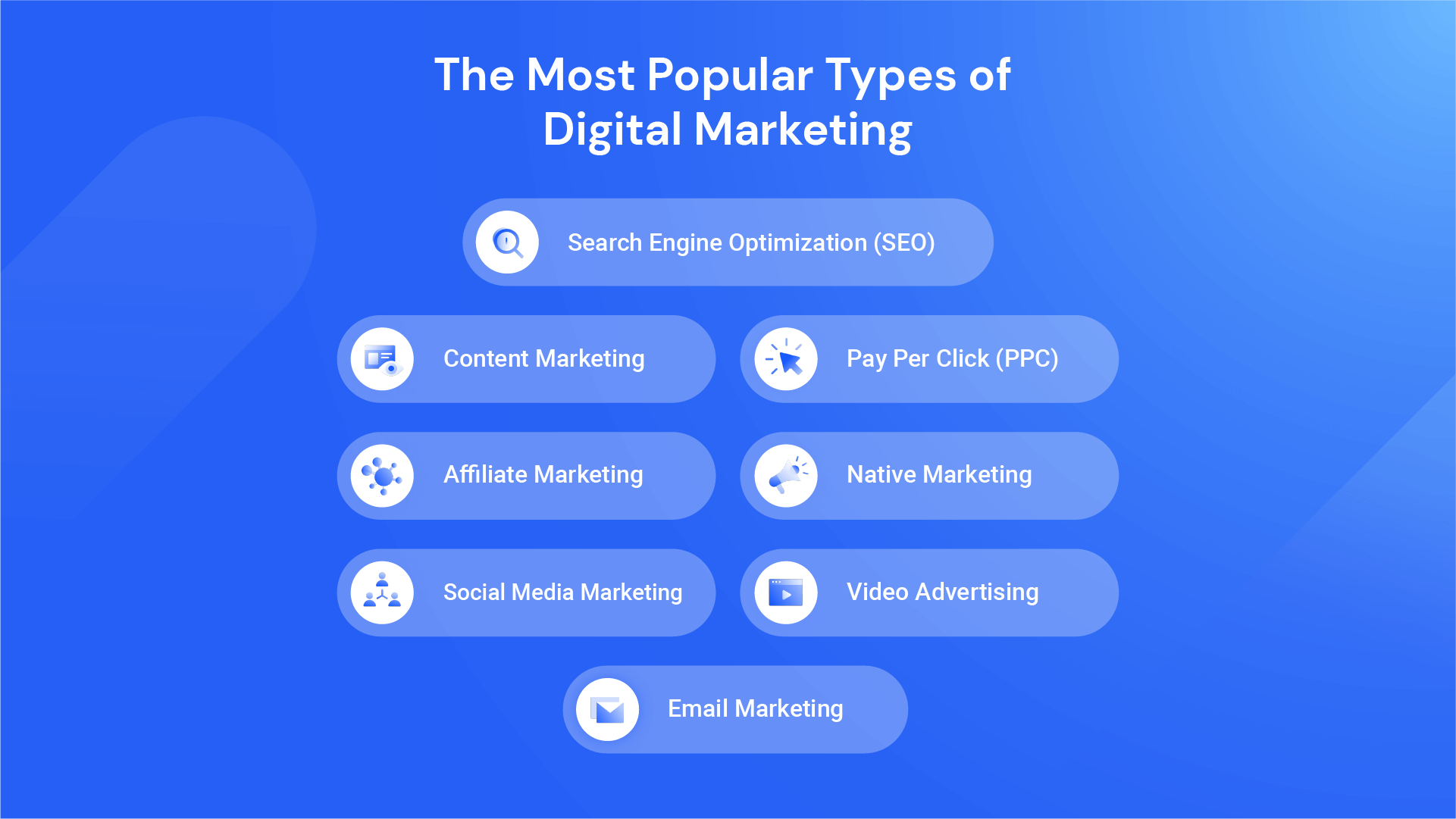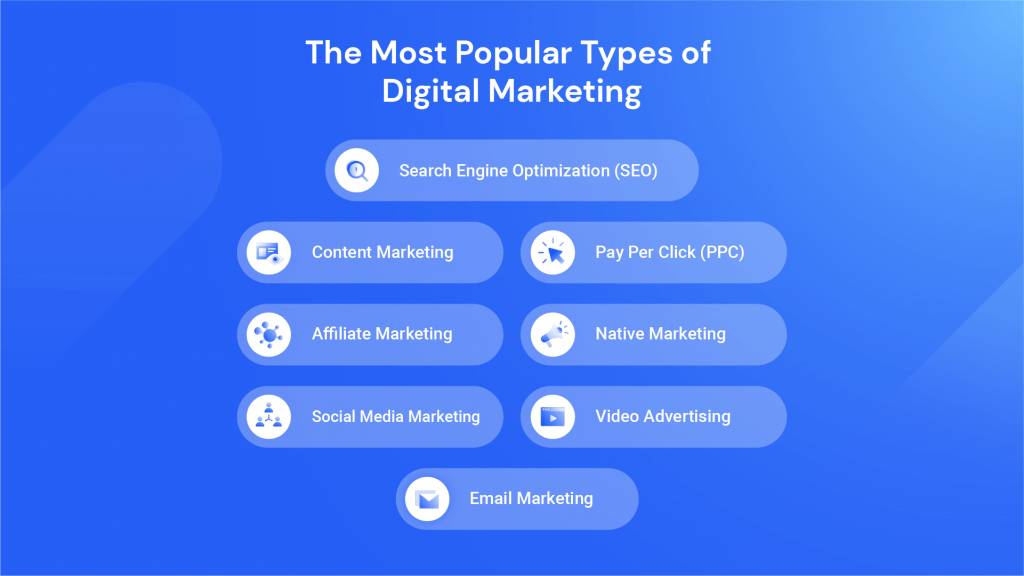 1. Search engine optimization (SEO) 
SEO is a cornerstone for your digital marketing because many tactics build on content optimized for search engines. The goal is to rank as high as possible on the Search Engine Result Page (SERP) and increase free and organic traffic to your website. 
SEO includes two subcategories: onsite SEO, and offsite SEO. Onsite SEO refers to optimizing the content on your site, as well as it's structure and readability by search engines (Technical SEO), while offsite SEO addresses factors outside your site, such as links from other sites to your own.
Why is it critical? Searchers look at the top results on a SERP. Only 10% move on to the second page. This means if you have what they are looking for but don't make sure Google understands that, your audience won't see it. When it comes to search, you need to play the search engine game correctly to reach your audience. 
Here's an example: You just launched a new revolutionary dietary supplement you add to your morning coffee to increase immunity. About 80% of people interested in solutions to strengthen their immune system first search on the internet. If your product information appears on the second SERP, less than 10% of these searchers will discover your amazing solution. So out of 100 potential buyers, less than eight will even know about it. 
2. Content marketing 
Content marketing aims at informing, educating, and supporting a clearly defined target audience using content such as blogs, whitepapers, eBooks, infographics, etc. You can use it to increase brand awareness, drive traffic, and generate leads, but also to engage and retain customers.
Many marketers believe because they publish tons of content, they do content marketing. The truth is, that alone won't do the magic. The technique relies on a solid SEO strategy, useful, high-quality content, and consistency.  
It's a long-term commitment that requires qualified staffing, time, and ambitious management based on a coherent strategy. Content marketing is one of the most powerful digital marketing tactics if you have the necessary internal stability and resources. Companies who get it right and stick to it see highly profitable results. 
3. Pay-per-click (PPC) 
You could call it SEO's sister. They both are the results of the love affair between search and keywords. But while SEO drives free organic traffic, for the traffic generated through PPC, you pay. View it as an investment. On average, PPC turns each invested dollar amount into roughly eight times as much if done right. 
PPC is mainly a lead generation strategy in which you pay the publisher for each click on your ad. The most popular platforms for PPC campaigns are search engines and social media platforms like Facebook, LinkedIn, and Twitter.  
The beauty of digital marketing is that everything is measurable, and PPC is the prime example. You can track every sale generated from your PPC ads and measure your ROI (Return on Investment) more accurately than with other marketing techniques. Another advantage is that PPC brings immediate results.
PPC requires precise calculation and continuous monitoring of the market and your cost. You need to update campaigns daily or even hourly to keep driving positive results and remain cost-effective. Many companies use PPC to boost their visibility, promote a specific campaign or launch an offer. Because of the relatively high financial risk, companies rarely use it as the centerpiece of their digital marketing strategy. 
4. Affiliate marketing
In this type of marketing, you partner with other digital companies that market your product or service for you. It is particularly useful if you don't have sufficient resources or don't want to invest heavily in marketing because your focus is elsewhere. You can also use it as a powerful supplement to your other digital strategies. 
Affiliate marketing is a form of performance marketing, and you have limited control over the content or the audience. You set a commission for either impression, lead, or new customer who arrives through the partners' site or activity. 
There are a variety of affiliate types you can partner with. They can either use materials that you make available or create content according to your guidelines. The basic idea is to benefit from the affiliates' resources and audience reach. 
Affiliates can be individuals, such as professional bloggers, or global companies such as coupon sites, or anything in between. Regardless, it's critical to manage affiliates and monitor performance closely. 
Certain industries rely almost exclusively on affiliate marketing. Companies offer affiliate programs with strict application criteria and select suiting partners which they manage using digital tools. Make sure to check what's common in your market and take your time when creating an affiliate program as a form of online marketing for your business.  
5. Native advertising
Native advertising is a content-led advertising strategy and is gaining popularity. It uses paid ads that match the look and feel of the publisher's organic content. 
Such articles are perceived as informative articles rather than advertising. To ensure high-quality content, native advertising platforms, such as Taboola, Outbrain, or Buzzfeed, apply strict requirements and quality checks. This works in your favor because people trust content in articles more easily, and consistently high quality ensures it will stay that way.
The downside is that native advertising can get costly because you usually pay to use the platform and its services and also per performance. Native articles can be a valuable addition to other approaches because it helps increase credibility and lets you reach audiences that would otherwise not be accessible to you. However, you probably wouldn't build your strategy around it. 


6. Social media marketing 
Social Media Marketing refers to any manner of involving social media into your digital marketing strategy. The range of possibilities and tools offered by platforms such as Facebook, Twitter, LinkedIn, Instagram, TikTok, Pinterest is huge. 
Using social media as advertising platforms has become a no-brainer for most companies. Unless you can show social media presence, you don't really exist. It can involve optimizing for search per audience demographics or various paid advertising tactics.
To develop a successful strategy, you need to do your research to identify the popular networks for your audience and learn the tools they offer. The competition is massive, and it's crucial that you work according to a social media planning calendar. You need consistency on the one hand and flexibility to react to changing trends quickly on the other hand. It also requires close monitoring of performance and cost.  
The success of social media advertising relies on your audience's cooperation and engagement. You need to keep a close eye on follower's activities to neutralize negative feedback and harmful engagement. Choose the level of social media activity that you can control with your resources, so things don't get out of hand. 
7. Video advertising
The use of video in digital marketing efforts has become so popular that companies started creating dedicated video strategies. Rather than simply incorporating a video to support your content where it's useful, you establish a game plan for their strategic distribution and promotion. 
Videos attract more attention easier than other forms of content because they speak to the audience on many levels. A video can transmit information and emotion through image, sound, and text. 
Another advantage is that you can incorporate clips in almost all other digital strategies. Video content that lives on a video platform such as YouTube can easily be shared almost anywhere.     
8. Email marketing
Email marketing is already a veteran in digital marketing, and some think it's outdated. Those who use it report that it's one of their most effective marketing channels. The main reason is that it costs very little, especially when you use automation to send out anything from a simple monthly newsletter to sophisticated lead nurturing campaigns based on segmentation. This requires a one-time effort. After that, your job is to analyze, adjust, and update. 
Intuitively, email marketing is designed to build relationships with prospects and customers. While they may not generate revenue, no one can deny the positive impact of welcome emails, follow-up webinar emails, or friendly reminders. By providing a consistent flow of valuable information and personalized offers, you'll stay at the top of their minds and increase loyalty.
Email marketing is best most suited for audiences in the advanced stages of the funnel and to promote content marketing. A good email marketing strategy with smart segmentation can boost your lead generation. The chances that people click on a link in a personalized email are higher than on a general landing page or website, especially when they receive only content that is highly relevant to them. 
There's more
These are the ones for which you need to create a separate strategy and then bring them together into one big puzzle. Other digital marketing types can be seen as part of a subcategory of the ones we listed here. Trending content communities would be part of a content marketing strategy, podcasts are interchangeable with videos, and voice search marketing needs to be part of your SEO strategy. 
Key factors to consider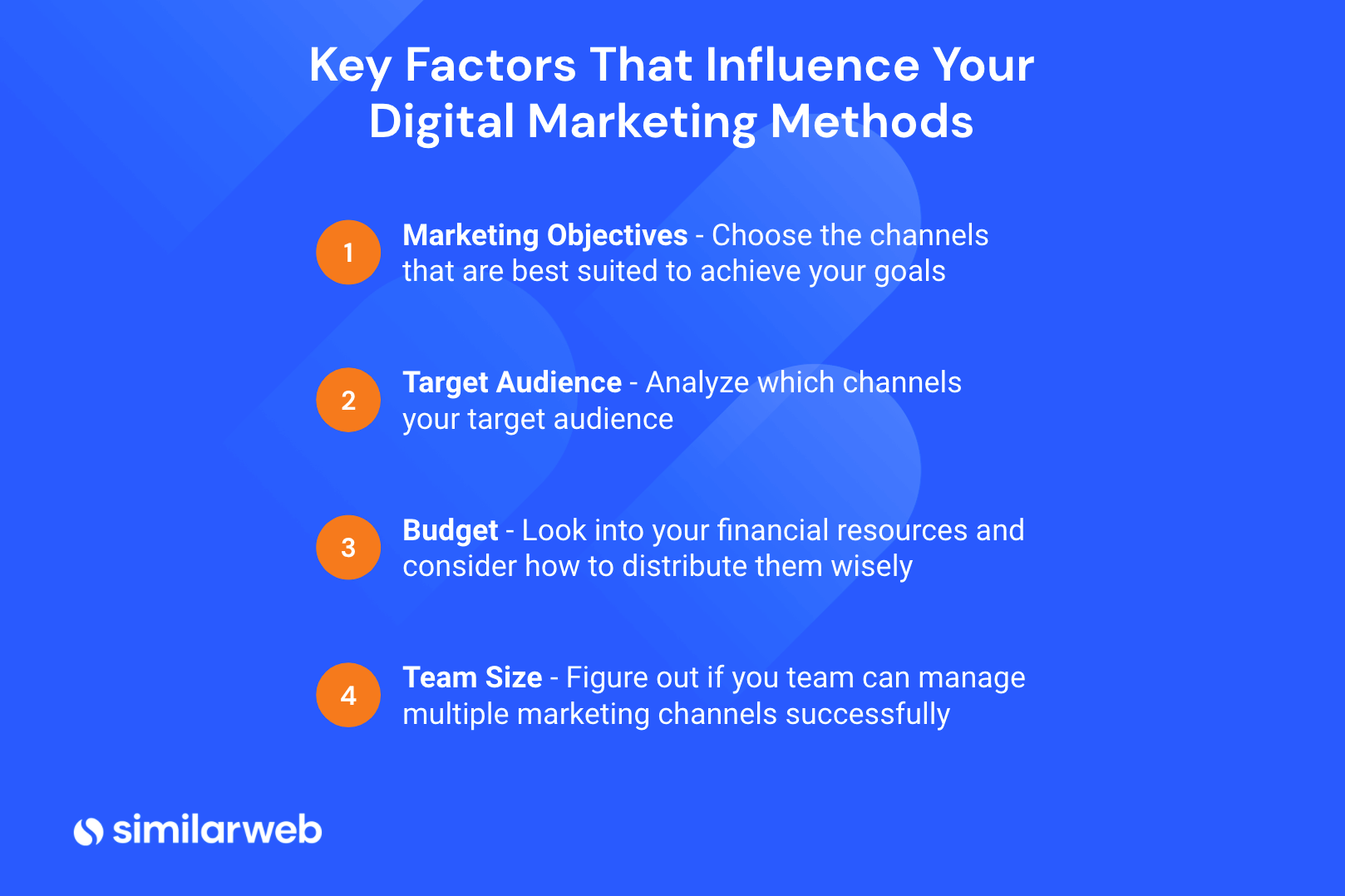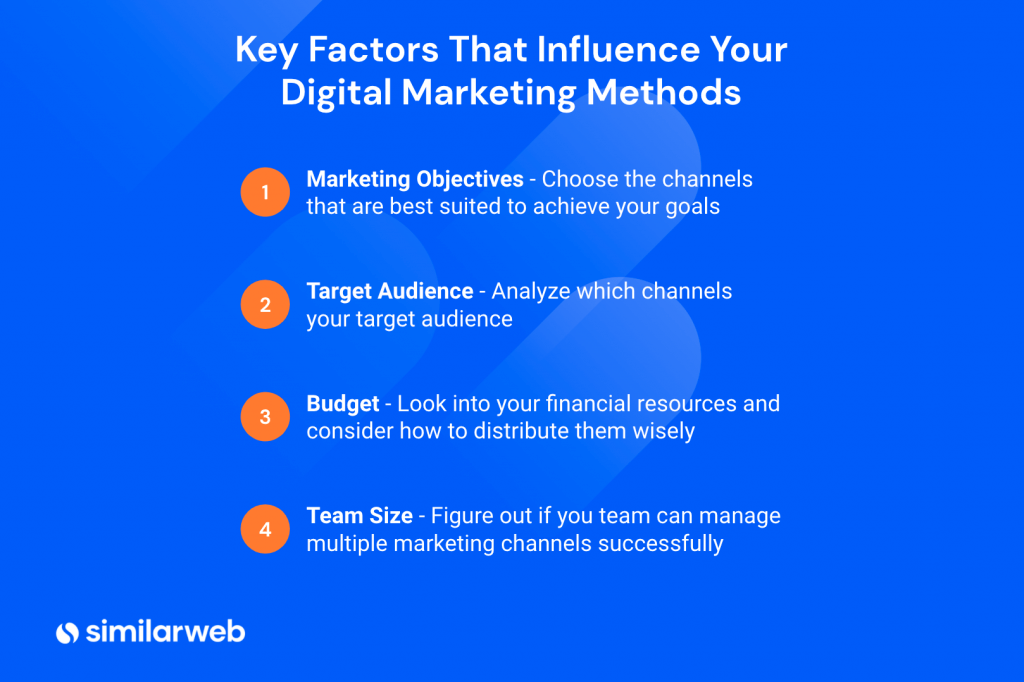 Marketing Objectives: The goals you set for your digital marketing strategy derive from your business goals. Choose the channels that are best suited to achieve your goals. You may apply different methods for each or switch channels as you reach certain milestones.
Target Audience: What's the best way to reach and excite your audience? Analyze which channels your target audience uses before making your choices. You have a higher chance of reaching your audience where they naturally hang out. Think about it like this: if a strong marketing campaign runs on Twitter but the entire customer base is on Facebook, how effective is the campaign?
Don't try to invent the wheel with extraordinary content or marketing tactics. You want to find out what works for your audience and create content that naturally resonates with them. 
Budget: The budget requirements are significantly different per channel. You'll need to analyze the financial resources at your disposal and consider how to distribute them wisely. Should you invest more heavily in organic channels, or do you have the resources to spread a budget across multiple paid platforms? 
Calculate the ROI you can expect per marketing type. Try to estimate additional costs, such as hiring external services, acquiring advanced tools, and working hours for content creation. Some methods could require a substantial initial investment, and you need to gauge the time to break even.  
Team Size: How big is your marketing squad? Do you have a big enough team to manage multiple marketing channels successfully? You may be more successful, starting with a few excellent channels, than trying to cover all areas right off the bat. Ask yourself which functions you can outsource if needed. 
What is a digital marketing campaign?
A digital marketing campaign is a specific action or a series of actions to achieve a short-term marketing goal, such as generating 50 thousand sales over the Easter holidays.  
Why are we mentioning them at this point? Another way to describe a digital campaign is as a building block within your strategy. At the end of the process of building your strategy, you need to break it down into individual campaigns. Each campaign plays its dedicated role in your plan.  
How to create a digital marketing strategy
Here's the part you've been waiting for. Everything you've read so far in this article was the foundation for how to build a digital marketing strategy. 
The center of your digital marketing strategy is knowing your audience and its digital behavior. 
Define your

buyer personas

  

Set goals, choose tools 

Audit existing channels  

Conduct

competitive analysis

Select channels, set priorities

Set up a content calendar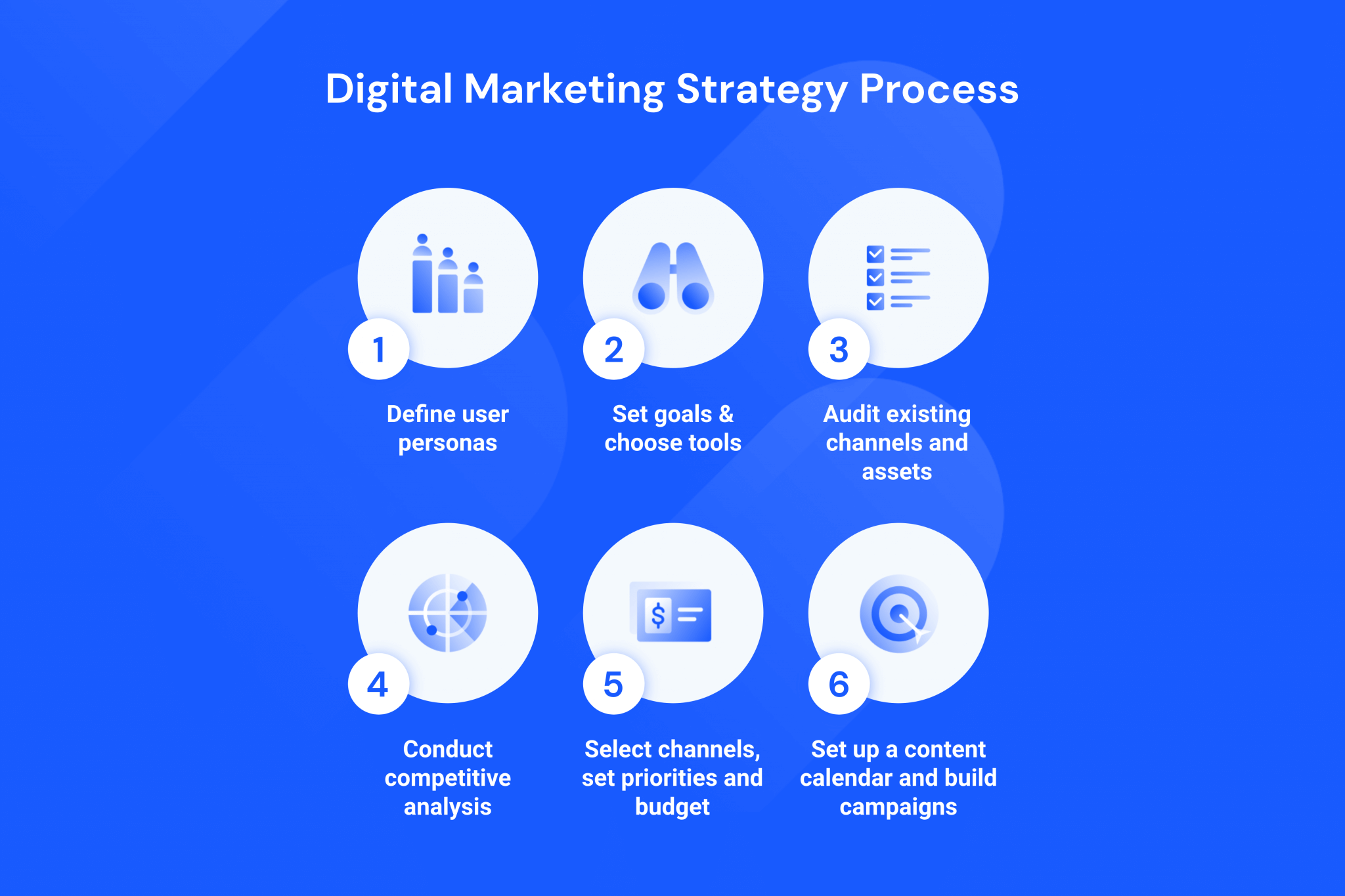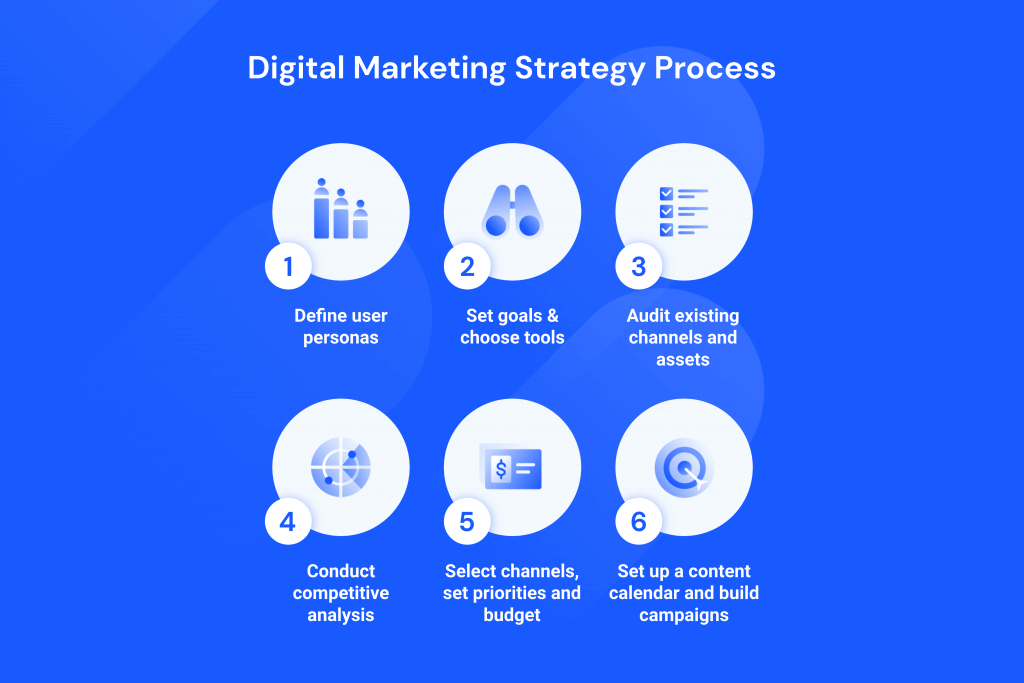 Step 1: Define user personas
Your first step is to create buyer personas. These fictional but detailed characters represent your ideal customers. The purpose of a buyer persona is to help you better understand your target audience and tailor your digital marketing strategy to their specific needs. You need to conduct market research to get in-depth knowledge about your audiences' behavior and preferences.
For the user personas, define: 
Demographics

(gender, age, location, job, socio-economic situation)

Preferences/Interests/

pain points

to address 

Online behavior (preferred channels, media, frequency, shopping behavior)  
Creating a variety of personas lets you segment your audience and tailor your content and activities accordingly. How so? Let's say part of your audience is interested in how your product increases work efficiency, whereas another part is interested because it enables international communication. You would split your audience into two segments and provide each with the types of content that highlight the solution for their specific pain points.  
Step 2: Set goals and choose tools 
Defining the purpose of your marketing strategy and set intermediate goals as milestones on the way. For example, you want to use social media to convert prospects into leads. You first set a goal to reach a specific number of steady followers. When accomplished, your new goal is to get them to click through to the landing page and collect their info. Set a timeline and numbers. We'll get into more details and the SMART goals method later.
Next, you'll want to assess the resources and tools needed to make it all happen. Be sure to choose analytics tools that provide you with all the data that is accurate and up-to-date. That's the place you'll go for answers to business-critical questions: Can you reach the break-even line fast enough to return your investments? Can you beat the competition? Similarweb's marketing intelligence tools offer great possibilities to do both planning and ongoing monitoring.
Also, check the digital tools to implement and manage your marketing activities. How capable is your CRM, and are you fully leveraging its potential? Consider cleaning up the database and checking out the effectiveness of your internal processes.  
Marketing Automation can take a lot of tasks off your back and help you coordinate your various campaigns across channels. You can manage all your email marketing and much of your social media marketing with automated tools. Leverage audience segmentation, create recurring workflows that use triggers from your website to initialize email communication with the right prospects at the right time. Marketing Automation also uses scoring systems to help you evaluate your lead quality, the stage in the funnel, and their readiness to buy. 
Step 3: Audit existing channels and assets
Divide your digital marketing assets according to the three types of media: owned, earned, and paid. This lets you assess cost-effectiveness and identify gaps. Evaluate your existing content and its usefulness for the new goals. The best is to run a complete content audit and map everything you have published. Collect information about where each content piece meets your audience in their buyer journey. 
Does the content create awareness of the issue you are addressing with your solution? Does it help increase your visibility? This type is aimed at prospects at the beginning of their journey, the top of the funnel (TOFU).
Other content may target your audience in the consideration stage, the middle of the funnel (MOFU). These prospects are aware they need a solution for the specific issue your product addresses and actively seek solutions. 
The next category is the bottom of the funnel (BOFU), in which you convince the potential buyer that your solution is the best for them. In the buyer journey, this is the decision stage, and you provide your audience with product-specific information and explain how it achieves the benefits. You also provide proof and start making offers.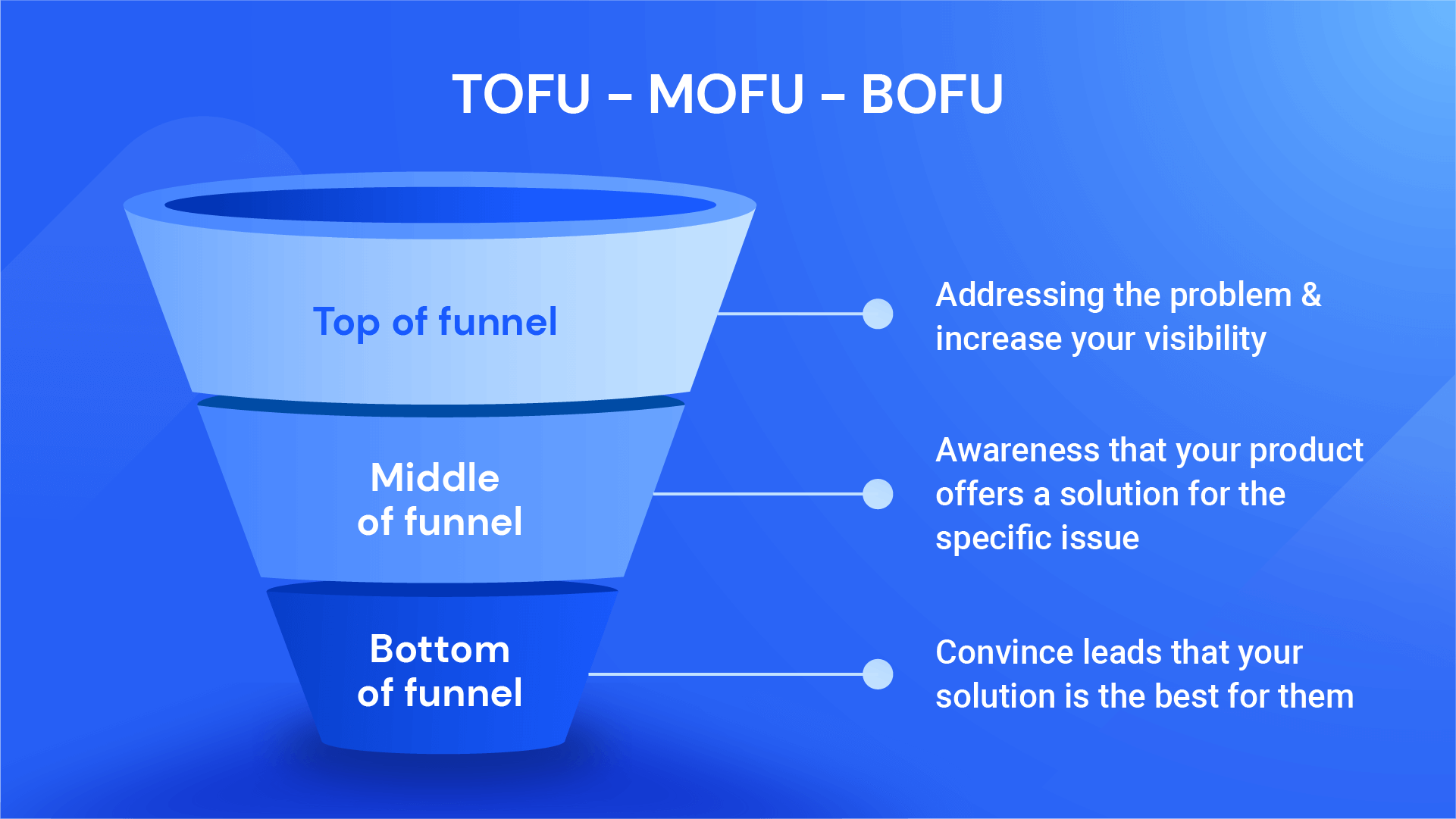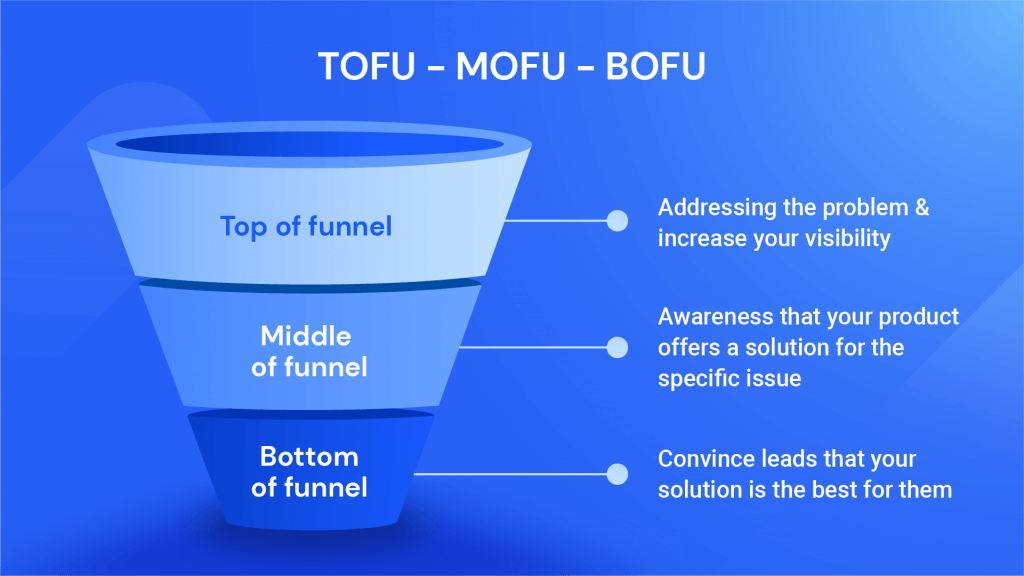 Does any of your content speak to existing customers? Make sure it's part of your evaluation, and your strategy covers retention marketing. Happy, loyal customers are your best brand advocates.
If you have various buyer profiles, define which of them the content addresses. Finally, decide which pieces you'll keep, which you want to repurpose and which you need to remove. 
Your digital marketing strategy has to address each persona at every stage of the buyer journey in order to effectively drive traffic and generate high-quality leads.
Step 4: Conduct competitive analysis
A quick and effective way to find out what type of marketing resonates with your audience is by looking at your competitors. Discover how and where they market, examine which digital channels they use and what works best for them. With Similarweb's marketing intelligence, you can go as deep as identifying the keywords that drive the most valuable traffic to your competitors' sites. 
Competitive analysis also helps you gauge the effort and cost you need to invest. You'll get a better understanding of what you're up against. Your PPC bidding level, for example, depends heavily on what others are bidding. Your SEO considerations are a function of how your competition ranks.
Another benefit is you will identify the strengths and weaknesses of competitors and find your niche.
Step 5: Select channels, set priorities and budget
It's time to put all your insights to use. This is a critical stage of decision-making, according to the insights you've gathered while considering the key factors we've previously discussed.
Use what you learned about your audience and from your competition to select the channels. 
See what kind of content you already have available and which channels you are already using successfully. Doing this lets you assess where you need to put your efforts and how to leverage your resources. 
Set your budget for the selected types of digital marketing. 
Step 6: Set up a content calendar  and build campaigns
If you've done the previous steps diligently, this step is a matter of writing down your recipe for success. 
Create a content calendar and start scheduling your campaigns. We suggest starting with the owned media, which is in the heart of your digital marketing, and you have complete control over it. Next, you'll work on the earned media because much of it comes from distributing and promoting your owned media. And finally, add paid media.
Define campaigns across your channels and get to work.
Digital marketing strategy examples
So how does this look? Here are some examples of digital marketing strategies.
Wix: Affiliate marketing network
Remember the humorous videos featuring minor celebs that seemed to pop up everywhere? Video marketing was Wix's primary strategy to raise awareness. Now that Wix is the most popular website builder, it switched to more inbound techniques, such as content and email marketing. They also reduced their PPC ads and built a network of affiliates. As seen below, referral traffic to wix.com rose from 14.6 million visits worldwide in March 2019–February 2020 timeframe to 21.4 million in March 2020–February 2021, an increase of 46%.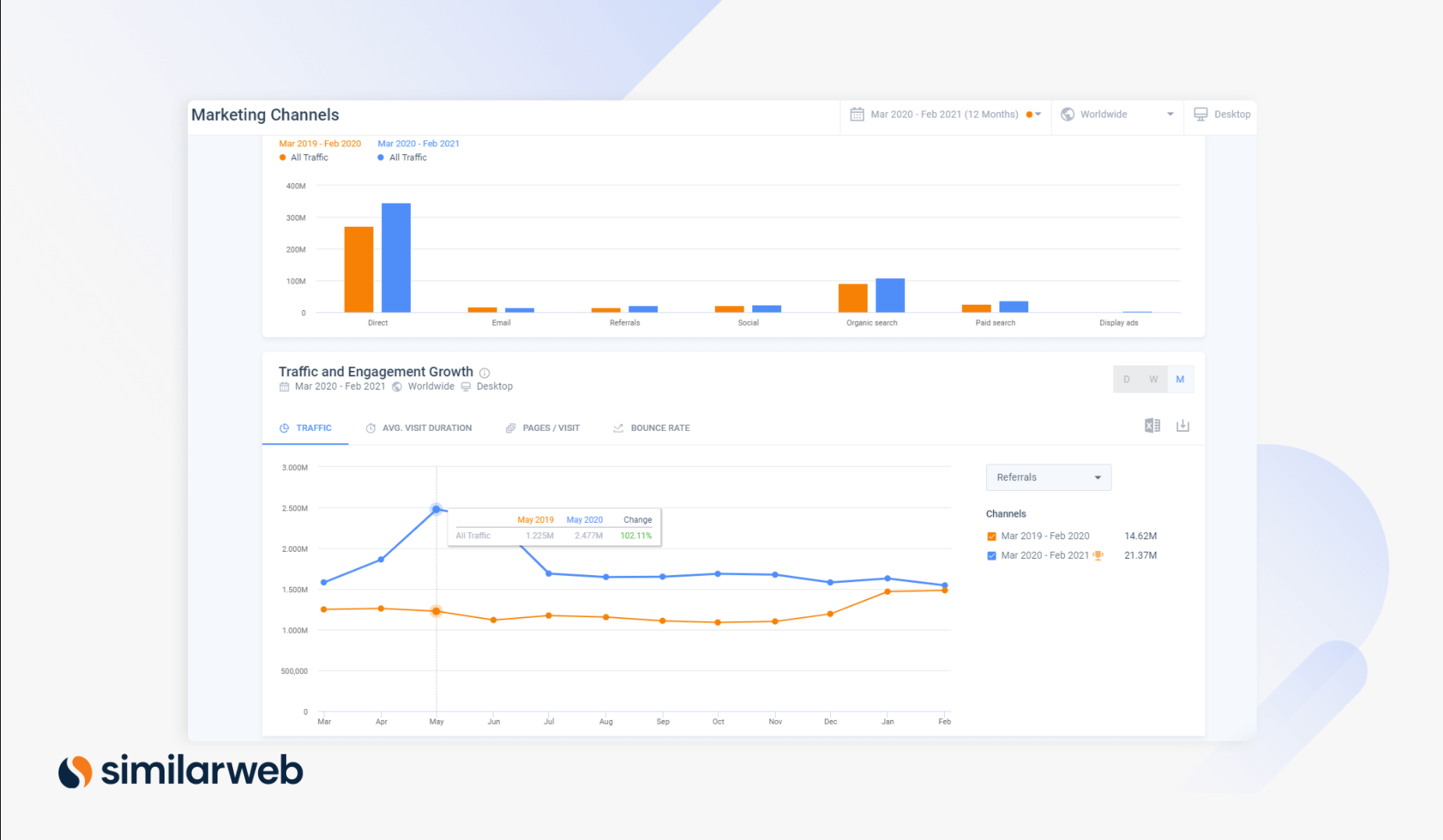 HubSpot: Audience-first approach to content marketing
The industry-leading inbound marketing and sales company focuses almost entirely on content marketing, incorporating email marketing. Why is that? Hubspot.com offers tools for digital marketing. What better way to market to a clearly defined audience of digital marketers than educating about digital marketing and then presenting their tool? They went as far as creating a HubSpot Academy.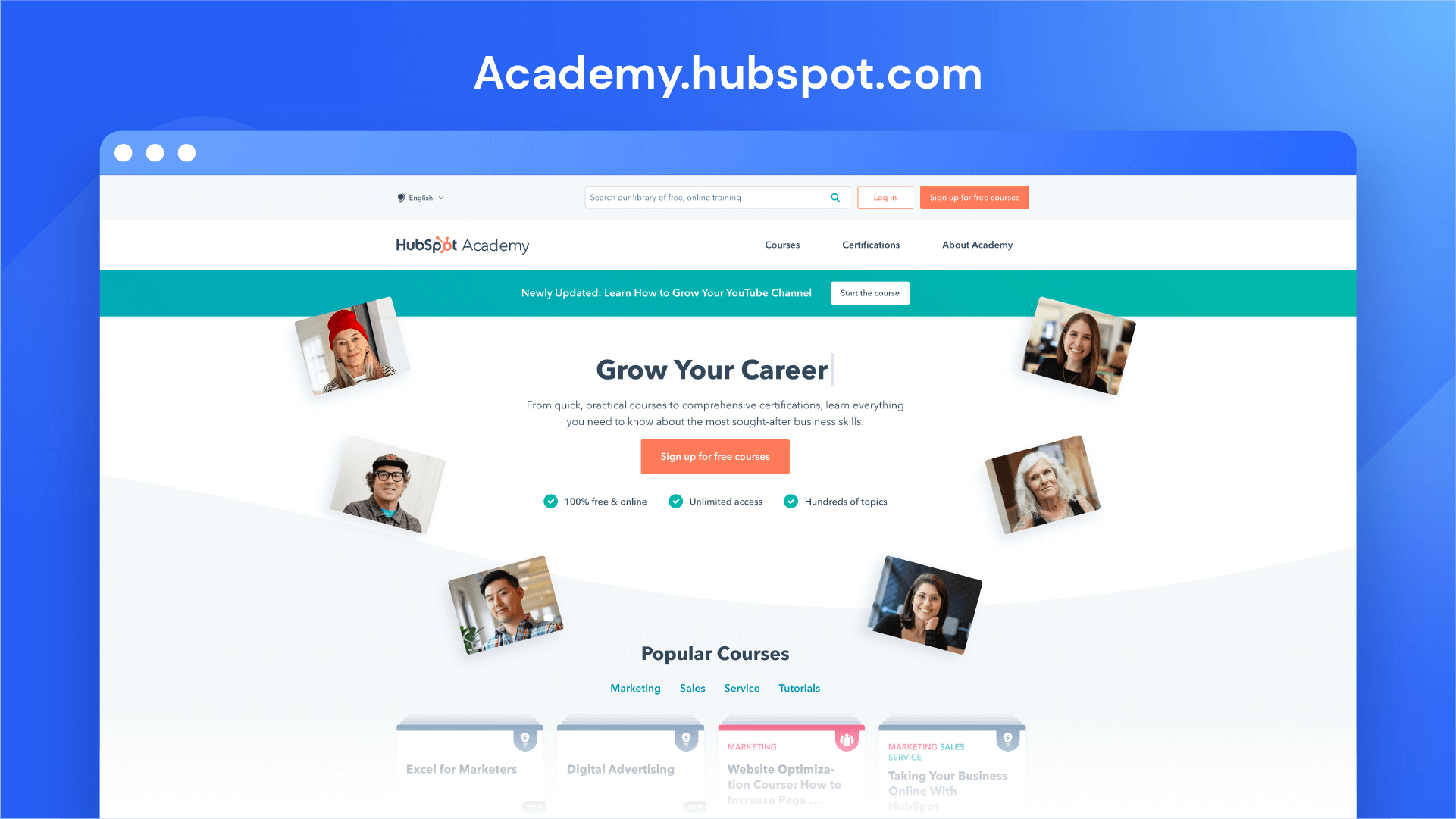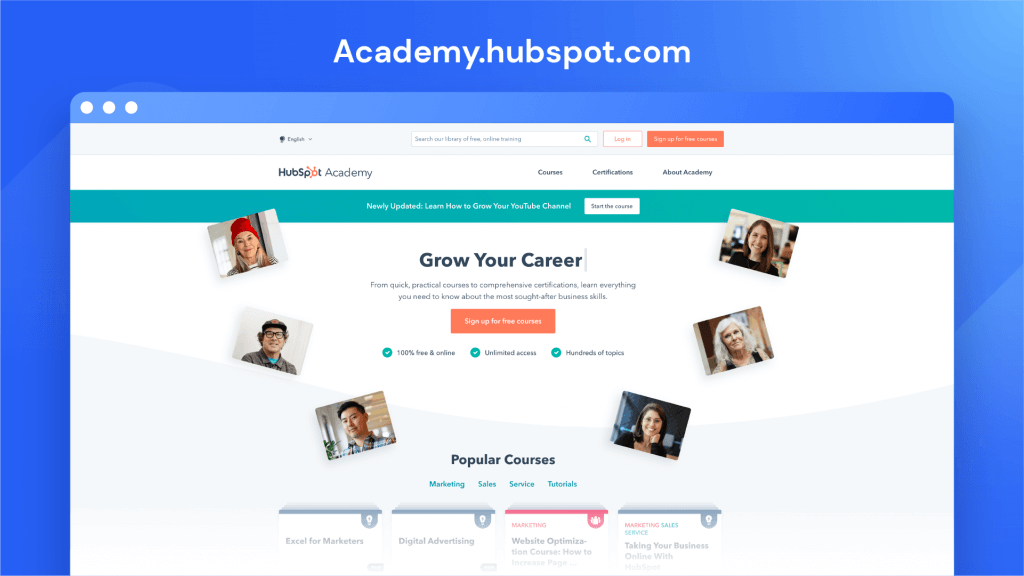 Shopify and Fiverr: Reaching a wide audience 
Like Amazon, both companies have widespread audiences around the globe. One is an eCommerce platform where anyone can build an online store, and the other is a platform for freelancers. Both websites have widespread target audiences that are hard to define. Shopify.com solved the issue by letting users be their advertisers through a highly beneficial affiliate program.  
Fiverr's approach is to target people looking for services offered on the platform rather than their own service. They accomplish this with targeted SEO and PPC ads. As seen below, Fiverr's top organic and paid keywords in the last 12 months were all branded:
How to set KPIs and goals  
We've explained earlier how and why your goals need to align with your overall business goals. Equally important is that they pair up with the market and your position. Take the example of Wix above. As a small unknown player in the market, their goal was to become widely known. As a leader in the market, they focus on different KPIs.
Understanding the landscape of your specific market helps you better assess where your own marketing is lacking. For example, if no one uses video marketing, analyze whether the media simply doesn't resonate with your audience or no one has exploited this channel efficiently so far. 
If your brand is well-known but you are not generating enough sales, your marketing strategy needs to focus on converting visitors. To set KPIs, examine average conversion rates in the market and set a goal for your own.
Similarweb's analytics platform provides you with the necessary data and tools to set and monitor your KPIs.
Specific:

Views, leads, visits, conversions

Measurable:

Put a specific number in place

Attainable:

Understand your benchmark and set realistically achievable goals 

Relevant:

Make sure your

KPIs

relate to your end goal (i.e., don't set a

KPI

for clicks if your end goal is

brand awareness

).

Timely:

Set a timeframe that you want to achieve your

KPIs

within (this could be monthly, quarterly, or yearly).
A Digital Marketing Strategy is a long-term plan for the use of digital tools to achieve digitally measurable marketing goals. It covers all your marketing goals, from raising awareness, driving website traffic, and generating leads to increasing sales, improving ROI, and retaining customers.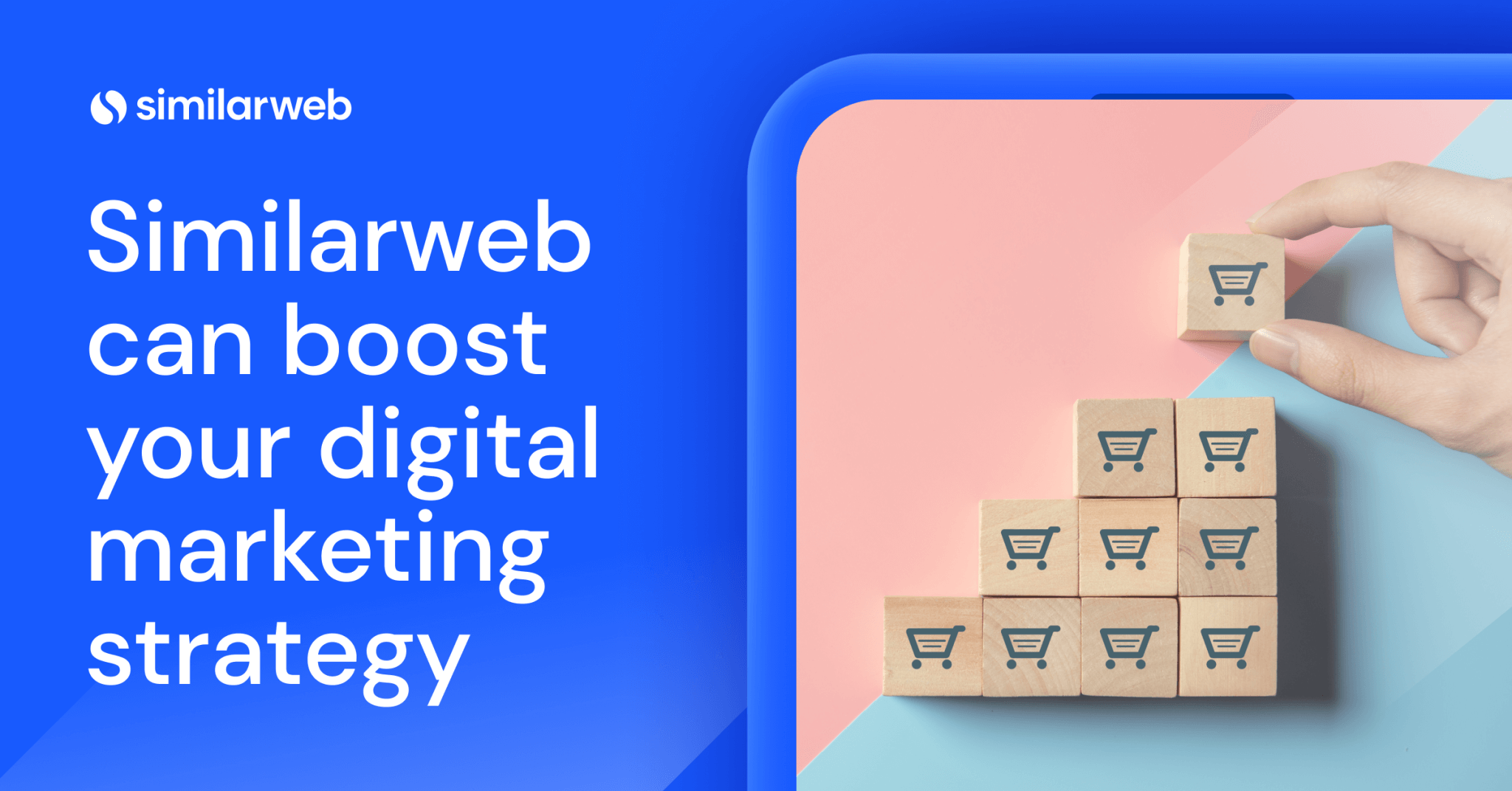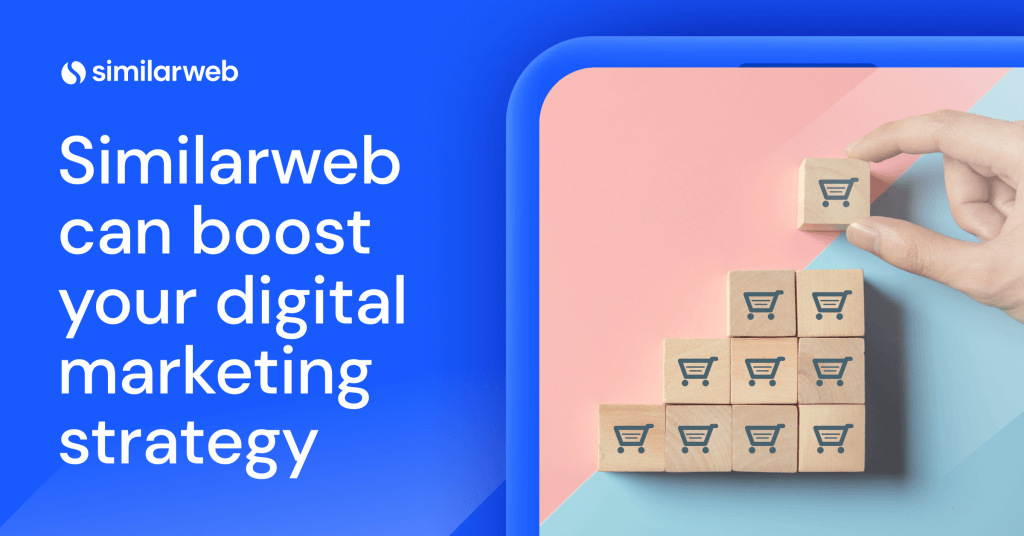 How to optimize your digital strategy
Remember the basketball coach on the sideline? He's the one who monitors performance and progress throughout the game because this allows him to optimize as they go. That's your job.
Keep your eyes on the game by tracking each element in your strategy. Here are a few final tips to remember:
1. Use data as your foundation
Make sure you use the same KPIs and data source for measuring as for planning. Your competitive benchmarking and tracking won't be accurate if you mix up sources. Be sure your source is reliable, accurate, and provides real-time data. 
2. Stay creative and flexible  
If a competitor disrupts the market, you need to adapt quickly. Keep monitoring the competition and identify upcoming trends that call for a deviation from your original plan. You'll still be able to reach your goals if you detect this in time.
3. Track, measure, and optimize
When a campaign or a channel isn't performing as expected, analyze the data and keep benchmarking. Find out if it is a general trend or just you. This helps you decide if you need to explore new market trends or analyze your conversion funnel to optimize your results.   
Bottom line
If you're ready to get started building or optimizing your digital strategy, the first place to start is the data. 
Similarweb's tools help with every step in your digital marketing strategy, from determining your market position through choosing channels and KPIs to track results. See where you stand in your market and discover new opportunities using Similarweb data. 
This blog post was written with Ruth M. Trucks and Sarah Mehlman.
Digital marketing FAQs
What is a digital marketing strategy?
A digital marketing strategy is a long-term plan to achieve digitally measurable marketing goals, using digital tools.
What are examples of digital marketing strategies?
Digital marketing strategies include SEO, content marketing, affiliate marketing, and video advertising. 
What is a digital marketing campaign?
A digital marketing campaign is a plan set in place to achieve small-term marketing goals. A digital marketing campaign is a smaller plan within your digital marketing strategy. 
This post is subject to Similarweb legal notices and
disclaimers
.
Wondering what Similarweb can do for you?
Here are two ways you can get started with Similarweb today!