 Research Intelligence
Audience Analysis Metrics That Matter: What Streaming Sites Need to Know
by Molly Winik
, Senior Digital Research & eCommerce Specialist
6
Min.
September 15, 2021
| Updated June 21, 2022
When you meet someone for the first time, there's a reason the default topic of conversation is usually your favorite movies or TV shows. Your answer can tell a lot about who you are. 
That understanding of who you are and how you behave gives streaming sites and publishers the key to boost engagement and expand their audience. Whether that audience is debating the true killer in Tiger King or reliving Michael Jordan's glory days in The Last Dance.  
Keep reading to find out about the metrics, tools, and top insights you need to understand your audience behavior and win the streaming wars.
Enjoy a sneak peek of our Publishers and Media Guide to Audience Analysis and Consumer Behavior. To put it together, we used tools from Similarweb's digital suite for media and publishers.
First steps of audience analysis 
Streaming site popularity has skyrocketed over the past year, largely because of COVID-19. But the digital transformation was underway even before.  
In order to appeal to as many relevant viewers as possible, streaming services can use audience insights to learn important information about audience preference, including which shows people are binging, viewers' watch habits (for example, watching on mobile web or desktop), and the most active age group on their site. 
Successful audience analysis follows three steps:
Identify

your audience by demographics and behaviors

Measure

and track key metrics for user engagement

Leverage

loyal audience measurements to increase your reach
You should aim for continuous monitoring and improvement as viewer preferences or your target audience may shift over time. 
Metrics and benchmarks for streaming services
Audience demographics
Age, gender, or home country can undoubtedly affect the type of content that viewers look for. Demographic audience analysis plays a central role in helping define your audience in the most basic terms.
Knowing how your audience differs (or resembles) your competitors lends a much-needed advantage in today's saturated market. With the right information, you can expand your user reach and grow into new geos where there may be a demand for services you offer. 
Looking at the global population, men are more likely than women to stream entertainment, and over 50% of users are under 35. In the U.S., 70% of visitors to TV, movies, and streaming websites are between 18-44 years old.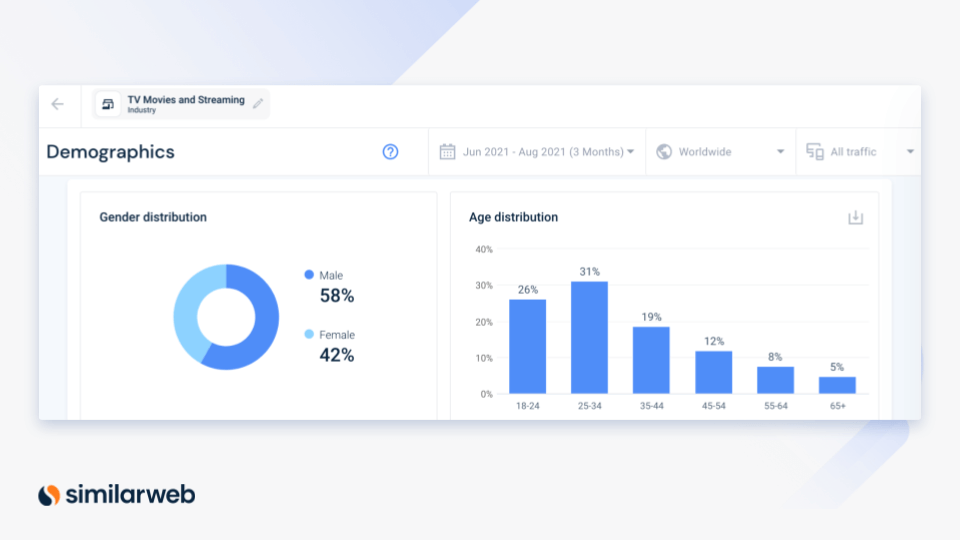 Gender distribution, worldwide, all traffic, June – August 2021
58% are male 

42% are female
Age distribution, worldwide, all traffic, June – August 2021
26% are age 18-24 

31% are age 25-34

19% are age 35-44

12% are age 45-54

8% age 45-55

5% age 65+
An important step in segmenting your audience is to analyze your audience geography. Each region has its cultural preferences, star actors, and trending shows.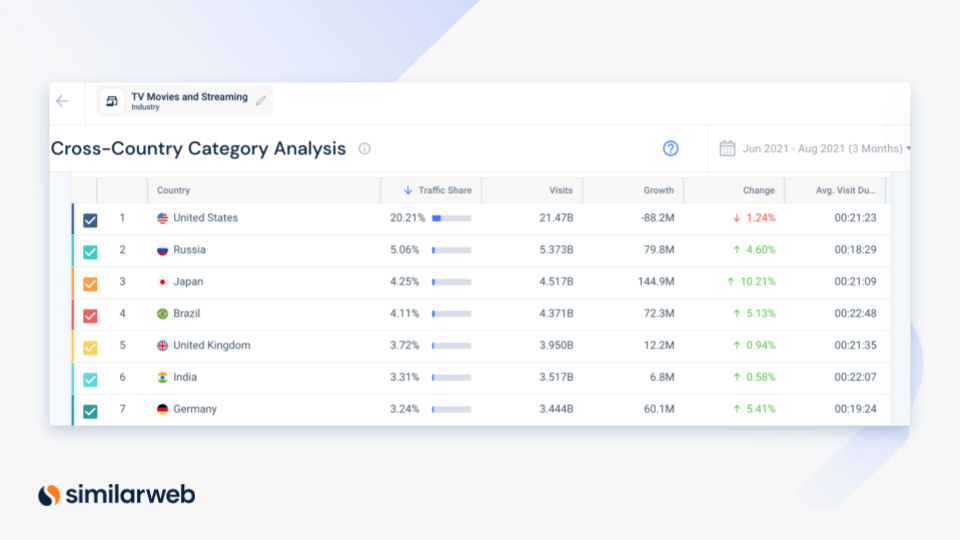 Overall, Americans are the heaviest users of online streaming services. Their traffic share is significantly larger than any of the regions that follow. 
 Cross-country analysis, worldwide, desktop, June – August 2021
U.S., traffic share – 20.2%

Russia, traffic share – 5.1%

Japan, traffic share – 4.3% 

Brazil, traffic share – 4.1%

U.K., traffic share – 3.7%
Audience interests
To find out what's popular for which audience, check search trends. People like to talk about movies and share their opinion on the series they enjoy. This creates word-of-mouth buzz that gets others watching so they can be part of the conversation too.
As such, streaming websites need to stay on top of trending terms to identify which shows are on the rise for which audience. You can also discover streaming apps that are gaining or losing popularity. 
In July 2021, some of the most searched terms in the U.S. included new releases like Black Widow and The Tomorrow War. People were also looking for ways to watch the Olympics or related footage. In August, we see that viewers are interested in newer content, with top search terms including the green knight, spiderman no way home, and white lotus.  
Download our audience analysis guide for more data and insights
Engagement metrics
When it comes to engagement, you'd expect streaming sites to be quite different from other sites. Why? Because when people come to watch entire movies and not just read an article or browse for something to buy, the average session duration should be longer. Page views, on the other hand, should be lower. 
Here are some engagement metric benchmarks for the top 100 global websites in the category between June – August 2021. How do you compare?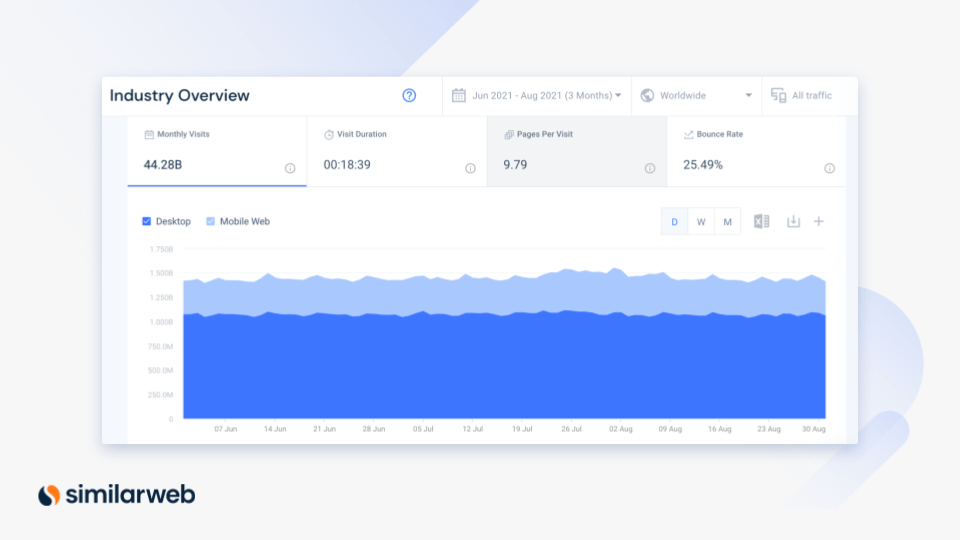 Monthly visits – 44.3 billion

Average visit duration – 18 minutes 39 seconds

Average pages per visit –  9.8

Average bounce rate – 25.5%
These percentages are very similar when we look at only the U.S. or the U.K., suggesting that user engagement doesn't stray that far from the global averages on a country-specific level. 
You can examine the cross-browsing behavior of your audience to see what other types of streaming services they frequently visit. 
We took a look at the percentage of visitors to netflix.com that also visited its competitor hulu.com on the same day
Worldwide, most netflix.com visitors don't frequently check out other streaming services. 30% of hulu.com visitors, on the other hand, also visit Netflix.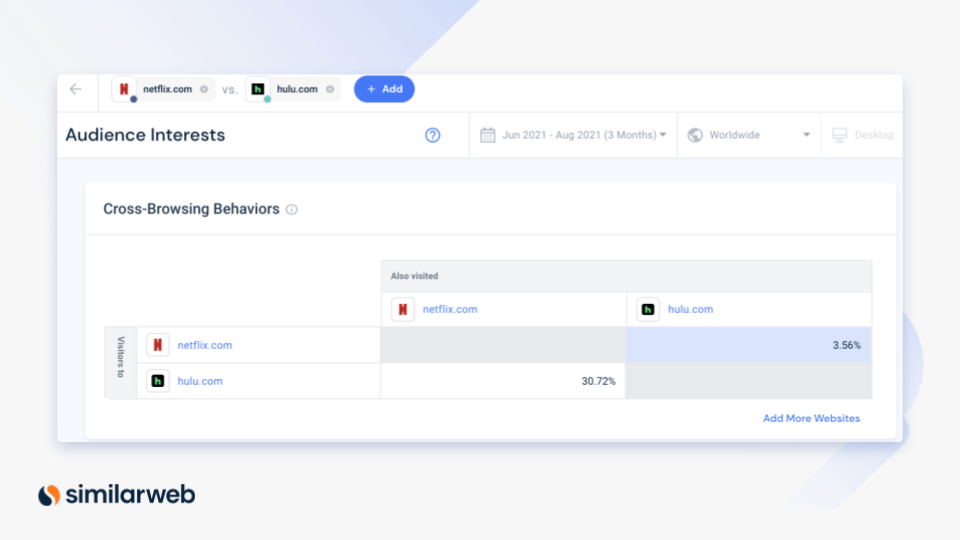 This shows that viewers like to stick to a familiar service. When competing for new users and viewer loyalty, you must position yourself correctly and clarify the pain point you solve or special features you offer in order to secure and increase market share. This is how you grow into a household name. 
New vs. returning users
You probably already monitor unique visitors. But let's get more specific. Ideally, every site wants to increase both new and returning users. Established sites need to reach a healthy growth rate while at the same time sustaining the leads they've already managed to capture. 
Take a look at how the top services performed in August 2021 in the United States. The metric shows the total amount of unique visitors considered new users in that month (desktop only):  
Netflix.com: 4.9M

Hulu.com 3.4M
Returning users shows the strong retention rate of each website over the course of the last year. These streaming services create and promote content that their viewers enjoy, and as such,don't feel the need to seek out other options. 
Audience overlap
We've already touched on shared audiences and audience loyalty when we looked at cross-browsing behavior. 
You can – and should –dig deeper into competitor comparison. With a benchmarking tool, you can investigate how audiences of different sites overlap, what percentage of visitors is exclusive to your site, and what other services non-exclusive visitors prefer.
Here's how this looks for two of the top streaming websites in the U.S. The percentage shows the portion of viewers who did not visit another streaming site during the same visit (desktop, August 2021).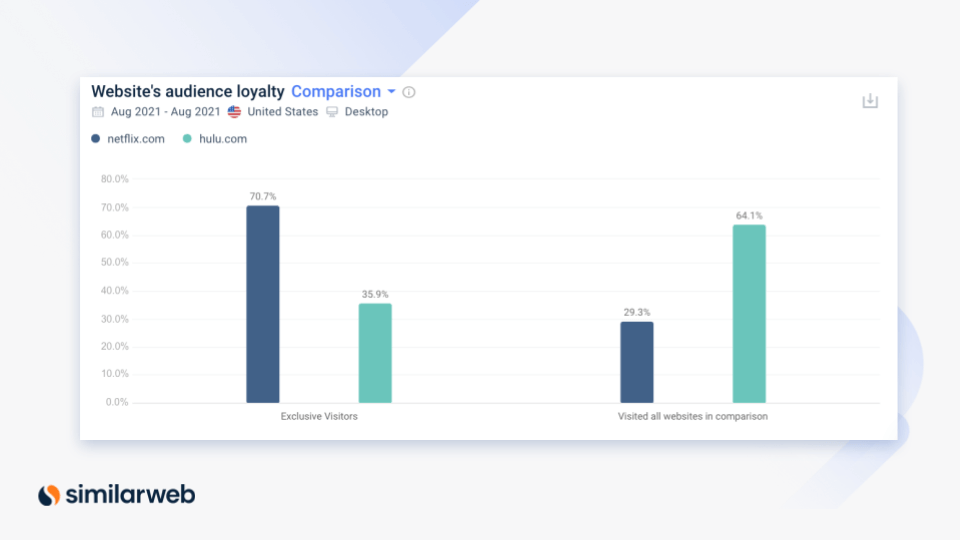 netflix.com – 70.3% exclusive visitors

hulu.com – 35.9%  exclusive visitors
Netflix.com has a lower percentage of visitors who went on to visit one or all of the others. This makes sense given Netflix's market position, which comes with high brand loyalty and positive customer experience. 
Add more subscribers to your queue  
To become a serious player in the streaming industry, you need to build your brand, grow and nurture a dedicated viewer base, and keep an eye on the constantly evolving competition. 
Download our free audience analysis guide tailored exclusively for publishers and new media to learn how to integrate digital intelligence into your audience analysis. Or try Similarweb's tools for media and publishers now for free and see our features in action!
This post is subject to Similarweb legal notices and
disclaimers
.
Wondering what Similarweb can do for you?
Here are two ways you can get started with Similarweb today!