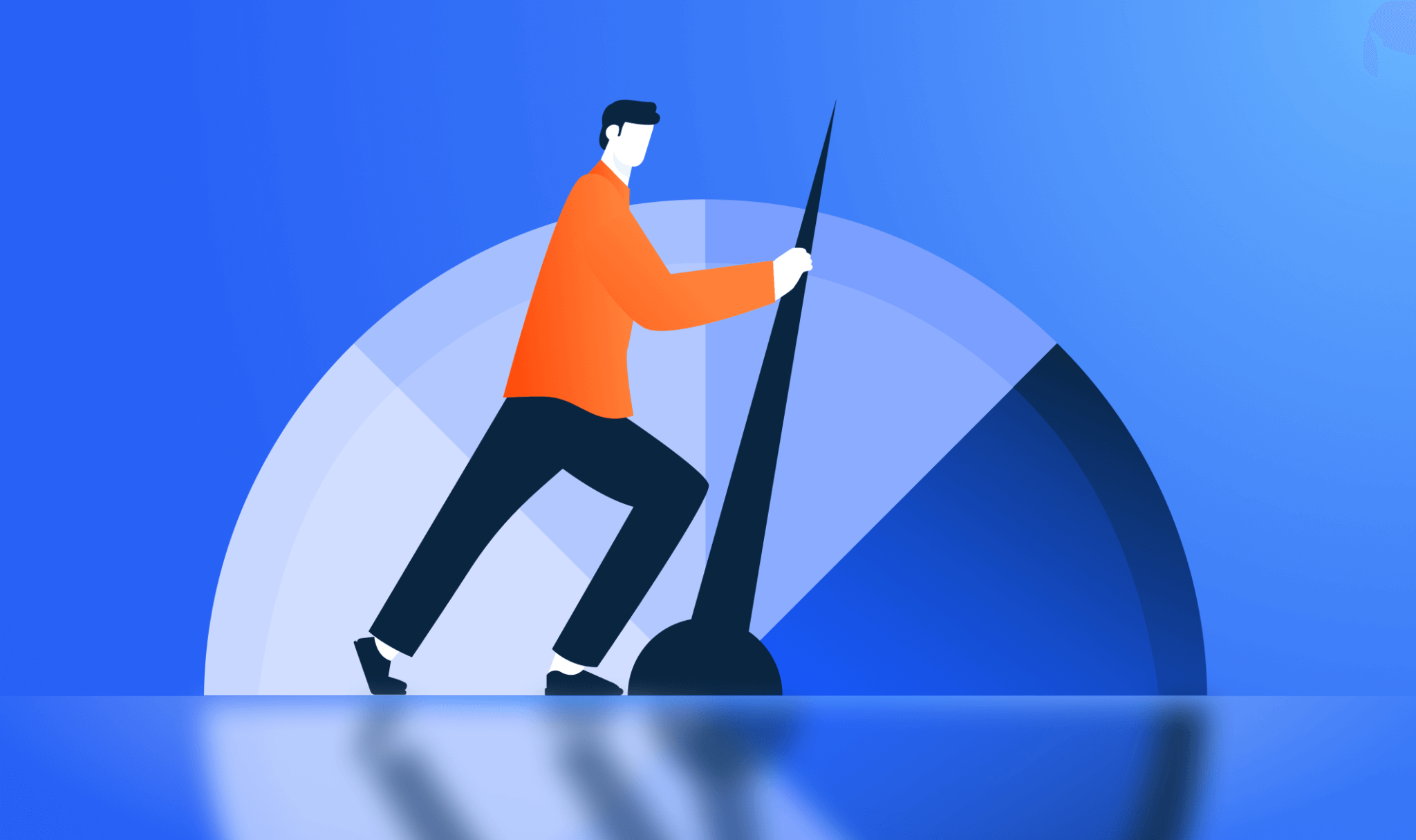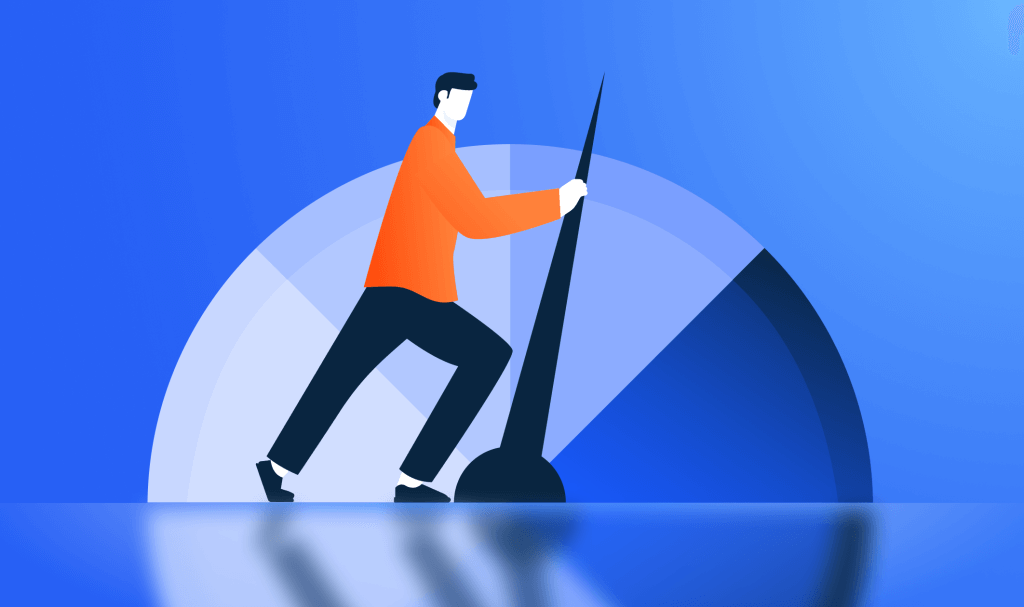 Research Intelligence
7 Types of Benchmarking for Better Business Decisions [+ Examples]
by Molly Winik
, Senior Digital Research & eCommerce Specialist
10
Min.
March 22, 2021
| Updated October 11, 2022
With so many different benchmarking types, how do you know which will give you the best insights to solve your business challenges? 
When you choose the right type of benchmarking, you get a solid point of comparison against others in your market, it'll also make it quicker and easier to spot trends, challenges, and opportunities. 
Here we'll look at seven benchmarking strategies that you can use to evaluate your business along with practical examples to show you exactly how it's done.
What is benchmarking?
Benchmarking is a process that measures products, services, results, and other key performance indicators against competitors. It provides insights that show how an organization stacks up against similar businesses, and ultimately shows opportunities for improvements or adaptations. 
Each benchmarking type serves a distinct purpose, comparing different data sets to reach the desired outcome.
Established companies use certain types of benchmarking to optimize productivity, improve marketing, or break into a new market. Whereas start-ups use other benchmarking types to form a go-to-market strategy or prepare detailed competitive analysis about their industry.  
Read more here – What Is Benchmarking: The Ultimate Guide
7 different types of benchmarking explained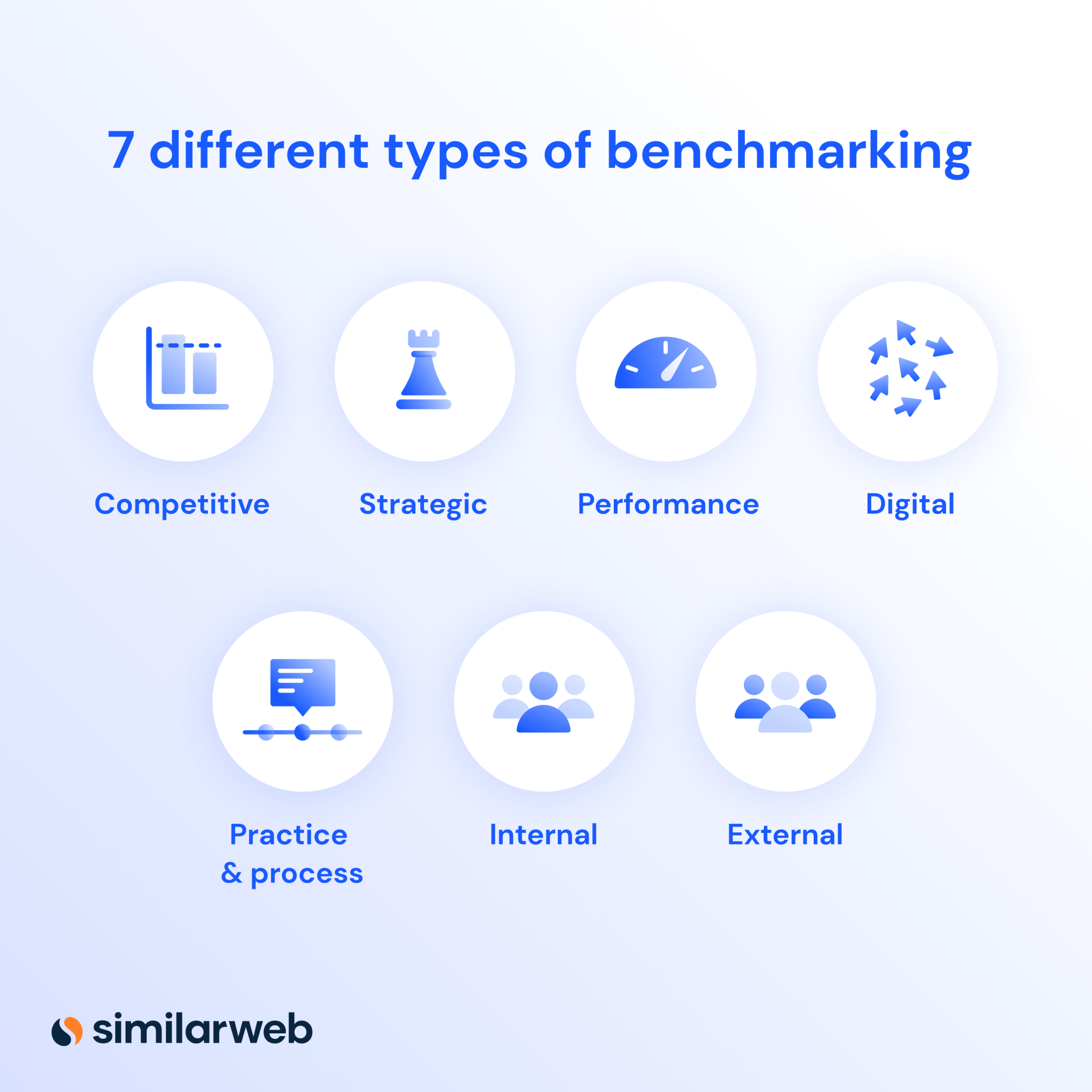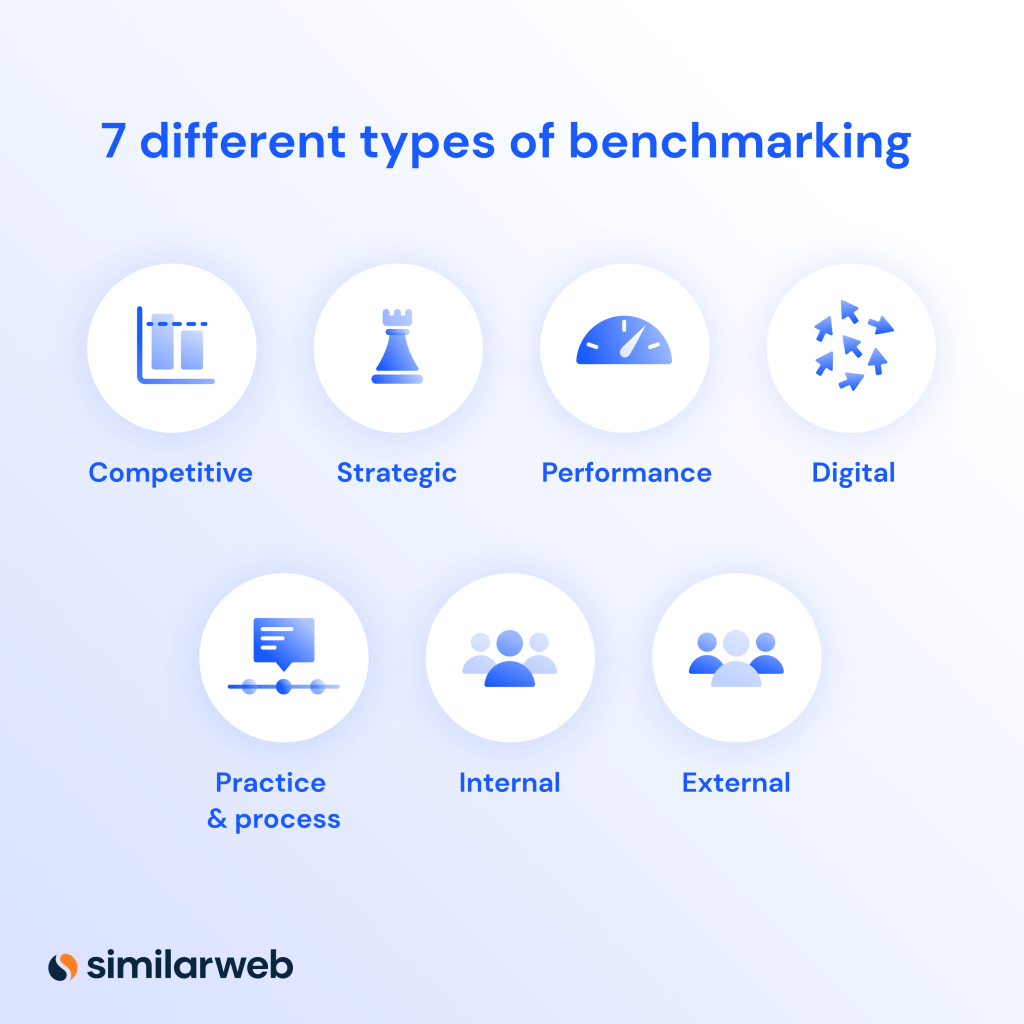 1. Competitive benchmarking – the mother of all benchmarking
Evaluating how you stack up to the competition is the most effective form of benchmarking for businesses. Competitive benchmarking is the only way to determine what your success is truly worth. You may be excited to see growing numbers, but you'll only know you're a market leader when you compare the stats against your rivals. With this type of functional benchmarking, you'll quickly understand where other companies in your industry are heading and can identify emerging trends. Competitive benchmarking requires a systematic approach starting with setting definitive goals and parameters to analyze. Surprisingly, many companies fail to leverage digital tools to produce valuable and actionable results fully.
Basic benchmarks include generic figures such as revenue, growth, and industry-related indexes. Comparing these numbers lets you evaluate your market share but isn't enough for a detailed analysis and actionable insights. 
A granular view of competitors' data can provide a clear map of the industry, including your own competitive advantages. As a result, you'll be able to compare specific data points and make more effective decisions.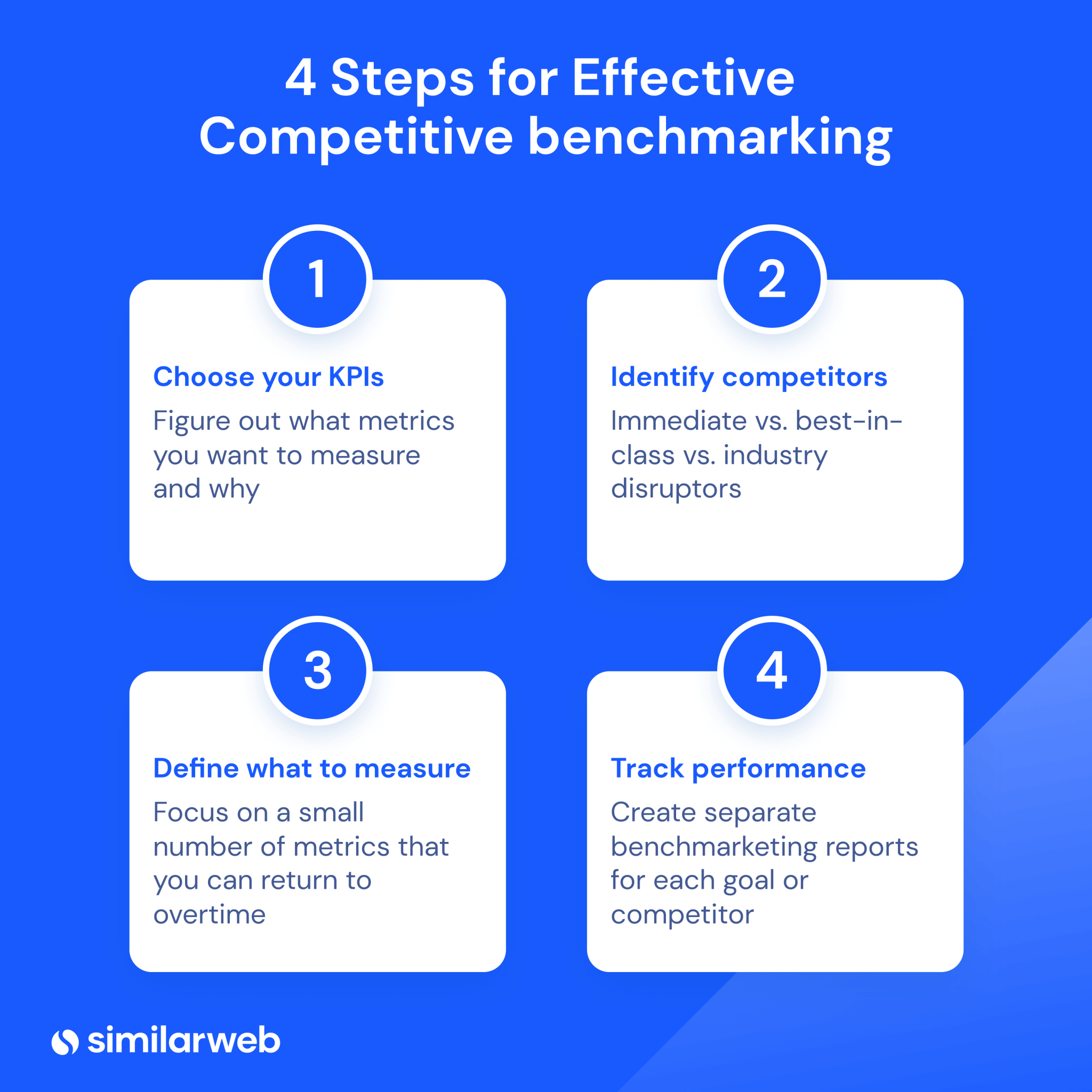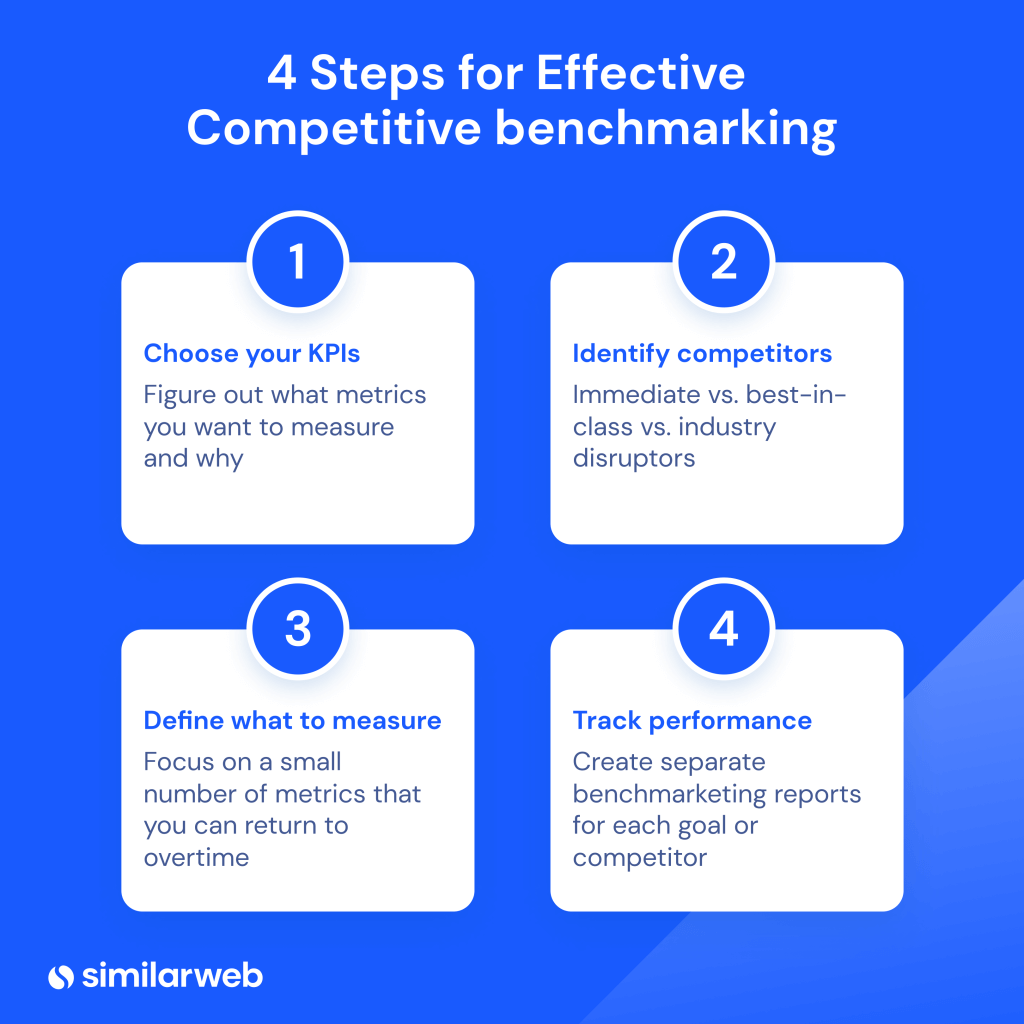 For example, if you want to review your pricing policy, you can analyze goal-specific figures such as average price increase to review your pricing policy. Get hands-on guidance and examples in our article about competitive benchmarking.
2. Strategic benchmarking – let success be your teacher
With strategic benchmarking, you focus on the best-in-class. The main goal is to learn from the success of others. With strategic benchmarking, you want to understand how the big winners got to where they are and how successful companies developed over time.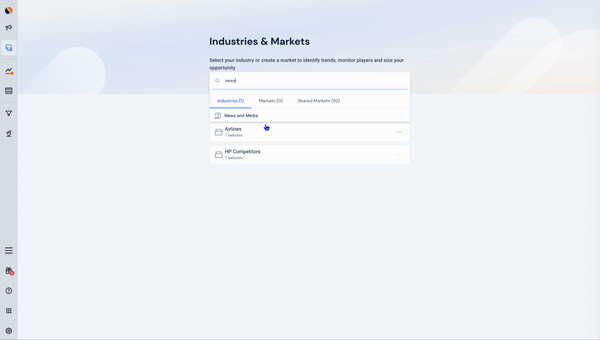 Here, you can see at a glance, market size, distribution, traffic benchmarks for the industry, and industry leaders. One click shows you details of all top players and rising players, including their yearly change. Look at the yearly change for rising star 'turbopages', clearly one to watch out for in this sector.
Now, if you're anything like me, you'll want to know how key players and rising stars are gaining traffic, and see what channels they're using to drive growth. With Similarweb Digital Research Intelligence, you can do this in an instant.
Continuing with the news and media industry, I can now see how turbopages has made its mark. In just one click, I get traffic and engagement stats, demographics, marketing channels, and more. Next, I see who is referring traffic, whether or not it's using paid ads, etc. I can start to break down the strategy, and use it to do strategic benchmarking for my own business.
This type of benchmarking involves looking at high-performing companies' business models to understand how they differ from yours to identify elements you can implement in your structure. The idea is to help you optimize your business strategy or, on a smaller scale, your marketing strategy, online presence, or financial scheme. Strategic benchmarking also enables you to identify areas in which companies compete so you can detect gaps that need to be bridged.
Remember a few years back, Walmart and other retailers were exclusively brick-and-mortar stores? They held onto their largely offline business structure despite the growing ecommerce trend. And then came COVID-19. Walmart quickly managed to build a profitable online strategy, implementing what they learned from successful competitors.
Another area that presents a major challenge or opportunity (depending how you look at it) are mobile apps. Now, in the past, simply looking at web and mobile traffic alone was enough to get a decent picture of what was going on in a market. However, with mobile-first consumer habits on the rise, (the average person now opens 11 non-browser apps each day) being able to see mobile app insights alongside web and mobile data is key. 
Do you know how apps are impacting your market?

Did you realize five of your rivals released new apps in the past six months?

Are you considering investing in an app? If so, is Android or iOS optimal?
Mobile app intelligence tools like Similarweb can help you answer these questions, in a matter of minutes. What's more, you get to see the complete digital landscape from within a single platform.  
3. Performance benchmarking – continuously improve results 
One way or another, gauging performance is part of every type of benchmarking. We'll look at it separately because you can and should carry out business performance benchmarking separately from other metrics you are measuring.
Performance benchmarking sets out to compare profitability to help you define better targets for your business. We are talking about a form of quantitative data comparison to set ambitious but achievable goals. It usually focuses on performance indicators such as price, quality, speed, and reliability, and you start by defining representative key performance indicators (KPIs).
This type of benchmarking helps you continuously improve results by regularly raising the bar. You work to achieve a specific level, and once you're there, it becomes the new normal from which you set your goals even higher.
Here's an example. Let's say you're well aware of the popularity of podcasts on Clubhouse, and your marketing team is convinced that opening a room will pump up engagement and drive sales. Before you dive into the new adventure, you must analyze your existing social channels and benchmark their performance against competitors. Then compare general marketing metrics of companies that operate a Clubhouse room with companies that don't. Find out if the results they produce are significantly better and justify the investment.  
4. Digital benchmarking – measure anything, any time
Every company with a digital presence needs to benchmark web activity, features, and performance. Digital benchmarking covers everything from keywords to conversion and ROI (return on investment) and can be applied to any data point. The overall goal is to assess your digital activity's impact on your overall business performance and how it matches up to direct competitors.
You can also use digital benchmarking to hone in on specific aspects of your business activity. Focusing on digital data allows you to evaluate your traffic share, audience reach and can even tell you more about things like how mobile apps are impacting your market. It lets you compare and analyze types of campaigns and marketing channels to determine where to focus efforts. See what's standard in your market and identify weaknesses and opportunities with greater ease.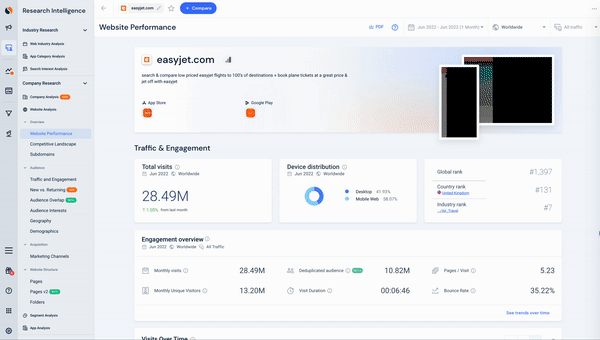 Drill down into elements of a rival's digital strategy, to see the what, how, and where behind their success. Similarweb Digital Research Intelligence helps you spot useful insights, and shows you how to discover more intel on a specific point of success. From sources, channels, ads, and even traffic sources. 
This type of benchmarking forms the cornerstone of building your digital strategy. In the online world, everything is measurable, so you can conveniently set achievable KPIs and relevant benchmarks every step of the way to your digital success. 
Here's an example of this benchmarking type in action. Let's say you are investing a significant amount of money in search marketing. You want to know if it's justified and compare the share of paid traffic to the share of organic traffic. When you benchmark both against the industry average, the data reveals that your paid search traffic is average, and your organic visitors' number is low. 
Based on this, you want to inspect your SEO strategy to figure out how to catch up. What do you do? Benchmark. Compare traffic generated per specific keywords and identify the ones with the highest potential using Similarweb's keyword research tool. Then adapt your content. 
Another crucial element of any modern digital benchmarking is app analysis. Here, you're going to want to establish the impact of apps in your market, and try to ascertain key metrics to benchmark your app against others in your space. 
If you have a mobile app, benchmark these key metrics:
Monthly or

daily active users

Total and average sessions

Total and average session times

User retention 

Total and monthly downloads

Overall and category rank

Demographics – age and gender
If you don't yet have an app, you're still going to benefit from knowing what's happening in your market. Mobile app intelligence tools are a great way to keep track of everything that's happening across the entire digital ecosystem. 
5. Practice and process benchmarking – from quality to quantity
Practice benchmarking takes a more qualitative approach. It aims to evaluate how things are done in your company and pinpoint areas to optimize. The first step is mapping internal processes. You can compare different workflows inside your business to see which yield better results and set standards for teams and employees. 
Process benchmarking is not limited to your own company. You can benchmark against publicly available statistics or data that you receive from external sources. Monitor the processes over time, especially after implementing changes, to help boost motivation and efficiency.
Here's an example: Meetings are highly valued in your company culture. That's where decisions are made. Lately, the performance levels of some of your most active employees have dropped. You suspect they could simply be spending too much time on Zoom. 
Compare how much time people spend in meetings and how much time they work independently. Set a benchmark for weekly Zoom-time and analyze the performance level of team members that are above and those that are below. Analyze performance gaps and implement best practices.
Download your free guide to competitor benchmarking
6. Internal benchmarking – utilize internal competition 
If you want to improve efficiency and increase your business capacity, internal benchmarking is a helpful tool. 
This type of benchmarking includes internal monitoring of workload, task completion, time spent on tasks, cost, revenue generated, and so on. It helps set expectations for your team and lets you define and optimize workflows. Internal benchmarking is relevant mainly for large organizations, with competing departments or where departments rely heavily on each other.
A good example is sales teams. In sizable businesses, sales teams include numerous sales reps. Their performance is measured by the number of sales-qualified leads (SQLs) they manage to turn into customers. Companies often reward their reps with a bonus if they exceed a set number. Benchmarking order value from closed leads is another way to set a standard or goal.    
7. External benchmarking – where the grass is greener
In external benchmarking, your reference point is set outside of your business. In other words, you compare your data to competitors, industry standards, or best-in-class. Competitive, strategic, and digital benchmarking are typically forms of external benchmarking, although they could in some cases also be applied internally.  
The tricky part of this type of benchmarking is that companies do not make their internal data easily available. To compare internal processes or performance metrics, you often rely on the cooperation of other companies. For other types of data that don't appear on official statistics or published reports, you can use a capable business intelligence tool such as Similarweb Digital Research Intelligence.
To continue the sales team example, you also want to know how your department's performance stacks up to others. Let's say you have five people in your sales team, and they generate $10K sales a month. Finding the corresponding data about your competitors shouldn't be too difficult. If you find that the industry average is four reps generating $10K monthly sales, Finding the corresponding data about your competitors shouldn't be too difficult.you want to know how they do it. You'd need to find ways to reach those benchmarks. 
This is where digital intelligence becomes significant. Maybe they invest more in aggressive marketing, and leads pass to sales at a later stage? Benchmark-related metrics. Do they use more advanced tools that let them organize their workflows more efficiently? Benchmark a variety of data points to get a better understanding. 
Similarweb Digital Research Intelligence for better benchmarking
Almost all types of benchmarking involve the use of digital tools to measure and track data. The huge advantage of digital data is that everything becomes measurable. But there's also a downside to that: With so many metrics available, how do you know what is relevant to get the answers you need?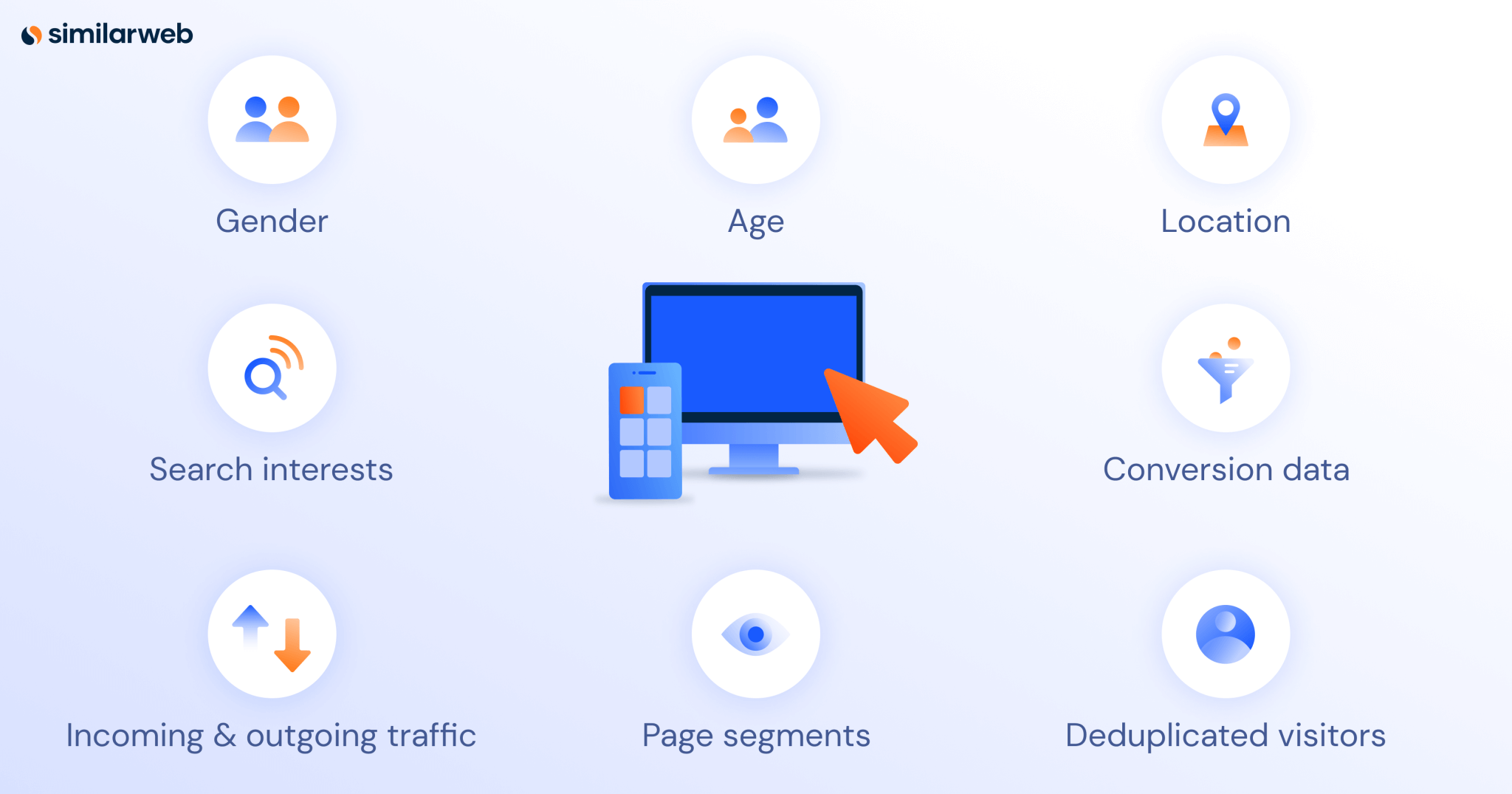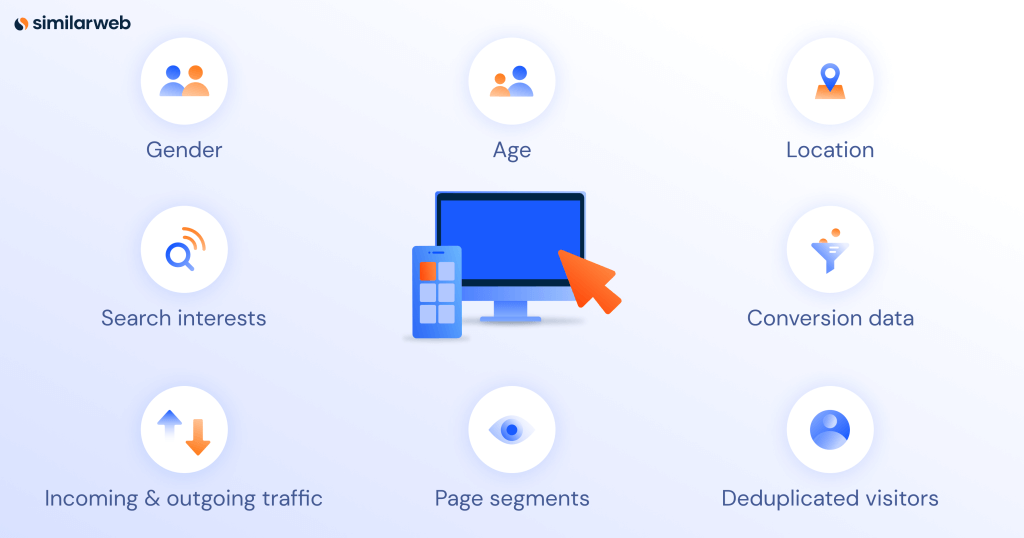 On top of that, many businesses get so wrapped up in their data because they have so much of it that they forget to place it in context and compare it. 
Benchmarking is only possible if you can view market and competitors' data as if it were your own. For your benchmarking to produce actionable intelligence and influence decision-making, you need that data to be accurate and reliable. 
With Similarweb, you receive the highest quality data that lets you conduct market analysis and ongoing benchmarking. Our research intelligence tools provide you with relevant metrics about your company and your competitors in the context of the market. 
Already benchmarking?
Maybe you realize that you've been benchmarking in some way all along but never thought of it as such. Now that you've got a glimpse at some of the types of benchmarking, you understand that you can apply the technique almost anywhere. To turn it into a beneficial business tool, work systematically and get valuable data. Contact us to learn more. 
FAQ
What does benchmarking mean?
The process of measuring products, services, and processes against those of organizations known to be leaders in one or more aspects of their operations.
What is an example of a type of benchmarking?
Internal benchmarking – if you want to improve efficiency and increase your business capacity, internal benchmarking is a helpful tool. 
What is another way to say benchmarking?
Setting standards, building a model, or creating criteria for comparison.
What type of benchmarking is best for mobile apps?
The best benchmarking types to use for apps are either digital or competitive benchmarking. Both can be advantageous in understanding how apps are impacting an industry, and if your rivals are achieving success via their app. 
This post is subject to Similarweb legal notices and
disclaimers
.
Wondering what Similarweb can do for you?
Here are two ways you can get started with Similarweb today!