 Research Intelligence
How to Do Competitive Analysis With Conclusive Results [+Template]
by Molly Winik
, Senior Digital Research & eCommerce Specialist
14
Min.
July 15, 2021
| Updated October 11, 2022
These days, having access to reliable, up-to-date data is a fundamental need for any business. With it, you can analyze competitors effectively, see where they're winning and losing, and adapt to market shifts when they happen. Without it, you ended up constantly chasing your tail and trying to play catch-up.
Read on to learn exactly how to do a competitive website analysis, repeat the process regularly, and look forward to seizing opportunities by making actionable decisions that elevate your growth.
You'll get an overall roadmap with actionable tips, plus a free competitive website analysis template to start your systematic side-by-side comparison. 
Don't have time to read the whole article? Watch our 2-minute explainer video on how to run an effective competitive analysis:
What is competitive analysis?
Competitive analysis is the process of collecting and reviewing information about your competitive landscape, such as industry stats, business data, competitors' performance, and details about products, pricing, positioning, and services.
Why is competitor analysis critical in market research?
Industry leaders aren't likely to give up a piece of the pie without a fight. So anyone who wants to increase their market share and get more website traffic better come prepared with knowledge of competitors' strengths and weaknesses.
Before launching a product in a new market, or pursuing growth of any kind, you need a razor-sharp understanding of the competitive landscape. A good competitive analysis tool to have in your arsenal is the trusty SWOT analysis (strengths, weaknesses, opportunities, threats). It helps you clearly map-out emerging industry and market trends, evaluate opportunities, adapt campaigns, and refine your marketing strategy to counter your rivals' efforts. 
Solid competitive analysis research gives you robust foundations based on trustworthy, reliable data that's focused on one thing: helping you grow.
Your free competitive analysis template
If you're struggling to get started, a competitive website analysis template will help. And even if you've already been through the process before, this template helps you cut the time and effort of setting up your market research process.
Our free template for competitive analysis includes essential comparative criteria according to the steps outlined in this post. You can also add business-specific parameters as you see fit. Then, simply collect and record your data to get a clear picture of how you stack up and form conclusive results about your competitive landscape.
Also, check out our blog post – Know Thy Enemy: 7 Competitor Analysis Frameworks To Give You an Edge
The main elements of competitive website analysis
The first stop on the competitive analysis train is collecting and analyzing information about competitors to understand what you're up against. A methodical approach lets you understand how the different areas impact each other.
You can divide your competitive analysis into four main areas of competition: 
Company

: Information about company size, location, business info, etc.
Customer

: Demographics, preferences, and characteristics of the target audience.
Product and pricing:

Product-related data such as features, offers,

if they have a mobile app.
Marketing

: Strategic approach, SEO tools, use of channels, marketing campaigns.
Before we start the step-by-step process for competitive analysis, I must highlight something that'll save you time, and also help you spot opportunities more easily.
Start with a template (a spreadsheet will suffice): so you can systematically collect and record your findings in such a way that you can easily compare them to your own web page. Honestly, it's a game-changer. 
Answer the same questions and investigate identical metrics for each competitor. If there's no information available for a specific point, note it down. This could be valuable as well because there's likely a reason for this.
11 steps to effective competitive website analysis
There are always going to be some companies that cast a bigger shadow over the landscape than their actual share. Equally, there may be unexpected players lurking in hidden niches of your market. This systematic approach will reveal their identity and whether they pose a threat to you or not.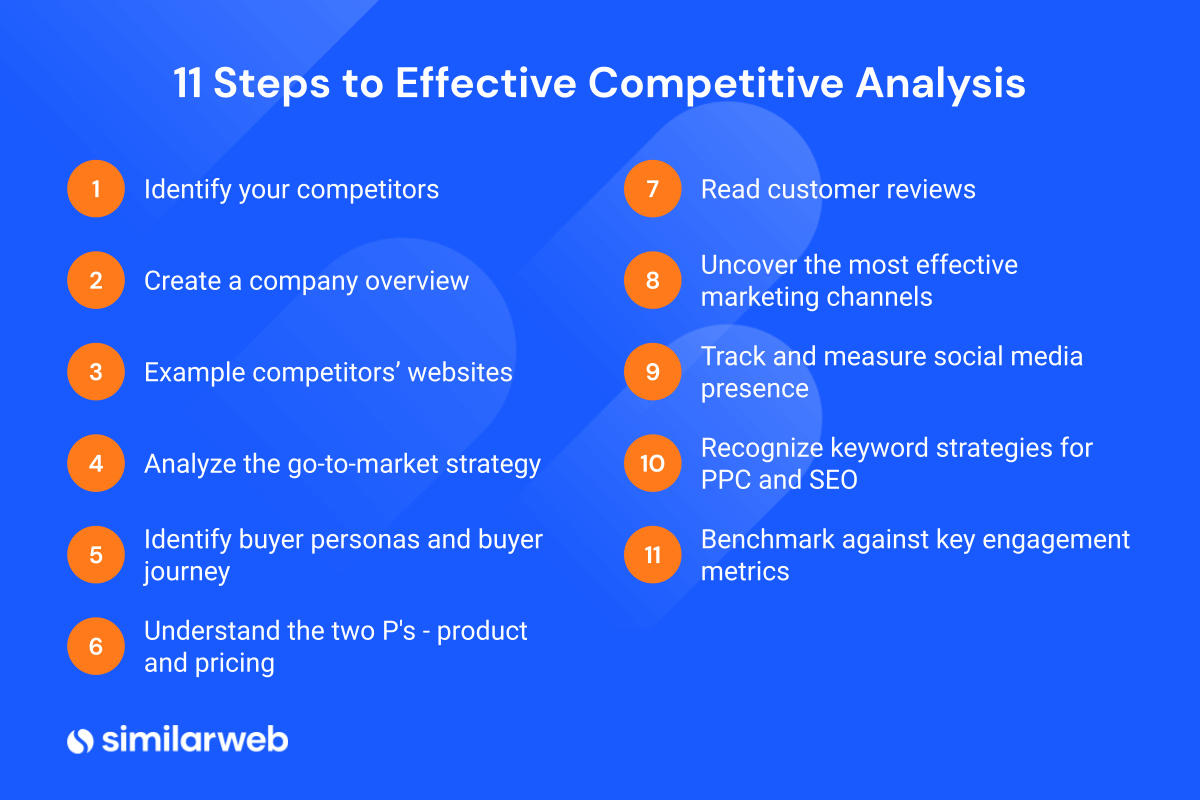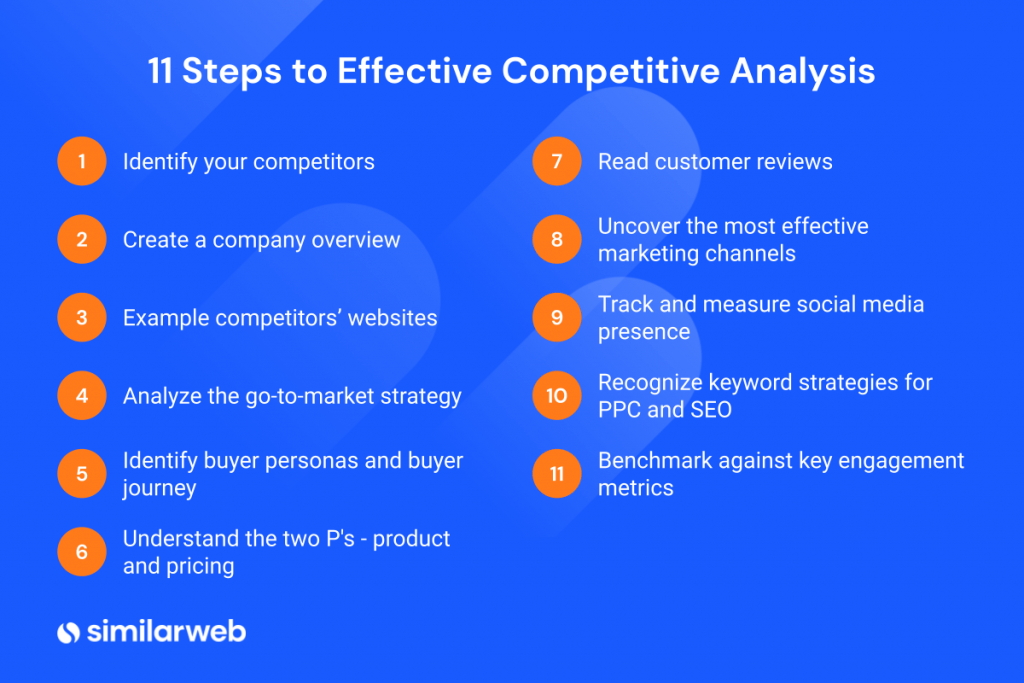 1. Identify your competitors
Start by finding companies that offer a product or service in the same category as yours. Next, prepare a list of competitors and categorize them into different levels. Use these three factors:
    The audience each one targets

    The problem they solve 

    The product they offer
You'll find our competitive website analysis template divided into corresponding sections. 
Keep in mind there are two types of competitors: direct and indirect.
Your main competitors are direct, for example, businesses that are identical to you in all three areas: They have the same target audience, offer a solution for the same problem, and are in the same product category. For example, if you sell orthopedic shoes for kids, you'll want to look for other eCommerce sites or brands on retail sites with similar products and qualities that you want consumers to associate with your brand.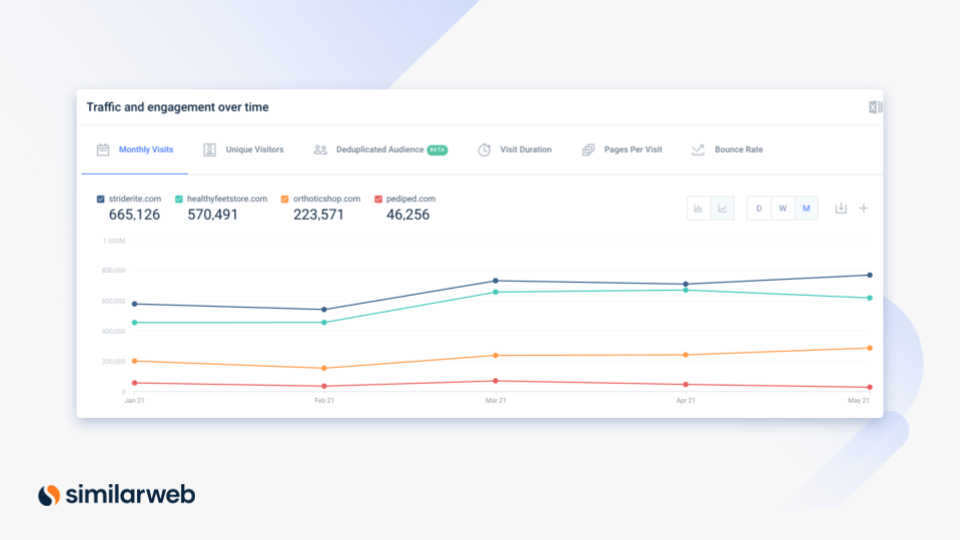 The second category of competitor analytics is indirect – that is, companies that are identical in only two of the three areas. They could be targeting the same audience and offering a solution for the same problem, but with an entirely different product. Someone offering a surgical procedure to correct the same issue as your orthopedic footwear would be a good example of an indirect competitor.
Focus on the direct competition, but keep data on indirect competitors as well; they may become more significant over time. Especially in the growing business-to-business (B2B) landscape, companies are always venturing into new sectors outside their original industries. Indirect competitors may pivot at any point, and could seemingly overnight introduce something like a new app to their offering. Mobile apps are being driven by consumers and technology, and they have the power to disrupt a market at a moment's notice.  We'll cover the importance of analyzing the complete digital landscape of your competitors shortly.
2. Create a company overview
Now that you've identified your main competitors, it's time to gather background information on them.  It's best to analyze three to five companies per competitive set.
Make sure your company overview includes the following: 
Basic information such as company size, location, employee count, and year established. Information like this is easily obtainable from national business registers,

official government sites

, and even social networks like

LinkedIn

.

Add financial and business information, including stock value, owners, investors, acquisitions, and mergers. You can view a company's financial statements or find information on business review sites like Dun & Bradstreet

,

Hover

, etc. For

startups

and tech companies, check sites such as

Crunchbase

,

Indiegogo

, and

Kickstarter

. 

Next,

define market position and share, level of

brand awareness

, range of products, delivery methods of product, such as whether they have a mobile app, and

product categories

. Your direct competitor could be a well-known brand with a wide variety of product categories, such as Amazon or 3M. Another competitor could be a local company specializing in a single product

that's similar to yours.
Make a note of the strengths and weaknesses you're able to identify. Add to them as you work through the competitor website analysis.
3. Examine your competitors' websites
Zero in on design, content, and SEO practices. 
Are they promoting specific keywords or search terms to reflect what customers may be looking for? 
What is their page structure: do they have pages per product, industry, service, or all? 
What CTAs do they have on their site; are they giving anything away for free, like a report, asset, or consultation?
Do they have a live chat on their site? If so, is it a real person or a chatbot?
What type of support do they offer customers? Phone, email, or other? Pay attention to things like their Service Level Agreements (SLAs) too. Is their support 24/7, do they promise to email back within 24 hours – it's all good intel, and it can all be used to help you succeed.
Pay attention to the features and benefits they highlight. Also, pinpoint what makes each competitor unique and which features are common to all. Most importantly, identify their Unique Selling Proposition (USP). Each business positions itself in a specific way and its website can provide valuable clues to its competitive edge, and uncover opportunities for you to differentiate yourself.
Be alert to what's missing. If all competitors offer a free trial and only one doesn't, this indicates that this lone wolf positions itself as an elite company or service. As you move on, you'll find evidence to support or refute this assessment.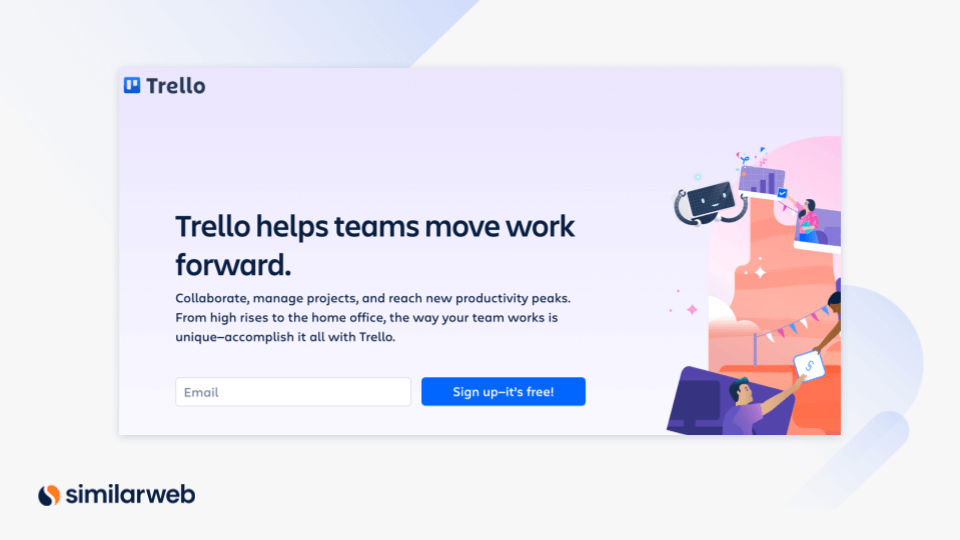 4. Analyze the go-to-market strategy
Through your website analysis, you get an idea of how each competitor differentiates itself from the rest. Do they have a website, a mobile app, or both?
To get a better understanding of your competitor's strategic approach, you'll want to research their lead generation strategies. To do this, you need to put yourself into the shoes of their audience and actually take a trip down their funnel. Read a few blog posts, sign up for whatever you can, and try out any free tools they offer. You can also hone in on top traffic referrers, and discover the top sources of referrals for their site. 
Don't forget, to use a methodical approach to collecting any responses. This is going to save you time and provide inspiration for future improvements.
Your goal here is to identify:
The major pain points they address
The unique solutions they offer (and how)
Their key messages for customers
Who is sending referrals to their site
How they serve their customers (site or app)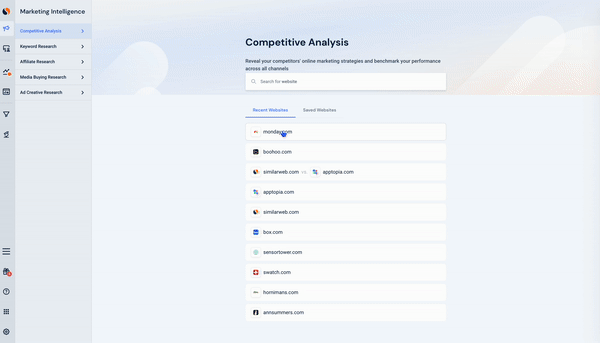 Using the competitive analysis element of Similarweb, you can quickly drill-down into the top referrers for a site, and see who is sending them the most traffic, and discover new traffic referral opportunities to capitalize on. 
5. Identify buyer personas and map the buyer journey
So far, we've looked at the competition directly. But to get a complete picture, you need to examine their customers too.
Based on their websites alone, you can try to understand which age group and demographics your competitors target. With the right analytics, you can also narrow down if gender, geography, or language are critical to the customer journey. You should also take a look at situational analysis to understand what your audience expects in different scenarios. Investigate the factors that impact a customer's state of mind, such as their knowledge, level of attention, and ability to process information.
But website analytics only solves one piece of the competitive analysis puzzle. These days, you need to look at the complete digital landscape, and that my friends, includes mobile app intelligence too. 
In 2021, over 58% of all web traffic came from mobile devices, a trend that's set to continue to rise in favor of mobile-first consumer habits. I looked at an updated figure for traffic share by platform using Similarweb data, and mobile continues to rise: for June of this year, it's sitting at 65% for mobile.
So, when looking at buyer personas and consumer journey tracking; you need to consider app analysis as par for the course. 
6. Understand the two Ps – product and pricing
Investigate the products you compete against, their features, pricing, and positioning. What do the different companies offer, and how much does it cost?  A simple price comparison tells you what people are willing to pay in general.
Don't stop there. Analyze how prices are structured. Are there different levels? What do the prices include? Does the company offer discounts, giveaways, or a free trial? Check the refund policy by looking at the pricing and Frequently Asked Questions (FAQ) sections of a website.
Investigating a competitor's pricing strategy helps you understand its business model. The picture should become clearer now: the target audience, the content, and the messaging should all be reflected in their pricing model.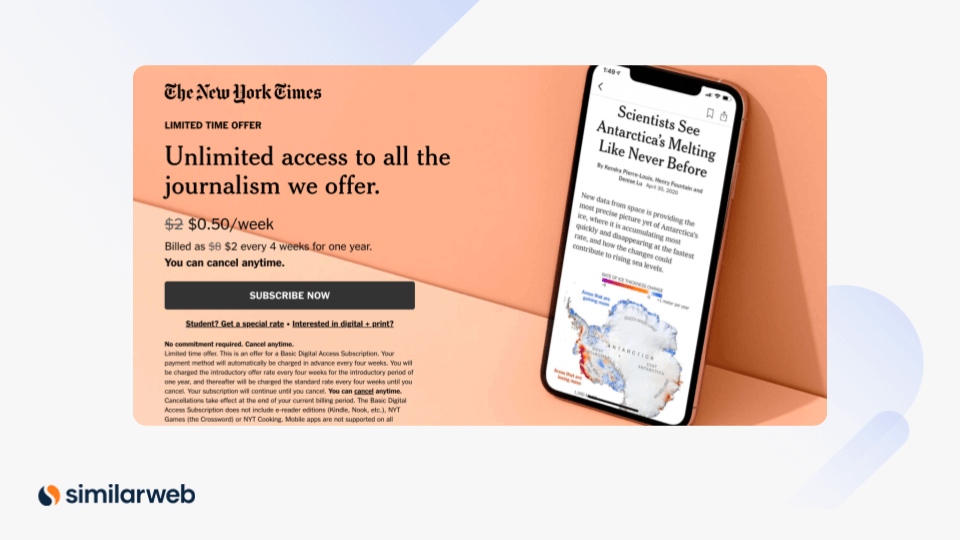 7. Read customer reviews
How the company presents itself and its products is one thing, but how customers view the company is another thing entirely. To get an unbiased view of your competitors' performance, look through the lens of a customer.
Read customer reviews and evaluate how well the two match.
Browse the issues and questions raised by users to uncover potential weaknesses. See if and how the company answers comments from users.
Evaluate the feedback on their mobile app. Are there any missing features or common areas of complaint? What do people love or loathe about their app?
Depending on the industry, there may be review sites that compare your competitors' products for you. Keep in mind, these are usually run by affiliates (who endorse products in exchange for commissions), and they have an interest in favoring one over another. However, they test products themselves and pin features against each other; therefore, you can get facts on the competitor that it isn't keen on sharing.
Discovering the user experience of your website or mobile app is a crucial part of your competitive website analysis. It tells you something about how successful the product is and if the positioning and strategy works.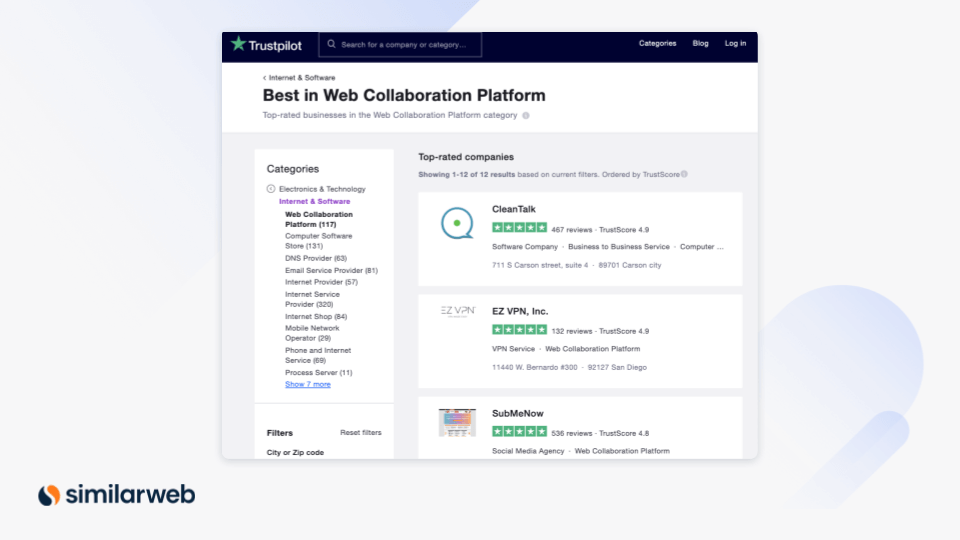 8. Uncover the most effective marketing channels
If you followed all the above steps, you've already discovered the most important marketing channels. You know which social media platforms the company uses. You'll have received their email marketing campaigns, newsletters, and more. You know if it has a blog, the topics it addresses, and how frequently it posts.
So what's next? Find out if the company uses pay-per-click (PPC). Enter the brand name, product, or other highly relevant keywords in Google's search engine to get an answer. If there's a little icon with the word "Ad" next to the competitor's link, it's paid search. Finally, don't forget to investigate its affiliate program (if it has one) and search traffic levels.
That's a lot of information to work through, but it still doesn't tell you which channels are most successful in generating traffic and leads. You can get this type of data with Similarweb Digital Research Intelligence with ease. Here, you'll see data and insights into the amount of traffic each marketing channel drives, as well as other valuable website metrics to benchmark the performance of your competitors' marketing channels.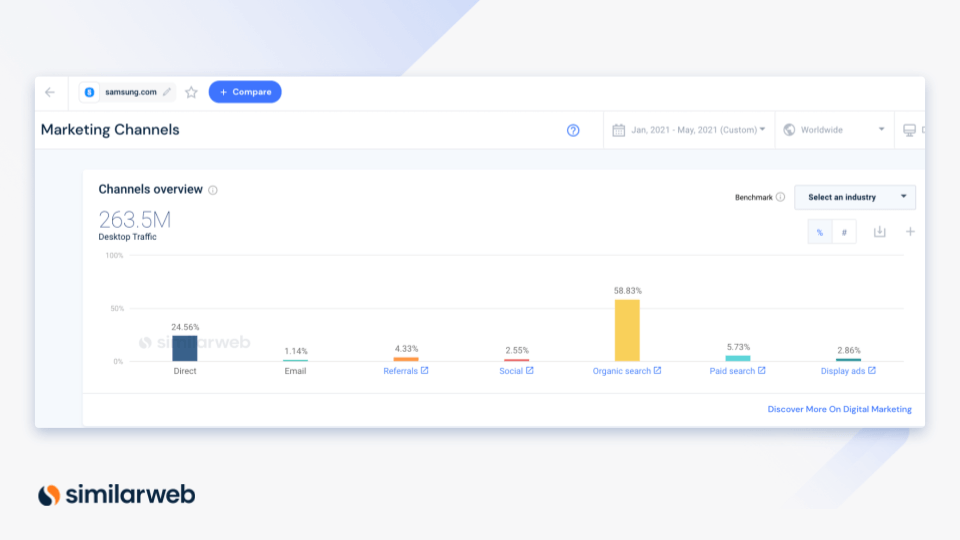 Here are some helpful guidelines to help you translate data into insights, and discover how to analyze your competitors.
A website that receives a large sum of traffic from:
Direct

has a loyal and engaged audience and most likely strong brand awareness. 

Referrals

is likely to have a strong affiliate strategy or enjoy significant media coverage. 

Organic search

is optimizing for top ranks in search results.

Paid search

is spending advertising budgets to increase brand awareness and target relevant audiences.

Email

is likely to have a large loyal customer base that engages via an owned mailing list.

Display ads

is spending advertising budgets to increase brand awareness and attract a relevant audience.
9. Track and measure
social media
presence
Take a closer look at your competitors' social media activities, this time with a focus on the consumer. Check the number of followers your competitors have and the level of their engagement rate. Also, research what types of posts are popular and how followers engage. Do they like, comment, share, or do they even post themselves? Are there any influencers that sponsor them? 
Similarweb provides you with engagement metrics so to add real numbers to this research. Easily compare new competitors' social media presence, marketing acquisition strategies, audience behavior, and success based on actual data.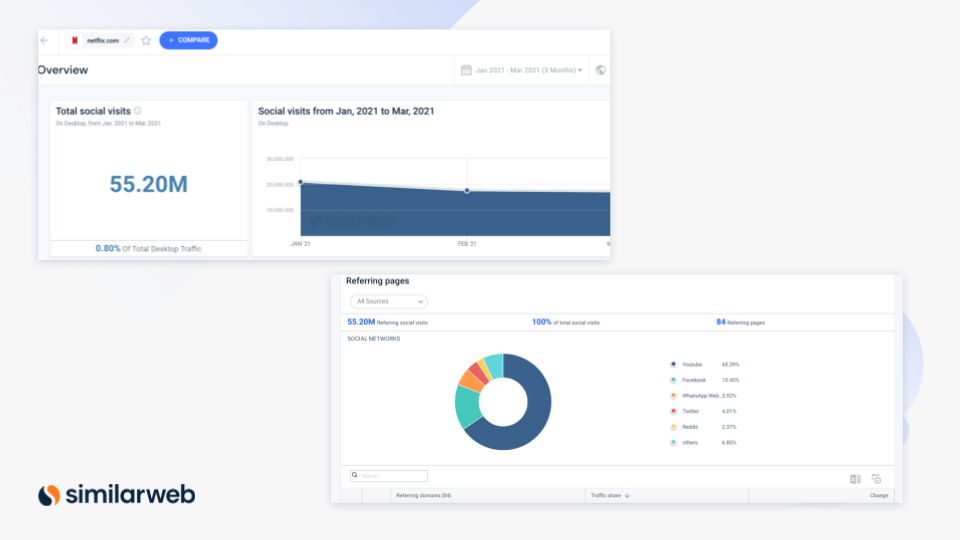 10. Recognize competitors' keyword strategies 
Keyword research is the process of researching which terms people type into search engines. Search keyword analysis is the foundation for a powerful keyword strategy for your PPC campaigns, content marketing, and SEO analysis.
Competitor keywords are associated with the products that consumers are actively searching for. In order to stay relevant, you'll want to understand which ones are popular and how competitors are utilizing them in their marketing efforts. 
Study your competitors' SEO strategy and PPC optimization to determine which keywords they're focusing on (for example, mens shoes vs. mens running sneakers). Depending on the category, there could be a variety of keywords that could boost traffic and page views. 
You can access reliable data using our Keyword Research Tool, which allows you to measure traffic generated by a particular keyword to a particular site from any search engine. Moreover, you can find information on website position, landing pages related to the SERP, and keyword CPC and volume.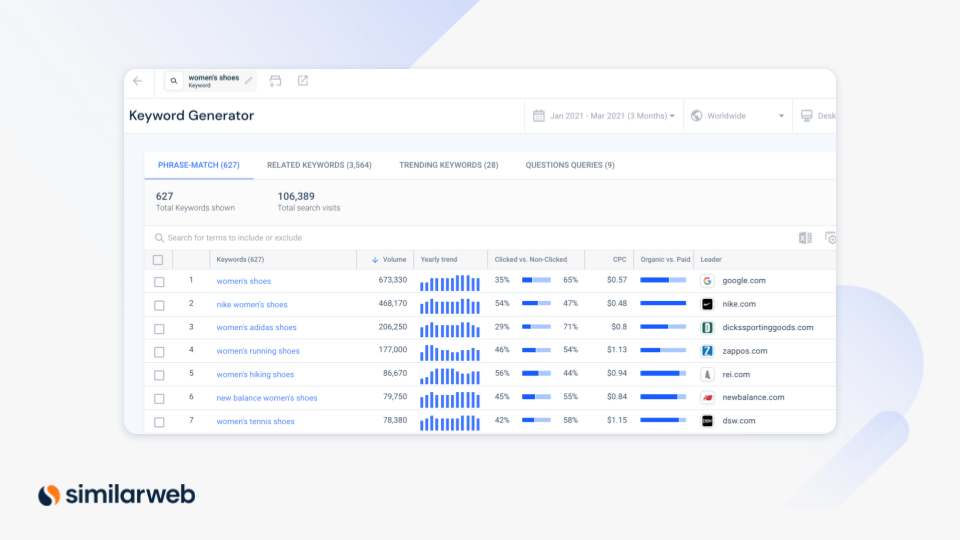 Keyword intent is another string to your bow! This metric gives you the ability to understand the purpose behind a search query. It gives you the all-important context behind why a person is searching for something on Google.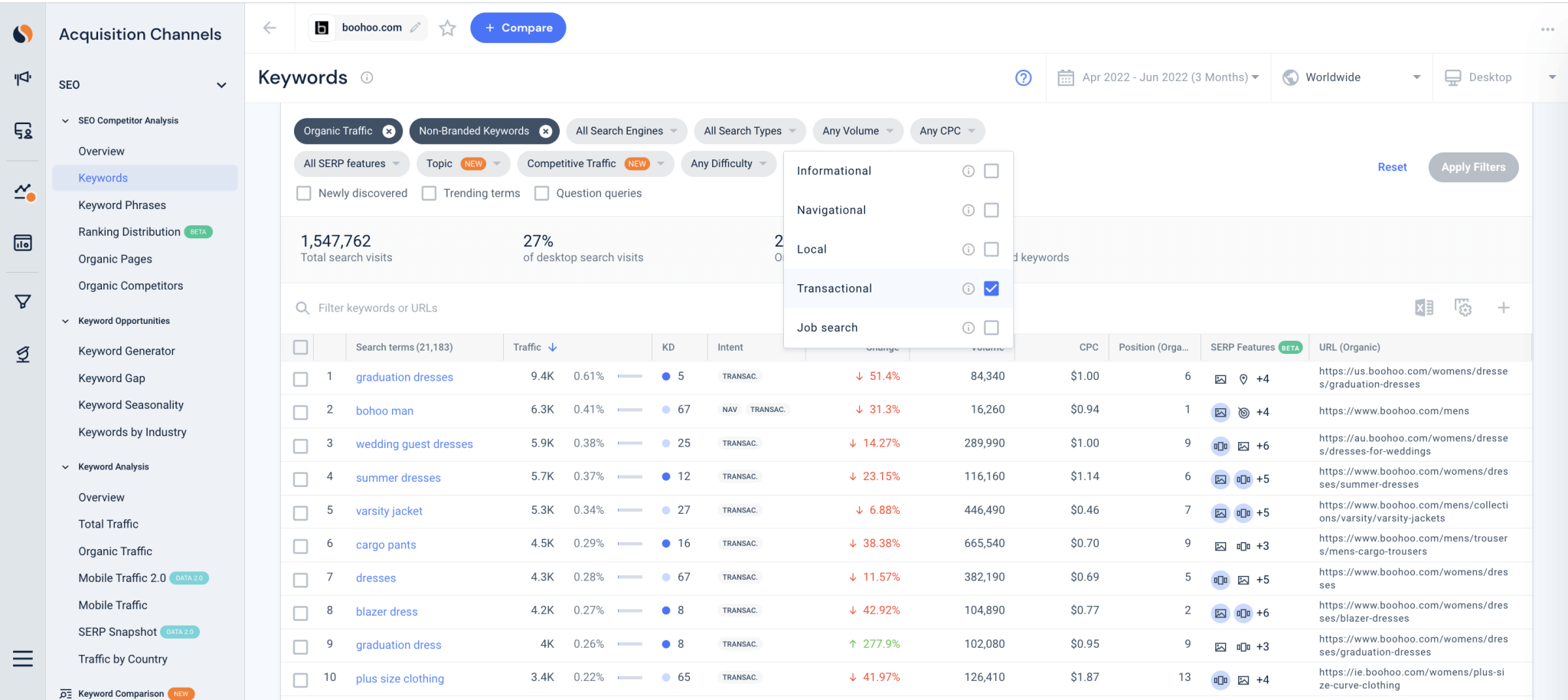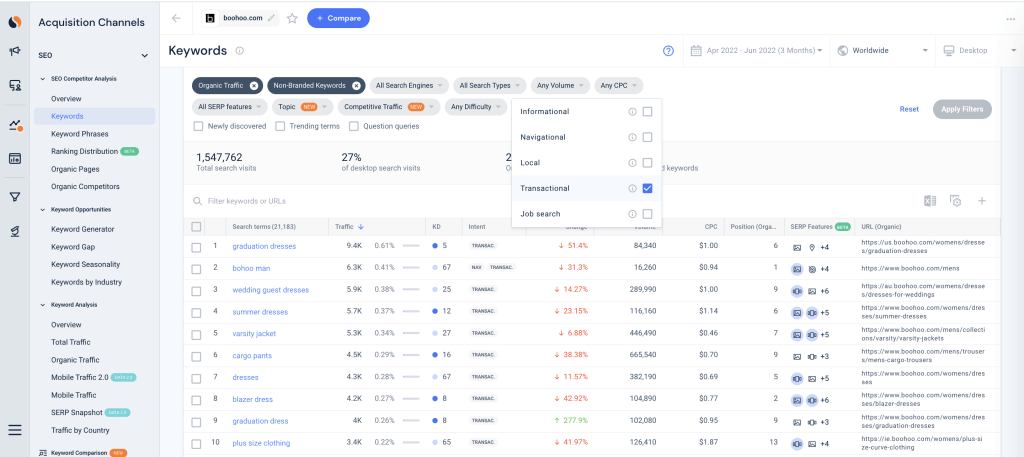 Here, you can filter by the five main types of intent, including navigational, transactional, informational, local, and job search. When looking for key insights into competitor keyword strategies, information like this helps you define the essential keywords to focus on.
11. Benchmark against key engagement metrics
Once steps 1-10 are complete, you'll have everything needed to know how to analyze competitors effectively. Create your own spreadsheet (or use our website competitor analysis template) to track the data you've uncovered about your competitive landscape, your own company, and subsequent product information. 
Viewing data in line with that of your competitors, helps you see exactly how you fit into the landscape. It'll surface strengths, weaknesses, opportunities, and threats. Something we know and love: competitor benchmarking.
We recommend using different types of benchmarking to analyze data on website and app performance, and user engagement metrics. These can include bounce rate, daily active users, traffic sources, and search volume. This way you'll get the best view of who's winning traffic share and who's losing consumer interest. After that, set goals and create your own benchmarks.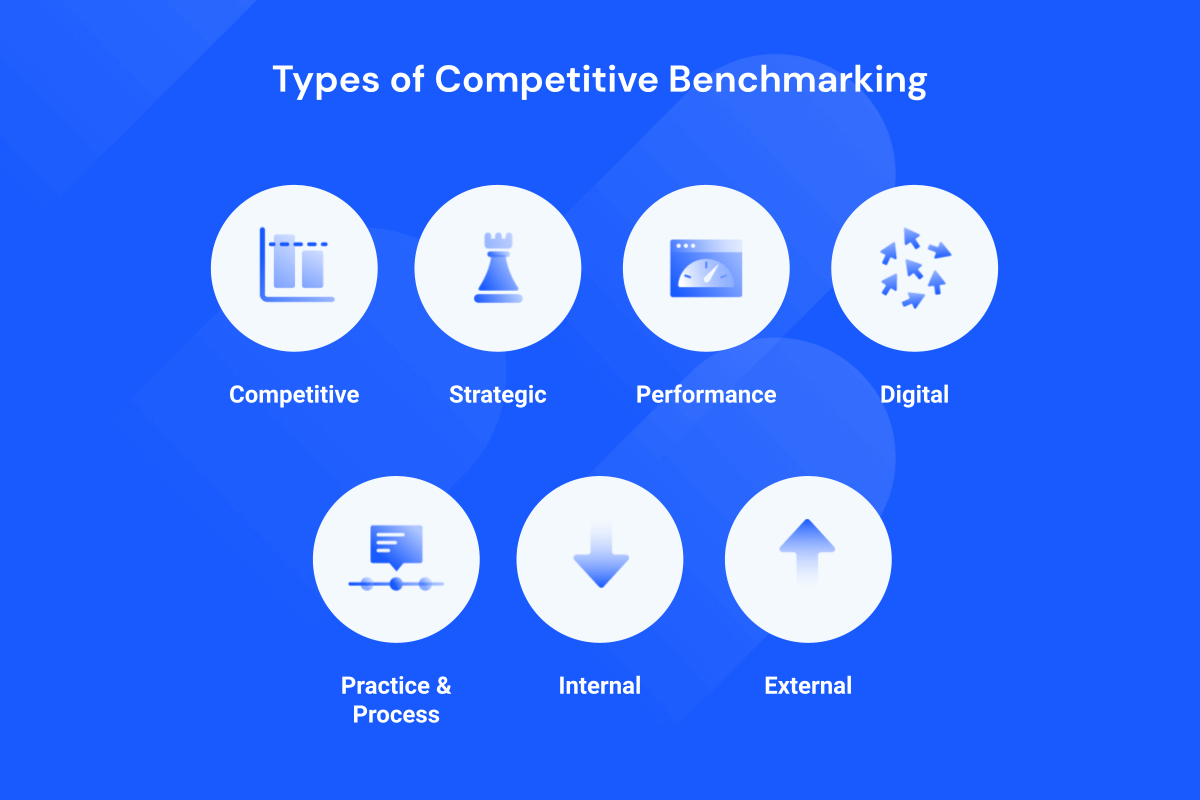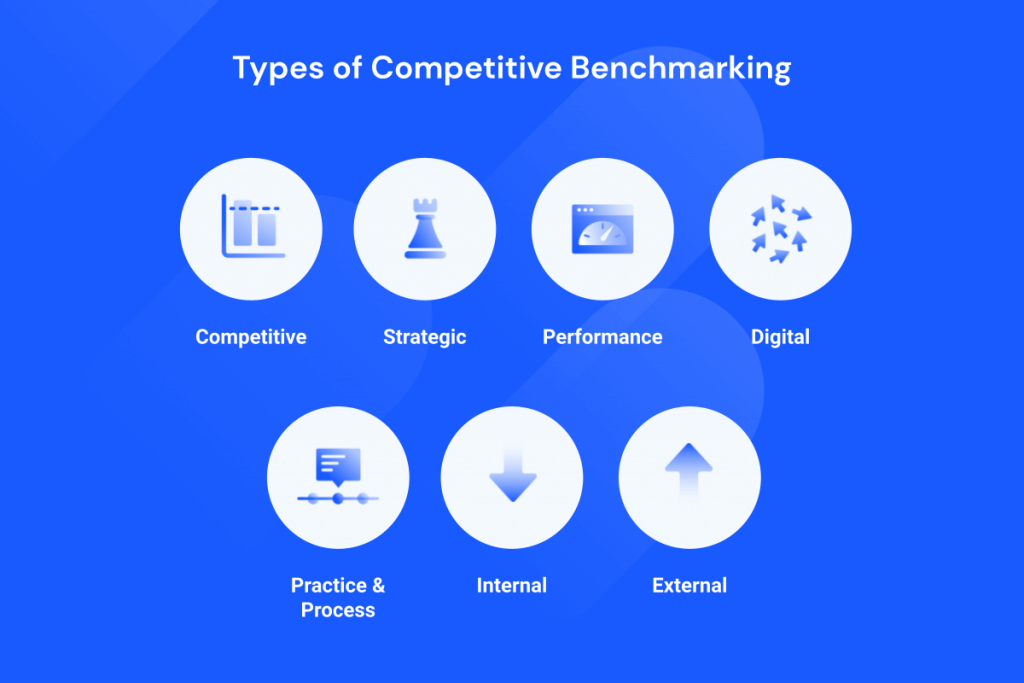 How to use data to develop a winning strategy
Competitor analysis tools map your market landscape. A good analysis shows rivals' strategies and how they compare to each other.
Let's go back to the beginning. Your goal is to create a successful go-to-market strategy. Understanding your competitors' intentions leaves you with an incomplete picture. What if a company is super active on social media but doesn't generate any sales from these channels? What if it boasts a highly professional and informative blog, but never brought in a converting visitor? You need to analyze competitor intentions in relation to its actual strategy and processes. 
Here are some ways that you can apply this information to enhance your digital strategy:
Evaluate how effective competitors' strategies are in acquiring customers
Define the channels that you can most effectively leverage. For example, if social media is a successful channel for all your competitors, it's promising for you as well – although you'll face tough competition. Maybe you'll uncover a new channel that your competitors haven't yet discovered. This could be your opportunity, so get creative!
Compare conversion rates and assess performance at different stages throughout the sales funnel
Analyzing page visits helps you identify areas to improve bounce rate, the buyer journey, eCommerce conversion rate, etc. You can avoid lost opportunities in your own funnel by discovering weaknesses in your competitors' funnel and learning from their mistakes.
Check out this how-to video to learn more about our exclusive Conversion Analysis tool:
Identify and benchmark the key players
Once you reveal information about competitors' performance, you can pinpoint the areas in which each competitor presents a challenge to you. Always look at web and app traffic together. To consider just one of these in isolation won't give you the full picture of what's really happening in your market. Draw conclusions about where to position yourself and where to invest your time and budget. 
How Similarweb can elevate your competitor analysis
Now that you know how to analyze competitors, you need to choose the tools to collect the relevant data. Google Analytics provides a foundation, but it's not enough to give you the deep intel needed to shape your strategies and make important decisions about what moves to make next.
Similarweb can help you fully understand your audience by letting you:
    Determine the

demographic makeup

of the customer base relative to the competition.
    Identify the

sites that consumers are visiting

and the content they find most engaging.
See

the impact of mobile apps on your market.
Understand buyer personas and do consumer journey tracking.
Improve your market position through periodic competitor analysis, allowing you to:
    Evaluate

emerging or declining players.
    Determine

industry trends and marketing strategies

that can be replicated. 
In the following table, you'll see at a glance the features to help you conduct your next-level competitor analysis. We've connected each focus area to the relevant Similarweb feature that will give you the in-depth information needed.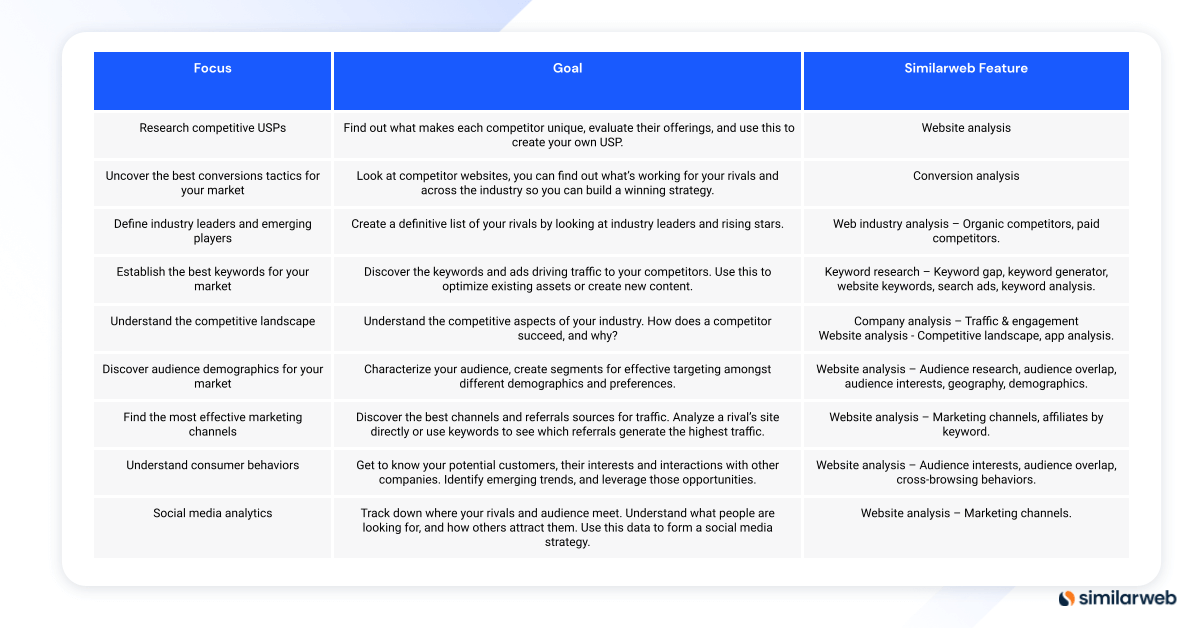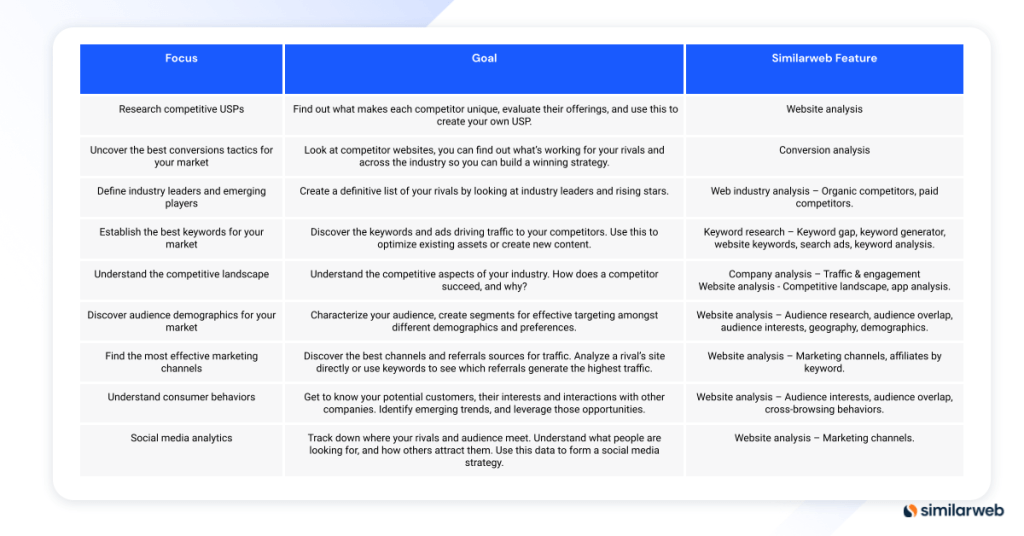 Are you ready to take on the competition?
Knowing how to analyze competitors is one thing, but systematically doing competitor analysis allows you to formulate strategies for continued success. 
With a complete and dynamic view of your market, you can accurately assess your competitive landscape, and get clarity on the opportunities that have the potential to make the greatest impact to your audience and business. 
Get started with our Competitor Research Guide:

FAQ
What is competitive analysis?
Competitive analysis is the process of collecting and reviewing information about your competitive landscape.
What is in a competitive analysis?
Information about the company, customer, product and pricing, and marketing activities.
How can I conduct a successful competitive analysis?
Use Similarweb to determine the demographic makeup of your customer base across both web and app sources. Identify the sites consumers are visiting, evaluate emerging or declining performers, and find industry trends and marketing strategies that you can replicate.
This post is subject to Similarweb legal notices and
disclaimers
.
Wondering what Similarweb can do for you?
Here are two ways you can get started with Similarweb today!