A market research survey is a tried and tested tool to help you uncover vital intel about consumer sentiment, something any business can benefit from.  In a perfect world, we'd know exactly what people want, think, and feel about our products and company all the time. Sadly, it's neither feasible nor realistic. And that's ok.
With the best products, messaging, and delivery, there's always room for improvement. And even when you get it just right, market and consumer behaviors can shift at a moment's notice.
Enter market research surveys – the most favored and widely used qualitative research tool there is right now.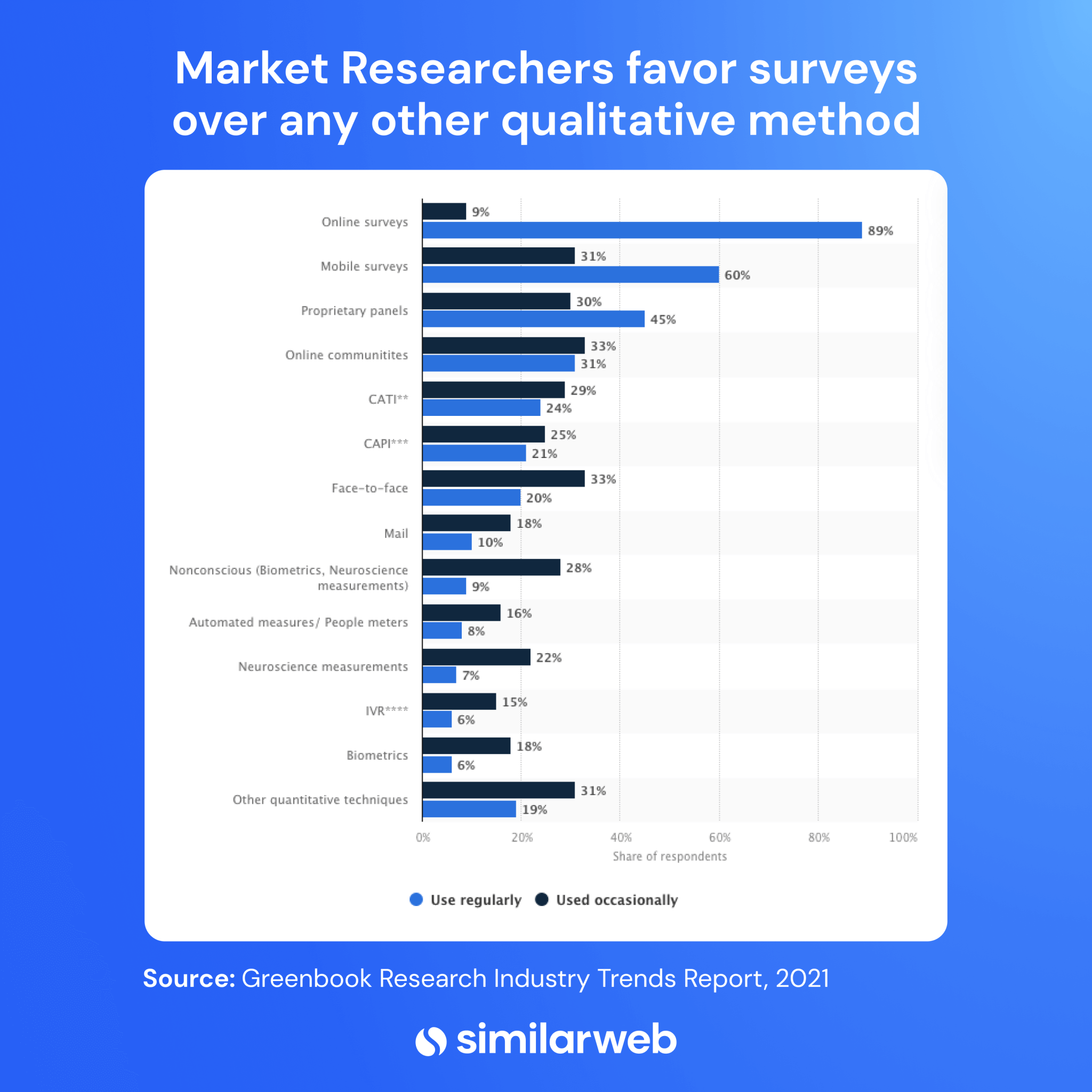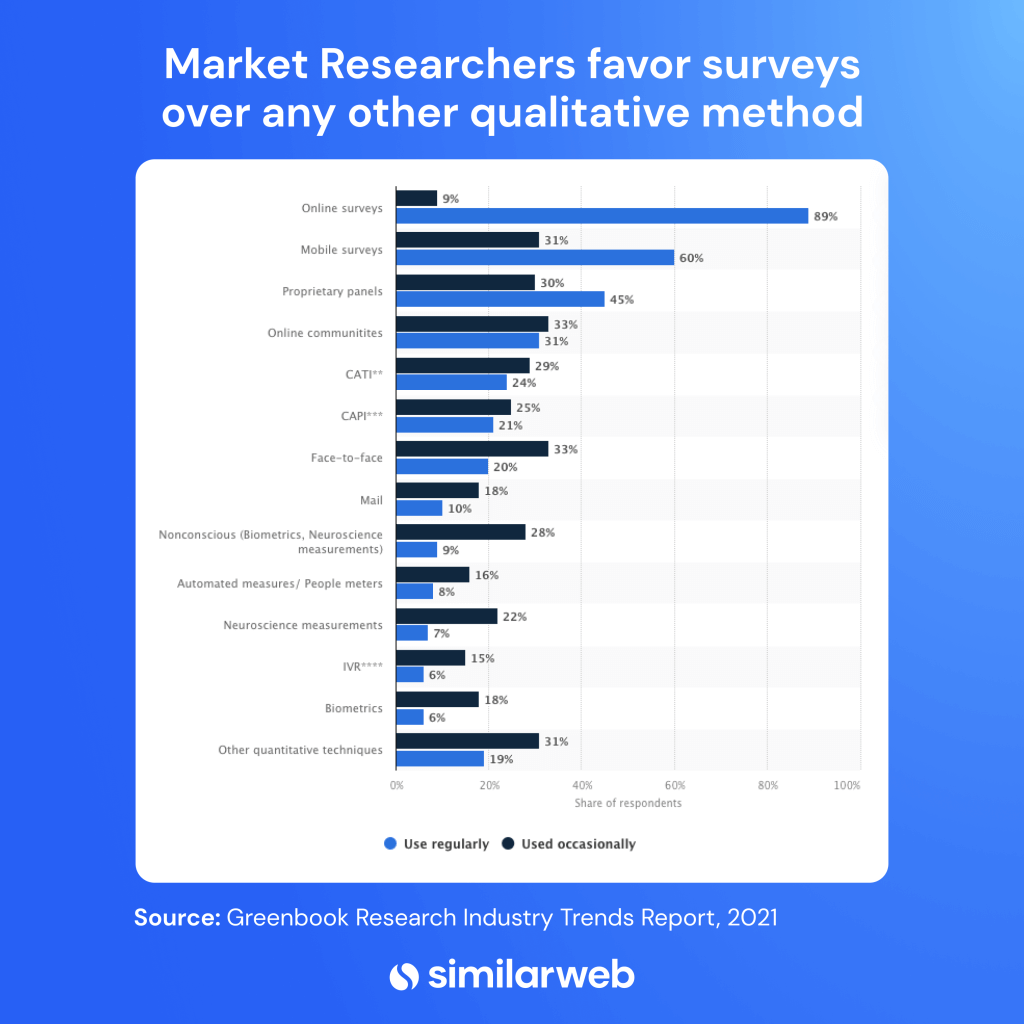 What is a market research survey?
A market research survey is a qualitative research method used to gather feedback from a person or group. It provides vital insights that support strategic decisions, allowing organizations to analyze and understand consumer behavior or motivations in more detail. Responses are collected in various forms, such as paper, in-person, mailings, or online.
What information can a market research survey tell you?
Market research surveys collect feedback from individuals by using a range of questions to find out about things like:
Habits
Experiences
Characteristics
Preferences
Motivations
Needs & Demands
What are the benefits of market research surveys?
Here's the top five advantages of using online market research surveys:
Low cost
Quick to set-up
Easy to create
Immediate feedback
Extensive reach
"As a business that provides market research survey tools, our mission is to help companies collect crucial information so they can understand the people's opinions, behaviors, and knowledge of specific industries, products, and services. Data collected through market research surveys are essential for making decisions about product development, marketing strategies, and business operations."


Market research survey uses and types in action
Market research surveys are both valuable and versatile. But many organizations fail to realize their true potential; and don't always extract the maximum ROI. Here, I'm sharing 18 different ways to use online surveys.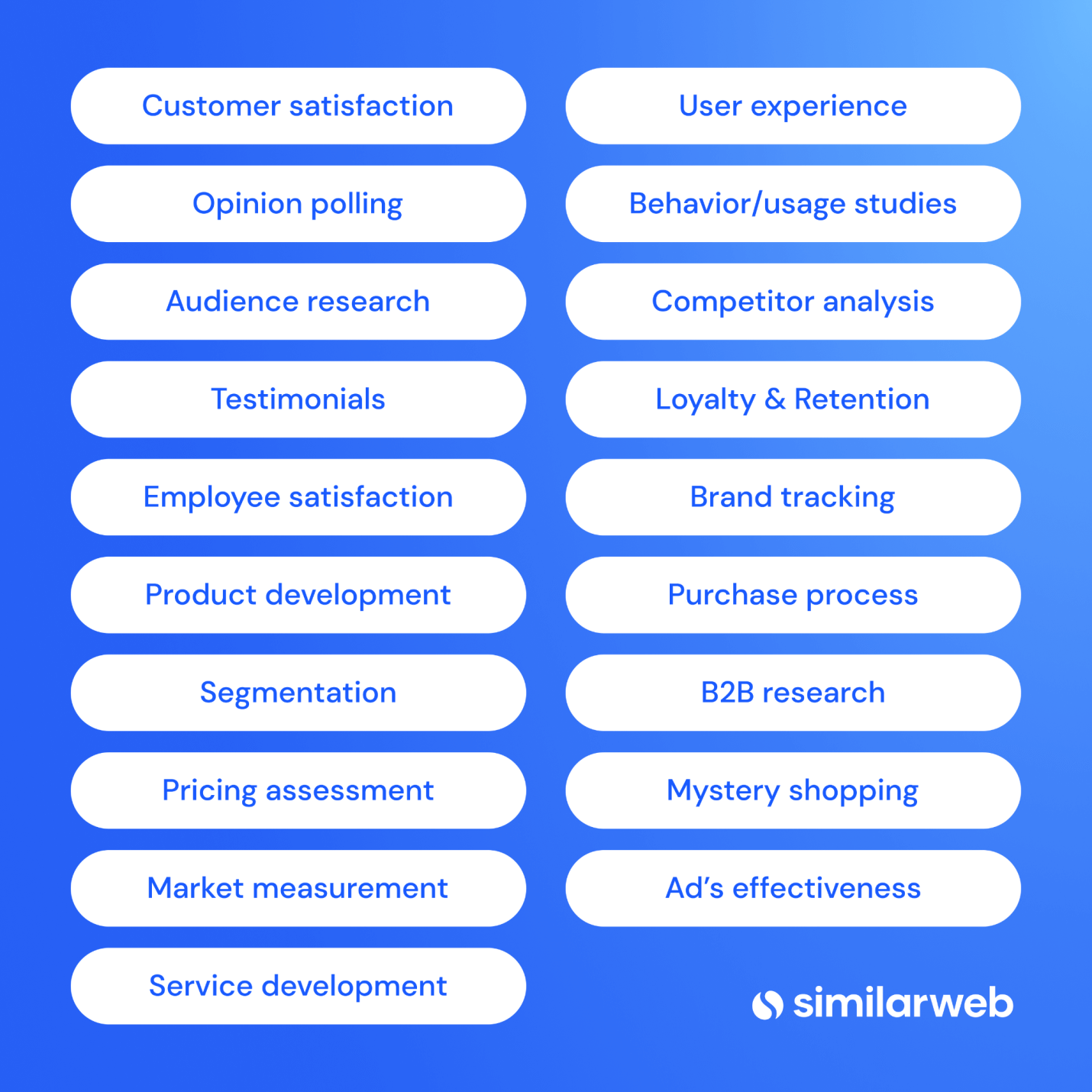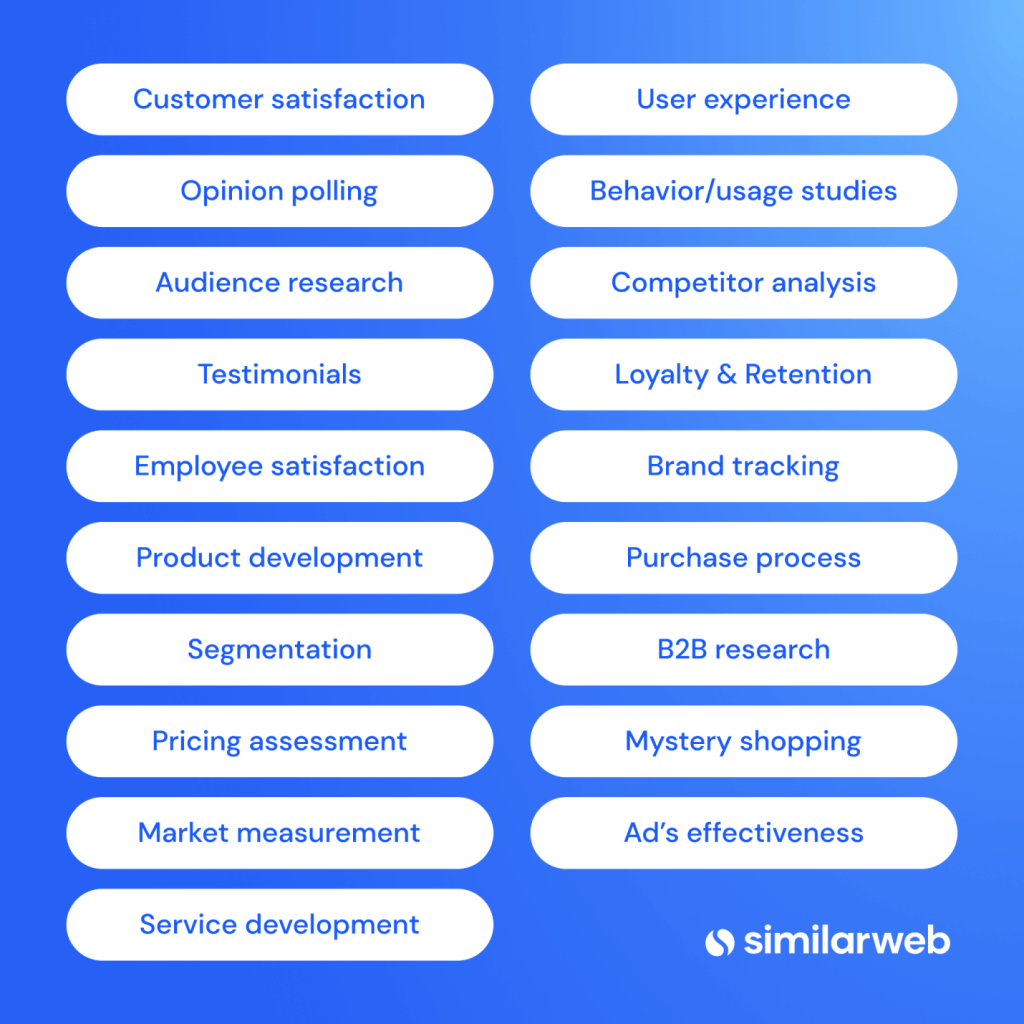 1. Measure customer satisfaction
Market research surveys are an ideal way to measure and obtain feedback about customer satisfaction; they're often referred of CSAT (Customer Satisfaction) surveys, indicating what consumers like and dislike. They also allow organizations to keep track of their Net Promotor Score (NPS). Typically, these surveys ask questions to uncover insights about a service, product, or experience. Sending timely feedback surveys to help resolve issues before they become a problem, giving you the chance to transform a poor experience into a good one.
Here's three examples of typical questions asked in customer service surveys:
Please rate the service you received when you visited our store today
– Availability of staff (1-5)
– Staff knowledge (1-5)
– Friendly and helpful attitude (1-5)
Were you recommended any additional products or services? (yes/no)
If we could improve one thing about your experience at our store today, what would it be? (open text)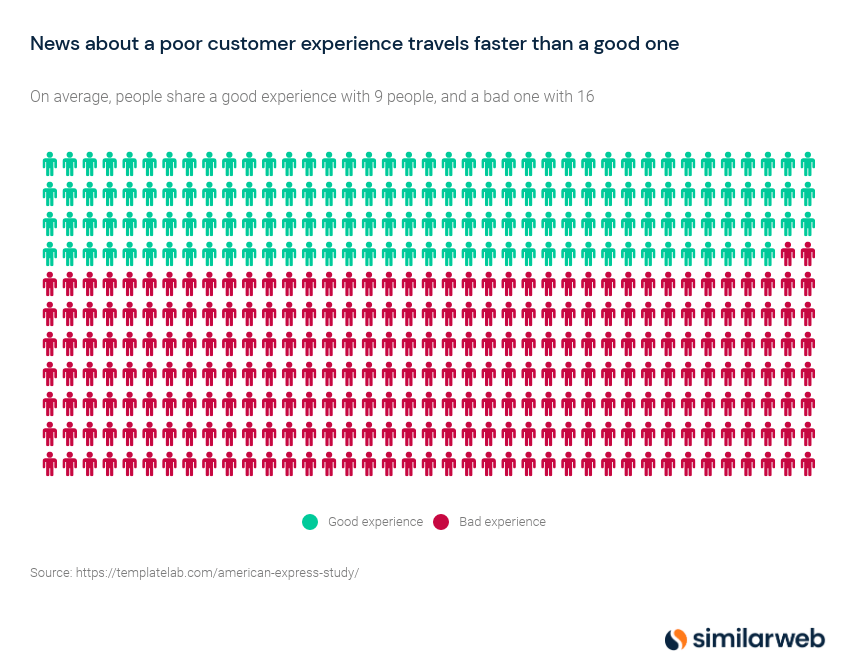 2. Do opinion polling
A great way to gather mass consensus from a large group of people. Typically, they're short and sweet, asking just 2-3 questions. It's one of the fastest ways to establish public opinion on a chosen topic. There are three types of opinion poll surveys you can use. They are:
Rating – Usually a sliding scale between 0-10.
Multiple choice – This offers three to five- options to choose from (always include 'other' as one of these with a free text field to uncover insights you might not have considered).
Free text – Useful, but a little prohibitive if used too much. It's important to balance the use of this option with quick and easy ratings and check-box formats.
Here's three examples of opinion polling survey questions:
What is the main reason you are attending the event?
Do you like the changes to the lunch menu?
What would be your ideal work setup? Office, WFH, or Hybrid?
3. Conduct audience research
Also known as buyer persona surveys, use them to better understand who your customers are, their motivations, and demographics. The results allow you to develop better value propositions and create more informed marketing campaigns that convert better and drive revenue.
Here's a few examples of audience research survey questions:
Which social sites do you look at most?
How often do you check your emails?
How much research would you do before making a buying decision?
Which search engine do you use most?
What information formats do you most engage with?
What tools do you use most in your daily work?
4. Automate testimonials & reviews
Testimonials can build a boatload of authority and buyer confidence. 85% of people trust reviews from strangers as much as peers, making them one of the most valuable forms of content. Automate the process, sit back, and watch the feedback roll in. During set-up, use a mix of rating-based questions and open text fields. Once collected, they'll support brand awareness, boost credibility, and assist with other marketing-related activities.
5. Measure employee satisfaction
It's no secret that happy employees are more engaged and productive. According to research, happiness makes us about 12% more productive. On the flip side, low morale or job dissatisfaction can harm an organization's reputation, culture, and bottom line. Surveys are a low-cost, effective, and easy way to measure employee satisfaction. You can also use them as exit interview surveys, a must for any business of any size.
Pro Tip: To surface any drivers of employee dissatisfaction, people need to know they can be brutally honest and open with their responses; anonymity in the survey is the only way to achieve this.
6. Validate product development ideas
Online surveys are a great way to validate whether or not a new product idea is worthy of investment. It can help you quantify demand by asking direct questions about specific features or concepts you are considering. Within our own business, we review new product or feature ideas internally and then validate their impact and potential with customers in the same way. Simply put, a quick research survey can uncover vital intel that shapes the what, how, and when to enhance your offering.
7. Measure lead generation effectiveness
Research surveys can help determine the efficiency of your lead qualification process. In short, they can measure and track how well a sales team is doing and assess things like timeliness, follow-up activities, and more. The information helps organizations find new ways to improve the management of lead generation activities and take actions that directly impact conversions in the future.
8. Improve market segmentation
Market surveys for better understand customers can help you better understand customers and prospects. With this, you can separate customers into smaller groups based on interest, demographics, geography, usage, or brand preferences. This gives you the ability to do more targeted marketing and a clearer view of why people in a specific group have or haven't done business with you.
Segmentation survey example: A spa owner could use segmentation to group clients based on their treatment type or specific brands or products they prefer. They're then able to offer specific promotions that involve the cross-pollination of products and services. This is just a single example; the possibilities are endless.
9. Qualification of pricing models
Surveys help you qualify any initial work on pricing new products or services. They can provide a clear indication of price ranges to consider and in some cases, give insights that shape pricing models and strategies that better serve the needs of different groups in a market. For demand analysis, these surveys are designed to determine if prices are set too high or too low.
10. Choose the right create assets
Establishing what types of creative assets most appeal to a target audience saves time and money while increasing the potential for success. For example, suppose you're considering a few different titles for a major email campaign or trying to decide between a physical billboard campaign vs. digital marketing. In that case, a targeted survey can give you a general inclination of what will or won't work.
Even with a sample network to target, you can get valuable insights to help you prioritize resources.
11. User experience
User experience (UX) surveys are one of the most important things you can do when designing or improving a product or service. The key to success is crafting an unbiased UX survey that enables people to freely open up about their preferences and attitudes. The questions you ask will be largely determined by what you want to achieve. User experience surveys can take place live from within an app or on a website, but can be confused with usability testing; a method that evaluates how easy a product is to use by testing it with actual users.
Here's a few tips to get you started:
Ask the right questions:
Avoid using closed questions (yes/no) as they'll often not provide useable intel about a customer's mindset
Use task-driven questions like 'can you tell me more about your experience using our mobile app to make your booking?'
Ranking questions, like 'how would you rate the ease of booking via our app?'
Avoid leading questions to avoid bias, like 'if you enjoyed this product, should we create more like it?'
Keep your survey short, clear, and simple – no more than eight questions is ideal.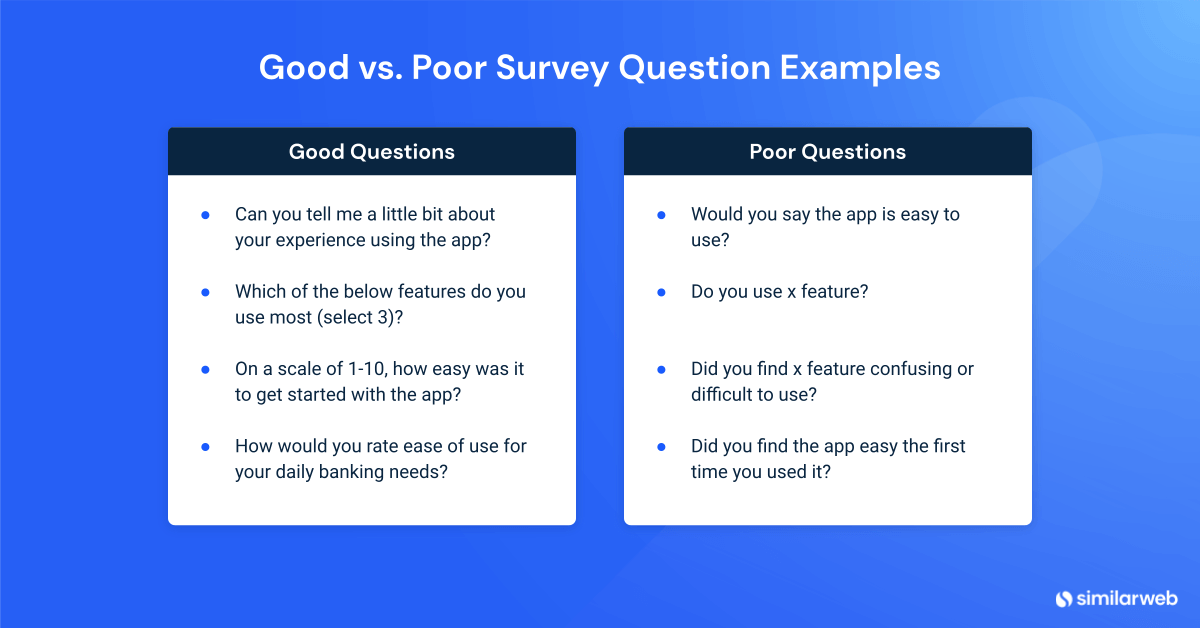 12. Conduct competitive analysis
You can use market surveys to get a quick taste of consumer appetites for a rival's product, marketing efforts, and pricing. Here, I've highlighted three areas, along with specific questions to gather telling feedback about your competitors.
Product
Where a market survey delivers value is by asking focused questions about sentiment and perception. Questions like:
Do you perceive company x's products to be high-quality or low-cost vs. our own?
Do you find x feature valuable or not?
Would you be prepared to pay more for a new feature that does x, y, or z?
Sales
Here's a few questions you can ask:
Which channels do you prefer to interact through, phone, app, live chat, etc.?
What made you decide to purchase with us vs. a competitor?
Do competitors offer promotions that would compel you to buy from them over us?
What would deter you from buying x product from a competitor?
Marketing
Enables you to clearly see which assets people respond to most positively. Aside from using a rival's website to see their latest marketing campaigns, look at social media too. Do your competitors have a mobile app?
If so, then you need to download it and experience things from your customer's perspective.
If not, do a survey to find out whether there's an appetite for this or not?
Pro Tip: Use market research surveys to show your target demographic a selection of marketing materials from different competitors; ask them which they prefer and why, but make sure you remove their branding to avoid bias.
Here's a few good questions to ask:
How does this ad make you feel?
Would you be more or less likely to buy if you saw this?
What perception of the company or product do you have after seeing this ad?
Using surveys for competitive market research is just one of the many methods of gaining market intelligence to stay informed and gain market share. Surveys take time, and you need to consider how you tap into audiences that are aware of your rival's offering and your own.
Here's a link to an article with some competitive analysis examples to help you find other ways to do this.
13. Monitor and track brand perception
Good brand perception can do wonders for your business. If people believe in your brand, it can open doors to new partnerships, boost buyer confidence, and make launching products easier. Brand tracking surveys give you a low-cost, effective way to monitor and benchmark brand perception regularly. Run them quarterly to get trackable results, and use a sliding scale, allowing people to indicate whether they're more or less interested in specific products, features, or services.
Pro Tip: Brand tracking surveys aren't just for customers and prospects, but employees, partners, and other stakeholders. Make sure your distribution accounts for this.
14. Analyze purchase or intent analysis
The consumer decision-making process typically consists of five stages, sometimes more.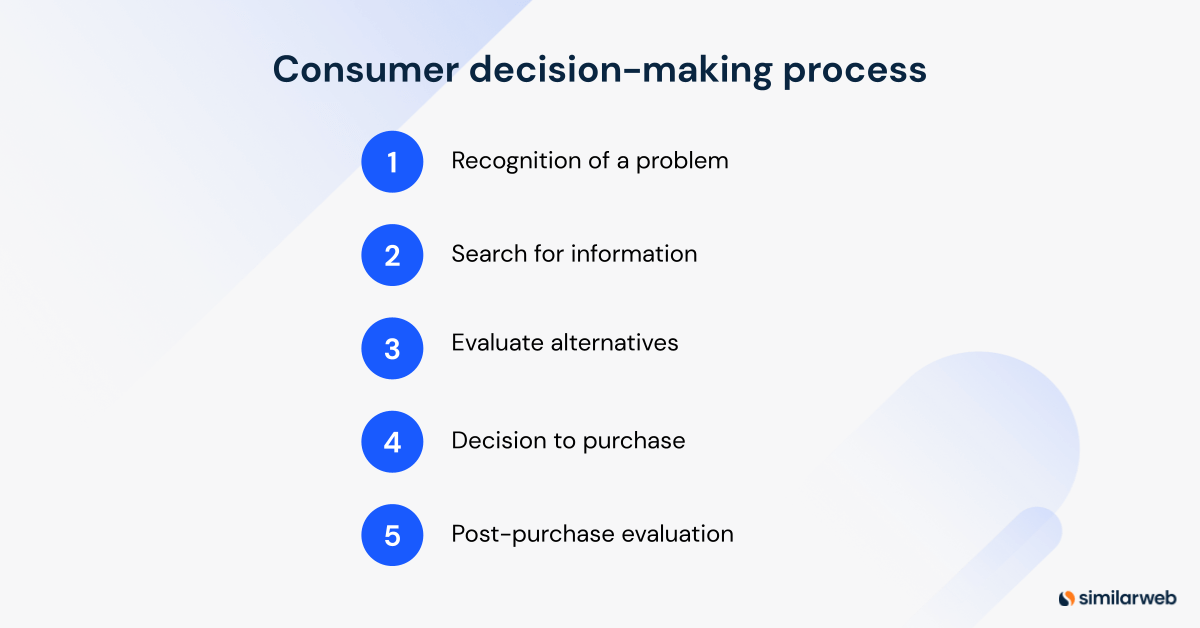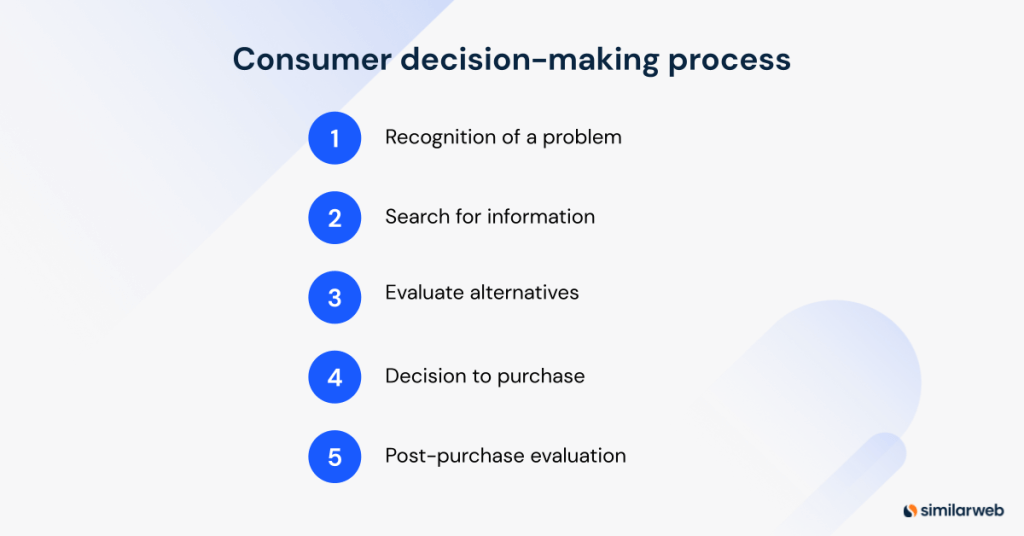 Taking time to understand purchase intent allows you to capitalize upon and generate future demand for products, uncovering key drivers behind consumer intent. As a result, you can build more effective campaigns based on genuine consumer patterns; and discover what drives consumers to move from interest to purchase.
Different types of questions can be used to measure purchase intent. Always consider the objectives of your survey first before selecting the questions you're going to ask; the format of the question will directly determine the type of information you yield.
Scale survey questions
These are used to determine feelings and opinions. For instance, to determine the likelihood of a future purchase from a specific set of customers, you can present respondents with a statement like this.
Q. I will probably purchase a new walk-in shower in the next 12 months
Strongly agree
Agree
Neither agree, nor disagree
Disagree
Strongly disagree
Ranking questions
Enable you to understand a service or product's popularity. These are used more so in the early stages of a purchasing journey and can tell you how you compare with competitors, and which products most appeal to certain groups of people.
Q. Rank the following walk-in shower brands in order of preference
Rating scale questions
Use a numerical scale (usually 0-10) that allows respondents to rate the likelihood they'll choose your offering over a rival.
Multiple-choice questions
These are the most widely used survey question type because they're quick and easy for people to answer. They can help you establish purchase timeframes, which ties into demand and sales projections. An example of this could be:
Q. When do you expect to buy a new walk-in shower?
Within 3 months
Within 6 months
Within 12 months
I have no plans to buy a walk-in shower in the near future
Feedback from a survey question like this means your sales division can turn their attention to prospects who indicate they're likely to purchase in the near future.
15. Discover factors that impact customer loyalty
Customer loyalty surveys tell you 'why' people love you or leave you, providing a valued measurement for your NPS. Using surveys for loyalty purposes lets you translate raw data into actionable insights that shape future strategies, campaigns, and messaging.
Here's a few examples of questions to ask in a customer loyalty survey:
How likely are you to continue using our services?
On a scale of 0-5, how satisfied are you with our company?
Do you deal with any other companies for a similar product or service?
How do you rate the value we offer for the money you pay?
16. Do B2B market research
The global B2B eCommerce market is growing, so much so that it's expected to reach over 25 trillion by 2028. Needless to say, having effective tools to help with B2B market research is key. Market research surveys are a quick and easy way to target a large group of people at a low cost.
Here's a few ways to use B2B market research surveys, with sample questions included:
Demographical information
– Who are your target customers?
– What is your line of business?
– How many employees does your company employ?
– What is your position at the company?
Need vs. demand data
– Does your business ever buy x products?
– Do you use any apps or tools to boost productivity?
– Who is the person responsible for buying x products?
– Where do you go if you're looking to buy x?
Buying pattern insights
– What's the most important feature when buying promo products for your customers?
– What motivates you to spend more money buying from a new vendor?
– What business issues motivate you to invest in new products or marketing campaigns?
17. Measure advertising effectiveness
Conversion and click-through rates are widely regarded as the best way to measure advertising effectiveness. The often forgotten about survey tool is another way to test how strong or relevant your ads or messaging is. The results can give you deeper insights that help you shape future marketing efforts for better results.
Here, you're looking to find out:
How much an advert motivates people to purchase?
Are they memorable?
Did customers understand them?
What do customers think or feel about a specific slogan or tagline?
Pro Tip: You can also use this type of survey to uncover how people think about your ads vs. those of your rivals.
18. Improve content marketing strategy
Online surveys are a lesser-known but highly valuable tool to enhance your content marketing strategy. Instead of simply crunching the regular performance metrics, develop a quick online survey to gauge feedback from your content VIPs (your audience). It gives you the chance to connect with your readers, show them you care, and ensure your content efforts exceed expectations.
The questions asked should address experiences, likes, dislikes, and preferences. Ask about their preferred content formats, and find out if they'd like to hear more or less about a theme or topic. Another easy way to do this is by adding a rating score at the bottom of an article that asked people if they found it useful, or not.
Read more: this article outlines 99 market research questions you should be asking, some are for you, others for your customers.
Best Online Market Research Survey Tools for 2022
We've all likely heard of names like SurveyMonkey, Typeform, and Qualaroo, either from personal experience or through marketing. One thing that surprised me was the sheer volume of tools for online surveys; far too many to list here (48 and still counting).
For now, here's nine of the best.
Typeform
SurveyMonkey
Branded surveys
Qualaroo
Survio
Jotform
Ask Nicely
Google forms
Formstack
Zoho
Wrapping Up
There's no doubt that a well-constructed market research survey can be golden for your business. But, there are now more efficient ways to gain insights into most of the same things I've covered in this post. Similarweb Digital Research Intelligence is a great example of this in action.
Features like website demographics, search keyword analysis, market analysis, audience interests, industry analysis, segment analysis, and competitive analysis are just a few relevant places where you can uncover instant insights to help you shape strategic decisions around marketing, growth, and product development.
Further Reading:
FAQ
How do you choose which type of market research survey to use?
Answer these questions to determine the best type of survey to use:
Size of the survey base – how many people are you likely to survey? (monthly/yearly)
How many times will you conduct surveys? (monthly/yearly)
What format will you use? (Online, telephone, in-person, paper)
What are the things to consider before doing a market research survey?
Note down what you want to achieve, and consider the type of structure you will use to collect responses. For instance, surveys can be based on ratings, rankings, open text, or a mixture of all three. Another consideration is anonymity and whether you will offer an incentive to participants who take the survey.
Should you incentivise market research survey participants?
If you're surveying a niche market or audience, and their input is of high value, or you have a survey that's more than 5-minutes to complete, you might want to offer an incentive to encourage a response. It's now considered common-practice to offer incentives via promotional codes, PayPal credits, or charitable donations to entice participation.
Can you automate market research surveys?
Automating market research surveys is the best way to ensure relevant questions are asked at the right time. Specifically for surveys about customer satisfaction, testimonials, and reviews, these are very easy to automate and quick to set up.
Is a market research survey the same as market research?
Market research surveys are a type of qualitative research, which is one type of market research method.
This post is subject to Similarweb legal notices and
disclaimers
.
Wondering what Similarweb can do for you?
Here are two ways you can get started with Similarweb today!