Insights From Multiple Datasets: An Uber and Lyft Case Study
When it comes to evaluating business health, investors depend on alternative data to supplement SEC filings. In the first webinar of its kind, leading alternative data providers Similarweb and Second Measure have partnered to demonstrate the value of using digital and transactional datasets in identifying trends and staying one step ahead of the market.
Using Uber and Lyft as a case study, experts on digital and transaction data will show you how to leverage and combine their datasets to uncover insights that'll give you an edge.
This webinar will showcase how you can combine alternative data sets to:
Forecast short-term KPIs ahead of earning reports

Explore long term trends in customer behavior

Measure KPIs not disclosed in SEC filings

Evaluate the health of the supply and demand sides of the rideshare marketplace
About the Presenters
Matt Best is a Data Science Manager in Second Measure's Applied Data group. His multi-faceted role includes developing investor-focused features for the self-service web application, building out the data processing pipeline, and supporting investor clients. Prior to Second Measure, Matt worked as a behavioral data scientist studying customer experience at a Fortune 100 company. He holds a Ph.D. in Computational Neuroscience and an A.B. in Statistics - both from the University of Chicago.
Ed heads Similarweb's Global Investor Solutions business. Ed joined Similarweb three years ago, and has been spear heading the solution to help investors integrate Digital Alternative Data into their investment research. He has also worked with many of the world's leading brands, shaping their digital strategies through market intelligence data. Prior to Similarweb, Ed started his career in Investment Banking in London, working at Rothschild and DC Advisory.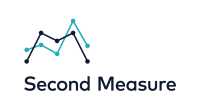 Second Measure is a Silicon Valley technology company and leading provider of data analytics that deliver valuable insights into company performance and consumer behavior. Investor clients rely on this data to gain an advantage in financial investments, support ongoing analyses, and track intra-quarter company performance.

Similarweb provides investors with trusted digital alternative data at the deepest level of granularity. Our website and app traffic and engagement data give investors real-time insights into the digital performance of millions of companies. As the world's leading digital data provider, we are trusted by over 5000 corporate customers globally who are using our data for hundreds of different use cases.