There are now an estimated 12-24 million online shops globally, and the eCommerce market is predicted to grow by an astonishing $11 trillion between 2021 and 2025.
In other words, the digital shelf has never been more crowded, and in the fierce competition for the attention of a now estimated 2.14 billion digital shoppers, the rules of the game have changed.
You could have a great brand and fantastic products, but those two things alone won't guarantee that you'll conquer the digital shelf in 2022. You need a strategy that directly addresses digital shopper behavior and the idiosyncrasies of discovery in the digital shopping space.
Here, we'll explain what, why, and offer up our top tips for winning the digital shelf.
What is the digital shelf?
The digital shelf is anywhere your products are visible and available to buy online. That could be your own product pages, third-party product pages, social media, banner and mobile ads, and, of course, the first page of Google.
With the number of online sellers increasing every day, winning the attention of shoppers on all these channels has become fiercely competitive.
Why is the digital shelf important?
The digital shelf is one of the most crucial facets of eCommerce.
The digital shelf is how you get found, and how you make an impact. From SERP features (Search Engine Results Pages) and online advertising, through to product descriptions and photos: the online world is your digital shelf, there are millions of people shopping on the digital shelves, but equally there are plenty of competitors jostling for those eyeballs.
A new opportunity for online retailers is attracting 'traditional' shoppers. Recent research has shown that 60% of consumers have used their smartphones to complete their purchases while shopping in a brick-and-mortar store; the influence of the digital shelf is growing.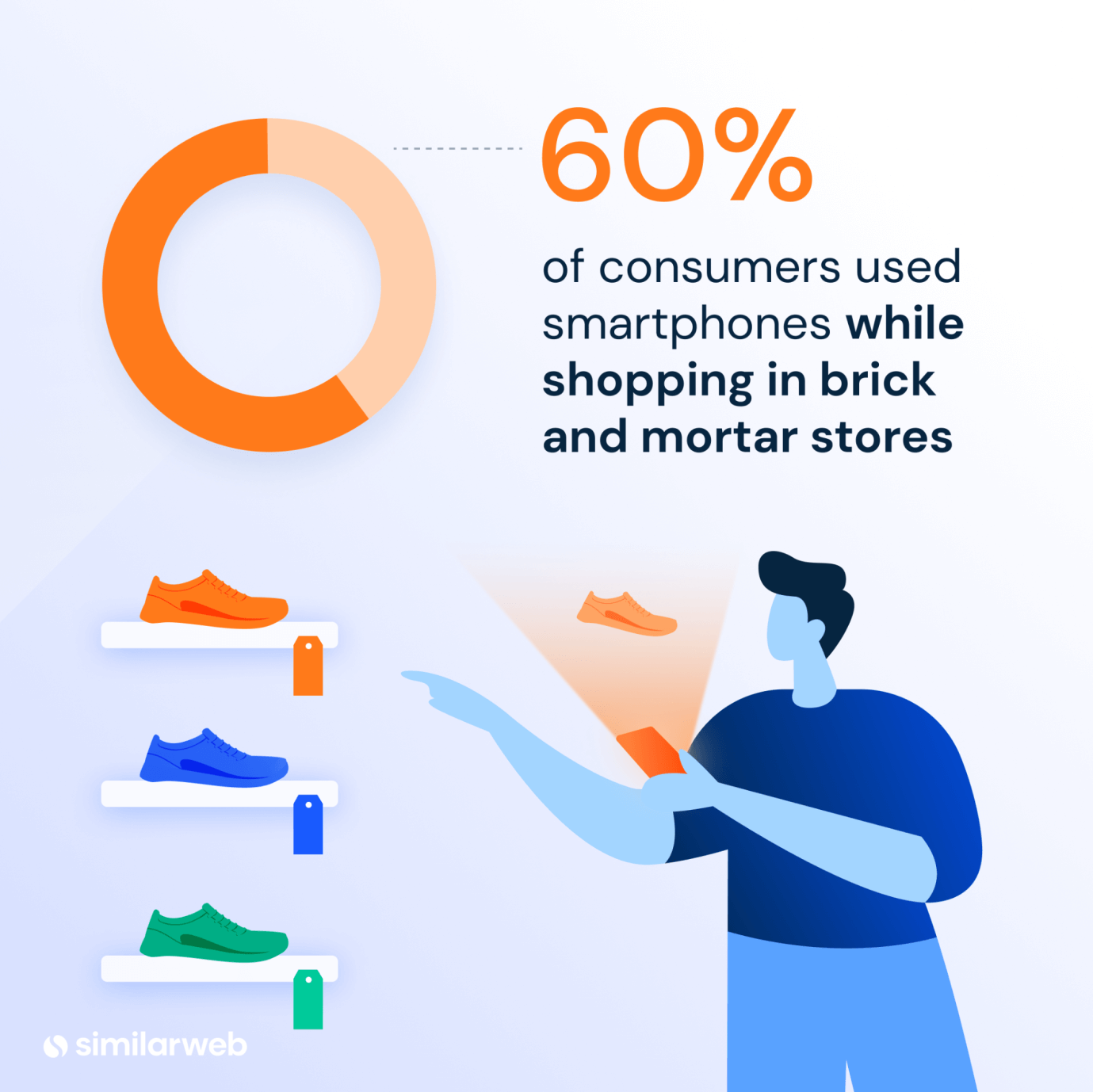 How do you win the digital shelf?
You can't cheat the digital shelf. In order to win, you need to provide a better online shopping experience than your competitors by understanding your customers' needs and optimizing your pages accordingly.
Here are 7 top tips to win the digital shelf:
1. Invest in SEO to improve visibility
Having good SEO is like scoring the eye-level shelf at the supermarket, and as the old saying goes, 'eye-level is buy level'.
SEO for eCommerce websites improves product visibility by increasing the chance that your products will rank well in search results, and a search engine is usually the first touchpoint in a consumer's digital shopping journey. 75% of people stop scrolling after the first page of Google. Winning a spot on the first page isn't just important, it's vital.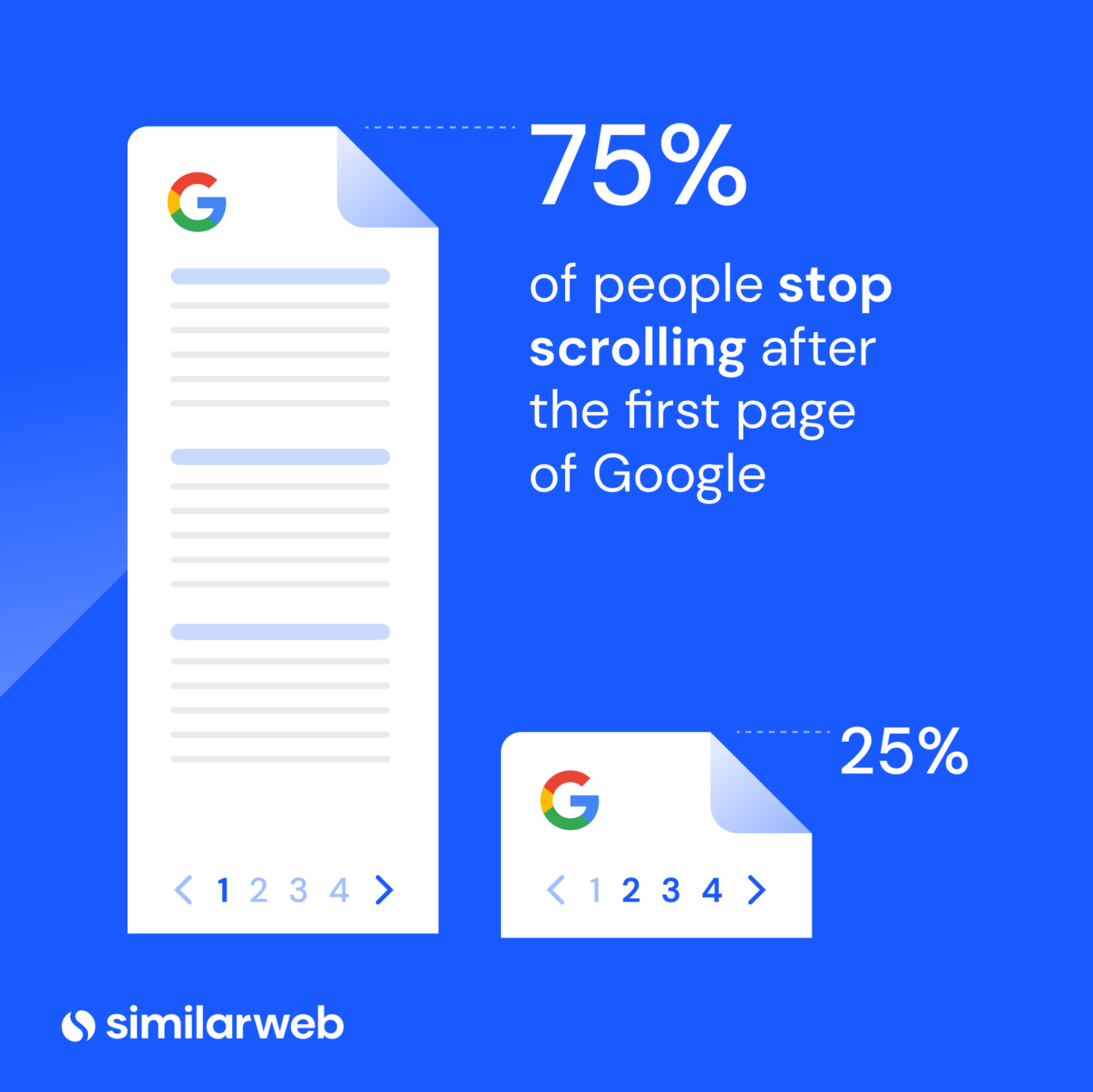 Whether you use an SEO agency or you have an internal SEO team, identify the keywords that shoppers will use when searching for your brands and products and incorporate them into product pages and blog posts that match their search intent.
2. Tailor your approach to different marketplaces
Marketplaces like Amazon require a different approach to Google. In fact, many shoppers with a specific purchase intent will visit the Amazon digital shelf for their initial search rather than Google, so you should learn how to get your Amazon SEO right.
Primarily, you should optimize your product listing title and product details around essential keywords. But be aware that, just like on Google, you'll be penalized for keyword stuffing.
You should also make sure to maintain competitive prices with rival sellers, invest in high-quality product imagery, optimize for mobile search, and investigate what paid advertising could do for your brand (more on this below).
You can use Similarweb Shopper Intelligence, our eCommerce tool, to identify the highest performing keywords for every category, brand, and product, to increase your first-page coverage on different marketplaces.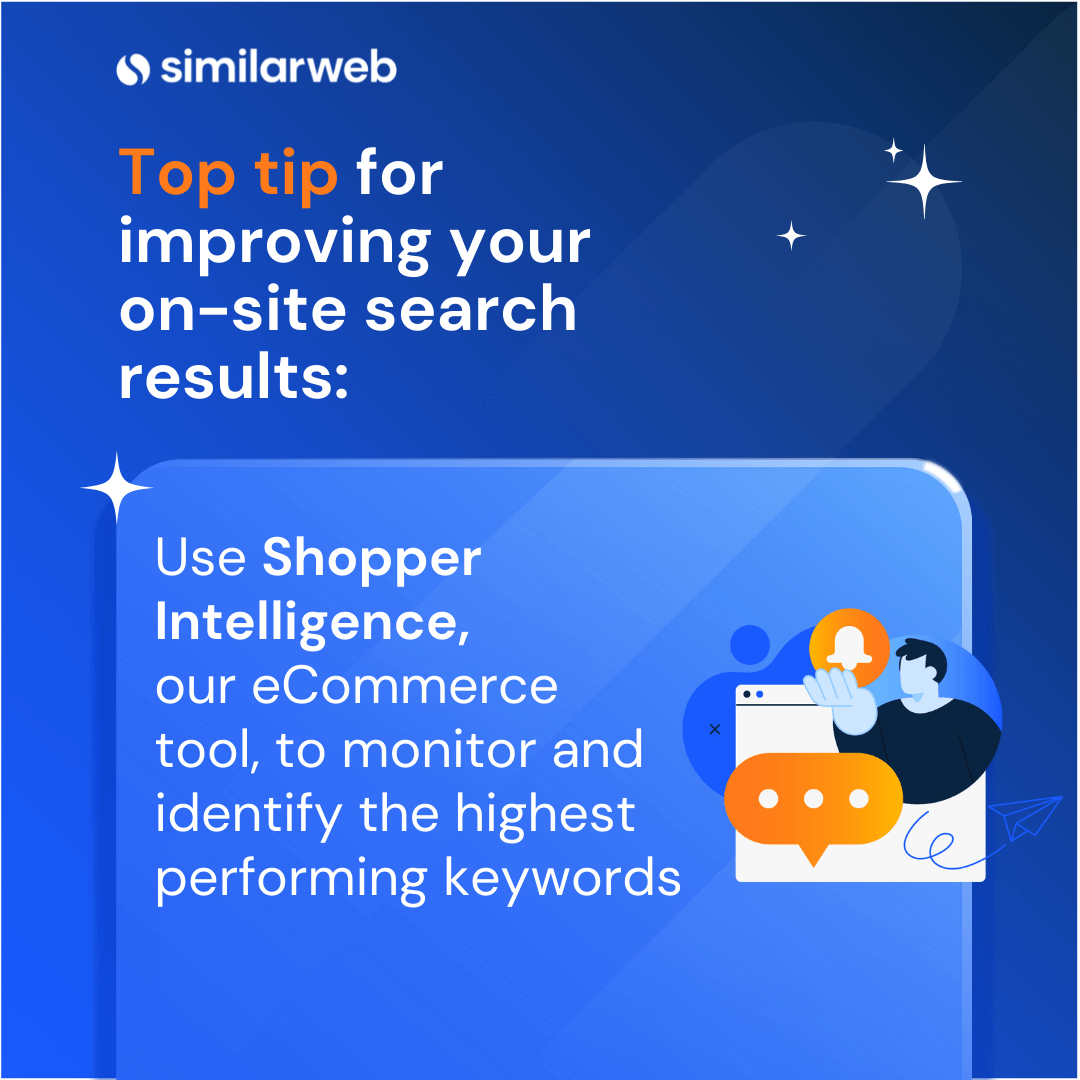 3. Use paid advertising strategically
Paid advertising on Google and Amazon can help to boost visibility both in the present and in the future by creating brand awareness that lasts.
However, you can't just throw money at it and expect results. There are many different channels and types of paid advertising and you need to find what works for your brand.
Pay-per-click (PPC) is a great place to start for most brands that want to increase visibility. Put simply, you bid for an ad spot in search engine results, and then pay a fee each time someone clicks on one of your adverts.
4. Focus on the right digital shelf metrics
Traffic analytics are crucial to winning the digital shelf. You need to be aware of which metrics matter, track them consistently, and understand how to respond to that information in order to improve results.
There are countless eCommerce metrics you could measure, but which metrics should you measure? You won't go far wrong with the following:
Conversion rate – the percentage of visitors to your website who make a purchase. The global average for eCommerce sites conversion rates is just under 3%. This is a useful benchmark, but what you should focus on is whether it changes over time. Monitoring your conversion rate will show if any changes you make are having a positive impact or if there's a serious issue that's preventing purchases.
Average order value – knowing this can help you to increase the average value of each purchase made on your site using strategies like loyalty programs and perks to incentivize higher spending.
Bounce rate – the number of people that visit one page on your eCommerce site before leaving. A high bounce rate tells you (and search engines) that potential customers aren't finding what they were expecting, which can impact rankings. Make sure your pages match your visitors' intent.
Further reading: How To Reduce Bounce Rate – 10 Ways to Improve It
Customer lifetime value (CLV) – how much a single customer spends with you in a lifetime is a good indication of their worth to you. Tracking CLV is a great way to launch targeted loyalty programs and measure their success.
Customer acquisition cost – how much it costs you to attract new customers. If this exceeds customer spend then you need to incentivize your customers to buy more or re-model your acquisition marketing strategy.
With data on everything from cross-shopping habits and share of basket to subscription rates and basket mix, you can use Shopper Intelligence to gain actionable insights about consumer behavior across marketplaces and fine-tune your strategy.
5. Enhance your visual content
Lo-res 2D product images just won't cut it anymore. Today's digital shelf winners make use of many eCommerce trends like videos, 360 images, 3D images, and augmented reality to give consumers a more accurate idea of how the product will look in situ. Not only will shoppers be more likely to buy a product if they have a realistic idea of how it will look, but they'll also be less likely to return it.
Shopify even has its own AR function, Shopify AR, provided by a 3D warehouse, which your customers can use to get a better picture of the size, scale, and detail of your products.
Further Reading: Amazon vs. Shopify: Which Is Better in 2022?
6. Incentivize reviews
55% of shoppers say that reviews are important when making a buying decision. But as well as acting as a strong signal of quality to shoppers, good reviews are a strong signal to algorithms that your products deserve to be placed highly in search results. The more high ratings and reviews you can attract, the more visible your products will be.
Of course, half the job here is creating great products that match customer expectations, but you should also incentivize customers to rate and review your products as much as possible – many people need encouragement. This could be through push notifications, email reminders, or even by offering discounts to repeat customers who leave a review.
Further reading: How to Use Amazon Product Reviews to Boost Your eCommerce Strategy
7. Make the customer journey easy
Lastly, make it easy for your shoppers to make a purchase. Shoppers are easily discouraged by anything that impedes their journey from finding a product that they like to actually buying it.
As discussed before a poor customer conversion rate is a strong sign that your customer journey is riddled with customer drop-off points. Common causes of cart abandonment include:
A long checkout process – ensure your checkout page is short, simple, and easy to navigate. Use commonplace language for data entry boxes and don't try to collect more than you actually need
A confusing website – don't overwhelm your potential customers with information by reducing visual clutter, limiting CTAs for actions other than making a purchase, and reducing the number of steps between clicking 'buy' and actually checking out
Customer turn-offs – sometimes things like expensive shipping or lengthy delivery times are beyond your control, but if you suspect these may be the cause of your issue, offer incentives to mitigate the inconvenience
Find out everything you need to know about optimizing your conversion funnel here.
Using Similarweb Shopper Intelligence to get actionable insights to win the digital shelf
Understanding shopper behavior is crucial to winning the digital shelf. Shopper Intelligence, Similarweb's eCommerce tool helps you to monitor consumer demand, analyze shopper behavior, and optimize search strategies to win in the eCommerce world.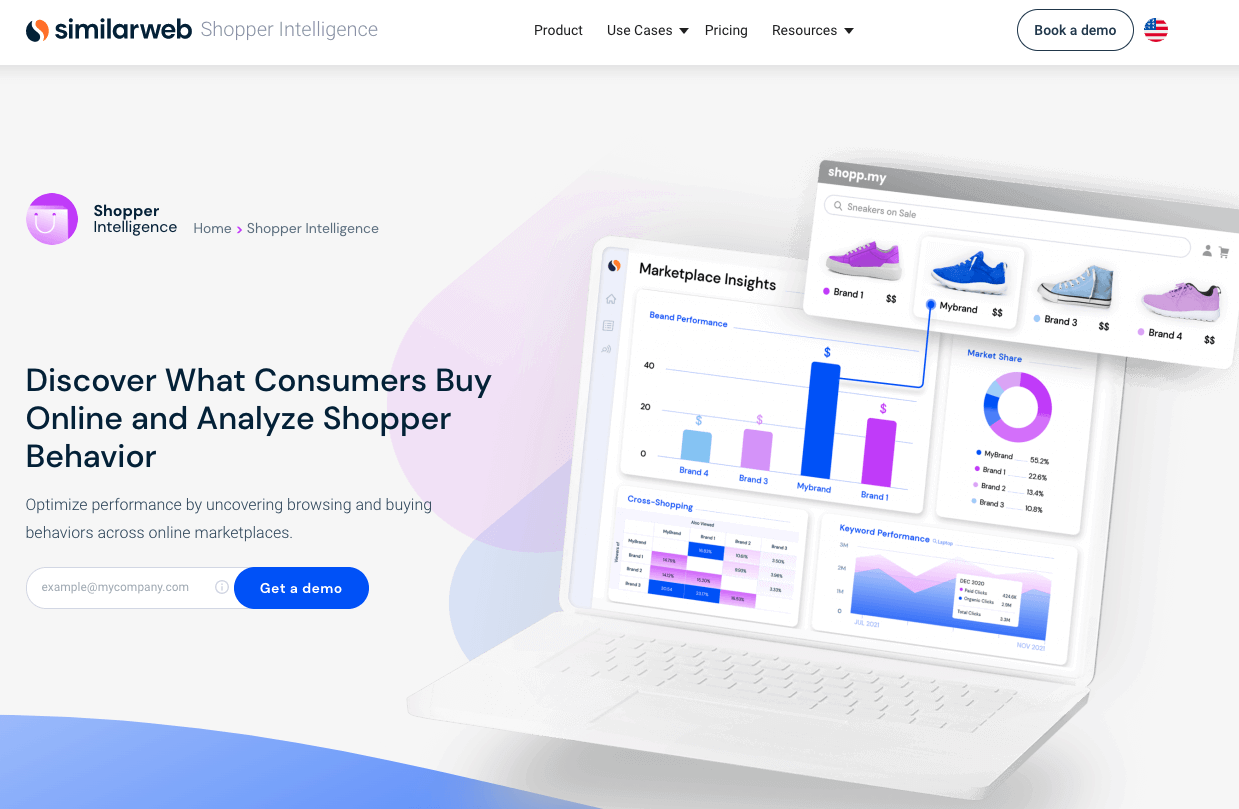 We use a unique combination of data sources, powered by a robust retail algorithm, you can access unique information such as purchase frequency, cross-shopping and Subscribe & Save rates.
With Shopper Intelligence, you can increase customer loyalty, improve your marketing ROI, and grow your online sales.
Final thoughts
Using a combination of the seven strategies above is a great way to get started in your fight to win the digital shelf. But don't forget to tailor your approach to your brand and your customers.
Just as not every keyword is relevant to your products, not all approaches to boosting your brand visibility and capturing the attention of potential customers is appropriate for your brand. Establish what kind of promotion works for you, what kinds of incentives work for your customers, and which metrics are most relevant for you to measure, and invest your time and energy in those winning approaches.
FAQs
What is the digital shelf?
The digital shelf is any place online where shoppers can view and buy your products.
How do you win a digital shelf?
You can win a digital shelf by: Investing in SEO, tailoring your approach to different marketplaces, using paid advertising strategically, focusing on the right digital shelf analytics, enhancing your visual content, incentivizing reviews, and making the customer journey easy.
What is digital shelf optimization?
Digital shelf optimization is any strategy you use to optimize your brand's presence on the digital shelf in order to increase awareness and boost sales.
This post is subject to Similarweb legal notices and
disclaimers
.
Wondering what Similarweb can do for you?
Here are two ways you can get started with Similarweb today!