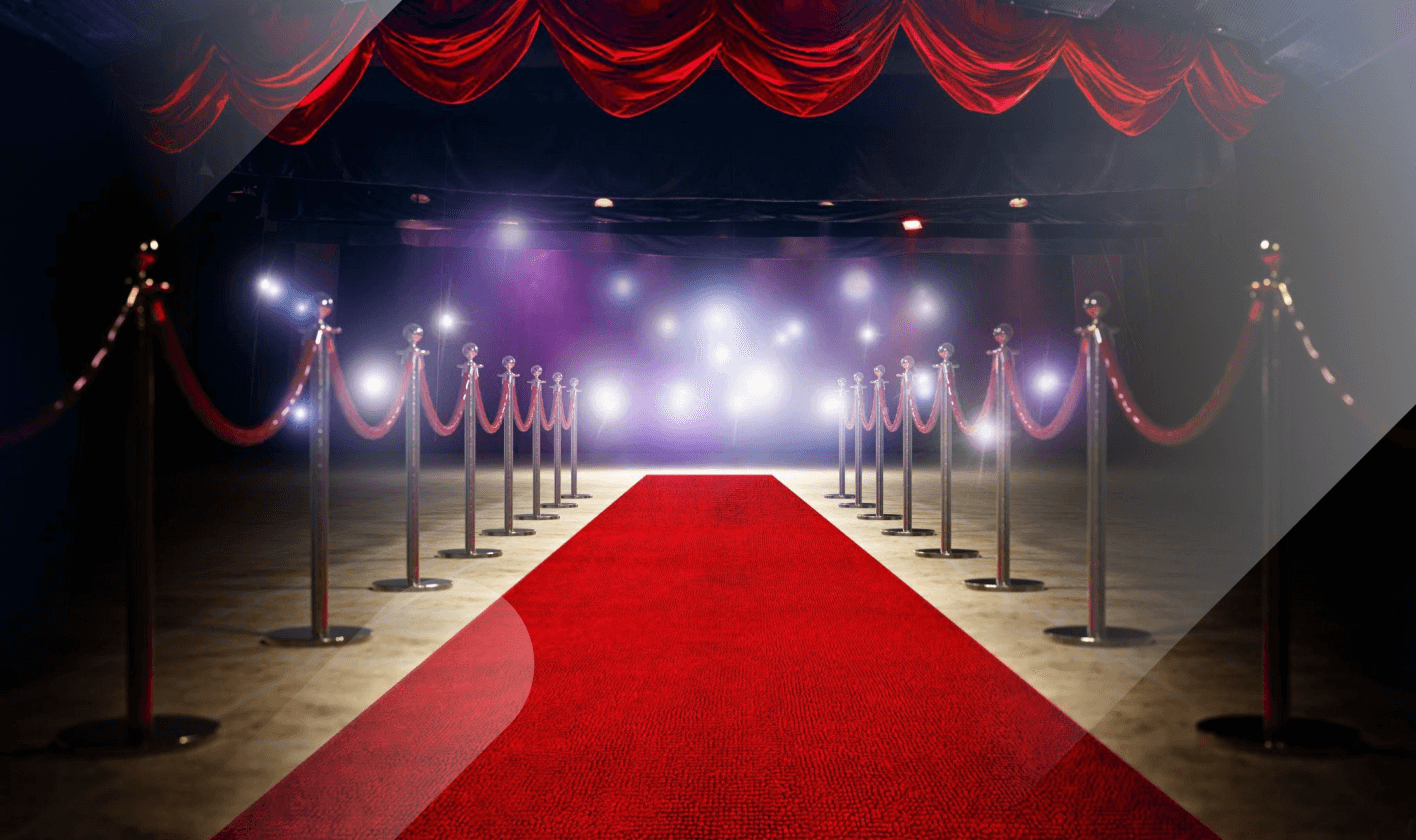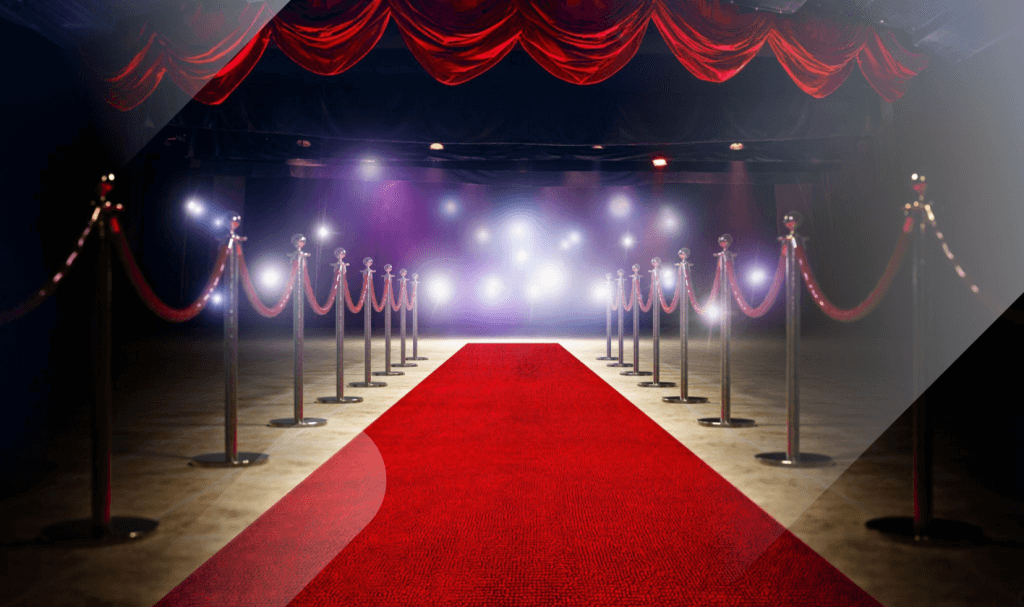 Research Intelligence
Emmy Awards Data: Digital Insights and Post Mortem Analysis
by Molly Winik
, Senior Digital Research & eCommerce Specialist
8
Min.
September 14, 2021
| Updated June 21, 2022
The 73rd Primetime Emmy Awards are right around the corner! 
For publishers, high-profile events like the Emmys present an opportunity to win traffic share away from competitors while also converting new users into loyal subscribers. 
To do this, you need to understand what is top of mind for viewers right now, what they are searching for, and how they plan to watch the Emmys. Most importantly, you need to contextualize your digital performance against previous years. Cue post-mortem analysis. 
We analyzed key insights from our suite of digital intelligence tools for publishers and media along with Emmy data from both the past few weeks and years past, to help you perfect your current strategy.  Keep reading.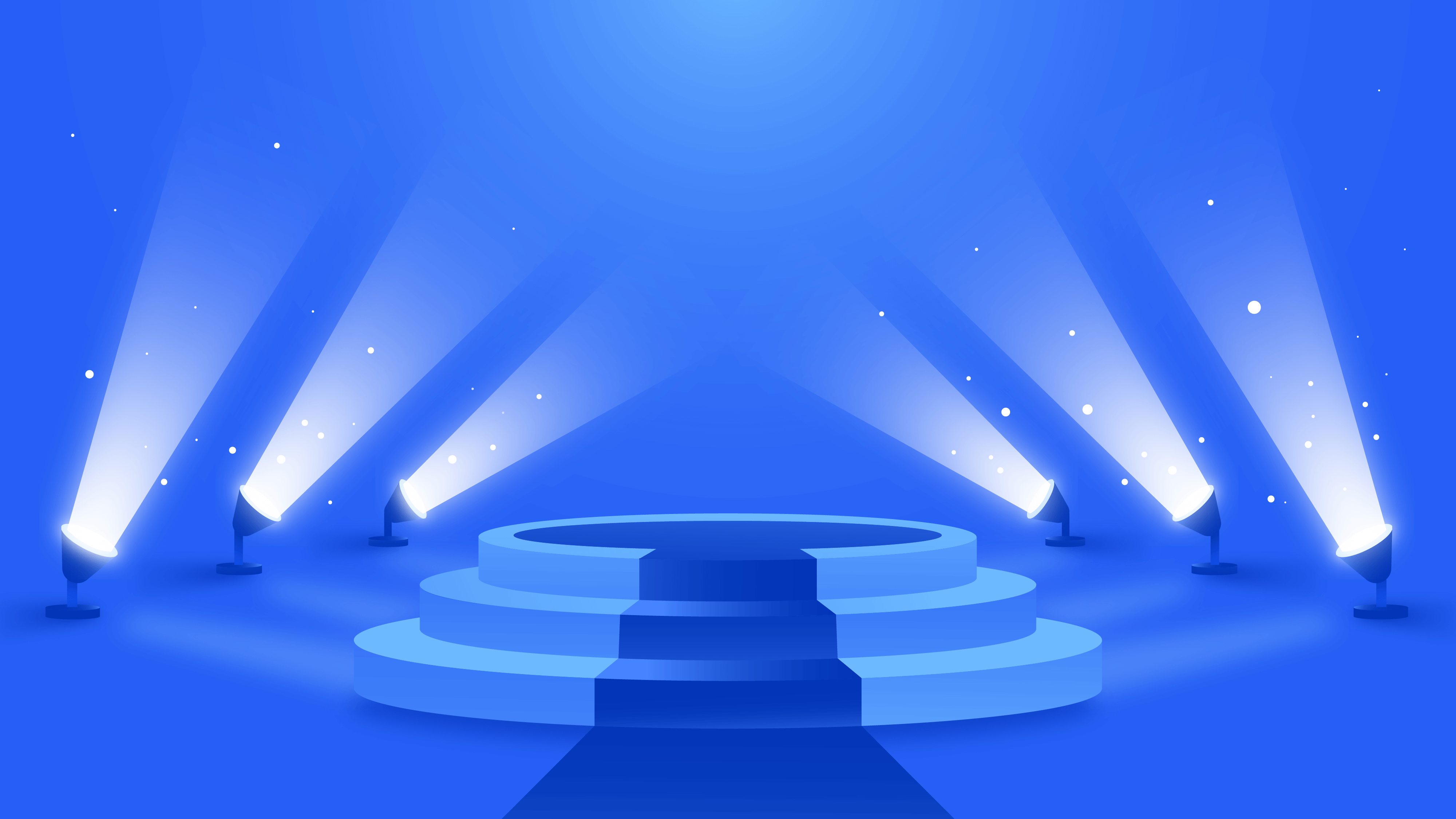 Post-mortem analysis for publishers and media 
There's a reason news and media sites jump on trending events. From Kylie Jenner's pregnancy rumors to Meghan and Harry's viral Oprah interview, where there's drama, there's reader interest. 
While events like these can be huge for publishers and media, a story's success often depends on its audience. How can you predict if your audience will be supportive or angry about the latest piece of celebrity gossip you report on? Do they want to see live footage from an award show or just read professional comments and summaries of the acceptance speeches? To answer these questions,  observe your audience's reaction to past events. In other words,  conduct a post-mortem analysis. 
The five steps of post-mortem analysis 
A successful post-mortem helps you learn from your failures or those in your industry and, most importantly, your successes. As a publisher, you can use post-mortem analysis to optimize your content strategy, focus on high-performing topics, and attract your target audience. 
Specific to Emmy Awards data, past years can help you understand not only what is important to readers in terms of topics and favorite celebrities or shows, but it can also help you understand your audience's interest level towards award shows in general. 
Here are some steps to keep in mind: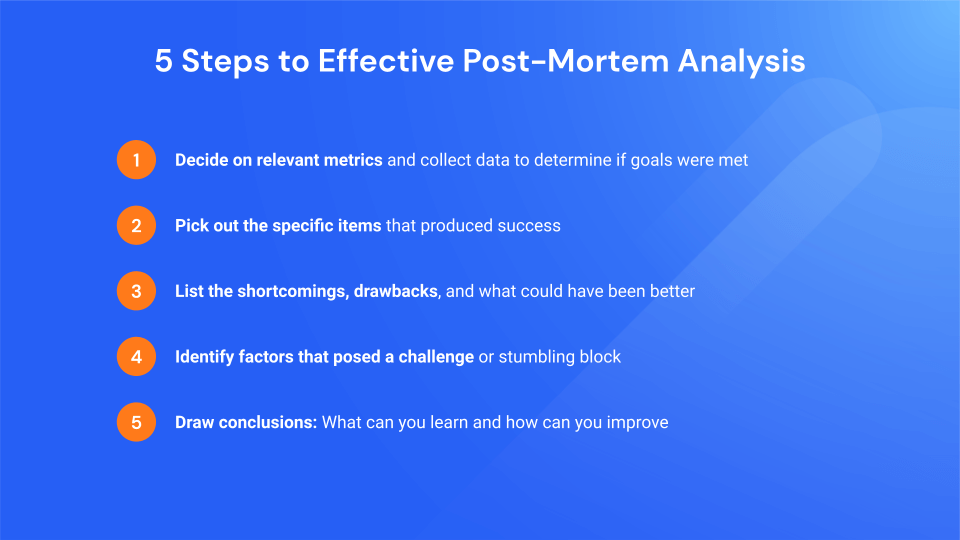 1. Decide on relevant metrics and collect data at the end of a project to determine if goals were met. For example, you can look at audience engagement metrics for all articles from 2020 covering the Emmys. Based on your deliverables, you can answer post-mortem questions to pinpoint wins and losses.   
2. Pick out the specific items that produced success. This can be from your own website or that of your competitors. 
3. List the shortcomings, drawbacks, and what could have been better. Ask yourself, was there a missed opportunity? Would your audience have responded to something better? Do videos impact engagement? 
4. Identify factors that pose a challenge or stumbling blocks. You can use questionnaires to draw from different stakeholders and team members. Perhaps videos from the event itself lead to higher comments and shares, but only if they're less than 30 seconds. 
5. Recap and draw conclusions: To wrap up, compile your findings and draw key takeaways. For example, you might outline steps you took that streamlined the process, kept you agile, or improved audience engagement. This way, you can incorporate your wins into your next project.
The 5-whys-analysis
A simple 5-whys-analysis can be used as a starting point for optimization. It's a critical part of the post-mortem process that focuses on determining the root cause of any project failure and translates it into continuous improvement.
Ask yourself why a specific outcome occurred. Your answer will be the starting point for your next questions. Let's take a look at a 5-whys-analysis a publisher could conduct before the Emmys this year to make sure you are prepared for the event:
Scenario: You're an entertainment news publisher. With the Emmy's just a few days away, you expect to see a significant increase in traffic to your website. Last year, you were disappointed with the results, specifically visitors coming from your social media channels, so you start asking yourself questions to see how you can improve for this year.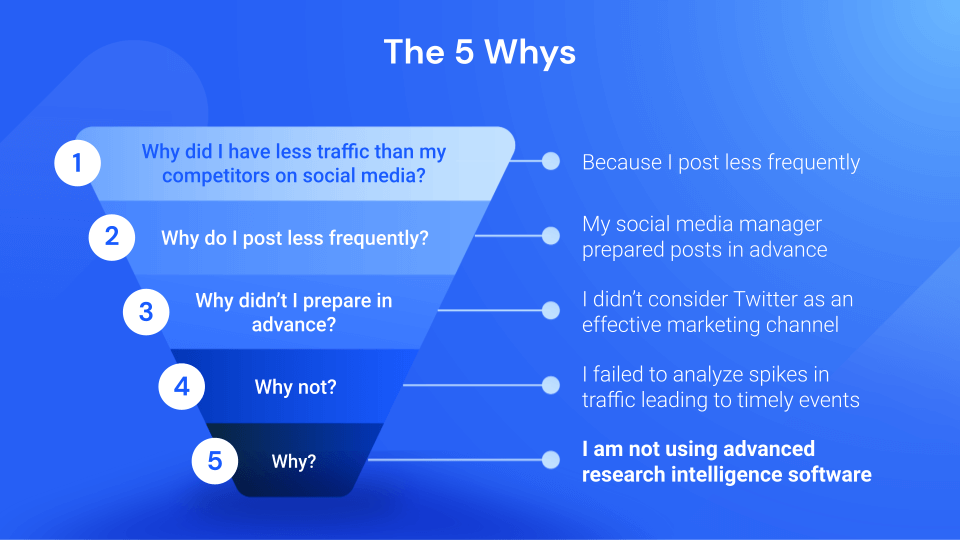 Why did I have less traffic than my competitors on social media?

Because I post less frequently and most of my competitors chose to live-tweet the Emmys last year, whereas I  relied on previously scheduled posts. 

Why?

My social media manager prepared posts in advance. While I did live-tweet a few times during the event, 80% of my content on Twitter from that evening was pre-scheduled. 

Why?

I didn't consider Twitter as an

effective marketing channel

and my priorities were placed elsewhere (in this example, email marketing).

Why?

My data analyst did not

identify the market trend

of increasing traffic from social media networks to news sites during trending events like the Emmys.

Why?

I am not using an advanced research intelligence software.
Now that you see the importance of digital intelligence when conducting a post-mortem, let's dive into some of the key metrics you should be tracking as you prepare for the Emmys this year.
Search interest around the Emmys 
Tracking keywords that Emmys viewers were actively searching for in previous years can help inform your content strategy, pre or post event. Even if trending search terms differ slightly this year, make sure to perform keyword research and incorporate keywords that were relevant in the past into any content you share. Since they already have high-search intent, this will help improve your SEO content and get more eyes on your page. 
Trending keywords, Emmys 2020
In the U.S., there were 396,500 total search visits for the keyword emmys in September 2020. If we add related keywords into the mix, this metric jumps to 885,800. For reference, in August 2020, there were no active searches for emmys in the U.S. and in October 2020 there were 134.9K total search visits for the same word. This suggests that audience interest towards the Emmys is centered within a few weeks of the event itself. That's your time to act.
Trending keywords for emmys, which accounted for 330,600 total search visits in the U.S. in September 2020 were: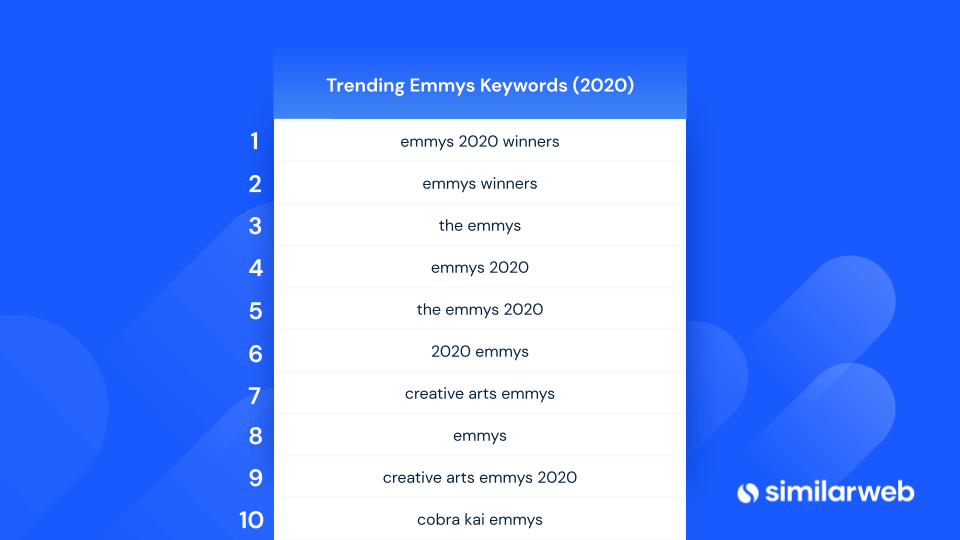 From this, you can conclude that content detailing the winners of the Emmys will perform well.  
What's top of mind right now
In the last 28 days, as of September 10, there were 15,700 total search visits for the keyword emmys in the U.S. When adding related keywords, this figure jumps to 21,500. 
The websites currently winning the highest traffic share for these search terms are wikipedia.com, emmys.com, and variety.com. 
We also see strong global interest in the Emmys this year. Worldwide, there have been 29,000 searches for the phrase match emmys and 476,500 searches for related keywords. 
Although these numbers are currently lower than last year, the 2021 Emmys haven't happened yet. We can expect much higher search interest on the day of as well as a few days after the event when readers search for results.
Question queries are a great tool to gauge what people are Googling. The top question queries in the U.S. around the Emmys are currently: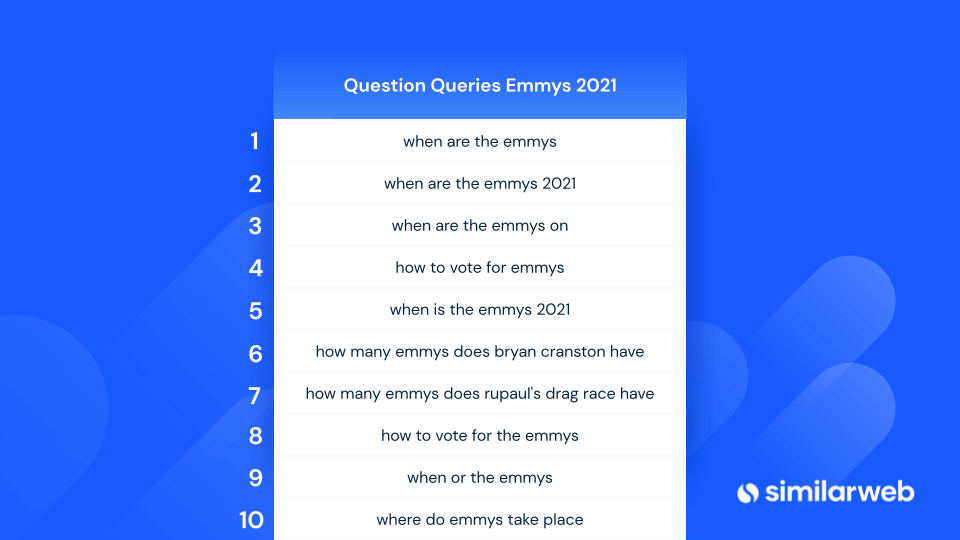 Traffic to emmys.com 
Assessing performance to the dedicated Emmy Awards website can help you structure your content strategy and time your actions with expected peaks in traffic. 
In both 2020 and 2019, emmys.com saw a significant increase in traffic starting in the summer and later peaking in September. Interest faded quickly in October, meaning you have a brief window to act. 
Both years saw an increase in traffic in July. Keep this in mind for next year as it's a great opportunity to capitalize on pre-show news and announcements before your competitors. 

The website's engagement metrics tell a similar story, with higher page views and longer session duration occuring in the months before, during, and after the Emmys.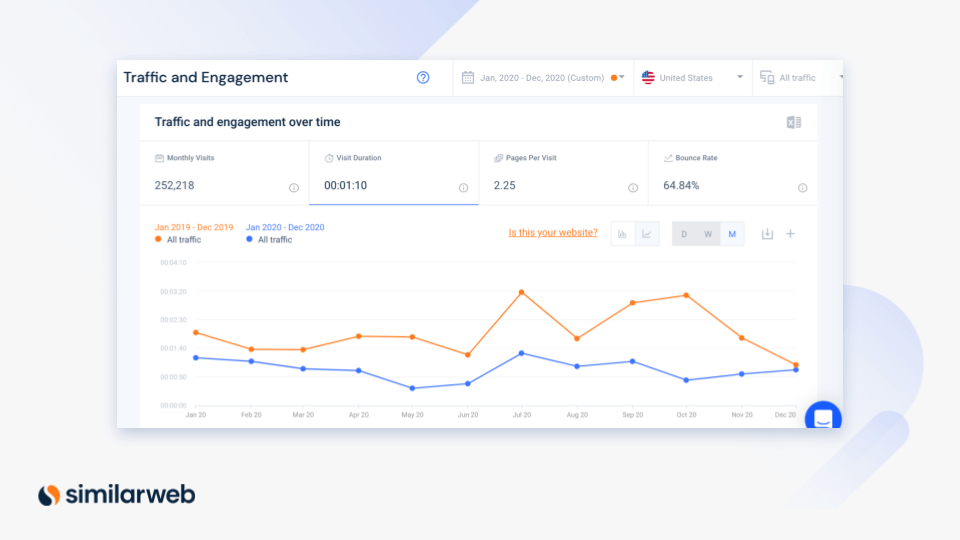 U.S. states eyeing the Emmys
A deeper dive into the geographical background of the Emmys main audience will help you understand the areas you are most likely to see success. For example, you can run ad campaigns in specific U.S. locations where interest in the event is higher than in others, to make sure you get the highest ROI possible. 
Other audience demographics that can inform your research strategy include age, gender identification, education, income, and more. 
In September 2020, the U.S. states with the most visits to emmys.com included California (62K total visits), New York (34,500), Illinois (16,800), Pennsylvania (16,200), and Florida (15,800). If you know that some of your strongest market segments are already in these areas, then you have a strong opportunity to win traffic share away from competitors during the show. 
Entertainment news sites to track
Your post-mortem analysis should also include a competitive analysis of the websites you consider your biggest threats. If you notice that one of your competitors has outperformed the others (yourself included) analyze their strategy. Review the content they released during that time and go back and research any marketing campaign they launched. Whatever they were doing worked, so you want to make sure you follow suit this year. 
Take a look at the segmented traffic for four of the top entertainment news websites from May – November 2020 in the U.S. (segments are defined as containing emmy or emmys in the URL)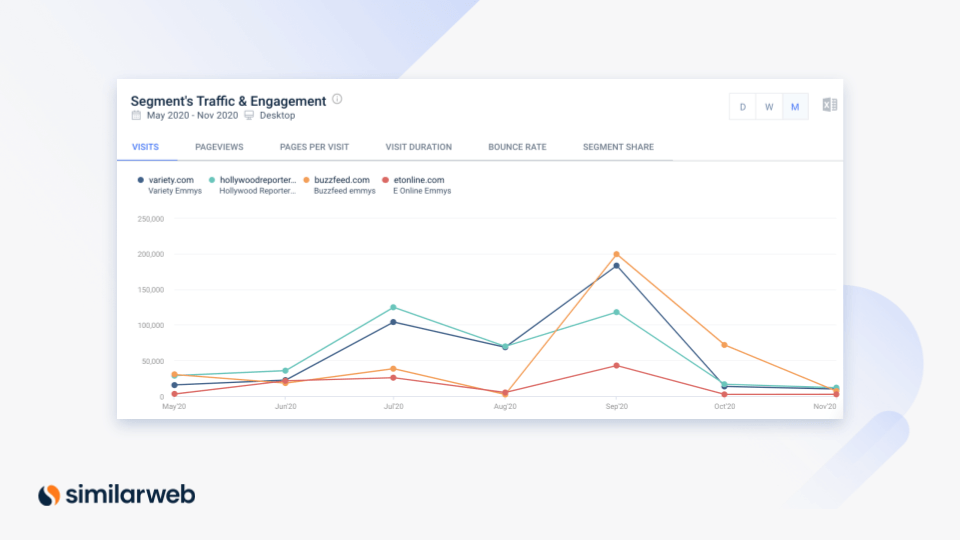 All four websites saw a considerable spike in traffic in September 2020. Compared to the month before, variety.com grew 167%, hollywoodreporter.com grew 69%, , etonline.com grew 716%, and buzzfeed.com grew a whopping 8040%. 
Although variety.com and hollywoodreporter.com lead  traffic share in the months leading up to the Emmys, buzzfeed.com was the most successful at winning Emmy-related traffic during the month of the event. This is noteworthy since buzzfeed.com had the least amount of related traffic in August 2020. Do a deeper dive into the articles they released in early September to see what resonated with readers. 
Stay on top of the latest trends, past and present
Highly anticipated events like the Emmys will influence audience preference and behavior, and therefore cannot be ignored when creating your digital research strategy. 
To properly analyze and understand the impact of these events, data collection in real-time isn't enough. You need to understand what happened in the past and why certain events unfolded the way that they did to gain a better understanding of where you're heading. 
With Similarweb, you'll have access to all the insights you need to conduct a prime post-mortem analysis that sets you up for smarter and more informed business decisions. What are you waiting for? Try Similarweb for free and start your post-mortem analysis today. 

This post is subject to Similarweb legal notices and
disclaimers
.
Wondering what Similarweb can do for you?
Here are two ways you can get started with Similarweb today!