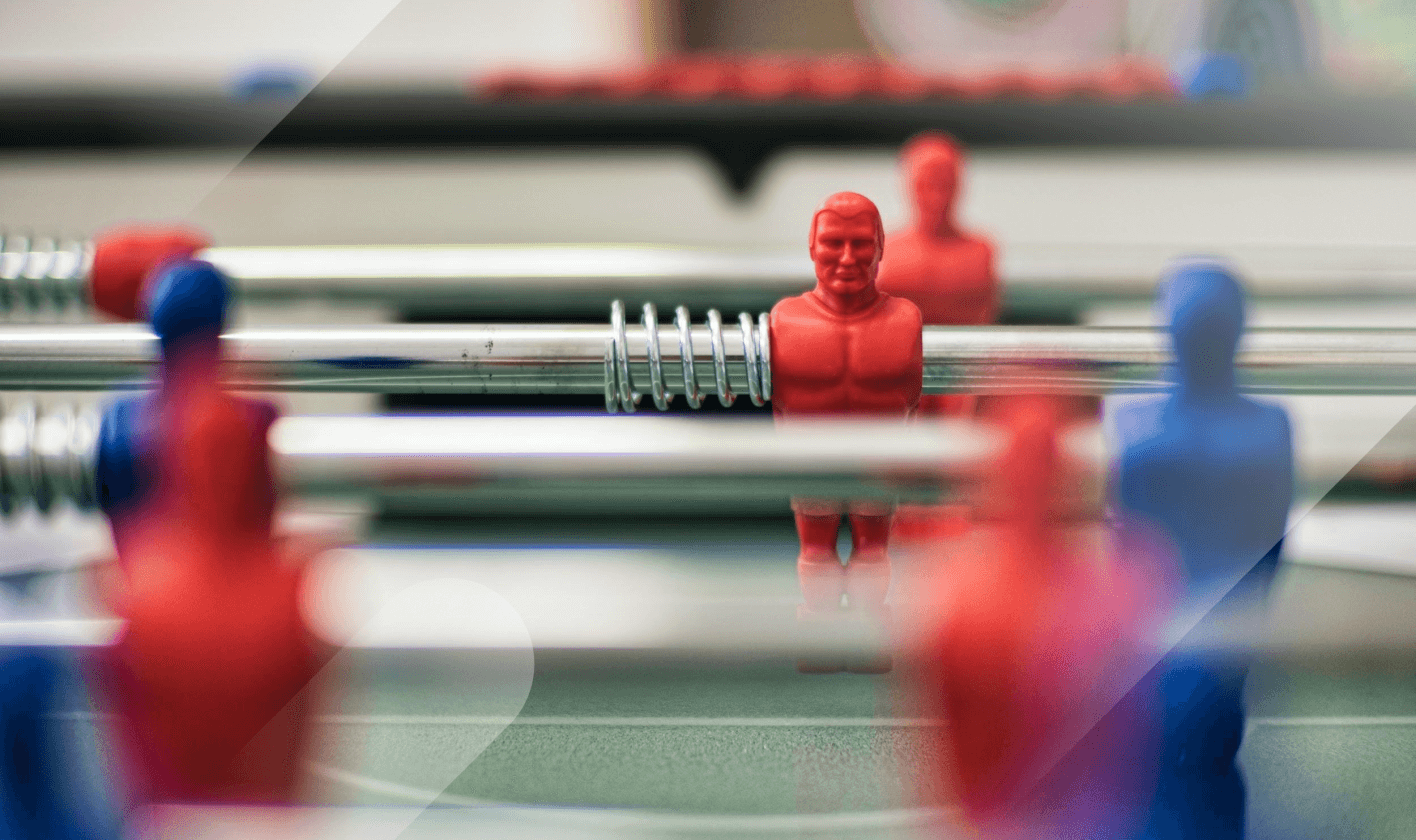 Research Intelligence
The Why and How of Competitive Benchmarking
by Molly Winik
, Senior Digital Research & eCommerce Specialist
9
Min.
October 25, 2021
| Updated October 11, 2022
You're confident you have a great offering because you've done your research. You know who your direct competitors are and what they're doing. You quickly identify how their products differ from yours, how yours are better, and who your audience is. But is that enough?
The crucial next step to success is an ongoing competitive benchmarking process – that is, the process of measuring and tracking long-term strategies and outcomes of other companies. Why? Because you want to keep up and outmatch the competition and exceed your key performance indicators (KPIs).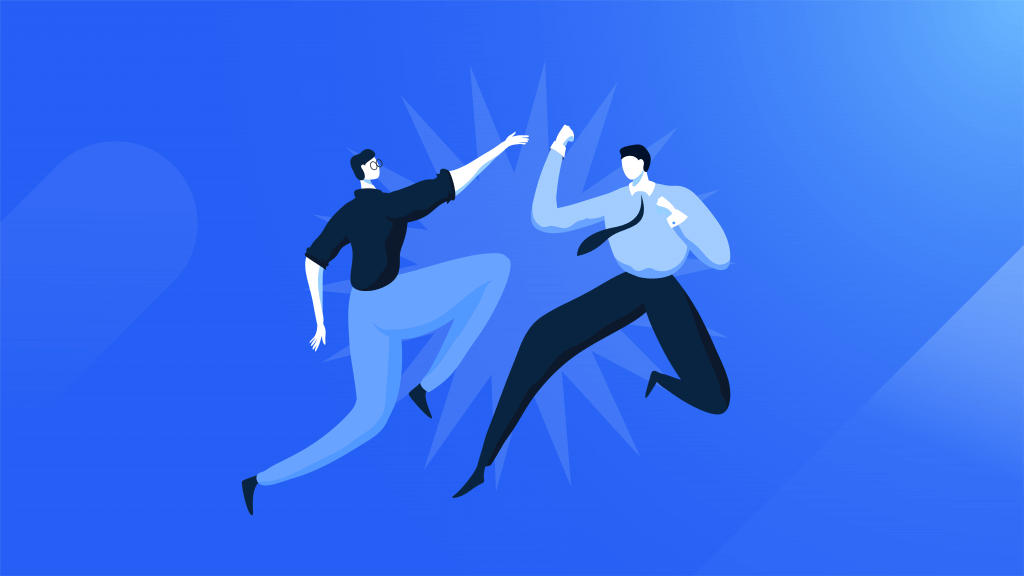 What is competitive benchmarking?
Benchmarking against competitors means collecting data on the digital performance of similar websites or apps and comparing them against yours. You then use this information to uncover marketing and sales blind spots, underperforming marketing strategies or content optimization efforts plus find areas to improve business processes and discover new market growth. The method of competitive analysis and benchmarking helps you understand your position versus industry leaders, the industry average, and specific competitors.
The benefits of competitive benchmarking
You're well aware of your company's performance metrics. Google Analytics provides you with complete visibility into your site's performance; sales metrics help gauge revenue and growth, and financial reports measure economic outcomes. But your own metrics are not enough. What's more, in an increasingly mobile world, you need a complete view of the digital landscape across web and apps. All of which makes competitive benchmarking key to your success.
Let's say your traffic is growing at a rate of 10% each year. At first glance, that may seem excellent to you. But if your competitors are growing at twice that pace, it's not sufficient.
Now, let's say your website traffic is declining at a rate of 10% each year; which (rightly so) should be cause for a closer look. But, upon closer inspection, you see that your mobile app traffic and engagement are growing. Which makes perfect sense. Even better, you can see that your combined view across mobile and apps vs. your rivals shows you have a bigger share of traffic overall. Not so much of a cause for concern than a cause for celebration, right?
Viewing your data in context is crucial to evaluate your opportunities, threats, and strengths and weaknesses in the market.
Competitive benchmarking analysis is a tool that effective businesses use to pinpoint where they stand across various engagement metrics. You can also use it to measure performance relative to any KPI and take stock of your outcome compared to any other site. If done right, it provides you with indispensable insight to evaluate your position in your industry and grow your market share. Learn more about the benefits of benchmarking.
How to do competitive benchmarking
effectively?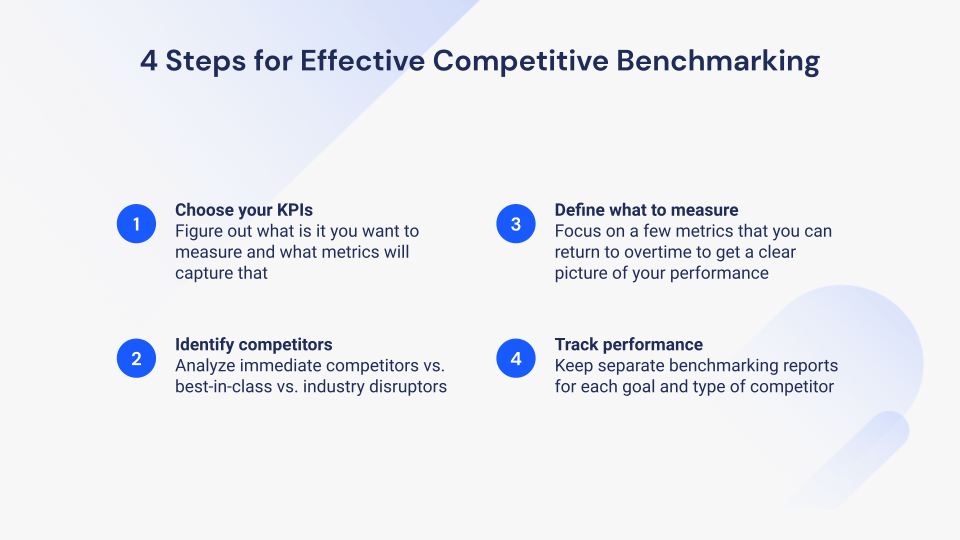 1. Choose your KPIs
The first step to a successful benchmarking effort is data collection to identify the KPI you are measuring. Do you want to improve your SEO performance? Grow in a new market? Increase traffic to your site? Find the representative metrics and set goals that are 1) measurable and 2) realistic. 
Here are some KPI ideas that can function as competitive benchmarking metrics: 
Increase web traffic by __%

Launch x new products into a new target market within the next ½ year. 

Increase monthly active users on a mobile app by 5%

Engage users – improve

session duration

or growth rate by __%

Increase app store ranking by 5% on Android and/or iOS

Reach top 2 results on ranking on (define keywords)

Improve

share of voice

in ___ topic from __% to __%.

Increase

brand awareness

– improve branded traffic share by __%
2. Identify the right competitors
The next question you need to ask is not how to benchmark against competitors, but who to benchmark against?
After you've established your goals, how do you determine which specific companies fit your benchmarking strategy? You should always be aware of your immediate competitive set and the most significant players in your industry. But you also need to dig into the individual metrics, especially the ones that represent your KPIs. You may discover companies that are closer to you or more of a threat than you expected and are worth keeping an eye on in specific areas.
Start off by identifying the competitors that are similar to yours in the area you measure, such as size, location, product offering, or audience. For example, it might not be helpful to compare overall revenue to companies with a significantly larger range of products than yours. You might, however, compare revenue increases.
On the other hand, benchmarking against an industry leader is indicative of your market position and, therefore, beneficial in other ways. The possibilities of who to choose are ultimately limitless. 
Let's look at a few types of competitors and when to focus on which:
Immediate competitors
When analyzing how to improve your brand voice or evaluating specific topics, it's best to choose your closest competitors –namely the ones that offer similar products to the same target audience. This is your immediate competitive set, and you'll want to monitor and gauge their performance against yours continually. 
Since their numbers are likely similar to yours, you'll want to identify trends in the data indicating changes that may either harm you or present an opportunity. This lets you quickly adjust your course of action accordingly.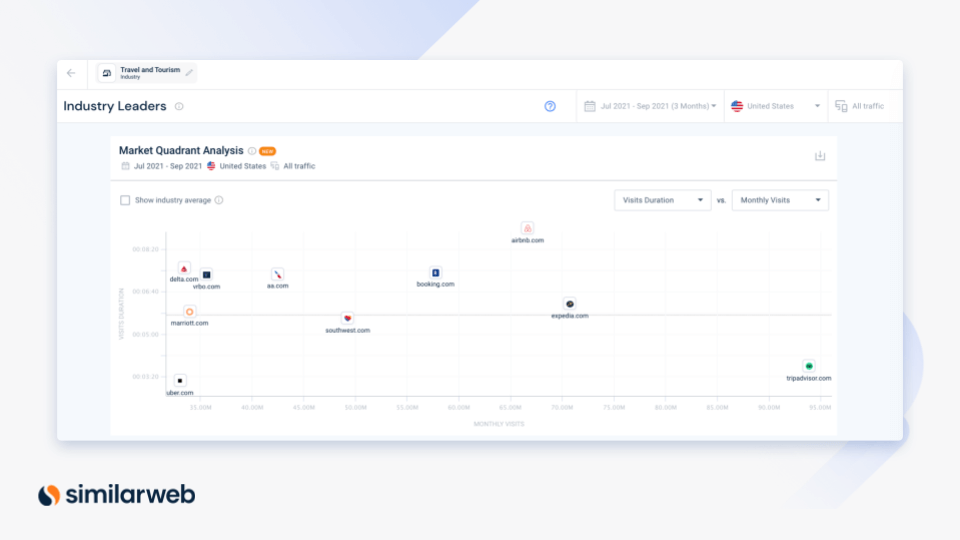 Best-in-class competitors
Though we dream big, it's more likely you're not the biggest and best site in your category (yet!). When looking to improve your long-term growth goals and methodology, aim high and compare yourself to the sites that win your industry.
Starting with the best in class helps you position yourself and everyone else in the market. You can place each of your competitors in relation to the industry leader and create a comprehensive market map. 
More in-depth market research allows you to understand and learn from the industry leader's strategies.
Industry disruptors
It's easy to "look up" for inspiration, but sometimes, you also need to look below. Companies that are much smaller than yours might be growing faster than the industry average and could pose a future threat. Keep an eye on exceptional performances and performers. This type of strategic benchmarking is essential because it may be the next big thing in your industry (mobile apps are just one example). Analyze what innovative methods they use for growth and how you can continue to stay ahead of them.
Apps are impacting most verticals, in one way or another. However, it's one of those things that businesses don't start tracking until a new seemingly pops-up overnight and disrupts their industry.
How can you identify who's getting the most SEO traffic and who's growing the most? How can you see the impact of apps in your sector? There are several tools that can provide visibility into one metric over another. With Similarweb, you gain insights into a wide range of data and easily find the right companies to benchmark against continuously. With mobile app intelligence, you can quickly see and keep track of key metrics that give you a complete picture of your competitive digital landscape, across web and mobile app traffic.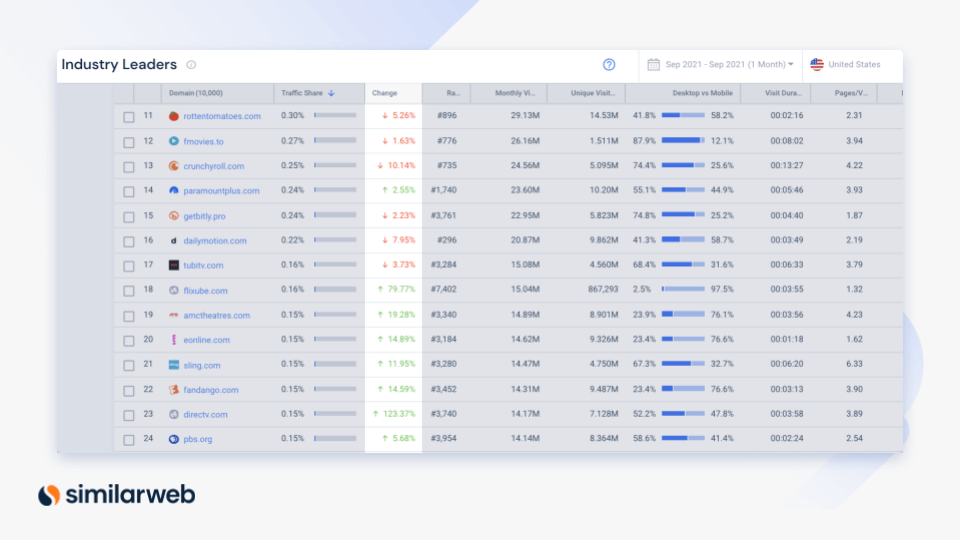 3. What to measure and how
The specific metrics you measure will vary based on your goals. 
For example: To improve SEO, you want to analyze the competitive traffic on keywords and keyword groups; increasing brand awareness requires monitoring direct traffic to a site. Expanding share of voice may be represented by traffic share across specific pages of a site.
Remember to keep it simple! You want to track the relevant metrics over time, so keep the number of metrics per KPI low. Use tools that provide analytics to help you get a clear picture.
Let's take a closer look at which metrics align with which goals and the tools you can use to measure, track, and benchmark against competitors: 
Of course, there are other options like paying for a report from companies like Nielsen or running your own survey; however, these are usually very expensive or complex. Try a few different types of benchmarking until you find the one that works best for you.
4. Now what? Track!
You're all set. It's time to start tracking! To keep things organized, create separate benchmarking reports for each goal and type of competitor (gauging against much smaller or much larger companies on the same report can lead to confusion). 
Set a routine for measuring, which should be at least every quarter. Periodically reassess if the metrics are still relevant and if they help you achieve your goals. Be sure to keep a finger on the pulse. If your company adds or changes existing goals, update your competitive benchmarking analysis by adding the relevant metrics.
Level up your digital research strategy 
The process of competitive benchmarking is an essential part of every business plan market research. The technique enables you to view your performance in the context of the market and avoid blind spots. It lets you identify specific areas to improve and spot opportunities for change and growth. Regularly conducting competitor benchmarking evaluates if you're on track with business goals and ensures they still make sense. 
Similarweb offers robust benchmarking tools that can help in any type of competitive analysis, including web traffic estimations, site segmentation reports, engagement metrics, app intelligence, and user acquisition strategies.
Looking for more? Check out our collection of benchmarking articles, including industry-specific insights: 
For even more, visit our competitive benchmarking hub.
FAQ
What does competitive benchmarking mean?
Competitive benchmarking means collecting data on the digital performance of similar websites or apps and comparing them against yours to ultimately help you understand your position versus industry leaders, the industry average, and specific competitors.
Why is competitive marketing important?
By comparing your performance to your competitors, you can catch on to trends early and adjust your marketing goals accordingly.
How do you do competitive benchmarking for a mobile app?
Pick 10 competitors to benchmark your app against: select the key metrics you want to track (think: monthly/daily active users, downloads, session times, sessions per user, and app ranking score): organize your data so it can be easily analyzed, collect the data: compare it: and use outcomes to shape your strategic decisions.
This post is subject to Similarweb legal notices and
disclaimers
.
Wondering what Similarweb can do for you?
Here are two ways you can get started with Similarweb today!