This white paper was written in 2019. Now you can access the full report here for free.  
Looking for the latest data? Try Similarweb now for free.
Introduction
The dramatically shifting travel space
The U.S. travel space is rapidly changing. Driving this disruption are three major trends that go hand-in-hand: personalization, early-stage consumer acquisitions, and mobile.
Personalization is the biggest trend in travel. As of 2017, 57% of U.S. travelers felt that brands should tailor their information based on the personal preferences or past behaviors of consumers. Google and other industry tech giants, like Facebook and Amazon, have been leading this charge through earlier, customized consumer acquisitions. The use of mobile has been paramount in the personalization of travel sales. Mobile also serves as a key platform in early customized consumer acquisitions, experiencing a 50% uptick in travel-related questions stemming from smartphones.
Key Takeaways
This whitepaper will outline the performance of the travel industry LOBs (lines of business across hotels, flights, and car rentals)
Travel Industry:

In aggregate, the travel industry experienced a 2% decline in website visits YoY. This was partially in conjunction with consumers increasing their adoption of mobile applications.

Hotels:

 

Google Hotels doubled its YoY visits and increased conversions by 14%, pushing a high volume of traffic to suppliers and OTAs.

Flights:

The impact of Google Flights as a referral service is reflected in suppliers switching their digital strategies, shifting away from organic search to referrals. 

Car Rentals:

Priceline, Rentalcars.com, and Travelocity are leading car rental conversions, balancing out an overall 8% drop in visits within the space. Expedia car rental visits and conversions both increased YoY by 2% and 8% respectively.
State of the Travel Industry
Outlook
Overall, the travel industry experienced a 2% decline in website visits, YoY.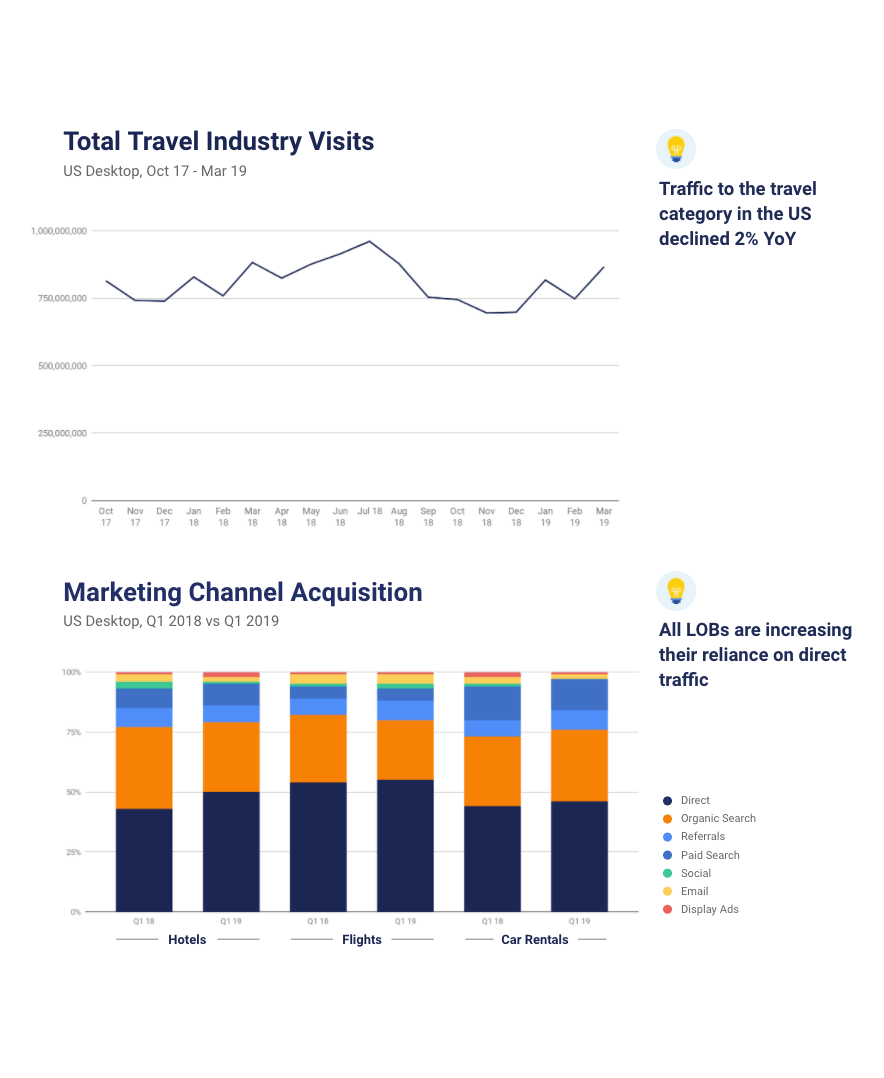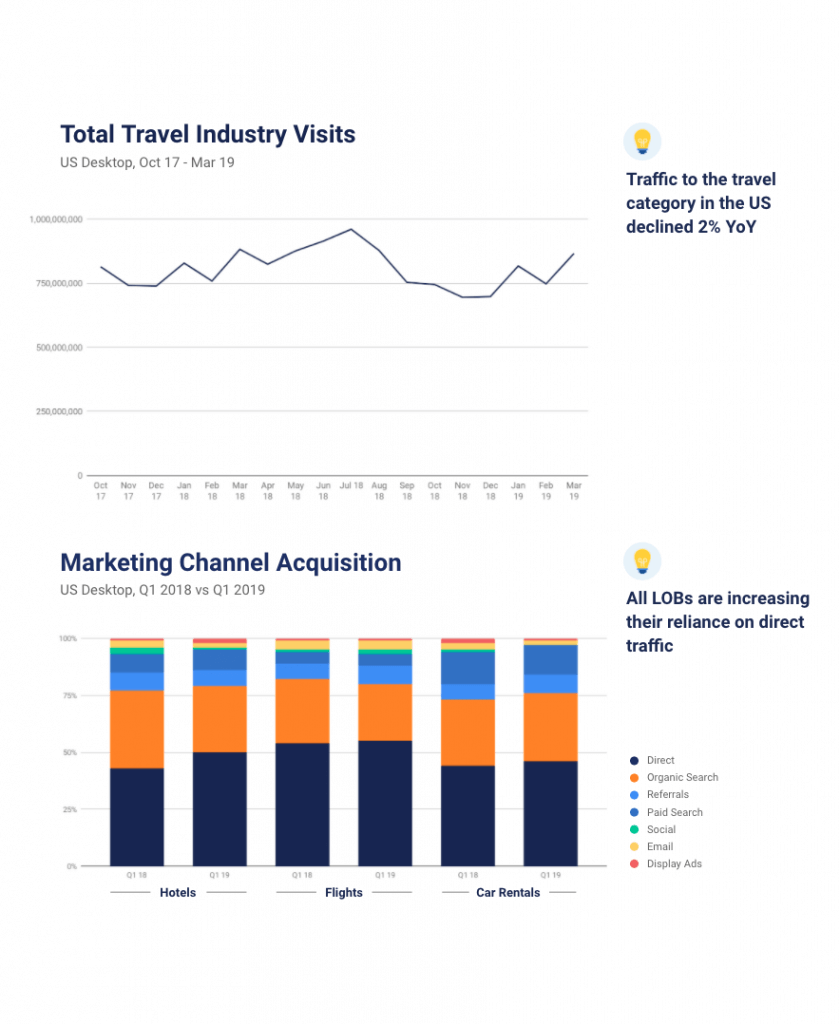 Early-stage, personalized, customer acquisitions, most often driven by the use of mobile, were the force behind declining engagements at the top of the Travel sales funnel across all lines of business. 
As a result, all areas of the Travel industry increased their dependence on direct traffic and decreased their use of organic search. Referrals also saw small increases for all categories save hotels, which saw the largest direct and paid increases of the set. 
Overall Hotel Health
Google Hotel leads shifting landscape
Google Hotels, metasearch engines, and vacation rental companies such as Airbnb experienced YoY growth in visits. Google Hotels was the main player in the competitive set to experience substantial gains in Q1 YoY visits (45%) and conversions (14%). Increased visits to Google Hotels also led to higher volumes of traffic being pushed to suppliers.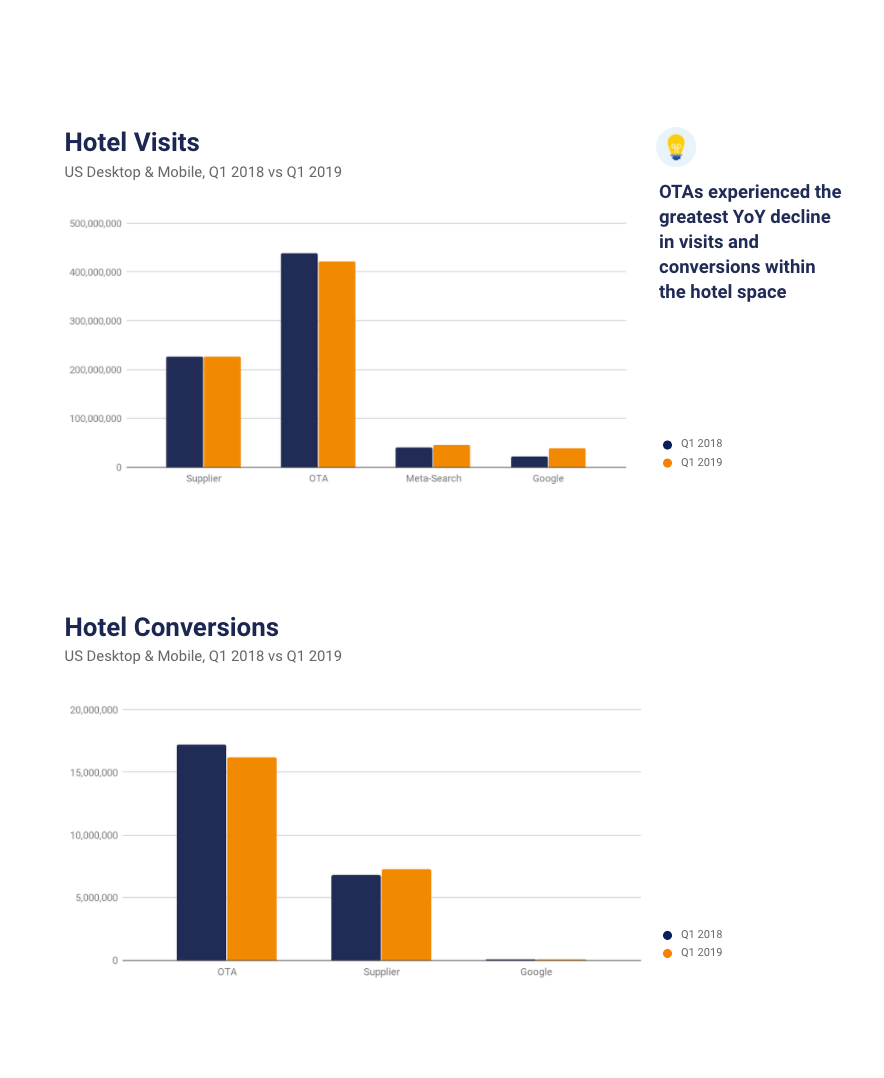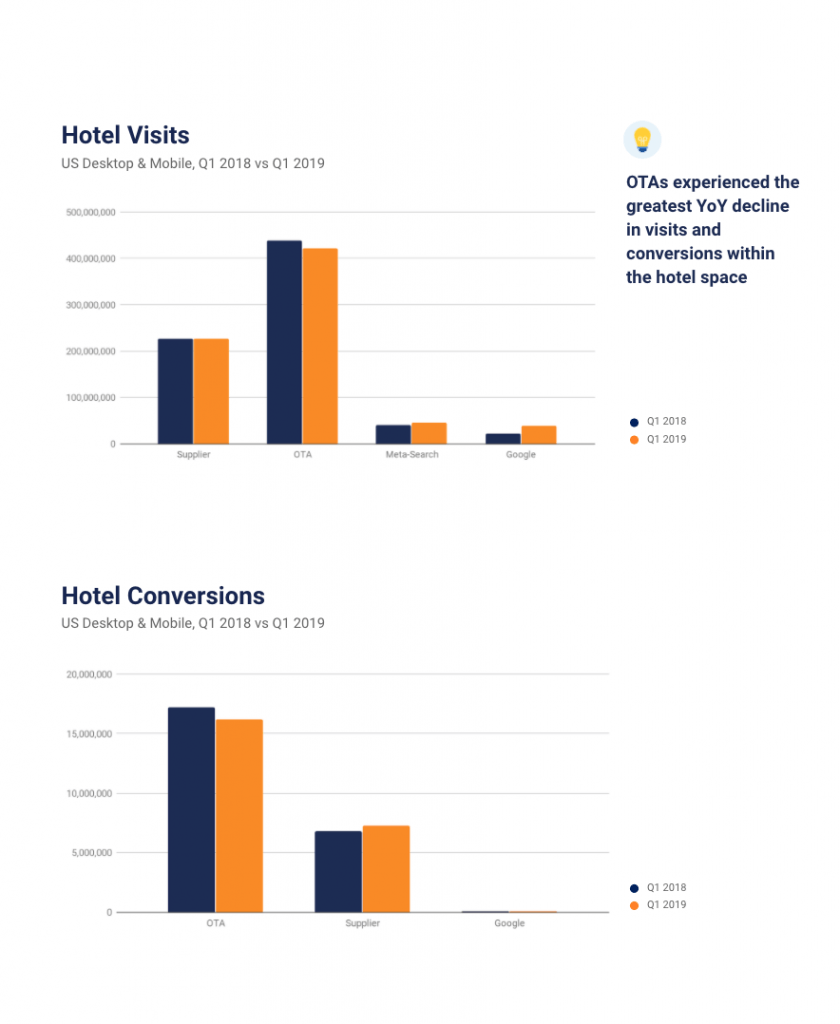 Despite these increases, visits within the hotel category as a whole declined by 4%, YoY. Of the industry players, OTAs experienced the greatest YoY drop at 9.3%, followed by suppliers. Additionally, conversions were down 2%, though Google Hotels, suppliers, and vacation rental companies posted increases. Once again, OTAs experienced the greatest YoY decline at 8.9%. 
Marriott's launch of its Bonvoy membership program in February 2019 strengthened its position as the top hotel chain in the competitive set to increase conversion volumes YoY.
Spotlight: Rise of Google Hotels
Increased visitations change the landscape
Though still a new player in the space, Google Hotels is rapidly growing and poised to become a major threat. However, the rise in traffic of Google Hotels has also benefited other hotel verticals within the space.
As Google Hotels visitations have doubled YoY – growing 107% – it has also pushed a high volume of traffic to suppliers and OTAs. Suppliers like Marriott and Hilton have received the greatest volume of traffic from Google Hotels; however, overall traffic from Google Hotels has dropped 34% and 53% YoY for these hotels, respectively.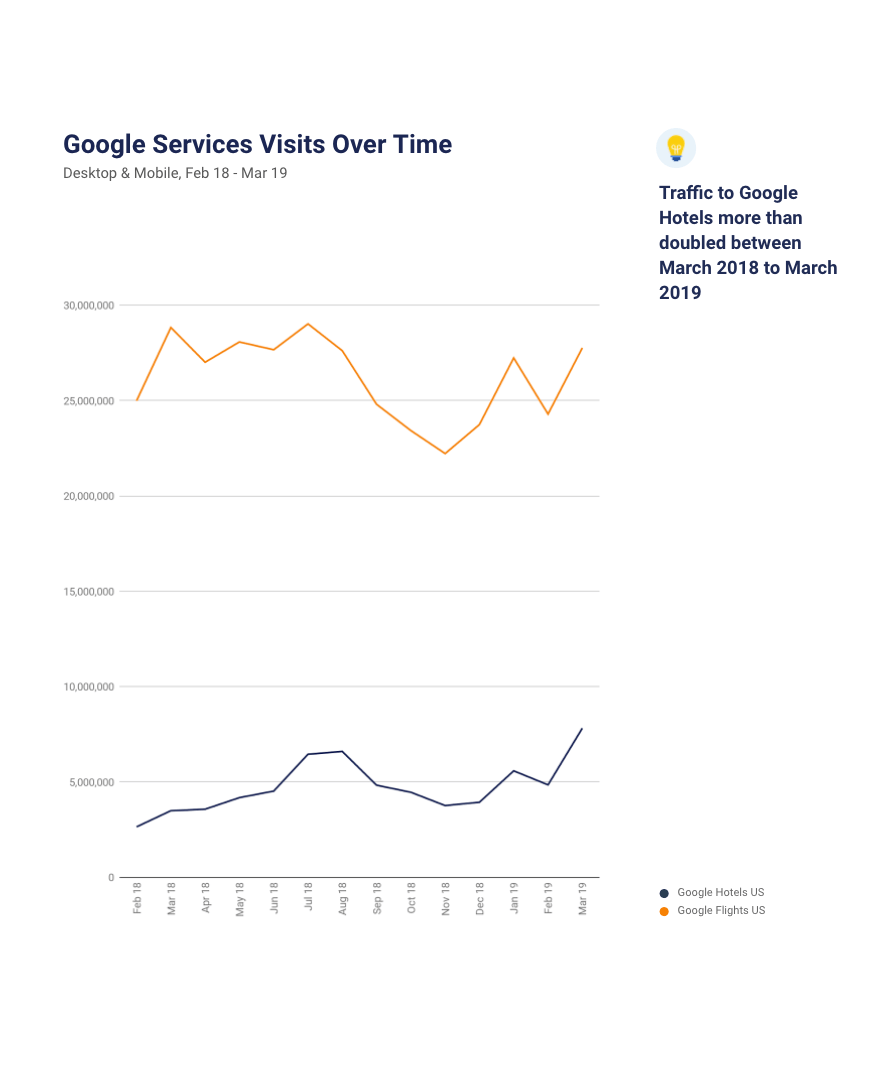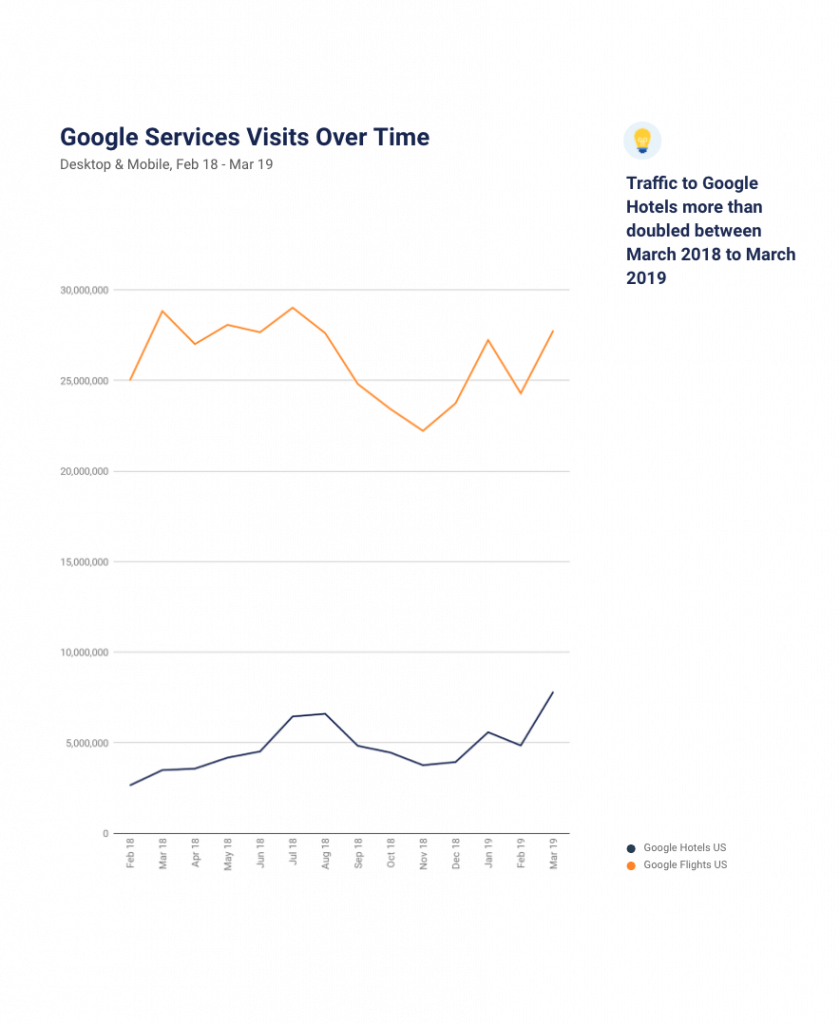 Visitations to OTAs have also decreased YoY, indicating major suppliers and OTAs have yet to optimize around Google Hotels, despite its growing importance in the space.
The Changing Hotel Landscape
Google Hotels leads visits
The role of Google Hotels as a meta-aggregator has decreased the reliance of other brands on their traditional digital strategies, and forced them to evaluate other avenues of engagement. 
As result of Google Hotel's presence, organic search visits decreased by 4.7% YoY. There was also a noticeable decrease in brands like Trivago's use of paid search: Trivago itself has decreased its use of paid traffic by 50%.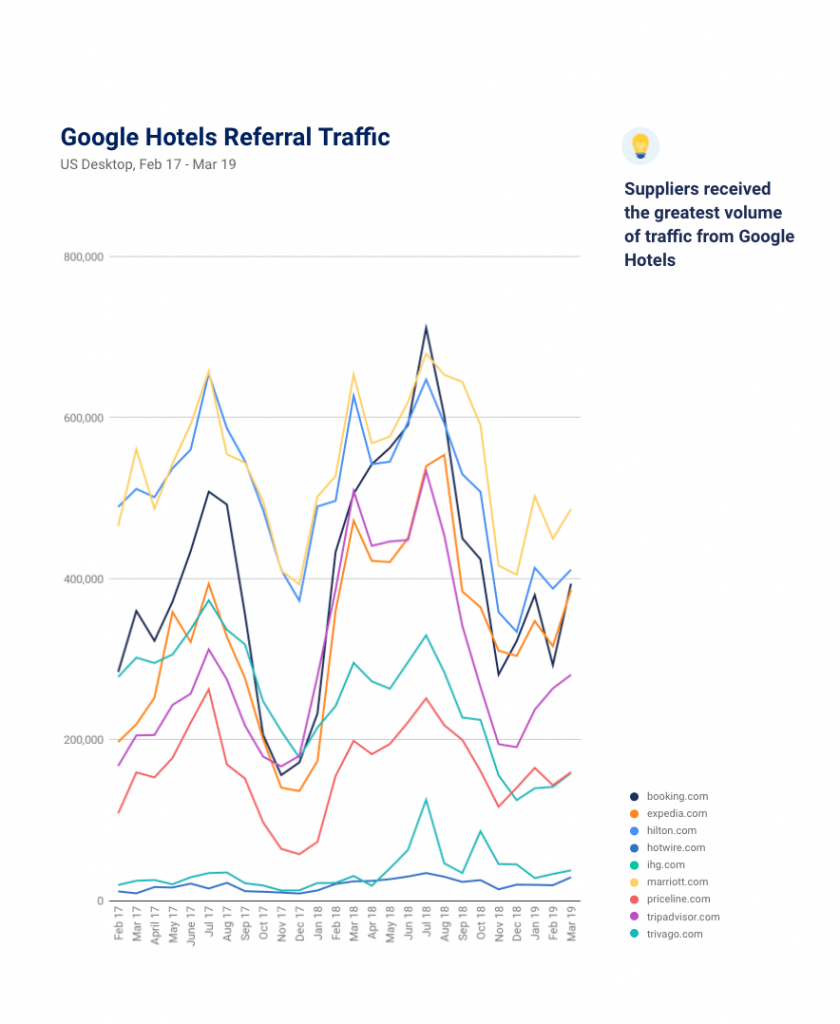 Conversely, there was an 8% YOY increase for Q1 2019 in the volume of direct traffic for all Travel sites. This suggests that the higher brand awareness for sites is helping to combat Google Hotels' cannibalization of organic and paid search.
Overall Flight Health
YoY Flight Visits and Conversions
Visits and conversions for the flight industry are down across all channels.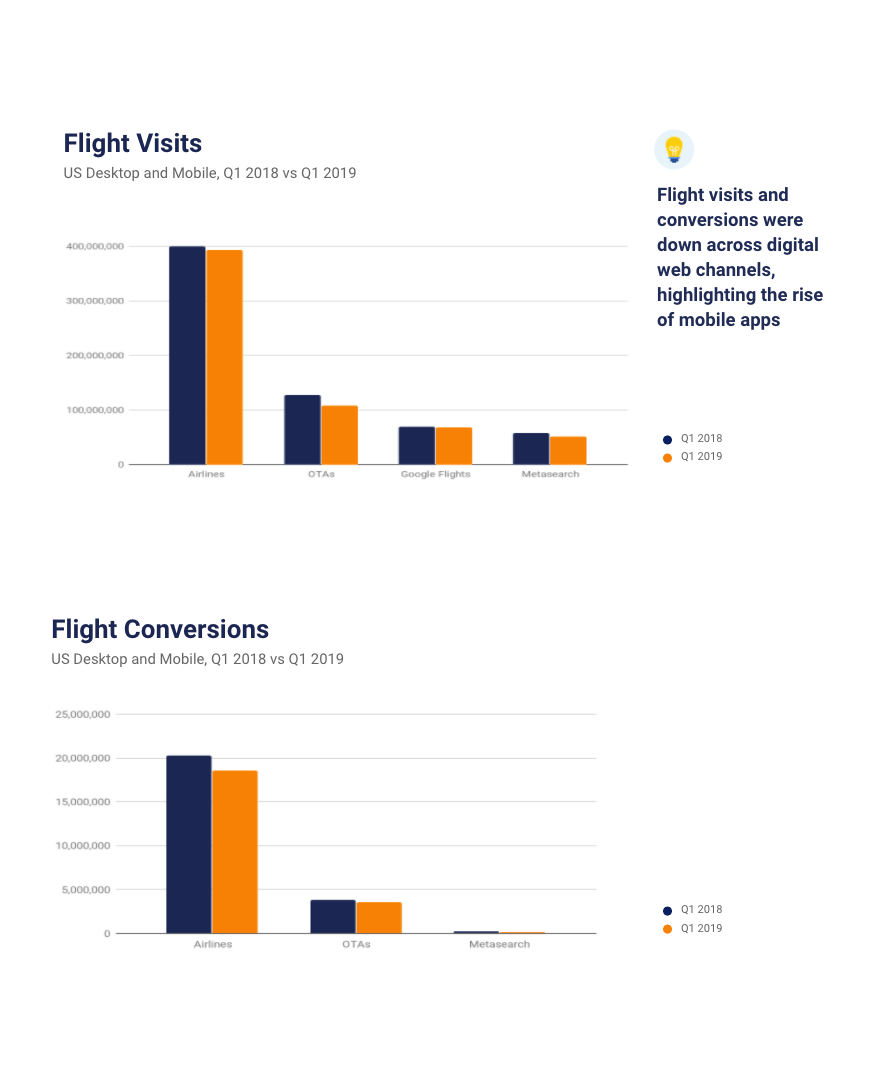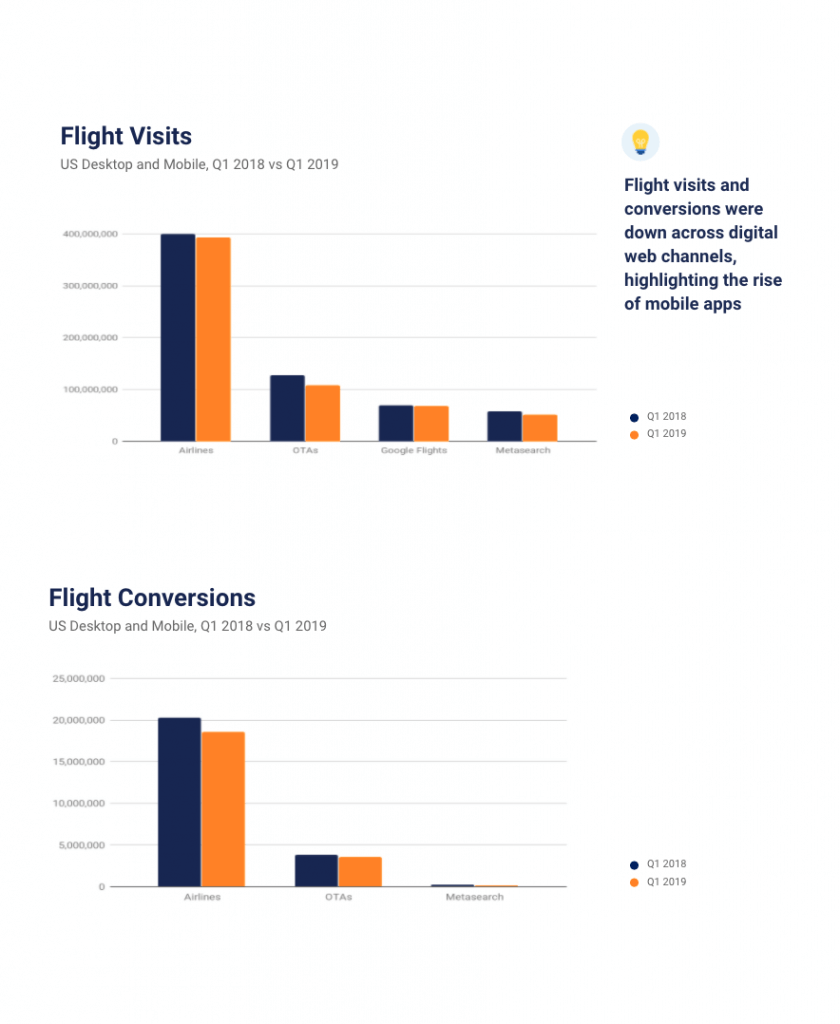 OTAs experienced the biggest hit in traffic within the competitor set, dropping almost 18% YoY in visits. Metasearch engines followed at a decrease at nearly 12%. Though airlines and Google Flights also declined in visits, their losses were relatively flat. 
Overall, airlines held the lion's share of the industry in both visits and conversions. Airlines remained the predominant booking channel for flights – capturing 5x more conversions than the next challenger (OTAs). However, they also experienced the largest conversion decline of the competitive set, dropping 9.4%.
Google Flights
Google Flights visits still influence search
Google Flights visits plateaued, however, they still influenced flight searches. As a result of no inventory, Google Flights serves as a metasearch site within the flight space. This past year, Google Flight visits have stagnated in growth, decreasing by 4%.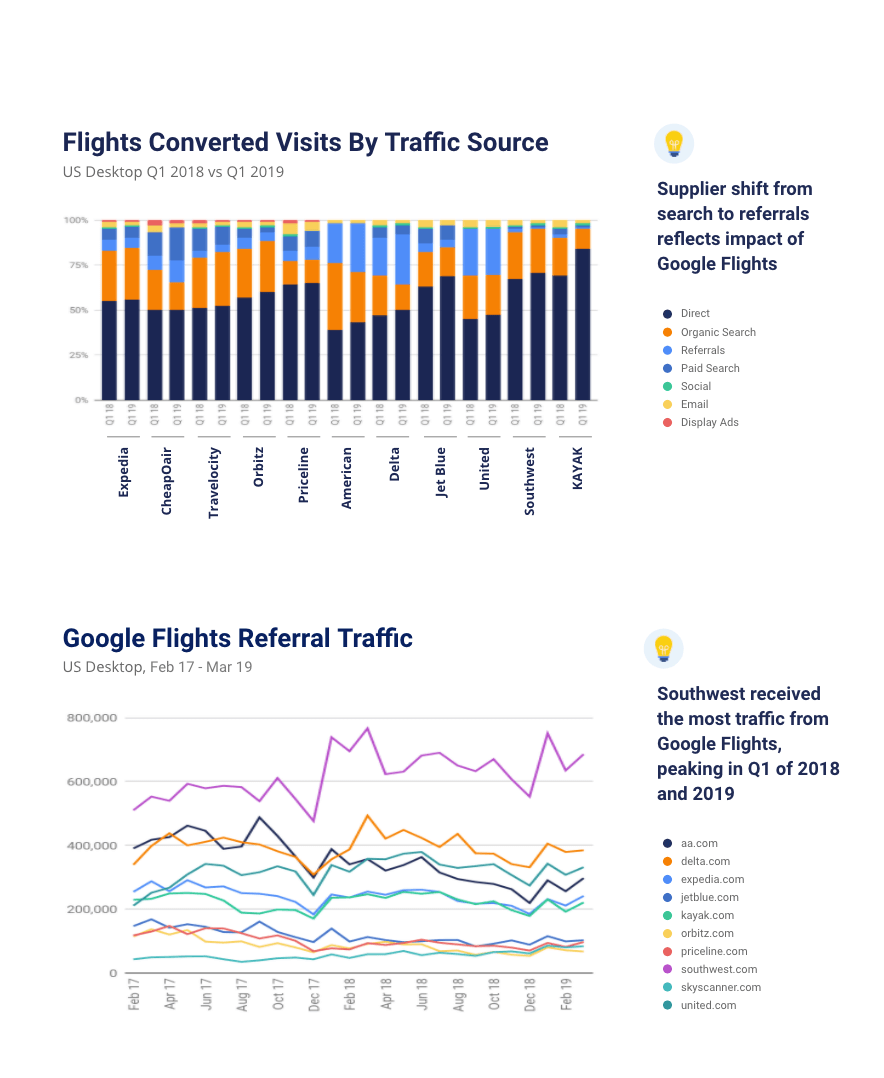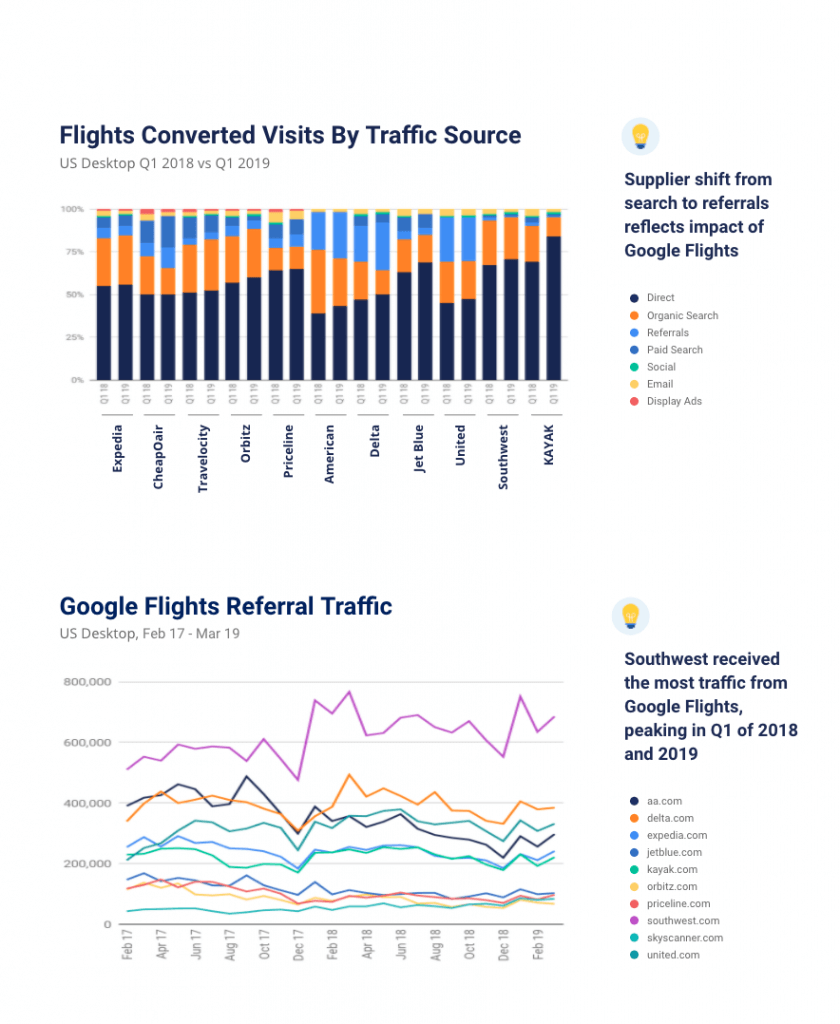 Certain suppliers benefited from Google Flights referrals more than others. For example, Google Flights share of referral traffic to American Airlines has doubled since January – now accounting for one-third of all aa.com referrals. Another big beneficiary, Southwest, saw a 36% increase in traffic from December 2018 to March 2019. 
The impact of Google Flights as a referral service is reflected in suppliers switching their digital strategies, shifting away from organic search to referrals. Non-branded keywords made a significant impact on search, diminishing search traffic to suppliers and increasing user dependency on Google Flight visits. 
Flights and Mobile
Changing Engagement
Mobile has played an instrumental role in shifting the search landscape in the travel space. Services like Google AMP, Progressive Web Apps and voice assistants have been instrumental in getting in front of consumers on their mobile devices at an earlier point in the sales funnel.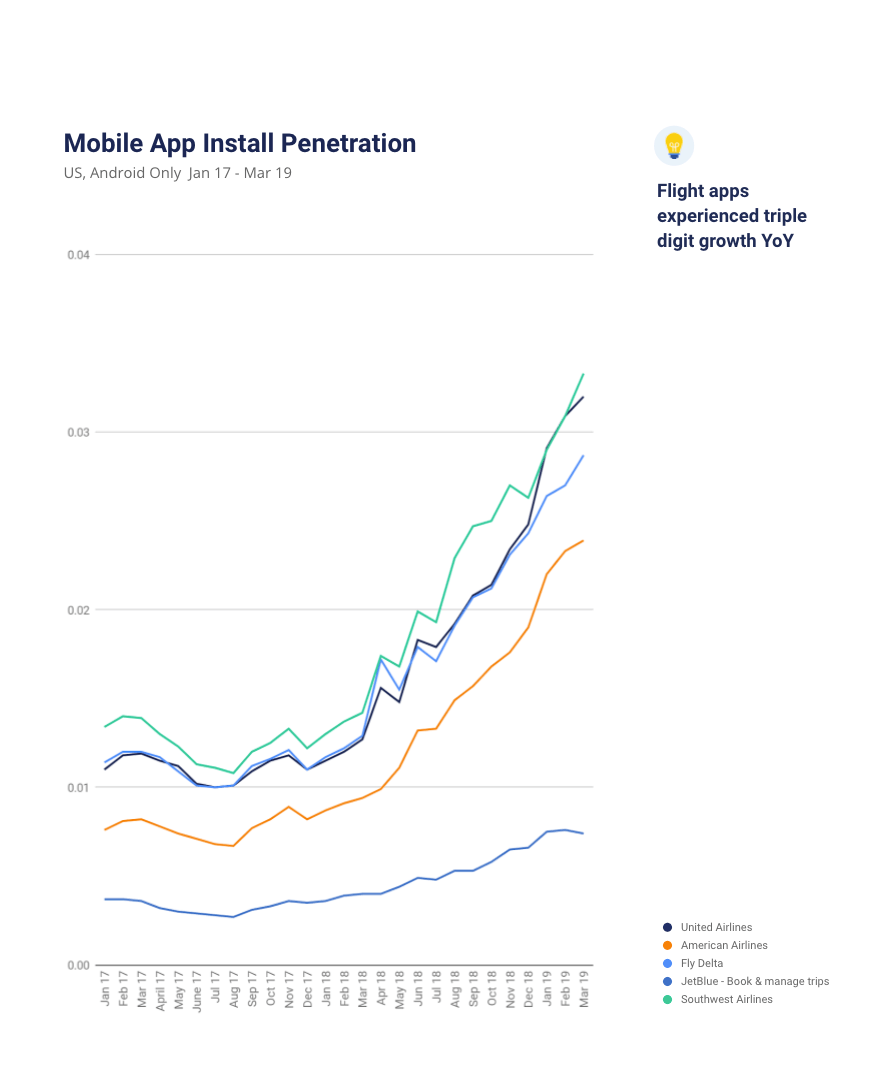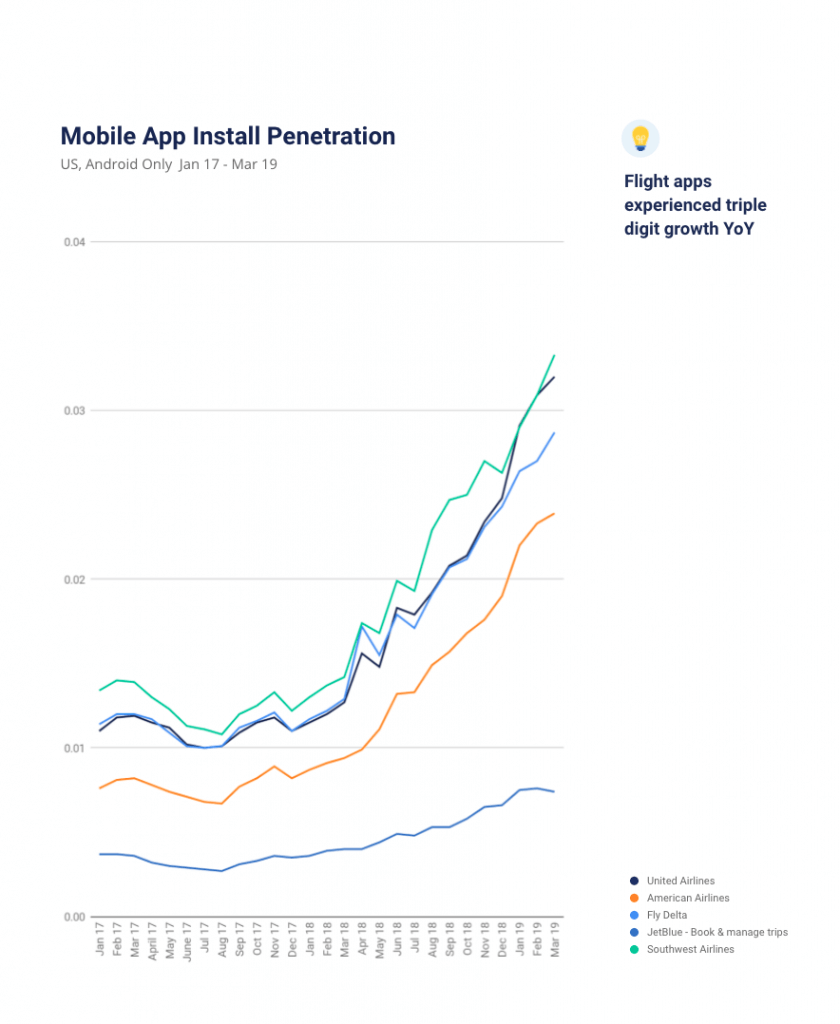 Currently, mobile web visits make up 30% of flight visits in the competitor space. However, as of March 2019, app install penetration was up, on average, 130% across major U.S. air carriers. 
Car Rentals
YoY Visits and Conversions
Car rental visits dropped by 8% YoY, but only saw a 2% decline in conversions. However, brands including Rentalcars.com, Travelocity and CheapOair, all saw substantial gains in conversions. 
Despite OTAs experiencing a 13% drop in visits, they saw a substantial gain of over 10% in conversions. Driving this growth was Priceline, Rentalcars.com, and Travelocity, the former of which increased conversions by 62%.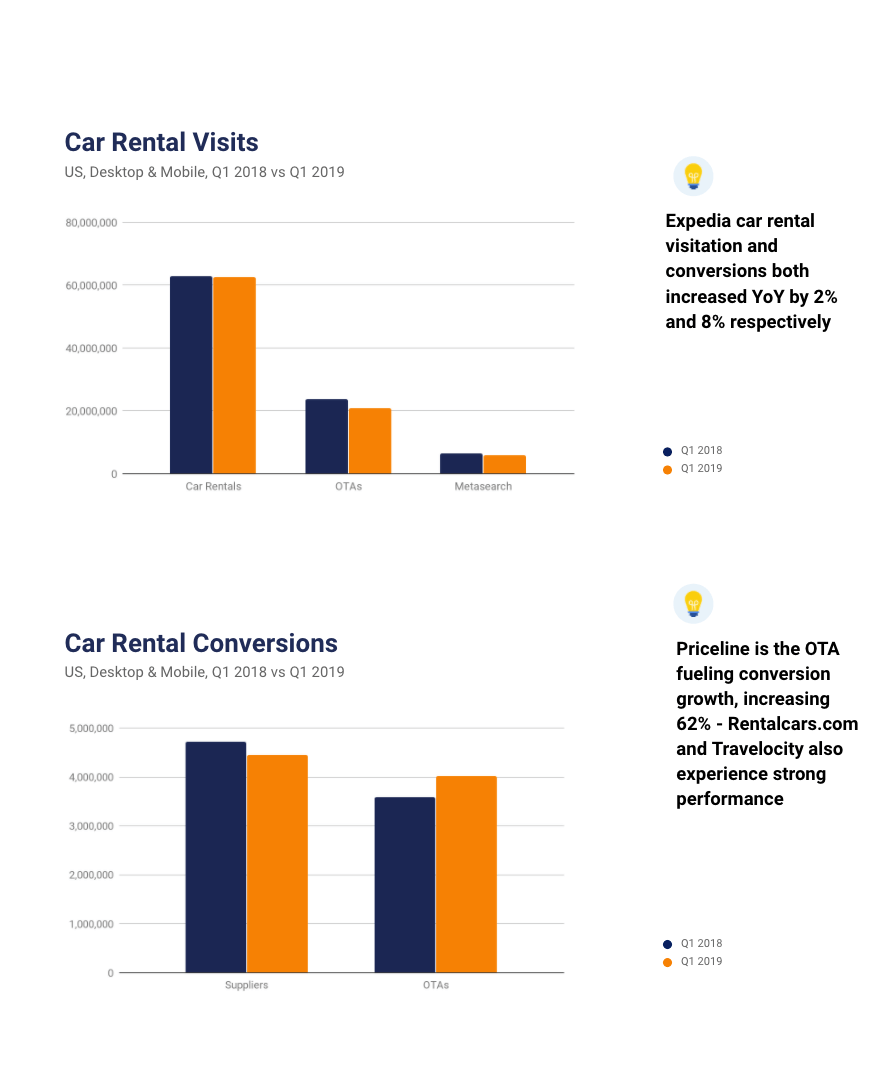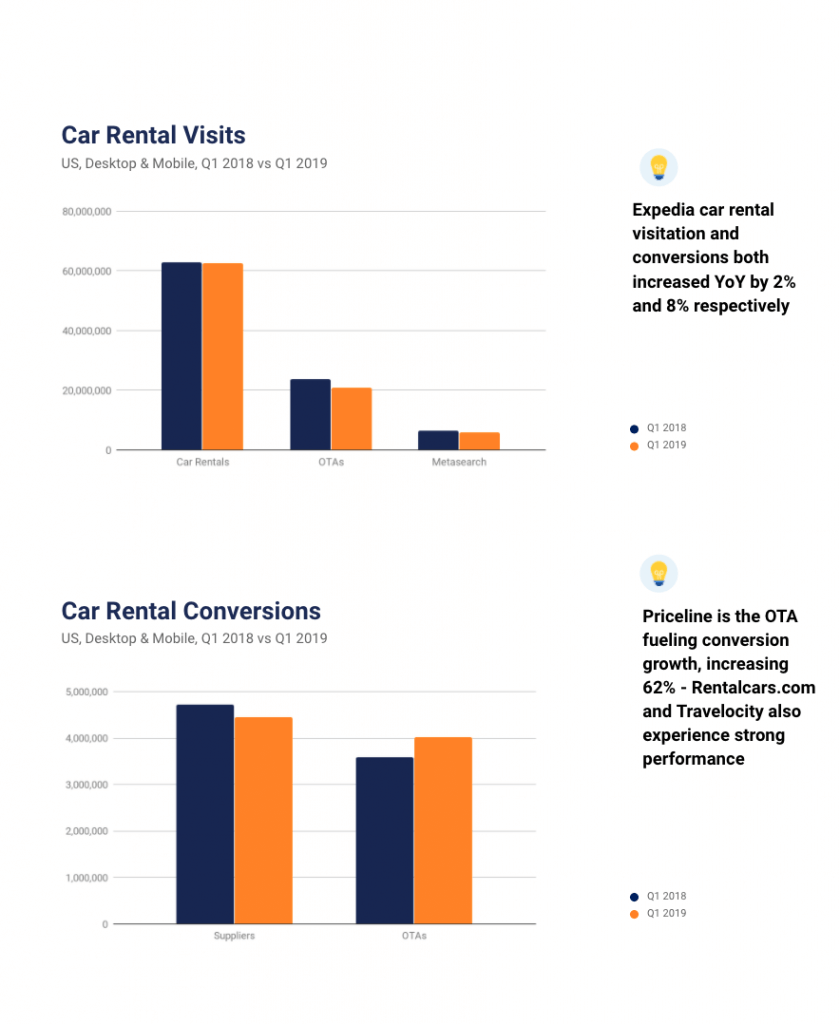 Knowing your market means knowing your competitors. Similarweb offers breadth and depth of Digital Market Intelligence.
To arrange a live demo with a Similarweb Consultant,  Contact Us