The #1 Competitive Analysis Tool
The all-in-one solution for data-driven marketing planning and competitor analysis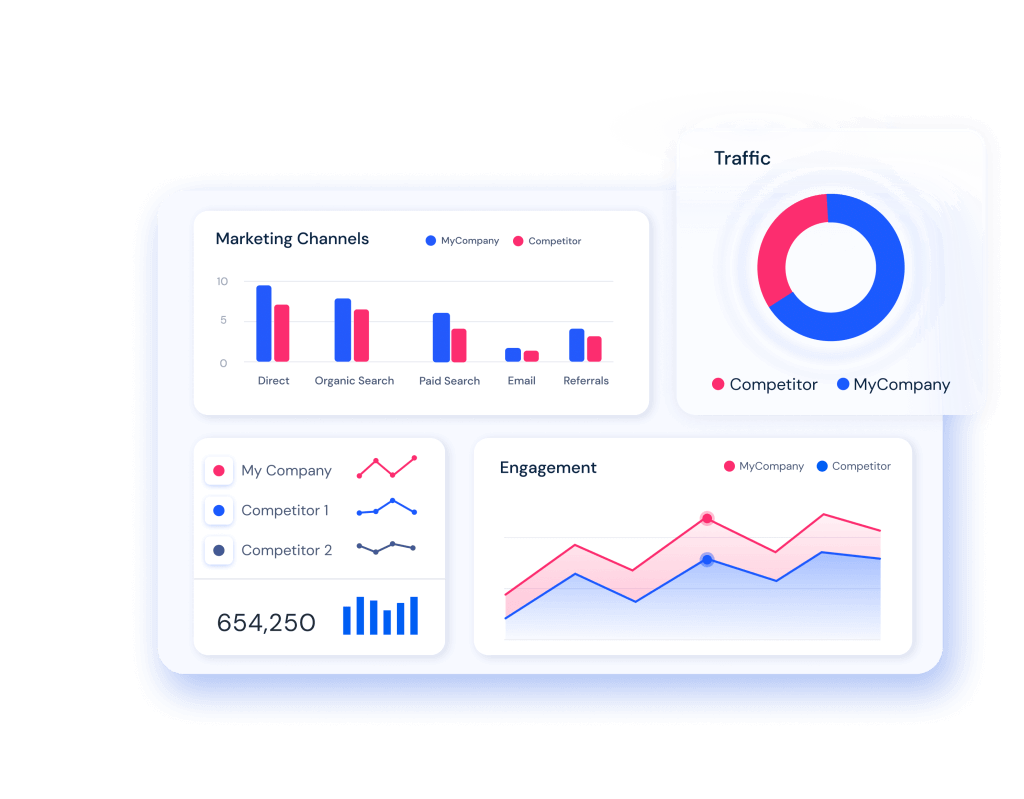 It's tough to win your market when you are blind to your competitors' channel activities
Deep dive into your rivals' SEO, PPC, affiliate, and advertising strategies - all in one place
Make data-driven decisions based on a complete view across your competitive landscape, set better KPI's, and drive your campaign performance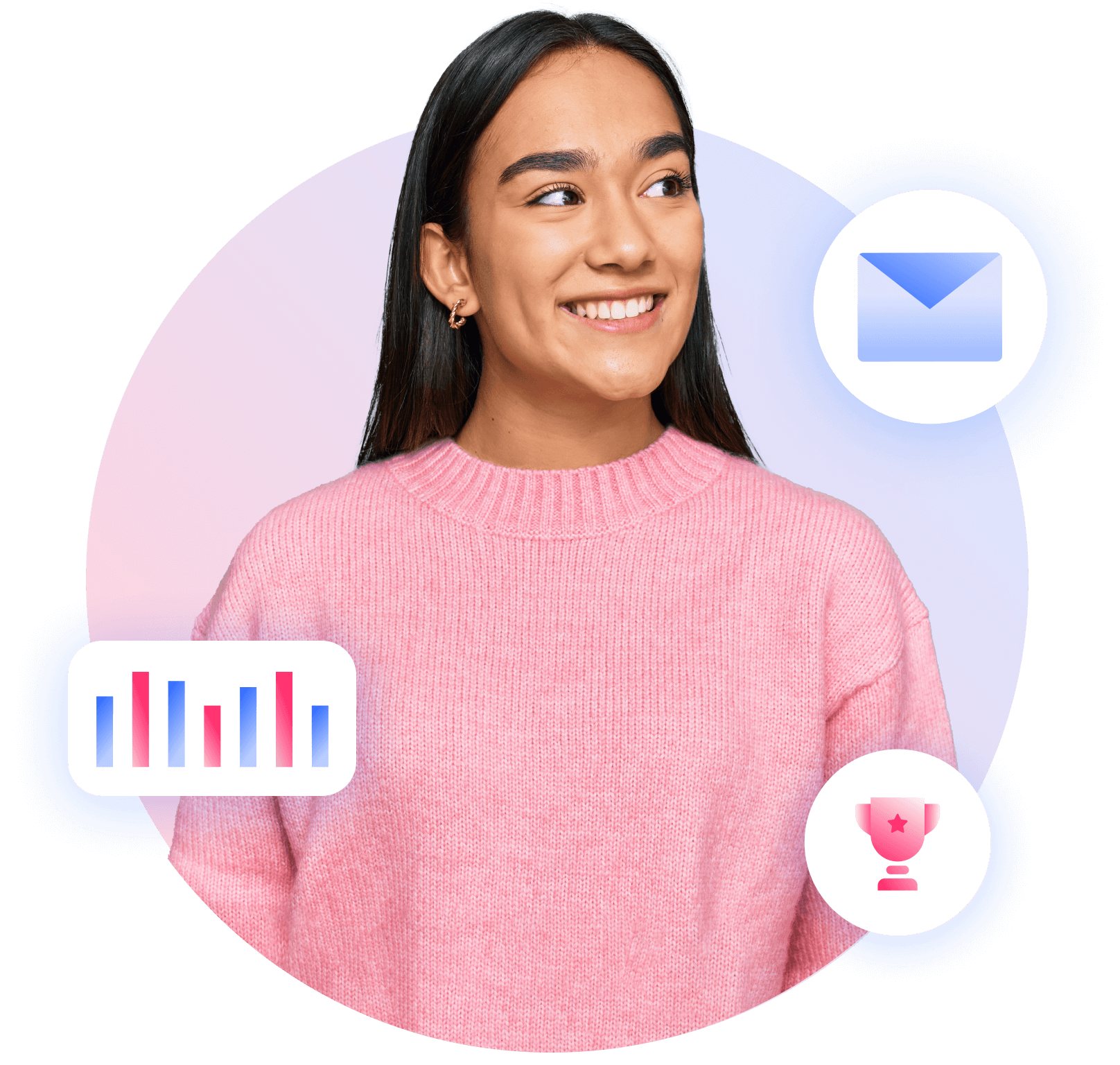 Drive better ROI using competitor analysis tools that deliver actionable insights
Reveal opportunities for growth based on objective, accurate competitor data
Analyze competitors' marketing mix strategies
Benchmark the performance of your competitors and identify the channels with the highest traffic share. Discover the most effective digital marketing tactics.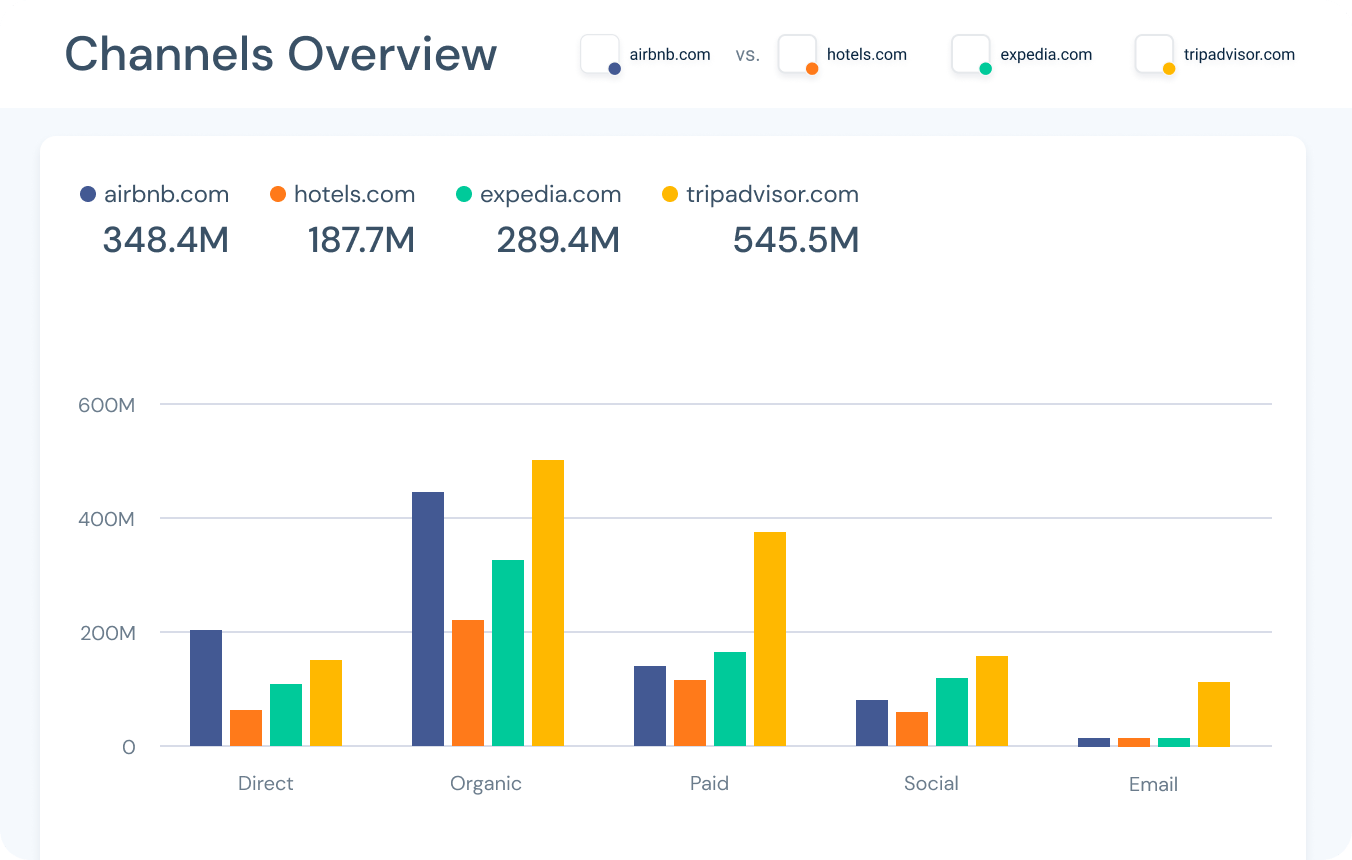 Boost your competitive SEO and content marketing
Review a keyword's traffic share by geography, search intent, keyword difficulty, and more to grow your organic traffic.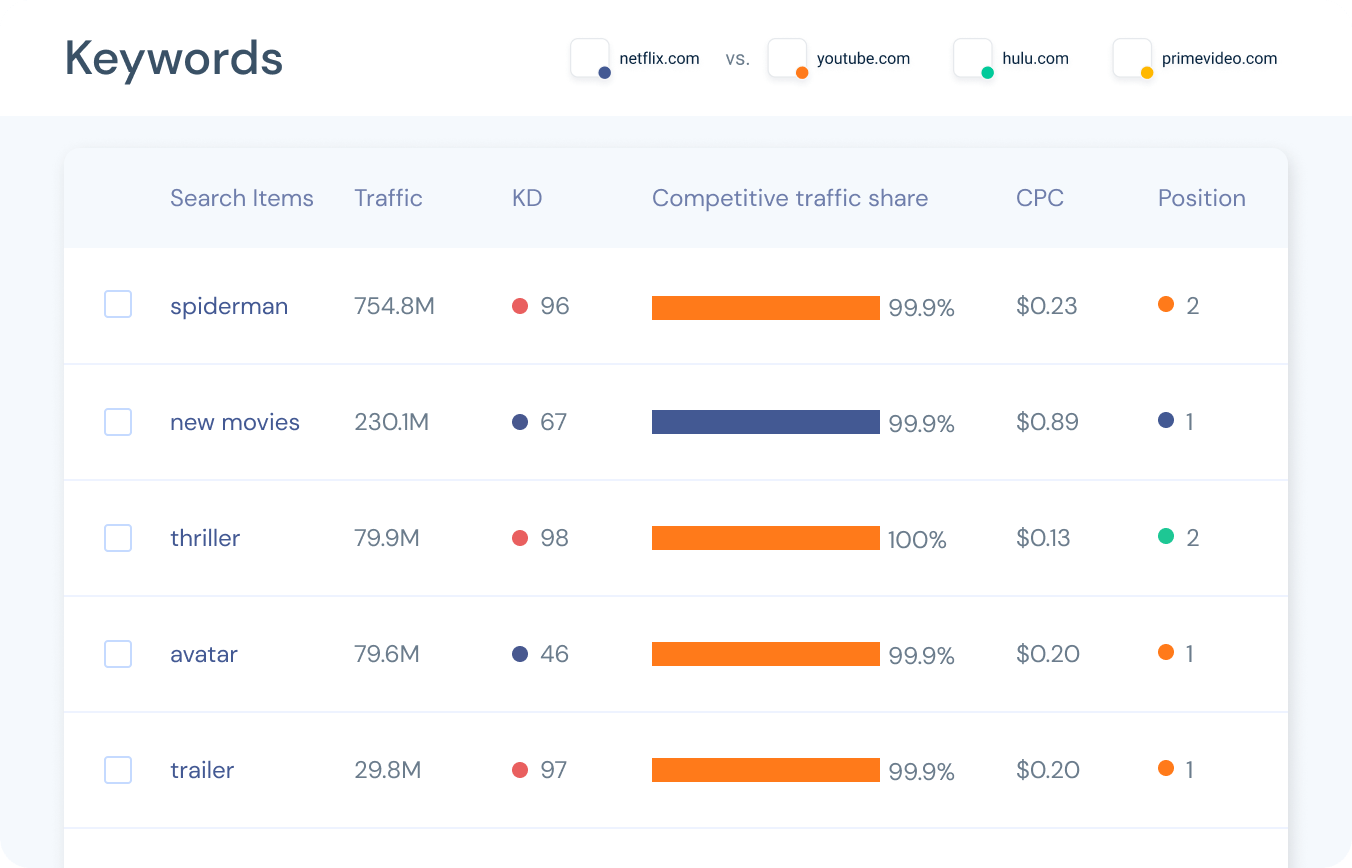 Sign the best affiliates in your industry
Reveal where your competitors' referral traffic comes from and find the most valuable partners with the highest relevance to your own offering.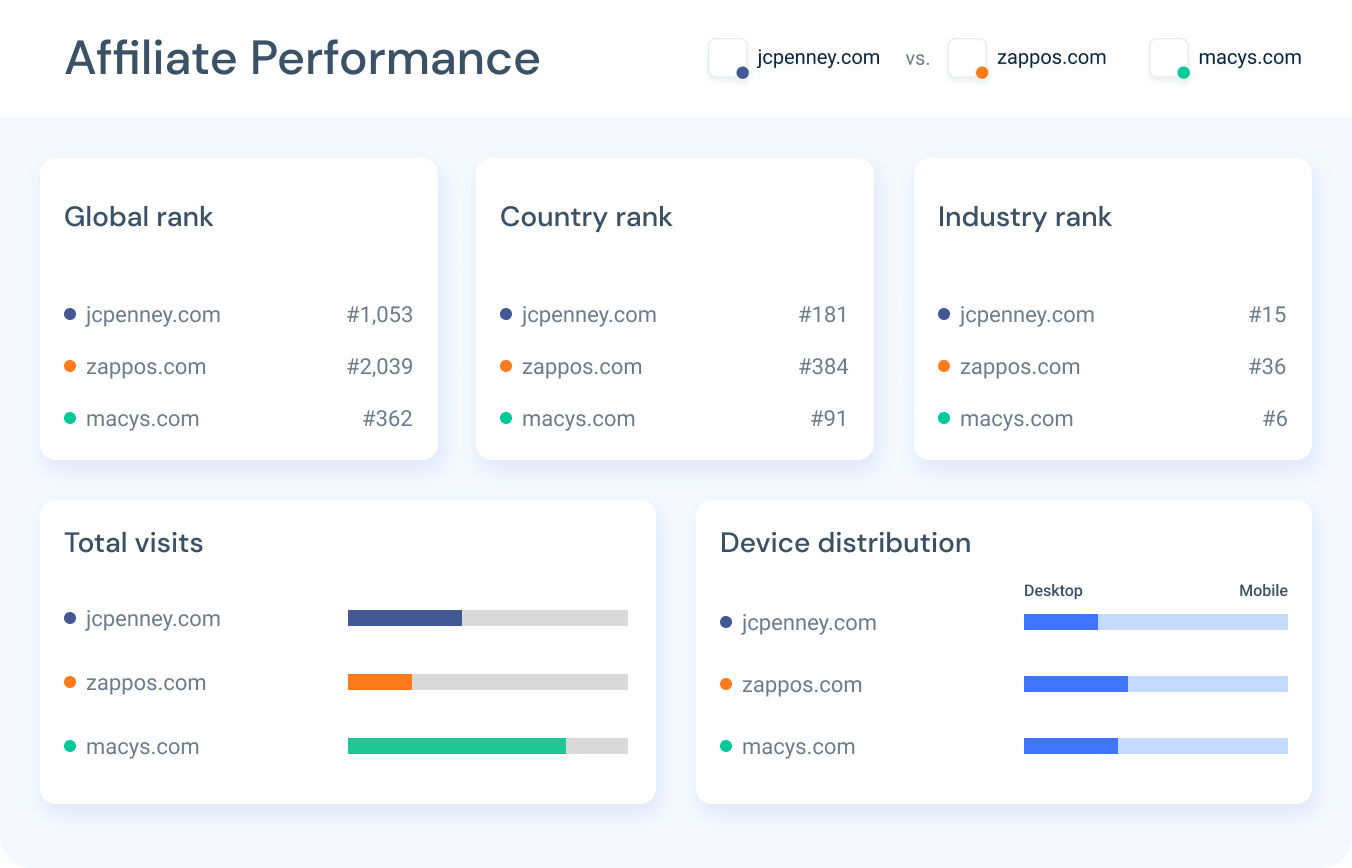 Identify new PPC and Display campaign opportunities
Benchmark your search ads and display creatives vs. your competitors to build on the most successful campaigns in your market.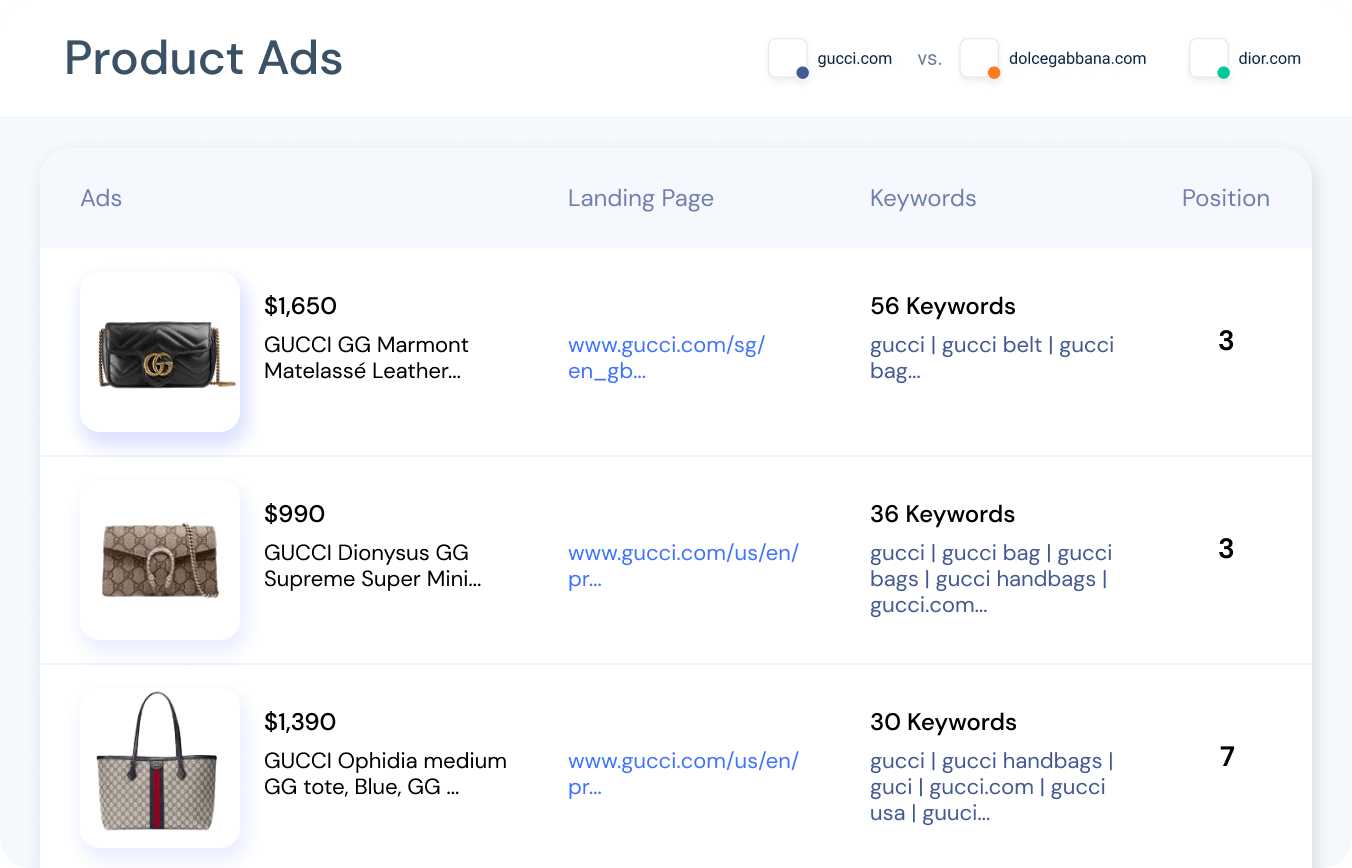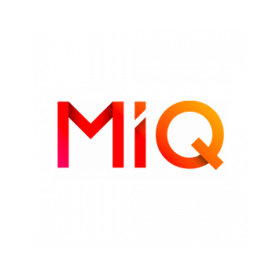 "Similarweb has been a tremendous resource for our company and clients. It's easy to use, and the quality of web analytics, consumer insights, and benchmark performance are off the charts."
Kyle Brennan
Director of Programmatic Partnerships, MiQ Digital
FAQs
With the Similarweb Digital Intelligence platform, you can analyze your closest competitors thoroughly and effectively to discover their strengths and weaknesses, and adapt to market shifts when they happen. Similarweb's tools enable you to benchmark your competitors' websites and digital performance against your own and identify the channels with the highest traffic share. Deep dive into your rivals' SEO, advertising, content, and affiliate strategies to reveal new opportunities to plan your tactics and improve your performance.

Similarweb offers a variety of tools that provide insight into the digital performance of your competitors and uncover their activity across different channels. With Similarweb Digital Marketing Intelligence, you can discover how your competitors are performing across marketing channels, how much traffic and engagement they're getting, which affiliates they work with, their organic and paid search tactics, and even their best-performing ad creatives. We also provide extensive website and keyword research tools that help you benchmark your performance against your competitors.

Data analysis is the foundation of our entire business. For over 10 years, Similarweb has developed a unique, multidimensional approach to understanding the digital world. Similarweb Digital Marketing Intelligence solution empowers businesses to make better decisions by equipping them with the insights they need to succeed in dynamic, competitive markets. Learn more about our data methodology.

Similarweb's data analysis solution is unmatched in accuracy and freshness, enabling us to deliver a granular view of keywords and display changing trends as they happen. You can rely on near real-time keyword data to power the metrics you use daily and make confident decisions on your marketing strategy. Our unique dataset enables us to deliver unique insights and metrics with accuracy you won't find anywhere else.